Awards Season
Big Stories
Pop Culture
Video Games
Celebrities
Celebrating Octavia Butler & 5 Black Sci-Fi Writers She Inspired
Every once in a while a writer comes along and changes what we believe is possible. These writers challenge our understanding of the world and touch parts of us that we didn't know were there. The late science-fiction legend Octavia Butler is one of those authors.
Born in the summer of 1947, Octavia E. Butler changed the face of science fiction — and it all started with a childhood trip to the movies. After watching Devil Girl From Mars (1954), young Octavia was convinced that she could write something better, and, from that moment, her journey as a writer began.
Octavia Butler and Her Classic Works
The Pasadena, California native was a deeply shy child who found solace in disappearing into language and stories. She spent much of her time as a young person in the library, devouring books and dreaming of being an author. Though she didn't have any examples of Black women in science fiction, that didn't stop her from pursuing her passion. Octavia Butler forged ahead — she held odd jobs, joined writing workshops and explored new characters and storylines. In 1976 she published her first novel — and the last chronologically in the Patternist series — Patternmaster .
Beyond expanding the Patternist series, Butler penned classics, including The Parable of the Sower . In addition to the Parable novels, she wrote stand-alone books and short stories, too. She's perhaps best known for her novel Kindred , in which Dana, a time-traveling writer, confronts the realities of being an enslaved person in early 19th-century Maryland. Butler's signature style blends the hallmarks of sci-fi stories with sharp social commentary, inviting readers to interrogate the constructs in their everyday lives.
In 2005, Octavia Butler published her final novel, Fledgling , and passed away the following year. Undoubtedly, she left behind an incredible legacy that has forever altered the science fiction genre. When she began her career, she was surrounded by white men — but, thanks in large part to Butler, the face of science fiction has changed. Today, more and more Black science fiction writers are emerging as a result of Octavia Butler's singular influence.
Here, we're honoring not only Octavia Butler's direct contributions to the literary world but the new generation of Black science fiction writers that she inspired . Here, we're highlighting five Black sci-fi writers with must-read books who are carrying that torch and expanding the genre.
5 Black Sci-Fi Writers Who Were Inspired by Octavia Butler
Tomi champion-adeyemi .
Hugo and Nebula award-winning author Tomi Champion-Adeyemi is best known for her fantasy novel, Children of Blood and Bone , in which her young protagonist goes on an epic journey to reconnect with ancestral magic.
As an adult, Champion-Adeyemi connected more deeply with her Nigerian heritage and is now committed to highlighting the richness of her culture. This novel is the first book in the Legacy of Orisha series which also includes Children of Virtue and Vengeance . Adeyemi is not only an incredible author but also a writing coach, who is passionate about facilitating growth in the next generation of writers.
Jelani Wilson (the Self-Proclaimed Octavia Butler "Super Fan")
What do you get when you marry hip hop, sci-fi and a commitment to social justice? The answer is an incredible fiction writer and Octavia's Brood contributor, Jelani Wilson. As a self-described Octavia Butler "super fan", Wilson was excited to participate in the collection of social justice-focused science fiction, Octavia's Brood .
An educator who was raised on sci-fi and comic books, Wilson's contribution to Octavia's Brood , 22XX: One Shot , was written with his students in mind. In an interview with Friction , Wilson shared that he "wanted them to see themselves in the future and to understand that even what seem like smallish acts of rebellion in the face of tyranny and injustice are important." Clearly, he's a writer who's primarily interested in expanding imaginations in a way that can affect real-world change — and Wilson's unique perspective is making waves on and off the page.
N.K. Jemisin
Humans living in the future fight to rebuild civilizations and prepare to withstand disaster in N.K. Jemisin's Broken Earth trilogy. She has been heralded by The New York Times as "the most celebrated science fiction and fantasy writer of her generation". Considering her impressive collection of awards and spellbinding fiction, it's easy to see why.
Jemisin has won multiple Hugo awards, a MacArthur grant, a Locus Award and more, but her impact extends far beyond her accolades. From her debut novel, The Hundred Thousand Kingdoms to the development of a Broken Earth trilogy film, Jemisin has changed the landscape of the sci-fi genre and is positioned to continue doing so.
Nnedi Okorafor
Award-winning author Nnedi Okorafor captures the imaginations of children and adults alike with her otherworldly fiction. Okorafor hails from Cincinnati and defines her work as "Africanfuturism". She has written for comic series like Black Panther but you may also know her thanks to her widely acclaimed novels, including Akata Woman , Noor and Binti .
Since her work is heavily influenced by the perspective that her "Naijamerican" identity provides, Okorafor purposefully highlights Nigeria and Black girlhood in her writing. Okorafor tackles subjects like racism, environmental issues and corruption — all while exploring magic and mystery.
Tochi Onyebuchi
Goliath author Tochi Onyebuchi also writes for young audiences and released his first book geared toward adults in 2020 with Riot Baby . Since then, the former civil rights lawyer has continued to captivate audiences with writing that spans from his newly released novel Goliath to comics and beyond.
Wilson has been praised for the way his work navigates issues of race, but he doesn't shy away from the challenges that inform his writing. When asked about writing about race in the United States, Onyebuchi candidly stated, "To have to breathe it, to take the clay of it and have to build the castle of a compelling narrative out of it. It's despair, so much despair. It's an impossible place to live in. And yet, that is what writers of color — what Black writers — are so often asked to do."
Onyebuchi's authenticity and magnificent talent have just begun to impact the realm of science fiction; it's already clear that this writer is a dynamic force.
Of course, those are just a few of the brilliant Black writers defining contemporary sci-fi and shaping its future. Each of them brings a new understanding of their unique place in the world to the fantastic worlds that they create. Moreover, this is just a glimpse at the writers who are following in the wake of Octavia Butler's marvelous legacy. Collectively, they are a reminder to the next generation of Black science fiction writers that they belong — and that their perspectives matter, too.
MORE FROM ASK.COM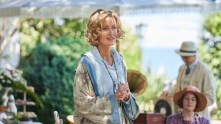 How to Become a Fiction Writer in 6 Steps
So you want to know how to become a fiction writer. Who hasn't thought to themselves at some point in their life: "I'd love to write a novel someday?" Okay maybe not everyone has, but there are definitely a lot, and those people who haven't are maybe a little bit sad.
The difference, of course, between a wannabe novelist and an actual novelist is the latter actually writes a book. I know that might hurt to hear, but it's the cold hard truth.
But how do you actually become a writer? Are there steps you can take? Is it easy? The answers are: it depends, kind of, and definitely not. If you're thinking this process is going to be simple, then please go ahead and click out of this article. (Actually don't. Scroll a bit and click a few things so my boss doesn't get mad. Thanks.)
Okay, that's enough rambling from me.
In this article we'll go over some steps on how you can embrace your writer dreams. As with anything, there are no right or wrong ways to do this—you need to find what works best for you. However, these six steps can help you get started.
How to become a fiction writer step 1: To be a writer, you need to be a reader
There are few absolutes when it comes to publishing and writing, but this one is pretty universal. If you're interested in writing, you're probably already an avid reader, and that's good. You're already ahead of the game then.
There are people who claim they don't read books and yet they want to write them. I guess that's fine if it works for them. But reading books is about more than just writing them, it's about supporting a community. It's about embracing the works of those who write in your genre and taking in the thoughts and ideas and perspectives of others, rather than being confined solely to your own. It's about forming a picture that is far bigger and grander than just what's happening inside your head.
(I'll go out on a limb and say that anyone who doesn't read books is going to have a tough time being a great writer. I'm sure there are a few exceptions out there but, for the most part, this will be an uphill battle for you if you aren't a reader.)
Read books in your chosen genre
Read books in your chosen genre. Consider them with a critical eye. Think about things like:
Why are their openings compelling and how do they draw you in?
What kind of word choices do they make? How about the metaphors?
Can you recognize the overall structure?
How do they end?
How do they set up plot twists?
How do they end and start each chapter ?
What keeps you reading?
What draws you into their characters?
What tropes do they use?
And so on and so on. You might want to write these things down or let yourself absorb them. But reading good books makes it easier to write good books. Nothing gets me more fired up to write than reading an amazing book in my genre.
How to become a fiction writer step 2: Choose your genre
This is a double-edged sword. Some people will tell you not to worry about this and just write your story. And that's absolutely fine if that's what you want to do. If your goal is to just get it out of your head and on paper (or the screen), then do it.
However, if you ever plan to publish that story (and actually sell it to people) whether you do it via traditional means or self-publishing, you're going to need to understand where it falls on the bookshelf. To add to this, you should also understand who your ideal reader is. Can you compare your book to some popular books that are currently selling? This isn't about copying or writing something someone else has written, this is about how you plan to position your book in the marketplace. If readers love XYZ author, then they might like your books too.
Writing to market
If you plan to self-publish, there is an entire concept aligned around the idea of 'writing to market,' which means writing books that indie books lover want. When it comes time to market your brilliant book, and you haven't defined your genre, it's going to be that much harder to attract your ideal reader.
The most obvious choice is to write in a genre you enjoy reading, however some people choose genres based on their profitability instead. Personally, I could never be excited about writing a book that I'm not passionate about, but everyone functions differently. Do you, boo. (However, if this is your first book, I'd consider sticking to writing something you love—because you are about to become intimately acquainted with it.)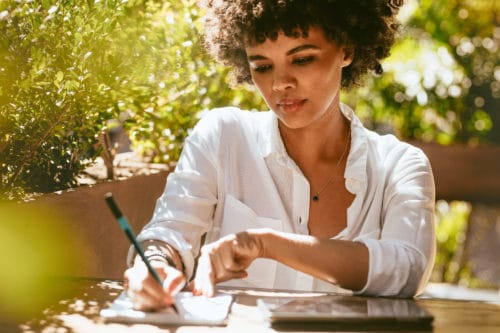 How to become a fiction writer step 3: Write the book you want to read
Toni Morrison is famous for the line, "If there's a book that you want to read, but it hasn't been written yet, then you must write it." This is something you might want to consider. Think about what I said above—you can still make your book specific to a genre, but maybe there's something within that genre you're craving to see.
This is where writing something you love will serve you. If you're passionate about the story, you're more likely to stick with it. Also, if you want to get it publication-ready, you're going to read it about 45,784 times. So you better really, really like it.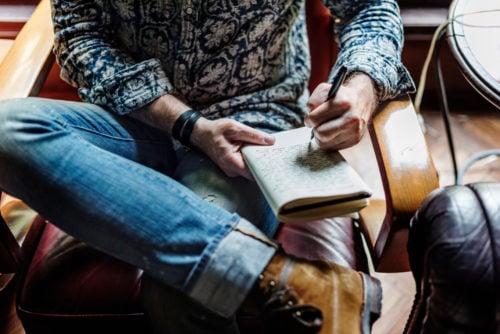 How to become a fiction writer step 4: Remember that writing a book is hard
Ooh, I assume that wasn't what you wanted to hear. Sorry, we don't sugar coat around here. Writing a book from start to finish is hours and hours of work (and probably some blood, sweat, and tears. Definitely tears.) And writing that first draft is truly only 10% of the work. After that comes the revising and editing and the feedback and then the querying and the marketing and… the list goes on and on.
Get out that first draft
But you can't get to any of those things if you never actually finish. So here are a few tips to help you bang out that first draft:
Try to be consistent. You don't have to write every single day, but try to do it most days. Like anything, practice makes things easier. If you do end up taking a longer break, don't beat yourself up. Just try and get back to it and put the past behind you. It's okay—there is no race and timeclock to beat.
Set a word or time goal for yourself. These can be small daily goals or larger monthly goals. Be realistic about what you can actually accomplish. A good place to start is 500 words a day. See how that feels for you and adjust accordingly.
Set up a dedicated writing space. If you can, a workspace just for your writing can really help. Keep clutter to a minimum and use visual cues to signal when it's time to write. Personally, I make myself a cup of tea, which puts me into writing mode.
Keep editing to a minimum . It can be tempting to go back and rewrite and edit what you've written the day before. And while that can work for some people, it traps a lot more people in an endless loop where they never make it past Chapter 10 and lose all their steam. If this is your first book, I urge you to press forward. It doesn't matter if your first draft is messier than a kindergarten finger painting. No one but you ever has to see it and that's what the editing and revising phase is for. There is nothing that can't be fixed in a messy first draft.
‍ Understand you will have to edit. Once you do get that first draft done, do not make the mistake of thinking you're actually done. All writing needs editing no matter how many books you've written. Your first draft is just the beginning, but understanding that can help make the entire process seem less daunting.
The good thing is now you know it's hard and when it feels that way, that's totally natural. Hopefully these things can make it a little less difficult. Hopefully.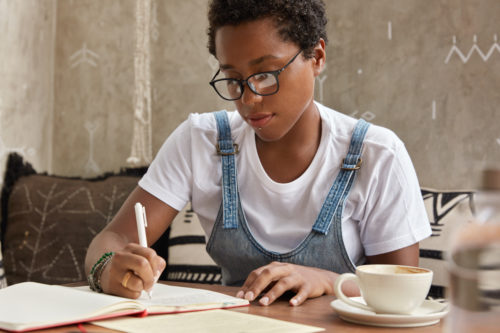 How to become a fiction writer step 5: Figure what type of writer you are
There are many ways to write a book and generally, there aren't any wrong ones. You might have heard the terms plotter or pantser . Basically, a plotter is someone who maps out every aspect of their world, characters, plot, and story before writing. A pantser, on the other hand, is someone who sits down and starts typing, thereby going by the literal "seat of their pants."
The truth is, most people fall somewhere on the spectrum in between, but you might tend towards one end or the other. Personally, I am a pantser. For me, the story just doesn't flow until I sit down and start actually writing. It means my first drafts tend to come in under word count, are pretty messy, and have a lot of plot holes to go back and fill. That may sound chaotic, but after writing eight books, it's what works for me.
Plotters might have neater first drafts because they've spent the time up front building all those things I like to discover along the way (you'll sometimes hear pantsers referred to as 'discovery writers' as well).
So either way, you'll be plotting eventually—it just depends on whether it's before that first draft or after. Neither one is right or wrong. The correct one is the one that gets your book written.
Before you start writing
Some things you might want to consider before your start writing are:
Story structure : There are numerous kinds of story structures you can follow to help plot your novels. Whether you use one religiously, loosely, or not at all is up to you. But it's worth reading about the different kinds regardless of what type of writer you are. Here are some popular ones to look at:
The seven basic plot points
Three-act structure
Save the Cat
The hero's journey
The Snowflake Method
Characters : Some people like to fully develop their characters before they start writing. Here are some ways to help develop your characters:
Make use of common character archetypes
Explore the different types of character arc
How to write compelling characters from the inside
Think about your character goals and motivations
What are your character's flaws ?
Ask yourself some questions about your characters and how they'd behave in certain situations
Those are some ideas to get you started and, if all else fails, we've also got this handy resource on how to plan a novel you can look at.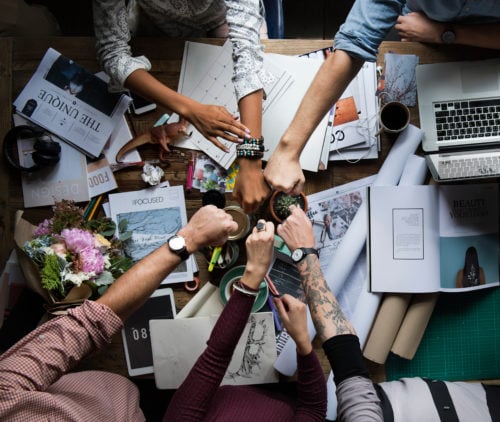 How to become a fiction writer step 6: Find other writers to commiserate with
I can't stress enough how important it is to find a writing community, whether that's in person or online. While writing can seem like a solitary endeavor, ask almost any successful writer and they'll tell you they couldn't have done it without support along the way.
Why do you need writing friends?
Motivation : When you're surrounded by other people also 'doing the thing,' it motivates you to do it, too. Few things are more powerful for your future writing career than a group of like-minded people working towards a similar goal.
Commiseration : Writing is hard, remember? And no one understands that better than other writers. Whether it's that block you can't seem to get past or that 134th rejection letter you received that week, you need people to share your lows with.
Celebration : On the flipside, no one understands better than another writer how big a deal it is when you finish that manuscript, land that agent, sell that book, or surmount any of the other successes writers can achieve. You also need someone to share the highs with.
Ideation : Sometimes you're stuck on a plot point or have written yourself into a corner. Having people you can bounce ideas off can be invaluable to your work.
‍ Feedback : You can't be a writer without some feedback. You can't. You are too close to the work to see what might not make sense, what might be boring, or what just isn't working. Writing friends make great critique partners and beta readers. Embrace them. Love them. Appreciate them.
Where do you find writing friends?
Good question. This can be tricky and it can take some time. But by being generous with your own time first, you can form connections that will eventually become mutually beneficial. Some places to look for writing friends are:
Story Craft Café : Dabble has set up an entire community just for this purpose. If you're not already a member, what are you waiting for?
Twitter : The writing community on Twitter is huge. Check out the #writingcommunity hashtag, join in a pitch event or Twitter chat, and make some friends.
Facebook : There are also countless writing groups on Facebook, including many that are genre-specific. Do a search for some that might apply to you and jump into the conversation.
‍ Your local writer's guild/bookstore/library : If you're fortunate enough to live somewhere with a large population of writers, look for events or opportunities to network and meet with other writers in person.
Now that you have a basic idea of what it takes to become a novelist, I hope I haven't scared you off. The truth is, yes, it's a lot of hard work, but the rewards are totally worth it. When you get that first fan email telling you how much they loved your book, or when you sign with that agent, or land that big book deal, or make that bestseller list—those are highs you'll never forget.
To make your journey into noveldom easier, Dabble is here to help. Not only can you use it to help set word count goals for the day, month, and beyond. You can also use it to map out your plot structure, store character notes, and keep you focused on your writing. It'll make those six really hard steps a lot easier.
Try it yourself for free for 14 days !
Nisha J Tuli is a YA and adult fantasy and romance author who specializes in glitter-strewn settings and angst-filled kissing scenes. Give her a feisty heroine, a windswept castle, and a dash of true love and she'll be lost in the pages forever. When Nisha isn't writing, it's probably because one of her two kids needs something (but she loves them anyway). After they're finally asleep, she can be found curled up with her Kobo or knitting sweaters and scarves, perfect for surviving a Canadian winter.
SHARE THIS:
TAKE A BREAK FROM WRITING...
Read. learn. create..
Book marketing. Those two innocuous words instill fear and loathing into the hearts of so many writers. You just want to write your books and have them sell themselves. Why do you have to tell people about it? Well, Susan, because you do. I know you want to write, but if your goal is to write, publish, and make money from your books, then you're going to have to find a way to make them visible. Thousands of new titles are uploaded to Amazon every single day. Millions of books are being published every year, and no matter how good your story is, without marketing, there's not much chance very many people will find it. 
What kind of writer are you? Are you the sort who writes a meticulous outline that tips into the five digits or the type who sits down in front of a blank sheet of paper and lets the words pour out of you like a runaway train? Did you know there are specific terms for this kind of writing? Writers will come up with words for anything, I swear. Plotters are the first type of writer. They like to have detailed outlines that tell them exactly where their story is going. Pantsers are the other type of writer, which is kind of a weird name, but the term was coined by Stephen King (a famous pantser) to describe writing by the seat of your pants. Cute, eh? There is no right or wrong way to write your book, and I'm going to repeat this so many times. The right way is the way that works for you. 
Dystopian fiction is one of the darker subgenres of science fiction and fantasy. It takes us into dark, foreboding worlds, where oppression and bleak landscapes are the norm. Books like 1984 by George Orwell, The Hunger Games by Suzanne Collins, and Brave New World by Aldous Huxley have become classics that shine a light on political corruption, environmental disaster, and societal collapse.Why do we love these stories? Maybe it's because dystopian fiction allows us to explore worst-case scenarios, to grapple with the idea that the world we know and love could be lost forever. It's a way for us to confront our fears and anxieties about the future, to see what could happen if we continue down a certain path.
What does a fiction writer do?
Would you make a good fiction writer? Take our career test and find your match with over 800 careers.
What is a Fiction Writer?
A fiction writer creates stories that are imagined, rather than based on real events or facts. They use their creativity and literary skills to develop characters, plotlines, settings, and themes that capture the readers' attention and emotions. Fiction writers may write in a variety of genres, such as romance, science fiction, mystery, horror, historical, or fantasy. They may also explore different formats, such as novels, novellas, short stories, or flash fiction.
To be a successful fiction writer, one needs to possess strong writing skills, including the ability to create compelling and believable characters, develop a captivating plot, and write in a style that engages and entertains readers. Fiction writers also need to have a vivid imagination, the ability to think creatively and critically, and a deep understanding of human nature and society. They must be dedicated to their craft, willing to spend countless hours researching, writing, editing, and revising their work to achieve their vision. Additionally, many fiction writers have a unique voice and perspective that sets them apart from other writers and attracts a devoted fanbase.
What does a Fiction Writer do?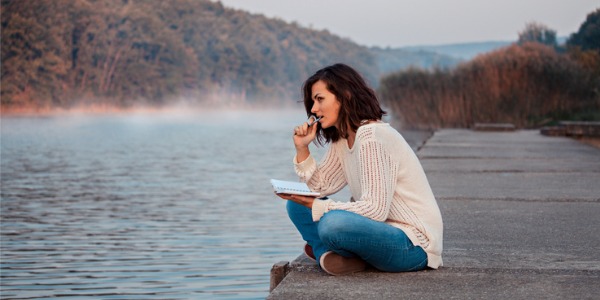 Fiction writers shape our cultural and intellectual landscape. Through their works, they provide a window into the human experience, exploring complex themes such as love, loss, identity, and social justice. They challenge our assumptions, broaden our perspectives, and encourage empathy and understanding for people and cultures that are different from our own. Fiction writers also inspire and entertain us, transporting us to new worlds, and introducing us to fascinating characters that we may never meet in real life.
Duties and Responsibilities As a fiction writer, your primary responsibility is to create engaging and compelling stories that captivate readers and transport them to new worlds. However, there are a variety of other duties and responsibilities that come with being a fiction writer. Here are some of the most important ones:
Crafting a story: Your primary responsibility is to craft a story that is engaging, interesting, and well-written. You need to create characters that readers care about, develop a plot that keeps them turning pages, and write in a style that is enjoyable to read.
Research: Depending on the type of fiction you are writing, you may need to do extensive research to ensure that your story is accurate and believable. This can include everything from historical research to scientific research.
Editing and revising: Once you have written your first draft, you will need to spend time editing and revising your work. This can involve rewriting entire chapters, cutting out unnecessary scenes or dialogue, and making sure your writing flows smoothly.
Marketing: As a fiction writer, you will need to spend time marketing your work. This can include building an online presence, attending book signings and other events, and networking with other writers and industry professionals.
Time management: Writing a novel or other long-form piece of fiction can be a time-consuming process. As a writer, it is your responsibility to manage your time effectively and make sure you are making progress on your project.
Meeting deadlines: If you are working with a publisher or editor, you will need to meet deadlines for submitting your work. This requires a strong sense of discipline and a commitment to staying on track with your writing schedule.
Continuing education: As a writer, it is important to continue learning and growing in your craft. This can involve attending writing workshops or conferences, taking online courses, or simply reading widely to improve your writing skills.
Types of Fiction Writers There are many types of fiction writers, and individuals can fall into more than one category. Here are some common types:
Literary Fiction Writers: These writers focus on crafting complex prose that explores the depths of human emotion and challenges readers' assumptions. They may not fit neatly into any one genre, instead preferring to focus on character development and exploring themes such as identity, love, loss, and the human condition.
Genre Fiction Writers: These writers specialize in specific genres, such as science fiction, romance, fantasy, horror, or mystery. They focus on crafting stories that fit within the genre's conventions and often have a strong fan base. They may use common tropes and archetypes but still create unique characters and worlds that appeal to their readership.
Young Adult (YA) Fiction Writers: These writers create stories specifically aimed at a teenage audience. They often explore issues such as identity, coming of age, and first love, but can also tackle heavier topics such as mental health, trauma, and social justice. The stories may contain a strong moral or ethical message and are often told through the eyes of a young protagonist.
Children's Fiction Writers: These writers create stories that are tailored to children's age groups and reading levels. Picture books for younger children often focus on simple themes and use colorful illustrations to engage young readers. Middle-grade novels may explore more complex issues while still maintaining a sense of fun and wonder.
Historical Fiction Writers: These writers create stories set in the past, often focusing on real historical events and figures. They must balance historical accuracy with engaging storytelling and may use a blend of fact and fiction to create a compelling narrative.
Romance Writers: These writers focus on crafting stories centered around romantic relationships. The stories may be set in any time period or genre and may have different levels of steaminess depending on the sub-genre. The focus is often on the characters' emotional journey as they navigate the ups and downs of falling in love.
Crime Fiction Writers: These writers specialize in crime fiction and may focus on creating detective or police procedural stories, thrillers, or mysteries. The focus is often on solving a crime or catching a villain, but the stories can also explore the human emotions and ethical questions that arise in the pursuit of justice.
Science Fiction and Fantasy Writers: These writers create stories set in fictional worlds and often include elements of magic, science, or technology. They may explore dystopian or utopian societies, alternate timelines, or parallel universes. The stories often reflect on the human condition and explore ethical questions related to the use of technology or magic.
Screenwriters : These writers create scripts for film or television, often adapting existing novels or creating original stories specifically for the screen. They must consider the limitations of the medium and craft a visual story that engages the audience and fits within the constraints of the production.
Short Story Writers: These writers focus on crafting shorter pieces of fiction that may be published in literary magazines or anthologies. The stories may explore a single theme or idea and often leave the reader with a sense of ambiguity or open-endedness. The focus is often on creating a powerful emotional impact in a small amount of space.
What is the workplace of a Fiction Writer like?
The workplace of a fiction writer can vary widely depending on their individual preferences and lifestyle. Many writers work from home, using their computer or notebook to craft their stories. They may have a dedicated workspace, such as a home office or a corner of their living room, where they can work uninterrupted. Some writers prefer to work in public spaces such as coffee shops or libraries, where they can people-watch and soak up the atmosphere.
Other writers may rent a dedicated workspace, such as a shared office or a co-working space, where they can collaborate with other writers and creatives. This type of workspace can provide a sense of community and help writers stay motivated and accountable.
Regardless of where they work, fiction writers often spend long hours alone, focusing on their craft. They may spend hours researching, outlining, and editing their stories before even beginning to write. Once they begin the actual writing process, they may work for several hours straight or take frequent breaks to refresh their creativity.
One of the biggest challenges for fiction writers is maintaining discipline and motivation. Since writing is often a solitary pursuit, it can be difficult to stay on track and meet deadlines without external accountability. Many writers use tools such as timers or productivity apps to help them stay focused and make progress on their work.
Despite the challenges, many fiction writers find the process of creating a story deeply rewarding. They have the freedom to explore their creativity and imagination, and to craft stories that resonate with readers on a deep emotional level. While the actual work of writing can be challenging, the end result is often a work of art that has the power to transport readers to new worlds and inspire them in countless ways.
Frequently Asked Questions
Writing and journalism related careers and degrees.
Writing Careers
Fiction Writer
Nonfiction Writer
Grant Writer
Academic Writer
Screenwriter
Television Writer
Speechwriter
Technical Writer
Travel Writer
Sports Writer
Ghostwriter
Content Writer
Food Critic
Music Critic
Journalism Careers
Photojournalist
Correspondent
News Reporter
News Anchor
Corresponding Degrees
Creative Writing
Technical Writing
Children's Literature
Broadcast Journalism
Screenwriting
Songwriting
Continue reading
The Fiction Writer
Jillian cantor.
304 pages, Paperback
First published September 26, 2023
About the author
Ratings & Reviews
What do you think? Rate this book Write a Review
Friends & Following
Community reviews.
"Whatever I was going to do next, I wanted it to belong completely and only to me. I wanted to write the rest of my story my own way."
Join the discussion
Can't find what you're looking for.
The Most Popular Contemporary Fiction Writers (Q3 2023)
Popularity is the % of people who have a positive opinion of a contemporary fiction writer. find out more.

rankings in Entertainment
rap & hiphop music artists
contemporary actors
contemporary actresses
contemporary TV shows
contemporary TV personalities
other data in Entertainment