Soft Skills
11 minute read
Your Guide to Career Goals Statements (and Why You Need One)

Kat Boogaard
Twitter LinkedIn WhatsApp Pocket Email
Imagine that it's a Monday morning, and you've just arrived at the office. You sit down at your desk, ready to roll up your sleeves and get to work.
Now, tell me this: What's on your mind?
Are you thinking through the meetings on your schedule? The emails that need to be answered? The tasks that must be completed that day? All of the above?
If so, you aren't alone. Our workdays are busy, which means our minds are often consumed by what's right in front of us. We take things day by day.
There's nothing inherently wrong with that (after all, that stuff does need to get done). But here's the problem: It's far too easy to become overwhelmed by those immediate things, that we neglect to zoom out and get a broader view of what we're actually working toward (beyond completing that day's to-do list).
This is exactly where a career goals statement comes in handy. It reminds you of your main objective and gives you a greater sense of direction. So let's look at some career goals statement examples!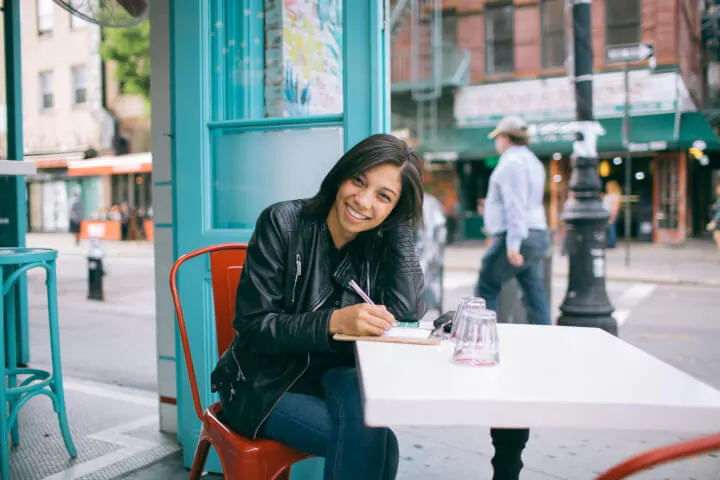 What exactly is a career goals statement?
As the name implies, a career goals statement is your personal vision for the future of your career. Think of it as the ultimate target that you're aiming toward.
For example, perhaps you're currently employed as a marketing analyst, but your long-term career plan is to start your own marketing agency that primarily serves software clients. Your career goals statement should formally document that objective.
What exactly is meant by "formally document"? Put simply, your goals statement should be written down—it's not just something that lives in the back of your brain. We'll talk more about why that's important soon. But with all of that in mind, here's what that career goals statement could look like:
I will start my own agency that provides an array of marketing services to clients in the software industry by the year 2025. I will accomplish this by maximizing any marketing position I fill in order to refine my skills, getting involved at community and social events to strengthen my connections, and scheduling informational interviews with current agency owners.
Many graduate schools actually require that a goals statement (otherwise referred to as a personal statement or statement of purpose) or a similar essay be submitted with a student's application materials.
However, for the sake of simplicity, we're going to focus on career goals statements that are used personally—for people who want to formalize their objectives and increase their understanding of what they're working toward in their careers.
Want to learn more?
Take your soft skills to the next level with our comprehensive (and free) ebook!
Why does your career goals statement matter?
At first glance, a career goals statement might seem like an unnecessary formality. But make no mistake, working on your own career goals statement comes with several benefits.
1. It forces you to ask yourself the hard questions
Chances are, your average workday is full of questions. Should you do this or that first? Where'd you put that important file? What should you grab for lunch? Do you have time to snag another coffee ahead of that meeting?
Yes, you're asking yourself plenty of questions—but you probably aren't taking any time to reflect on the really important ones. When's the last time you've checked in with yourself about things like:
What do you envision for your career in another 10 years?
What more can you do to work toward that vision?
What tasks or projects make you feel most fulfilled ?
What tasks or projects make you feel most drained?
Those are exactly the types of questions you'll need to answer when creating your own career goals statement, and that chance for reflection is valuable for ensuring you don't get caught up in the minutiae of your day-to-day.
2. It gives you a sense of direction
Have you ever felt sort of rudderless in your career? Like you were just clocking in and out each day for nothing more than a paycheck?
This is another benefit of creating your own career goals statement: It breaks you out of the monotony, dangles a carrot in front of your face, and renews your sense of motivation.
That's because, as the Goal-Setting Theory explains, goals themselves are incredibly motivating. You feel much more inspired to get to work when you actually have a clear idea of what you're working toward.
Additionally, focusing on the end game allows you to get a stronger grasp on what skills you'll need to develop or refine in order to make that goal a reality.
3. It increases your accountability
There's something almost intimidating about writing your goal down, isn't there? You've documented it—it's real, and now there's a greater sense of accountability.
As frightening as it might seem, that's actually a positive thing. Research shows that people who are able to vividly picture or describe their own goals are anywhere from 1.2 to 1.4 times more likely to actually achieve them. What better way to get that clarity than by writing that objective down?
Plus, doing so will help make that goal stick. Other studies show that writing things down improves your memory of them.
5 tips to write your own career goals statement
A career goals statement offers numerous benefits. But what do you need to know to write one for yourself? Let's cover five tips you should put into play.
1. Invest the time in reflection
Remember when we talked about the opportunity for self-reflection above? Before jumping right in with scribbling down your career goals statement, make sure you actually take the time to do that
This will help you avoid setting a goal that you think you should have and instead focus on one that you want to have.
That's the most important piece of a goal: It should be something that you actually want to achieve. Setting one only because you think it's expected of you ultimately won't do you any good.
2. Get specific
In order for a goal to be impactful and provide the necessary sense of direction, it needs to be specific. Something general like "climb the ladder" or "earn more money" is too ambiguous to ignite any motivation.
When establishing your career goals statement, try using the SMART goals framework. Here's what that stands for:
Specific: Clearly state what you plan to accomplish (i.e. "start my own marketing agency focused on software clients").
Measurable: Similarly, outline what your benchmark for success is so that you know when you've actually achieved your goal.
Achievable: You don't want to set yourself up for disappointment, so make sure that your goal isn't so lofty that it's unattainable.
Relevant: Ensure that what you want to accomplish is actually relevant to you (this is where that self-reflection really comes in handy!).
Time-bound: A goal is nothing without a deadline for when you plan to achieve it by. Your career goals statement should be somewhat long-term (and not something you want to accomplish by next week). But "long-term" can mean six months to some people and 20 years to others. Get clear on exactly when you want to reach this objective.
3. Use confident language
Your career goals statement isn't the place for wishy-washy and noncommittal phrases. There's no starting with, "I really want to..." or "I really hope I can…"
Open your career goals statement with a certain and confident, " I will ." Not only does that phrase further remove any ambiguity, but it also gives you a nice nugget of encouragement whenever you refer back to it.
4. Develop an action plan
Setting a goal is a great start, but setting a finish line for yourself means nothing if you don't understand what you'll do to cross it.
The latter part of your career goals statement should outline the steps you'll take to accomplish that goal. This gives you a roadmap that you can follow, rather than just saddling yourself with an objective and feeling clueless about how to get started.
5. Be flexible
Here's one more thing that's important to recognize: Goals change. Of course, the very purpose of your career goals statement is to give yourself something long-term to work toward, but that doesn't mean it'll always be set in stone.
What if after talking to some other agency owners you decide that business ownership really isn't for you? Or what if you have personal circumstances come up that require you to remain in traditional employment for a while—meaning the 2025 deadline is no longer realistic? Or what if you achieve your goal and need to come up with a brand new one?
Whether good or bad, these things happen, and you need to be flexible and willing to roll with the punches.
If and when your goal shifts, don't completely trash or delete your previous goal. Instead, keep it and write an entirely new one. It's interesting to see how your objectives evolve over time, and that progression can actually be quite enlightening and motivating.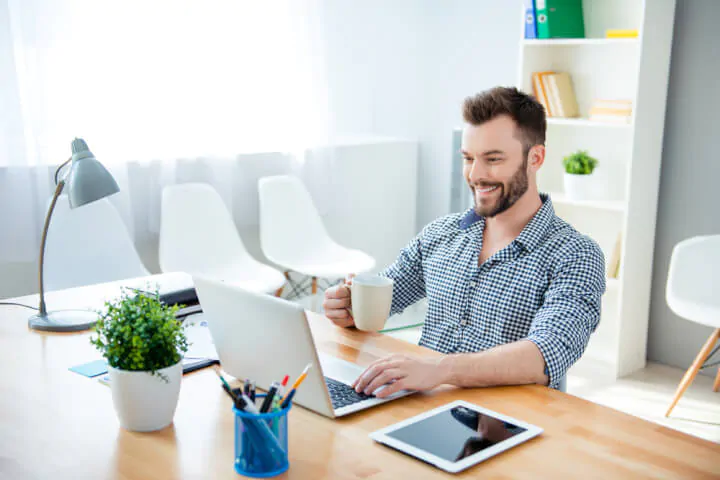 Get inspired: 5 career goals statement examples you can learn from
Nothing helps provide some clarity like a solid sample. So with all of the above tips in mind, let's take a look at a few different career goals statement examples that you can use as inspiration for writing your own .
Career goals statement example #1:
I will be promoted to a Project Lead at CompanyXYZ within the next five years. To do so, I will refine my project management skills, obtain my PMP Certification , and express my desire for growth and advancement to my current supervisor.
Career goals statement example #2:
I will land a job as a Data Analyst at a large financial institution by the end of the year. To accomplish this goal, I will improve my skills in Excel and PowerQuery and connect with other Data Analysts in my network to find out more about their job search processes.
Career goals statement example #3:
I will foster a positive reputation and secure a public speaking gig for a session of over 300 attendees within the next calendar year. I will do this by continuing to refine my public speaking abilities and networking with conference planners in my industry.
Career goals statement example #4:
I will pursue and complete a career change from a Graphic Designer to a Web Developer within three years. To make this happen, I will return to school to get my Associate Degree in Web Development and complete online courses that cover all of the major programming languages.
Career goals statement example #5:
I will gain a Certified Public Accountant license within a year. In order to achieve this, I'll create a study plan and I'll take a CPA exam review course . I'm going to study each day for 2-3 hours after work to pass the CPA exam.
What should you do with your career goals statement?
You did it—you implemented the tips and followed the examples, and now you're equipped with your own career goals statement. Uhh...now what? What do you do with it?
Keep it somewhere safe. Better yet, keep it somewhere you can easily accessible so that you can refer to it whenever you need a gentle reminder of what you're working so hard for.
Whether you had a bad day or just need to be encouraged that your career is about so much more than churning through your daily to-do list, your career goals statement will help you step back and get the perspective that's so easy to lose sight of in your everyday life.
Need to level-up your own skills to make your career goal a reality? Check out all of GoSkills courses and start making things happen.
Gain the soft skills you need to succeed
Start learning for free with GoSkills courses
Loved this? Subscribe, and join 428,115 others.
Get our latest content before everyone else. Unsubscribe whenever.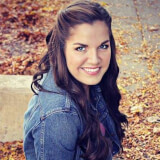 Kat is a writer specializing in career, self-development, and productivity topics. When she escapes her computer, she enjoys reading, hiking, golfing, and dishing out tips for prospective freelancers on her website.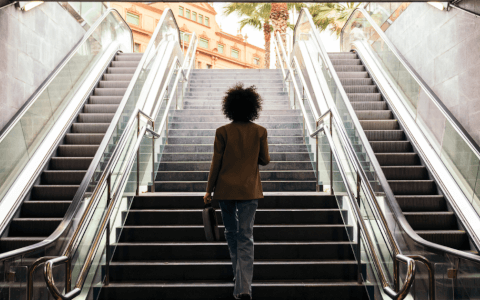 Recommended
GoSkills Success Stories: How Online Learning Can Help You Grow Professionally (and Personally)
To grow professionally doesn't just mean climbing the corporate ladder. Explore four ways online learning fosters professional growth.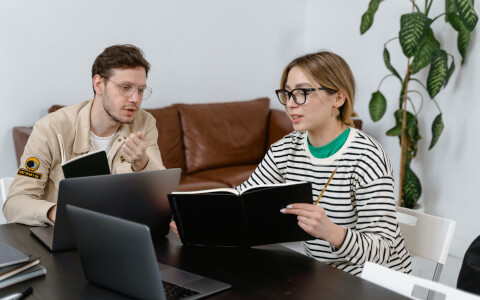 7 Essential Skills To Help Startups Meet New Challenges
Startups and SMEs face specific challenges that threaten their survival. Make sure your business' growth doesn't lead to its downfall with these 7 tips.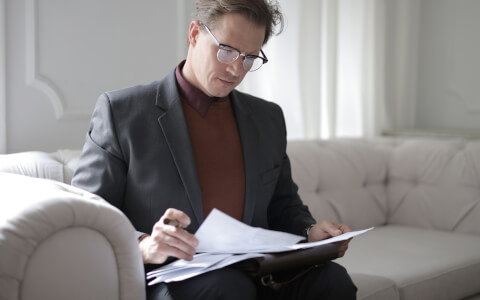 The Future of Sales Careers: How Training, Methods, and Software are Changing
The nature of sales has evolved due to automation, specialization, and changing consumer expectations. This guide explores how such changes are reshaping sales careers.
© 2023 GoSkills Ltd. Skills for career advancement
How it works
Transform your enterprise with the scalable mindsets, skills, & behavior change that drive performance.
Explore how BetterUp connects to your core business systems.
Build leaders that accelerate team performance and engagement.
Unlock performance potential at scale with AI-powered curated growth journeys.
Build resilience, well-being and agility to drive performance across your entire enterprise.
Transform your business, starting with your sales leaders.
Unlock business impact from the top with executive coaching.
Foster a culture of inclusion and belonging.
Accelerate the performance and potential of your agencies and employees.
See how innovative organizations use BetterUp to build a thriving workforce.
Discover how BetterUp measurably impacts key business outcomes for organizations like yours.
A demo is the first step to transforming your business. Meet with us to develop a plan for attaining your goals.
Best practices, research, and tools to fuel individual and business growth.
View on-demand BetterUp events and learn about upcoming live discussions.
The latest insights and ideas for building a high-performing workplace.
The online magazine that helps you understand tomorrow's workforce trends, today.
Innovative research featured in peer-reviewed journals, press, and more.
We're on a mission to help everyone live with clarity, purpose, and passion.
Join us and create impactful change.
Read the buzz about BetterUp.
Meet the leadership that's passionate about empowering your workforce.
For Business
What is a career statement, and should you write one?
Understand Yourself Better:
Big 5 Personality Test
Jump to section
What is a career statement?
Why are career statements important, how to write a career statement, career statement examples.
Start writing
There's value in living in the present. Checking off a list of to-dos. But when you take each moment as it comes, never turning your attention to the future, the days — and your career — grow stagnant.
Writing a career statement can help.
We know we're throwing another assignment on your plate when it's already full. But writing this statement isn't time-consuming and will help you progress toward real growth.
And if you haven't taken the time to write down your professional goals, a career goal statement is a good exercise to tackle before jumping in on your career statement.
This might sound like too much work, but it's well worth it. Studies have shown people who write down their goals are 76% likely to achieve them versus 43% for those who don't . Dedicating a little time to writing a goal statement today can go a long way toward bettering your tomorrow.
We'll make it easier with a template. But first, let's look at what exactly a career statement is — and why we think it's a valuable tool for professionals.
Think of your career statement as an aspiration statement tailored to your professional goals. Aspiration statements express what you're hoping to achieve in the future and describe your vision for the next chapter of your life.
Think of them as the end of your life plan: your statement should highlight your dreams, encourage your ambitions, and provide an ideal outcome for your action plan. It's a few sentences or a short paragraph outlining what you want to accomplish in the future.
Sounds simple enough, right? For career statements, you're focusing those aspirations on your professional goals and intended career path. A career statement demands you to research what you need to accomplish those goals, as it depends on specific information. It needs specific dates, desired job titles or companies, locations, skills required, and more.
Career statements keep your objectives top of mind. They never let you lose sight of your long-term goals and why you want to achieve them. Thanks to this focus, a career statement helps you visualize your career path, like a roadmap to success.
Writing a career statement can help you tackle three of the resources key to achieving your goals:
Motivation: What will make you spring out of bed and continue putting in a consistent effort? Increasing your motivation fuels your need to make your career aspirations a reality.
Direction: How do you see yourself developing your career ? Do you need to go back to school, move to another city, or network more? Direction gives you a clear understanding of the moves you need to make to achieve your goals.
Accountability: Goals are great, but who's holding you to them? Fostering accountability will keep your professional development goals top of mind and help you stay dedicated to them.
There's beauty in this journey. Goal-setting can reveal things you didn't know about yourself, teaching you new skills and helping your well-being along the way. It's been linked to:
Higher motivation and ambition to succeed
Stronger resilience
Higher self-esteem
Greater self-confidence
More independence and autonomy
Career statements and goal setting go hand in hand. They build off each other to help you turn your dreams into your reality.
You're not likely to knock out your career statement in five minutes. It takes time — depending on how clearly defined your career goals are. Don't rush the process.
If you run into writer's block or can't decide what goals you want to set , take a break. You might find time for a self-discovery journey to help you understand where you'd like your life to go.
Planning out your career doubles as a great self-discovery technique , too: you can ask yourself what you'd like your work-life balance to be, if you want to work remotely, where you want to live, if you want to be a manager, and more.
When you're ready to begin, follow these six steps:
1. Think about your passions and purpose
Your passions and purpose guide your life. The COVID-19 pandemic prompted two-thirds of US employees to reflect on their life's purpose , with 70% of respondents reporting their purpose is tied to their work. Passions and purpose are a great place first place to look to help identify what goals you want to accomplish.
Example: "My passion is storytelling and writing."
2. Do plenty of research
This step won't take long if you're already clear on what you want. But if you have no idea what professional aspirations will enrich your life, dedicate time to research.
Reach out to people in your network for a chat. Expand your knowledge about your industry, learn the requirements for the jobs that interest you, and familiarize yourself with potential roadblocks. Research will give you the knowledge you need for the planning and execution stages.
Example: "I'm interested in writing a fictional novel and working with a local publisher."
3. Test the waters
This is a time for curiosity, intentionality, and reflection. Put your research to the test. If you want to change careers, go to a seminar about your target industry. You might be bored to tears, which could indicate you need to modify your plans.
Ask yourself questions along the way — are you staying engaged with the topics you're learning about? How do your body and mind feel as you turn in this new direction?
Example: "I've written a storyboard, and it's made me feel excited and motivated, so I'd like to continue and take the next step."
4. Use the SMART goal template
The SMART goals model will help you set realistic goals . SMART stands for specific, measurable, attainable, relevant, and time-bound. This model provides a template that keeps you organized and lets you visualize your goals more clearly.
You should have a pretty good handle on your goals by now. And if you find that your initial goal doesn't work well after listing the different elements, don't be afraid to make changes — without adaptability, you'll be setting yourself up for failure. As you grow and move down your career path, your goals might shift. That's perfectly fine.
Example: "I plan on pitching a 300-page novel by the end of this month to three different publishers in my community. I'll pitch my novel to their fiction team and take notes when they provide any feedback."
5. Solidify your action plan
So you've explored the things that matter to you, spent time researching and experimenting, and defined your goals. Now, it's time to make a solid action plan. Take a moment to think about each step you'll take. Do you need to further your education, work on your communication skills, or find a mentor?
Planning ahead has been shown to reduce stress and anxiety and make responsibilities feel less overwhelming . Mapping out your steps will eliminate potential stressors and procrastination.
Example: "I'm going to create a timeline for myself to write the novel, including the brainstorming, writing, and revising process. This will help keep me on pace and focused on each section as it comes."
6. Make adjustments when needed
You've put tons of effort into creating an actionable, well-thought-out career statement. But sometimes life throws a curve ball. Challenges arise, obstacles you may have no control over.
Adopt a growth mindset that welcomes learning from your mistakes and changing your plan when necessary. Adapting to change will help you achieve your goals, not hinder them.
Example: "My pitch hasn't been picked up by any of the publishers I've pitched my story to, so I'm widening my circle to publishers from other communities. I've learned from my network to be more specific with my pitches and to explain more about myself."
Career statements differ depending on your goals, industry, and lifestyle. Your life purpose could be tied to working with nonprofit organizations or climbing the ladder in the tech industry. Whatever your professional aspirations, your career statement should reflect them.
Here are three career statement examples to inspire you:
I'll be a full-time writer in two years. I'll start as a freelance writer and build up my portfolio, expand my network, and tune in to workshops and seminars about writing. I'll dedicate 30 minutes each week to reading great pieces of writing, and I'll be ready to do some problem-solving when editors give me feedback.
I'm going to be my own boss and open a café next year. I'll create a welcoming new culture within my café that values kindness, compassion, and respect. I'll further my existing business knowledge by taking marketing classes and talking to people within my industry about the financial costs of entrepreneurship.
I'll be promoted to sales manager within two years. I'll focus on improving my leadership and communication skills by listening to feedback from my manager. I'll also continue to learn more about sales since it's my big interest and passion and become familiar with my soon-to-be managerial responsibilities.
Start writing
We've outlined the steps and benefits of writing a career statement. Now it's time to invest in your future and start writing.
When you're happy with your career statement, put it somewhere you'll notice each day. If you wrote it up by hand or printed out a copy, stick it on your fridge or bathroom mirror, or hang it above your desk.
If you went digital, set your statement as your phone's lock screen. Keep it close. It'll remind you of what you're working toward — and what you've already achieved by putting your goals and plans into words.
Give your statement another read when you're feeling down or unmotivated. They're yours for the taking.
Elizabeth Perry
Content Marketing Manager, ACC
Do goal statements actually work? Find out here
10 personal brand statements to put all eyes on you, effective problem statements have these 5 components, stand out to your hiring panel with a personal value statement, how to craft an impactful company mission statement, life purpose: the inspiration you need to find your drive, 4 steps to create a personal vision statement and change your life, writing a value statement: your guide to keeping your team aligned, are you being passed over for a promotion here's what to do, similar articles, how to write a leave of absence letter (plus template), personal branding: why you need to control the message, the 3 year plan: build a roadmap to success, purpose, mission, vision: what drives what, stay connected with betterup, get our newsletter, event invites, plus product insights and research..
3100 E 5th Street, Suite 350 Austin, TX 78702
Platform Overview
Integrations
BetterUp Lead
BetterUp Manage™
BetterUp Care™
Sales Performance
Diversity & Inclusion
Case Studies
Why BetterUp?
News and Press
Leadership Team
Become a BetterUp Coach
BetterUp Labs
Leadership Training
Business Coaching
Contact Support
Contact Sales
Privacy Policy
Acceptable Use Policy
Trust & Security
Cookie Preferences
4 Simple Steps to Write a Career Goal Statement for Work
There might be affiliate links on this page, which means we get a small commission of anything you buy. As an Amazon Associate we earn from qualifying purchases. Please do your own research before making any online purchase.
Out of all of the standard job interview questions, one that is among my least favorite is, "Where do you see yourself in five years?"
I understand that potential employers are looking for a goal-oriented person  who is driven to progress in their career, but my knee-jerk response to this question is always, "I don't even know what's for dinner."
Things can change so quickly in life, and while I've maintained a certain sense of stability up to this point, I can't really project five years out.
Having recently been asked this question, I was glad to have a more suitable answer than my sarcastic response, but I may have been lost without having come up with a career goal statement.
Just like yours probably are, my work days are busy and taken over by to-do lists of tasks that need to be accomplished in the short-term, which means I largely take things one day at a time.
And while these short-term tasks are inherently critical to being successful in our professional roles, it's entirely too easy to become overpowered by these immediate responsibilities, leaving us little time to stop and think about what we are actually working toward in the long run .
In this article, we will look at what a career goal statement is, why it's important to have one, and how you can write your own. I will also offer some examples of career goal statements so you can get a better feel for what they typically look like.
Let's start by reviewing what a career goal statement is.
Table of Contents
What Is a Career Goal Statement?
A career goal statement is a clearly written out declaration of purpose, specifying your career aspirations , your intended professional achievements, your plan of action to accomplish them, and a timeframe for completion.
This concise proclamation clearly presents your vision for your professional life in order to help you effectively plan your career and communicate to others what your intentions are. ( Know the differences between vision and goals in this post. )
Your career goal statement can help keep you on track to completing your professional goals because, at face value, it shouldn't offer much wiggle room for mid-goal modifications.
Of course, things may come up and your statement may need some adjustment at times (more on that later), but it should be written in definite terms without any suggested expectation for your plan to change.
As you can probably see, there is an element of a SMART goal  in a career goal statement. Regardless of your chosen professional field, having a written statement can be your guide for achieving your goals, just as any other well-written SMART goal would be.
Your documented intentions will help you stay motivated and remain accountable for your success.
To learn more about setting and accomplishing SMART goals and how it can help advance your career, take a few minutes to watch the video below:
Benefits of a Career Goal Statement
A career goal statement is important because it requires you to be clear about your objectives, which sets the framework for planning the steps you will need to take to get there.
Here are a few other benefits to having a career goal statement:
1. It keeps you motivated by showing your starting point and your end goal, which will ultimately define your daily tasks.
2. It helps you stay accountable because you will have made yourself a promise on paper rather than just having a vague idea in your head of how you want your career to pan out.
3. With a career goal statement, you're leaving the guesswork out of how to reach your goals. Instead, you have clear steps written out that you plan to follow to realize your ultimate professional vision. It helps you make objective decisions by answering questions such as:
Where do I want to be in 5 or 10 years?
What specific actions can I take to realize my professional dream?
In what areas do I need to focus on improving myself?
What skills am I lacking?
What type of projects or tasks make me feel the most fulfilled?
Which tasks make me feel exhausted?
4. A career goal statement will help you develop a specific action plan .
5. A specific career goal statement will help you evaluate your current job and offer clarity on any decisions you need to make in order to realign yourself with your ultimate goals.
Now that you know what a career goal statement is and why you should have one, let's look at how you can create your own.
How to Write a Career Goal Statement
As previously mentioned, you want your career goal statement to be precise and specific. Here is how you can write an effective career goal statement:
1. Reflect on Your Wants and Needs
Think about your passions and the things you really care about .
What do you want to achieve in your career? What do you expect to achieve?
What interests you about your chosen career and why does it fit you more than any other profession? What unique things do you have to offer companies in this field that other people may not?
What do you value?
What is your experience in this field? What are your current achievements or qualifications?
What do you want for your future?
2. Get Specific
You don't want to use noncommittal phrases in your career goal statement. Avoid indefinite phrases such as, "I want to…" or "I hope I can…"
Instead, start your career goal statement with confidence and certainty, using words such as "I will." This removes ambiguity and gives you encouragement whenever you need to refer back to it.
After reflecting upon the points in step one, start narrowing your statement down to be more specific. Use the SMART goals technique for this by:
Using specific terms (rather than vague or inconclusive words like "more" or "a lot")
Establishing your yardstick for measuring your success so you can track your progress.
Making sure your goal statement is achievable (i.e. What are the chances that with a reasonable amount of hard work you will be able to meet this goal?)
Ensuring its relevance (which is where the self-reflection part really comes into play).
Establishing the timeframe in which you want to achieve your goals.
In order to create a specific career goal statement, you may need to do some research. Your career goal statement is most likely to succeed when you're completely aware of what it will take to reach your end goal.
Every profession is different, so it's critical to do your research about what exactly you will need to do to secure the position you're aiming for. You may also need to educate yourself to narrow down your professional goal .
For example, if you want to be a lawyer, you will want to research the various types of law that you can pursue, such as business law, environmental law, family law, etc.
It can be really helpful to talk to someone who has already been successful in your chosen field to find out what steps they took to get to where they are today, what their degree is in, what projects they completed to help refine their skills, and any professional organizations or groups they joined to maintain inspiration.
Doing this can especially help you with making sure each part of your goal is realistic.
3. Create an Action Plan
Now that you've laid out exactly what you want to do, you need to determine how you're going to do it . What steps are you going to take to cross that finish line?
This will provide you with the roadmap you need to not only get started, but to always know what your next step is.  Include any education, skills, internships, or other experiences that may be required. A career goal that comes without instructions will likely be abandoned.
4. Leave Room for Flexibility
You need to recognize that goals can change over time. While you want your career goal statement to offer you something to work toward in the long run, that doesn't mean your ultimate goal is completely set in stone.
Because your goal is set to be completed over a relatively long period of time, it's only natural that you will experience personal growth  or unexpected circumstances during that time that can impact your goal.
For example, you may have personal circumstances that come up that make the timeline for your goal unrealistic, or you could accomplish your goal sooner than expected, requiring you to come up with a new goal. Things happen, and you have to be flexible with your goal and be able to adapt to new conditions.
However, if you have to shift your goal, don't abandon your previous goal entirely. Instead, keep it on the table while establishing a new goal.
It will be interesting in the future to go back and see how your vision has evolved over time, and recognize that progression can be both informative and inspiring for you in the future.
Now that you know the steps you need to take to create your career goal statement, you're probably wondering what this statement may look like. Let's look at some examples.
Examples of Career Goal Statements
Here are a few good examples of career goal statements to help get you started:
I will advance from being a sales representative to being a sales manager before 2025. I will accomplish this by establishing a track record of exceeding sales goals, earning an MBA, and developing strong interpersonal skills , demonstrating characteristics of an effective leader , and showing enthusiasm for being a critical part of a team, as evidenced by joining a professional association, being goal-oriented, and making purposeful business connections through networking.
I will be a full-time writer within the next three years. To realize this, I will complete freelance writing projects to diversify my portfolio, attend a writing seminar, workshop, or conference at least every six months, and read one book each quarter on how to advance my writing.
I will become the Director of Human Resources for ABC Company in the next 7 years. To achieve this, I will become a certified HR practitioner while continuing to work in my current HR operations role. I will consistently seek to improve my verbal and written communication skills, proactively grow my knowledge of federal and state labor laws, demonstrate a marked improvement in my leadership and decision-making skills , and stay up-to-date on any new developments of software in time accounting, resume submission, and payroll.
I will become a Certified Public Accountant by maintaining my license within one year. In order to accomplish this, I'll complete a CPA exam prep course and develop a study plan that includes studying every evening from 5:00 to 7:00 in order to pass the CPA exam.
Final Thoughts on Writing a Career Goal Statement
Career goal statements are visionary and help you obtain professional success. By putting your career goal statement in writing, you're actively planning for personal growth within your chosen industry .
This will allow you to look beyond your everyday tasks and place more focus on the bigger picture of your career.
When writing your career goal statement, you should set goals that go beyond the minimum standard for success within your profession. Aim to exceed the norm and surpass mediocrity.
Keep your statement in a place that you can access it easily and refer to it whenever you need some encouragement or a reminder of what you're working toward.
Your career goal statement will help you maintain that "bigger picture" perspective that's easy to lose sight of on your everyday list of things to do.
And if you want more resources about growing your career, be sure to check out these blog posts:
17 Best Leadership Books to Advance Your Career
9 Reasons Why Continuous Learning is Important for Your Career & Personal Development
25 Career-Boosting Things to Do When You're Bored at Work
Finally, if you want to take your goal-setting efforts to the next level, check out this FREE printable worksheet and a step-by-step process that will help you set effective SMART goals .
Connie Mathers is a professional editor and freelance writer. She holds a Bachelor's Degree in Marketing and a Master's Degree in Social Work. When she is not writing, Connie is either spending time with her daughter and two dogs, running, or working at her full-time job as a social worker in Richmond, VA.
+9170870 07708
Mon - Fri: 10:30 - 18:30
Four Career Goals Statement Examples You Can Learn
First, understand what exactly is a career goal statement. As implied by its name, it is the ultimate goal of your career. It is the personal vision of what your profession will be.
Your current job does not have to affect this. For example, there is an employee in a marketing agency. He plans to have his agency for software engineers. His ultimate goal will be to start his agency, and his career goal should be this objective. We will now tell you about some career goals statement examples. But before that, let us understand how to write a career goal statement.
How to write a career goal statement?
1. Take time and understand what you want to be. Understand where you want to see yourself in the future.
2. State your goals in clear and specific terms. Do not use vague or ambiguous statements.
3. The goals must be achievable. It means the objectives must be relevant, calculate the appropriate time-frame required to accomplish the goals.
4. Spell out all the steps needed to know how to achieve your goal.
5. Always make room for changes because the future is uncertain. Due to economic, personal, or any other factor, you might have to make few changes in your plan.
It is not only necessary while you are working. Many graduate schools ask for a career goal statement or statement of purpose. It plays a significant role in the admission process.
These are four career goals statement examples you can learn to have a brief idea
1. to become a forefront graphic designer in xyz company in the next three years.
To achieve my goal, I have planned to pursue a Bachelor's degree in digital design. I also plan to undertake more courses and develop proficient skills related to my field in Photoshop, Illustrator, and Indesign. I also plan to improve my communication skills. It will help me improve my performance in the organization. I will also be working on imbibing a problem-solving attitude.
2. To become a marketing consultant in the next ten years-
My main focus is to get and double the customers of the company irrespective of the current position. I will first pursue MBA in Marketing. After that, I plan to start my career path in the sales department. I want to be a sales representative and then further move to other ranks. I also want to gain experience and exposure to develop the expertise of every department in marketing. Also, improve my communication, presentation, and selling skills.
Few more examples to help you learn
3. to become a social worker.
My goal will be to provide early intervention services to infants, toddlers, and families in the coming five years. I will pursue a Master's in Social Works. Before directly starting my organization, I want to gain experience for two to three years to understand all the work practically.
4. To become an engineering technician in the next five years
To achieve I will pursue an Associate's degree in Engineering. I want to gain experience in a manufacturing company for at least three years. I also want to develop advanced skills related to my career. Apart from subject-related skills, I want to develop strong problem-solving and analytical skills. It will help in better performance at an organization. It will also help me demonstrating leadership skills while working on a project individually or in a group.
It is mandatory to put efforts into writing down your career goal statement to help you achieve your dreams. It will help you to plan your growth in your chosen profession. Experience the best career consultancy services in Chandigarh to develop a perfect career goal statement for your future at Adapt to Achieve .      
Leave a Reply Cancel reply
Your email address will not be published. Required fields are marked *
Save my name, email, and website in this browser for the next time I comment.
Adapt To Achieve aims to provide the best career counseling services in Chandigarh and lighting the best career paths for our bespoke clientele.
Quick links
Our Services
For Junior Classes
For Graduates
For Working Professionals
Get In Touch
Floor Plot Number 201, LYNX Square Second, Industrial Area Phase 2, Panchkula, Haryana 134113
Sometimes the questions are complicated and the answers are simple
just ask get answers
Connect with us
drop us a line
Enter your email and password
Writing a Career Statement or Objective
A good career statement:
Describes your career and experience so far;
Highlight your transferable skills and personal attributes;
Note qualities of work you most value and enjoy; and
Indicate your future career interests and direction.
Examples of Career Objectives / Career Statements:
I have experience in leading people, projects and thinking at strategic and operational levels, and have enjoyed opportunities for engaging, motivating and inspiring staff to achieve competencies and performance standards in accordance with a model that drives customer focused results. I offer experience in leading and managing diverse teams, motivating them to achieve business objectives through innovative and creative solutions which positively contribute to the bottom line. To this end, I am now seeking an opportunity where I can utilise my expertise to deliver strategic procurement programs.
I have significant senior level executive management experience with advanced administration, human resource and corporate governance skills across a range of public, private and not for profit organizations. I have the proven experience and a well developed understanding of municipal service delivery in a government setting. With a strong reputation for delivering results through collaboration, initiative and decision making within a strategic framework, I am able to demonstrate strong team building abilities that assist in delivering superior outcomes.
I am a highly motivated marketing professional, with an MBA and BA (Hons) Marketing, and over fourteen years commercial experience. As a proven Project Manager and Account Manager with the top national retail and consumer goods companies, I am seeking to expand my experience working as a National Account Manager within a dynamic professional services firm. I can add value through my expertise and success in managing a diverse range of customer relationships, developing and leading teams, identifying new opportunities and generating consistently positive returns.
Applying For Scholarships
Writing Tips for a Career Goals Essay (2023)
Jennifer Finetti Mar 1, 2023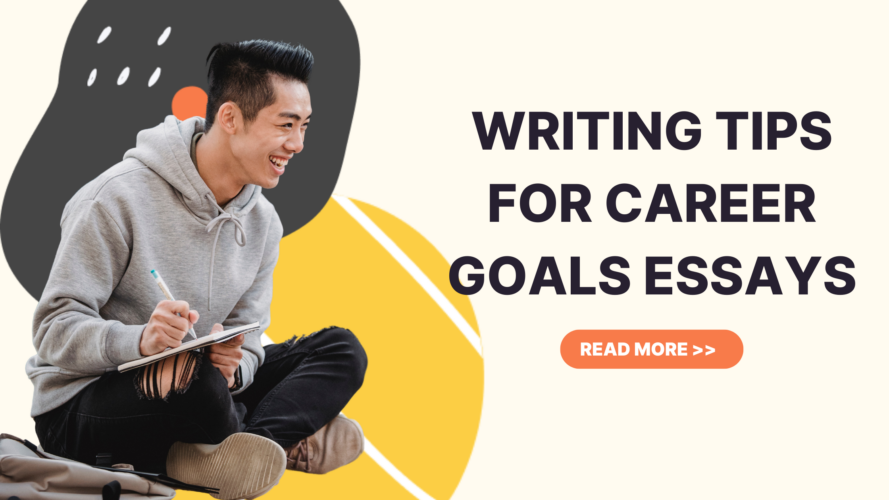 Get our best scholarship practices, insights & tips delivered to your inbox
Thank you for subscribing!
For your college scholarship essay, you may be asked about your career goals. The scholarship committee wants to see how investing in your education will help your career. Do you have a definitive plan? Will a college education fit into that plan? These are the answers they want to see.
In this guide, we will provide some scholarship essay examples about career goals to jumpstart your essay writing.
Writing tips for career goals scholarship essays
Here are some quick tips for writing career goal scholarship essays:
Write about career goals that tie into the scholarship. This doesn't mean you have to lie about your career goals to make them fit. Find a way to relate them to the scholarship committee or other elements of the scholarship.
Be precise about your career goals. Avoid vague statements that suggest you do not have a plan. Judges like to see determination because it shows they're making a worthy educational investment.
Discuss how your education will help you achieve your career goals. The scholarship will assist with your education. Show a connection between the two so they can see why you deserve this scholarship.
If you mention multiple goals, indicate which one you feel most strongly about. Longer essays may allow you to mention a backup plan, but the committee needs to see where your focus lies.
Avoid cliché statements. Describe how your specific talents, experiences, and degree pursuits will help you succeed.
Point out solutions, not problems. You may mention struggles you've had in the past, but pinpoint how you will learn from them. Moreover, show how those struggles led to your career goals.
Organize your thoughts in a fluid manner. This will most likely be in chronological order, starting with your degree and progressing through your career growth.
Write, revise, rest, revise. This goes for any essay writing. Write the first draft from start to finish. Then read through it and edit any grammar or flow errors. Take a break, preferably overnight, and then re-read your content with fresh eyes.
The fastest path to earning scholarships
Simplify and focus your application process with the one-stop platform for vetted scholarships.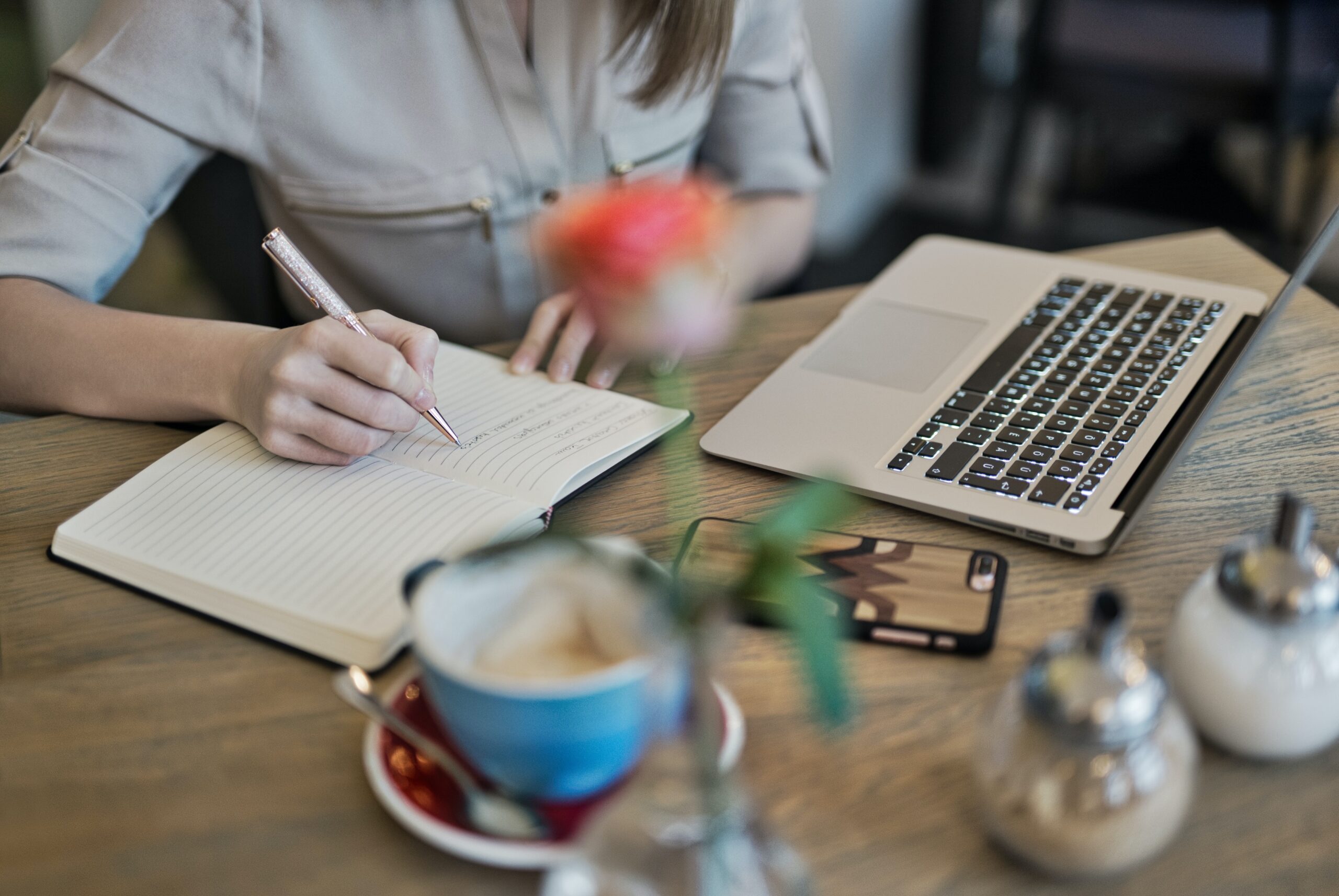 Example 1: Scholarship essay about career goals (100 words)
In a 100-word scholarship essay, you need to quickly make your point. There is not enough room for a lengthy intro or backstory. Use concise, comprehensive statements to deliver the most information in the fewest words.
I'm a sophomore at Texas Tech University, pursuing a bachelor's degree in Companion Animal Science. After graduation, I hope to attend Texas A&M to become a veterinarian serving rescue organizations and animal shelters. I was born and raised in the south, where it is common for people to abandon animals in rural areas. Those animals then go into a rescue – emaciated, frightened, and confused. I want to work with rescues to provide affordable veterinary medicine to the animals they save. This scholarship would help me continue my education and potentially save thousands of abandoned animals in the future.
Word count: 99
Example 2: Scholarship essay about career goals (250 words)
With a 250-word scholarship essay, you have a little more room to discuss the details of your career goals. You can explain situations from your past that inspired your career pursuits. You could use one paragraph to talk about your short-term goals and another to talk about your long-term goals. Just make sure the big picture ties into the scholarship.
My name is Patrick Holden and I am a freshman at the University of Michigan, majoring in English and minoring in linguistics. I plan to become an English teacher, but this wasn't always what I had in mind.  When thinking about my future, I always saw myself in some sort of corporate office, perhaps as an executive assistant or a loan officer at a bank. My father works in the finance office for a car dealership and my mother works at a call center. I assumed I would follow a similar, albeit boring, path in life. In my junior year of high school, everything changed. My English teacher inspired me in ways I could have never imagined. She got me to love writing, literature, etymology, and everything about the English language. She made me want to be a better student in all of my classes, and she helped me see the value of education. I decided then that I wanted to inspire other students just as she did for me. My parents are unfortunately not able to contribute much toward my college expenses. I have earned a tuition scholarship based on my ACT score, but I still need additional funding for books and supplies. English majors have particularly high book costs because we have to purchase multiple books for each class. With the help of this scholarship, I could afford to continue my degree and become an English teacher.
Word count: 240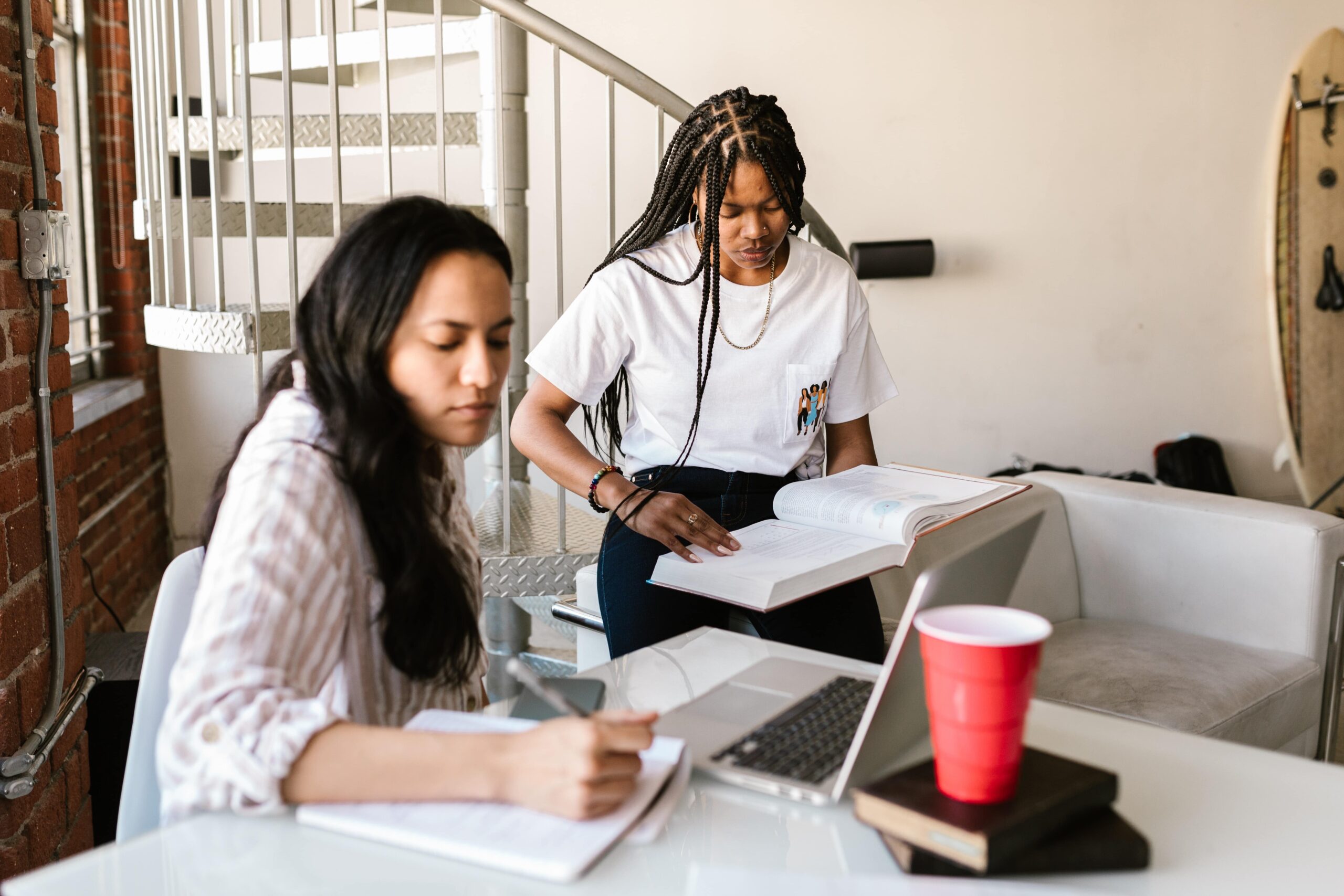 Example 3: Scholarship essay about career goals (500 words)
With 500 words or more to play around with, you have plenty of space to talk about your career goals. Maintain the same theme throughout the scholarship essay. Each paragraph should connect to the next, and they should all work together to describe your career plan. Avoid making disconnected statements for the sake of word count. In the end, the scholarship committee should have a clear view of your educational plans and professional aspirations.
Internet marketing has gone from an optional method of advertisement to a vital step in business outreach. Even small businesses in remote towns look to the internet to attract customers and spread the word about their services. I am currently pursuing a Bachelor of Science in Business Marketing with an emphasis on Digital Marketing. With this training, I will be able to enter a profession that will only grow year by year. When I was younger, I found print advertisements to be fascinating. I loved reading the newspaper with my father just to see the full-page ads in between stories. When I got older though, those ads became less appealing because they were not adaptive. They seemed dated, static and ill-fit for changes in society. That's when I discovered internet marketing. It was still in its infancy when I was in middle school, but by the time I graduated high school, it had become a staple in business development. I loved the way internet marketers had to constantly adjust to fit Google's algorithms, new mobile devices, and new audiences. I knew this was the career for me. Originally, I planned to focus solely on business marketing because there were not many digital marketing degrees available. Over the last two years though, several schools throughout the country have developed internet marketing courses that explain fundamental methods of search engine optimization, website analytics, and more. These are the foundations I will build my career around. The best part about internet marketing is that there is always something new to learn. I can use my creative mind and exploratory nature to try new advertising methods that help businesses succeed. Every time they do well, I do well. This is the kind of job fulfillment most people can only dream of, but my educational plan and job prospects will allow me to achieve it. I have picked up some freelance jobs online to supplement my studies and help pay for my education. It is difficult to maintain a steady stream of income in freelance because I spend so much time on my school work. This scholarship could offset some of the costs and reduce my workload as a whole. While I will still work throughout the semester and full-time in the summers, having extra financial aid would greatly reduce my stress in college. I look forward to a future where I can use my marketing skills to help business owners achieve their career goals. I plan to spend the first few years after graduation working for a successful, long-standing digital marketing company. After I have enough on-the-job training to feel confident in my abilities, I will open my own internet marketing company in Chicago, where my family lives. I have a clear picture of where I will be in the next 10 years, and I know this degree is going to help me get there.
Word count: 481

Jennifer Finetti
As a parent who recently helped her own kids embark on their college journeys, Jennifer approaches the transition from high school to college from a unique perspective. She truly enjoys engaging with students – helping them to build the confidence, knowledge, and insight needed to pursue their educational and career goals, while also empowering them with the strategies and skills needed to access scholarships and financial aid that can help limit college costs. She understands the importance of ensuring access to the edtech tools and resources that can make this process easier and more equitable - this drive to support underserved populations is what drew her to ScholarshipOwl. Jennifer has coached students from around the world, as well as in-person with local students in her own community. Her areas of focus include career exploration, major selection, college search and selection, college application assistance, financial aid and scholarship consultation, essay review and feedback, and more. She works with students who are at the top of their class, as well as those who are struggling. She firmly believes that all students, regardless of their circumstances, can succeed if they stay focused and work hard in school. Jennifer earned her MA in Counseling Psychology from National University, and her BA in Psychology from University of California, Santa Cruz.
Related Stories View All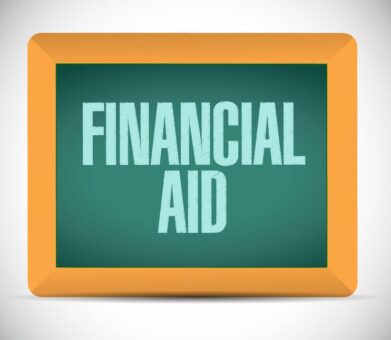 Universities with the Best Financial Aid Packages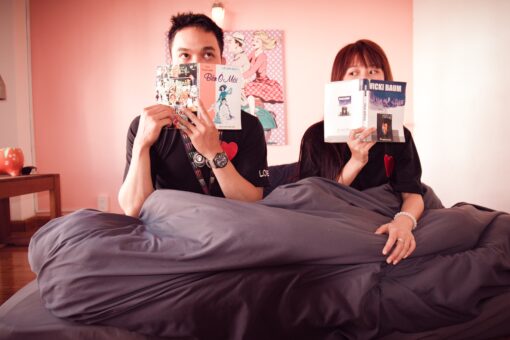 Don't Make These Mistakes When You Apply For Your College Scholarships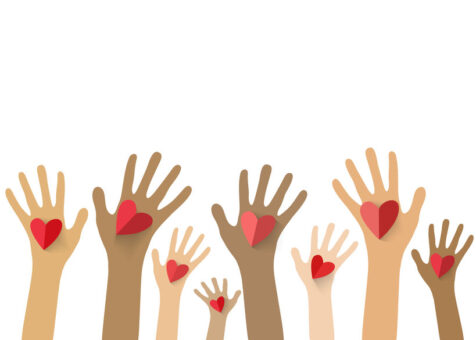 LGBTQ Scholarships
Get started with scholarshipowl.
Simplify and focus your application process with the one-stop platform for vetted scholarships