A Look at the American Literary Movements
The United States may be a relatively young country by global standards, but American literary history stretches back centuries. Let's take a dive into the history of the main American literary movements and what they say about the characteristics of American literature.
Native American Literature
Long before the arrival of Europeans in the Americas, native people had their own rich culture. The Native American literary tradition comprises oral tradition, folktales, creation stories and other myths that survive in the traditions and stories told by modern-day Native Americans.
One common element in these stories is repetition of incidents in a culturally significant number, usually four (the cardinal directions) or seven (the cardinal directions plus skyward, earthward and center). These stories were told and retold by generations of storytellers across the many tribes, and the stories vary in the telling not just from storyteller to storyteller and tribe to tribe, but even across multiple tellings by the same narrator.
In the 1700s, the Reverend Samson Occom, a member of the Mohegan nation, was among the first Native Americans to publish writings in English. At the beginning of the 20th century, Zitkála-Šá, a Yankton Dakota writer, musician and activist, collected and published legends drawn from Native cultures for a widespread white, English-speaking readership — along with personal stories that explored her struggles with cultural identity and the tension between traditional and assimilation. Another iconic writer of the early 20th century was Charles Eastman, considered the first to write American history from the Native American point of view.
Beginning in the late 1960s, the Native American Renaissance saw a surge of Native American literature, including authors like James Welch and Paula Gunn Allen. Contemporary Native writers such as Eden Robinson and Sherman Alexie continue to be vital voices in the American literary tradition.
Colonial Literature 1600s-1700s
As the English colonies were established in the 17th century, the topics of literature among the colonists reflected their historical context. The earliest English works from the colonies ranged from practical accounts of colonial history and life written by leaders such as John Smith, to Anne Bradstreet's The Tenth Muse Lately Sprung Up in America , likely the first collection of poetry written in and about America.
Since many of the colonies were founded due to religious divisions back in Great Britain, it should be no surprise that religious themes were common. Such works ranged from the Puritan writings of ministers such as Increase Mather, to Roger Williams' arguments for separation of church and state, and even the anti-religious New English Canaan by Thomas Morton — a harsh critique of the Puritans' customs and power structures.
Enlightenment and Revolution Mid- to Late 1700s
In the years surrounding the American Revolution, literature likewise shifted to encompass the patriotic spirit that drove the nation toward independence. The iconic Federalist Papers in the realm of politics were matched by works by other authors in the realm of science and philosophy, such as Thomas Paine's The Age of Reason.
1789 saw the publication of The Power of Sympathy by William Hill Brown. Widely recognized as the first American novel, Brown's work was a cautionary tale about the dangers of seduction, advocating for rational thinking and moral education of women. Given its historical context, critics have viewed The Power of Sympathy as an exploration of virtues most needed by the new nation.
American Gothic Early 1800s-present
Not to be confused with the famous painting by Grant Wood, American Gothic literature draws on dark themes from the nation's historical and contemporary challenges. The early Gothic writers drew on frontier anxiety and fear of the unknown; Washington Irving's The Legend of Sleepy Hollow (1820) is perhaps the most famous example.
As the nation grew and matured, the Gothic tradition matured with it, through the works of Nathaniel Hawthorne, Edgar Allan Poe and others. Southern Gothic writers used the decaying plantations of the post-Civil War South in place of the castles of European Gothic literature, as in the works of William Faulkner. The contemporary works of authors like Stephen King, who draws on his own experiences in rural Maine in his stories, continue the long American Gothic tradition.
Romanticism and Transcendentalism 1820s-1850s
The romantic era began in Europe in the eighteenth century, but it arrived in America later, around 1820. American romantic writers explored themes of individualism, intuitive perception and the inherent goodness of the natural world. Among the best known American romantic novels are Nathaniel Hawthorne's The Scarlet Letter (1850), a dramatic story of a woman cast out of a Puritan community for committing adultery; and Herman Melville's Moby Dick (1851), one of history's most famous stories of man against the elements.
Emerging from romanticism later in the 1800s was perhaps the first notable American intellectual movement, transcendentalism, built on the belief in the inherent goodness of people, and the idea that self-reliance, transcending the corrupting influence of society, unlocks that goodness. We see these ideas in the works of Henry David Thoreau, Ralph Waldo Emerson, Margaret Fuller and others. Perhaps the best-known transcendentalist book was Thoreau's Walden , a reflection on his experience living independently near Walden Pond.
Since transcendental literature was in many respects the opposite of American Gothic, it should come as no surprise that prominent Gothic writers also penned critiques of transcendentalism, such as Hawthorne's The Blithedale Romance .
Literary Realism, Naturalism and Modernism 1860s-1940s
Following the Civil War, American literature was marked by a deep skepticism, understandable given the historical context. In the late 1800s and early 1900s, American literary realism, in the works of Mark Twain, John Steinbeck and others, was marked by attempts to present realistic things as they are, without supernatural or speculative elements. Twain's vigorous, colloquial style in works such as The Adventures of Huckleberry Finn was a shot across the bow at tired conventions. American naturalism, heavily influenced by the works of Frank Norris, stood in the middle ground between romanticism and realism; for instance, Stephen Crane's short story The Open Boat , a naturalistic depiction of a group of shipwreck survivors, explores themes of the indifference of the universe.
From the same current as realism, literature progressed to American modernism in the interwar period, with some of the most famous works penned by the "Lost Generation" of expatriate writers such as Ernest Hemingway, Gertrude Stein and F. Scott Fitzgerald. Modernist works drew from the pain and loss of direction that this generation experienced in the wake of World War One, but it also contained themes of hope as individuals could change their surroundings.
Contemporary & Postmodern Literature 1950s-present
The postwar period saw the rise of a whole spectrum of innovative and subversive themes in literature, from the overtly counter-cultural works of the 1950s "Beat Generation" to John Updike's reflective explorations of faith, personal turmoil and sensuality. Sexually frank content entered the mainstream in this period, as restrictions on obscenity were loosened and writers were empowered to speak freely about previously taboo topics.
Over the last several decades, American literature has seen an explosion of postmodernist themes such as unreliable narrators, internal monologue and temporal distortion. Contemporary writers have used literature to critique American culture, find connections across time and place and explore themes such as pluralism, relativism and self-consciousness.
The broader story of the American literary movements
American literature is about far more than just entertainment; it's both a reflection of, and an influence upon, the moments in history and the changing human experience that shaped each movement. When you learn about the characteristics of American literature, you learn about what it is to be human, to struggle and succeed, to love and lose, to communicate and create. Get started with the fully online B.S./B.A. in English/Writing at Eastern Oregon University Online.
Recommended Articles
The road to eou: key steps in the college transfer process, the value of a creative thinker in the workplace.
A Brief Overview of American Literary Periods
From the Colonial to the Contemporary
Authors & Texts
Top Picks Lists
Study Guides
Best Sellers
Plays & Drama
Shakespeare
Short Stories
Children's Books
Ph.D., English Language and Literature, Northern Illinois University
M.A., English, California State University–Long Beach
B.A., English, Northern Illinois University
American literature does not easily lend itself to classification by time period. Given the size of the United States and its varied population, there are often several literary movements happening at the same time. However, this hasn't stopped literary scholars from making an attempt. Here are some of the most commonly agreed upon periods of American literature from the colonial period to the present.
The Colonial Period (1607–1775)
This period encompasses the founding of Jamestown up to a decade before the Revolutionary War. The majority of writings were historical, practical, or religious in nature. Some writers not to miss from this period include Phillis Wheatley, Cotton Mather, William Bradford, Anne Bradstreet, and John Winthrop. The first account of an enslaved African person, "A Narrative of the Uncommon Sufferings, and Surprizing Deliverance of Briton Hammon, a Negro Man," was published during this period, in 1760 Boston.
The Revolutionary Age (1765–1790)
Beginning a decade before the Revolutionary War and ending about 25 years later, this period includes the writings of Thomas Jefferson, Thomas Paine, James Madison, and Alexander Hamilton . This is arguably the richest period of political writing since classical antiquity. Important works include the "Declaration of Independence," "The Federalist Papers," and the poetry of Joel Barlow and Philip Freneau.
The Early National Period (1775–1828)
This era in American literature is responsible for notable first works, such as the first American comedy written for the stage—"The Contrast" by Royall Tyler, written in 1787—and the first American Novel—"The Power of Sympathy" by William Hill, written in 1789. Washington Irving, James Fenimore Cooper, and Charles Brockden Brown are credited with creating distinctly American fiction, while Edgar Allan Poe and William Cullen Bryant began writing poetry that was markedly different from that of the English tradition.
The American Renaissance (1828–1865)
Also known as the Romantic Period in America and the Age of Transcendentalism, this period is commonly accepted to be the greatest of American literature. Major writers include Walt Whitman, Ralph Waldo Emerson, Henry David Thoreau, Nathaniel Hawthorne, Edgar Allan Poe, and Herman Melville. Emerson, Thoreau, and Margaret Fuller are credited with shaping the literature and ideals of many later writers. Other major contributions include the poetry of Henry Wadsworth Longfellow and the short stories of Melville, Poe, Hawthorne, and Harriet Beecher Stowe. Additionally, this era is the inauguration point of American literary criticism, lead by Poe, James Russell Lowell, and William Gilmore Simms. The years 1853 and 1859 brought the first novels written by African American authors, both male and female: "Clotel," by William Wells Brown and "Our Nig," by Harriet E. Wilson.
The Realistic Period (1865–1900)
As a result of the American Civil War, Reconstruction and the age of industrialism, American ideals and self-awareness changed in profound ways, and American literature responded. Certain romantic notions of the American Renaissance were replaced by realistic descriptions of American life, such as those represented in the works of William Dean Howells, Henry James, and Mark Twain . This period also gave rise to regional writing, such as the works of Sarah Orne Jewett, Kate Chopin, Bret Harte, Mary Wilkins Freeman, and George W. Cable. In addition to Walt Whitman, another master poet, Emily Dickinson, appeared at this time.
The Naturalist Period (1900–1914)
This relatively short period is defined by its insistence on recreating life as life really is, even more so than the realists had been doing in the decades before. American Naturalist writers such as Frank Norris, Theodore Dreiser, and Jack London created some of the most powerfully raw novels in American literary history. Their characters are victims who fall prey to their own base instincts and to economic and sociological factors. Edith Wharton wrote some of her most beloved classics, such as "The Custom of the Country" (1913), "Ethan Frome" (1911), and "The House of Mirth" (1905) during this time period.
The Modern Period (1914–1939)
After the American Renaissance, the Modern Period is the second most influential and artistically rich age of American writing. Its major writers include such powerhouse poets as E.E. Cummings, Robert Frost, Ezra Pound, William Carlos Williams, Marianne Moore, Langston Hughes, Carl Sandburg, T.S. Eliot, Wallace Stevens, and Edna St. Vincent Millay. Novelists and other prose writers of the time include Willa Cather , John Dos Passos, Edith Wharton, F. Scott Fitzgerald, John Steinbeck, Ernest Hemingway, William Faulkner, Gertrude Stein, Sinclair Lewis, Thomas Wolfe, and Sherwood Anderson. The Modern Period contains within it certain major movements including the Jazz Age, the Harlem Renaissance, and the Lost Generation. Many of these writers were influenced by World War I and the disillusionment that followed, especially the expatriates of the Lost Generation. Furthermore, the Great Depression and the New Deal resulted in some of America's greatest social issue writing, such as the novels of Faulkner and Steinbeck, and the drama of Eugene O'Neill.
The Beat Generation (1944–1962)
Beat writers, such as Jack Kerouac and Allen Ginsberg, were devoted to anti-traditional literature, in poetry and prose, and anti-establishment politics. This time period saw a rise in confessional poetry and sexuality in literature, which resulted in legal challenges and debates over censorship in America. William S. Burroughs and Henry Miller are two writers whose works faced censorship challenges. These two greats, along with other writers of the time, also inspired the counterculture movements of the next two decades.
The Contemporary Period (1939–Present)
After World War II, American literature has become broad and varied in terms of theme, mode, and purpose. Currently, there is little consensus as to how to go about classifying the last 80 years into periods or movements—more time must pass, perhaps, before scholars can make these determinations. That being said, there are a number of important writers since 1939 whose works may already be considered "classic" and who are likely to become canonized. Some of these very established names are: Kurt Vonnegut, Amy Tan, John Updike, Eudora Welty, James Baldwin, Sylvia Plath, Arthur Miller, Toni Morrison, Ralph Ellison, Joan Didion, Thomas Pynchon, Elizabeth Bishop, Tennessee Williams, Philip Roth, Sandra Cisneros, Richard Wright, Tony Kushner, Adrienne Rich, Bernard Malamud, Saul Bellow, Joyce Carol Oates, Thornton Wilder, Alice Walker, Edward Albee, Norman Mailer, John Barth, Maya Angelou, and Robert Penn Warren.
A Brief Overview of British Literary Periods
Romantic Period Fiction - American Literature
Notable Authors of the 19th Century
An Introduction to the Romantic Period
City Upon a Hill: Colonial American Literature
Top 5 Books About American Writers in Paris
Ralph Waldo Emerson: American Transcendentalist Writer and Speaker
Classic British and American Essays and Speeches
Biography of Walt Whitman, American Poet
American Author Maps: Informational Texts in the English Classroom
42 Must-Read Feminist Female Authors
Edgar Allan Poe's Detailed Philosophy of Death
A List of Every Nobel Prize Winner in Literature
Men of the Harlem Renaissance
Understanding the Definition of an Acrostic Poem
5 Writers of the Harlem Renaissance
By clicking "Accept All Cookies", you agree to the storing of cookies on your device to enhance site navigation, analyze site usage, and assist in our marketing efforts.
Search Menu
Advance articles
The ALH Review
Author Guidelines
Submission Site
Open Access
Why Submit?
About American Literary History
Editorial Board
Advertising and Corporate Services
Journals Career Network
Self-Archiving Policy
Dispatch Dates
Terms and Conditions
Journals on Oxford Academic
Books on Oxford Academic
Article Contents
Works cited.
Commentary: What Is American Literature?
Elizabeth Renker is the author of The Origins of American Literature Studies: An Institutional History (2007) and Strike Through the Mask: Herman Melville and the Scene of Writing (1996). The Princeton Review named her one of the "Best 300 Professors" in 2012.
Article contents
Figures & tables
Supplementary Data
Elizabeth Renker, Commentary: What Is American Literature?, American Literary History , Volume 25, Issue 1, Spring 2013, Pages 247–256, https://doi.org/10.1093/alh/ajs068
Permissions Icon Permissions
My title repeats a familiar question, one posed repeatedly across the history of "American" letters. Its repetition came to signal a rhetorical point of entry into an ongoing debate. Even those who purported to answer definitively did not quell the argument. In 1935, Carl Van Doren's preface to What Is American Literature? summarized some of the by-then-routine sticking points: "Has America a literature at all? Has it a literature distinguished from all others? Is it American when it does not deal with American subjects? Is there any special attitude, style, technique, achievement in American literature? What qualities has it? What qualities should it have? Such questions assume that a literature is something abstract and general, a whole greater than its parts" (6). Accelerating professional consolidation in the mid-twentieth century produced increasing consensus among scholar-experts, emblematized in particular by F. O. Matthiessen's American Renaissance: Art and Expression in the Age of Emerson and Whitman (1941). That, too, proved temporary. The canon wars made the point loudly enough.
This problem of definition provides the occasion for my comment on the 16 essays in this special issue. I approach them as a random sample that provides a lens on Americanist literary study as it stands at this historical moment. The data set kicks up some notable phenomena. We find clusters of overlapping primary and secondary concerns. Most prominent here, unsurprisingly, are explorations of race and ethnicity (Jesse Alemán, Patricia Chu, Erica Edwards, Sean X. Goudie, Kirsten Silva Gruesz, Hsuan Hsu, Viet Thanh Nguyen, Sean Kicummah Teuton, Trysh Travis), as well as of nation (including sub-, trans-, and prenational categories such as space and land) and region (Alemán, Brian Edwards, Jennifer Greeson, Hsu, Susan Lurie, Teuton), a strong index to current field preoccupations. Such concerns entail a post-Foucauldian attention to structures of power, and this interest in power more generally creates a shared orientation, despite differences in nominal topic, with the essays whose subjects are 9/11, terror, war (the Civil War, both World Wars, Vietnam), and the aftermath of war, including postwar cultural formations such as "liberalism," "neoliberalism," and historically specific forms of the school (Alemán, Jennifer Ashton, Erica Edwards, Lurie, Deak Nabers, Nguyen, Teuton, Michael Trask, Travis). In a secondary subset, we find the historical contours of gender and sexuality (Alemán, Ashton, Heather Love, Trask) and the idea of ethics and ethical criticism (Goudie, Love, Lurie, Nguyen), essays that in some cases fold back into the prior sets of concerns with power and nation. Each essay, of course, elucidates an original project with its own inflections, from black cultural production since 9/11 to Mark Twain's representations of Chinese immigrants to biopolitics, and so on.
At one level, this engaging group of second book projects exemplifies the wider state of scholarly inquiry at the present time. The post-American exceptionalism, postcanonical, transatlantic, transnational, subnational, prenational, hemispheric, global, oceanic, planetary, world moment is forcefully in evidence. Yet my remarks focus not on the global, but on the local. Hayden White reminds us that globalization can deprive the world of places (731). The locality that persistently underwrites the larger projects described here is the institution—that is, the place of our labor. It is striking how often these scholars sound this note, how repeatedly their essays juxtapose two kinds of professional spaces—that is, the ideational spaces we conceive of as meaningful to conceptualizing "American literary history," and the material spaces of our work as professors.
Since the occasion for this special issue is the professional genre of the "second book," well-recognized shorthand among professors for "the book one typically writes after receiving tenure," it is not surprising that the essays reflect on the shape of academic careers; however, it is certainly notable that those reflections share a timbre of abiding worry. As these scholars rethink what it means to pursue a field still (for now) called American literature, for a prestigious field journal called American Literary History , they carry a clear sense of an ending. Trysh Travis, for example, situates her book about the history of polite and professional knowledge production with respect to her own moment as a professor writing in a "postbook world" (113), "in a moment in which the future of such production—its political economy, its material forms, its audiences—seems anything but clear" (105). When she began work on this topic two decades ago, ideas about books and the knowledge professions "seemed, if not immutable, at least fairly stable," but that time "now seems definitively past" (105).
In the wake of that vanished stability, Brian T. Edwards and Heather Love propose essential breaks with core field methods. Both worry that our standard scholarly practices, practices readily legible and long routinized in the field, have hit a limit of enclosure. The enclosure is not the problem of jargon and remoteness frequently charged against literary critics, both inside and outside the academy. More gravely, it is a methodological block from authentic contact with meaningful data. Both Edwards and Love invoke sociology as an alternative set of methods for engaging information. Their projects position themselves against familiar methods that have become comfortable, "safe" kinds of self-sustaining traps. Seen from the vantage of this specific methodological critique, our field's now-global reach in content and archive can look like a form of information provincialism.
Brian Edwards thus opens his essay right on point: "We have entered a period of time when the meanings attached to the US in the world have shifted decisively" (231). Certainly, the various essays here that explore the concepts of national boundaries, and the currents of power that protect or police them, would agree; however, Edwards's response to the shift is different in nature. That is, his primary concern is not to excavate unknown historical or literary figures, texts, or events, in order to expand, alter, or correct American literary history, which is the implicit or explicit polemic of projects here such as Goudie's and Alemán's ("complicating an American literary history that continues to focus exclusively on the 'remarkable,' predominantly Northeastern writers" [Alemán 59]). Edwards does not proceed from the ground of globalizing the content of "American literature." Instead, he charges the field with anachronistic reading practices to which he proposes a fundamental overhaul—that is, replacing standard literary history models ("the premise of close, historicized reading" [233]) with a new orientation around circulation, reception, and the context for reading across time and place.
A similar rejection of what we might consider traditional field methods drives Heather Love's essay, beautifully titled "Safe." Tonally cast less as Edwards's broad disciplinary challenge and more in a personal mode of elegy for a scholarly world she knew and loved, she nonetheless shares with Edwards the commitment to a radical methodological break. Love challenges what she sees as the core reading methods of literary studies, close reading and ideology critique, which value "the singularity of literature and the ethical value of close reading" (169). Many of the essays in this volume implicitly or explicitly accept the values whose personal loss Love laments; Goudie, Lurie, and Nguyen, for example, explicitly situate their projects with respect to an ethical ground. Love's initial plan for her second book was to revisit the literary materials that sociologist Erving Goffman had, in his work on deviance and stigma, studied as social documents; her aim was to enrich his analysis via the literary methodologies of close reading that were absent from his own approach. Unexpectedly, this endeavor left her in crisis, shaking her "faith in the unique value of literature" (168) and upending her relation to method. Her personal voice as we hear it in this essay, a voice familiar in literary studies, is part of what she imagines giving up. Goffman's impersonal and truncated style, by contrast, is "thin and cold" (168). Decamping, like Brian Edwards, for the methods of social science, she seeks to "imagine a literary methodology that is linked to modes of social observation and documentary" in order "to address a wider range of social experience" (167).
Yet the stakes in this change, as Love explains them, are not merely about the personal discovery of a new set of questions to animate her own work. She self-critically flags her turn to sociological method as an instance of the broader professional "race for theory" (169) tied to prestige in literary studies, a kind of prestige that might—or might not— retain its value in a wider university context "of the defunding of the humanities, which has sent many scholars off in search of justifications, alternative funding streams, and new disciplinary and institutional linkages" (169) as the traditional core values of literary study "are being hollowed out" (169). With its tremendous programmatic and budgetary sway in university culture at the present time, the "interdisciplinary" garners support from administrators (in such forms as operating funds and hiring dollars) to which English departments on their own increasingly lack access. It is ironic that the interdisciplinary innovation whose prestige Love acknowledges serves, on its labor dark side, as a form of retraining: part of a more general scramble in the face of declining institutional capital.
Noting that both Brian Edwards and Love turn to social sciences, and that other essays here study or invoke natural or social science discourses (Chu, Nabers), it makes sense to recall disciplinary history at an analogous time of revolutionary tumult in higher education over a century ago. At that time, English overcame a reputation problem—as an easy, lower-level school subject unworthy of advanced knowledge status—in order to claim a place in the new world of higher education. It did so by defining itself as a "science," by way of philology. We face a similar moment of precarious status now, as the vector of prestige moves in the opposite direction. The sciences in their current incarnation in literary study (neuroscience; cognitive studies; genomics; sociology; statistics; graphs, maps, trees; and so on) are not only ideational innovations; they are material epiphenomena of institutional life. Our investment in the former can obscure the latter. Love puts it on the table.
English overcame a reputation problem … by defining itself as a "science," by way of philology. We face a similar moment of precarious status now, as the vector of prestige moves in the opposite direction.
Jennifer Greeson, too, scrutinizes the "inextricability" of material and intellectual worlds. She inverts traditional accounts of the Enlightenment, arguing that the writings emerging from the European conquest of the American hemisphere provided the material preconditions for intellectual innovation, in this case, modern Western philosophy. Rather than accepting arguments that construe Enlightenment thought as a critique of practices of New World empire, Greeson construes "the origin of that thought as a response to those practices" (8). "To put the matter squarely," she says, "we can't have the liberatory theory without the exploitative reality" (8).
The institutional context of the school is also foundational for both Michael Trask and Jennifer Ashton. Trask investigates "school culture" as the framework for a "rhetoric of radicalism" (131) that has come to function as normative. He argues that academic activism has not only been less effective than many of its practitioners want to admit, but has worked "fully in tune with the hegemony that constructionism's champions imagine themselves assailing" (131). For Trask, "academics persistently misrecognize their commitment to liberalism as an effort to dismantle it" (142). The vexed relation of our ideational realms to our institutional location is one Ashton also explores in her study of the last half-century of that most reputedly immaterial of all genres, the lyric, which she finds to be deeply engaged with issues of labor. She identifies a new moment in the social and aesthetic history of poetry that she calls "post-postmodernism" (228), located on the material ground of scarcity. "[P]oetry's investment in its emotional and experiential effects" (227), she argues, has ideologically obscured such contexts.
Quite apart from the poets in her study, Ashton reports that her own "grand abstractions" derive from her institutional location, since she is composing at "a time when the conditions under which academic work is performed are being radically transformed" (217). Professors in the humanities are increasingly asked to function as "a cross between business managers and clerks rather than literary critics and historians" (217). In her case, reductions in institutional funds and a radical shift in the nature of academic work led to delays in completing her book. Is one to take comfort in her report that the university does not value her book anyway, finding far more value in her technobureaucratic activities? Four years of managing budgets, mastering spreadsheets, scheduling courses for a dramatically reduced number of professors teaching larger classes, and, in general, assuming tasks formerly performed by unionized workers raises the question: what is the meaning of a second book in this landscape?
The meaning of the book as such is a question that also arises for Deak Nabers. His project, addressing how World War II and "the martial imagination" fostered the idea that the genre of the novel had "run its course" (116), reflexively turns him back to his own mode: the academic book facing "imminent technological and economic obsolescence" (115) despite its persistence as a professional requirement. Lindsay Waters's 2000 "modest proposal" to decouple tenure and promotion from the book standard, and to replace it with the essay, has not (yet) taken hold. Waters critiques an institutionally broken situation, in which departments have essentially ceded tenure decisions to academic presses, while presses themselves face retrenchment. 1 For Nabers, by contrast, the institutional form of the academic book simply contains too many words for a digital era. It is no longer read or purchased. Even graduate seminars read in chapters and chunks. In short, the form of the academic book no longer serves the habits of contemporary classrooms and readers. Finding his ideational project situated in this material scene, Nabers is crafting the arc of his book to serve both scenes of reception. He poses the question of what "the book form has meant for our work and what it will mean for us to operate without it" (116).
Working without it, of course, not only means addressing the reality of a postbook readership. It also points to the increasing conversion of faculty jobs into jobs that will "operate without it" because they are no longer required to write books. Since the number of tenured positions is declining in favor of non-tenure track jobs that do not entail research support or research expectations, the institutional occasion for the academic book will evaporate. Frank Donoghue memorably calls the current generation of those in faculty jobs "the last professors," to be increasingly replaced by adjunct labor. The 2006 Report of the MLA Task Force on Evaluating Scholarship for Tenure and Promotion indicated, using data from 1994–2004, that all career outcomes considered, "PhDs in fields represented by the MLA have about a 35% chance of getting tenure" (Stanton 10).
My own second book, The Origins of American Literature Studies: An Institutional History (2007), traced the history of American literature in the higher curriculum; as it did so, it parsed the labor history of American literature's teachers. Moving up from lower levels of the school system against significant resistance, "American literature" unevenly worked its way out of a position of inferior knowledge status (many of its early teachers were women) and into the college curriculum, a shift that transpired between about 1880, on one side, and World War II on the other. A generation of teachers whose careers predated, and then uneasily coexisted with, the ascendance of the PhD credential were eventually expunged as the PhD redefined the job class of the professor-expert. But no school could make an immediate shift to the PhD model without replacing its entire faculty. PhDs did not yet exist in adequate numbers for such an immediate large-scale change to the academic labor pool. Instead, institutions grappled with several kinds of coexisting, stratified labor models.
The two competing models of the college teacher at this time were very different. For ease of reference in this short account, I will call them "the new professors" and "the old teachers." Institutional culture valued the new professors for their PhD credentials; the old teachers, for their moral character or "culture" (the habitual terminology of the time). The new professors possessed certification in their capacity for original research in an area of specialization; the old teachers typically taught a variety of subjects (perhaps rhetoric, history, drawing, and math, for example) because they were not trained or defined as specialists to begin with. The new professors could ostensibly reproduce research skills in their students, an aim pedagogically symbolized by their signature classroom model, which was called the "seminary" at the time (today's "seminar"); the old teachers transmitted standard forms of textbook knowledge, symbolized by their signature classroom model of the recitation, which required daily memorization and oral reproduction of the textbook. The old teacher's range among a variety of subjects from year to year was required by the nature of the job, which was not yet oriented around specialized expertise. The inauguration of the PhD credential at The Johns Hopkins University in 1876 would change this entire landscape, displacing and replacing the old college teachers with the new PhD scholar-experts.
These were distinct models of the adequate teacher. They were distinct models of what academic labor entailed. And, they were competing models of higher knowledge. They coexisted. The conflicts, eliminations, hierarchies, and departmental management of issues related to this complex labor scene run through the bureaucratic history of English departments. For present purposes, I note simply that those redefinitions of academic labor, and of higher knowledge along with it, over a century ago, are now moving in the reverse direction of deprofessionalization. We "last professors" thus ironically stand in an analogous relation to the job class displaced by the first professors.
One of the many status problems that American literature in particular faced during this structural transformation of higher education in the late nineteenth century was that departments of "English," part of the new knowledge culture that valued modern (rather than ancient) languages, were departments of language, not literature. And as scholars, whether pro or con, endlessly pointed out, American literature was written in English. (The fact that the egregious error of this idea is now obvious simply reminds us that we have our own blinders, whatever they might turn out to be.) The trends energetically in evidence in this issue indicate that the post-national shape of "American literature" (which mostly still occupies its postcolonial and anglophilic position in departments of English) might do well to return, albeit in an updated, twenty-first century form, to the earliest formation of English studies as a department of language. As John Guillory has pointed out, we tend to forget that chapter of disciplinary history and to overlook its residues. 2 But now, an orientation around languages, communication, and media can attend synchronic and diachronic diversities of culture, local historical and geographical instances, diasporic and transglobal phenomena, linguistic complexities within the formerly more stable categories of nation, and analogue and digital spheres of information, literacy, translation, and "reading." In this special issue, Gruesz's cultural history of Spanish in the US presents a compelling model of what such studies might look like.
My last remark turns to a pressing dimension of our local labor that is so far missing from this discussion: our work teaching undergraduates. (I exempt graduate teaching from this discussion, as a form of teaching that presumes direct ties to our research.) Lynn Hunt points out that higher education changes when its consumers and producers change (30). Certainly, the changes on both sides of that equation at the present time are throwing everything up for grabs. Ashton notes that we will be doing more undergraduate teaching, likely to larger classes. My audience of fellow scholars will be far from uniform in its conception of the relation between research and teaching, and indeed in their commitment to undergraduate teaching more generally; however, I believe that few among us would disagree that undergraduate teaching will comprise more of our jobs in the coming years, at more elementary levels, and with more focus on the teaching of writing. Even many scholars whose area of specialization is literature (rather than composition) find that institutional conditions have rendered the teaching of writing classes an increasingly large component of our jobs. I have observed this escalating trend at my own large public university over the course of two decades, as the complex result of university budgets and strategic plans, hiring practices, general education requirements, shrinking graduate programs, and the shifting contours of student demand, all set in a general climate of steep decline in the cultural capital of literary study.
Meanwhile, as sociologists Richard Arum and Josipa Roksa found in Academically Adrift: Limited Learning on College Campuses (2010), the internal transformation of higher education in recent decades has pulled faculty into a new array of job expectations and incentives unrelated to teaching, and administrators are even less focused on undergraduate education than the faculty members whose jobs they have reconfigured in evermore bureaucratic directions. While many students continue to prefer the social over the educational life of college, institutional reconfigurations facilitate the flight from learning, and have left students adrift (10–12). Arum's and Roksa's data show a widespread and systematic failure in which college graduates have failed "to develop the higher-order cognitive skills that it is widely assumed college students should master," and in which "[a]t least 45 percent of students in [the] sample did not demonstrate any statistically significant improvement" in the skills tested during the first two years of college (121). That's two years in college having learned pretty much nothing.
I have suggested that the field's larger impulse to map new global territory is, in part, a product of the highly material pressures of local, institutional conditions and constraints. Love talked unsentimentally about the prestige economy as tied to the "race for theory"; others here try to develop an ethical criticism. My modest proposal is this: that the single most important large-scale political, ethical, global shift we can make as a field, a profession, and an institution (and believe me, I'm familiar with the largely empty university rhetoric that abounds on the subject) would be to tie prestige in much more substantial ways to pedagogical practice, specifically to effective teaching for undergraduates. The way we as scholars construe this world moment will finally have its greatest power—political, ethical, global—at the most local level, the one that is still the most invisible in the profession of scholarship: the undergraduate classroom. We do well to render our work meaningful and coherent for the undergraduate students we teach every day, who will inherit the new world.
See Lindsay Waters, "A Modest Proposal for Preventing the Books of the Members of the MLA from Being a Burden to Their Authors, Publishers, or Audiences," PMLA 115.3 (2000): 315–17.
See John Guillory, "Literary Study and the Modern System of the Disciplines," in Amanda Anderson and Joseph Valente's Disciplinarity at the Fin de Siècle (2002).
Google Scholar
Google Preview
Author notes
Email alerts, citing articles via.
Recommend to your Library
Affiliations
Online ISSN 1468-4365
Print ISSN 0896-7148
Copyright © 2023 Oxford University Press
About Oxford Academic
Publish journals with us
University press partners
What we publish
New features
Open access
Institutional account management
Rights and permissions
Get help with access
Accessibility
Advertising
Media enquiries
Oxford University Press
Oxford Languages
University of Oxford
Oxford University Press is a department of the University of Oxford. It furthers the University's objective of excellence in research, scholarship, and education by publishing worldwide
Copyright © 2023 Oxford University Press
Cookie settings
Cookie policy
Privacy policy
Legal notice
This Feature Is Available To Subscribers Only
Sign In or Create an Account
This PDF is available to Subscribers Only
For full access to this pdf, sign in to an existing account, or purchase an annual subscription.
About the Journal
American Literature has been regarded since its inception as the preeminent periodical in its field. Each issue contains articles covering the works of several American authors—from colonial to contemporary—as well as an extensive book review section; a "Brief Mention" section offering citations of new editions and reprints, collections, anthologies, and other professional books; and an "Announcements" section that keeps readers up-to-date on prizes, competitions, conferences, grants, and publishing opportunities. Read more...
Priscilla Wald and Matthew Taylor
TWITTER: @AMLITJOURNAL
Issue Alerts
Sign up to receive American Literature table-of-contents alerts when a new issue is published.
Publish in this journal
For information on how to submit an article, visit our submission guidelines .
The Norman Foerster Prize
Congratulations to Ana Schwartz, winner of the 2022 Norman Foerster Prize for " Imperative Reading: Brothertown and Sister Fowler ."
View subscription rates and details for American Literature .
Affiliations
About American Literature
Editorial Board
For Authors
Rights and Permissions Inquiry
Online ISSN 1527-2117
Print ISSN 0002-9831
Copyright © 2023
Duke University Press
905 W. Main St. Ste. 18-B
Durham, NC 27701
(888) 651-0122
International
+1 (919) 688-5134
Information For
Advertisers
Book Authors
Booksellers/Media
Journal Authors/Editors
Journal Subscribers
Prospective Journals
Licensing and Subsidiary Rights
View Open Positions
email Join our Mailing List
catalog Current Catalog
Accessibility
Get Adobe Reader
This Feature Is Available To Subscribers Only
Sign In or Create an Account
What Is American Literature Essay
What is American literature and what makes it unique? Find the answer here! This American literature essay gives the definition of the term and focuses on its characteristics: history, authors, periods, and themes.
Defining American Literature
Themes & Style
What Makes American Literature Unique?
Works cited, american literature definition.
American literature refers to the body of written or literary works shaped in the history of the United States and its former colonies (britannica.com). Tracing back America's history, America was once under the rule of Britain as part of the latter's colonies therefore its literary institution is associated to the expansive tradition of English literature. However, American literature is now considered a separate course and institution because of its one of a kind American characteristics and the production of its literature.
This paper aims to present an extended definition on the meaning of the term American Literature. The paper will discuss the background of American Literature and how it has came about, the writing style of American authors and what makes the American text different and unique from other national literatures and lastly the paper will present arguments which explore the concept of American literature.
The History of American Literature
Before Columbus and other European colonizers discovered the Americans, the native peoples of the continent have no written alphabet but they expressed their artistic talents and passed on knowledge of their traditions in the form of chants, songs and spoken narratives.
Contrary to the popular Western understanding of literature that they must be principally a result of written words, scholars considered these verbal genres which include trickster tales, jokes, naming and grievance chants, and dream songs, among others as "literary" because they embody the creative and arousing retorts of the people to their Native culture (Baym, Franklin, Gura, Krupat and Levine).
When the Americas was colonized by different empires namely the Spanish, French, Portuguese, Dutch, German and English kingdoms, the primary role of writing was to pressure policy makers at these overseas colonies' home base to rationalize actions taken without their precise consent, or bearing witness to the straight and unintentional cost of European invasion of the Americas.
Writing also documented the dreadful effects of European colonization of the Americas where the unintentional contamination of Old World diseases such as small pox, measles and the like to the Natives and the enslavement of the latter for plantation labour gave strong reactions toward from the public.
Also during the early occupation of the Americas, writing gave opportunities to people who were not born to a life of privilege but were in favour of merit, talent and effort to reshape the possibilities of their life such as Diego del Castillo and John Smith. In the 15 th century New England had a publishing edge over other colonies with Boston's size in terms of population driven in producing Puritan literature together with the establishment of Harvard University in 1636 which operates with an independent college and printing press.
Though with these efforts the initial state of the English language supremacy was barely evident, political events eventually changed the course and made English the main language for the colonies as well as the choice in writing literature. From 1696 to 1700 the state of American literature consisted only of about 250 published works. These works were mostly about religious, security and cultural concerns of colonial life (Baym, Franklin, Gura, Krupat and Levine).
American Literature: Themes & Style
The war of 1812 which was a quarrel between the Unites States of America and the British empire because of trade restrictions (Hickey 56-58), forced recruitment of American merchant sailors into the Royal Navy, British support to American Indian tribes against American expansion (Hickey 101-104) and uphold national honour in the face of British insults (Risjord 196-210), paved way to the American's growing aspiration to create a unique American literature and culture separate from that of the English.
The pioneers wrote humorous works about the American frontiers while some wrote romantic and nature inspired poetry which developed away from the early English origins.
Short stories which investigate earlier concealed levels of human psychology and move forward the limits of fiction towards mystery and fantasy were written. The movement of transcendentalism which was a protest to produce a state of culture and society was formed in response to the growing desire of American literary uniqueness. Through this formation radical writings towards individualism in the American character emerged.
Native American autobiographies were also developed and minority authors begun to publish fictions. Allegories and dark psychology became the focus of literary romances sated with philosophical assumptions. Dark Romanticism became popular in American writings presenting the characters as prone to sin and self destruction. "the Dark Romantics adapted images of anthropomorphized evil in the form of satan, devils, ghosts, werewolves, vampires, and ghouls" (Thompson, 6).
American literature has been developed through the various influence of Native American's traditions before writing was introduced coupled by the influences brought about by European conquerors.
Initially American literature was composed of reports and documentations of complaints and status quo of the people in the New World. Writing and literature served as a means of influencing policy makers in developing the civilization, exploring the natural resources and understanding the traditions and cultures of the Native Americans.
Over time American literature evolved into various forms with fiction and non-fiction categories illustrating writers' sentiments on matters concerning politics, economy, culture, social statuses using artistic imagery or factual resources. American literature further developed into its own form, growing away from its initial sphere of influence, English literature, during the 17 th century creating a unique American characteristic and promoting individualism.
It developed writers of different genres experimenting human emotions, philosophy and psychology. It also gave way to the dark romanticism subgenre which portrays human beings as individuals prone to sin and self destruction. American literature pushed the boundaries of human imagination and creativity with their constant experimentation of emotions and thoughts which can be attributed to the contemporary writers' attitude of artistic expression and freedom.
Examining literary works from class in understanding the meaning of American literature through different literary works by early writers we can define American literature initially as a body of works chronicling the discovery and acquisition of the Native Americans in its early beginnings.
In relation to the events taking place in the American society, literature in the continent slowly evolved with time influencing its writers and readers the socio-economic norms coupled with the author's artistic expressions during that specific time of writing. American literature can be considered a mirror of America's history, well being and characteristic.
It is considered a part of the American culture for it details not only the history of the American people but also reflects the peoples' creative thoughts and imaginations. American literature is the product of influences brought about by the colonizers from Europe and the subtle native traditions of the early settlers of the United States. It is also a powerful defining tool of American characteristics such as liberalism and individualism.
Baym, Nina, Franklin, Wayne, Gura, Philip, Krupat, Arnold and Levine, Robert. Norton Anthology of American Literature . 7 th ed. Boston: W.W. Norton & Company, 2007. Print.
Encyclopaedia Britannica Inc. American Literature . Encyclopaedia Britannica Inc., 2011. Web.
Hickey, Donald. The War of 1812: A Forgotten Conflict . Chicago: University of Illinois Press, 1989. Print.
Risjord, Norman. "1812: Conservatives, War Hawks, and the Nation's Honor." William And Mary Quarterly 18.2 (1961): 196-210. Print.
Thompson, Gary., ed. Gothic Imagination: Essays in Dark Romanticism. Washington: Washington State University Press, 1974. Print.
Chicago (A-D)
Chicago (N-B)
IvyPanda. (2023, October 29). What Is American Literature Essay. https://ivypanda.com/essays/defining-american-literature/
"What Is American Literature Essay." IvyPanda , 29 Oct. 2023, ivypanda.com/essays/defining-american-literature/.
IvyPanda . (2023) 'What Is American Literature Essay'. 29 October.
IvyPanda . 2023. "What Is American Literature Essay." October 29, 2023. https://ivypanda.com/essays/defining-american-literature/.
1. IvyPanda . "What Is American Literature Essay." October 29, 2023. https://ivypanda.com/essays/defining-american-literature/.
Bibliography
IvyPanda . "What Is American Literature Essay." October 29, 2023. https://ivypanda.com/essays/defining-american-literature/.
Individualism in Romantic Literature
Individualism vs. Collectivism
"Science Fiction" by Roger Luckhust
Gothic Fiction History: Horror Stories With Dark and Threatening Atmosphere
Individualism in Arab Countries
Individualism as an Ideal of Civil War in America
Individualism Versus Group Cognition in Psychology
Individualism as the Desire to Show Personal Grace
Individualism in the Current World
Temporal Perspective in Fiction
Edith Wharton's Works Analysis
Book Report on the Scarlet Letter
Revenge Theme in "The Cask of Amontillado" by Edgar Allan Poe
"The Road Not Taken" and "When Death Comes" Poems Comparison
Bless Me, Ultima
Accounting & Finance
Business & Management
Classical Studies
Criminology & Policing
Engineering
Geography & Environmental Science
Linguistics
Mathematics
Nursing & Midwifery
Politics & International Relations
Find Your Rep
Adoption Support
Campus Support
Custom Publishing
Inspection Copies
Rights and Permissions
Student Prizes
Student Panels
Advice for Freshers
Legal Studies
Online Resources
Student Finances
Business Trove
Politics Trove
Science Trove
Online resources
Submitting a Proposal
Promoting Your Book
Your Contacts
Oxford Academic
Advanced Search
What is American Literature?
Ilan Stavans
10 February 2022
ISBN: 9780198816218
224 pages Hardback 216x138mm
An engaging, thought-provoking, and polemical volume on what makes American literature what it is today.
Purchase options
Buy Ebook from VitalSource
Description
About the author(s), table of contents.
Literary criticism at its most razor-sharp
Offers a new interpretation of American literature that is urgent, controversial, and unapologetic
Polemicizes in the context of the current xenophobic climate worldwide
Ilan Stavans is Lewis-Sebring Professor of Humanities and Latin American and Latino Culture at Amherst College, the publisher of Restless Books, and the host of the NPR podcast "In Contrast". The recipient of numerous international awards, his work, adapted into film, theatre, TV, and radio, has been translated into twenty languages. He is the author of, among other titles, On Borrowed Words: A Memoir of Language (Viking), Spanglish (Harper), Gabriel García Márquez: The Early Years (Palgrave), Quixote: The Novel and the World (Norton), and The Seventh Heaven: Travels through Jewish Latin America (Pitts). He is the editor of The Oxford Book of Jewish Stories (OUP), The FSG Book of Twentieth-Century Latin American Poetry (FSG), The Norton Anthology of Latino Literature (Norton), Becoming Americans: Four Centuries of Immigrant Writing (Library of America), and How Yiddish Changes America and How America Changed Yiddish (Restless).
"It constitutes a rich sample of texts and genres that can inspire whoever reads it to pull the thread and delve into the themes that Stavans points out." - Teresa Requena Pelegrí, Escola de Llibreria
"At its core [What is American Literature?] is a compelling thought about the tension between protest and assimilation: the way American literature simultaneously propels change, and manufactures consent..." - Alicia Rix, Times Literary Supplement
"Stavans brings all his passion and experiences as a prolific and versatile writer, commentator, publisher, anthologist, and academic to bear on this heady reconsideration of American literature... [a] speedy, veering, catch-all book of pronouncements and provocations, upended assumptions and unexpected associations..." - Donna Seaman, Booklist
Related Titles
Oxford Guides to Chaucer: Troilus and Criseyde
Second Edition
Barry Windeatt
Request an Inspection Copy
Imagination: A Very Short Introduction
Jennifer Gosetti-Ferencei
Hannah Arendt: A Very Short Introduction
The Idea of the Book and the Creation of Literature
Stephen Orgel
A Bite of the Apple: A Life with Books, Writers and Virago
Lennie Goodings
How Romantics and Victorians Organized Information: Commonplace Books, Scrapbooks, and Albums
Jillian M. Hess
Empire of Ruin: Black Classicism and American Imperial Culture
John Levi Barnard
The Digital Humanities and Literary Studies
Martin Paul Eve
James Joyce: A Very Short Introduction
Colin MacCabe
On Essays: Montaigne to the Present
Thomas Karshan, Kathryn Murphy
Horror: A Very Short Introduction
Darryl Jones
Major Cultural Essays
George Bernard Shaw, David Kornhaber
Major Political Writings
George Bernard Shaw, Elizabeth Carolyn Miller
Postcolonialism: A Very Short Introduction
Robert J. C. Young
Customer Service Dept Should you have a question or problem, please get in touch. Contact our Customer Service Department Adoption Support
Contact Us Join Our Mailing List Find Your Rep Fill in a Comment Form Inspection Copies
Author Resources Ebooks How to Order Online Resources Rights & Permissions
Oxford University Press is a department of the University of Oxford. It furthers the University's objective of excellence in research, scholarship, and education by publishing worldwide.
Surprising Distinctions Between American Literature And Its Contemporary Counterparts
8 minutes reading time
01. What Is The History Of American Literature
02. Significance Of American Literature
03. How Is American Literature Different From Other Kinds Of Literature?
04. Various American Literature Timelines
05. Learn American Literature With Superprof
American literature refers to works mainly created or written in English in the United States of America and its former colonies. Due to the enormous amount of works produced in the early periods following America's declaration of independence, the American literary culture is a part of the significant literary heritage of the English language.
In America, the fondness and appreciation for short stories have been well-recognized. From the beginning, the core focus of American literature has been the representation of American society, its principles, and values.
The literature represents American ideals and promotes the region's landscape. In American literature, essential literary elements are explained, including characters, narratives, settings, pictures, and themes. It also retells the tales of legends and personalities that Americans find to align with their cultural values.
Since it reflects American culture and traditions, American literature plays a crucial role in the country's education system. American literature class in college helps students with their language skills and capacity to think creatively and communicate across cultural boundaries, which is a crucial foundation for humanistic education.
The literary works this country has produced reflect both the cultural identity and civilization of the United States. The thriving literary environment demonstrates the constant rebuilding and regeneration of the nation.
After understanding the significance of literature, you might want to learn how to study American literature in your country. With specified courses, literature students can learn more about American culture, background, and the great literary works of the country.
See how you can discover the most effective english courses online here.
What Is The History Of American Literature
American literature is difficult to categorize into different periods. Frequently, numerous literary movements occur concurrently due to the scope and diversity in the United States.
Following are the frequently cited periods in American literature ;
During The Colonial Era (1607–1775)
The colonial era includes Jamestown's foundation and the decade leading up to the Revolutionary War. Most of the works were of religious, practical, or historical nature. Cotton Mather, Phillis Wheatley, John Winthrop, Anne Bradstreet, and William Bradford are a few authors from this era that you shouldn't miss.
The Age Of Revolution (1765–1790)
This period covers the writings of Alexander Hamilton, James Madison, Thomas Jefferson, and Thomas Paine and ends approximately 25 years after the American Revolutionary War.
"The Federalist Papers," "Declaration of Independence," and Joel Barlow and Philip Freneau's poetry are significant works of this time. It is considered the most prolific era for political writing until ancient antiquity.
First National Period (1775–1828)
The literary progress of this period comprises the first American story, "The Power of Sympathy," by William Hill, published in 1789, and "The Contrast," by Royall Tyler, the very first comedy produced for the stage.
The poems of William Cullen Bryant and Edgar Allan Poe started to differ significantly from the English literature and take up a unique tone in the National period of American literature.
The Renaissance In America (1828–1865)
This era, also known as the American Romantic Era and the Time of Transcendentalism, is regarded as the peak of American literature. Literary criticism also began during this time, with James Russel Lowell, William Gilmore Simms, and Poe as its pioneers.
In this era, emotions and ideas are valued in American literature. In 1853 and 1859, the first books by authors of African American descent were published, respectively. The time also focuses on horror and death themes, producing some of the most revered horror and thriller novels and short stories.
The Realistic Era (1865–1900)
American literature responded to the enormous changes in American ideals and consciousness brought about by the Reconstruction, American Civil War, and the industrial age.
During this era, certain romanticized conceptions about the American Revival became outdated for accurate depictions of American life. Regional writing also developed at this time. Moreover, the industrial revolution comes into the spotlight with its effect on society.
The Era Of Naturalists (1900–1914)
Novels by American Naturalist authors like Theodore Dreiser, Frank Norris, and Jack London are a few of the most profoundly moving stories in the history of American literature.
This short era is distinguished by its emphasis on depicting life as it truly is, far more than the realists did in previous decades. The main characters are often helpless victims who surrender to their psychic thoughts as well as societal and economic forces.
The Modern Era (1914–1939)
The Modern Period, which came following the American Renaissance, is a significant and aesthetically productive period in American literature. Major movements like the Lost Generation, the Harlem Renaissance, and the Jazz Age occurred during the Modern Period.
The depression during the first World War and the emigration of the beat generation, in particular, had an impact on several contemporary writers. The New Deal and the Great Depression gave rise to a new genre of literature that focused on social issues in American society.
This era promoted experimentalism, and people believed that they had the capacity to change many things, even the government.
Beat Generation (1944–1962)
For best writers, producing anti-traditional works and anti-establishment ideologies was important. Growth in the discussions of sexuality in literature during this time gave rise to legal disputes and controversies about censorship. Additionally, the counterculture movements in the following two decades were majorly inspired by the writers of this era.
The Contemporary Era (1969-Present)
After the Second World War, the scope and diversity of American literature's themes, modes, and purposes increased. As a result, the growth in literature remained somewhat stagnant and only progressed after World War II. The notable characteristics of this era's literature are:
The idea that nothing is unique
Intersexuality (connections between various works of literature)
Pastiche (copying another author's style)
Hyperrealism
Paranoid delusions
Fragmented stories
A mix of fiction and non-fiction
You can check for some of the best english classes near me for adults here.
Significance Of American Literature
American literature results from various cultures, geographical areas, philosophical perspectives, and lifestyles of other American people.
Literature portrays life in a variety of ways and makes various assertions about the world. Poems, essays, diaries, tales, and the people in those narratives are all full of human sentiments.
The study of American literature allows a deeper understanding of the true essence of the American experience. Reading a variety of authors from different eras offers a more thorough knowledge of American history, its transformation, and its building connections.
The characters, stories, themes, events, and genres of American literature play a significant role in shaping its culture. Therefore, studying American literature will make you a culturally literate person with a broader perspective on a cultural society.
It's clear that American literature has a significant impact on individual life but what is American literature in college ? In schools, American literature is taught as an independent subject. Due to its significance in the field of literature and linguistics, many colleges and educational institutions offer courses and degrees in this discipline. After completing the required credits and classes, students build a textual connection and a thorough insight into the subject, how it has evolved, and its impact on future generations. Additionally, it enables students to identify contemporary issues and suggest practical solutions.
How Is American Literature Different From Other Kinds Of Literature?
Literature is a broad category of published works found in almost every country, rather than just one. However, the literature of every country or region is different and possesses specific characteristics.
All the literary works from the United States are recognized as American Literature. It is vast, comprehensive, and unique. As a result, one might be curious about what characterizes American literature.
Several factors distinguish American literature from other types of literature. Some of these aspects are discussed below.
Beliefs And Traditions
American literature preserves traditions and beliefs from the country's early years. The innovator notions of self-sufficiency and freedom have appeared repeatedly in these beliefs.
Furthermore, in American literature, authors place a high value on the individual's worth and significance. They tend to reject power in favor of a democratic republic, equality, and human rights, which distinguishes American literature from other forms of literature.
American literature provides a unique perspective on the world. People examine various themes such as The American Dream, Coming of Age, Justice and Injustice, The Pursuit of Happiness, and Freedom and Dignity when documenting the progression of American literature.
The emphasis lies on distinguishing American ideals of rationality and power from what is frequently portrayed as Europe's outcast social conservatism.
American literature is more logical and skeptical, with diverse styles. The common styles in American literature are politics, economics, and social status. However, American writers' works also contain elements of parody, sarcasm, and pessimism.
The genre of American literature includes topics related to religion and politics in the early literature. American writers in the 17th and 18th centuries focused on revolutionary themes, American history, and social issues to provoke fundamental morals.
Humorous Streak
You can always find a bright streak of humor in American literature, from the early works to the present writings. This distinctive feature prevents the writings from sounding too dark or depressing, as is the case with the majority of Russian Literature.
Pursuit Of The American Dream
Another feature associated with American Literature is the exploration of the American Dream. Numerous stories are associated with and depict the American dream in both prose and poetry.
American literature mainly comprises works from authors who are well-known for their contribution to the literary landscape. These authors are revered for their works and have profoundly affected society on both individual and collective levels.
F. Cooper, Jack London, J.D. Salinger, E.A. Poe, Scott Fitzgerald, Mark Twain W. Faulkner, Ernest Hemmingway, and Stephen King are a few examples.
Various American Literature Timelines
Let's take a look at the different periods of American literature with their characteristics;
Learn American Literature With Superprof
American literature is a wide diversity of prose and narrative techniques impacted by different social traditions. Many people wonder why study American literature; well, here's your answer.
American literature plays a significant role in education because it exposes students to the society and history of the United States. Furthermore, studying American literature in other countries allows foreign people to understand the American culture , heritage, and the accomplishments of the great writers.
Thus, American literature can help you in various ways because writings, poetry, drama, and fiction in American literature are studied in historical and cultural contexts worldwide.
If you want to learn about American literature , Superprof has competent experts who can help you clear your concepts about American literature.
Superprof is an academic platform that provides an opportunity for individuals to utilize the platform either for learning or teaching. Our tailored sessions help students to pursue their love for learning by providing online tutoring services from subject specialists.
Find english classes near me here.
Enjoyed this article? Leave a rating.
Ian Haynes is a digital marketing specialist and has successfully deployed over 500 pages of content as a ghostwriter for businesses of all sizes. He believes that for people to truly value your business and perceive it as a brand, your content needs to do much more than just inform, it needs to talk, engage, and convert. Outside of his work, Ian likes exploring Brooklyn with his Labrador.
Cancel reply
Your comment
Current ye@r *
Leave this field empty
National Book Awards: See all the winners, including Justin Torres, Ned Blackhawk
NEW YORK — Justin Torres' novel "Blackouts," a daring and illustrated narrative that blends history and imagination in its recounting of a censored study of gay sexuality, has won the  National Book Award  for fiction.
On Wednesday night, the nonfiction prize was awarded to Ned Blackhawk's "The Rediscovery of America: Native Peoples and the Unmaking of U.S. History" and young people's literature was won by Dan Santat's "A First Time for Everything." Craig Santos Perez's "from incorporated territory (åmot)," the fifth work in his series about his native Guam, was cited for best poetry, and Stênio Gardel's "The Words That Remain," translated from Portuguese by Bruna Dantas Lobato, won for literature in translation.
Torres, whose book imagines a conversation between a dying man and the young friend he educates about a real history called "Sex Variants," gave a brief acceptance speech before he was joined by more than a dozen nominees who gathered to present a statement about the  Israel-Hamas war . Read by fiction nominee Aaliyah Bilal, the statement condemned the "ongoing bombardment of Gaza," antisemitism, anti-Palestinian sentiments and Islamophobia and called for a humanitarian cease-fire. The authors received a standing ovation after Bilal finished.
One sponsor, Zibby Media, had withdrawn support out of concerns the statement might be antisemitic and anti-Israel.
Oprah Winfrey gave an emotional keynote address during the dinner ceremony at Cipriani Wall Street, and honorary medals were presented to poet Rita Dove and to Paul Yamazaki, a longtime bookseller at San Francisco's famed City Lights store.
Check out: USA TODAY's weekly Best-selling Booklist
Pink fights 'hateful' book bans with pledge to give away 2,000 banned books at Florida shows
Winners in the five competitive categories each received $10,000.
The night's unofficial themes were self-expression, voices silenced and raised and the way literature can, as Dove described it, summon the voice of our "unarticulated disturbances."
The National Books Awards are a tribute to words and the right to read, as embodied this year by event host LeVar Burton and Winfrey. Burton, a longtime champion of reading, marveled that he and Winfrey, both descended from enslaved people, could become "symbols for literacy, literature and the written word."
Winfrey, seated during dinner between book club choices Jesmyn Ward and Abraham Verghese, became tearful as she spoke of her lifelong passion for words and reverence for authors. She quoted from such favored works as Alice Walker's "The Color Purple" and Barbara Kingsolver's "Demon Copperhead" and condemned those who ban books, calling censorship an act of isolating people into "soulless echo chambers."
Banned books: Why you should read these 51 books now
Books, Winfrey said, should be within reach "of everyone to choose for themselves."
Hundreds attended the National Books Awards, raising more than $1 million for the National Book Foundation, which oversees the event and provides a wide range of public and educational programs. Booksellers and others judge panels of writers and select awards finalists and winners of the competitive categories, for which publishers submitted a total of more than 1,900 works.
The National Book Awards also are a literary celebration that often overlaps with current events, whether the election of former President Donald Trump , a prime topic at the 2016 ceremony, or the badges of support some wore last year for striking workers at HarperCollins Publishers.
Wednesday's original host, Drew Barrymore, was dropped in September by the book foundation after she renewed the taping of her talk show while Hollywood writers were still on strike. Zibby Media and Book of the Month both declined to attend the ceremony, although only Zibby withheld its financial backing, according to the book foundation. The decision came before Zibby Media could be removed from the program guide, which listed the company as a "bronze" donor, between $25,000 and $49,000.
A full-page ad from Zibby appeared in the guide, opposite a full-page ad from Simon & Schuster for Bilal's story collection "Temple Folk."
Many of the winners spoke of using books to demonstrate and champion their own communities, whether the Native Americans in Blackhawk's work of history or the Pacific Islanders of Perez's poetry.
The fiction nominees were themselves a kind of collective statement, dramatizing those overlooked or oppressed, whether the brutalized prisoners of Nana Kwame's Adjei-Brenyah's "Chain Gang All-Stars: A Novel," the Nation of Islam members in "Temple Folk" or the Maine island devastated by racist theories in Paul Harding's "This Other Eden."
Nominee Hanna Pylväinen, whose work "The End of Drum-Time: A Novel" focuses in part on the Indigenous Sami of 19th century Scandinavia, says one of the purposes of fiction is showing that "no matter what the community" we could "be any one of those people and that we can see how those people got to be where they were in their lives."
Winfrey, in her speech, said books were a path to helping us relate to people we otherwise "have nothing in common with." She then quoted the late Toni Morrison : "The function of freedom is to free someone else."
Skip to main menu
Skip to user menu
Assistant Professor of American Literature
Job details.
The Department of Language and Literature at the University of Virginia's College at Wise invites applications for a tenure-track Assistant Professor of English, specializing in American literature of the 20 th and 21 st centuries. Preference will be given to candidates with expertise in multiethnic American literatures and/or global literatures in English. Candidates with experience or interest in advising Jimson Weed , a student-run literary journal, would be welcome.
Expectations for this position include teaching undergraduate courses from first-year composition to upper division courses in the candidate's field. The successful candidate should have a Ph.D. in Literature or a closely related field by the time of appointment, should show potential for active research and publication, a commitment to the liberal arts, and dedication to mentoring students. The teaching load is four courses per semester.
Interested applicants should complete an application online at jobs.virginia.edu that includes: 1) cover letter, 2) current CV, 3) teaching statement, 4) contact information for three references, and 5) writing sample of fewer than 25 pages. Review of applications will begin on December 29, 2023, but will remain open until filled. Start date will be in August 2024. Questions may be directed to the Department Chair, Joseph Kern.
A member of the prestigious Council for Public Liberal Arts Colleges, the University of Virginia's College at Wise (UVA Wise) is an inspiring place to teach, lead, learn and call home. With a student faculty ratio of 13:1 and 1,900 students, UVA Wise is committed to excellence in teaching, personalized attention, and individual growth, as well as to the advancement of the region through economic and community development.
The only division of the University of Virginia located outside of Charlottesville, UVA Wise has a beautiful 396-acre campus that is nestled in the Appalachian Mountains of Southwest Virginia. Here, students learn from faculty who are encouraged to engage in scholarship and service that complements their teaching, and the environment is ideal for the task. In addition to Appalachian arts and culture, on-campus wetlands and impressive geography, and a region full of opportunities for study and outdoor adventure, there are many opportunities to build partnerships with organizations, agencies, and businesses in the area and beyond. Professional staff and a dedicated senior leadership team are driven by the vital mission of ensuring access and affordability to this robust, quality higher education.
The College's student population is largely from rural communities across the Appalachian region. Many are first-generation college students. For all, UVA Wise offers access and affordability along with challenging academic work in the liberal arts tradition. The result is well-rounded graduates who earn fulfilling work at leading organizations and pursue graduate study at prestigious universities, as evidenced by both U.S. News & World Report rankings for social mobility and Washington Monthly honors for "Best Bang for Your Buck." And in 2023, UVA Wise was ranked the #2 public college in the U.S. for seniors graduating with the least debt by U.S. News & World Report.
UVA Wise employees fulfill duties as a "responsible employee" under Title IX of the Education Amendments of 1972.  A responsible employee includes any employee who has the authority to take action to redress sexual violence; who has been given the duty of reporting incidents of sexual violence or any other misconduct by students to the Title IX Coordinator or other appropriate school designee; or whom a student could reasonably believe has this authority or duty.
UVA Wise is an equal opportunity employer committed to excellence, affordable access, and unwavering support of a collaborative and diverse community. Women, minorities, veterans, and persons with disabilities are encouraged to apply.
We are committed to promoting the educational, cultural, and economic development of Southwest Virginia through innovative collaborations, partnerships, and a commitment to diversity and inclusion.
A division of the University of Virginia and a member of the Council for Public Liberal Arts Colleges, The University of Virginia's College at Wise (UVA Wise) is an inspiring place to teach, learn, work, and call home. Through personalized attention and commitment to individual growth, UVA Wise prepares students to be engaged citizens. Drawing upon its foundation as a public liberal arts institution in the Appalachian region of Southwest Virginia, the College strives to build a diverse community of learners with the drive to serve and lead in their communities, the nation, and the world. We offer access and affordability along with challenging academic work in the liberal arts tradition. The result is well-rounded graduates who earn fulfilling positions at leading organizations and pursue graduate study at prestigious institutions. And better yet, UVA Wise is consistently ranked by U.S. News and World Report as one of the top public liberal arts colleges in the nation whose students graduate with a low average student loan debt.
Share this job
Get job alerts
Create a job alert and receive personalized job recommendations straight to your inbox.
Similar jobs
Assistant/associate professor - forest extension.
Mississippi, United States
Post Doctoral Fellow - (STA012367)
Lecturer/Senior Lecturer
Craft and Criticism
Fiction and Poetry
News and Culture
Lit Hub Radio
Reading Lists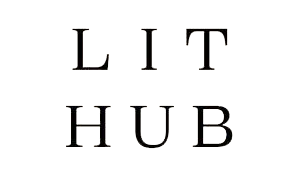 Literary Criticism
Craft and Advice
In Conversation
On Translation
Short Story
From the Novel
The Virtual Book Channel
Film and TV
Art and Photography
Bookstores and Libraries
Freeman's
Behind the Mic
Beyond the Page
The Cosmic Library
Emergence Magazine
Fiction/Non/Fiction
First Draft: A Dialogue on Writing
Just the Right Book
Literary Disco
The Literary Life with Mitchell Kaplan
The Maris Review
New Books Network
Otherppl with Brad Listi
So Many Damn Books
Tor Presents: Voyage Into Genre
Windham-Campbell Prizes Podcast
The Best of the Decade
Best Reviewed Books
BookMarks Daily Giveaway
The Daily Thrill
CrimeReads Daily Giveaway
News, Notes, Talk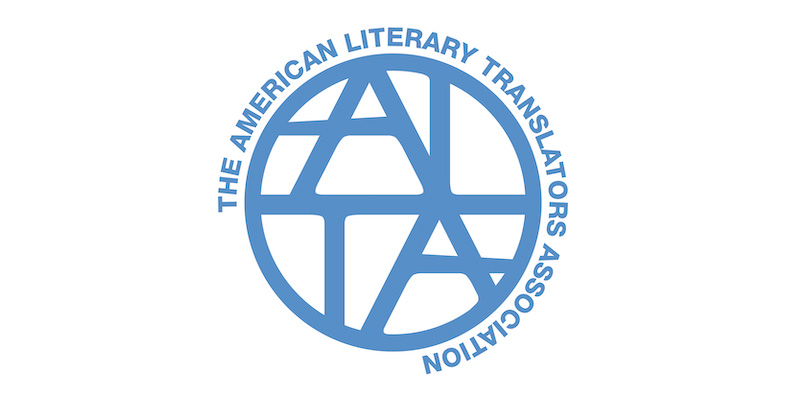 Here are the winners of the 2023 National Translation Awards.

On November 11th, the American Literary Translators Association (ALTA) announced the winners of the 25th National Translation Awards. The NTAs are awarded, in both poetry and prose, to "literary translators who have made an outstanding contribution to literature in English by masterfully recreating the artistic force of a book of consummate quality." The winning translators have been awarded $4,000 each.
This year's prose judges are Natascha Bruce, Shelley Frisch, Jason Grunebaum, Sawad Hussain, and Lytton Smith. This year's judges for poetry are Pauline Fan, Heather Green, and Shook.
Winner of the 2023 National Translation Award in Poetry: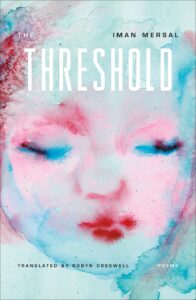 Iman Mersal, The Threshold Translated from Arabic by Robyn Creswell (Farrar, Straus and Giroux)
Judges' Citation: Robyn Creswell writes that the poet Iman Mersal,  "Egypt's—indeed, the Arab World's—great outsider poet" finds her politics "not in the public square or at the checkpoint, but rather in the realm of sexual relations, commonplace idioms, and hierarchies of power that are more durable because mostly unacknowledged." It is in his straightforward, lyrical rendition of such scenarios that the translator succeeds. An abiding skepticism animates The Threshold , of collective identities, political mobilization, modernization, family relations, and much more. In the title poem, "one long-serving intellectual screamed at his friend / When I'm talking about democracy / you shut the hell up ." "CV," which catalogues the conspicuous absence of wasted days and empty hours, ends by defining the vita's relationship to life itself as "proof that the one who lived it / has cut all ties to the earth."
Winner of the 2023 National Translation Award in Prose: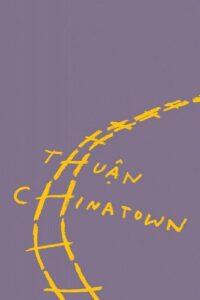 Thuân,  Chinatown Translated from Vietnamese by Nguyễn An Lý (New Directions | Tilted Axis Press)
Judges' Citation: The premise of Chinatown promises claustrophobia: a Vietnamese woman trapped in the Paris metro by a suspect package, possibly a bomb. Thuận's novel, though, brought to us by Nguyễn An Lý's sweeping, melodic phrasing, is anything but sedentary: who knew reverie could be this fast-moving, this suspenseful? Below the surface, waiting, feeling the uneasy gaze of her fellow Parisians, our narrator travels back through her memories—of her son, of Hanoi, of his absent, longed-for father—and, in so doing, gifts us constraint's solace: that memories might bring one back to a sense of self, against all the odds.
Click to share on Facebook (Opens in new window)
Click to share on Twitter (Opens in new window)
Click to share on LinkedIn (Opens in new window)
Click to share on Reddit (Opens in new window)
Click to share on Tumblr (Opens in new window)
Click to share on Pinterest (Opens in new window)
Click to share on Pocket (Opens in new window)
Click to email a link to a friend (Opens in new window)
Click to print (Opens in new window)
Lit hub Radio
to the Lithub Daily
November 17, 2023.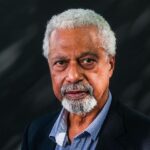 Aminatta Forna on the life and work of Abdulrazak Gurnah .
Jonathan Shamir reports on Israel's "unprecedented attack on journalists."
Have you considered… not writing a memoir ?
RSS - Posts
Literary Hub
Created by Grove Atlantic and Electric Literature
Sign Up For Our Newsletters
How to Pitch Lit Hub
Advertisers: Contact Us
Privacy Policy
Skip to main content
Keyboard shortcuts for audio player
It's Been a Minute
LISTEN & FOLLOW
Apple Podcasts
Google Podcasts
Amazon Music
Your support helps make our show possible and unlocks access to our sponsor-free feed.
Pressing pause on 'Killers Of The Flower Moon' and rethinking Scorsese's latest
Brittany Luse
Bilal Qureshi
Jessica Placzek
Corey Antonio Rose

Veralyn Williams
Lily Gladstone and Leonardo DiCaprio in Killers of the Flower Moon (2023) Apple TV hide caption
Lily Gladstone and Leonardo DiCaprio in Killers of the Flower Moon (2023)
Martin Scorsese's Killers of the Flower Moon is everything an Oscar contender might be - long, epic, morally complicated and expensive. Yet, while many movie-goers left theaters moved, others called the film a problematic disaster. Today on the show, we hear what the movie got wrong and how it fits into a broader history of Native Americans on screen. To unpack this, Brittany Luse is joined by Robert Warrior, a literature and professor and an Osage Nation citizen, Liza Black, a Native American and Indigenous Studies professor and Cherokee Nation citizen, and Nancy Marie Mithlo, a gender studies professor and Fort Sill Chiricahua Warm Springs Apache citizen.
This episode was produced by Corey Antonio Rose. It was edited by Jessica Placzek and Bilal Qureshi. Additional support came from Veralyn Williams, Barton Girdwood, Alexis Williams, and Liam McBain. Engineering support came from Patrick Murray. Our executive producer is Veralyn Williams. Our VP of programming is Yolanda Sangweni and our senior VP of programming is Anya Grundmann.
leonardo dicaprio
lily gladstone
Killers of the Flower Moon
Indigenous history
martin scorsese
Robert DeNiro
Seats Available – LACS 235 / JAPN 234 Japanese American Literature
TR: 10:50AM-12:05PM
Course Description: This course introduces works by Japanese American authors and Japanese authors who write while living in foreign countries. Learning about the early formation of the Japan-U.S. relationship, we will move onto the dark period between the two countries before and during WWII to contextualize Japanese American works about internment camps. To learn how Japanese American literature has developed in the late twentieth and twenty-first centuries, we will continue to read recent Japanese American works that are hinged upon the theme of cultural borders and differences. We will examine the dynamics of different cultural and linguistic experiences also in Japanese literary works by Yoko Tawada and Ian Hideo Levy. Readings also include works by John Okada, Hisaye Yamamoto, Julie Otsuka, Karen Tei Yamashita, and Ruth Ozeki.
Prerequisite(s): None
Distribution Requirement: Meets Humanities and Global Requirements
TR: 10:50AM-12:05PM Professor Katsuya Izumi
Open access
Published: 08 November 2023
Childhood vaccine refusal and what to do about it: a systematic review of the ethical literature
Kerrie Wiley 1 ,
Maria Christou-Ergos 1 ,
Chris Degeling 2 ,
Rosalind McDougall 3 ,
Penelope Robinson 1 ,
Katie Attwell 4 ,
Catherine Helps 1 ,
Shevaun Drislane 4 &
Stacy M Carter 2  
BMC Medical Ethics volume  24 , Article number:  96 ( 2023 ) Cite this article
380 Accesses
9 Altmetric
Metrics details
Parental refusal of routine childhood vaccination remains an ethically contested area. This systematic review sought to explore and characterise the normative arguments made about parental refusal of routine vaccination, with the aim of providing researchers, practitioners, and policymakers with a synthesis of current normative literature.
Nine databases covering health and ethics research were searched, and 121 publications identified for the period Jan 1998 to Mar 2022. For articles, source journals were categorised according to Australian Standard Field of Research codes, and normative content was analysed using a framework analytical approach.
Most of the articles were published in biomedical journals (34%), bioethics journals (21%), and journals that carry both classifications (20%). Two central questions dominated the literature: (1) Whether vaccine refusal is justifiable (which we labelled 'refusal arguments'); and (2) Whether strategies for dealing with those who reject vaccines are justifiable ('response arguments'). Refusal arguments relied on principlism, religious frameworks, the rights and obligations of parents, the rights of children, the medico-legal best interests of the child standard, and the potential to cause harm to others. Response arguments were broadly divided into arguments about policy, arguments about how individual physicians should practice regarding vaccine rejectors, and both legal precedents and ethical arguments for vaccinating children against a parent's will. Policy arguments considered the normative significance of coercion, non-medical or conscientious objections, and possible reciprocal social efforts to offset vaccine refusal. Individual physician practice arguments covered nudging and coercive practices, patient dismissal, and the ethical and professional obligations of physicians. Most of the legal precedents discussed were from the American setting, with some from the United Kingdom.
Conclusions
This review provides a comprehensive picture of the scope and substance of normative arguments about vaccine refusal and responses to vaccine refusal. It can serve as a platform for future research to extend the current normative literature, better understand the role of cultural context in normative judgements about vaccination, and more comprehensively translate the nuance of ethical arguments into practice and policy.
Peer Review reports
Introduction
Vaccine rejection has existed for as long as vaccines [ 1 ]. Despite the significant contribution of childhood vaccination to reductions in global child morbidity and mortality [ 2 ], some parents continue to reject vaccines for their children. Parents' reasons for rejection vary widely, and often depend on their social settings. For example, in high-income settings where around 2–3% of parents reject routine childhood vaccines [ 3 , 4 ], reasons can include previous bad experiences with vaccines or the medical system, concerns about vaccine safety, doubt about the effectiveness or necessity of vaccines, alternative health approaches, and participation in particular social groups or communities. These reasons can be grounded in deeply held religious beliefs or general philosophical approaches to health, views on freedom of choice, or mistrust in government and/or the vested interests of vaccine producers, among other things [ 5 , 6 , 7 , 8 ].
Vaccination plays a dual role in disease prevention: it serves to protect the vaccinated individual from disease, and when vaccination rates reach a high enough threshold for some diseases, also protects the broader community—including those who remain unvaccinated—by disrupting disease transmission through herd immunity. This dual role of vaccination, providing benefit to both the individual and community, complicates ethical questions regarding vaccine refusal, specifically, whether vaccine rejection is ethically justifiable.
Health care providers, communities, and governments encourage uptake and discourage vaccine rejection by various means, and the dual role of vaccination is also relevant to an evaluation of these practice and policy responses. Vaccine acceptance is encouraged with interventions like incentives, health provider recommendations and "nudges" directed at individual families, as well as by facilitating easier access to vaccination through strategies such as cost reduction and making clinic locations and opening times convenient, with many of these interventions supported by varying levels of evidence [ 9 ]. Governments often discourage vaccine rejection via the imposition of mandates that can vary in type and severity [ 10 ] and are not always well-supported by evidence [ 11 ]. These can include punitive measures, such as limiting unvaccinated children's access to early childhood education or daycare. A thorough understanding of the ethical dimensions of childhood vaccine rejection and responses to it is important when navigating vaccine rejection in the clinical setting, and when formulating policy [ 12 ]. Systematic reviews of the evidence are considered best practice for informing vaccine practice and policy however, to our knowledge there have not yet been any published systematic reviews of the literature on the ethics of childhood vaccine rejection despite there being a broad literature on the subject. We sought to systematically explore and characterise the normative arguments made about parental refusal of routine vaccination, with the aim of better informing vaccine policy and practice.
We searched nine databases for literature that discussed normative positions on childhood vaccine rejection. Refer to the PRISMA flow chart (Fig.  1 .)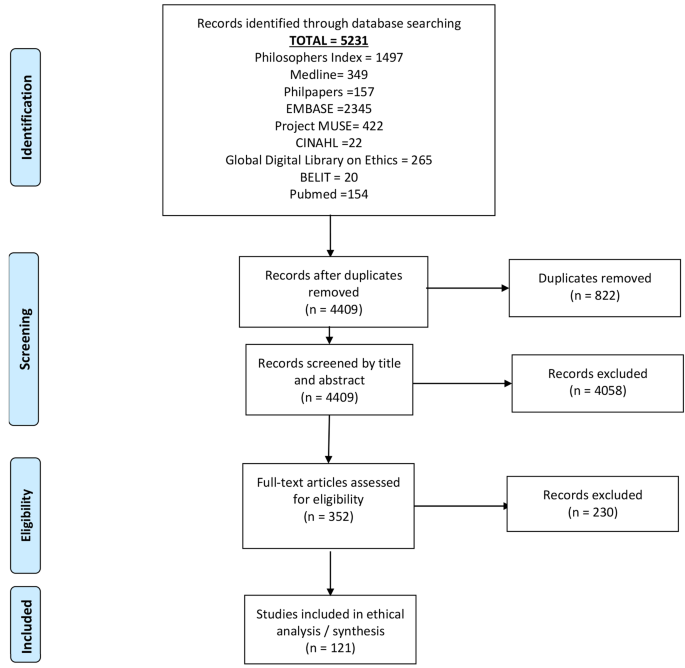 PRIMSA Flow Diagram of Review
Search strategy
We searched Medline, Embase, Philosophers Index, Philpapers, Project Muse, Cinahl, The Global Digital Library on Ethics (globethics.net), The Bioethics Literature Database (BELIT), and Pubmed using the general search strategy listed in Fig.  2 for articles published between January 1998 and March 2022.

Inclusion criteria
We included any publication which provided a substantive normative argument about parental refusal of routine vaccines for children aged five and under. We used a broad definition of 'normative' to mark anything that goes beyond mere description to consider right and wrong, good and bad, justifiable and unjustifiable, or legitimate and illegitimate actions or ways of being in the world. Our broad conception included textual forms such as ethical reflections, prudential and legal norms, and accounts of rationality. We used 'substantive' to mark publications where the authors' main purpose was to make an argument about whether vaccine refusal is morally justifiable. This included empirical research that explicitly examined normative dimensions of vaccine refusal. We were limited to reviewing publications published in English.
Exclusion criteria
We excluded publications where authors made a normative claim in passing, but the publication's main purpose was to report non-normative empirical findings. We also excluded: publications on adult vaccination (including COVID vaccination) and the HPV vaccine (which is administered in adolescence, not childhood); empirical research such as surveys or interviews, unless they expressly explored normative arguments; and descriptive publications about the characteristics of the anti-vaccination movement that provided no normative position.
Screening and data extraction
After search execution and duplicate removal, a screening triangulation exercise was undertaken to ensure consistency among the screeners. A set of 20 titles and abstracts were independently screened by six authors, and the results compared. The inclusion and exclusion criteria were refined in a subsequent group discussion, and a sub-set of full text articles were then screened and evaluated by the same group of people, and results again compared. A discussion of this second triangulation step resulted in a refined and standardized screening approach.
The authorship group were then divided into four pairs, and the remaining titles and abstracts divided among the pairs. Each individual screened titles and abstracts against inclusion criteria, and then met with their screening partner to compare results and discuss and resolve any differences.
Full text was sought for each record screened for inclusion, and a second screening then removed articles which didn't meet the inclusion criteria once the full text was read, articles that could not be sourced, and duplicates not identified in the initial screening.
The final list of full text publications was then divided among four authors (SC, RM, CD and KW) for data extraction using the concept of "information units" described by Mertz and colleagues [ 13 ]. In this context an information unit was defined as a normative issue or argument, and each of the four 'extracting' authors summarized each of the relevant information units in the papers they were assigned.
For included journal articles, Australian Standard Field of Research (FoR) codes for the journal that each article appeared in were sourced as a proxy for the disciplinary location of the article (e.g. bioethics, medicine, law). We used the Australian and New Zealand Standard Research Classification (ANZSRC) 2008, as this was the current standard when analysis commenced [ 14 ]. We used two digit FoR codes (division codes) to identify the source journal as either being Medical and Health Sciences (code 11), Ethics and Philosophy (code 22) Law (code 18) or other codes grouped as "other". In some cases, the journal was assigned a combination of these codes (refer to Fig.  3 ).

Respective percentages of included articles falling under various ANZSRC FoR Codes (2008)
Quality assessment in systematic reviews of normative literature remains a contested area, with various options and no established best practice approach [ 15 ]. In this review, we took a satisficing approach to quality appraisal [ 16 ]: publication in a peer-reviewed journal or by a reputable academic publisher was taken as a sufficient level of quality to justify inclusion in the review. The peer review process undergone by PhD theses was also taken to be a sufficient indictor of quality to justify inclusion. Further quality appraisal of individual publications was not undertaken. This aligns with the purpose of the review which was to map and synthesize the current literature on this topic.
A framework approach was used to organise and synthesise the data [ 17 ]. The extracted information units were read by one author (KW), and a coding frame inductively developed to summarise and classify the information units extracted by the group. The publications were then independently coded according to this framework by two authors (KW and PR). Following this, the two authors met and compared their coding, discussing any differences and resolving them by consensus. The data were then synthesized into themes. In addition, for journal articles, the ANZSRC Field of Research codes for the journal each article appeared in were descriptively analysed to assess the distribution of the included literature across various disciplines.
Search results
Five thousand, two hundred and thirty-one publications were returned by the searches (see Fig.  1 ). Eight hundred and twenty-two duplicates were removed in the first instance, leaving 4409 records to be screened by title and abstract. During this screening process 4058 records were excluded, leaving 351 full text publications to be assessed. Of these a further 230 records were excluded (due to not meeting the inclusion criteria, previously unidentified duplicates, or inability to source the full text), leaving 121 publications for inclusion in the review. These included 117 journal articles, three theses and one book.
Literature source type
Analysis of the ANZSRC Field of Research codes of the source journals of included articles revealed three main areas, or a combination of them (Fig.  3 ). Around half were coded to medicine (63%); of these, just over half were dual coded to ethics (20%) or another code (9%). 21% of articles were from the philosophy or ethics literature alone; another 25% were from ethics and medicine or ethics and law. Law was the least dominant discipline, with only 12% of articles being coded to law (alone or in combination with other disciplines). This pattern suggests active concern within medicine regarding non-vaccination, but also widespread overlap in concern between medicine, ethics, and law.
Main themes found in the literature
Articles addressed two central questions (see Table  1 ):
Whether vaccine refusal was justified (henceforth 'refusal' arguments).
Whether various policy or practice responses to those who reject vaccines are justified (henceforth 'response' arguments).
Descriptive analysis of content
The literature was dominated by papers focused on 'response' arguments (61%). A smaller group of papers address 'refusal' arguments (19%), and about 18% considered both 'refusal' and 'response', usually making normative arguments about vaccine refusal as background to arguments regarding 'response' (See Fig.  4 ). Less than 2% of papers had a different focus.

Comparative frequencies of themes occurring among included articles
'Response' arguments were more common in the medical and health sciences literature (ERA FoR code 11, see Fig.  5 ). Although the ethics/philosophy (FoR code 22) and law literatures (FoR code 18) were also dominated by 'response' arguments, these journals—unlike medical journals—were more likely to include 'refusal' arguments.

Comparative frequency of overarching themes across the different disciplines of the included articles
As would be expected, authors made 'response' and 'refusal' arguments in different ways. In the following sections we consider the detail of how arguments were made. We refer to each included article by its unique reference listed in Table  1 .
'Refusal' arguments: whether or not vaccine rejection by individual parents is justifiable
Arguments about whether vaccine refusal by individual parents is justifiable included consideration of parents' rights, the interests of the child (including the legal 'best interests of the child standard'), the value of herd immunity, the epistemic basis for ethical claims, and the relevance of religious views. Our sampling period included a special issue of Narrative Inquiry in Bioethics which published narratives written by parents to communicate their normative positions on vaccination. Most of these were written by non-vaccinating parents, and they make up over one third of all arguments in the identified literature that support refusal. On balance, most of the literature argues that it is not justifiable for parents to refuse routine vaccination for their children.
Some arguments within the literature were absolute in their position on whether vaccine rejection is justifiable; others weighed competing values in a situation-specific approach. Irrespective of the arguments used to justify a position, most of the literature frames the question of whether vaccine rejection is justifiable based on three key areas of concern: (i) Respect for autonomy, the doctrine of informed consent and the value of liberty, (ii) Consequences for the child and others, and/or (iii) The normative significance of parental trust, distrust, and uncertainty. We explore the main arguments within these concepts below. As the discussion shows, these concepts are not discrete – they are often weighed against one another, linked by causal claims, or held in tension in the arguments made. Figure  6 represents proportionally the 'refusal' arguments made in the reviewed literature.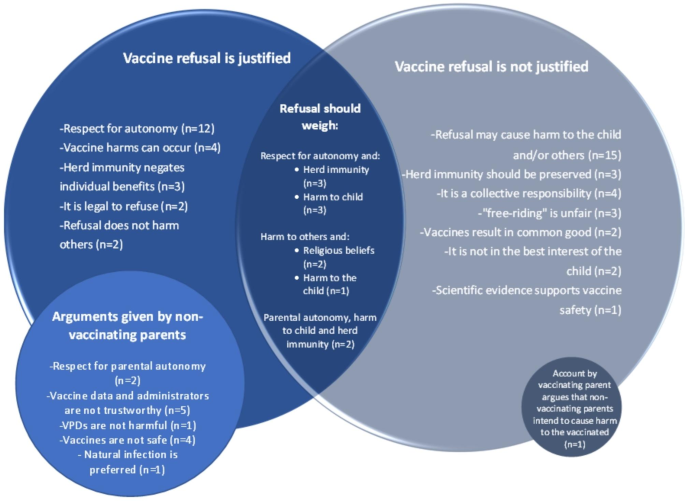 'Refusal' arguments made in the literature on the ethics of vaccine refusal
Respect for autonomy, the doctrine of informed consent and the value of liberty
Fifteen papers from this sample present arguments that vaccine refusal is justified based on respect for parental autonomy, rights, or liberties (21, 23, 25, 31, 32, 35, 36, 39, 68, 71, 75, 80, 94, 100, 121). Some argue that vaccine refusal is justified on the basis of preserving legal rights (31, 80) or expression of religious freedom [ 23 ]. Opposing positions (including from four of the authors who also offer arguments justifying refusal) argue that, on balance, considerations regarding respect for autonomy are, or can be, outweighed by the potential harm caused to the child and others by not vaccinating though the increased risk of vaccine preventable diseases (21, 36, 20, 23, 110). This includes legal perspectives arguing that the freedom to choose is not unfettered [ 25 ] and that courts can override parental autonomy if this is in the child's best interest (75, 85), as well as arguments from religious perspectives that the freedom to exercise religious beliefs needs to be weighed against harm caused to others (21,91). Those who argue that vaccine refusal is justified counter that disrespecting parental autonomy can also cause harm to the child through loss of trust and possible disengagement of the child from the healthcare system (100), and that the increased risk of disease is a price worth paying to ensure that political values are preserved (71). Of note: non-vaccinating parents also assert a right to make choices for their children in support of their refusal [ 14 , 18 ], but unlike others, their arguments are based primarily on epistemic claims about vaccine effectiveness, necessity and safety rather than moral or ethical positions. However, they assert that these doubts necessitate respect for their decision.
Consequences for others and the child
Most of the literature argues for or against the justifiability of vaccine refusal based on consequences. These include potential harms from vaccine preventable diseases or vaccines themselves, or conversely, potential benefits from herd immunity. The concept of herd immunity is deployed in different ways. Those justifying vaccine refusal in certain circumstances argue that in settings where there is a high level of herd immunity, the risk posed by an unvaccinated child is not great enough to override respect for parental autonomy (62, 65, 94, 98), and that the benefits of community protection do not justify the individual risk posed by the vaccine and borne by the child who is already protected through herd immunity (72, 96, 97, 17, 93, 108). Perspectives of non-vaccinators echo these ideas by asserting that some diseases are not harmful enough to proscribe vaccine refusal [ 14 ] and that vaccine injury contributes to and justifies refusal [ 16 ].
In contrast, those who argue that refusal is not justifiable propose a duty to contribute to herd immunity because it is a public good (7,80, 19,120, 33, 48, 68,115), or that free-riding (allowing one's child to enjoy the benefits of herd immunity provided by others, while avoiding the risk of vaccinating) is unfair (37,46, 48). On this account, the vaccine refusal of a few may undermine herd immunity and thus cause harm to the many by increasing disease risks (9, 11, 26, 37, 59, 76, 81, 86); further, these risks are borne by the most vulnerable (43). These arguments about harm to others include those made by authors writing from religious perspectives (8, 81, 84, 92, 98). Finally, an account by a vaccinating parent suggests that harms resulting from non-vaccination are blameworthy because they are an intentional act of aggression against vaccinated children [ 19 ].
The concept of the child's interests arises frequently in these publications. Pursuing or protecting these interests generally combines concern about the consequences of non-vaccination for the child with concern for autonomy, in the broad sense of being able to direct one's life in accordance with one's values or aims. Authors write about the interests of the child in both a general sense (i.e. the interests of the child outside of a legal context) and in a legal sense (the formal 'best interests of the child standard'). The legal construction is used both to support (31, 6, 93) and to oppose vaccine refusal. Arguments that receiving a vaccine is in the legal 'best interests of the child' (21,39) posit that any deviation from a widely accepted legal view of the interests of a child should weigh the risk of harm to the child (68) irrespective of the parent's beliefs (78), or that non-vaccination constitutes negligence or child endangerment [ 28 ]. On the other hand, some authors argue that, from a legal perspective, parents have the right to consent to or refuse vaccination ostensibly using the 'child's best interests standard'(93) and that there is insufficient legal precedent to argue that non-vaccination constitutes medical neglect [ 6 ].
Arguing from distrust and uncertainty
As previously noted, the sample included a set of papers written from the perspective of non-vaccinating parents. Most of these contributions seek to justify vaccine refusal, and many justifications were grounded in distrust. They call into question vaccine safety and effectiveness [ 12 , 13 , 14 , 18 ], and the accuracy of the reporting of adverse events following immunization (96). They claim financial conflicts, constructing clinicians, clinical medicine, and/or regulatory agencies as untrustworthy or non-credible [ 12 , 14 , 16 ]. They cite empirical studies of non-vaccinators to support parental preferences for natural infection over a vaccine (97). Non-vaccinating parents were not the only authors to make arguments in this vein. Some other authors cite the lack of absolute certainty of vaccine safety as justification for parents refusing vaccines in the interests of their children (28,76), especially regarding newer vaccines for which efficacy is not well-established (34). This line of argument depicts vaccine proponents as driven by commercial interests, thus justifying parental mistrust and refusal (34). Contra this, one paper asserts that refusal on the grounds of mistrust of government or medicine is not justifiable, as it is inconsistent with the scientific evidence and the well-established regulatory processes in place, such as the rigorous clinical testing required to develop and approve vaccines, and the systems established to report adverse events and ensure safety [ 8 ].
'Response' arguments: claims regarding the justifiability of different responses to non-vaccination
The literature examines four main responses to non-vaccination (i) government mandate policies (such as legal ramifications for refusing vaccination and vaccination as a school entry requirement), and other coercive policies, (ii) exemptions to mandate policies, (iii) individual practitioner and medical practice responses (including patient dismissal from practice for vaccine refusal, vaccinating against parents' will, and nudging), and (iv) withholding health resources. The literature includes authors who argue that these responses are justifiable and others who argue that they are not. Much like the refusal arguments, some response arguments are absolute in their position, while others advocate weighing competing values in a context -specific way. Like refusal arguments, most arguments for and against particular responses to non-vaccinating parents draw from respect for autonomy, the doctrine of informed consent and the value of liberty, as well as considering consequences for the child and others. Other concepts appearing in these arguments include inequity, and the duties of governments and practitioners. Figure  7 represents proportionally the 'response' arguments made in the reviewed literature.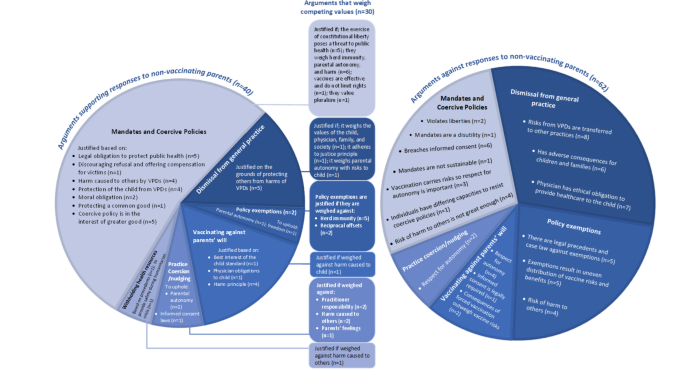 'Response' arguments made in the literature on the ethics of vaccine refusal
As in the literature on refusal, many arguments about policy or practice responses to non-vaccinating parents depend on the interrelated concepts of respect for autonomy, informed consent and liberty. Five papers engage with the issue of practitioners vaccinating against parents' will with respect to these concepts. They argue that forced vaccination by healthcare providers violates parents' autonomy and/or the ethical requirement for informed consent, because vaccination carries risks (80,119), and clinicians have legal obligations to obtain valid consent for procedures (94). Some authors propose alternatives to forced vaccination, including focusing on rebuilding trust (rather than violating negative liberty) (32), and accepting that views on vaccination derive from plural and culturally-specific values [ 29 ]. On the other hand, proponents of forced vaccination do not engage with these concepts, instead deploying the harm principle and the legal 'best interests of the child standard' to justify their position. We explore this argument in the following section "Consequences for the child and others".
Another set of papers make arguments about vaccine mandates that also draw on autonomy or liberty justifications, often weighing these against harm or risk of harm. Arguments justifying mandates are often legal in nature and use, for example, the harm principle or case law to argue that the freedom or liberty to choose not to vaccinate is limited by the risk of ill health and/or death to the child or others in the community, including vulnerable persons (83,91). One author argues that legal actions should be brought against those who harm others by refusing vaccination, as this would both discourage refusal and, in the case of any successful claims, compensate victims (55). Some authors argue that mandates are justifiable if the exercise of liberty rights poses a threat to public health (53,82,83,91,119). While those arguing that mandates are not justifiable sometimes rely on arguments about risk of harm—i.e. that in a low-incidence (and therefore low-risk) setting mandates cannot be justified (45, 87,104)—most make their arguments from autonomy, informed consent, and personal liberty and do not weigh these against the potential for harm (12,16,61,82,89,107,114). One author argues that even if mandates improve vaccination rates, they damage trust with parents and make refusers more steadfast in their decision (121), so are not sustainable. Finally, some authors present middle-ground positions that—in their view—are more autonomy- or liberty-preserving, including persuasion (121) or weakly enforced mandates (71), or argue that policy responses should take the least coercive approach that is feasible and effective to balance the needs of the individual with public health (117).
Those supporting conscientious objection to mandates argue that such provisions contribute to the collective good of a culture of respect for autonomy (82), or reflect the "American ideal" of personal freedom (66). Contra this, those opposed to conscientious objection provisions argue that challenges to mandates based in religious freedom have failed in case law, as the right to practice religion freely does not include the liberty to expose children or communities to disease (20,92). One author provides a qualified view of conscientious objection on religious grounds, arguing that such liberties could be justified only while high vaccination rates are maintained (109).
Authors disagree about whether certain policy or practice responses do, or do not, respect autonomy or uphold important liberties. For example, authors disagree on the effect of both nudges and conscientious objection policies on parental autonomy or liberty. With respect to nudges, some argue they are autonomy-preserving because they steer parents in a certain direction while allowing choice (106), do not override or challenge the strong views of deeply opposed opponents (42, 44) and uphold informed consent (121). Some supporters of nudging weigh multiple normative considerations, arguing that nudges that appeal to social responsibilities in a medical practice setting are justified because they appropriately balance parental autonomy against the practitioner's responsibility to promote trust and collective benefits (3,80). Those opposed to nudges for vaccination decisions argue that the invasive nature of immunization increases the need for independent and informed decision making (60,113). These authors argue against a presumptive consultation style in general practice, proposing participatory clinical encounters (114), and using persuasion (42), as alternatives to more coercive approaches.
Consequences for the child and others
Many of the arguments in this literature consider individual and collective consequences—benefits, harms, burdens, and costs to society — and propose that these may override other normative considerations. The risk and prevention of harm is particularly pertinent here. For example, a parental decision can be overruled in cases where there is a significant risk of harm to the child (78), or nudges become more justifiable when the risk of harm to others is higher (3, 75).
Arguments about mandates often include concern about consequences, since it is inherent in a vaccine mandate that there will be some costs associated with non-vaccination. Mandate proponents argue that mandates ensure high vaccination rates, thus preventing disease outbreaks (39) and associated harms (97), so are in the best interest of individual children (28, 73, 111) and serve the greater good (4,28,73,79). Some justify mandates by proposing a duty to contribute to herd immunity, including under the "clean hands principle", that is, an obligation not to participate in collectively harmful activities [ 1 , 5 ]. Conversely, some authors argue that mandates are not necessary to achieve high levels of population immunity, so state coercion is unjustified at a collective level or at the level of the individual child because each child receives limited benefit (94). Those opposing mandates also argue that vaccine safety is not absolute (88) and that mandates are a disutility, carrying associated costs with surveillance and enforcement (95). Other authors sought to balance these kinds of consequences against other normative considerations with respect to mandates, including the level of herd immunity, the risks of non-vaccination to the child and/or society, and respect for parental autonomy (32,53,88,119). One author argues that mandates protect 'victims' of the anti-vaccination movement from harms so long as certain conditions are met (43): that the vaccine can prevent infection and transmission, that individuals minimize their risk of exposure, and that the right of self-defense is preserved (e.g. in the case of allergy to vaccines).
Consequences are also important to arguments about conscientious objection, but here it is generally concerns about the impact on the collective. Some argue that exemptions should not be allowed because they may increase rates of disease or undermine individual or community health (20, 87, 118); others argue that if disease risk is low, exemptions are justified because those few individuals with exemptions do not pose a risk to others or herd immunity (20, 82, 105).
Consequences to the child and others are used to justify whether responses should be applied in general practice settings. As mentioned in the previous section, some authors justify healthcare workers vaccinating against a parent's will using both the harm principle (69) and the legal 'best interests of the child standard' [ 25 ]; others suggest it is against the legal best interests of an older child to be forcibly vaccinated, as this may have a more detrimental impact than being unvaccinated (25,51). The best interests of the child are also invoked extensively to argue that non-vaccinating families should not be dismissed from medical practices (98,104, 26, 75). Here authors note that an unvaccinated child is more vulnerable to vaccine preventable diseases (9, 49), practice dismissal limits opportunities to access health care (31,52, 56,79,116) and the increased risk of harm from vaccine preventable diseases is transferred to other practices (9,47,49). One paper makes an argument about the consequences of treating non-vaccinating families for general practitioners, suggesting that practices caring for unvaccinated children should disclose this to other patients to minimize medicolegal risks, and should receive legal protection to account for the increased liability and risk of caring for these patients (40).
A small body of literature employs claims about who is responsible for the consequences of non-vaccination to make arguments about responses to non-vaccination. For example, one article seeks to justify discriminating against unvaccinated children with a vaccine preventable disease by limiting their access to health resources, relying on precedents such as coronary bypass surgery being withheld from obese people and smokers, and arguing that those who contribute to their own ill-health (in this case by not vaccinating) do not deserve healthcare (80). A related argument focuses on managing refugee camps during outbreaks that pose a direct and imminent threat of harm, proposing that the state is justified in withholding humanitarian aid from non-vaccinating refugees because the state is responsible for setting conditions that provide protection to (or prevent harm to) aid givers and public health [ 30 ].
Some critiques of policy or practice responses to non-vaccination emphasise that these responses can have inequitable effects and argue that this is unjustifiable. Exemption policies are a key focus here. Five papers argue against exemptions to vaccine mandates on the grounds that these unevenly distribute the risks and benefits of vaccinations (27,61,66, 73,118). These authors propose that the inaction of a few compromises the health of the most vulnerable community members (118) and disenfranchises those with medical contraindications for vaccines [ 27 ]. One author particularly focuses on home-schooled children, arguing that exempting them from vaccine mandates exposes both those children and society to harm, and that it is in the interests of these children and society that they be protected through vaccination (73). Some authors suggest that policy exemptions could be made justifiable by imposing conditions that offset potential inequities. On this view, exemptions could be justified so long as the refuser is prepared to make a financial or other contribution to help offset the potential financial burden of the diseases they may cause, or to otherwise contribute to social good [ 2 , 22 ].
Similarly, some opponents of coercive mandates or practice dismissal for non-vaccination critique these responses for having inequitable effects. It is argued that coercion risks creating a group of disenfranchised people (113) and that different people have different capacities to resist coercive policies (114). Similarly, dismissal leaves vulnerable children without advocacy (64), leads to patients not being treated equally (63) and marginalizes children from health care (74). One paper argues that family dismissal should be strongly discouraged, and an alternative mutually beneficial solution sought after considering the interests of the patient, physician, family, community, and society at large (74).
The duty of practitioners and the state
Some papers address the duties of practitioners and the duties of the state to respond to non-vaccination, in ways that go beyond simply weighing up consequences, implications for autonomy or freedom, or equity of impacts.
A variety of duties of practitioners are proposed. The first of these is to protect a child from their parent's beliefs if those beliefs are likely to cause significant harm, which is used to justify initiating child protection proceedings to vaccinate against a parent's will (67). Another is to protect patients in the waiting room from the risks posed by non-vaccinating patients, which is used to justify dismissing non-vaccinating patients from practice (9,26,38, 40,45). Counter-obligations are used to argue against practice dismissal. These include a health professional's obligation to provide healthcare in the best interest of the child despite the parent's decisions, and to deal with infectious disease as a part of their role (9,26,45,47, 56,101). Authors also argue that physicians' obligations exclude enforcing parental accountability through dismissal, especially if that means the child is held accountable for the actions of their parents (47), and that continuing to provide care to a non-vaccinating family does not make the physician complicit in their decision (116).
It is sometimes asserted that the state is obliged to discourage non-vaccination on a number of grounds. This includes a fundamental duty of states to protect society [ 21 ], a responsibility of states to protect herd immunity as a common good or to reduce social and financial burdens and costs (53,119), and the state's role to protect the common good in the face of risks to public health and the fallibility of individuals' risk perception (54). Some of these arguments focus on exemptions from mandatory vaccination policies, proposing that states can not justify such exemptions because the government's interest in protecting society outweighs the individual's interest [ 21 ] or because vaccination is a social and moral good owed by a society to its children (118).
This review systematically explored and characterised the normative arguments made about parental refusal of routine childhood vaccination. Included publications addressed two types of arguments (i) 'Refusal' arguments (whether vaccine refusal is justified) and (ii) 'Response' arguments (whether various policy or practice responses to those who reject vaccines are justified). There were more 'response' arguments than 'refusal' arguments in the literature. On balance, most of the literature on 'refusal' arguments contended that it is not justifiable for parents to refuse vaccination for their children. Most of the 'response' argument literature argued against the various responses to non-vaccination put forward. However, compared to 'refusal' arguments, 'response' arguments were more varied and nuanced, and often came with caveats (e.g. exemptions to mandates are permissible if the disease burden is low).
The included articles predominantly originated from medical journals: these accounted for most of the papers focused on 'response' arguments. This may arise from the broader distribution of academic literature – there are more papers published in medicine than in the other disciplines represented in this review. It may also reflect the needs of readers of medical literature for guidance on how they should respond to non-vaccinating parents, highlighting the importance of making literature addressing the ethical dimensions of vaccine refusal accessible to immunization practitioners. Although there were some interdisciplinary perspectives, the dominance of the medical literature relating to 'response' arguments suggests that knowledge in this field may be advanced by incorporating more voices with expertise in ethics, law, and policy. This is especially important for deciding how to implement policy and practice responses to non-vaccination.
'Refusal' arguments were more common in the comparatively smaller collection of ethics/philosophy literature identified by this search, which may be, in part, a product of the differences in disciplinary traditions. While ethics/philosophy texts explore counterarguments and reach conclusions that are nuanced, and often with caveats, medical disciplines are primarily guided by practical considerations and a tradition of arguing from evidence rather than from ethical or philosophical principles. This privileging of evidence over principles may make it difficult to explore differing vaccination positions within the medical arena, potentially contributing to the adversarial clinical immunisation encounters described by vaccine-refusing parents and clinicians alike [ 7 , 18 , 19 ]. This pattern needs attention if ethical arguments are to have an impact in practice. As shown, most ethical arguments pay attention to evidence, as most ethical arguments include consequences in some way (see below). Ethical arguments can add nuance to biomedical thinking about consequences (e.g. consequences for individuals vs. the collective) and also about competing values (e.g. balancing consequences against concerns regarding autonomy, consent and liberty). The challenge for ethicists is to provide these arguments in an accessible and compelling form.
In fact, (i) consequences for the child and others, and (ii) respect for autonomy, the doctrine of informed consent and the value of liberty were dominant themes in both 'refusal' and 'response' arguments. Arguments were guided by common concepts such as the value of herd immunity, the prospect of harm to the child or others in the community and legal perspectives and precedents. The normative significance of parental trust, distrust, and uncertainty was a consideration unique to the 'refusal' arguments literature, driven in part by the five parental accounts from the special issue of Narrative Inquiry in Bioethics included in our sample. The concepts of inequity, and the duties of governments and practitioners only appeared in 'response' arguments. This is unsurprising: it reflects the purpose and perspective of these writers. An analysis of policy options is often required to bring inequity into view, and both clinicians and policymakers have obligations by virtue of their roles that can inform thinking about the right thing to do.
Many of the arguments justifying vaccine refusal aligned with the wider literature on the perspectives of non-vaccinating parents who value the freedom to make health decisions as caregivers, in what they perceive to be the best interest of their children [ 20 , 21 ]. These decisions are often based on doubts about vaccine safety or efficacy and are commonly initiated by a negative experience [ 19 , 20 , 22 ]. Unsurprisingly, arguments against rejecting childhood vaccines reflected the broader literature on how vaccine-supporting people view non-vaccination— including views that non-vaccinators are misinformed and disrupt social order, and that their actions are not based on reason or shared social values [ 23 ]. Common negative descriptors such as "anti-vaxxer" have similar valence in social discourse [ 24 ]. Those writing about vaccination should be aware of the potential for stigmatization and "othering" that can result by framing non-vaccination as a failure of parents [ 25 ]. When such arguments are used to inform policy and practice responses to non-vaccination, it introduces the potential for negative psychosocial impacts and further alienation of non-vaccinating parents.
Most 'response' arguments dealt with the justifiability of mandates and coercive policy. Generally, authors in favour of mandates prioritised the good of society; those against mandates prioritised individual choice. The large number of papers we found on mandates is unsurprising, given that these policies have been contentious. In Australia, federal and most state governments have mandates that require children to be vaccinated to be enrolled in childcare and for their families to be eligible for government financial assistance [ 26 ] Key political, academic and industry stakeholders argue that these mandates are designed to increase vaccination rates for the benefit of society [ 27 ]. On the other hand, Australian non-vaccinating parents express a belief that their children do not pose a threat to society, that all children should be treated in the same way, and that all parents should be able to make decisions for their children, regardless of vaccination status [ 28 ]. These perceptions of policy makers and non-vaccinating parents broadly represent the opposing arguments about mandates presented in this review. Facilitating a middle-ground approach to policy implementation may require closer attention to the values underlying these opposing views, and using a procedurally just approach to weigh them against one another.
In the context of an increasing number of systematic reviews in the field of bioethics, there has been recent criticism emerging about the use of these methods in bioethics. For example, Birchley and Ives (2022) argue that such methods are designed and therefore better suited to aggregation of quantitative data and not the complex and subjective nature of bioethical concepts and the theory-generating and interpretive approaches they require [ 29 ]. We argue that our application of the framework systematic review method - one of many well-established methods for systematic review and synthesis of qualitative and conceptual data - is appropriate for this research question and the application of our findings. Vaccine policy and practice requires a synthesis of what is known on relevant issues, and a systematic approach such as that used here provides a useful summary of the breadth of relevant ethical issues in a format that is accessible to policymakers. Our review has some limitations. Our aim was to map the range of normative arguments about vaccination refusal and policy. We did not have scope to present a novel ethical argument in response to our findings; this is an aim for future empirical and theoretical research. Most of the included literature focuses on high-income settings, predominantly the United States and the United Kingdom. In low-income settings, health services are often harder to access and levels of and reasons for vaccine rejection also differ in these settings. For example, political and cultural factors have been implicated in polio vaccine rejection in Nigeria [ 30 ], while low literacy, unemployment, and owning a mobile phone have been associated with polio vaccine refusal in Pakistan [ 31 ]. Our sampling period included a special issue of Narrative Enquiry in Bioethics which published narratives written by parents to communicate their normative positions on vaccination. These were mostly written by non-vaccinating parents and made up over one third of all arguments in the literature that support refusal. This is a strength in that it expanded the range of views represented in the review. However, it is also a limitation in that if this special issue had not been published within our sampling period, the range of arguments would have been more strongly skewed against vaccine refusal. These papers artificially increased the proportion of arguments in the scholarly domain that argue for vaccine refusal. It is a strength of our methodology that we were able to identify the unique perspective from which they were written and position them separately in our literature synthesis so that our representation of the literature distribution is not artificially skewed.
This review highlights an opportunity for interdisciplinary collaboration to widen the scope and reach of normative arguments about non-vaccination. Such collaboration can facilitate a broader understanding of and engagement with the ethical issues that may be relevant for practitioners, policymakers, and researchers in deciding how to respond to non-vaccinating parents. Arguments about the justifiability of non-vaccination and what should be done about it have the potential to positively influence routine childhood vaccination rates but can also alienate non-vaccinating families if not deployed with their perspectives in mind. There is an avenue for future work to further understand the influence of cultural context on normative arguments, especially within low- and middle-income settings. Moreover, there is an opportunity to further explore the influence and translation of scholarly ethical arguments into policy and practice responses to childhood non-vaccination.
Data Availability
The datasets generated and/or analysed during the current review are not publicly available, however the search terms used to generate the dataset are included in this published article.
Spier RE. Perception of risk of vaccine adverse events: a historical perspective. Vaccine. 2001;20:78–S84. https://doi.org/10.1016/S0264-410X(01)00306-1
Article   Google Scholar  
Nandi A, Shet A. Why vaccines matter: understanding the broader health, economic, and child development benefits of routine vaccination. Hum Vaccines Immunotherapeutics. 2020;16(8):1900–04. https://doi.org/10.1080/21645515.2019.1708669
Siddiqui M, Salmon DA, Omer SB. Epidemiology of vaccine hesitancy in the United States. Hum Vaccines Immunotherapeutics. 2013;9(12):2643–48. https://doi.org/10.4161/hv.27243
Beard FH, Hull BP, Leask J, et al. Trends and patterns in vaccination objection, Australia, 2002–2013. Med J Aust. 2016;204(7):275–75.
Ward PR, Attwell K, Meyer SB, et al. Understanding the perceived logic of care by vaccine-hesitant and vaccine-refusing parents: a qualitative study in Australia. PLoS ONE. 2017;12(10):e0185955.
Ward PR, Attwell K, Meyer SB, et al. Risk, responsibility and negative responses: a qualitative study of parental trust in childhood vaccinations. J Risk Res. 2017;1–14. https://doi.org/10.1080/13669877.2017.1391318
Wiley KE, Leask J, Attwell K, et al. Parenting and the vaccine refusal process: a new explanation of the relationship between lifestyle and vaccination trajectories. Soc Sci Med. 2020;263:113259.
Yaqub O, Castle-Clarke S, Sevdalis N, et al. Attitudes to vaccination: a critical review. Soc Sci Med. 2014;112:1–11.
Brewer NT, Chapman GB, Rothman AJ, et al. Increasing vaccination: putting psychological science into action. Psychol Sci Public Interest. 2017;18(3):149–207.
Attwell K, Navin MC, Lopalco PL, et al. Recent vaccine mandates in the United States, Europe and Australia: a comparative study. Vaccine. 2018;36(48):7377–84.
Attwell K, Seth R, Beard F et al. Financial interventions to increase vaccine coverage. Pediatrics 2020;146(6).
Attwell K, Navin M. How policymakers employ ethical frames to design and introduce new policies: the case of childhood vaccine mandates in Australia. Policy & Politics. 2022;50(4):526–47. https://doi.org/10.1332/030557321x16476002878591
Mertz M, Strech D, Kahrass H. What methods do reviews of normative ethics literature use for search, selection, analysis, and synthesis? In-depth results from a systematic review of reviews. Syst Rev. 2017;6(1):261. https://doi.org/10.1186/s13643-017-0661-x . [published Online First: 20171219].
Australian Bureau of Statistics., 2008, Australian and New Zealand Standard Research Classification (ANZSRC), availabe at: https://www.abs.gov.au/ausstats/[email protected]/0/4ae1b46ae2048a28ca25741800044242?opendocument
Kahrass H, Borry P, Gastmans C et al. PRISMA-Ethics – Reporting Guideline for Systematic Reviews on Ethics Literature: development, explanations and examples 2021 [Available from: OSF Preprints at https://osf.io/g5kfb
McDougall RJ, Notini L. Overriding parents' medical decisions for their children: a systematic review of normative literature. J Med Ethics. 2014;40(7):448–52. https://doi.org/10.1136/medethics-2013-101446
Brunton G, Oliver S, Thomas J. Innovations in framework synthesis as a systematic review method. Res Synthesis Methods. 2020;11(3):316–30. https://doi.org/10.1002/jrsm.1399
Berry NJ, Henry A, Danchin M, et al. When parents won't vaccinate their children: a qualitative investigation of Australian primary care providers' experiences. BMC Pediatr. 2017;17(1):19. https://doi.org/10.1186/s12887-017-0783-2
Helps C, Leask J, Barclay L, et al. Understanding non-vaccinating parents' views to inform and improve clinical encounters: a qualitative study in an Australian community. BMJ Open. 2019;9(5):e026299. https://doi.org/10.1136/bmjopen-2018-026299
Wiley KE, Leask J, Attwell K, et al. Parenting and the vaccine refusal process: a new explanation of the relationship between lifestyle and vaccination trajectories. Soc Sci Med. 2020;263:113259. https://doi.org/10.1016/j.socscimed.2020.113259
Attwell K, Leask J, Meyer SB, et al. Vaccine rejecting parents' Engagement with Expert systems that inform Vaccination Programs. J Bioeth Inq. 2017;14(1):65–76. https://doi.org/10.1007/s11673-016-9756-7 . [published Online First: 20161201].
Christou-Ergos M, Leask J, Wiley KE. How the experience of medical trauma shapes Australian non-vaccinating parents' vaccine refusal for their children: a qualitative exploration. SSM - Qualitative Research in Health. 2022;2:100143. https://doi.org/10.1016/j.ssmqr.2022.100143
Rozbroj T, Lyons A, Lucke J. The mad leading the blind: perceptions of the vaccine-refusal movement among australians who support vaccination. Vaccine. 2019;37(40):5986–93. https://doi.org/10.1016/j.vaccine.2019.08.023 . [published Online First: 20190823].
Court J, Carter SM, Attwell K, et al. Labels matter: use and non-use of 'anti-vax' framing in Australian media discourse 2008–2018. Soc Sci Med. 2021;291:114502. https://doi.org/10.1016/j.socscimed.2021.114502
Wiley KE, Leask J, Attwell K, et al. Stigmatized for standing up for my child: a qualitative study of non-vaccinating parents in Australia. SSM Popul Health. 2021;16:100926. https://doi.org/10.1016/j.ssmph.2021.100926 . [published Online First: 20210916].
Attwell K, Drislane S. Australia's 'No jab no play' policies: history, design and rationales. Aust N Z J Public Health. 2022;46(5):640–46. https://doi.org/10.1111/1753-6405.13289
Attwell K, Navin M. How policymakers employ ethical frames to design and introduce new policies: the case of childhood vaccine mandates in Australia. Policy and Politics. 2022;1–22. https://doi.org/10.1332/030557321X16476002878591
Wiley K, Robinson P, Degeling C, et al. Get your own house in order': qualitative dialogue groups with nonvaccinating parents on how Measles outbreaks in their community should be managed. Health Expect. 2022;25(4):1678–90. https://doi.org/10.1111/hex.13511
Birchley G, Ives J. Fallacious, misleading and unhelpful: the case for removing 'systematic review' from bioethics nomenclature. Bioethics. 2022;36(6):635–47. https://doi.org/10.1111/bioe.13024
Yahya M. Polio vaccines—no thank you! Barriers to polio eradication in Northern Nigeria. Afr Affairs. 2007;106(423):185–204. https://doi.org/10.1093/afraf/adm016
Khattak FA, Rehman K, Shahzad M, et al. Prevalence of parental refusal rate and its associated factors in routine immunization by using WHO Vaccine Hesitancy tool: a Cross sectional study at district Bannu, KP, Pakistan. Int J Infect Dis. 2021;104:117–24. https://doi.org/10.1016/j.ijid.2020.12.029
Download references
This review was funded by the Australian National Health and Medical Research Council, grant number GNT1126543.
Author information
Authors and affiliations.
Sydney School of Public Health, The University of Sydney, Edward Ford Building A27, Sydney, 2006, Australia
Kerrie Wiley, Maria Christou-Ergos, Penelope Robinson & Catherine Helps
Australian Centre for Health Engagement, Evidence and Values, The University of Wollongong, Wollongong, 2522, Australia
Chris Degeling & Stacy M Carter
Melbourne School of Population and Global Health, The University of Melbourne, Melbourne, 3010, Australia
Rosalind McDougall
School of Social Sciences, Asian Studies & Politics, International Relations, University of Western Australia, Perth, 6009, Australia
Katie Attwell & Shevaun Drislane
You can also search for this author in PubMed   Google Scholar
Contributions
KW contributed to study design and search strategy development, ran the searches, managed the screening and inclusion process, screened articles for inclusion, extracted data, analysed and interpreted data and co-led manuscript drafting; MC ran updated searches, screened articles for inclusion and extracted data, assisted with analysis and interpretation and co-led manuscript drafting; CD contributed to study design and search strategy development, provided technical guidance, screened articles for inclusion and contributed to manuscript drafts; RM contributed to study design and search strategy development, provided technical guidance, screened articles for inclusion and contributed to manuscript drafts; PR screened articles for inclusion, extracted data, assisted with analysis and contributed to manuscript drafts; KA contributed to search strategy development, screened articles for inclusion and contributed to manuscript drafts; CH screened articles for inclusion and contributed to manuscript drafts; SD screened articles for inclusion and contributed to manuscript drafts; SMC contributed to study design and search strategy development, provided technical guidance, screened articles for inclusion and contributed to manuscript drafts.
Corresponding author
Correspondence to Kerrie Wiley .
Ethics declarations
Ethics approval and consent to participate.
Not applicable.
Consent for publication
Competing interests.
The authors declare no competing interests.
Additional information
Publisher's note.
Springer Nature remains neutral with regard to jurisdictional claims in published maps and institutional affiliations.
Rights and permissions
Open Access This article is licensed under a Creative Commons Attribution 4.0 International License, which permits use, sharing, adaptation, distribution and reproduction in any medium or format, as long as you give appropriate credit to the original author(s) and the source, provide a link to the Creative Commons licence, and indicate if changes were made. The images or other third party material in this article are included in the article's Creative Commons licence, unless indicated otherwise in a credit line to the material. If material is not included in the article's Creative Commons licence and your intended use is not permitted by statutory regulation or exceeds the permitted use, you will need to obtain permission directly from the copyright holder. To view a copy of this licence, visit http://creativecommons.org/licenses/by/4.0/ . The Creative Commons Public Domain Dedication waiver ( http://creativecommons.org/publicdomain/zero/1.0/ ) applies to the data made available in this article, unless otherwise stated in a credit line to the data.
Reprints and Permissions
About this article
Cite this article.
Wiley, K., Christou-Ergos, M., Degeling, C. et al. Childhood vaccine refusal and what to do about it: a systematic review of the ethical literature. BMC Med Ethics 24 , 96 (2023). https://doi.org/10.1186/s12910-023-00978-x
Download citation
Received : 20 February 2023
Accepted : 31 October 2023
Published : 08 November 2023
DOI : https://doi.org/10.1186/s12910-023-00978-x
Share this article
Anyone you share the following link with will be able to read this content:
Sorry, a shareable link is not currently available for this article.
Provided by the Springer Nature SharedIt content-sharing initiative
Vaccination
Immunization
Vaccine refusal
Systematic review
Normative literature
Medical ethics
BMC Medical Ethics
ISSN: 1472-6939
College History Textbooks spread Misinformation about the Great Depression
Daily Economy
Economic History

The Great Depression was the most significant macroeconomic event of the past century, but don't expect to find an accurate portrayal of its causes in your college history classroom. The most commonly assigned college-level US history textbooks contain obsolete and economically erroneous explanations of the 1929 stock market crash and its aftermath. In a new study I co-authored with Jeremy Horpedahl and Marcus Witcher , we examined nine widely used US history textbooks and evaluated their accounts of the Great Depression. We then compared those narratives to assessments of the same event by economists and economic historians. The results show that historians are largely unaware of the leading economic explanations for the Depression.
Most economists attribute the crash to a decade-long quagmire to a series of bad economic policy decisions in the 1920s and '30s. As former Federal Reserve chairman Ben Bernanke conceded, the Fed is now widely recognized as having botched its response to the unfolding events of 1929-1933. Through a string of erroneous policy decisions and inaction, the Fed created the conditions for a monetary contraction and directly exacerbated a collapse of the banking system. Other policy blunders, such as the steeply protectionist Smoot-Hawley Tariff of 1930, added fuel to the fire by triggering a global collapse in international trade. And in 1932, President Herbert Hoover signed a massive hike in federal income tax rates in a misguided attempt to close the budget deficit. Contractionary fiscal policy during a Depression is seldom a good idea.
Other "consensus" economic explanations of the Depression do borrow elements of Keynesian theory, suggesting that the 1929 crash and aftermath illustrated a contraction in aggregate demand. This proposition has been heavily contested since Keynes first advanced it in the 1930s, but it remains a part of mainstream economic theory. To illustrate the range of economic explanations for the Great Depression, we summarized ten of the most commonly used college-level economics textbooks below.
Turning to the nine most-common US history textbooks, we found a very different story. Monetary explanations of the Great Depression were seldom mentioned at all. Only two of the nine texts mentioned the role of Federal Reserve policies. The protectionist policies of Smoot-Hawley were largely omitted. US history textbooks even neglected doctrinaire Keynesian explanations rooted in an aggregate demand contraction.
Instead, all nine history textbooks attributed the Great Depression to a class of explanations known as "underconsumption" theory. Briefly summarized, underconsumption holds that economic production outpaced what most consumers could purchase given their low pay, triggering a contractionary event in the form of the Depression. This argument attained popularity in the early 1930s, and was used to justify many of the economic planning and regulatory programs of Franklin Delano Roosevelt's New Deal. Economists today overwhelmingly reject "underconsumption" theory. Even Keynes expressed skepticism of the notion, and attempted to prod the Roosevelt administration over to an aggregate-demand-based theory of the unfolding events. For the past 80 years, few if any economists have seriously entertained "underconsumption" as a viable explanation of the Great Depression.
As our study shows, US history textbook authors remain badly out-of-touch with the economic literature about the Depression. They also augment their obsolete "underconsumption" explanation with other political appeals.
Eight out of nine US history textbooks attributed the Great Depression to rising income inequality. Only one economics textbook made a similar argument, the explicitly heterodox CORE open access e-book . Tellingly, none of the history textbooks offered a coherent causal mechanism by which inequality supposedly caused or triggered the Great Depression. They simply asserted it to be the case.
So what are we to make of this odd situation? The comparison of the two charts shows that US history instruction, including at the college level, is badly out of sync with the scholarly literature on the Great Depression. History textbooks show little cognizance of the leading economic explanations for this famous event, and display almost no awareness of how this literature has developed over the past 80 years.
The resulting treatment of the Great Depression in US history textbooks does little to educate students about the actual causes of the Great Depression. It does, however, privilege obsolete political arguments from the early 1930s that were used to justify the New Deal.
Phillip W. Magness
Phillip W. Magness is Senior Research Faculty and F.A. Hayek Chair in Economics and Economic History at the American Institute for Economic Research. He is also a Research Fellow at the Independent Institute. He holds a PhD and MPP from George Mason University's School of Public Policy, and a BA from the University of St. Thomas (Houston). Prior to joining AIER, Dr. Magness spent over a decade teaching public policy, economics, and international trade at institutions including American University, George Mason University, and Berry College. Magness's work encompasses the economic history of the United States and Atlantic world, with specializations in the economic dimensions of slavery and racial discrimination, the history of taxation, and measurements of economic inequality over time. He also maintains an active research interest in higher education policy and the history of economic thought. His work has appeared in scholarly outlets including the Journal of Political Economy, the Economic Journal, Economic Inquiry, and the Journal of Business Ethics. In addition to his scholarship, Magness's popular writings have appeared in numerous venues including the Wall Street Journal, the New York Times, Newsweek, Politico, Reason, National Review, and the Chronicle of Higher Education.
Related Articles – Economic History, Education, Research
The Jobs You Don't Want to Be Destroyed By Trade Were Created By Trade
Gobbledegook! The Bretton Woods System of Fixed Exchange Rates According to E.C. Harwood
Trade-offs: The Ugly Truths of School Finance 
Academics Make Lousy Leaders
250 Division Street | PO Box 1000 Great Barrington, MA 01230-1000
Press and other media outlets contact 888-528-1216 [email protected]
Editorial Policy
AIS is a fully owned subsidiary of AIER
This work is licensed under a  Creative Commons Attribution 4.0 International License , except where copyright is otherwise reserved.
© 2021 American Institute for Economic Research Privacy Policy
AIER is a 501(c)(3) Nonprofit registered in the US under EIN: 04-2121305
Sponsor the work of leading economists and academics as they advance the study of the economic principles that underwrite human prosperity and progress via AIER.org.

Seventh Annual Deaf Expressive Arts Festival showcases literary forms and art
Nov 15, 2023 | Arts and Culture , Casper College News , Events and Performances , School of Fine Arts and Humanities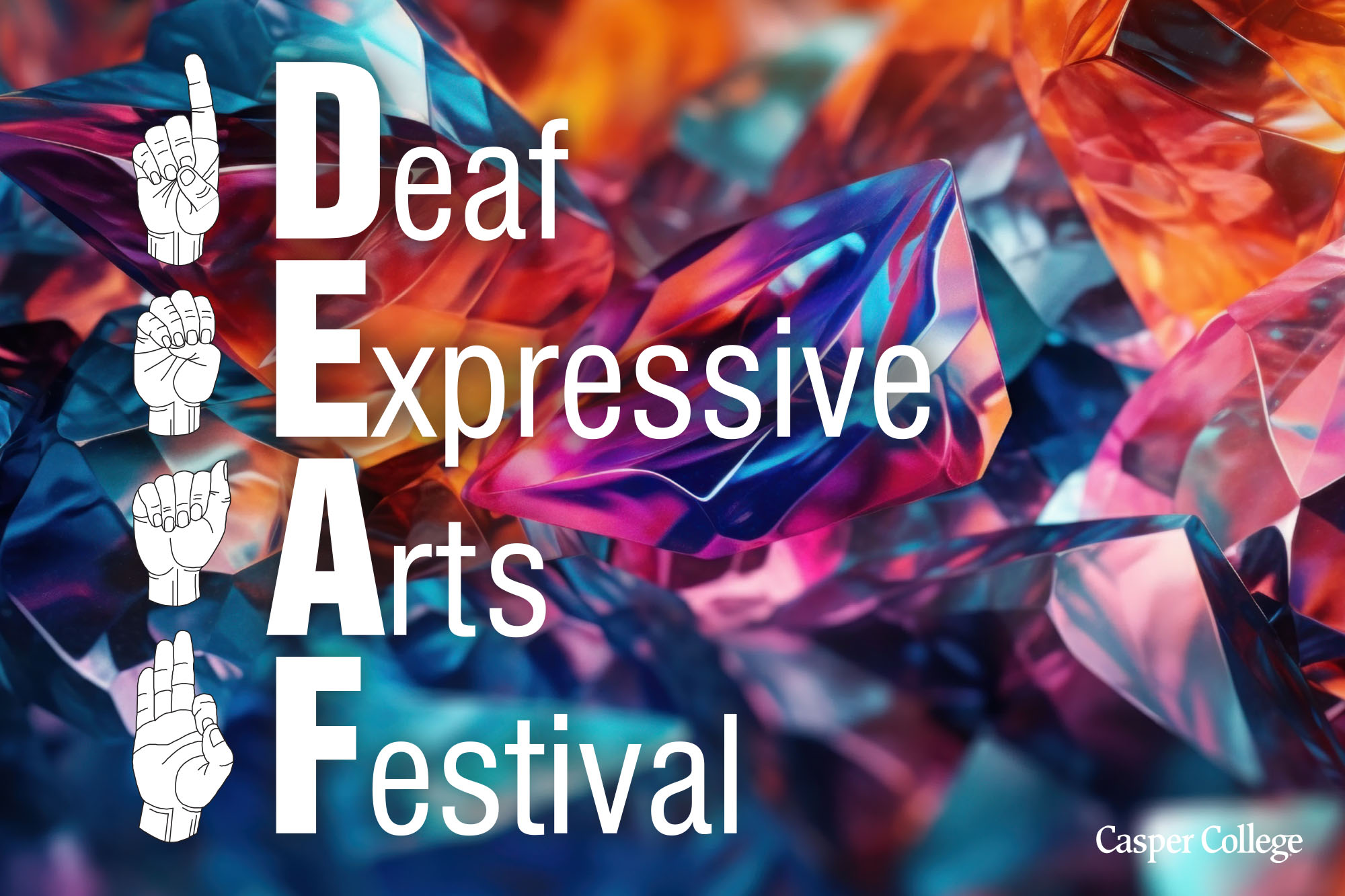 American Sign Language students from Casper College, Kelly Walsh High School, and Dean Morgan Middle School, as well as local deaf community members, will be showcasing a variety of ASL literary forms as well as student-created art on Tuesday, Nov. 28, in the Wheeler Concert Hall from 6:30-7:30 p.m.
The Deaf Expressive Arts Festival — or D.E.A.F., which is in its seventh year at Casper College, is a collaborative effort of American Sign Language classes taught at Casper College by Gail Schenfisch, at Kelly Walsh High School by Maria Paris, and Dean Morgan Middle School by Joan Mahnen. During the event, students will share their love of ASL with the community.
Local deaf community members and students will perform traditional ASL ABC, number and classifier stories, percussion signing, and folklore stories. "This intergenerational presentation and sharing of ASL and its culture help build and establish an appreciation of the deaf community and the importance of being global citizens learning diversity through world languages," said Schenfisch.
The festival is free and open to the public, and interpreters will be provided for all hearing guests.
The Wheeler Concert Hall is located in the Music Building on the Casper College campus.
For more information about the festival or the American Sign Language Studies degree offered at Casper College, contact Gail Schenfisch at 307-268-2588 or gail.schenfisch@caspercollege.edu .
If you enjoyed this story, receive more just like it:
Subscribe to email updates
Nov 15, 2023
Arts and Culture , Casper College News , Events and Performances , School of Fine Arts and Humanities
Recent News
Lady T-Birds excited for weekend games in the "Swede"
Casper College and ed2go offer classes for Wyoming teachers
Zak Werner Memorial Scholarship Established
14th-seeded T-Birds head to nationals; cheer them on as they compete Wednesday
Visit Casper College
Request Information
Apply for Admission
Just for You
Future Students Current Students Work at CC Faculty and Staff Community Resources Alumni and Friends
Helpful Quicklinks
A-Z Guide Employee Directory Offices and Services Academic Calendar Accessibility Bookstore Campus Map
CC Alerts/Safety Events Calendar Give to CC Foundation Jobs at Casper College News: Inside CC Student Success Center Consumer Information
Casper College
125 College Drive Casper, WY 82601
307-268-2100
Emergency Information Alert   |  Report an Incident or Concern   |  Nondiscrimination   |  Privacy Policy   |  Mission   |  Directions |  Sitemap