Literary Terms
Definition & Examples
When & How to Use Paraphrase
I. What is a Paraphrase?
A paraphrase (pronounced par – uh -freyz) is a restatement or rewording of a paragraph  or text,  in order to borrow, clarify, or expand on information without plagiarizing. Paraphrasing is an important tool to use when writing research papers, essays , and pieces of journalism.
II. Examples of Paraphrasing
For examples of paraphrasing, consider these possible re-wordings of the same statement:
She angered me with her inappropriate comments, rumor-spreading, and disrespectfulness at the formal dinner table.
She made me angry when she was rude at dinner.
This paraphrase is an example of a rewording which shortens and simplifies while maintaining the same meaning.
Her impoliteness, gossiping, and general lack of respect at dinner infuriated me.
This rephrasing maintains the same meaning but is rearranged in a creative way.
I was mad when she started spreading rumors, making inappropriate comments, and disrespecting other guests at our dinner.
Another paraphrase, this rewording properly and interestingly rearranges the information provided in the original sentence.
III. Types of Paraphrasing
A. change of parts of speech.
Parts of speech ranging from verbs and nouns to adjectives and adverbs are replaced with new parts of speech in this type of paraphrasing. Here is an example:
Original Sentence:
The boy quickly ran across the finish line, seizing yet another victory.
Paraphrase:
The quick boy seized yet another victory when he ran across the finish line.
In this example, many parts of speech are changed: the adverb quickly becomes the adjective quick, and the verb phrase with the gerund seizing becomes the verb seized.
B.  Change of Structure
This type of paraphrasing involves changing the sentence's structure, sometimes creating a passive voice from an active voice and vice versa. The change in structure can be used to reflect the writer's interpretation of the original quote. Here is an example of change of structure paraphrasing:
Puppies were adopted by numerous kind souls at the puppy drive.
Many kind souls adopted puppies during the puppy drive.
In this example, the object of the sentence (kind souls) becomes the subject with an active voice (adopted) rather than a passive voice (were adopted).
C. Reduction of Clauses
Reduction of clauses paraphrases reduce the number of clauses in a sentence, which can be interruptive or confusing, by incorporating the phrases into the sentence. Here is an example of reduction of clauses paraphrasing:
While I understand where you're coming from, and truly respect your opinion, I wish you would express yourself more clearly, like Clara does.
I understand where you're coming from and respect your opinion, but I wish you would be more like Clara and express yourself more clearly.
D. Synonym Replacement
Synonym replacement paraphrasing is one of the simplest forms of paraphrasing: replacing words with similar words, or synonyms. Here is an example:
The older citizens were honored with a parade for those once in the military.
Senior citizens were honored with a march for veterans.
In this example, many synonyms are used: older citizens are senior citizens, a parade becomes a march, and those once in the military refers to veterans.
IV. The Importance of Using Paraphrase
Paraphrasing is a way of referencing a source without directly quoting it or of further explaining a selected quote. Correct paraphrasing is important in that poor paraphrasing can result in accusations of plagiarism, or copying from a source without correctly citing it. Paraphrasing allows writers to examine the meaning of others' work, creatively rephrase their statements, and craft information to suit an essay or composition's goal or focus.
V. Paraphrase in Literature
Paraphrasing can be found in a variety of journalistic sources from newspapers to film documentaries to literary journals. Here are a few examples of paraphrasing in literature:
Someone once wrote that musicians are touched on the shoulder by God, and I think it's true. You can make other people happy with music, but you can make yourself happy too.
In John Berendt's nonfiction novel Midnight in the Garden of Good and Evil , a character references what someone has once written by paraphrasing their message.
I'm going to paraphrase Thoreau here… rather than love, than money, than faith, than fame, than fairness… give me truth.
In this example from the nonfiction novel Into the Wild , Jon Krakauer paraphrases Thoreau's larger message of transcendence.
So far, Laurance's critiques of new road-building schemes have been well received, but he expects that to change.
In Michelle Nijhuis' article "What Roads Have Wrought," William Laurance is paraphrased rather than quoted to express his general viewpoint.
VI. Paraphrase in Pop Culture
Paraphrasing is often found in pop culture when attempting to translate the language of older plays, poems, and stories, such as Shakespeare's works. Here are a few examples of paraphrasing in pop culture:
10 Things I Hate About You (1999):
Just a minor encounter with the shrew… the mewling, rampalian wretch herself.
In the modern-day adaptation of Shakespeare's The Taming of the Shrew , many characters ' lines paraphrase Shakespeare's originals. Here is Shakespeare's version:
A meacock wretch can make the curstest shrew.
A Different World: Romeo, Oh Romeo
First, the student reads Shakespeare's original words:
Oh gentle Romeo. If thou dost love, pronounce it faithfully. Or if thou thinkest I'm too quickly won, I'll frown and be perverse and say thee nay, so thou wilt woo.
Then, she paraphrases to translate its meaning for modern ears:
It's all about translation. Oh, sweet thang Romeo. If you think I'm all that, then step to me correctly. But if you think I'm a skeeze, I'll be dissin' and dismissin', then you'll be workin' overtime getting' me back.
VII. Related Terms
Like paraphrases, summaries are rewordings of original statements. Whereas paraphrases are precise and specific, summaries are brief and selective. Summaries report main points in a shortened version of the original, whereas paraphrases simply restate the original statement in a new way. Here is an example of summary versus paraphrase:
Original Statement:
At the party we had delicious red punch, a bunch of different appetizers, and a cookout. Since it was at the park, we played volleyball, went swimming, and sunbathed for fun.
At the party we enjoyed food and drink and various outdoor activities.
Here, the summary purposefully shortens the original statement while covering its major points.
At the party we drank some punch, ate a handful of appetizers, and had a cookout. The park allowed us to enjoy a number of enjoyable activities from volleyball to swimming to sunbathing.
As this example shows, the paraphrase rephrases the original statement and keeps more of its original content than the summary.
Translation
Although paraphrase sometimes translates difficult phrasing into more understandable phrasing, it is not literally considered translation. For something to be a translation, it must change writing in one language to another language. Here is an example of translation versus paraphrasing:
Original Phrase:
That's life.
Translation into French:
C'est la vie.
That's just how life goes sometimes.
Although we loosely may refer to paraphrase as translating ideas, technically it is not a tool of translation.
VIII. In Closing
Paraphrasing is an important tool for nonfiction writers, journalists, and essayists alike. It is a common proponent of news and reporting. Correct paraphrasing protects writers from plagiarism and allows them to creatively rephrase original works, incorporating them into their own compositions.
List of Terms
Alliteration
Amplification
Anachronism
Anthropomorphism
Antonomasia
APA Citation
Aposiopesis
Autobiography
Bildungsroman
Characterization
Circumlocution
Cliffhanger
Comic Relief
Connotation
Deus ex machina
Deuteragonist
Doppelganger
Double Entendre
Dramatic irony
Equivocation
Extended Metaphor
Figures of Speech
Flash-forward
Foreshadowing
Intertextuality
Juxtaposition
Literary Device
Malapropism
Onomatopoeia
Parallelism
Pathetic Fallacy
Personification
Point of View
Polysyndeton
Protagonist
Red Herring
Rhetorical Device
Rhetorical Question
Science Fiction
Self-Fulfilling Prophecy
Synesthesia
Turning Point
Understatement
Urban Legend
Verisimilitude
Essay Guide
Cite This Website
Definition of Paraphrase
Often when we hear news stories and watch television shows, we want to tell our families, friends, and colleagues about what, how, and why something happened. In fact, we recount the story , its main characters , and events in our own words. This technique is called paraphrasing, which is to express an idea or somebody's message in our own words, by maintaining the meaning of the original material. Paraphrase is a Greek word, paraphrasis , which means "to tell in other words." Simply, it is to restate a statement in different words than the original text, while keeping the meaning and sense of the original source the same.
Paraphrase and Summary
Both summarizing and paraphrasing use similar actions by involving almost the same processes. However, their objectives are different. Summary aims at condensing the original source into a shorter form. Paraphrase has no concern with length, but is a rewording or restating or the original source in different words, keeping the length or word count almost the same.
Examples of Paraphrase in Literature
Example #1: romeo & juliet (by robert burns).
"But soft, what light through yonder window breaks? It is the east, and Juliet is the sun. Arise, fair sun, and kill the envious moon, Who is already sick and pale with grief, That thou, her maid, art far more fair than she … The brightness of her cheek would shame those stars As daylight doth a lamp; her eye in heaven Would through the airy region stream so bright That birds would sing and think it were not night ."
Paraphrase : But please wait and see the light from that window. It is the east, and my love Juliet is the sun. Come up beautiful sun, kill the jealous moon that is already sick and pale due to grief, as Juliet is more beautiful than the moon … The brightness of Juliet's cheeks would surpass the brightness of stars, like the sun's light outshines the light of a lamp. If her eyes were in the sky, they would be so bright through the spaces that birds might start singing, considering it was day light.
Example #2: The Sun Rising (By John Donne)
"Busy old fool, unruly sun, Why dost thou thus, Through windows and through curtains call on us?… Shine here to us, and thou art everywhere; This bed thy center is, these walls, thy sphere."
Paraphrase : You nosy old stupid busybody! The sun, you obey no normal rules –  why are you waking us up like this, interfering with our personal life by entering through the windows and curtains? … Go ahead and shine on us – while doing so you will shine everywhere. This bed is the center of the entire universe, around which you revolve, and the walls of our room are like a sphere, which holds you in the heavens.
Example #3: Pride & Prejudice (By Jane Austen)
"It is a truth universally acknowledged that a single man in possession of a good fortune must be in want of a wife."
Paraphrase : Everyone agrees on this point, that a prosperous man needs to have a wife.
Example #4: Macbeth (By William Shakespeare)
"Whence is that knocking?— How is't with me, when every noise appals me? What hands are here! Ha, they pluck out mine eyes. Will all great Neptune's ocean wash this blood Clean from my hand? No, this my hand will rather The multitudinous seas incarnadine, Making the green one red."
Paraphrase : Where is this knocking coming from? Why does every noise frighten me? Whose hands are these plucking out my eyes? Will the ocean's water wash the blood from my hands? No, instead these hands will change the color of the water from green to red.
Function of Paraphrase
The paraphrasing technique allows writers to change the original text, so that it does not look the same, yet without changing its meaning. Effective paraphrasing could help avoid the risk of plagiarism. There are many functions of this literary technique; first, it helps the readers to understand what they have read, especially when the syntax and diction of a writer look foreign and complex to the reader. Secondly, it could direct the attention of the reader toward the tone of the text and its significant details. Finally, since it clears up the meaning of the text, it helps readers to generate different questions from the paraphrasing text, such as when, what, and why something occurred.
Post navigation
Paraphrasing - an overview
Paraphrasing is ..., what are the differences between quoting, paraphrasing & summarising .
Why Paraphrase?
Paraphrasing versus Plagiarism
The Do's and Don'ts of Paraphrasing
Paraphrasing - examples
Further Information
Paraphrasing is 'a restating of someone else's thoughts or ideas in your own words. You must always cite your source when paraphrasing' (Pears & Shields, 2019 p. 245).
(Solas English, 2017)
Quoting means using someone else's exact words and putting them in quotation marks..
Paraphrasing means expressing someone else's ideas in your own voice, while keeping the same essential meaning.
Summarising means taking a long passage of text from someone else and condensing the main ideas in your own words.
Watch the video below for more information.
(UNC Writing Center, 2019)
Next: Why Paraphrase? >>
Last Updated: Sep 8, 2023 9:42 AM
URL: https://lit.libguides.com/paraphrasing
The Library, Technological University of the Shannon: Midwest

Chapter 11: Ethical Source Integration: Citation, Quoting, and Paraphrasing
11.3 Paraphrasing and Summarizing
Robin Jeffrey
While quoting may be the first thing that many people think of when they think about integrating sources, paraphrasing, summarizing, and citing data are also ways to incorporate information from outside materials into your essays or projects.
This page builds off of  Chapter 11.2's discussion of quoting and outlines the specific considerations for paraphrasing and summarizing as two other ways to integrate material into your work.
Paraphrasing
Paraphrases allow you to describe specific information from a source (ideas from a paragraph or several consecutive paragraphs) in your own words .
Paraphrases are like translations of an author' original idea. You retain the detail of the original thought, but you express it in your own way.
Paraphrases of the text should be expressed in your own words, with your own sentence structure, in your own way. You should not simply "word swap", that is, replace a few words from the original with synonyms .
If you must use a few of the author's words within your paraphrase,  they must have quotation marks around them.
Paraphrases often include attributive tags or signal phrases to let your readers know where the paraphrased material begins.
Paraphrases should be followed by parenthetical citations.
As with a quote, you need to explain to your reader why the paraphrased material is significant to the point you are making in your paper.
Summarizing
Summaries allow you to describe general ideas from a source. You do not express detailed information as you would with a paraphrase.
Summaries are shorter than the original text.
Any summaries of the text should not include direct wording from the original source. All text should be in your words, though the ideas are those of the original author.
A signal phrase should let your readers know where the summarized material begins.
If you are offering a general summary of an entire article, there is no need to cite a specific page number.
A Guide to Rhetoric, Genre, and Success in First-Year Writing by Robin Jeffrey is licensed under a Creative Commons Attribution-NonCommercial-ShareAlike 4.0 International License , except where otherwise noted.
Feedback/Errata
Comments are closed.
Have a language expert improve your writing
Run a free plagiarism check in 10 minutes, generate accurate citations for free.
Knowledge Base
Working with sources
How to Paraphrase | Step-by-Step Guide & Examples
How to Paraphrase | Step-by-Step Guide & Examples
Published on April 8, 2022 by Courtney Gahan and Jack Caulfield. Revised on June 1, 2023.
Paraphrasing means putting someone else's ideas into your own words. Paraphrasing a source involves changing the wording while preserving the original meaning.
Paraphrasing is an alternative to  quoting (copying someone's exact words and putting them in quotation marks ). In academic writing, it's usually better to integrate sources by paraphrasing instead of quoting. It shows that you have understood the source, reads more smoothly, and keeps your own voice front and center.
Every time you paraphrase, it's important to cite the source . Also take care not to use wording that is too similar to the original. Otherwise, you could be at risk of committing plagiarism .
What is your plagiarism score?
Compare your paper with 99.3 billion webpages and 8 million publications.
Best plagiarism checker of 2021
Plagiarism report & percentage
Largest plagiarism database
Scribbr Plagiarism Checker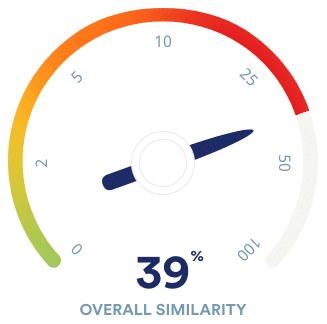 Table of contents
How to paraphrase in five easy steps, how to paraphrase correctly, examples of paraphrasing, how to cite a paraphrase, paraphrasing vs. quoting, paraphrasing vs. summarizing, avoiding plagiarism when you paraphrase, other interesting articles, frequently asked questions about paraphrasing.
If you're struggling to get to grips with the process of paraphrasing, check out our easy step-by-step guide in the video below.
Prevent plagiarism. Run a free check.
Putting an idea into your own words can be easier said than done. Let's say you want to paraphrase the text below, about population decline in a particular species of sea snails.
Incorrect paraphrasing
You might make a first attempt to paraphrase it by swapping out a few words for  synonyms .
Like other sea creatures inhabiting the vicinity of highly populated coasts, horse conchs have lost substantial territory to advancement and contamination , including preferred breeding grounds along mud flats and seagrass beds. Their Gulf home is also heating up due to global warming , which scientists think further puts pressure on the creatures , predicated upon the harmful effects extra warmth has on other large mollusks (Barnett, 2022).
This attempt at paraphrasing doesn't change the sentence structure or order of information, only some of the word choices. And the synonyms chosen are poor:
"Advancement and contamination" doesn't really convey the same meaning as "development and pollution."
Sometimes the changes make the tone less academic: "home" for "habitat" and "sea creatures" for "marine animals."
Adding phrases like "inhabiting the vicinity of" and "puts pressure on" makes the text needlessly long-winded.
Global warming is related to climate change, but they don't mean exactly the same thing.
Because of this, the text reads awkwardly, is longer than it needs to be, and remains too close to the original phrasing. This means you risk being accused of plagiarism .
Correct paraphrasing
Let's look at a more effective way of paraphrasing the same text.
Here, we've:
Only included the information that's relevant to our argument (note that the paraphrase is shorter than the original)
Introduced the information with the signal phrase "Scientists believe that …"
Retained key terms like "development and pollution," since changing them could alter the meaning
Structured sentences in our own way instead of copying the structure of the original
Started from a different point, presenting information in a different order
Because of this, we're able to clearly convey the relevant information from the source without sticking too close to the original phrasing.
Explore the tabs below to see examples of paraphrasing in action.
Journal article
Newspaper article
Magazine article
Once you have your perfectly paraphrased text, you need to ensure you credit the original author. You'll always paraphrase sources in the same way, but you'll have to use a different type of in-text citation depending on what citation style you follow.
Generate accurate citations with Scribbr
Scribbr citation checker new.
The AI-powered Citation Checker helps you avoid common mistakes such as:
Missing commas and periods
Incorrect usage of "et al."
Ampersands (&) in narrative citations
Missing reference entries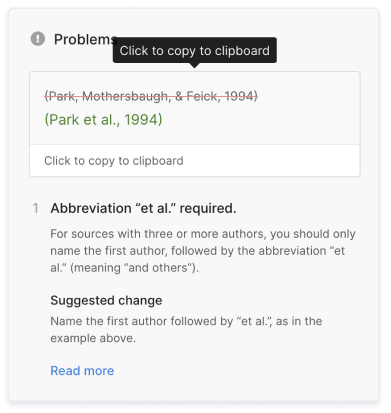 It's a good idea to paraphrase instead of quoting in most cases because:
Paraphrasing shows that you fully understand the meaning of a text
Your own voice remains dominant throughout your paper
Quotes reduce the readability of your text
But that doesn't mean you should never quote. Quotes are appropriate when:
Giving a precise definition
Saying something about the author's language or style (e.g., in a literary analysis paper)
Providing evidence in support of an argument
Critiquing or analyzing a specific claim
A paraphrase puts a specific passage into your own words. It's typically a similar length to the original text, or slightly shorter.
When you boil a longer piece of writing down to the key points, so that the result is a lot shorter than the original, this is called summarizing .
Paraphrasing and quoting are important tools for presenting specific information from sources. But if the information you want to include is more general (e.g., the overarching argument of a whole article), summarizing is more appropriate.
When paraphrasing, you have to be careful to avoid accidental plagiarism .
This can happen if the paraphrase is too similar to the original quote, with phrases or whole sentences that are identical (and should therefore be in quotation marks). It can also happen if you fail to properly cite the source.
Paraphrasing tools are widely used by students, and can be especially useful for non-native speakers who may find academic writing particularly challenging. While these can be helpful for a bit of extra inspiration, use these tools sparingly, keeping academic integrity in mind.
To make sure you've properly paraphrased and cited all your sources, you could elect to run a plagiarism check before submitting your paper. And of course, always be sure to read your source material yourself and take the first stab at paraphrasing on your own.
If you want to know more about ChatGPT, AI tools , citation , and plagiarism , make sure to check out some of our other articles with explanations and examples.
ChatGPT vs human editor
ChatGPT citations
Is ChatGPT trustworthy?
Using ChatGPT for your studies
What is ChatGPT?
Chicago style
Critical thinking
 Plagiarism
Types of plagiarism
Self-plagiarism
Avoiding plagiarism
Academic integrity
Consequences of plagiarism
Common knowledge
To paraphrase effectively, don't just take the original sentence and swap out some of the words for synonyms. Instead, try:
Reformulating the sentence (e.g., change active to passive , or start from a different point)
Combining information from multiple sentences into one
Leaving out information from the original that isn't relevant to your point
Using synonyms where they don't distort the meaning
The main point is to ensure you don't just copy the structure of the original text, but instead reformulate the idea in your own words.
Paraphrasing without crediting the original author is a form of plagiarism , because you're presenting someone else's ideas as if they were your own.
However, paraphrasing is not plagiarism if you correctly cite the source . This means including an in-text citation and a full reference, formatted according to your required citation style .
As well as citing, make sure that any paraphrased text is completely rewritten in your own words.
Plagiarism means using someone else's words or ideas and passing them off as your own. Paraphrasing means putting someone else's ideas in your own words.
So when does paraphrasing count as plagiarism?
Paraphrasing is plagiarism if you don't properly credit the original author.
Paraphrasing is plagiarism if your text is too close to the original wording (even if you cite the source). If you directly copy a sentence or phrase, you should quote it instead.
Paraphrasing  is not plagiarism if you put the author's ideas completely in your own words and properly cite the source .
To present information from other sources in academic writing , it's best to paraphrase in most cases. This shows that you've understood the ideas you're discussing and incorporates them into your text smoothly.
It's appropriate to quote when:
Changing the phrasing would distort the meaning of the original text
You want to discuss the author's language choices (e.g., in literary analysis )
You're presenting a precise definition
You're looking in depth at a specific claim
Cite this Scribbr article
If you want to cite this source, you can copy and paste the citation or click the "Cite this Scribbr article" button to automatically add the citation to our free Citation Generator.
Gahan, C. & Caulfield, J. (2023, June 01). How to Paraphrase | Step-by-Step Guide & Examples. Scribbr. Retrieved December 1, 2023, from https://www.scribbr.com/working-with-sources/how-to-paraphrase/
Is this article helpful?
Courtney Gahan
Other students also liked, how to write a summary | guide & examples, how to quote | citing quotes in apa, mla & chicago, how to avoid plagiarism | tips on citing sources.
Glossary of Grammatical and Rhetorical Terms
An Introduction to Punctuation
Ph.D., Rhetoric and English, University of Georgia
M.A., Modern English and American Literature, University of Leicester
B.A., English, State University of New York
A paraphrase is a restatement of a text in another form or other words, often to simplify or clarify meaning .
"When you paraphrase," says Brenda Spatt, "you retain everything about the original writing but the words."
"When I put down words that I say somebody said they needn't be the exact words, just what you might call the meaning." (Mark Harris, The Southpaw . Bobbs-Merrill, 1953
Paraphrasing Steve Jobs
"I've often heard Steve [Jobs] explain why Apple's products look so good or work so well by telling the 'show car' anecdote . 'You see a show car,' he would say (I'm paraphrasing here, but this is pretty close to his words), 'and you think, "That's a great design, it's got great lines." Four or five years later, the car is in the showroom and in television ads, and it sucks. And you wonder what happened. They had it. They had it, and then they lost it.'" (Jay Elliot with William Simon, The Steve Jobs Way: iLeadership for a New Generation . Vanguard, 2011
Summary, Paraphrase, and Quotation
"A summary , written in your own words, briefly restates the writer's main points. Paraphrase , although written in your own words, is used to relate the details or the progression of an idea in your source. Quotation , used sparingly, can lend credibility to your work or capture a memorable passage." (L. Behrens, A Sequence for Academic Writing . Longman, 2009
How to Paraphrase a Text
" Paraphrase passages that present important points, explanations, or arguments but that don't contain memorable or straightforward wording. Follow these steps: (R. VanderMey, The College Writer . Houghton, 2007
Quickly review the passage to get a sense of the whole, and then go through the passage carefully, sentence by sentence.
State the ideas in your own words, defining words as needed.
If necessary, edit for clarity, but don't change the meaning.
If you borrow phrases directly, put them in quotation marks .
Check your paraphrase against the original for accurate tone and meaning."
Reasons for Using Paraphrase
" Paraphrasing helps your readers to gain a detailed understanding of your sources , and, indirectly, to accept your thesis as valid. There are two major reasons for using paraphrase in your essays .
1. Use paraphrase to present information or evidence whenever there is no special reason for using a direct quotation . . . . 2. Use paraphrase to give your readers an accurate and comprehensive account of ideas taken from a source--ideas that you intend to explain, interpret, or disagree with in your essay. . . .
"When you take notes for an essay based on one or more sources, you should mostly paraphrase. Quote only when recording phrases or sentences that clearly merit quotation. All quotable phrases and sentences should be transcribed accurately in your notes, with quotation marks separating the paraphrase from the quotation." (Brenda Spatt, Writing From Sources , 8th ed. Bedford/St. Martin's, 2011
Paraphrase as a Rhetorical Exercise
"A paraphrase differs from a translation in not being a transfer from one language to another. . . . We generally associate with paraphrase the notion of an expansion of the original thought by definitions , periphrasis , examples , etc., with a view to making it more intelligible; but this is not essential. Here is meant the simpler form, in which the pupil reproduces in his own words the complete thought of an author, without attempting to explain it or to imitate the style .
"It has been frequently urged against this exercise, that, in thus substituting other words for those of an accurate writer, we must necessarily choose such as are less expressive of the sense. It has, however, been defended by one of the greatest rhetoricians-- Quintilian ." (Andrew D. Hepburn, Manual of English Rhetoric , 1875
Monty Python and Computer Paraphrasing
"In the famous sketch from the TV show 'Monty Python's Flying Circus,' the actor John Cleese had many ways of saying a parrot was dead, among them, 'This parrot is no more,' 'He's expired and gone to meet his maker,' and 'His metabolic processes are now history.'
"Computers can't do nearly that well at paraphrasing . English sentences with the same meaning take so many different forms that it has been difficult to get computers to recognize paraphrases, much less produce them. "Now, using several methods, including statistical techniques borrowed from gene analysis, two researchers have created a program that can automatically generate paraphrases of English sentences." (A. Eisenberg, "Get Me Rewrite!" The New York Times , Dec. 25, 2003
The Lighter Side of Paraphrasing
"Some guy hit my fender the other day, and I said unto him, 'Be fruitful, and multiply.' But not in those words." (Woody Allen)    "The other important joke for me is one that's usually attributed to Groucho Marx, but I think it appears originally in Freud's Wit and Its Relation to the Unconscious . And it goes like this--I'm paraphrasing --'I would never want to belong to any club that would have someone like me for a member.' That's the key joke of my adult life in terms of my relationships with women." (Woody Allen as Alvy Singer in Annie Hall , 1977)
Pronunciation: PAR-a-fraz
How and When to Paraphrase Quotations
What Is Plagiarism?
Definition and Examples of Quotation in English Grammar
A Guide to Using Quotations in Essays
Definition and Examples of Direct Quotations
What Is a Written Summary?
Examples of Signal Phrases in Grammar and Composition
Quotation and Quote
Difference Between "Quote" and "Quotation": What Is the Right Word?
An Introduction to Academic Writing
Guidelines for Using Quotation Marks Correctly
What Is a Citation?
How to Write a Good Thesis Statement
How to Use Italics
How to Use Indirect Quotations in Writing for Complete Clarity
By clicking "Accept All Cookies", you agree to the storing of cookies on your device to enhance site navigation, analyze site usage, and assist in our marketing efforts.
Advertisement
1. Introduction
2. paraphrasing phenomena classified, 3. analysis of paraphrases, 4. conclusion, acknowledgments, what is a paraphrase.
24515 SE 46th Terrace Issaquah, WA 98029. E-mail: [email protected] .
24515 SE 46th Terrace Issaquah, WA 98029. E-mail: [email protected] .
Cite Icon Cite
Open the PDF for in another window
Permissions
Article contents
Figures & tables
Supplementary Data
Peer Review
Search Site
Rahul Bhagat , Eduard Hovy; What Is a Paraphrase?. Computational Linguistics 2013; 39 (3): 463–472. doi: https://doi.org/10.1162/COLI_a_00166
Download citation file:
Ris (Zotero)
Reference Manager
Paraphrases are sentences or phrases that convey the same meaning using different wording. Although the logical definition of paraphrases requires strict semantic equivalence, linguistics accepts a broader, approximate, equivalence—thereby allowing far more examples of "quasi-paraphrase." But approximate equivalence is hard to define. Thus, the phenomenon of paraphrases, as understood in linguistics, is difficult to characterize. In this article, we list a set of 25 operations that generate quasi-paraphrases. We then empirically validate the scope and accuracy of this list by manually analyzing random samples of two publicly available paraphrase corpora. We provide the distribution of naturally occurring quasi-paraphrases in English text.
The school said that their buses seat 40 students each.
The school said that their buses accommodate 40 students each.
One reason why paraphrase recognition systems have been difficult to build is because paraphrases are hard to define. Although the strict interpretation of the term "paraphrase" is quite narrow because it requires exactly identical meaning, in linguistics literature paraphrases are most often characterized by an approximate equivalence of meaning across sentences or phrases. De Beaugrande and Dressler ( 1981 , page 50) define paraphrases as "approximate conceptual equivalence among outwardly different material." Hirst ( 2003 , slide 9) defines paraphrases as "talk(ing) about the same situation in a different way." He argues that paraphrases aren't fully synonymous: There are pragmatic differences in paraphrases, namely, difference of evaluation, connotation, viewpoint, and so forth. According to Mel'cuk ( 2012 , page 7) "An approximate synonymy of sentences is considered as sufficient for them to be produced from the same SemS." He further adds that approximate paraphrases include implications (not in the logical sense, but in the everyday sense). Taking an extreme view, Clark ( 1992 , page 172) rejects the idea of absolute synonymy by saying "Every two forms (in language) contrast in meaning." Overall, there is a large body of work in the linguistics literature that argues that paraphrases are not restricted to strict synonymy.
The school said that their buses cram in 40 students each.
The school is saying that their buses might accommodate 40 students each.
Note that this article focuses on defining quasi-paraphrases. It does not provide direct implementation/application results of using them. We believe, however, that this work will allow computation-oriented researchers to focus their future work more effectively on a subset of paraphrase types without concern for missing important material, and it will provide linguistics-oriented researchers with a blueprint of the overall distribution of the types of paraphrase.
Although approximate equivalence is hard to characterize, it is not a completely unstructured phenomenon. By studying various existing paraphrase theories—Mel'cuk ( 2012 ), Harris ( 1981 ), Honeck ( 1971 )—and through an analysis of paraphrases obtained from two different corpora, we have discovered that one can identify a set of 25 classes of quasi-paraphrases, with each class having its own specific way of relaxing the requirement of strict semantic equivalence. In this section, we define and describe these classes.
The classes described here categorize quasi-paraphrases from the lexical perspective. The lexical perspective defines paraphrases in terms of the kinds of lexical changes that can take place in a sentence/phrase resulting in the generation of its paraphrases.
Google bought YouTube. ⇔ Google acquired YouTube.
Chris is slim . ⇔ Chris is slender . ⇔ Chris is skinny .
Pat ate . ⇔ Pat did not starve .
Google bought YouTube. ⇔ YouTube was sold to Google.
Pat loves Chris. ⇔ Chris is loved by Pat.
Pat said, " I like football." ⇔ Pat said that he liked football.
Pat likes Chris, because she is smart. ⇔ Pat likes Chris, because Chris is smart.
Pat can run fast and Chris can run fast , too. ⇔ Pat can run fast and Chris can, too.
Results of the competition have been declared. ⇔ Results for the competition have been declared.
Pat showed a nice demo . ⇔ Pat's demo was nice .
I dislike rash drivers . ⇔ I dislike rash driving .
Pat teaches Chris. ⇔ Pat is Chris's teacher .
Pat teaches Chris. ⇔ Chris is Pat's student .
Pat tiled his bathroom floor. ⇔ Pat installed tiles on his bathroom floor.
The pilot took off despite the stormy weather. ⇔ The plane took off despite the stormy weather.
I dislike rash drivers . ⇔ I dislike rash motorists .
Pat is flying in this weekend . ⇔ Pat is flying in this Saturday .
I had to drive through fog today. ⇔ I had to drive through a wall of fog today.
Immigrants have used this network to send cash . ⇔ Immigrants have used this network to send stashes of cash .
American airplanes pounded the Taliban defenses. ⇔ American airforce pounded the Taliban defenses.
The police interrogated the suspects. ⇔ The police subjected the suspects to an interrogation .
The virus spread over two weeks. ⇔ Two weeks saw a spreading of the virus.
Pat loves Chris. ⇔ Chris is lovable to Pat.
Pat boasted about his work. ⇔ Pat spoke boastfully about his work.
I'll fly by the end of June. ⇔ I'll fly late June.
The finalists will play in Giants stadium. ⇔ Giants stadium will be the playground for the finalists.
Pat loved Chris. ⇔ Pat loves Chris.
Pat is flying in today. ⇔ Pat flies in today.
Google must buy YouTube. ⇔ Google bought YouTube.
The government wants to boost the economy. ⇔ The government hopes to boost the economy.
Google is in talks to buy YouTube. ⇔ Google bought YouTube.
The Marines are fighting the terrorists. ⇔ The Marines are eliminating the terrorists.
At least 23 U.S. soldiers were killed in Iraq last month. ⇔ About 25 U.S. soldiers were killed in Iraq last month.
Disneyland is 32 miles from here. ⇔ Disneyland is around 30 minutes from here.
We must work hard to win this election. ⇔ The Democrats must work hard to win this election.
The government declared victory in Iraq. ⇔ Bush declared victory in Iraq.
In Section 2 , we presented a list of lexical changes that define quasi-paraphrases. In this section, we seek to validate the scope and accuracy of this list. Our analysis uses two criteria:
1. Distribution : What is the distribution of each of these lexical changes in a paraphrase corpus?
2. Human judgment : If one uses each of the lexical changes, on applicable sentences, how often do each of these changes generate acceptable quasi-paraphrases?
3.1 Distribution
We used the following procedure to measure the distribution of the lexical changes:
1. We downloaded paraphrases from two publicly available data sets containing sentence-level paraphrases: the Multiple-Translations Corpus (MTC) (Huang, Graff, and Doddington 2002 ) and the Microsoft Research (MSR) paraphrase corpus (Dolan, Quirk, and Brockett 2004 ). The paraphrase pairs come with their equivalent parts manually aligned (Cohn, Callison-Burch, and Lapata 2008 ).
2. We selected 30 sentence-level paraphrase pairs from each of these corpora at random and extracted the corresponding aligned and unaligned phrases. 1 This resulted in 210 phrase pairs for the MTC corpus and 145 phrase pairs for the MSR corpus.
3. We labeled each of the phrase pairs with the appropriate lexical changes defined in Section 2 . If any phrase pair could not be labeled by a lexical change from Section 2 , we labeled it as unknown .
4. We finally calculated the distribution of each label (lexical change), over all the labels, for each corpus. Table 1 shows the percentage distribution of the lexical changes in the MTC (column 3) and MSR corpora (column 4).
Distribution and Precision of paraphrases. Distribution may not sum to 100% due to rounding.
3.2 Human Judgment
In this section, we explain the procedure we used to obtain the human judgments of the changes that define paraphrases from the lexical perspective:
1. We randomly selected two words or phrases from publicly available resources (depending on the lexical change) for each of the lexical operations from Section 2 (except external knowledge ). For example, to obtain words for synonym substitution , we used WordNet (Fellbaum 1998 ) (and selected a word, say buy ); to obtain implication rules for semantic implication , we used the DIRT resource (Lin and Pantel 2001 ); and so on.
They want to buy a house.
They want to purchase a house.
4. For the phenomenon of external knowledge , we randomly sampled a total of 10 sentence pairs from the MTC and MSR corpora, such that the pairs were paraphrases based on external knowledge.
5. We gave the sentence pairs to two annotators and asked them to annotate them as either paraphrases or non-paraphrases . For example, the annotator might be given the sentence pair (a) and (b) and she/he might annotate this pair as paraphrases .
6. We used the annotations from each of the annotators to calculate the precision percentage for each lexical change. The final precision score was calculated as the average of the precision scores obtained from the two annotations. Table 1 shows the percentage precision (column 5) of lexical changes in this test corpus.
7. We finally calculated the kappa statistic (Siegal and Castellan Jr. 1988 ) to measure the inter-annotator agreement. A kappa score of κ = 0.66 was obtained on the annotation task.
A definition of what phenomena constitute paraphrases and what do not has been a problem in the past. Whereas some people have used a very narrow interpretation of paraphrases—paraphrases must be exactly logically equivalent—others have taken broader perspectives that consider even semantic implications to be acceptable paraphrases. To the best of our knowledge, outside of specific language interpretation frameworks (like Meaning Text Theory [Mel'cuk 1996 ]), no one has tried to create a general, exhaustive list of the transformations that define paraphrases. In this article we provide such a list. We have also tried to empirically quantify the distribution and accuracy of the list. It is notable that certain types of quasi-paraphrases dominate whereas others are very rare. We also observed, however, that the dominating transformations vary based on the type of paraphrase corpus used, thus indicating the variety of behavior exhibited by the paraphrases. Based on the large variety of possible transformations that can generate paraphrases, its seems likely that the kinds of paraphrases that are deemed useful would depend on the application at hand. This might motivate the creation of application-specific lists of the kinds of allowable paraphrases and the development of automatic methods to distinguish the different kinds of paraphrases.
The authors wish to thank Jerry Hobbs and anonymous reviewers for valuable comments and feedback.
We assume that any unaligned phrase is paired with a null phrase and we discard it prior to the analysis.
The words in the new sentence were allowed to be reordered (permuted) if needed and only function words (and no content words) were allowed to be added to the new sentence.
Author notes
Email alerts, related articles, related book chapters, affiliations.
Online ISSN 1530-9312
Print ISSN 0891-2017
A product of The MIT Press
Mit press direct.
Information
Accessibility
For Authors
For Customers
For Librarians
Direct to Open
Open Access
Media Inquiries
Rights and Permissions
For Advertisers
About the MIT Press
The MIT Press Reader
MIT Press Blog
Seasonal Catalogs
MIT Press Home
Give to the MIT Press
Direct Service Desk
Terms of Use
Privacy Statement
Crossref Member
COUNTER Member
The MIT Press colophon is registered in the U.S. Patent and Trademark Office
This Feature Is Available To Subscribers Only
Sign In or Create an Account
What Is Paraphrase? Definition & Examples
Ever imagined having the power to reshape sentences while preserving their original essence? Welcome to the captivating world of paraphrasing! This invaluable tool in our communication arsenal allows us to reinterpret and rearticulate thoughts, amplifying clarity and enriching dialogue.
Whether you're a writer seeking variety, a student mastering a language, or a professional communicating complex ideas, understanding and employing paraphrasing can revolutionize your expression.
Dive into this insightful journey of 'saying it differently' and explore the transformative power of paraphrase!
Table of Contents
Understanding Paraphrasing
Definition of paraphrase.
Paraphrasing is the process in which one takes a pre-existing piece of content, whether written or verbal, and restates it using distinct phrases, words, and structure, while ensuring the original meaning stays intact. It is a method of creatively reproducing a text, thought, or concept in a reformed way, yet maintaining the identical core essence.
The intent behind paraphrasing is not to change the message, but rather to rephrase it in a unique manner while preserving its inherent meaning.
Purpose of Paraphrasing
Imagine you're at a party and there's a guy explaining something about rocket science. He's using all kinds of complex terms and formulas that are flying over everyone's head. Now, you have a friend who's good at this stuff. He understands what the rocket guy is saying.
After rocket guy finishes, your friend steps in. He explains the same thing but in a way that's easy for everyone to understand. He uses simple words, and everyday examples — like explaining thrust using the example of a balloon releasing air.
That's what paraphrasing is like. It's about taking something complex and making it simple and understandable for others. It's like being a translator, but instead of converting from one language to another, you're converting from 'complex' to 'simple'.
Paraphrasing in Different Contexts
Paraphrasing in research.
Paraphrasing is a crucial skill that researchers need to master in order to accurately represent the ideas of others in their work. In research, paraphrasing is used to avoid plagiarism and to ensure that the information presented is accurate and relevant. Researchers often paraphrase information from primary and secondary sources to support their arguments.
When paraphrasing in research, it is important to maintain the original meaning of the text while using different words and sentence structures. Researchers should also cite their sources properly to avoid any accusations of plagiarism.
Paraphrasing in Essays
Paraphrasing is also an important skill for essay writing. In essays, paraphrasing is used to introduce and explain the ideas of others without copying their exact words. Paraphrasing can help to strengthen the argument of an essay by providing evidence that supports the writer's viewpoint.
When paraphrasing in essays, it is important to use language that is appropriate for the intended audience. It is also important to ensure that the paraphrased information is relevant to the essay topic.
Paraphrasing in Literature
Paraphrasing is a common practice in literary analysis. In literature, paraphrasing is used to explain complex ideas and to provide evidence to support a particular interpretation of a text. Paraphrasing can also be used to clarify difficult language or to provide context for a particular passage.
When paraphrasing in literature, it is important to use language that is appropriate for the intended audience. It is also important to ensure that the paraphrased information is relevant to the literary analysis being presented.
Paraphrasing Vs Summarizing
Let's say you just read an interesting book and you want to tell your friend about it. There are two ways you could go about this:
Paraphrasing is like retelling the story in your own words. You still cover all the important parts, but you use different words and phrases, maybe even different sentence structures. You keep the same meaning as the book, but you're not quoting it word for word. You're putting your spin on it.
This is especially useful when you want to delve into a particular part of the story in more detail, or maybe explain a complicated part in simpler terms.
Summarizing , on the other hand, is like giving your friend the "highlight reel" of the book. You're not going into every single detail, but instead, you're giving them a shorter version that captures the main points or the essence of the story. This is great if your friend is in a hurry and just wants the key takeaways from the book.
So, paraphrasing is like retelling the story in your own words, while summarizing is more like giving the cliff-notes version. They're both handy tools to have when you're trying to share information from a text, and they each serve different purposes.
Etymology and History
The term paraphrase comes from the Greek word "paraphrasis," which means "additional manner of expression." The Greek word itself is composed of the prefix "para," meaning "beside," and the verb "phrazein," which means "to tell" or "to express."
The concept of paraphrasing has been around for centuries, with ancient Greek and Roman writers often using it to explain complex ideas in simpler terms. In the Middle Ages, paraphrasing was used to translate religious texts from Latin into various vernacular languages.
During the Renaissance, the art of paraphrasing became more refined, with scholars using it to interpret and explain classical texts. In the 17th and 18th centuries, paraphrasing was used extensively in literary criticism, with writers paraphrasing passages from other works to illustrate their points.
Today, paraphrasing is a common practice in many fields, including academia, journalism, and business. It is often used to explain complex ideas in simpler terms, to summarize long passages of text, or to rephrase information in a way that is easier to understand.
The Importance of Paraphrasing
Paraphrasing is an essential skill for academic writing. It involves restating someone else's ideas in your own words, without changing the meaning. Paraphrasing is important for several reasons, including avoiding plagiarism, enhancing understanding, and improving writing skills.
Avoiding Plagiarism
Plagiarism is presenting someone else's work as your own without acknowledging them. It's akin to intellectual theft and is considered a serious violation in academia. For instance, copying a paragraph from a source into your report without citation is plagiarism.
Paraphrasing can help avoid this. It involves understanding someone else's ideas and expressing them in your own words. Rather than just changing a few words, you fully understand the content and articulate it from your perspective. This demonstrates your grasp of the material and your original work.
However, even while paraphrasing, crediting the original source is essential. This involves citing the source, acknowledging where the ideas originated.
Enhancing Understanding
When you're paraphrasing, you are doing a lot more than just reading. You're actively engaging with the text, thinking about what the author is trying to say, breaking it down, and then rebuilding it using your own language. This is like doing a jigsaw puzzle; you have to understand how all the pieces fit together to see the whole picture.
This process forces you to really grasp the key ideas and concepts in the text. Sometimes, you may even discover that you didn't fully understand the material until you tried to paraphrase it. The act of putting something complex into your own words can shine a light on areas that you didn't understand as well as you thought.
So, paraphrasing not only helps you avoid plagiarism, but it can also be a powerful tool for understanding and learning. It encourages you to delve deeper into the material, and to be an active rather than passive learner.
Improving Writing Skills
Paraphrasing is like restating something in your own language. It's an essential writing skill, allowing you to express ideas clearly and succinctly. Just like exercising to get stronger, practicing paraphrasing improves your writing.
This practice also helps you develop your unique writing style or "voice" , making your work more interesting to read. Think of this voice as your writing fingerprint, something that sets you apart.
So, just like learning a new sport or cooking technique, mastering paraphrasing is about consistent practice. As you improve, your writing will become clearer, more concise, and uniquely yours.
Examples and Applications of Paraphrasing
Paraphrasing is the process of rewording, restructuring, or rephrasing a piece of text without changing its original meaning. It is a critical skill in many professions and fields of study. Here are some examples and applications of paraphrasing:
Paraphrasing in Academic Writing
Paraphrasing is crucial in academic writing, enabling authors to rephrase others' ideas in their own style, retaining the original meaning.
Original passage:
"Businesses must evolve or disappear in the face of digital disruption by creating new strategies and adopting flexible models ."
Paraphrased passage:
"The digital age calls for a radical shift in business practices for survival, necessitating innovative strategies and adaptable operational models."
Look at the given example above. The academic writer retains the core ideas from the original passage but rephrases them in a more nuanced way. In both cases, the basic message is the same, but the language and structure have been tailored to the author's own style.
The result is a paraphrase that integrates seamlessly into the academic writer's paper on digital transformation, providing evidence to support their arguments without directly quoting the original source. This allows for a cohesive flow of ideas and demonstrates the writer's understanding of the subject matter.
Conveying Essence Without Direct Quotations
When in the process of conducting literature reviews, paraphrasing plays a crucial role in accurately conveying the essence of the source material, without resorting to direct quotations. This technique involves expressing the same idea in a different way to avoid plagiarism while still maintaining the core message of the original statement.
"Uncontrolled greenhouse gases release is the main cause of global warming."
"Unchecked emission of greenhouse gases is the primary global warming contributor."
Consider the example above. Here, the process of paraphrasing not only reiterates the key concept—that unrestricted release of greenhouse gases is largely responsible for global warming—but also utilizes a different set of words and a slightly altered sentence structure.
This kind of adaptation is essential in the context of literature reviews because it enables a fair and comprehensive assessment of the existing body of knowledge while promoting originality and academic integrity.
Moreover, it aids in the effective integration of diverse sources and views into a cohesive analysis or argument, thereby contributing to a richer understanding of the subject matter under scrutiny.
Aids in Simplifying Complex Ideas in Academic Discussions
Paraphrasing is an incredibly useful tool when it comes to breaking down intricate concepts, particularly in academic dialogues.
"The anomalous acceleration of Pioneer 10 and 11 results from onboard thermal sources' radiation pressure."
"The unusual speed increase of Pioneer 10 and 11 spacecrafts is due to heat radiation pressure from onboard sources."
Take for instance, a highly technical statement such as the one above on the left columnn is filled with technical terms and it may be difficult for some to understand at a glance. Paraphrasing helped to make it more accessible.
By replacing complex terms with simpler words, the paraphrase retains the essence of the original statement but presents it in a simpler, more understandable manner.
In other words, the original concept is maintained, but the choice of words and sentence structure are altered to make the information more digestible. This is a crucial element of academic conversations, particularly when it comes to presenting complex data or theories to a broader audience, whether that be students in a classroom setting or the general public in a lecture or article.
Useful for Condensing Long Explanations
Paraphrasing is a beneficial tool in compacting extensive and often complex explanations into concise, digestible content. This can be especially helpful in academic, professional, or casual communication where understanding is paramount but time may be limited.
"Quantum computing refers to the area of computing where the principles of quantum mechanics are utilized to create advanced systems that can process and store information more efficiently than traditional computing models, especially when it comes to solving complex computational problems."
"Quantum computing is a field that uses quantum mechanics principles to develop superior systems, offering better efficiency in processing and storing information, particularly for complex computational tasks."
Let's consider another sentence as an example. The sentence on the left column, while thorough, can be somewhat overwhelming due to its complexity and length. Paraphrasing can help in such a case.
The paraphrase maintains the key elements of the original statement — the concept of quantum computing, the usage of quantum mechanics principles, and the advantages of these systems over traditional models, especially in solving intricate computational problems.
However, it does so in a more streamlined and easily understandable manner. It manages to condense the information without losing its essential meaning, making it more accessible to a wide array of readers or listeners.
Paraphrasing in Journalism
Paraphrasing is a critical skill for journalists because it allows them to distill lengthy, complicated information into more accessible, concise reports for their readers or viewers. In doing so, they are still maintaining the original intent and meaning. Here are a few examples of how journalists might use paraphrasing:
Paraphrasing in journalism involves restating speeches, interviews, or other forms of spoken communication using different words, while still maintaining the original speaker's intent, context, and key points. It is used to make information clearer or more suitable for a particular audience, or to avoid excessive direct quotations in an article.
When journalists cover speeches, for example, they rarely quote the entire speech verbatim. Instead, they typically paraphrase the key points, capturing the essence of the speech while adding their own style or emphasis. This allows readers who weren't present at the speech to understand the main themes, points, and tone, without reading the entire transcript.
Here's an example:
Original speech:
"We must learn to live together as brothers or perish together as fools." – Martin Luther King Jr.
Paraphrased version:
"Martin Luther King Jr. stressed the imperative of fostering unity and coexistence, warning that the alternative could lead to mutual destruction."
In this paraphrase, the central message of unity and the dire consequence of its absence are maintained, while the original wording is rephrased for variety and clarity. This allows a journalist to integrate the key points from the speech into their article without resorting to a direct quote.
Paraphrasing in journalism, particularly in interviews, is when journalists take the words of the person they're interviewing and rewrite them in a simpler, clearer or more succinct way. This is often done to make complex ideas more accessible to the general public, or to emphasize the key points of a conversation.
It's important to note that while paraphrasing, the journalist must ensure that the original meaning of the person's words is not altered.
Let's consider an example. Suppose a scientist is being interviewed about a complex environmental issue.
Original statement:
"The data from our latest study shows a disturbing acceleration of species extinction in the last fifty years, which can be primarily attributed to anthropogenic activities. The proliferation of industries, deforestation, pollution, and climate change are significantly affecting biodiversity."
Paraphrased statement:
"Our recent research shows a worrying increase in the number of species going extinct over the past half-century, largely because of human activities. The growth of industries, cutting down of forests, pollution, and changes in the climate are having a big impact on wildlife."
In this example, the journalist has retained the essence of the scientist's words but has simplified the language and removed scientific jargon ( "anthropogenic activities," "proliferation" ) to make the message more understandable to the average reader.
However, it's essential for journalists to be cautious when paraphrasing. They must strive for accuracy and avoid misrepresenting the interviewee's views or intentions. If the paraphrasing significantly changes the meaning of the original statement, it can lead to misinformation or misunderstandings.
Paraphrasing in journalism also applies to the review and reporting of documents. Journalists often need to cover reports, studies, legal documents, or other types of written material that can be complex or filled with jargon.
In these cases, paraphrasing is used to summarize and simplify the content so it's more accessible to a general audience. It's crucial, however, that the paraphrasing accurately represents the original content.
For instance, let's say a journalist is covering a recently published government report on the economy.
"The nation has witnessed a consistent positive trajectory in its gross domestic product (GDP) over the previous fiscal year. The primary catalysts for this growth are increased consumer spending and a resurgence in the manufacturing sector."
"The country's economy has been steadily improving over the last year, according to a new government report. The report suggests that people are spending more and factories are producing more, which are the main reasons for the growth."
In this example, the journalist has translated the complex economic language into simpler terms that everyday readers can understand. They've also summarized a longer sentence into more digestible information.
However, as with paraphrasing in interviews, it's crucial that journalists accurately represent the original document's meaning. Misinterpretation or oversimplification can lead to misinformation or a lack of nuance in the reporting.
Journalists should strive to balance clarity and simplicity with accurate, thorough reporting.
Paraphrasing in Translation
When you're translating from one language to another, you have to take a message or text in one language (the source language) and put it into another language (the target language).
This process is more than just swapping one word for another, because languages have different structures, sounds, and ways of conveying meaning. That's where paraphrasing comes in.
Let's say you're translating a classic Spanish saying to English:
Original phrase:
"A quien madruga, Dios le ayuda."
Literal translation:
"To who wakes up early, God helps him."
As you can see, that translation is grammatically incorrect and awkward in English. But more importantly, it doesn't quite capture the spirit of the saying, which is all about the virtues of rising early and working hard.
A skilled translator would know to paraphrase this saying. They might translate it as "The early bird catches the worm". This English proverb carries the same essential meaning as the Spanish saying — that those who wake up and start working early will have success or be rewarded.
Paraphrasing in translation helps with cultural differences. Some phrases or concepts in one language might not exist in another, or they might be seen differently. A good translator will understand these cultural nuances and adjust the translation accordingly.
Paraphrasing in Everyday Language
Paraphrasing in everyday language is a very common yet often overlooked part of our communication. It refers to the process of taking someone else's words (spoken or written) and rewording them to convey the same meaning in a different way. It's a skill we use often in conversation, when we want to express something we heard or read, but in our own words.
In a casual setting, say you're catching up with a friend who's telling you about their recent vacation. They might say,
If you were to share this with another friend later, you might say,
The example above demonstrates how paraphrasing works in everyday language. We take in information, process it, and then rephrase it in a way that fits our personal style of expression and is appropriate to our audience. It's an essential skill for effective communication, helping us to understand, remember, and relay information more effectively.
Citing Paraphrased Sources
When using paraphrased sources in an article, it is important to cite them properly to avoid plagiarism. Citing sources also gives credit to the original author and helps readers locate the source for further reading.
Importance of Citation
Citation is an essential part of academic writing. It allows readers to verify the information presented in the article and gives credit to the original author. Citing sources also helps writers avoid plagiarism, which is the act of presenting someone else's work as one's own.
Citation Styles
There are several citation styles available, the most common are: MLA, APA, and Chicago. Each style has its own set of rules and guidelines for citing sources.
It is important to follow the specific guidelines of the citation style being used to ensure accurate and consistent citations throughout the article.
How to Paraphrase
Paraphrasing is the process of restating a text in your own words while retaining the original meaning. It is an essential skill for academic writing, as it allows you to incorporate information from sources in a way that is both accurate and original. Here are some steps to follow when paraphrasing:
Read and Understand
This might sound like a simple step, but it's a crucial one. You must thoroughly comprehend the original content to be able to paraphrase it effectively. It may require reading the text multiple times, especially if the subject matter is complex. If you come across any words or phrases you're unfamiliar with, look them up.
Identify Key Points
When you're given a piece of text to paraphrase, your first task is to thoroughly read and understand it. The text could be a simple sentence, a complex paragraph, or a whole document, but the aim remains the same: to grasp the essence of the information presented. This step could involve reading the text multiple times, looking up unfamiliar terms or concepts, or even researching more about the topic if necessary.
In this way, identifying key points acts as a kind of roadmap to your paraphrase. By having a clear understanding of what needs to be included, you can focus your efforts and ensure that your paraphrase is both accurate and comprehensive. It enables you to maintain the integrity of the original text's meaning while expressing it in a fresh and unique way.
It's important to note that good paraphrasing also takes into account the tone and intent of the original text. It's not just about what is being said, but also how it's being said.
Put the Text Aside
Putting the original text aside as you begin to paraphrase is a crucial technique to prevent plagiarism. It compels you to recall what you've read and understood from the original content, rather than simply copying or closely mimicking the original wording.
This approach encourages the use of your own words and syntax to express the same ideas, which fosters a deeper understanding of the subject matter and promotes your own cognitive processing of the information.
When you remove the original text from your immediate view, you are less likely to fall into the trap of over-reliance on the original phrasing and structure.
By only referring back to the original to verify the accuracy of your paraphrase, you can ensure that your interpretation is your own unique reconstruction of the information, rather than an imitation of the original text.
Rewrite in Your Own Words
The act of writing your paraphrase is a significant part of the process and is where the rubber meets the road. Having distilled the original content down to its essential points, you now need to express these ideas in a fresh and distinct manner. This step is about more than just avoiding plagiarism; it's an opportunity to engage your creative faculties and apply your linguistic skills.
Using your own style and vocabulary is fundamental in this phase. Everyone has a unique way of expressing thoughts and ideas, influenced by their individual experiences, culture, education, and personality.
Harnessing this unique voice is crucial in paraphrasing. The aim is not merely to change the wording of the original content but to reconstruct the ideas in a way that mirrors your distinct style of communication.
Your style might be formal or informal, succinct or descriptive, straightforward or complex, depending on the context and your personal preference. The key is to stay true to your voice while ensuring the meaning of the original text is preserved.
This authenticity of voice in paraphrasing not only enhances the originality of the work but can also make the content more engaging and relatable for your intended audience.
Switch the Structure
Adjusting sentence structure plays a critical role in the paraphrasing process. Not only does it help distinguish your paraphrase from the original text, but it also provides an opportunity to enhance readability, clarity, and emphasis. The sentence structure—how phrases and clauses are organized—greatly impacts how information is received by the reader.
Rearranging the order of points within a sentence or a paragraph can be an effective way to add variety and interest to your paraphrase, while preserving the essential information.
This might involve changing the order of ideas presented, shifting the focus of the sentence, or rearranging the sequence of events. Doing this requires a comprehensive understanding of the content, as changing the order of points must not distort the original meaning.
Use Synonyms
Using synonyms is key in paraphrasing, letting you craft a new text conveying the same ideas with different vocabulary, enhancing its uniqueness. Synonyms, words with similar meanings, help avoid repetition and enrich writing. Instead of repeating "important," you might use "significant," "crucial," or "vital" for variety and engagement.
Yet, using synonyms in paraphrasing needs careful handling. Language is complex and nuanced, and synonyms, though similar, often carry subtle differences in connotation and usage, influenced by context, formality, and regional variations.
Consider "happy" and "ecstatic." Both indicate positive emotion, but "ecstatic" implies a much stronger joy. Replacing "happy" with "ecstatic" could alter the meaning and intensity of the original text.
So, in selecting synonyms for paraphrasing, it's vital they match the original text's meaning and tone. Misusing synonyms can cause misunderstandings or distort the original message. You must often consider the broader context to determine the most suitable synonym.
Check Your Work
Post-paraphrasing, it's vital to review the original text to ensure the central idea is preserved. Misinterpretation can occur when restructuring or rewording unfamiliar or complex content.
Comparing both texts is a quality check, ensuring key points are retained and critical details aren't overlooked. This may need meticulous comparison of each aspect in your paraphrase and original text.
During this review, it's important to ensure your paraphrase is a fresh interpretation, not a minor alteration of the original, preventing 'patchwriting', a form of plagiarism that involves slightly modifying the original sentences, a trap easy to fall into when paraphrasing difficult content.
By thoroughly comparing both texts, you can identify and rectify instances of excessive retention of original phrasing or structure. An effective paraphrase should embody your unique voice and style, not closely mirror the original author's words.
Cite the Source
Paraphrasing doesn't remove the need to cite the original author, as the core ideas remain theirs, irrespective of the context—academic, blog posts, or articles. Citations uphold academic honesty and intellectual property rights, as using paraphrased material without attribution can lead to plagiarism, with serious academic and professional implications.
Citation acknowledges the original author's role in your work, offering a clear reference to the source and enhancing credibility by demonstrating that your ideas are anchored in recognized research or data.
Citation methods can differ based on the chosen style guide. For example, MLA style is preferred in humanities, APA in social sciences, and CMS in business, history, and fine arts.
Frequently Asked Questions
Is there a specific length for paraphrasing.
Not really. The length of a paraphrase will depend on the original content and your purpose for paraphrasing.
While paraphrasing, the goal is to convey the same message as the original text, but with different wording and potentially different sentence structure.
As a result, a paraphrase could end up being shorter, longer, or about the same length as the original text.
How can I tell if I've paraphrased correctly?
A successful paraphrase will convey the same information as the original text but in a new form. You can check the effectiveness of your paraphrase by asking yourself a few questions:
– Have you used your own words and sentence structures? – Does your version maintain the original meaning? – Is the source information fully and accurately represented?
If you can answer "yes" to these questions, you have likely paraphrased effectively.
What is the difference between paraphrasing and rewording?
While they may seem similar, paraphrasing and rewording have different connotations.
Paraphrasing is a more in-depth process, requiring a deep understanding of the text to convey the same idea with new words and sentence structure.
Rewording , on the other hand, often implies just changing words, often with the help of synonyms, and may not necessarily involve a complete restructuring of the sentence or paragraph.
Is it possible to paraphrase any kind of text?
Yes, in theory, it is possible to paraphrase any kind of text – from scientific articles to poems. However, the ease and accuracy of paraphrasing can depend greatly on the type of text.
Straightforward, factual texts like news articles or research papers might be easier to paraphrase accurately, while more abstract or creative texts like poems or philosophical treatises could prove more challenging due to their heavy reliance on specific word choices and stylistic elements.
Paraphrasing, when mastered, is a crucial skill in today's information-dense world. It allows us to extract the essence of complex ideas and render them in digestible, unique language. It not only fosters our comprehension, but also allows us to articulate ideas credibly, while respecting intellectual property.
Ultimately, paraphrasing transcends mere rewording—it is the art of understanding, retaining, and retelling, one that aids in personal and professional growth.
It is a bridge between the vast realm of knowledge and our unique perspectives, making information sharing more democratic, accessible, and impactful.
How useful was this post?
Click on a star to rate it!
As you found this post useful...
Share it on social media!
We are sorry that this post was not useful for you!
Let us improve this post!
Tell us how we can improve this post?