Paralegal Cover Letter Example
Are you ready to land your dream Paralegal job? The key to success lies in crafting an outstanding cover letter that features your strengths and grabs the attention of hiring managers from the very first paragraph.

Resume and Cover Letter Experts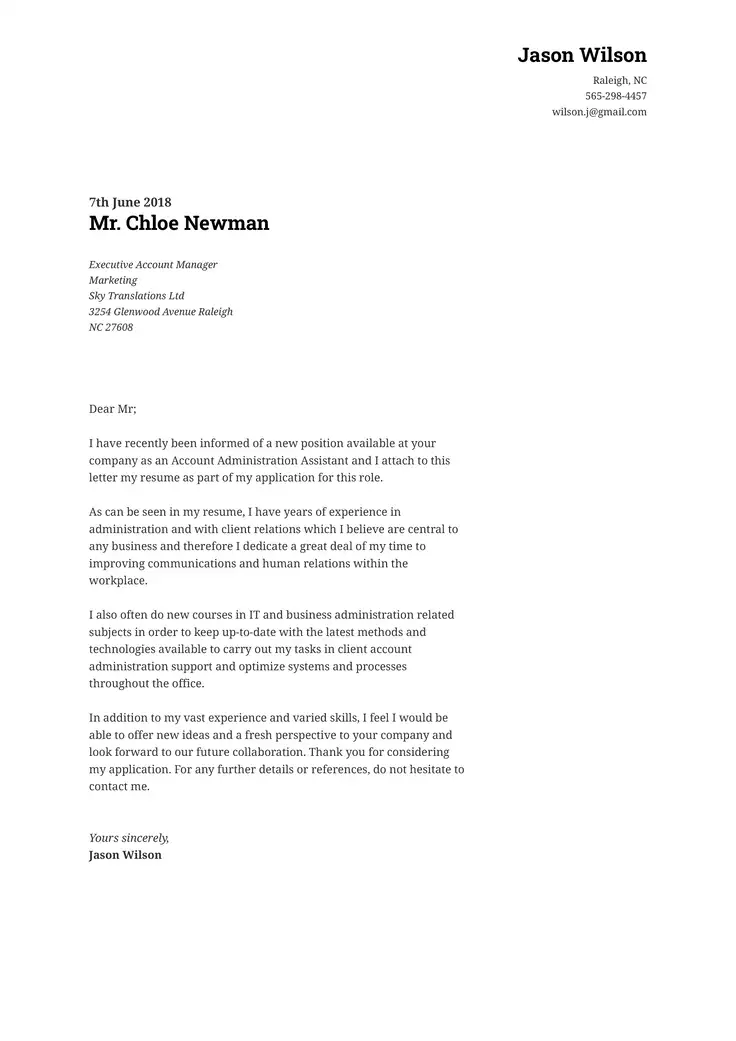 Paralegal Cover Letter
As a Paralegal, featuring your exceptional communication, organizational, critical thinking, and research abilities in your cover letter is crucial to setting yourself apart from other candidates.
A well-crafted cover letter allows you to present these in smart ways that will impress recruiters in the legal field.
In this article, you will look into:
Which essential Paralegal skills you should highlight and how
Invaluable advice and proven strategies to stand out , even with no experience
Expertly crafted examples to help you "build your case" compellingly
Combine our valuable tips with the efficiency of our cover letter creation tool , and you'll have a powerful cover letter crafted in just a few minutes.
Now, let's begin your journey toward writing an excellent Paralegal cover letter!
4 Skills Every Paralegal Should Feature in Their Cover Letter
As an integral part of a legal team, you play a vital role in ensuring the success of legal cases and initiatives.
You possess a wide range of qualifications that enable you to provide first-class support to attorneys and clients, but there are 4 skills hiring managers pay special attention to and that you should highlight in your Paralegal cover letter :
Communication: Mention any experience you have working directly with clients, attorneys, or court personnel. Provide examples of how you have effectively communicated complex legal concepts or information in writing or verbally.
Example: In my previous role as a Paralegal at [company name], I worked on a complex litigation case where I was responsible for drafting legal documents, including pleadings, motions, and discovery requests. In doing so, I was able to use my knowledge of legal terminology and concepts to communicate effectively with attorneys, judges, and court personnel.
Organization: A great Paralegal is detail-oriented and has excellent organizational skills. They can manage and organize large volumes of information, and they pay close attention to every detail to ensure accuracy and completeness.
Example: At [company name], I was responsible for maintaining case files, managing calendars, and scheduling meetings for multiple attorneys. There, I developed a new filing system for case documents that reduced the time it took to locate and retrieve important documents by 50%. This not only saved time for the attorneys but also improved the accuracy and completeness of the case files.
Critical thinking: A top-notch Paralegal has strong critical thinking skills and is able to analyze complex legal issues and identify potential problems or areas of concern. They can provide valuable insights and perspectives to attorneys and develop creative solutions to legal challenges.
Example: In one case, I worked on a dispute over the division of assets in a divorce proceeding. Through my analysis of the relevant legal precedents and statutes, I was able to propose a creative settlement agreement that enabled both parties to receive a fair share of the assets and avoid a protracted legal battle.
Research: An outstanding Paralegal has strong research skills to locate and analyze relevant legal information and sources. They contribute to the development of legal strategies and the building of cases by providing comprehensive research support.
Example: I worked on a case involving a complex merger and acquisition deal, where I was responsible for researching regulatory compliance and industry standards. Through my research in exisNexis, Westlaw, and Bloomberg Law, I was able to identify relevant legal precedents and regulations and provide valuable insights to the attorneys that helped them to build a strong case and negotiate a favorable settlement.
In case you need to quickly customize your resume to complement your cover letter, our user-friendly resume builder can be of great help.
Crafting an Effective Paralegal Cover Letter When You Have Experience
A Paralegal cover letter contains all the typical elements that should be included in this type of document.
However, the ones listed below are designed to help you improve your chances of getting an interview dramatically.
Read carefully and analyze the examples to get the most out of this section:
Start with a strong opening: Consider starting with a compelling statement or anecdote that demonstrates your passion for the legal field or your relevant experience as a Paralegal. A strong opening can help ensure that the recruiter continues reading your cover letter and is excited to learn more about your qualifications and experience.
I am writing to express my interest in the Paralegal position at your law firm. I have attached my resume for your review.
This opening statement is generic and does not provide any specific information about the candidate's experience or qualifications.
It is unlikely to capture the hiring manager's attention and may cause them to skip over the rest of the cover letter.
As an accomplished Paralegal with a passion for advocating for clients, I am thrilled to apply for the Paralegal position at your prestigious law firm. With over 5 years of experience in civil litigation, I have had the privilege of working on a variety of cases, from high-stakes corporate disputes to personal injury claims.
In this case, the opening is more compelling because it emphasizes the candidate's passion for advocating for clients and their confidence in their ability to contribute to the firm's continued success.
The language is more descriptive and demonstrates the applicant's skill set persuasively and engagingly. This is sure to capture the attention of the hiring manager and encourage them to read on to learn more about the candidate's qualifications.
Showcase your familiarity with sources: Research being a key responsibility of Paralegals, employers want to see you have a deep understanding of legal tools and resources. This can make you a valuable asset to a law firm and help set you apart from other candidates.
Ensure you mention in your cover letter at least one of these databases :
Legal Information Institute (LII)
Here is how to do it:
Example: With 4+ years of Paralegal experience, I possess a deep understanding of legal research tools, including LII, Westlaw, and LexisNexis. I excel at navigating databases of case law, statutes, and regulations to identify relevant information for each case.
Use keywords to your advantage: Many employers use applicant tracking systems (ATS) to screen resumes, which means that including relevant keywords can increase the likelihood of your resume being selected for further review. To identify relevant keywords, carefully review the job posting and make note of any specific skills, qualifications, or job duties mentioned.
Example: Replying to a Paralegal job advertisement that contains the keywords contract drafting, due diligence, and corporate governance.
As a corporate Paralegal at [company name], I gained extensive experience in conducting due diligence reviews on corporate acquisitions. I was responsible for analyzing purchase agreements and employment contracts. Additionally, I drafted and negotiated contracts with third-party vendors and customers to ensure compliance with corporate governance requirements.
A Sample Cover Letter for Experienced Paralegals
Reviewing the provided sample will provide you with a deeper understanding of what to feature in your cover letter when applying for Paralegal positions.
Hiring Manager's name
Company name
Company address
Dear [Hiring Manager's Name],
I am thrilled to express my strong interest in the Paralegal position recently opened at [Name of Firm]. I was excited to learn about this opportunity from Mr. [Name of Referee], an associate at your firm whom I worked with at [Name of Previous Firm]. He has graciously offered to provide a reference for me, should you require one.
As a Paralegal with seven years of experience, my passion for the law has only grown stronger. In my current role at [Name of Current Firm], I assist senior attorneys specializing in property law. I enjoy taking on new challenges and cases that keep me on my toes, and I thrive in a diverse environment with pressing deadlines. My solution-driven mindset constantly seeks new ways to streamline processes and increase efficiency.
To that end, I spearheaded the creation of a new user-friendly, keyword-based database that has been instrumental in helping Paralegals and attorneys locate relevant information and solutions for past cases. The system received high praise from all users and reduced the time dedicated to research and investigation by 26% within the first three months. Additionally, I created a guide for new team members that directs them to the specific resources they need across all our files, resulting in a 97% satisfaction rate among new hires.
My strong communication skills have allowed me to liaise effectively with courts, clients, and other firms, consistently representing my organization in the best light. I have prepared countless preparatory pieces of research, discovery demands, motions, and case-status reports, while also showing dedication to optimizing operations and maintaining professionalism.
My resume, which details my work history and educational background, is attached for your review. Please do not hesitate to contact me after 9 am on workdays to schedule a meeting to discuss my qualifications further. Thank you for your time and consideration.
Address Phone number Email address
Use our comprehensive cover letter writing guide to craft your letter with ease and confidence, and put your best foot forward in your job application.
Creating an Impressive Paralegal Cover Letter Without Experience
Crafting a cover letter with no experience may seem daunting, but the process is fundamentally the same as if you had prior experience.
The real difference lies in knowing where to focus to boost your odds of success.
In this section, you're going to learn :
How to show contagious enthusiasm in your cover letter
Which areas you should specialize in to make your application more appealing
3 Ways to Show Your Enthusiasm for the Legal Field in Your Cover Letter
Demonstrating your enthusiasm for the legal field is an essential aspect of crafting a persuasive Paralegal cover letter. By showing your passion and commitment, you can convey to potential employers that you are motivated to succeed and will be a valuable addition to their team.
Read the following advice carefully:
Share your motivation: Discuss what initially sparked your interest in the legal field and how that passion has evolved. This might include personal experiences, influential mentors, or a specific area of law that you find particularly captivating.
Example: My interest in the legal profession was ignited during a high school internship at a local law firm, where I witnessed firsthand the impact that skilled legal representation can have on people's lives.
Connect with the employer's mission: Research the firm or organization you are applying to, and mention specific aspects of their work that resonate with your values and interests. This demonstrates that you have taken the time to understand their goals and are genuinely excited about the prospect of contributing to their team.
Example: I am particularly drawn to [company name's] dedication to advocating for environmental justice and promoting sustainable practices, values that closely align with my passion for environmental conservation.
Explain your career goals: Clearly articulate your long-term career objectives within the legal profession, and explain how the position you are applying for aligns with those goals. This will demonstrate your commitment to the field and your desire to grow professionally.
Example: My long-term career objective is to become an expert in employment law, helping to protect workers' rights and ensure fair treatment in the workplace. This Paralegal position at your esteemed firm would be an invaluable opportunity to advance toward that goal.
Choose a Specialization area and Write an impressive Resume Objective
Embarking on a Paralegal career is an exciting journey, made even more thrilling by the opportunity to specialize in a particular and highly sought-after area of law.
The online resource for Paralegal professionals, Paralegal411 , lists some of the most popular ones. We have compiled them below for you.
Combine them with a meaningful  resume objective , and you'll be sure to grab the attention of recruiters:
Bankruptcy: These Paralegals usually focus on either individual or corporate bankruptcy law and spend much of their time on document preparation and gathering, including forensic research and accounting.
Example: Enthusiastic and detail-oriented Paralegal specializing in bankruptcy law, seeking an entry-level position as a Bankruptcy Paralegal at a prestigious [law firm]. Adept at conducting thorough research and analyzing complex financial data.
Corporate: They assist corporations with compliance, lawsuits, and mergers, and often work directly for corporations or as third-party counsel due to the complexity and constantly evolving nature of corporate law.
Example: Proficient in conducting comprehensive legal research, drafting contracts, and supporting M&A transactions. Eager to contribute to the firm's success by providing exceptional client service, while expanding my knowledge and skills in areas such as corporate governance, regulatory compliance, and business transactions.
Criminal law: Specialized in criminal proceedings, these Paralegals can work for the court or lawyers on either side of the case, focusing on specific areas of the law, such as violent crimes, financial crimes, or drug crimes.
Example: Diligent and dedicated individual with a strong interest in criminal law, seeking a position as a Criminal Law Paralegal at [law firm]. Possessing a solid foundation in legal research, case preparation, and client communication, I am eager to support attorneys in effectively representing clients facing criminal charges.
Immigration: Professionals specialized in this area assist both individuals and the US government in navigating the various routes to legal immigration, visas, and citizenship while keeping up with fast-paced changes to the law at the state level.
Example: Compassionate and motivated individual with a focus on immigration law, looking to secure an entry-level position as a Paralegal at [law firm]. Equipped with strong research abilities and a deep understanding of immigration policies, I am eager to assist clients in their pursuit of a better future.
How to Address Gaps in the Paralegal Field
Career gaps can be difficult to explain for Paralegals due to legal field expectations, skill development concerns, adaptability issues, competition, and perceptions of commitment.
To address these concerns, you should effectively showcase transferable skills, professional development efforts, and passion for the legal field in your cover letter.
The examples below address 2 common reasons why Paralegals may have gaps in their careers :
Example: During my two-year absence from the legal profession, I focused on personal growth and attended various continuing education courses, including a comprehensive legal research workshop and a seminar on intellectual property law. I am excited to bring this fresh perspective and commitment to lifelong learning to the Paralegal position at [Company Name].
Example: While taking a three-year hiatus to raise my family, I remained engaged with the legal community by attending the annual National Paralegal Association conference, participating in monthly webinars focused on family law, and networking with local legal professionals through my involvement in the City Paralegal Club. I am confident that my ability to balance multiple responsibilities and prioritize effectively will translate well to the Paralegal role at [Company Name].
Remember, your cover letter is an opportunity to demonstrate your resilience, adaptability, and passion for the profession, helping you stand out and succeed in your job search, even if you have gaps in your work history.
Paralegal Cover Letter Success: Vital Takeaways
Hold onto your hats, aspiring Paralegals! The U.S. Bureau of Statistics predicts an impressive 14% growth rate in the field between 2021 and 2031, which is well above the average growth rate for all occupations.
With this in mind, it's crucial you keep in mind the advice discussed in this article to stand out from the competition:
Emphasize your communication, organization, critical thinking, and research skills: Provide specific examples of your experience and knowledge.
Begin with an impactful introduction: Start your cover letter with a captivating remark or story that illustrates your enthusiasm for the legal profession or your pertinent Paralegal experience.
Display your knowledge of resources: As research is a critical aspect of a Paralegal's role, be sure to reference at least one of the widely used databases in your cover letter.
Leverage relevant keywords: Incorporate pertinent keywords found in the job advertisement in your cover letter to enhance your chances of advancing to the next stage.
Demonstrate enthusiasm for the legal field: Share your motivation, connect with the employer's mission and explain your long-term career goals.
Highlight your specialization field: Showcase your expertise in your resume summary or objective in areas such as bankruptcy, corporate, criminal, or immigration law.
Use career gaps to your advantage: Remember they can be an opportunity to show your determination, flexibility, and enthusiasm for the field if you can make the connection between any learned skills and the Paralegal world.
By using a Paralegal-specific template for your resume and cover letter, and incorporating our expert advice, you can elevate yourself above the competition.
These tools and tips will allow you to show your unique qualities and capabilities, demonstrating that you are fully equipped to excel in the position.
Best of luck on your journey in the Paralegal world!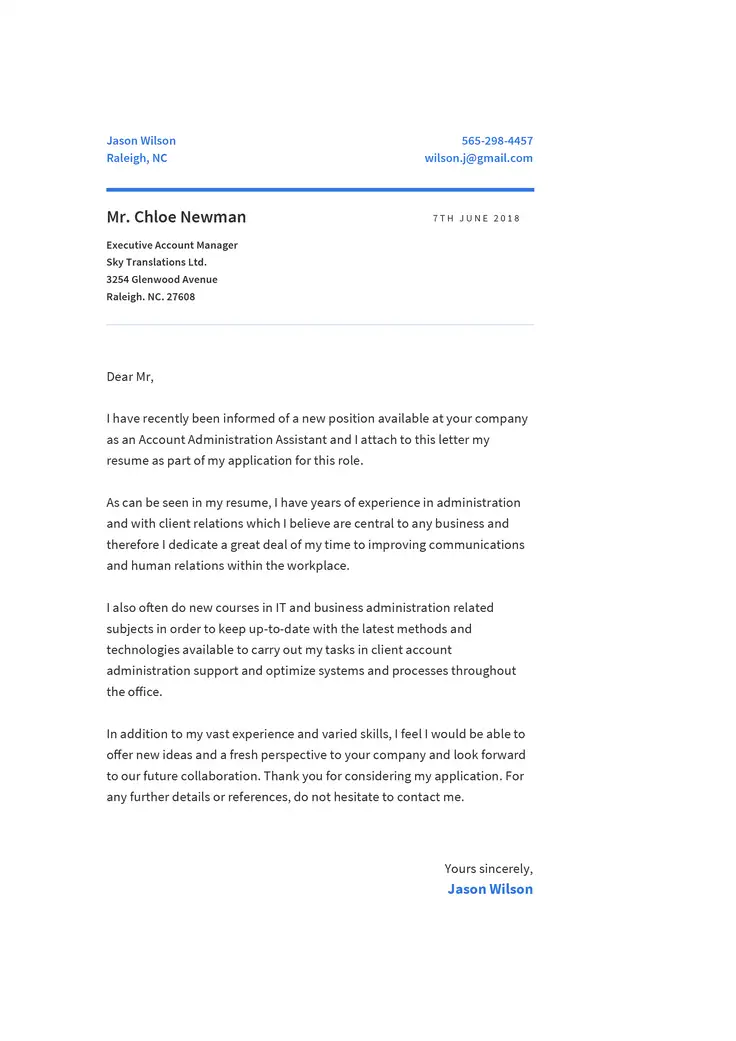 Trouble getting your Cover Letter started?
Beat the blank page with expert help.
Preparation Tips
Interview Checklist
Questions&Answers
Difficult Questions
Questions to Ask
Interview Tips
Dress for Success
Job Interview Advice
Behavioral Interview
Entry Level Interview
Information Interview
Panel Interviews
Group Interviews
Phone Interviews
Skype Interviews
Second Interviews
Zoom Interviews
Job Interview Guides
Administrative
Call Center
Clerical Interview
Customer Service
Human Resources
Office Manager
Project Manager
Restaurant Jobs
Social Work
Interview Follow Up
Thank You Letters
Job References
Employment Tests
Background Checks
Character References
Accepting a Job Offer
Decline a Job Offer
Verbal Job Offer
Negotiate Salary
How to Resign
Job Search Strategy
Job Search Tips
Respond to Interview Request
Letters of Recommendation
Surviving a Layoff
Sample Resumes
Resume Objectives
Cover Letters
Job Descriptions
Job Interview Blog
Best Articles
Privacy Policy
Sample Paralegal Cover Letter
Use the compelling paralegal cover letter to write your own convincing cover letter that gets the reader's attention and ensures that your job application is taken forward.
An effective cover letter will help you stand out from the crowd and land that critical first interview for the paralegal or legal assistant job.
Attention to detail and accuracy are critical for this job so proofread your cover letter carefully before sending it. Get someone else to double check for you.
PARALEGAL COVER LETTER EXAMPLE
Your Name Your Address Your Contact details (phone and email) Date Mr Adam Grey Human Resources Manager Jackson, Bell and Associates 15 South Parkway Long Island, NY 11551
Dear Mr Grey
In response to your job opening in the New York Times please consider my resume in your search for a Paralegal. I believe my background and skills closely match your job requirements and I am confident I can make a positive contribution to your firm.
Some key points that are relevant to this opportunity include:
I received my Bachelor of Science degree in Criminal Justice from XYZ University in Date and my paralegal certification in Date
over 5 years experience in a paralegal capacity providing support and assistance to six attorneys on a range of topics
in-depth experience in legal research, organization and analysis of information and the preparation of written reports and case materials.
a comprehensive knowledge of legal terminology and principles
responsible for accurately drafting legal documents including briefs, appeals and agreements and helping to prepare legal arguments and motions
strong skills as a resourceful researcher who uses her initiative and sound judgment to get the job done.
regarded as a valuable team member who is able to remain focused and self-directed in a fast paced work environment while dealing with conflicting demands.
If you are looking for a highly motivated paralegal I would welcome the opportunity to meet with you for an in-depth discussion. I am available for an interview at your earliest convenience, please contact me via phone or email to arrange a time and date for us to meet.
Thank you for your time and consideration and I look forward to speaking with you soon.
Jane Jobseeker Enclosure
Your paralegal resume
Customize this paralegal resume for your own use.
PARALEGAL RESUMES
Sample Paralegal Resume
PARALEGAL  RESUMES
Paralegal  Resume Objectives
Sample Cover Letter Template
What duties and skills should I include in my paralegal cover letter?
Use the detailed paralegal job description to make sure you have a full understanding of the job requirements when preparing your cover letter for paralegal jobs. Highlight those abilities that match the job description.
Detailed descriptions of paralegal duties and responsibilities for different areas of paralegal specialization.
What Does a Paralegal Do?
This list of workplace strengths will help you identify and showcase your own strengths and skills.
The 12 core competencies identified for workplace success.
Legal Secretary Job Description
Paralegal Job Description
Legal Administrative Assistant Job
Paralegal Duties and Skills
Paralegal job interviews
Paralegal interview questions and good interview answers.
Prepare a persuasive and professional paralegal or legal assistant cover letter and get the job you want.
To Top of Page
Don't Miss These Latest Updates
Problem-solving is a key skill for today's workplace. Problem-solving behavioral interview questions
Compelling sample interview answers to "Why do you want to work for this company?"
11 essential supervisor interview questions and answers plus industry specific supervisor Q&A .
How to ask for a letter of recommendation with this sample email requesting letter of recommendation .
What are the top 10 reasons for leaving your job? Find out acceptable reasons for leaving a job.
Sample employment acceptance letter and email to properly confirm your acceptance of the job offer and employment contract.
What are your strengths? Find out the 11 essential workplace strengths at list of strengths and weaknesses
Interview Preparation
Interview Questions & Answers
Interview Guides
After the Interview
The Job Offer
Latest News
© Copyright 2023  |   Best-Job-Interview.com    |   All Rights Reserved.
Advertising
Applications
Assessments
Certificates
Announcement
Invitations
Newsletters
Questionnaires
Food & Beverages
Recruitment
Marketing Examples
Transportation
Cover Letter
Paralegal Cover Letter Examples, How to Write, Tips
What is a Paralegal Cover Letter?
What is the best cover letter example for paralegal position.
Free Paralegal Cover Letters – Copy & Paste
Paralegal cover letter format.
Cover Letter for Paralegal Position with No Experience Example
Paralegal Position Cover Letter with Experience Example
Paralegal Cover Letter for Job Application Example
Paralegal Cover Letter for Resume Example
Cover Letter for Paralegal Job Example
Experienced Paralegal Position Cover Letter Example
Paralegal Cover Letter for Corporate Company Example
UK Paralegal Cover Letter Example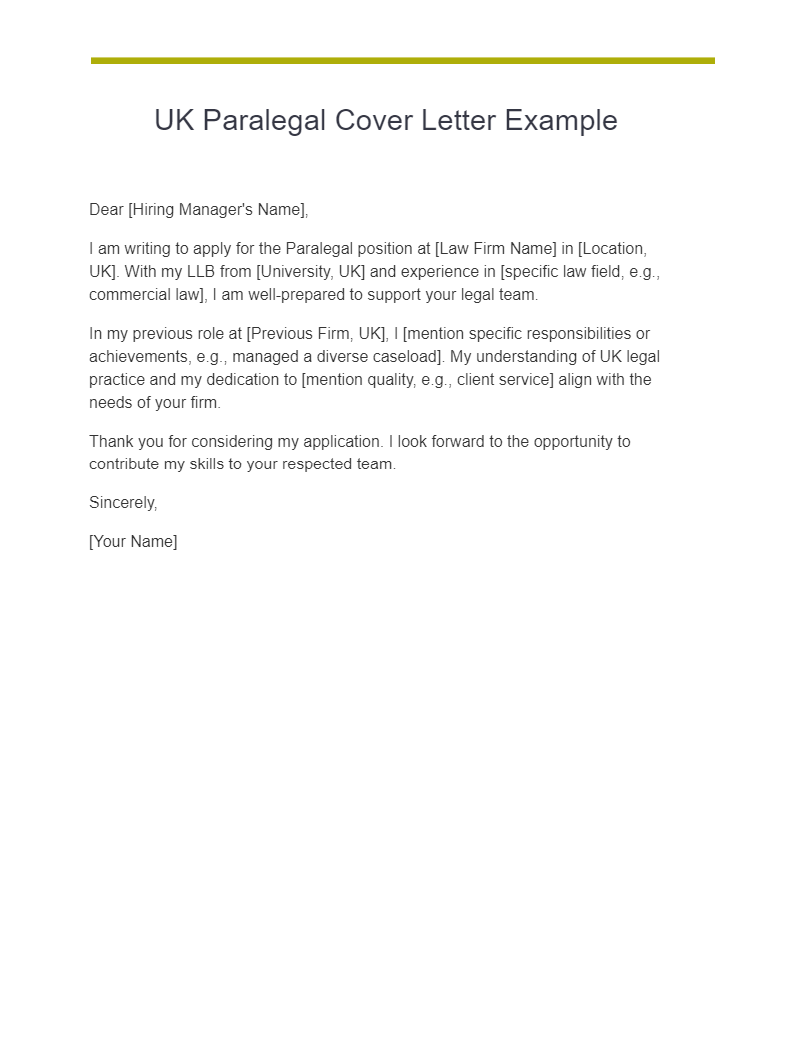 Family Law Paralegal Cover Letter Example
Entry Level Paralegal Cover Letter Example
Sample Paralegal Cover Letter Example
Paralegal Cover Letter for Personal Injury Example
Legal Job Cover Letter Example
Law Firm Position Cover Letter Example
Paralegal Cover Letter for Intellectual Property Example
Real Estate Paralegal Cover Letter Example
Paralegal Cover Letter for Internship Example
Paralegal Cover Letter for Graduate Example
Beginner Paralegal Cover Letter Example
Cover Letter for Lawyer Example
Paralegal Cover Letter for Administrative Assistant Example
Junior Paralegal Cover Letter Example
Senior Paralegal Cover Letter Example
Conveyancing Paralegal Cover Letter Example
Paralegal Specialist Cover Letter Example
Legal Assistant Cover Letter Example
Remote Paralegal Cover Letter Example
Paralegal/legal Assistant Manager Cover Letter Example
Director of Practice Support Cover Letter Example
What do you write in a Cover Letter for a Paralegal Position?
How do i write a good cover letter for a paralegal job, tips for writing a paralegal cover letter, more cover letter, graphic design cover letter examples, how to write, tips, manager cover letter examples, how to write, tips, resume cover letter examples, how to write guide, internship cover letter examples, how to write, tips, high school student cover letter examples, how to write, tips, finance cover letter examples, how to write guide, tips, retail cover letter examples, how to write guide, tips, simple cover letter examples, how to use guide, data analyst cover letter examples, how to write, tips, management cover letter examples, how to write guide, tips, fresher cover letter examples, how to write, tips, social work cover letter examples, how to write, tips.

Related Articles
Essay Cover Letter Examples, How to Write, Tips
Research Paper Cover Letter Examples, How to Write, Tips
How to Write a Paralegal Cover Letter (2 Examples)
By Ammar Ahmed
Published: November 18, 2023
Cover Letters
Ammar Ahmed
Writer & Career Coach
Embarking on the journey to land your dream paralegal position begins with creating a flawless Paralegal cover letter. This document, when carefully crafted, not only serves as a testament to your qualifications but also as a tool to engage and intrigue potential employers. This guide is your companion in this journey, providing you with the necessary steps to create a cover letter that distinguishes you from the rest, propelling your application to the top of the pile.
Creating a Winning Paralegal Cover Letter
In the pursuit of crafting a memorable Paralegal cover letter, understanding the prospective employer is crucial. This section will unravel key aspects of aligning your cover letter with the company's ethos and the specific role you're eyeing. Tailoring your letter in such a manner not only reflects a deep sense of professionalism but also a keen interest in the position at hand.
Researching the Company and Position
Getting to know the company and the specific paralegal job is key to crafting a cover letter that hits the mark. It shows you're serious and have taken the time to align your skills and values with what's needed.
Let's dive into how you can tune your cover letter to reflect a good understanding of both the company and the role.
Aligning with Company Values and Goals: Research the company's website, read up on any recent news, and understand their values and goals. When writing your cover letter, echo these values and demonstrate through past examples how you embody them in your work. This demonstrates that you have a common ground with the company and a genuine interest in how they operate.
Understanding the Specific Actor Role: Every paralegal job can be a bit different. Take a good look at the job posting to understand what's expected in this role. In your cover letter, talk about your skills and past experiences in a way that shows you're a great fit for these specific duties. Mention any training or certifications you have that prepare you for the job, showing you're ready to jump in and contribute.
Structuring Your Cover Letter
A well-structured Paralegal Cover Letter is akin to a compelling legal argument; it must present facts (your qualifications) in a coherent and persuasive manner.
Let's dissect the essential elements that contribute to a powerful cover letter.
Heading and Salutation: Your cover letter should begin with a formal heading including your name, address, phone number, and email address, followed by the date and the recipient's contact information. For the salutation, if you know the hiring manager's name, use "Dear Mr./Ms. [Last Name]."
Opening Paragraph – Grabbing Attention: Here lies your chance to make a first impression. Start with a strong opening sentence that encapsulates your enthusiasm for the paralegal role and the firm. Mention a mutual connection or something impressive about the firm that drew you to apply.
Middle Paragraph(s) – Showcasing Your Skills and Experience: This section is the crux of your Paralegal Cover Letter. Discuss your legal expertise, accomplishments, and any paralegal certifications you hold. Be sure to provide examples that demonstrate your ability to support attorneys effectively and manage legal documentation.
Closing Paragraph – Expressing Enthusiasm and Call to Action: Reiterate your enthusiasm for the opportunity and suggest a follow-up action, like an interview. Express your eagerness to discuss in person how your background as a paralegal aligns with the firm's needs.
Signature and Contact Information: Conclude with a professional closing such as "Sincerely" or "Respectfully," followed by your signature (typed or handwritten) and contact information once more. This ensures that the hiring manager has your contact details at their fingertips.
Adhering to this structured approach will ensure that your Paralegal cover letter is professional, engaging, and tailored to the position, thereby significantly enhancing your chances of securing an interview.
Highlighting Relevant Skills and Experience
A cover letter delves into your toolbox of skills and experiences, portraying you as a valuable asset waiting to be tapped. Tailoring this section to the specific paralegal job not only demonstrates your readiness but also your understanding of the integral roles paralegals play in the legal sphere.
Let's explore how you can effectively spotlight your relevant skills and experience:
Legal Research and Writing Skills: Paralegals are often the backbone of legal research and document preparation in a law firm. Highlight your adeptness in legal research and your ability to draft clear, concise legal documents. Maybe share an instance where your research skills proved instrumental in a case or streamlined a process within your previous employment.
Proficiency in Legal Technology and Software: The legal field is increasingly leveraging technology for efficiency. Showcase your proficiency with legal software like case management systems, e-discovery, and legal research databases. Your tech-savviness not only speeds up tasks but also ensures accuracy and compliance, which are crucial in legal proceedings.
Strong Organizational and Time Management Abilities: Paralegals often juggle multiple tasks amidst tight deadlines. Emphasize your organizational prowess and your knack for prioritizing tasks to meet deadlines without compromising on quality. Your ability to keep things in order and on schedule is a huge asset to busy law practices.
Effective Communication and Interpersonal Skills: Paralegals interact with a variety of individuals including attorneys, clients, and court personnel. Highlight your ability to communicate effectively, both in writing and verbally, along with your interpersonal skills. Being able to foster good relationships and convey information clearly is vital in ensuring smooth operations within the legal team and with clients.
By magnifying these skills and experiences in your cover letter, you paint a vivid picture of the value you bring to the table. It's about showcasing not just your capability to perform the job, but your readiness to contribute to the bigger picture in the fast-paced legal environment.
Tailoring Your Cover Letter
A cover letter that resonates with the hiring manager is not a one-size-fits-all document, but a tailored narrative that reflects an understanding of the specific job and company culture.
Here's how you can adeptly customize your cover letter to echo the needs of the hiring firm and the paralegal role on offer :
Addressing the Hiring Manager: Personalization can set a positive tone from the get-go. Whenever possible, address your cover letter to the hiring manager by name. It not only shows that you've done your homework but also adds a personal touch to your application.
Matching Job Description Keywords: Scan the job description to identify key phrases and terms. For instance, if the job description mentions "litigation support," "document management," or "legal compliance," ensure you incorporate these keywords in your cover letter where relevant. Matching keywords demonstrates your attention to detail and alignment with the job requirements.
Demonstrating Cultural Fit: Reflect on your understanding of the company's culture and values, and draw parallels with your own professional ethos. Whether it's a commitment to community service, a collaborative work environment, or innovative problem-solving, expressing your alignment with the company culture can foster a connection beyond just the job specs.
Crafting a cover letter that's fine-tuned to the job and the company not only showcases your qualifications but also your enthusiasm and fit for the role. It's about going the extra mile to reflect a mutual fit, paving the way for fruitful interactions during the hiring process.
Providing Evidence of Your Accomplishments
When writing a Paralegal cover letter, talking about what you've achieved in your past roles can really catch the employer's eye. This lends credibility to your application, allowing potential employers to gauge the impact you could bring to their team.
Let's see how you can do this in a simple and engaging way:
Quantifiable Achievements: Tangible metrics offer a clear picture of your capabilities. Mention the number of cases you've handled, any process improvements you drove that saved time or resources, or client satisfaction ratings you achieved. For instance, you could say, "Managed a caseload of over 50 ongoing cases while maintaining a 95% client satisfaction rating."
Relevant Projects and Outcomes: Showcase projects, especially those aligning with the job you are applying for, to highlight your hands-on experience. If you have engaged in pro bono work, discuss the cases you worked on and the outcomes achieved. Mention any recognition or positive feedback received from colleagues or clients. For example, "Led a pro bono project assisting low-income families with estate planning, which was commended by the senior partner for excellence and empathy."
By sharing real examples of what you've done, you make your cover letter more lively and convincing. It's a great way to show you're not just all talk, and that you're ready to jump in and make a difference in their team.
Avoiding Common Mistakes
Crafting a Paralegal cover letter is a delicate balance. While it's crucial to highlight your qualifications and achievements, certain missteps could lessen its impact.
Let's navigate through common mistakes to avoid, ensuring your cover letter shines in the best light:
Overemphasis on Education : While your educational background is vital, a focus solely on academic achievements might overshadow your practical skills and experiences which are crucial in a paralegal role. Instead, find a balance; briefly mention your education while dedicating more space to discuss your hands-on legal experiences and accomplishments.
Lack of Research: A generic cover letter can be spotted from a mile away and does little to captivate hiring managers. Show that you've dug into what the firm is about and the specifics of the paralegal role being offered. Tailoring your cover letter to reflect this understanding can significantly boost your chances.
Neglecting Soft Skills : Beyond your technical capabilities, soft skills like communication, teamwork, and problem-solving are paramount in a collaborative legal environment. Be sure to highlight these skills and provide examples where they've come to play in your previous roles.
Poor Proofreading: A cover letter littered with typos and grammatical errors can tarnish your professionalism in the eyes of a potential employer. After drafting your cover letter, set it aside for a while, then return to it with fresh eyes for proofreading. It's also wise to have someone else review it for any mistakes you might have missed.
Dodging these common mistakes can elevate the quality of your cover letter, ensuring it resonates with potential employers. It reflects a level of thoroughness and understanding crucial for making a positive first impression in your job search journey.
Related Article: 3 Situations Where You Need to Send a Cover Letter
Paralegal Cover Letter Examples
Crafting a Paralegal cover letter becomes less daunting when you have solid examples to reference. The paralegal field encompasses various specialties, each with its unique demands, yet the core skills required remain consistent.
Here are two example cover letters to give you an idea of what a job-winning cover letter looks like:
Entry-Level Paralegal Cover Letter (No Experience)
Embarking on a paralegal career can be a thrilling venture, even when you're just starting out with no direct experience. Your cover letter should reflect your enthusiasm, education, and any relevant internships or extracurricular activities that demonstrate your potential as a paralegal. Here's an example of how an entry-level paralegal might construct a cover letter to capture a prospective employer's attention.
Samantha Green 1234 Maple Street Lawville, CA 67890 [email protected] (123) 456-7890
October 26, 2023
Mr. Thomas Johnson Johnson & Associates Law Firm 5678 Pine Avenue Lawville, CA 67890
Dear Mr. Johnson,
I am writing to express my keen interest in the Entry-Level Paralegal position at Johnson & Associates Law Firm as advertised on your firm's website. Despite being new to the paralegal field, my solid educational foundation, coupled with my internship experience at Downtown Legal Services, has equipped me with the tools necessary to contribute effectively to your legal team.
During my internship, I was exposed to various aspects of legal work including conducting preliminary legal research, assisting with document preparation, and managing case files. This hands-on experience, although limited, has provided a stepping stone for my paralegal career. Furthermore, my Bachelor's degree in Legal Studies from Prestige Law University has provided me with a comprehensive understanding of legal terminologies and administrative procedures.
I am particularly drawn to Johnson & Associates Law Firm due to your exemplary work in employment law, a field I am profoundly passionate about. The thought of contributing to a firm that makes a tangible difference in protecting employee rights is incredibly motivating.
I am enthusiastic about the opportunity to bring my strong work ethic, attention to detail, and eagerness to learn to your esteemed legal team. I am available for an interview at your earliest convenience and am very eager to discuss how I can contribute to your firm despite my entry-level status.
Thank you very much for considering my application. I look forward to the opportunity to further discuss how my educational background and internship experience align with the needs of your firm.
Yours Sincerely,
Samantha Green
Related Article: Check out our guide for more tips on writing a cover letter when you have no experience in the field .
Senior-Level Paralegal Cover Letter
For seasoned paralegals aiming at senior-level positions, your cover letter should reflect not only your extensive experience but also your ability to lead and mentor others. It's a chance to showcase how the breadth and depth of your legal expertise make you an invaluable asset to any legal team.
John Doe 1234 Elm Street Legal Town, NY 56789 [email protected] (123) 456-7890
Ms. Jane Smith Whitestone & Gale Law Associates 5678 Oak Avenue Legal Town, NY 56789
Dear Ms. Smith,
I am writing to express my strong interest in the Senior Paralegal position at Whitestone & Gale Law Associates, as advertised on LinkedIn. With over ten years of comprehensive experience in diverse legal settings and a track record of mentoring junior paralegals, I am excited about the opportunity to contribute to your esteemed legal team.
During my tenure at Crimson Legal Partners, I honed my skills in legal research, document drafting, and litigation support, which contributed to a 20% efficiency improvement in case management. My role also entailed overseeing a team of five paralegals, where I provided mentorship and training that enhanced our department's productivity and accuracy.
What captivates me about Whitestone & Gale Law Associates is your dedication to nurturing a culture of continuous learning and professional growth. With my extensive experience and proactive leadership style, I am eager to contribute to fostering this culture while supporting your attorneys in delivering high-quality legal services.
I am keen to discuss how my background, skills, and aspirations align with the exceptional work that Whitestone & Gale Law Associates does. I am available for an interview at your earliest convenience and look forward to the opportunity to further discuss how I can contribute to your team.
Thank you for considering my application. I am very excited about the possibility of contributing to your firm and am hopeful for the opportunity to discuss in further detail how my skills and experiences align with the needs of your team.
Warm regards,
About the Author
Read more articles by Ammar Ahmed
Continue Reading
How to Write a Graphic Designer Cover Letter (3 Examples)
How to write a medical assistant cover letter (3 examples), how to write a research assistant cover letter (3 examples), how to write a software engineer cover letter (3 examples), how to write a hr cover letter (4 examples), how to write a data analyst cover letter (3 examples), how to write a bartender cover letter (3 examples), create a professional resume for free.
No-sign up or payment required.

Paralegal cover letter examples

You've put in the work, studied hard and now you're on the hunt for an interesting paralegal position.
But in order to secure the role, you first need to make your case. You need to prove to the recruiter you are organised, professional and able to multi-task.
If you're not sure where to start, we won't judge. Just check out our guide below for our expert tips and some paralegal cover letter examples.

Paralegal cover letter example 1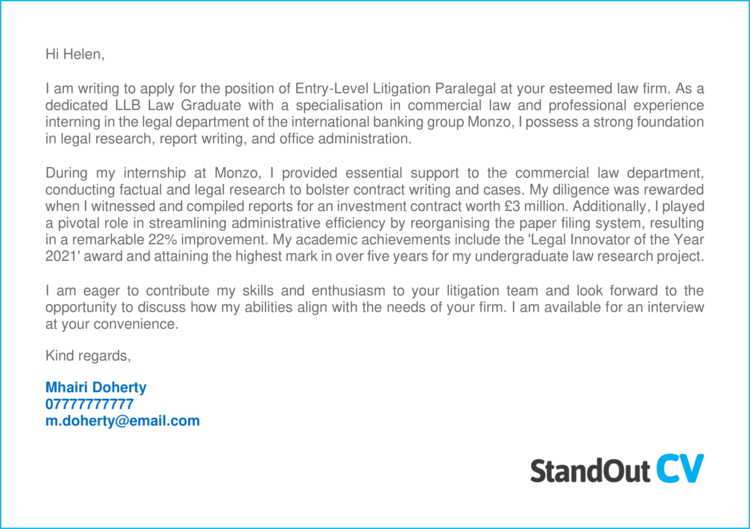 Paralegal cover letter example 2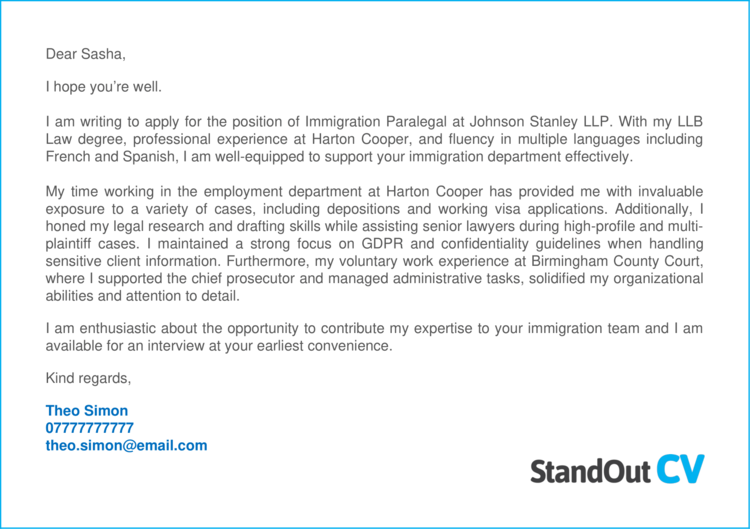 Paralegal cover letter example 3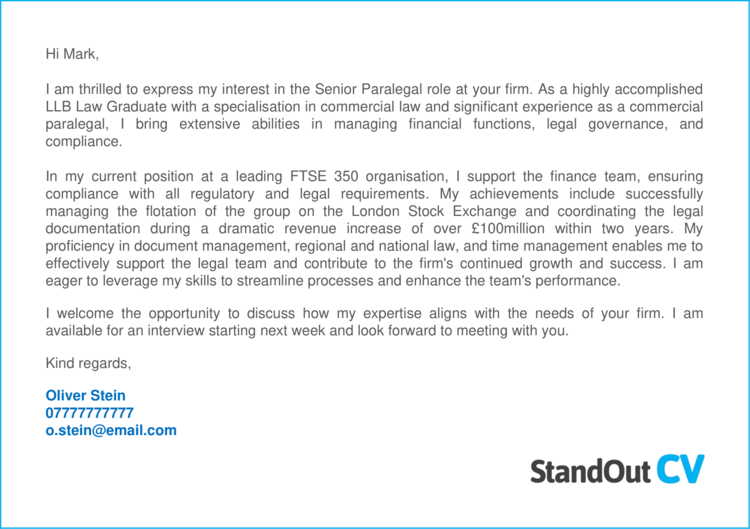 The Paralegal cover letter examples above should give you a good idea of the type of content you need to include in your own cover letter, and how it should be structured.
But if you're really looking to wow recruiters and get your CV in front of the very best employers, then check out our guidance on how to write your own effective cover letter below.
How to write a Paralegal cover letter
Here's how to write your own winning Paralegal cover letter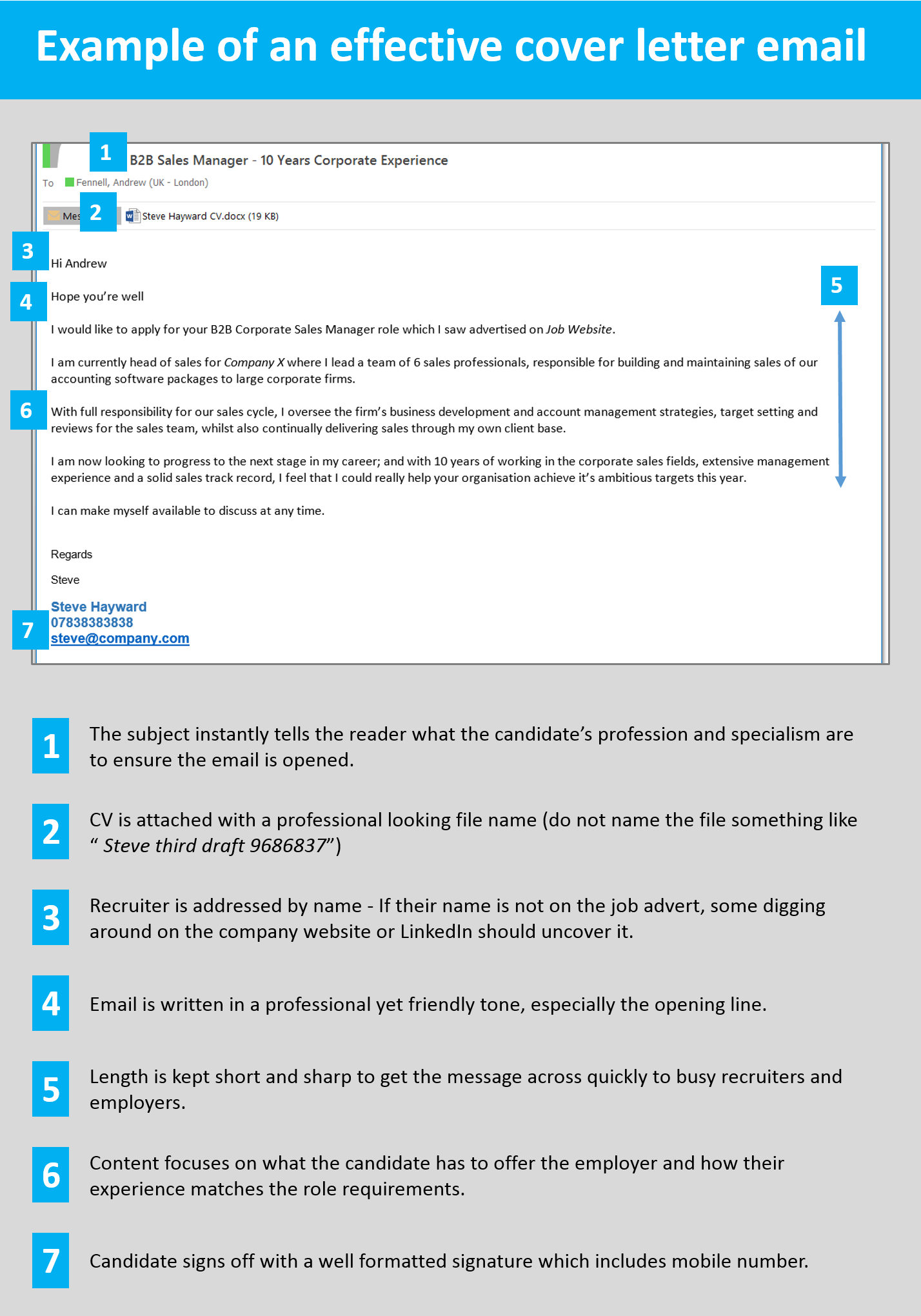 Write your cover letter in the body of an email/message
When writing your Paralegal cover letter, it's best to type the content into the body of your email (or the job site messaging system) and not to attach the cover letter as a separate document.
This ensures that your cover letter gets seen as soon as a recruiter or employer opens your message.
If you attach the cover letter as a document, you're making the reader go through an unnecessary step of opening the document before reading it.
If it's in the body of the message itself, it will be seen instantly, which hugely increases the chances of it being read.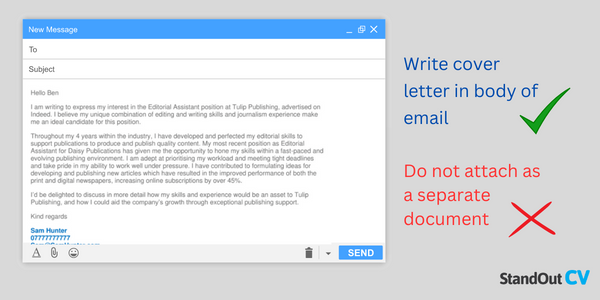 Start with a friendly greeting

Start you cover letter with a greeting that is professional but friendly.
This will build rapport with the recruiter whilst showing your professionalism.
Hi, hope you're well
Hi [insert recruiter name]
Hi [insert department/team name]
Avoid overly formal greetings like "Dear sir/madam " unless applying to very traditional companies.
How to find the contact's name?
Addressing the recruitment contact by name is an excellent way to start building a strong relationship. If it is not listed in the job advert, try these methods to find it.
Check out the company website and look at their  About page. If you see a hiring manager, HR person or internal recruiter, use their name. You could also try to figure out who would be your manager in the role and use their name.
Head to LinkedIn , search for the company and scan through the list of employees. Most professionals are on LinkedIn these days, so this is a good bet.
Identify the role you are applying for
Now that you have warmed the recruiter up with a friendly greeting, firstly you need to let them know which role you are applying for.
Sometimes a recruitment consultant will be juggling 10 or 10 vacancies, so it's important to specify which one you are applying to.
Give us much detail as possible (team/department, role title etc.) and paste in the reference number if you have one.
Here are some examples you can use.
I am interested in applying for the role of Paralegal with your company.
I would like to apply for the role of Sales assistant (Ref: 40f57393)
I would like to express my interest in the customer service vacancy within your retail department
I saw your advert for an IT project manager on Reed and would like to apply for the role.
See also: CV examples – how to write a CV – CV profiles
Highlight your suitability
The bulk of your cover letter should be focused around highlighting your suitability for the job you are applying to.
Doing this will show the recruiter that you are suitable candidate and encourage them to open your CV.
The best way to do this, is by studying the job advert you are applying to, and find out what the most important skills and knowledge are.
Once you know the most important requirements, you then need to highlight your matching skills to the recruiter. In a few sentences, tell them exactly why you are a good fit for the job and what you can offer the company.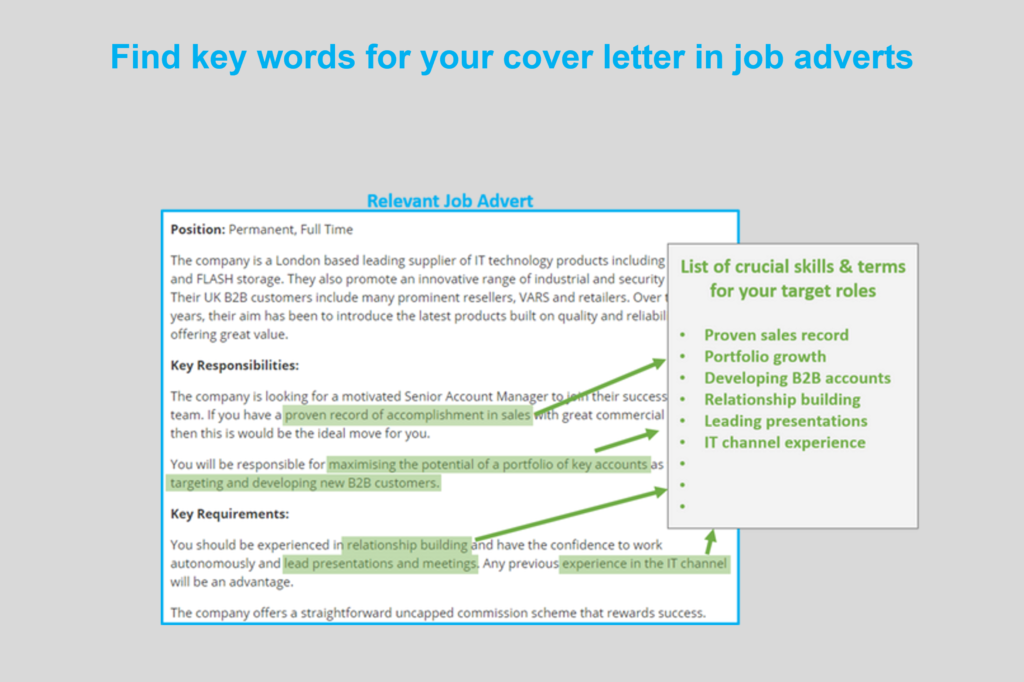 Keep it short and sharp
When sending a job application to a recruiter or hiring manager, it is important to remember that they will normally be very busy and pushed for time.
Therefore, you need to get you message across to them quickly (in a matter of seconds ideally). So, keep your cover letter short and to-the-point. A long waffling cover letter will overwhelm recruiters when they are running through hundreds of emails in there inbox, but a concise one will get their attention.
So, keep your cover letter to just a few sentences long, and save the extensive detail for your CV.
Sign off professionally
To round of your cover letter, add a professional signature to the bottom, giving recruiters your vital contact information.
This not only gives various means of contacting you, it also looks really professional and shows that you know how to communicate in the workplace.
Include the following points;
A friendly sign off – e.g. "Warm regards"
Your full name
Phone number (one you can answer quickly)
Email address
Profession title
Professional social network – e.g. LinkedIn
Here is an example signature;
Warm regards,
Gerald Baker Senior Accountant 07887500404 [email protected] LinkedIn
Quick tip : To save yourself from having to write your signature every time you send a job application email, you can save it within your email drafts, or on a separate document that you could copy in.

What to include in your Paralegal cover letter
Here's what kind of content you should include in your Paralegal cover letter…
The exact info will obviously depend on your industry and experience level, but these are the essentials.
Your relevant experience – Where have you worked and what type of jobs have you held?
Your qualifications – Let recruiters know about your highest level of qualification to show them you have the credentials for the job.
The impact you have made – Show how your actions have made a positive impact on previous employers; perhaps you've saved them money or helped them to acquire new customers?
Your reasons for moving – Hiring managers will want to know why you are leaving your current or previous role, so give them a brief explanation.
Your availability – When can you start a new job ? Recruiters will want to know how soon they can get you on board.
Don't forget to tailor these points to the requirements of the job advert for best results.
Paralegal cover letter templates
Copy and paste these Paralegal cover letter templates to get a head start on your own.
I am writing to apply for the position of Entry-Level Litigation Paralegal at your esteemed law firm. As a dedicated LLB Law Graduate with a specialisation in commercial law and professional experience interning in the legal department of the international banking group Monzo, I possess a strong foundation in legal research, report writing, and office administration.
During my internship at Monzo, I provided essential support to the commercial law department, conducting factual and legal research to bolster contract writing and cases. My diligence was rewarded when I witnessed and compiled reports for an investment contract worth £3 million. Additionally, I played a pivotal role in streamlining administrative efficiency by reorganising the paper filing system, resulting in a remarkable 22% improvement. My academic achievements include the 'Legal Innovator of the Year 2021' award and attaining the highest mark in over five years for my undergraduate law research project.
I am eager to contribute my skills and enthusiasm to your litigation team and look forward to the opportunity to discuss how my abilities align with the needs of your firm. I am available for an interview at your convenience.
Kind regards,
Mhairi Doherty
Dear Sasha,
I hope you're well.
I am writing to apply for the position of Immigration Paralegal at Johnson Stanley LLP. With my LLB Law degree, professional experience at Harton Cooper, and fluency in multiple languages including French and Spanish, I am well-equipped to support your immigration department effectively.
My time working in the employment department at Harton Cooper has provided me with invaluable exposure to a variety of cases, including depositions and working visa applications. Additionally, I honed my legal research and drafting skills while assisting senior lawyers during high-profile and multiplaintiff cases. I maintained a strong focus on GDPR and confidentiality guidelines when handling sensitive client information. Furthermore, my voluntary work experience at Birmingham County Court, where I supported the chief prosecutor and managed administrative tasks, solidified my organizational abilities and attention to detail.
I am enthusiastic about the opportunity to contribute my expertise to your immigration team, and I am available for an interview at your earliest convenience.
I am thrilled to express my interest in the Senior Paralegal role at your firm. As a highly accomplished LLB Law Graduate with a specialisation in commercial law and significant experience as a commercial paralegal, I bring extensive abilities in managing financial functions, legal governance, and compliance.
In my current position at a leading FTSE 350 organisation, I support the finance team, ensuring compliance with all regulatory and legal requirements. My achievements include successfully managing the flotation of the group on the London Stock Exchange and coordinating the legal documentation during a dramatic revenue increase of over £100million within two years. My proficiency in document management, regional and national law, and time management enables me to effectively support the legal team and contribute to the firm's continued growth and success. I am eager to leverage my skills to streamline processes and enhance the team's performance.
I welcome the opportunity to discuss how my expertise aligns with the needs of your firm. I am available for an interview starting next week and look forward to meeting with you.
Oliver Stein
Writing a strong attention-grabbing cover letter is a vital step in landing a good Paralegal job.
Use the tips, strategies and examples above to get more responses from you job applications and start lining job interview up.
Good luck with your job search!
Terms And Conditions
Privacy Policy
Editorial Policy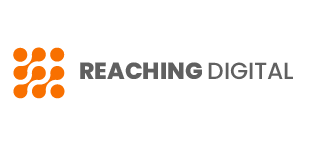 Home » Paralegal Cover Letter: 07 Samples & Examples Ideas
Paralegal Cover Letter: 07 Samples & Examples Ideas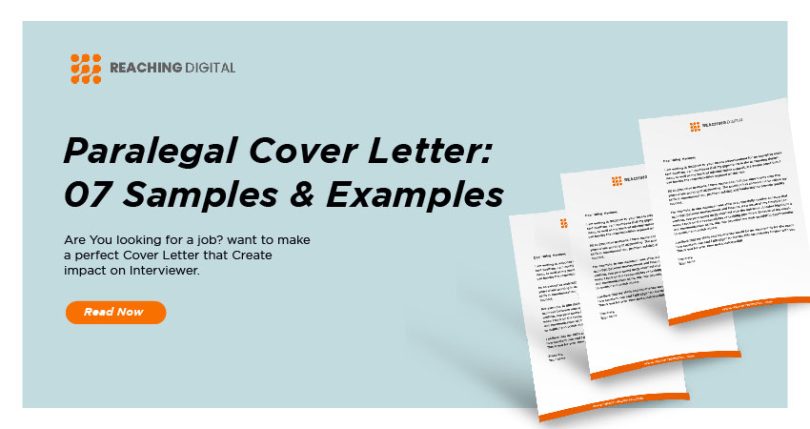 If you're looking for help creating a stand-out paralegal cover letter, you've come to the right place. Cover letters are an essential part of any job application. They allow you to introduce yourself and showcase your qualifications in a way that a resume cannot. When writing your cover letter, be sure to tailor it to the specific position you are applying for. Most important Highlight your skills and experience that are relevant to the job opening, and make sure to express your interest in the company.
Below, you'll find seven samples that you can use as inspiration. Plus, we'll provide tips on what to include in your letter and how to write a cover letter make it stand out. Each letter is tailore d to fit a specific situation, so you can choose the one that is most appropriate for you. We will also provide some tips on how to write a successful cover letter. So don't wait any longer – read on and start writing your perfect cover letter today!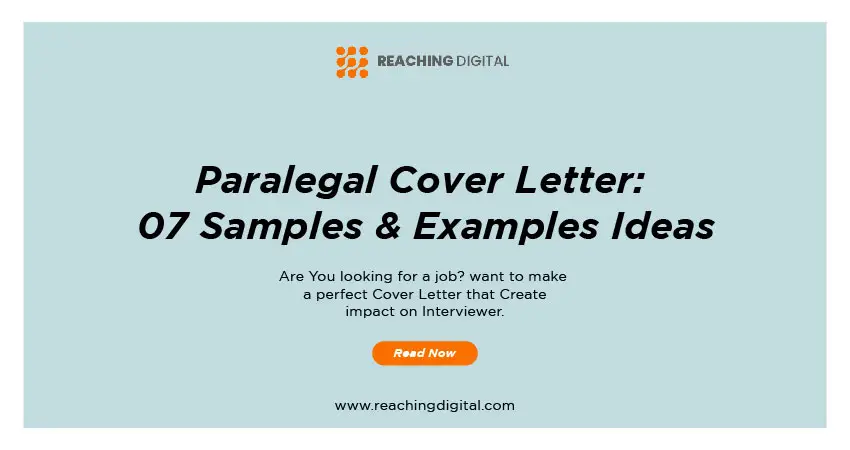 Table of Contents
Paralegal Cover Letter Examples
Dear Sir/Madam,
I am writing to apply for the position of paralegal at your firm. I have attached my resume to this email as well. My primary objective has always been to ensure that the rights of every individual are protected and upheld; thus, I believe that I would be an asset to your legal team. I am confident that my experience both in and out of the courtroom will allow me to add value to your company.
The following is a list of my qualifications:
I am experienced in performing research, interviewing clients and witnesses, and drafting legal documentation including affidavits and pleadings.
Have worked extensively with Microsoft Suite (Word, PowerPoint, Excel) and have experience with databases.
As well as I am proficient in utilizing Westlaw, Lexis, and Courtlink to locate new cases, statues, and regulations on the Federal and state level.
As a paralegal at my previous firm, I worked under several attorneys where my responsibilities included organizing plea agreements, sending discovery requests through email and U.S. mail, and maintaining contact with clients and witnesses.
It would be a pleasure to bring my enthusiasm, expertise, professionalism, work ethic, and integrity to your company. So If you have any additional questions please do not hesitate to contact me via email
Thank you for your time and consideration. I look forward to hearing from you soon.
Sincerely, Name, Email, Address, Contact#
Paralegal Cover Letter no Experience
My name is ________, I am writing to you today in regards to the open position of paralegal at your firm.
I have recently completed my Bachelor's degree in English literature and have been working for the past five years as a sales associate at Macy's department store. I enjoy caring for other people and it has enabled me to develop some excellent interpersonal skills.
An extremely hard worker, I excel at meeting deadlines and my organizational skills are top-notch. I can work well with others but also do very well working independently on tasks that require attention to detail.
The recent growth of your firm has encouraged me to apply for your open position as a paralegal. Also I am confident that my skills and abilities will make me a valuable addition to your team.
Would love to schedule a time for us to speak further about the position. I can be reached at (111) 555-1234 or [email protected].
Thank you for taking the time to review my resume.
Entry Level Paralegal Cover Letter
Dear HR Manager,
I am writing this letter to express my interest in becoming a paralegal for your company. I have recently completed the required coursework at _________ College, earning an AAS degree in Paralegal Studies. Attached is my resume for consideration and I will be glad to answer any additional questions you might have.
My goal is to work as a paralegal for a large firm. I am seeking a position with an organization where my years of customer service experience can be used in a quality environment and provide me with opportunities for professional growth. So If given the opportunity, I will work diligently to ensure the effectiveness of your legal team.
In that spirit, I enclose my resume for your consideration. I look forward to meeting with you to discuss this opportunity in greater detail. Thank you for your time and consideration.
Sincerely, Name, Email
Cover Letter for Paralegal Job
I am writing in response to your advertisement for a paralegal. I have had experience as a paralegal at several different law firms including _________, __________, and Levis & Korshak Law Firm. Additionally, my education includes an Associate of Arts degree from the University of South Carolina with a major in Criminal Justice, a Bachelor of Arts degree from University of South Carolina with a major in Political Science and a Juris Doctorate degree from the University of South Carolina School of Law.
I have extensive experience in all legal areas including torts, insurance law, creditors rights, real estate transactions, copyright violation, contract negotiation and drafting. I am also familiar with federal, state and local court proceedings including pre-trial hearings, trial preparation sessions for both magistrate and jury trials.
As you can see from my resume I have worked with many types of clients including the Department of Social Services, insurance companies, banks, retail stores and individuals. I am familiar with investigations involving fraud cases as well as other criminal charges. Additionally, I have handled civil cases involving everything from property disputes to bankruptcy proceedings.
My current work as a paralegal is primarily for a bank with which I am responsible for all real estate transactions. In this position, I am involved in closings, title review, and the preparation of loan documents.
As a person who thrives on being a part of a team, I would be happy to come in for a personal interview at your convenience.
Sample Paralegal Cover Letter
I am writing this letter in application for the vacant position of paralegal. I was very impressed by your advertisement on [website name].
Also I have 2 years of experience in the legal field, working under [mention name/s of employer]. Therefore Confident that my skills can be useful in providing excellent service to your clients.
My goal is to work hard with good understanding and communication skills in order to become a fully-fledged paralegal. Thank you for your time and consideration.
Sincerely, Name; Address; Phone number; Email address; Social media links (eg. LinkedIn);
For More: Creative Cover Letter Objective Ideas
Cover Letter for Paralegal Position
I am interested in applying for a paralegal position at your firm. Looking to get my foot in the door and would like to discuss with you your future openings for a paralegal. I believe I am the candidate who fits the following criteria:
Bachelor's degree
Certified Legal Assistant (CLA) Certificate through the National Association of Legal Assistants (NALA)
Also Three years experience in a general office setting, with emphasis on word processing and data entry
Proficient computer skills, including Word, Excel, Outlook, PowerPoint, and FrontPage. Knowledge of Westlaw and PACER.
I am interested in learning more about your firm's needs for the present and future, as I would like to contribute my knowledge of legal matters pertaining to your industry. Therefore I have attached my resume and writing samples below. If you would like more information about me, so please let me know what to provide and I will be happy to fill out a questionnaire or speak with you over the phone. Please contact me at (111) 111-1111 or by email at [email protected] if you are interested in discussing this matter.
Thank you for your time and a great opportunity.
Best, Name, Email
Paralegal Cover Letter Sample
Respected Sir,
I am writing this letter to apply for the post of paralegal at your firm. I have finished my bachelor's degree and currently working as a legal assistant.
Sir, I would like to bring to your notice that I possess great communication skills and always take responsibility for every task assigned to me. I possess all other attributes and skills required by a paralegal. Feel that I am the right candidate for this post and can give my 100% to your firm.
I would appreciate it if you could consider my application and notify me at the earliest. Thanking You.
Best Regards, Name; Address; Phone number; Email address; Social media links (eg. LinkedIn);
I hope this guide has been helpful for you as you work to create your own paralegal cover letter. Remember, it's important to tailor each letter specifically to the position and company that you are applying to. Above all, be enthusiastic and positive! The paralegal cover letter example we've provided should help get you started. So If you have any questions or need additional assistance, please don't hesitate to comment below or share this post with others. Best of luck on your job search! And be sure to share this post with your friends and fellow paralegals–so let's help everyone find their dream job.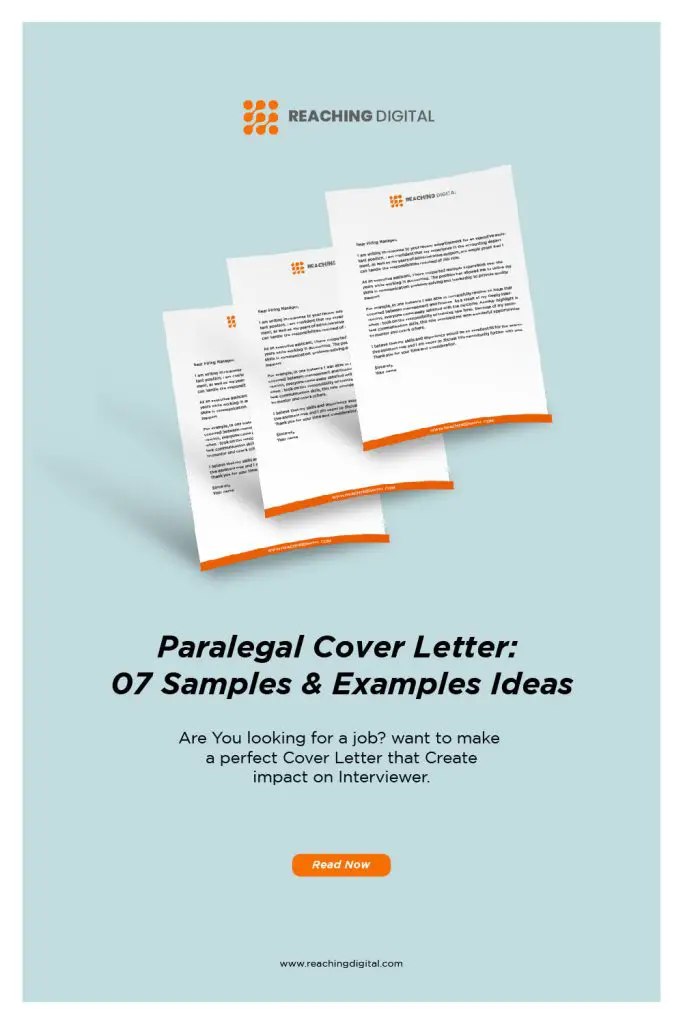 You may also like

Cover Letter for Ph.D. Application: 5 Template ideas

Customer Service Representative Cover Letter: 09...

Waitress Cover Letter: 07 Template Ideas

Computer Science Cover Letter: 05 Ready Template

9 Best Associate Cover Letter Samples [Free]

Creative Inspiring Cover Letters: 7+ Template
About the author.
Jessica William
Leave a comment x.
Save my name, email, and website in this browser for the next time I comment.