Tips & Tricks
Templates Packs
Training Programs
Bundle & Save!
How to Summarize Presentations
Home > How To Present > How to Summarize
Does your audience seem lost during your long presentation? You can see this happening when you ask them to recall a point and they look blank.
Do they find it difficult to put your information in context?
Chances are you may not be summarizing your points frequently enough. We will see how you can summarize your presentation effectively to enhance audience retention.
Let's start by asking a simple question:
When should you summarize your presentation?
Did I hear you saying, "Towards the end"?
Wrong! You would've lost your audience by then.
An effective presentation habit is to summarize at the end of every major point. It's all the more important to do so, if your presentation is long and content-rich.
The logic behind summarizing your points:
Do you remember building a tower with playing cards when you were a child? Every time you added a new card on top, you carefully adjusted and aligned all the other cards under it. It helped you build a tall and stable tower.
The principle applies to your presentations as well. Every new point puts a strain on memory of what was covered earlier. Unless you summarize periodically, your audience can't remember your points beyond a point (pun intended).
How to summarize your presentation in a structured way?
This simple structure allows you to refresh the memory of your audience periodically. It helps your audience to place new information in the right context. It lays the foundation for an effective 'call to action'. Remember, the call to action and WIIFM has been set right at the start.
Example of an effective presentation summary:
A good summary is short and quick. Here is an example of a sales presentation summary:
"I understood that your main requirements in choosing a home loan are – interest rates, long tenure and high loan amount. So far, we saw how our scheme offers you a highly competitive rate and the longest tenure for your age. Now, we'll talk about loan amount."
This summary gives you a chance to showcase your main benefits over and over again- in a reassuring way. It maximizes your opportunity to win business in a sales presentation.
Some creative ways to summarize your presentations:
Here are 3 creative ways to summarize your presentations.
1. Use a quiz format to summarize a training presentation:
There can be many variations to this. Some presenters choose to show just the title and ask the participants to recollect the content. Some choose to use fill in the blanks format or true/false format to test the memory. Whichever way you choose, summarize your training presentations frequently.
We have found Quizzes to be an extremely effective way to summarize in a training. That is why we put together 45 different types of PowerPoint Quiz templates in a pack. Just select the type of quiz and add your questions. You can find out more about the Quiz pack and download it here:
2. Use a mid-session Q & A to summarize your business presentation:
We've seen presenters disguise their summary like – "We've covered Point A, Point B, and Point C – are there any questions in what we've covered so far?"
This helps them recollect their main benefits without sounding repetitive or pushy.
3. Repeat some key images and terms from earlier points to serve as memory hook:
Repeating images and key terms on your slides help you recount your points automatically. So, constantly referring to your earlier segments is a useful practice.
Finally, to summarize this article on 'How to Summarize' your presentation…
Summarize at the end of every major point.
Use your agenda slide to serve as guidepost.
Let your summary be quick and short
Explore creative ways to recall your key points
Return to: How to Present Main Page
Return to Top of How to Summarize Page
Share these tips & tutorials
Get 25 creative powerpoint ideas mini course & members-only tips & offers. sign up for free below:.
Have a language expert improve your writing
Run a free plagiarism check in 10 minutes, generate accurate citations for free.
Knowledge Base
Working with sources
How to Write a Summary | Guide & Examples
How to Write a Summary | Guide & Examples
Published on November 23, 2020 by Shona McCombes . Revised on May 31, 2023.
Summarizing , or writing a summary, means giving a concise overview of a text's main points in your own words. A summary is always much shorter than the original text.
There are five key steps that can help you to write a summary:
Read the text
Break it down into sections
Identify the key points in each section
Write the summary
Check the summary against the article
Writing a summary does not involve critiquing or evaluating the source . You should simply provide an accurate account of the most important information and ideas (without copying any text from the original).
Table of contents
When to write a summary, step 1: read the text, step 2: break the text down into sections, step 3: identify the key points in each section, step 4: write the summary, step 5: check the summary against the article, other interesting articles, frequently asked questions about summarizing.
There are many situations in which you might have to summarize an article or other source:
As a stand-alone assignment to show you've understood the material
To keep notes that will help you remember what you've read
To give an overview of other researchers' work in a literature review
When you're writing an academic text like an essay , research paper , or dissertation , you'll integrate sources in a variety of ways. You might use a brief quote to support your point, or paraphrase a few sentences or paragraphs.
But it's often appropriate to summarize a whole article or chapter if it is especially relevant to your own research, or to provide an overview of a source before you analyze or critique it.
In any case, the goal of summarizing is to give your reader a clear understanding of the original source. Follow the five steps outlined below to write a good summary.
Scribbr Citation Checker New
The AI-powered Citation Checker helps you avoid common mistakes such as:
Missing commas and periods
Incorrect usage of "et al."
Ampersands (&) in narrative citations
Missing reference entries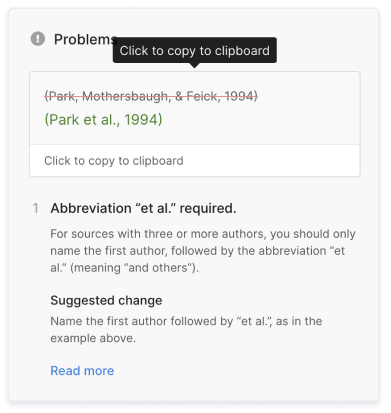 You should read the article more than once to make sure you've thoroughly understood it. It's often effective to read in three stages:
Scan the article quickly to get a sense of its topic and overall shape.
Read the article carefully, highlighting important points and taking notes as you read.
Skim the article again to confirm you've understood the key points, and reread any particularly important or difficult passages.
There are some tricks you can use to identify the key points as you read:
Start by reading the abstract . This already contains the author's own summary of their work, and it tells you what to expect from the article.
Pay attention to headings and subheadings . These should give you a good sense of what each part is about.
Read the introduction and the conclusion together and compare them: What did the author set out to do, and what was the outcome?
To make the text more manageable and understand its sub-points, break it down into smaller sections.
If the text is a scientific paper that follows a standard empirical structure, it is probably already organized into clearly marked sections, usually including an introduction , methods , results , and discussion .
Other types of articles may not be explicitly divided into sections. But most articles and essays will be structured around a series of sub-points or themes.
Now it's time go through each section and pick out its most important points. What does your reader need to know to understand the overall argument or conclusion of the article?
Keep in mind that a summary does not involve paraphrasing every single paragraph of the article. Your goal is to extract the essential points, leaving out anything that can be considered background information or supplementary detail.
In a scientific article, there are some easy questions you can ask to identify the key points in each part.
If the article takes a different form, you might have to think more carefully about what points are most important for the reader to understand its argument.
In that case, pay particular attention to the thesis statement —the central claim that the author wants us to accept, which usually appears in the introduction—and the topic sentences that signal the main idea of each paragraph.
Now that you know the key points that the article aims to communicate, you need to put them in your own words.
To avoid plagiarism and show you've understood the article, it's essential to properly paraphrase the author's ideas. Do not copy and paste parts of the article, not even just a sentence or two.
The best way to do this is to put the article aside and write out your own understanding of the author's key points.
Examples of article summaries
Let's take a look at an example. Below, we summarize this article , which scientifically investigates the old saying "an apple a day keeps the doctor away."
Davis et al. (2015) set out to empirically test the popular saying "an apple a day keeps the doctor away." Apples are often used to represent a healthy lifestyle, and research has shown their nutritional properties could be beneficial for various aspects of health. The authors' unique approach is to take the saying literally and ask: do people who eat apples use healthcare services less frequently? If there is indeed such a relationship, they suggest, promoting apple consumption could help reduce healthcare costs.
The study used publicly available cross-sectional data from the National Health and Nutrition Examination Survey. Participants were categorized as either apple eaters or non-apple eaters based on their self-reported apple consumption in an average 24-hour period. They were also categorized as either avoiding or not avoiding the use of healthcare services in the past year. The data was statistically analyzed to test whether there was an association between apple consumption and several dependent variables: physician visits, hospital stays, use of mental health services, and use of prescription medication.
Although apple eaters were slightly more likely to have avoided physician visits, this relationship was not statistically significant after adjusting for various relevant factors. No association was found between apple consumption and hospital stays or mental health service use. However, apple eaters were found to be slightly more likely to have avoided using prescription medication. Based on these results, the authors conclude that an apple a day does not keep the doctor away, but it may keep the pharmacist away. They suggest that this finding could have implications for reducing healthcare costs, considering the high annual costs of prescription medication and the inexpensiveness of apples.
However, the authors also note several limitations of the study: most importantly, that apple eaters are likely to differ from non-apple eaters in ways that may have confounded the results (for example, apple eaters may be more likely to be health-conscious). To establish any causal relationship between apple consumption and avoidance of medication, they recommend experimental research.
An article summary like the above would be appropriate for a stand-alone summary assignment. However, you'll often want to give an even more concise summary of an article.
For example, in a literature review or meta analysis you may want to briefly summarize this study as part of a wider discussion of various sources. In this case, we can boil our summary down even further to include only the most relevant information.
Using national survey data, Davis et al. (2015) tested the assertion that "an apple a day keeps the doctor away" and did not find statistically significant evidence to support this hypothesis. While people who consumed apples were slightly less likely to use prescription medications, the study was unable to demonstrate a causal relationship between these variables.
Citing the source you're summarizing
When including a summary as part of a larger text, it's essential to properly cite the source you're summarizing. The exact format depends on your citation style , but it usually includes an in-text citation and a full reference at the end of your paper.
You can easily create your citations and references in APA or MLA using our free citation generators.
APA Citation Generator MLA Citation Generator
Finally, read through the article once more to ensure that:
You've accurately represented the author's work
You haven't missed any essential information
The phrasing is not too similar to any sentences in the original.
If you're summarizing many articles as part of your own work, it may be a good idea to use a plagiarism checker to double-check that your text is completely original and properly cited. Just be sure to use one that's safe and reliable.
If you want to know more about ChatGPT, AI tools , citation , and plagiarism , make sure to check out some of our other articles with explanations and examples.
ChatGPT vs human editor
ChatGPT citations
Is ChatGPT trustworthy?
Using ChatGPT for your studies
What is ChatGPT?
Chicago style
Paraphrasing
 Plagiarism
Types of plagiarism
Self-plagiarism
Avoiding plagiarism
Academic integrity
Consequences of plagiarism
Common knowledge
A summary is a short overview of the main points of an article or other source, written entirely in your own words. Want to make your life super easy? Try our free text summarizer today!
A summary is always much shorter than the original text. The length of a summary can range from just a few sentences to several paragraphs; it depends on the length of the article you're summarizing, and on the purpose of the summary.
You might have to write a summary of a source:
As a stand-alone assignment to prove you understand the material
For your own use, to keep notes on your reading
To provide an overview of other researchers' work in a literature review
In a paper , to summarize or introduce a relevant study
To avoid plagiarism when summarizing an article or other source, follow these two rules:
Write the summary entirely in your own words by paraphrasing the author's ideas.
Cite the source with an in-text citation and a full reference so your reader can easily find the original text.
An abstract concisely explains all the key points of an academic text such as a thesis , dissertation or journal article. It should summarize the whole text, not just introduce it.
An abstract is a type of summary , but summaries are also written elsewhere in academic writing . For example, you might summarize a source in a paper , in a literature review , or as a standalone assignment.
All can be done within seconds with our free text summarizer .
Cite this Scribbr article
If you want to cite this source, you can copy and paste the citation or click the "Cite this Scribbr article" button to automatically add the citation to our free Citation Generator.
McCombes, S. (2023, May 31). How to Write a Summary | Guide & Examples. Scribbr. Retrieved November 21, 2023, from https://www.scribbr.com/working-with-sources/how-to-summarize/
Is this article helpful?
Shona McCombes
Other students also liked, how to paraphrase | step-by-step guide & examples, how to quote | citing quotes in apa, mla & chicago, the basics of in-text citation | apa & mla examples.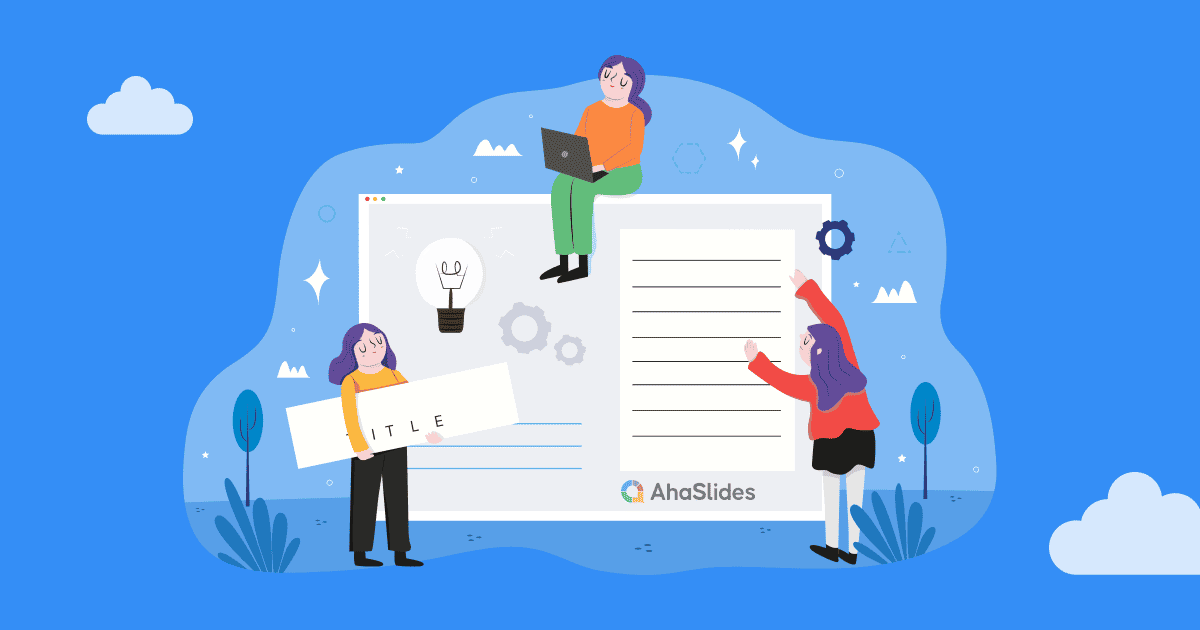 How To Write A Presentation 101: A Step-by-Step Guide with Best Examples
Jane Ng • 02 Nov 2023 • 8 min read
Is it difficult to start of presentation? You're standing before a room full of eager listeners, ready to share your knowledge and captivate their attention. But where do you begin? How do you structure your ideas and convey them effectively?
Take a deep breath, and fear not! In this article, we'll provide a road map on how to write a presentation covering everything from crafting a script to creating an engaging introduction.
So, let's dive in!
Table of Contents
What is a presentation , what should be in a powerful presentation.
How To Write A Presentation Script
How to Write A Presentation Introduction 
Key Takeaways
Tips for better presentation.
How to start a presentation
How to introduce yourself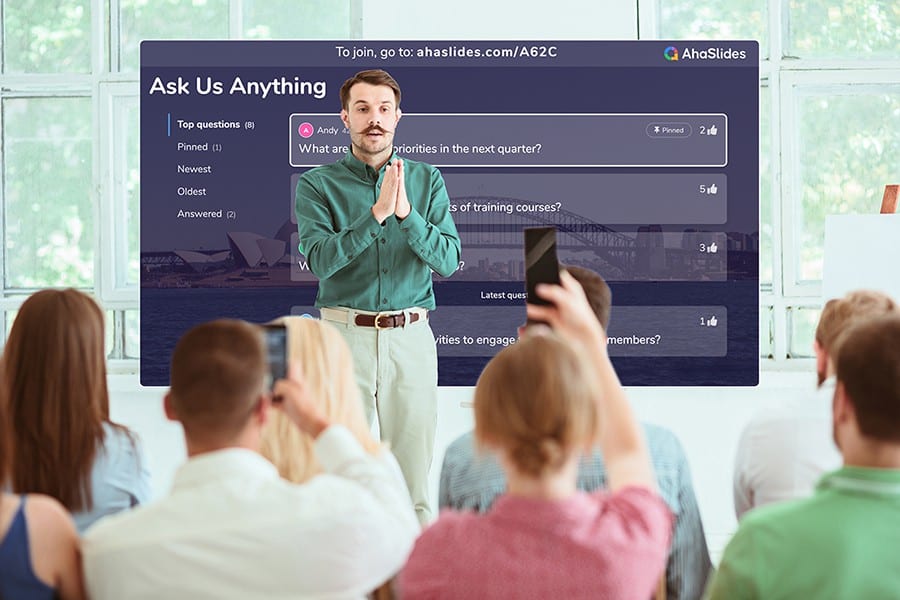 Start in seconds.
Get free templates for your next interactive presentation. Sign up for free and take what you want from the template library!
Presentations are all about connecting with your audience.
Presenting is a fantastic way to share information, ideas, or arguments with your audience. Think of it as a structured approach to effectively convey your message. And you've got options such as slideshows, speeches, demos, videos, and even multimedia presentations!
The purpose of a presentation can vary depending on the situation and what the presenter wants to achieve.
In the business world, presentations are commonly used to pitch proposals, share reports, or make sales pitches. 
In educational settings, presentations are a go-to for teaching or delivering engaging lectures. 
For conferences, seminars, and public events—presentations are perfect for dishing out information, inspiring folks, or even persuading the audience.
That sounds brilliant. But, how to write a presentation?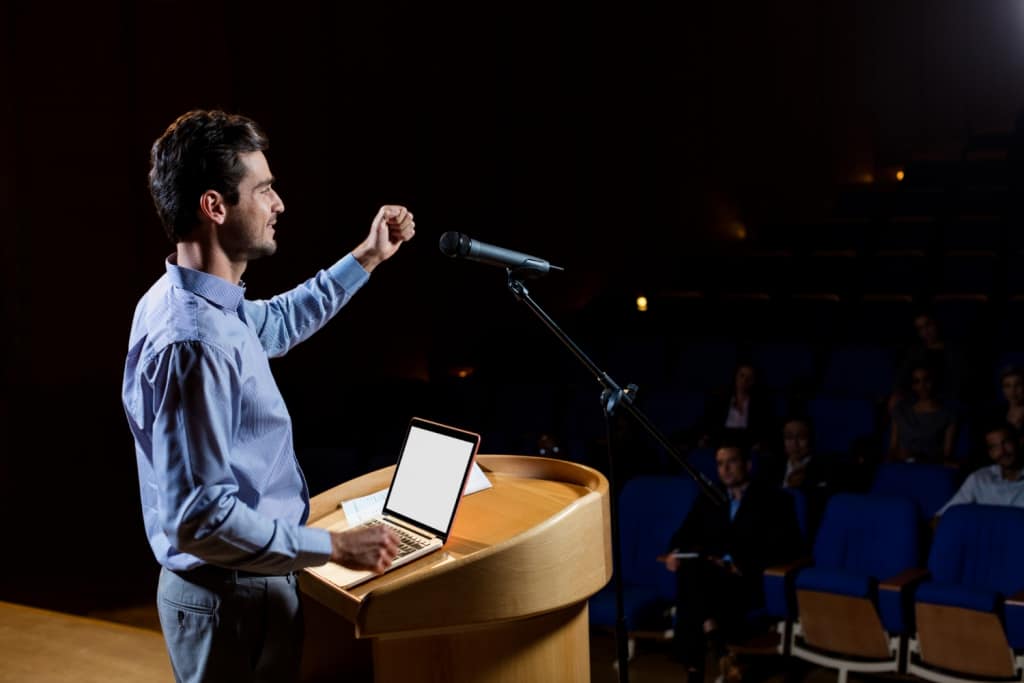 How To Write A Presentation? What should be in a powerful presentation? A great presentation encompasses several key elements to captivate your audience and effectively convey your message. Here's what you should consider including in a winning presentation:
Clear and Engaging Introduction: Start your presentation with a bang! Hook your audience's attention right from the beginning by using a captivating story, a surprising fact, a thought-provoking question, or a powerful quote. Clearly state the purpose of your presentation and establish a connection with your listeners.
Well-Structured Content: Organize your content logically and coherently. Divide your presentation into sections or main points and provide smooth transitions between them. Each section should flow seamlessly into the next, creating a cohesive narrative. Use clear headings and subheadings to guide your audience through the presentation.
Compelling Visuals: Incorporate visual aids, such as images, graphs, or videos, to enhance your presentation. Make sure your visuals are visually appealing, relevant, and easy to understand. Use a clean and uncluttered design with legible fonts and appropriate color schemes.
Engaging Delivery: Pay attention to your delivery style and body language. You should maintain eye contact with your audience, use gestures to emphasize key points, and vary your tone of voice to keep the presentation dynamic. 
Clear and Memorable Conclusion: Leave your audience with a lasting impression by providing a strong closing statement, a call to action, or a thought-provoking question. Make sure your conclusion ties back to your introduction and reinforces the core message of your presentation.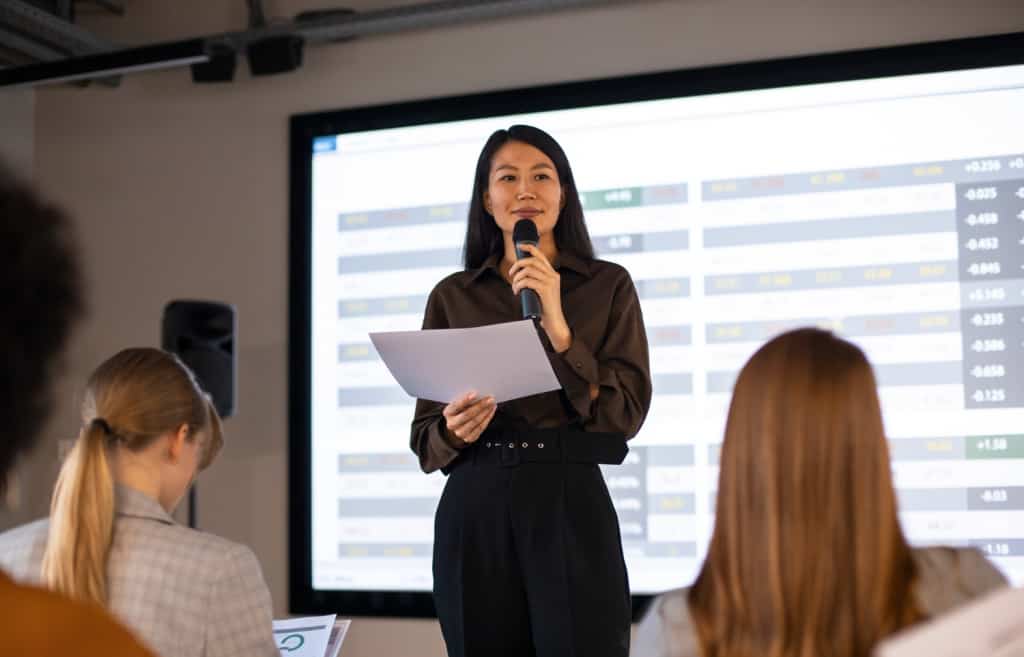 How To Write A Presentation Script (With Examples)
To successfully convey your message to your audience, you must carefully craft and organize your presentation script. Here are steps on how to write a presentation script:
1/ Understand Your Purpose and Audience:
Clarify the purpose of your presentation. Are you informing, persuading, or entertaining?
Identify your target audience and their knowledge level, interests, and expectations.
Define what presentation format you want to use
2/ Outline the Structure of Your Presentation:
Strong opening: .
Start with an engaging opening that grabs the audience's attention and introduces your topic. Some types of openings you can use are:
Start with a Thought-Provoking Question: "Have you ever…?"
Begin with a Surprising Fact or Statistic: "Did you know that….?"
Use a Powerful Quote: "As Maya Angelou once said,…."
Tell a Compelling Story : "Picture this: You're standing at…."
Start with a Bold Statement: "In the fast-paced digital age…."
Main Points:
Clearly state your main points or key ideas that you will discuss throughout the presentation.
Clearly State the Purpose and Main Points: Example: "In this presentation, we will delve into three key areas. First,… Next,… Finally,…. we'll discuss…."
Provide Background and Context: Example: "Before we dive into the details, let's understand the basics of….."
Present Supporting Information and Examples: Example: "To illustrate…., let's look at an example. In,….."
Address Counterarguments or Potential Concerns: Example: "While…, we must also consider… ."
Recap Key Points and Transition to the Next Section: Example: "To summarize, we've… Now, let's shift our focus to…"
Remember to organize your content logically and coherently, ensuring smooth transitions between sections.
Ending:
You can conclude with a strong closing statement summarizing your main points and leaving a lasting impression. Example: "As we conclude our presentation, it's clear that… By…., we can…."
3/ Craft Clear and Concise Sentences:
Once you've outlined your presentation, you need to edit your sentences. Use clear and straightforward language to ensure your message is easily understood.
Alternatively, you can break down complex ideas into simpler concepts and provide clear explanations or examples to aid comprehension.
4/ Use Visual Aids and Supporting Materials:
Use supporting materials such as statistics, research findings, or real-life examples to back up your points and make them more compelling.
Example: "As you can see from this graph,… This demonstrates…."
5/ Include Engagement Techniques:
Incorporate interactive elements to engage your audience, such as Q&A sessions , conducting live polls , or encouraging participation.
6/ Rehearse and Revise:
Practice delivering your presentation script to familiarize yourself with the content and improve your delivery.
Revise and edit your script as needed, removing any unnecessary information or repetitions.
7/ Seek Feedback:
You can share your script or deliver a practice presentation to a trusted friend, colleague, or mentor to gather feedback on your script and make adjustments accordingly.
More on Script Presentation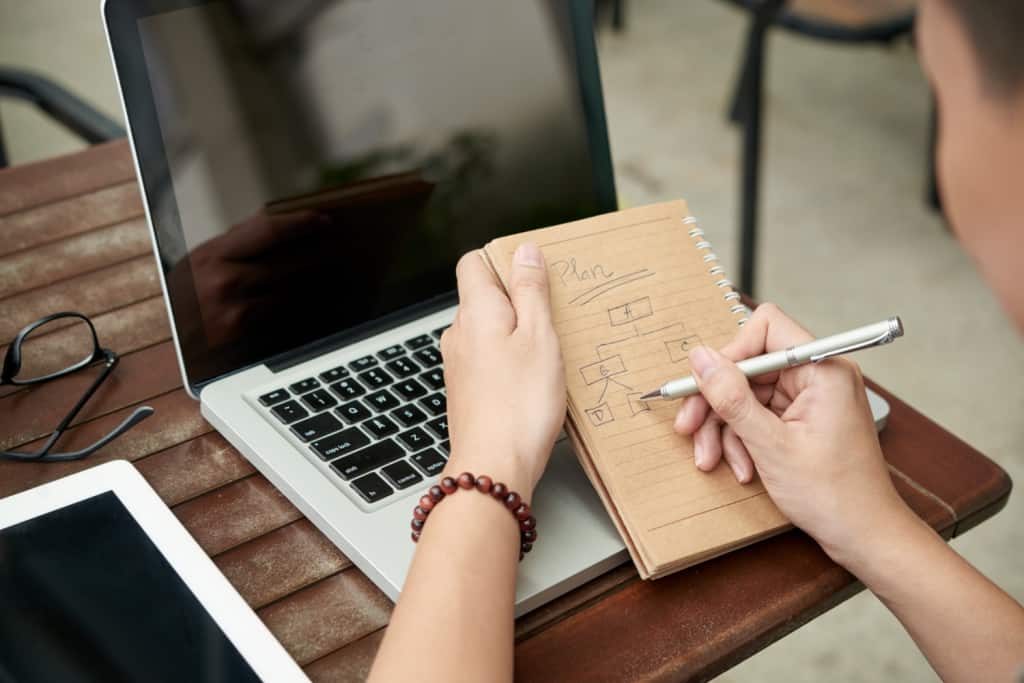 How to Write A Presentation Introduction with Examples
How to write presentations that are engaging and visually appealing? Looking for introduction ideas for the presentation? As mentioned earlier, once you have completed your script, it's crucial to focus on editing and refining the most critical element—the opening of your presentation – the section that determines whether you can captivate and retain your audience's attention right from the start. 
Here is a guide on how to craft an opening that grabs your audience's attention from the very first minute:
1/ Start with a Hook
To begin, you can choose from five different openings mentioned in the script based on your desired purpose and content. Alternatively, you can opt for the approach that resonates with you the most, and instills your confidence. Remember, the key is to choose a starting point that aligns with your objectives and allows you to deliver your message effectively.
2/ Establish Relevance and Context:
Then you should establish the topic of your presentation and explain why it is important or relevant to your audience. Connect the topic to their interests, challenges, or aspirations to create a sense of relevance.
3/ State the Purpose
Clearly articulate the purpose or goal of your presentation. Let the audience know what they can expect to gain or achieve by listening to your presentation.
4/ Preview Your Main Points
Give a brief overview of the main points or sections you will cover in your presentation. It helps the audience understand the structure and flow of your presentation and creates anticipation.
5/ Establish Credibility
Share your expertise or credentials related to the topic to build trust with the audience, such as a brief personal story, relevant experience, or mentioning your professional background.
6/ Engage Emotionally
Connect emotional levels with your audience by appealing to their aspirations, fears, desires, or values. They help create a deeper connection and engagement from the very beginning.
Make sure your introduction is concise and to the point. Avoid unnecessary details or lengthy explanations. Aim for clarity and brevity to maintain the audience's attention.
For example, Topic: Work-life balance
"Good morning, everyone! Can you imagine waking up each day feeling energized and ready to conquer both your personal and professional pursuits? Well, that's exactly what we'll explore today – the wonderful world of work-life balance. In a fast-paced society where work seems to consume every waking hour, it's vital to find that spot where our careers and personal lives harmoniously coexist. Throughout this presentation, we'll dive into practical strategies that help us achieve that coveted balance, boost productivity, and nurture our overall well-being. 
But before we dive in, let me share a bit about my journey. As a working professional and a passionate advocate for work-life balance, I have spent years researching and implementing strategies that have transformed my own life. I am excited to share my knowledge and experiences with all of you today, with the hope of inspiring positive change and creating a more fulfilling work-life balance for everyone in this room. So, let's get started!"
Check out: How to Start a Presentation?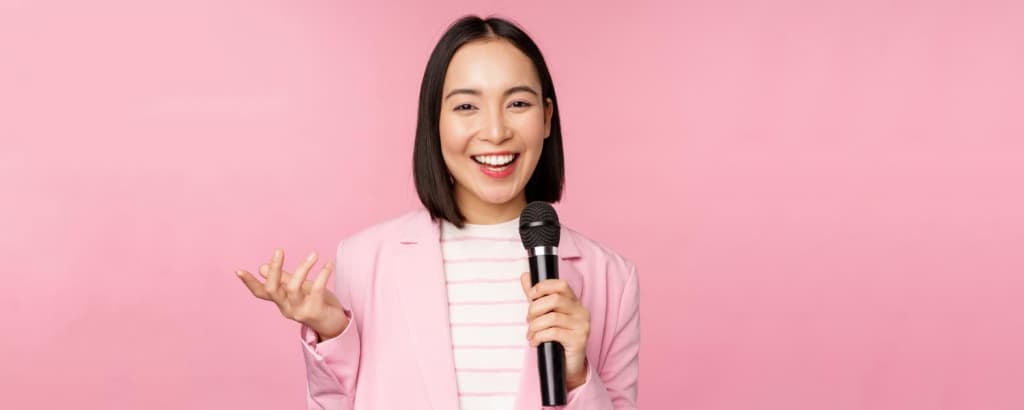 Whether you're a seasoned speaker or new to the stage, understanding how to write a presentation that conveys your message effectively is a valuable skill. By following the steps in this guide, you can become a captivating presenter and make your mark in every presentation you deliver.
Additionally, AhaSlides can significantly enhance your presentation's impact. With AhaSlides, you can use live polls, quizzes, and word cloud to turn your presentation into an engaging and interactive experience. Let's take a moment to explore our vast template library !
Frequently Asked Questions
1/ how to write a presentation step by step .
You can refer to our step-by-step guide on How To Write A Presentation Script:
Understand Your Purpose and Audience
Outline the Structure of Your Presentation
Craft Clear and Concise Sentences
Use Visual Aids and Supporting Material
Include Engagement Techniques
Rehearse and Revise
Seek Feedback
2/ How do you start a presentation?
You can start with an engaging opening that grabs the audience's attention and introduces your topic. Consider using one of the following approaches:
3/ What are the five parts of a presentation?
When it comes to presentation writing, a typical presentation consists of the following five parts:
Introduction: Capturing the audience's attention, introducing yourself, stating the purpose, and providing an overview.
Main Body: Presenting main points, evidence, examples, and arguments.
Visual Aids: Using visuals to enhance understanding and engage the audience.
Conclusion: Summarizing main points, restating key message, and leaving a memorable takeaway or call to action.
Q&A or Discussion: Optional part for addressing questions and encouraging audience participation.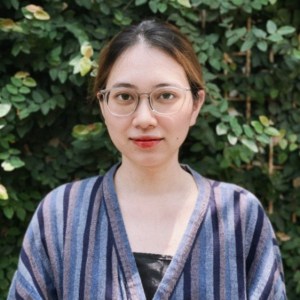 A writer who wants to create practical and valuable content for the audience
More from AhaSlides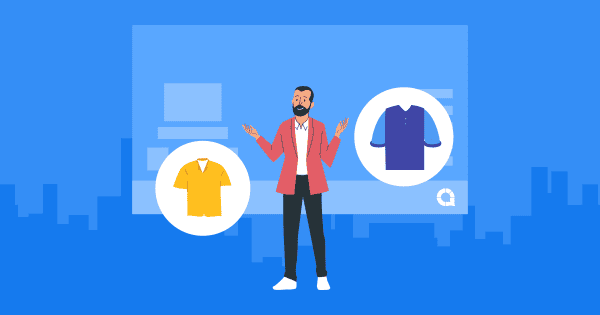 Home Blog Business Executive Summary: A Guide to Writing and Presentation
Executive Summary: A Guide to Writing and Presentation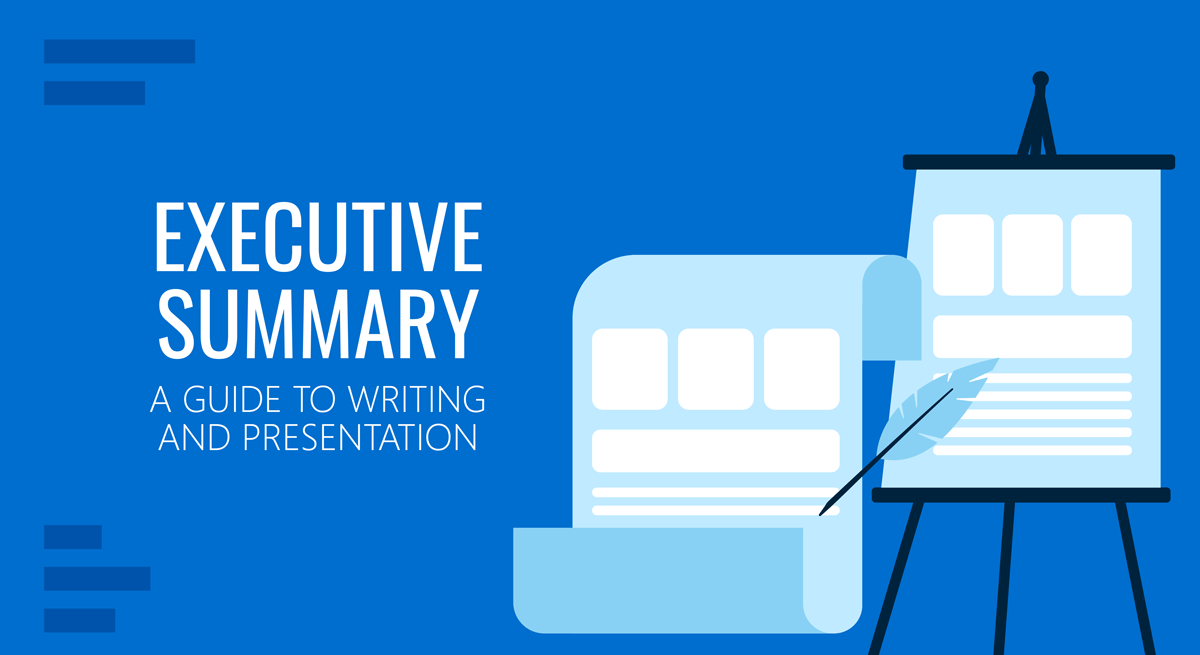 Executive summaries precede nearly every type of business document. Despite being the shortest part, they often leave the biggest impression on the reader. Yet, many writers choose to treat an executive summary as an afterthought. (And some presenters too!). Why? Because writing an executive summary is a seemingly hard task. But our mission is to prove otherwise!
What is an Executive Summary?
An executive summary is a preface to a larger business document such as an annual report, business plan, or whitepaper, succinctly summarizing the key discussion points. Effectively, an executive summary offers a preview of the content, so that the reader could form a baseline opinion about the contents prior to diving into a deep reading session.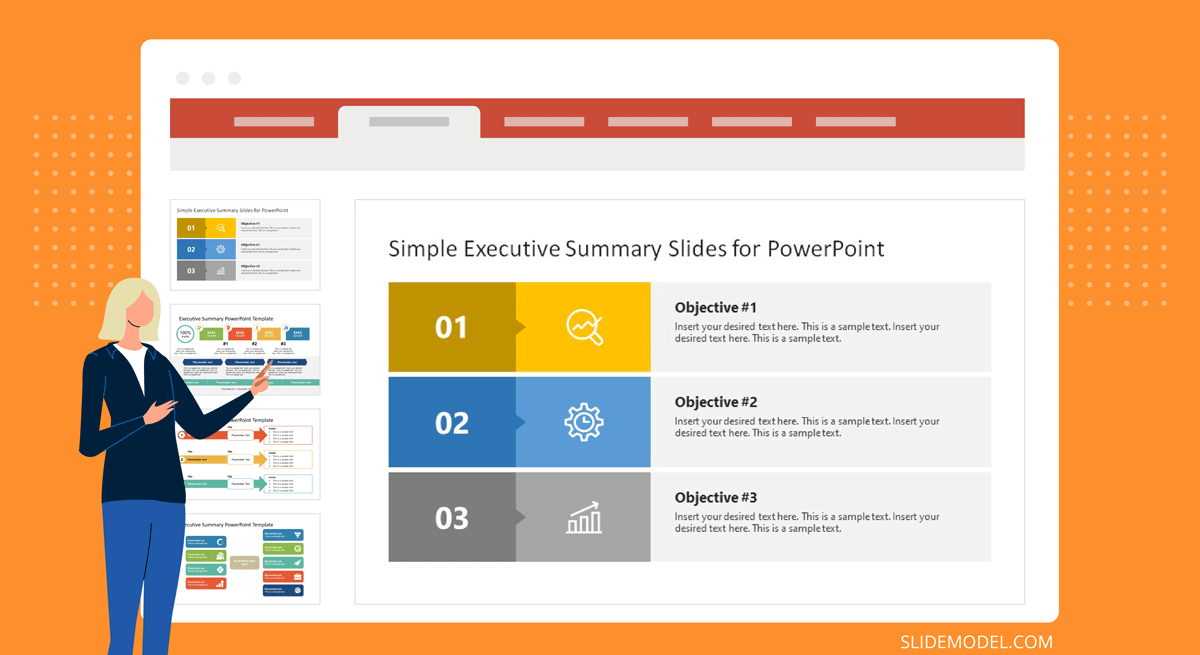 The University of Arizona offers a more elaborated executive summary definition which also notes that an executive summary should:
Restate the purpose of the follow-up document
Highlight the key discussion points and most notable facts
Relay any notable results, conclusions, or recommendations
Though an executive summary is just a foreword to a bigger report, it's one of the most labor-intensive items as you have to condense a lot of information into a high-level summary. Oftentimes, an executive summary also gets prominent placement in the follow-up presentation, done on the report.
Executive Summary Examples
Nearly every type of business document will have an executive summary. Some are better structured and presented than others. But it's not just limited to business documents. Executive summaries are also used in scientific projects, articles, and education. Below are several admirable executive summary examples you may want to use as an inspiration for writing.
Accenture: Gaming: The Next Super Platform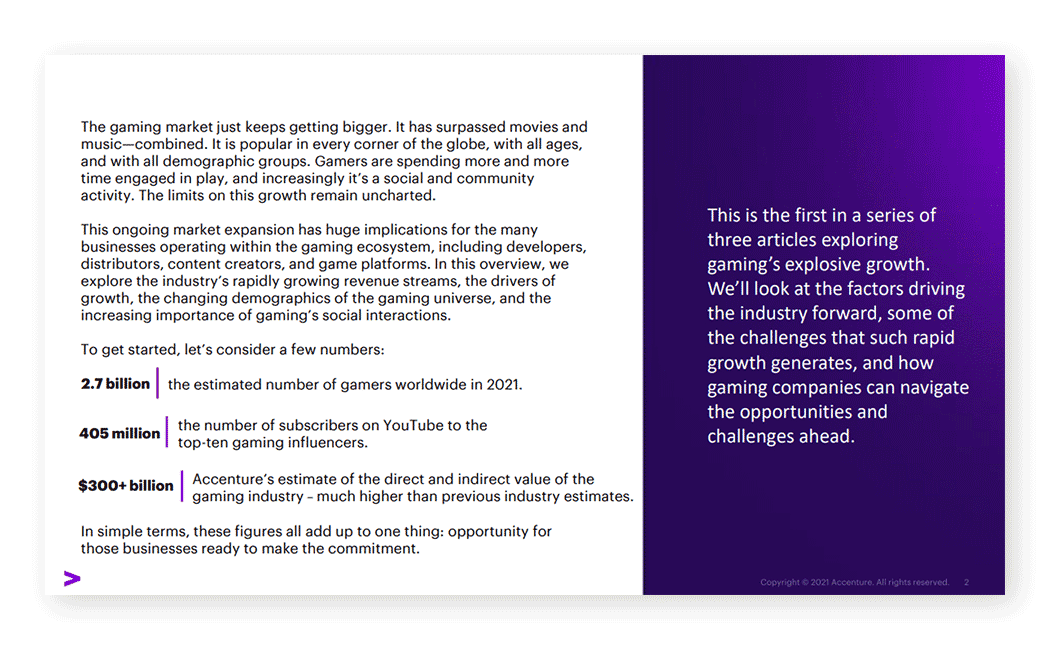 This executive summary for an industry report opens with some big quantifiable claims, clearly communicating the main agenda — describing the size and state of the global gaming market. The gaming industry is a huge market. The pullout texts on the sidebar further detail the scope of the document. Plus clarify for whom this report is intended.
IBM: Cost of a Data Breach Report 2020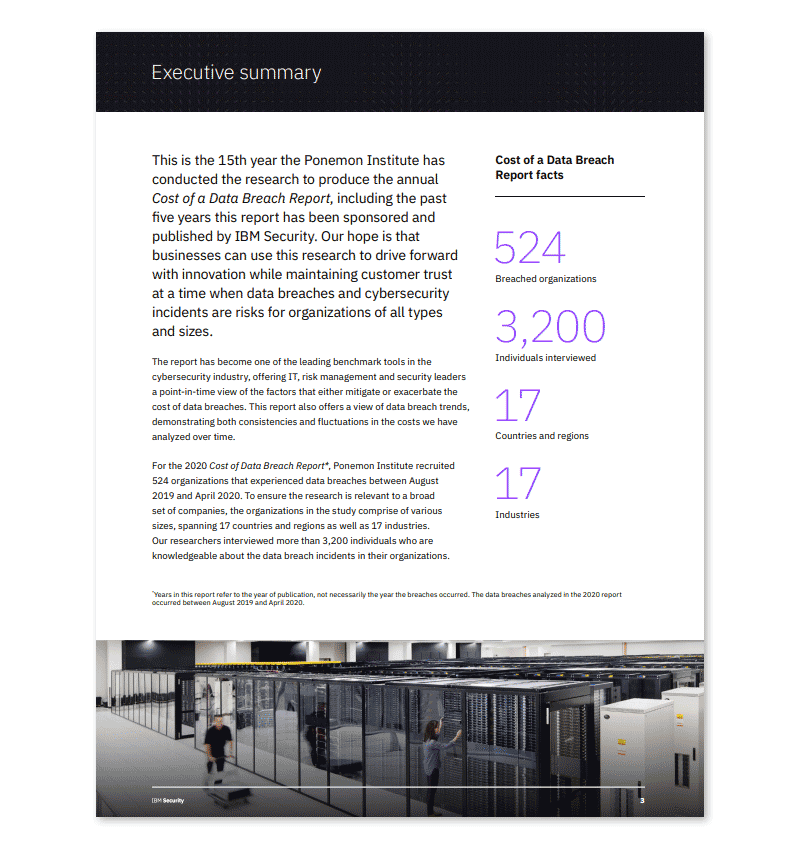 IBM conducts an annual joint report on cybersecurity with Ponemon Institute. They open the executive summary with a brief recap of their mission and past research. Then dwell on this year's findings and methodology. If you are writing an executive summary for a similarly massive original research, it's worth focusing more on your techniques for obtaining data and arriving at the conclusions as IBM did.
Deloitte Digital: Exploring the value of emotion-driven engagement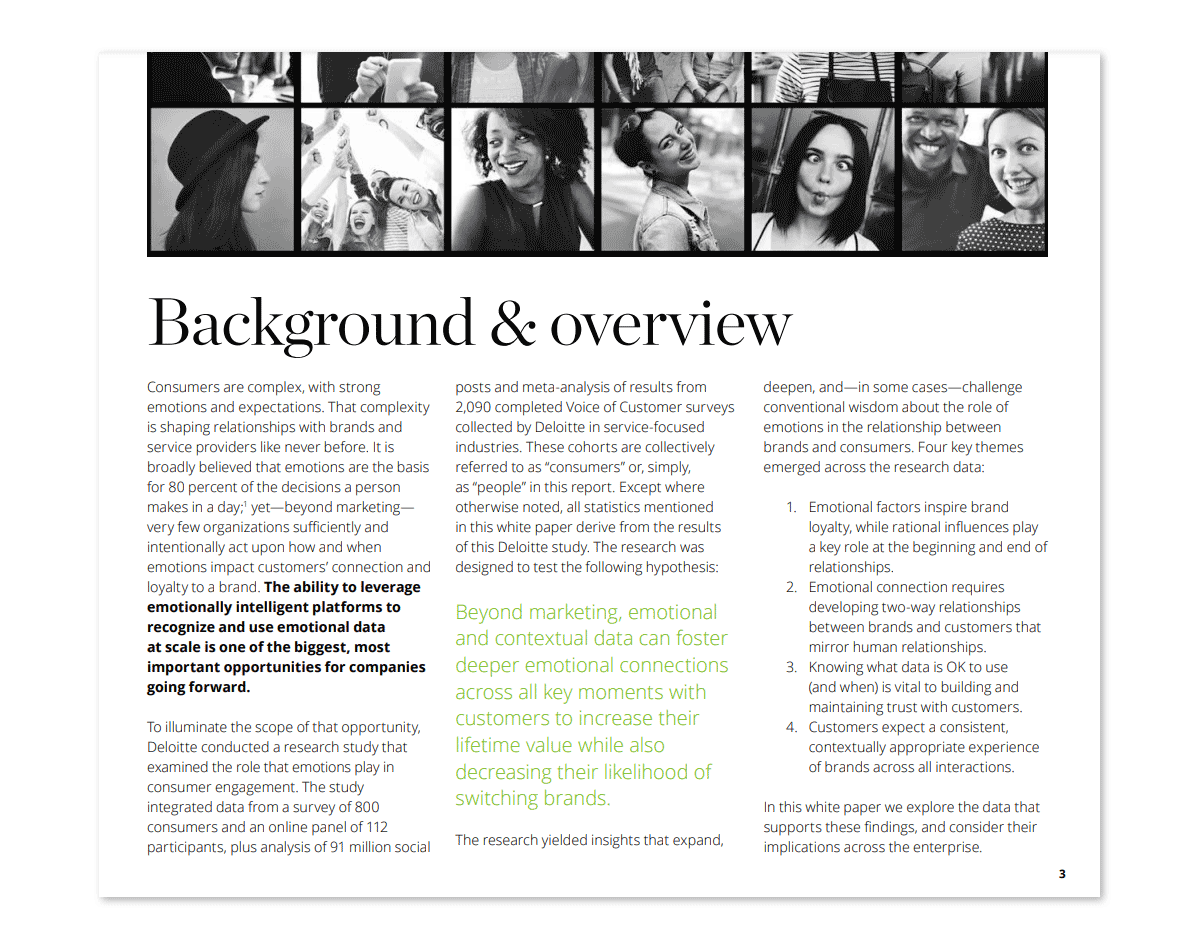 Deloitte selected a more narrative style for this executive summary, mixing some key data points and methodology with the core messaging of the report. This is a good example of structured data presentation. On one hand, you have an engaging narration flow. On the other, the summary covers all the important discussion points.
Executive Summary Format
As the above executive summary examples illustrated, there is no one fit-it-all format for writing an executive study. The best approach depends on your report type, purpose, and contents.
That being said, an executive summary needs to fulfill several earlier mentioned criteria — offer a preview, provide key information at glance, showcase any results, recommendations. That's what most readers expect to see on the first page after all.
The easiest way to approach writing is to draft a preliminary executive summary outline featuring the following subsections:
General introduction, explaining the key problems discussed
Main problem statement(s)
Selected findings or recommendations
The importance of discussed points
Since you'd also be likely working on presenting the executive summary to other stakeholders , it helps you keep the above structured as bullet points at first. So that you could easily transfer the main ideas to your executive summary PowerPoint slide .
How Long Should an Executive Summary Be?
As a rule of thumb, an executive summary should not go longer than one vertical page. That is an equivalent of 300-500 words, depending on the typeface. For longer reports, two pages (a horizontal split) may be acceptable. But remember, brevity is key. You are working on a trailer for a movie (the full report).
How to Write an Executive Summary: a 3-Step Framework
You can start with the aforementioned loose format and then adapt it to your document type. Remember, you don't need to follow all the recommendations to a T. Instead, mix some ideas to make your executive summary sound both professional and engaging. Here are several tips for that: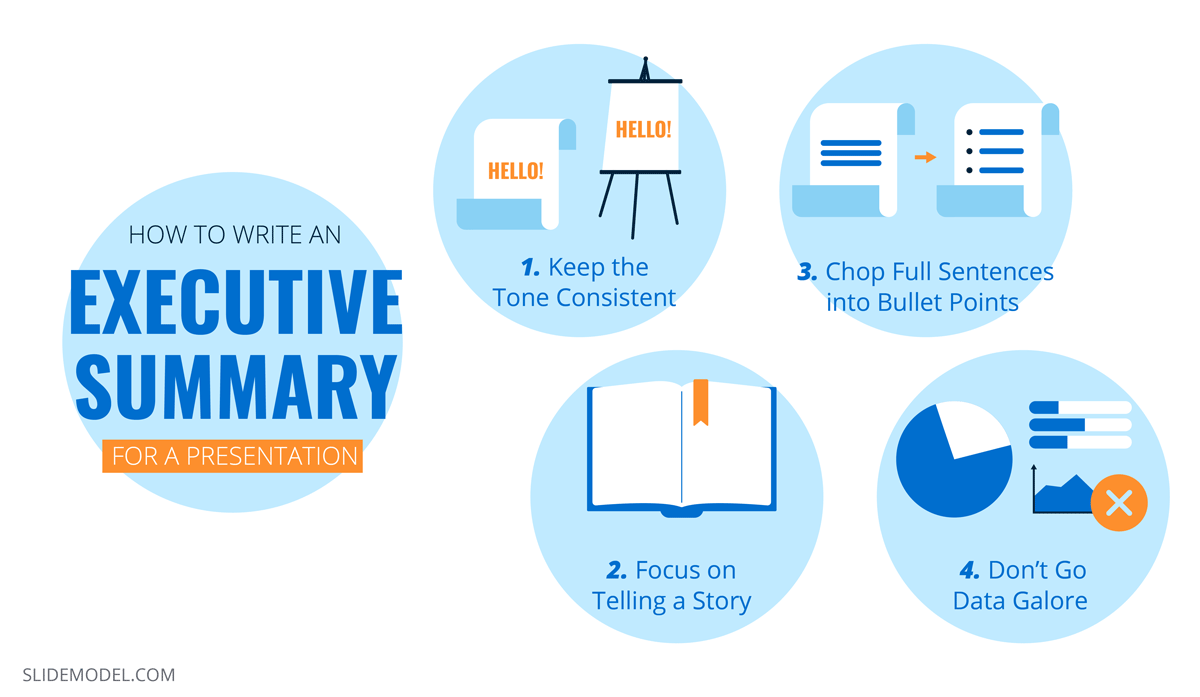 1. Start with a Problem Statement
Think of the first paragraph as if of an opening slide for a presentation : you need to make a big compelling statement that immediately communicates your agenda. Set the scene for the reader. There are several ways to do so:
Answer the "why now" question in the opening paragraph
Address the urgency of the matter
Highlight the importance of the discussed issue
Alternatively, you can also go for a more traditional opening and explain the background of the research and discussed issue. For example, if you have conducted a go-to-market strategy evaluation for the team you can start by saying that "This report analyzed online furniture brand performance in 5 target EMEA markets in terms of market share, local brand recall, brand preference, and estimated online sales volumes." Afterward, briefly communicate the main aim of the report.
2. Present the Main Discussion Points
Next, flesh out what's included in the scope of this report to properly manage the reader's expectations. You can use the report's section subheads as key discussion points or come up with snappier, more descriptive statements.
Here are several good writing practices to follow:
Use bullet points and numbered lists to break down text blocks.
Quantify the biggest findings when possible. Style them as "call-outs".
Mention the limitations of your report and what it does not account for.
Discuss the used research methods and data sources.
Finally, summarize the findings in one concluding paragraph if you have space. Or style it as a featured quote to draw the reader's eye towards crucial information.
3. List the Recommendations or Next Steps
The bottom part of the page, around 100-150 words should be allocated towards underlining the results, conclusions, and follow-up action expected from the reader. Summarize what you have found during the course of your research. Mention if you have identified any specific type of solution or a type of recommended action.
Once you are done, send over an executive summary draft to a team member who hasn't seen the complete report. Ask for their feedback. Can they tell what the report content is after reading the summary? Does the summary intrigue them? Is it descriptive enough for someone without any other context into the matter? Use the critique to further improve the document.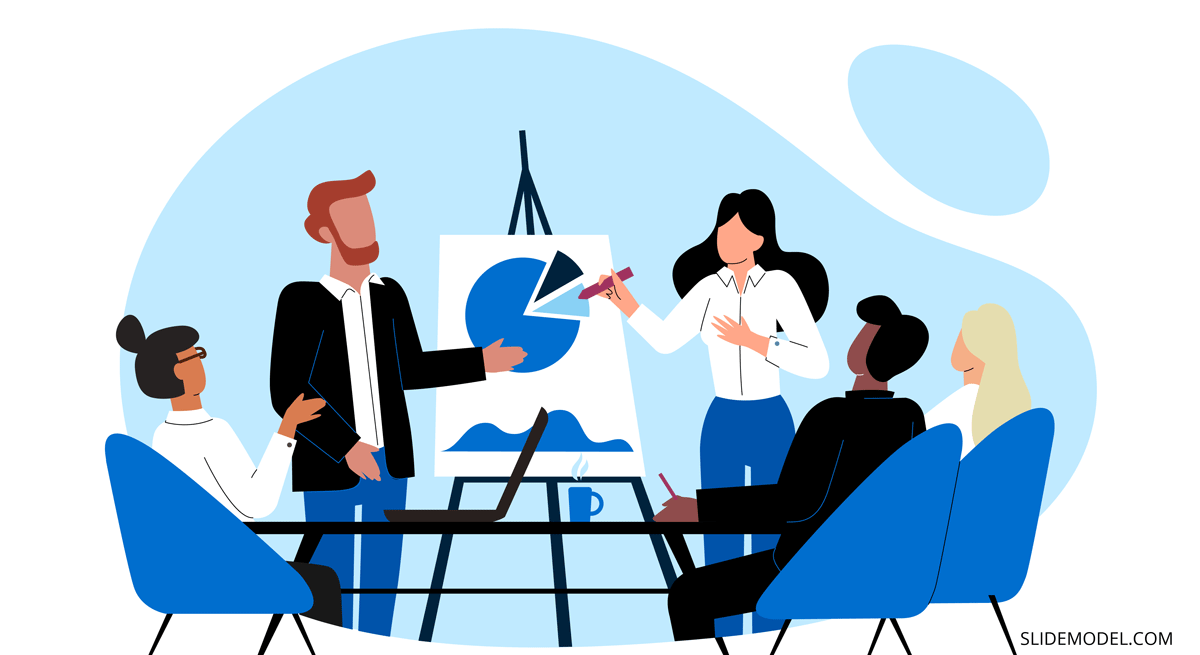 How to Prepare an Executive Summary Presentation
High chances are that you'll also be asked to write the copy for the executive summary presentation, and perhaps even design it too. So let's get you up to speed on this aspect as well.
How Does an Executive Summary Slide Look Like in PPT?
There's no ultimate look for an executive summary slide as most presenters customize it to best reflect the content they'd want to showcase. But if you want some universal example, here's our executive summary slide template :
What Makes a Good Executive Summary Slide?
A good executive summary slide visually communicates all the important information from the full report. Typically, it's an even more condensed version of the written executive summary, prefacing the document. Thus to create a good executive summary slide, be prepared to do some ruthless editing.
Include a condensed version of the:
Main problem statement or report agenda
Key findings. Prioritize quantifiable ones
Recommendations and next steps.
Also, you will need some PowerPoint design mastery to ensure that an executive summary in your PowerPoint presentation looks compelling, but not cluttered. Prioritize white space. Here is where a good executive summary template can make your life easier. To minimize the number of texts, add icons and other simple visualizations. Trim headers and subheads to give the slide even more breathing room.
For those looking to create an engaging and visually appealing presentation, consider utilizing professional presentation templates to enhance the visuals of your executive summary slide. These templates are specifically designed to help presenters convey their message effectively and with style, ensuring that your audience remains captivated and fully understands the key points of your report.
How to Write an Executive Summary for a Presentation
Most likely you won't need to write a brand new copy for this slide, but rather adapt the text at hand. That already makes your job a lot easier when summarizing a presentation into an executive summary slide. Still, you don't want to mess anything up. So stick with the executive summary template you've chosen and fill in the gaps using our tips.
1. Keep the Tone Consistent
Use the same tone of voice and word choices in your slide deck as you've adopted in the report. If the tone of your presentation speech differs too much with terms used on the slide and in the report copy, some audience members may get confused, and then disengaged.
2. Focus on Telling a Story
Stakeholders will have the extra time to read the "dry" report. During the presentation, your main goal is to draw their attention to the most important issue, showcase the value-packed inside the report, and make them eager to learn more by actually flipping the full copy afterward.
3. Chop Full Sentences into Bullet Points
Go snappy and present information in a snackable manner. Remember, our brain can only keep 3-5 items at once in the working memory. So you shouldn't try to overload the audience with a long list of "very important points" in one sitting.
Also, per a recent presentation survey, among the 3 things that annoy audiences most about presentations are slides that include full sentences of text. So, when working on your presentation summary slide, trim those lengthy texts and move on some of the other points to separate slides.
4. Don't Go Data Galore
Including numbers and data visualizations is a great way to present your executive summary. However, overloading your data slides with data nuggets makes your presentation less impactful.
As presentation design expert Nancy Duarte explains :
"Data slides aren't really about the data. They're about the meaning of the data. It's up to you to make that meaning clear before you click away. Otherwise, the audience won't process — let alone buy — your argument."
It's a good idea to spotlight 3 main data points on your executive summary slide. Then use some extra minutes to comment on why you've chosen to present these.
To Conclude
An executive summary is the first page and/or slide a reader will see. That's why the stakes are high to make it look just right. Granted, that shouldn't be an issue. Since you now know how to write, design, and present a compelling executive summary to others!
1. Project Summary PowerPoint Template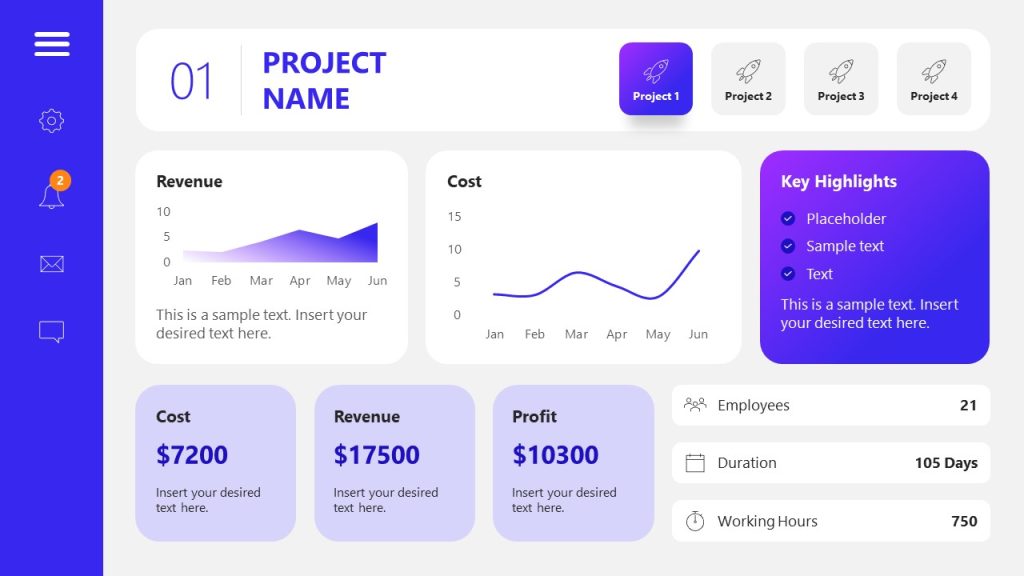 Use This Template
2. Simple Executive Summary Slide Template for PowerPoint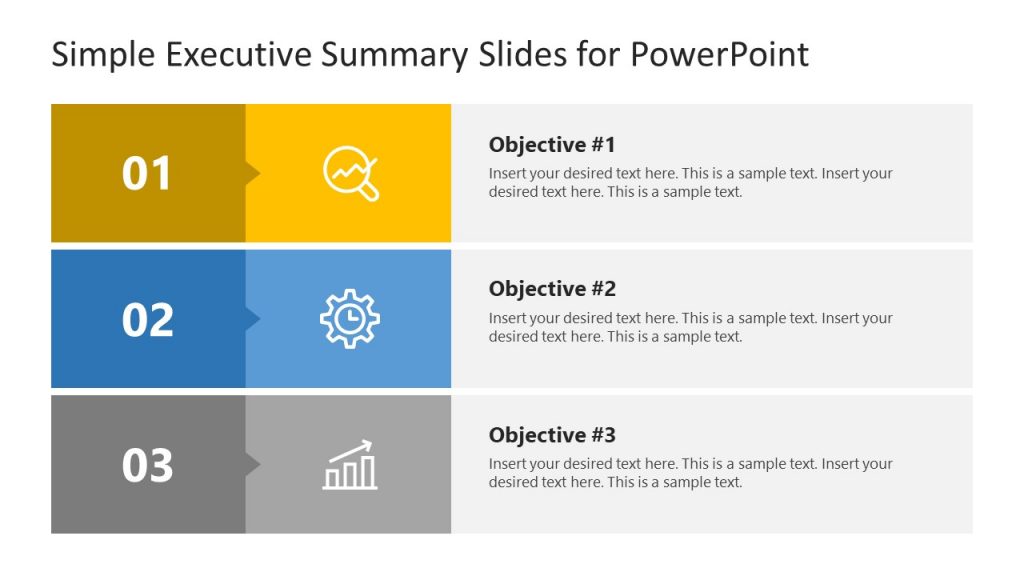 3. One Page Strategy Summary PowerPoint Template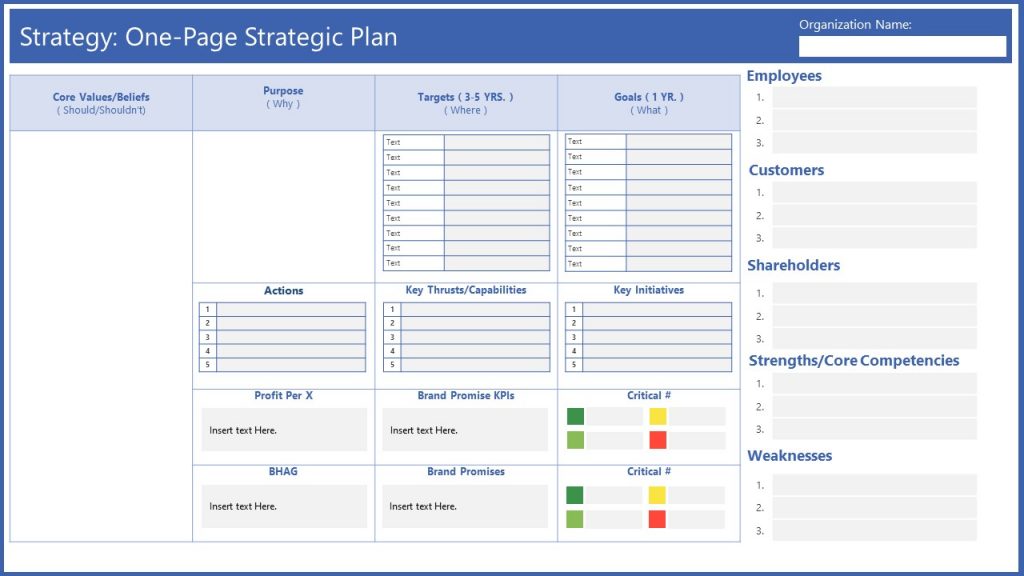 4. Executive Summary PowerPoint Template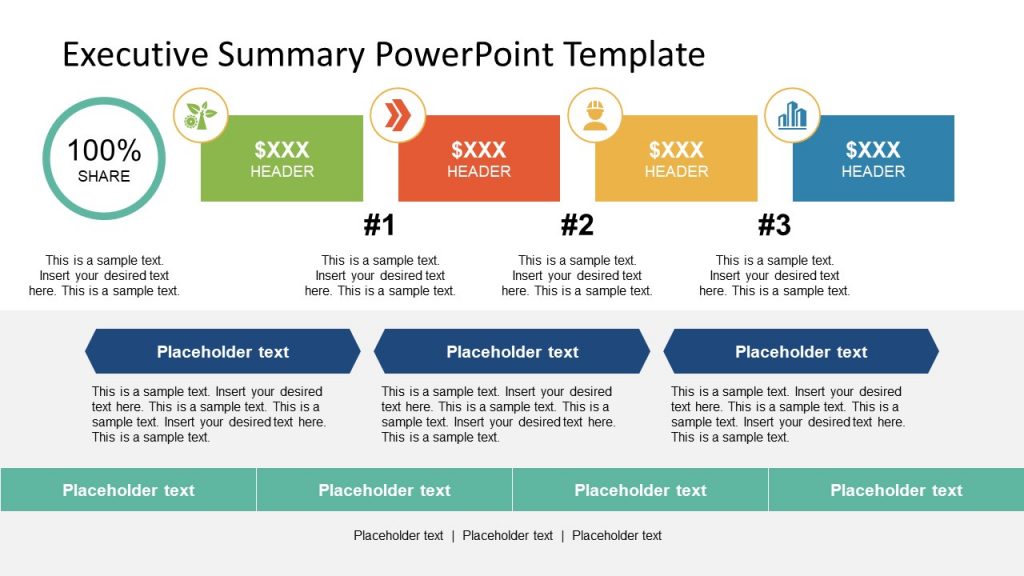 5. Executive Business PowerPoint Template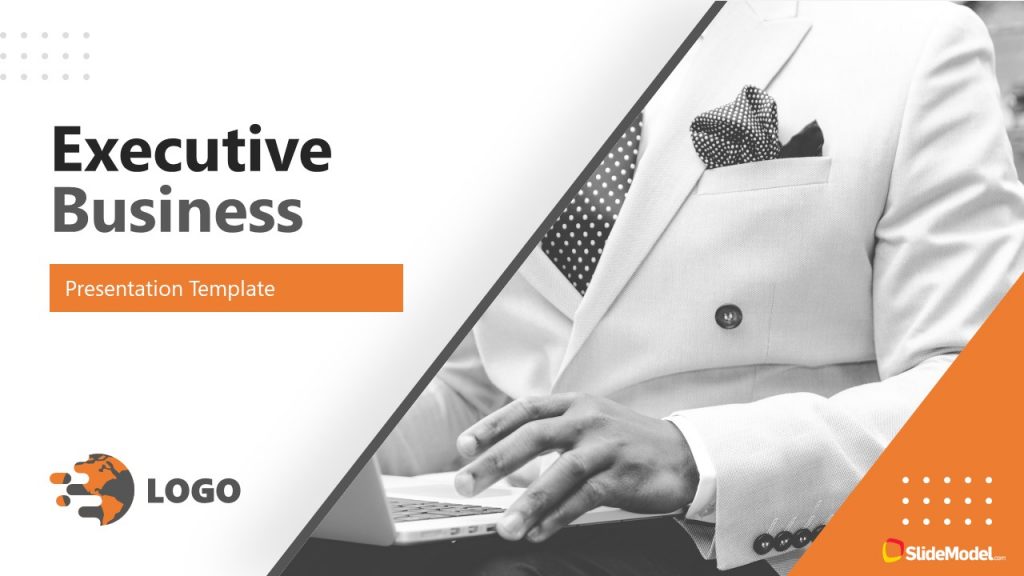 Like this article? Please share
Executive Reports, Executive Summary Filed under Business
Related Articles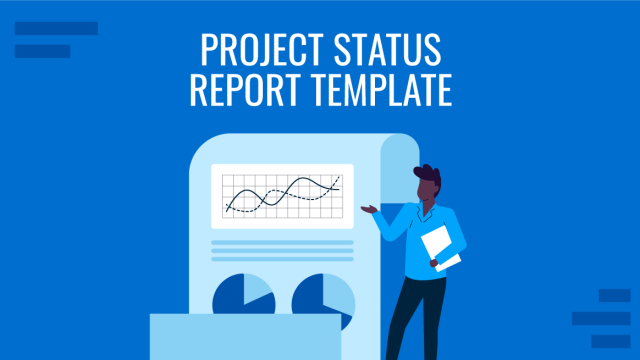 Filed under Business • August 31st, 2023
How to Build a Project Status Report Template: Complete Guide
Project status reports provide timely insights into project progress. Here are practical tips and a one-pager template for concise updates.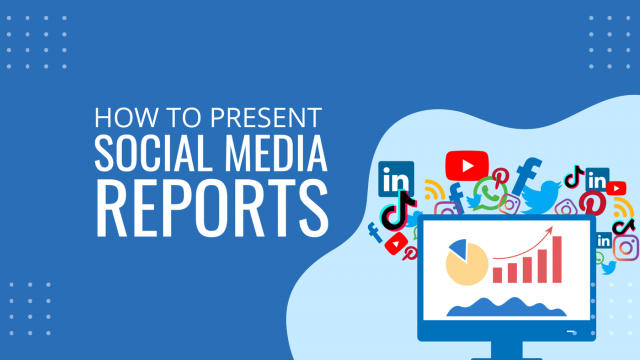 Filed under Business • July 29th, 2022
How to Create and Present Comprehensive Social Media Reports
This article helps small business community managers and account executives create effective social media reports to present to clients and their bosses.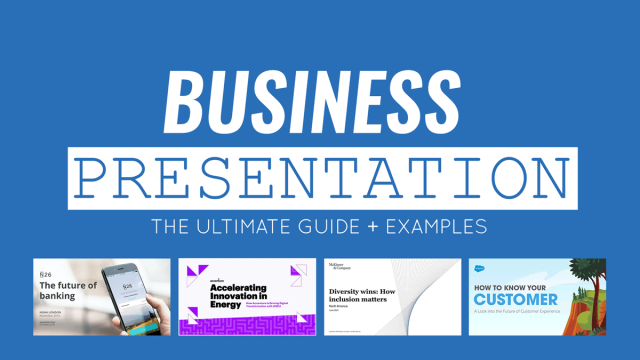 Filed under Business • October 25th, 2021
Business Presentation: The Ultimate Guide to Making Powerful Presentations (+ Examples)
A business presentation is a purpose-led summary of key information about your company's plans, products, or practices, designed for either internal or external audiences. This guide teaches you how to design and deliver excellent business presentations. Plus, breaks down some best practices from business presentation examples by popular companies.
Leave a Reply
We use essential cookies to make Venngage work. By clicking "Accept All Cookies", you agree to the storing of cookies on your device to enhance site navigation, analyze site usage, and assist in our marketing efforts.
Manage Cookies
Cookies and similar technologies collect certain information about how you're using our website. Some of them are essential, and without them you wouldn't be able to use Venngage. But others are optional, and you get to choose whether we use them or not.
Strictly Necessary Cookies
These cookies are always on, as they're essential for making Venngage work, and making it safe. Without these cookies, services you've asked for can't be provided.
Show cookie providers
Functionality Cookies
These cookies help us provide enhanced functionality and personalisation, and remember your settings. They may be set by us or by third party providers.
Performance Cookies
These cookies help us analyze how many people are using Venngage, where they come from and how they're using it. If you opt out of these cookies, we can't get feedback to make Venngage better for you and all our users.
Targeting Cookies
These cookies are set by our advertising partners to track your activity and show you relevant Venngage ads on other sites as you browse the internet.
Google Tag Manager
Infographics
Graphic Design
Graphs and Charts
Data Visualization
Human Resources
Training and Development
Beginner Guides
Blog Data Visualization
Presentation Design Guide: How to Summarize Information for Presentations
By Midori Nediger , May 15, 2023
Bad presentations. We've all had to sit through them. Heck, we've probably all given one or two. I know I have.
You know the type: twice as long as they need to be, slides chock-full of text, no visuals in sight.
How can you ensure you don't fall victim to these presentation faux-pas when designing your next presentation for your team, class, or clients?
In this blog, I'll walk you through tips on how to design an impactful presentation and how you can deliver it with style to leave a lasting impression.
Let's get started:
Include less text and more visuals in your presentation design
Identify one core message to center your presentation design around
Eliminate any information that doesn't immediately support the core message
Create a strong presentation outline to keep you focused
Use text to reinforce, not repeat, what you're saying
Design your presentation with one major takeaway per slide
Use visuals to highlight the key message on each slide
Use scaffolding slides to orient your audience and keep them engaged
Use text size, weight, and color for emphasis
Apply design choices consistently to avoid distraction
Split a group presentation by topic
Use a variety of page layouts to maintain your audience's interest
Use presentation templates to help you get started
Include examples of inspiring people
Dedicate slides to poignant questions
Find quotes that will inspire your audience
Emphasize key points with text and images
Label your slides to prompt your memory
Watch: How to design a presentation [10 ESSENTIAL TIPS]
Tips for designing and delivering an impactful presentation
What makes a presentation memorable?
It usually comes down to three things:
The main idea.
The presenter.
The visuals.
All three elements work together to create a successful presentation. Just like how different presentation styles serve different purposes, having a good presentation idea will give the audience a purpose for listening. A good presenter communicates the main idea so that the audience cares about it. And compelling visuals help clarify concepts and illustrate ideas.
But how the presenter delivers their presentation and what visuals they use can vary drastically while still being effective. There is no perfect presentation style or presentation design.
Here are some top tips to consider to help you design and deliver an impactful presentation:
Tip #1: Include less text and more visuals in your presentation design
According to David Paradi's annual presentation survey , the 3 things that annoy audiences most about presentations are:
Speakers reading their slides
Slides that include full sentences of text
Text that is too small to read
The common thread that ties all of these presentation annoyances is text. Audiences are very picky about the text found in presentation slide decks .
In my experiences speaking at conferences and in webinars over the past few years, audiences respond much more positively to presentations that use visuals in place of text.
Audiences are more engaged, ask more questions, and find my talks more memorable when I include lots of visual examples in my slide decks.
I'm not the only one who has found this. We recently surveyed nearly 400 conference speakers about their presentation designs and found that 84.3% create presentations that are highly visual.
A great example of a high visual presentation is the iconic AirBnB pitch deck design , which includes no more than 40 words per slide. Instead of repeating the speaker's script on the slides, it makes an impact with keywords, large numbers, and icons:
Learn how to customize this presentation template:
To help you take your presentations to the next level, I'd like to share my process for creating a visually-focused presentation like the one above. I'll give you my top presentation design tips that I've learned over years of presenting:
Class presentations
Online courses
You can then apply this process to our professional presentation templates or pitch decks , creating unique presentation decks with ease! Our user-friendly editor tools make customizing these templates a breeze.
To leave a lasting impression on your audience, consider transforming your slides into an interactive presentation. Here are 15 interactive presentation ideas to enhance interactivity and engagement.
We'll cover the most important steps for summarizing lengthy text into a presentation-friendly format. Then we'll touch on some pre sentation design tips to help you get visual with your slide decks. Read on for the best creative presentation ideas.
Tip #2: Identify one core message to center your presentation design around
We know from David Paradi's survey that audiences are easily overwhelmed with lots of text and data, especially when presentations are long.
(You when you see a presentation with lots of text and data and it's long)
So unlike in a white paper , report , or essay , you can't expect to tackle many complex ideas within a single presentation.
That would be a recipe for disaster.
Instead, identify a single central message that you would like to communicate to your audience. Then build your presentation around that core message.
By identifying that core message, you can ensure that everything you include in your presentation supports the goal of the presentation .
As seen below, a great presentation tells you exactly what you're going to learn (the core message), then gets right to the facts (the supporting information).
To ensure you create an asset that's clear, concise, impactful, and easy to follow, design your presentation around a single core message.
Tip #3: Create a strong presentation outline to keep you focused
Think of your outline as a roadmap for your presentation. Creating a strong presentation outline straight away helps make sure that you're hitting all of the key points you need to cover to convey a persuasive presentation .
Take this presentation outline example:
Introduction and hellos
Vision and value proposition
Financial profit
Your investment
Thanks and questions
These are all things that we know we need to talk about within the presentation.
Creating a presentation outline makes it much easier to know what to say when it comes to creating the actual presentation slides.
You could even include your presentation outline as a separate slide so that your audience knows what to expect:
The opening moments of your presentation hold immense power – check out these 15 ways to start a presentation to set the stage and captivate your audience.
Tip #4: Eliminate any information that doesn't support the core message
Next, use that core message to identify everything that doesn't belong in the presentation.
Aim to eliminate everything that isn't immediately relevant to the topic at hand, and anything remotely redundant. Cut any information that isn't absolutely essential to understanding the core message.
By cutting these extra details, you can transform forgettable text-heavy slides:
Into memorable slides with minimal text:
Here's a quick checklist to help you cut out any extra detail:
Get rid of:
Detailed descriptions
Background information
Redundant statements
Explanations of common knowledge
Persuasive facts and figures
Illustrative examples
Impactful quotes
This step may seem obvious, but when you're presenting on a topic that you're passionate about, it's easy to get carried away with extraneous detail. Use the recommendations above to keep your text in check.
Clarity is key, especially if you're presenting virtually rather than in-person. However, Lisa Schneider (Chief Growth Officer at Merriam-Webster) has had plenty of experience making that adjustment. She recently shared her tips for adapting in-person presentations into virtual presentations on Venngage that you can check out.
Tip #5: Use text to reinforce, not repeat, what you're saying
According to presentation guru Nancy Duarte , your audience should be able to discern the meaning of your slides in 6 seconds or less.
Since your audience will tend to read every word you place on each slide, you must keep your text to an absolute minimum. The text on your slides should provide support for what you're saying without being distracting.
Never write out, word for word, what you're going to be saying out loud. If you're relying on text to remember certain points, resist the urge to cram them into your slides. Instead, use a tool like Venngage's speaker notes to highlight particular talking points. These can be imported into PowerPoint — along with the rest of your presentation — and will only be viewable to you, not your audience.
For the actual slides, text should only be used to reinforce what you're saying. Like in the presentation design below, paraphrase long paragraphs into short bulleted lists or statements by eliminating adjectives and articles (like "the" and "a").
Pull out quotes and important numbers, and make them a focus of each slide.
Tip #6: Design your presentation with one major takeaway per slide
As I mentioned above, audiences struggle when too much information is presented on a single slide.
To make sure you don't overwhelm your audiences with too much information, spread out your content to cover one major takeaway per slide.
By limiting each slide to a single simple statement, you focus your audience's attention on the topic at hand.
My favorite way to do this is to pick out the core message of whatever I'm talking about and express it in a few keywords, as seen in this presentation slide below.
This helps ensure that the visuals remain the focus of the slide.
Using the text in this way, to simply state a single fact per slide, is a sure-fire way to make an impact in your presentation.
Alternatively, pull out a significant statistic that you want to stick in your audience's minds and make it a visual focus of the slide, as seen in this popular presentation by Officevibe .
This might mean you end up with a slide deck with a ton of slides. But that's totally ok!
I've talked to many professionals who are pressured by their management teams to create presentations with a specific number of slides (usually as few as 10 or 15 slides for a 30-minute presentation).
If you ask me, this approach is completely flawed. In my mind, the longer I spend sitting on a single slide, the more likely I am to lose the interest of my audience.
How many slides should I use for a 10 minute presentation?
A good rule of thumb is to have at least as many slides as minutes in your presentation. So for a 10 minute presentation you should have at least 10 slides .
Use as many slides as you need, as long as you are presenting a single message on each slide, (as seen in the lengthy presentation template below). This is especially important if you're presenting your business, or delivering a product presentation. You want to wow your audience, not bore them.
Tip #7: Use visuals to highlight the key message on each slide
As important as having one major takeaway per slide is having visuals that highlight the major takeaway on each slide.
Unique visuals will help make your message memorable.
Visuals are a great way to eliminate extra text, too.
You can add visuals by creating a timeline infographic to group and integrate information into visual frameworks like this:
Or create a flowchart and funnels:
Or by representing simple concepts with icons, as seen in the modern presentation design below. Using the same color for every icon helps create a polished look.
Using visuals in this way is perfect for when you have to convey messages quickly to audiences that you aren't familiar with – such as at conferences. This would also make the ideal interview presentation template.
You can alternatively use icons in different colors, like in the presentation templates below. Just make sure the colors are complimentary, and style is consistent throughout the presentation (i.e. don't use sleek, modern icons on one slide and whimsically illustrated icons on another). In this example, presentation clipart style icons have been used.
Any time you have important stats or trends you want your audience to remember, consider using a chart or data visualization to drive your point home. Confident public speaking combined with strong visualizations can really make an impact, encouraging your audience to act upon your message.
One of my personal favorite presentations (created by a professional designer) takes this "key message plus a visual" concept to the extreme, resulting in a slide deck that's downright irresistible.
When applying this concept, don't fall into the trap of using bad stock photos . Irrelevant or poorly chosen visuals can hurt you as much as they help you.
Below is an example of how to use stock photos effectively. They are more thematic than literal and are customized with fun, bright icons that set a playful tone.
The content and visual design of a presentation should be seamless.
It should never seem like your text and visuals are plopped onto a template. The format and design of the slides should contribute to and support the audience's understanding of the content.
Tip #8: Use scaffolding slides to orient your audience and keep them engaged
It's easy for audiences to get lost during long presentations, especially if you have lots of slides. And audiences zone out when they get lost.
To help reorient your audience every once in a while, you can use something I like to call scaffolding slides. Scaffolding slides appear throughout a presentation to denote the start and end of major sections.
The core scaffolding slide is the agenda slide, which should appear right after the introduction or title slide. It outlines the major sections of the presentation.
At the beginning of each section, you should show that agenda again but highlight the relevant section title, as seen below.
This gives audiences the sense that you're making progress through the presentation and helps keep them anchored and engaged.
Alternatively, you can achieve a similar effect by numbering your sections and showing that number on every slide. Or use a progress bar at the bottom of each slide to indicate how far along you are in your presentation. Just make sure it doesn't distract from the main content of the slides.
You can imagine using this "progress bar" idea for a research presentation, or any presentation where you have a lot of information to get through.
Leila Janah, founder of Sama Group, is great at this. Her Innovation and Inspire talk about Sama Group is an example of a presentation that is well organized and very easy to follow.
Her presentation follows a logical, steady stream of ideas. She seems comfortable talking in front of a crowd but doesn't make any attempts to engage directly with them.
Tip #9: Use text size, weight and color for emphasis
Every slide should have a visual focal point. Something that immediately draws the eye at first glance.
That focal point should be whatever is most important on that slide, be it an important number, a keyword, or simply the slide title.
We can create visual focal points by varying the size, weight, and color of each element on the slide. Larger, brighter, bolder elements will command our audience's attention, while smaller, lighter elements will tend to fade into the background.
As seen in the presentation template above, this technique can be especially useful for drawing attention to important words within a long passage of text. Consider using this technique whenever you have more than 5 words on a slide.
And if you really want your audience to pay attention, pick a high-contrast color scheme like the one below.
When picking fonts for your presentation, keep this technique in mind. Pick a font that has a noticeable difference between the "bold" font face and the "regular" font face. Source Sans Pro, Times New Roman, Montserrat, Arvo, Roboto, and Open Sans are all good options.
The last thing to remember when using size, weight, and color to create emphasis on a slide: don't try to emphasize too many things on one slide.
If everything is highlighted, nothing is highlighted.
Tip #10: Apply design choices consistently to avoid distraction
Audiences are quick to pick out, and focus on, any inconsistencies in your presentation design. As a result, messy, inconsistent slide decks lead to distracted, disengaged audiences.
Design choices (fonts and colors, especially), must be applied consistently across a slide deck. The last thing you want is for your audience to pay attention to your design choices before your content.
To keep your design in check, it can be helpful to create a color palette and type hierarchy before you start creating your deck, and outline it in a basic style guide like this one:
I know it can sometimes be tempting to fiddle around with text sizes to fit longer bits of text on a slide, but don't do it! If the text is too long to fit on a slide, it should be split up onto multiple slides anyway.
And remember, a consistent design isn't necessarily a boring one. This social media marketing presentation applies a bright color scheme to a variety of 3-column and 2-column layouts, remaining consistent but still using creative presentation ideas.
Tip #11: Split a group presentation by topic
When giving a group presentation it's always difficult to find the right balance of who should present which part.
Splitting a group presentation by topic is the most natural way to give everybody the chance to attempt without it seeming disjointed.
When presenting this slide deck to investors or potential clients, the team can easily take one topic each. One person can discuss the business model slide, and somebody else can talk about the marketing strategy.
Top tips for group presentations:
Split your group presentation by topic
Introduce the next speaker at the end of your slide
Become an 'expert' in the slide that you are presenting
Rehearse your presentation in advance so that everybody knows their cue to start speaking
Tip #12: Use a variety of page layouts to maintain your audience's interest
Page after page of the same layout can become repetitive and boring. Mix up the layout of your slides to keep your audience interested.
In this example, the designer has used a variety of combinations of images, text, and icons to create an interesting and varied style.
There are hundreds of different combinations of presentation layers and presentation styles that you can use to help create an engaging presentation . This style is great for when you need to present a variety of information and statistics, like if you were presenting to financial investors, or you were giving a research presentation.
Using a variety of layouts to keep an audience engaged is something that Elon Musk is an expert in. An engaged audience is a hyped audience. Check out this Elon Musk presentation revealing a new model Tesla for a masterclass on how to vary your slides in an interesting way:
Tip #13: Use presentation templates to help you get started
It can be overwhelming to build your own presentation from scratch. Fortunately, my team at Venngage has created hundreds of professional presentation templates , which make it easy to implement these design principles and ensure your audience isn't deterred by text-heavy slides.
Using a presentation template is a quick and easy way to create professional-looking presentation skills, without any design experience. You can edit all of the text easily, as well as change the colors, fonts, or photos. Plus you can download your work in a PowerPoint or PDF Presentation format.
After your presentation, consider summarizing your presentation in an engaging manner to r each a wider audience through a LinkedIn presentation .
Tip #14: Include examples of inspiring people
People like having role models to look up to. If you want to motivate your audience, include examples of people who demonstrate the traits or achievements, or who have found success through the topic you are presenting.
Tip #15: Dedicate slides to poignant questions
While you might be tempted to fill your slides with decorative visuals and splashes of color, consider that sometimes simplicity is more effective than complexity. The simpler your slide is, the more you can focus on one thought-provoking idea.
Tip #16: Find quotes that will inspire your audience
A really good quote can stick in a person's mind for weeks after your presentation. Ending your presentation with a quote can be a nice way to either begin or finish your presentation.
A great example of this is Tim Ferriss' TED talk:
Check out the full talk below.
Tip #17: Emphasize key points with text and images
When you pair concise text with an image, you're presenting the information to your audience in two simultaneous ways. This can make the information easier to remember, and more memorable.
Use your images and text on slides to reinforce what you're saying out loud.
Doing this achieves two things:
When the audience hears a point and simultaneously read it on the screen, it's easier to retain.
Audience members can photograph/ screencap the slide and share it with their networks.
Don't believe us? See this tip in action with a presentation our Chief Marketing Officer Nadya gave recently at Unbounce's CTA Conference . The combination of text and images on screen leads to a memorable presentation.
Tip #18: Label your slides to prompt your memory
Often, presenters will write out an entire script for their presentation and read it off a teleprompter. The problem is, that can often make your presentation seem too rehearsed and wooden.
But even if you don't write a complete script, you can still put key phrases on your slides to prompt jog your memory. The one thing you have to be wary of is looking back at your slides too much.
A good presentation gets things moving! Check out the top qualities of awesome presentations and learn all about how to make a good presentation to help you nail that captivating delivery.
Audiences don't want to watch presentations with slide decks jam-packed with text. Too much text only hurts audience engagement and understanding. Your presentation design is as important as your presentation style.
By summarizing our text and creating slides with a visual focus, we can give more exciting, memorable and impactful presentations.
Give it a try with one of our popular presentation templates:
Want more presentation design tips? This post should get you started:
120+ Best Presentation Ideas, Design Tips & Examples
10 Tips To Summarize Information For Presentation
Table of Contents
10 Best Presentation Slide Design Tips
Key takeaways.
Let us all admit, designing and presenting a PowerPoint Presentation is a dicey, tedious task that you either hit or miss totally. However, as discussed in this article, knowing some smart tips and tricks can save you from boardroom mishaps!
1. Identify your audience
The first essential step in designing an effective presentation is to know your audience . The content of your presentation should be largely inspired by and based on the nature and composition of your target audience.
I clearly remember an incident where a colleague of mine presented some extremely technical financial information to an audience that was barely into finance. The result was he received extremely negative feedback even though his facts and technical presentation were bang-on!
For example, if you are delivering a presentation on mutual funds and your audience is mostly women who have not handled personal finances in their life, you should rid your presentation of all technical jargon and case-based scenarios that the audience can not connect with.
Thus, it is pertinent to know the gender composition, the age mix, the educational background, the regional orientation, the likes and preferences, and other related factors of the target audience to cater to the needs better.
2. Focus on design and layout
After you have successfully identified the target audience, the next best practice for PowerPoint design is to chalk out the layout of your presentation. You need to keep certain factors in mind when it comes to design and layout; the color palette, the text font, the font size, the contrast, the background, etc.
While delivering a corporate presentation, neutral color such as a shade of gray or blue is picked up for a more professional finish. If the presentation is text-intensive, the background is kept neutral and fading.
We all remember such embarrassing moments from our college days. We were all beginners at designing and presenting PowerPoint presentations, and we messed up with the presentation's formatting. From wrong font size to going overboard with PowerPoint visual effects. We have realized the hard way that less is more when it comes to a presentation!
You should always try to be minimalistic when using color shades; a maximum of two colors should be used in a presentation.
Source
3. Mention the agenda
The first slide of your presentation should define all points that will be covered in your presentation. It should give a general overview and understanding of the topic being addressed by the presenter.
For example, if you are delivering a presentation on rising cases of cybersecurity issues, your agenda should be defined as A) What is a cybersecurity threat? B) Summarized comparison of rising in cybersecurity threats over the years. C) Approach towards tackling such issues D) Solution if you encounter a Cybersecurity threat E) Conclusion F) Way ahead.
The last slide should, of course, be a thank-you slide for your audience for being patient.
4. Less text, more impact
Believe us when we say this, as an audience, we all hate being bombarded with a lot of text to read on screen, so why serve it when you are the presenter? You should serve the least information via simple plain texts.
While you must give as much information as you can, you still need to be compact and precise. The best way to do this is to give only pointers/headings in your presentation and let the detailed information be conveyed orally while presenting.
Too much text will fail to retain the interest of the audience. Moreover, if it is a technical presentation, you need to avoid unnecessary text in your PowerPoint presentation.
You also need to remove redundancy and ensure that you are painting a complete picture in the as minimal text as possible while keeping the audience engaged.
For example, while giving a presentation on Mutual Funds, you can put the types of mutual funds, i.e., debt and equity, in your slide as a pointer and give detailed textual information orally to your audience while explaining the same.
5. Use of charts and graphs
A presentation flooded with raw data and nothing eye-catchy will fail miserably to keep the audience engaged. Charts and graphs come to your rescue when your presentation is data intensive. Data, if presented in the raw form, fails to develop and sustain the target audience's interest.
Let us say you are presenting before the head of sales department with the data on monthly sales of a product, region wise. There are 12 months and 20 regions for which you must display the data most comprehensively. A tabular representation will be okay until multiple locations and multiple period data are not involved. Post that, tabular data is an eyesore, and graphical representation is more appropriate.
The top management generally runs short of time and is keen on getting summarized information; use graphs and charts to summarize your data and give full yet concise information in a simplified manner.
6. Structuring information
The flow of data across all slides should be smooth, and the transitions should be cohesive. Consistency is the key. You should not bombard the audience with a lot of data at the beginning of the slide or towards the end of the presentation.
There should be adequate pauses, breaks, and gaps in the data flow. Too much information is hard to process in a short span; hence, you should aim at structuring the entire information in such a manner so that the core message of your presentation reaches the audience.
Enough emphasis and time should be given to each slide of your presentation. You should have a key message at the end of each slide that briefly summarises the agenda of that particular slide so that the audience remembers and recollects all the information when needed.
7. Pictorial representations
A picture speaks a thousand words, and at the same time, it also helps you in avoiding a data-heavy presentation.
Pictorial representation of data is the most convenient and articulate way to deliver the desired information smartly.
For example, if you are explaining SWOT Analysis in your presentation, it is always advisable to use pictures rather than going for textual representation in the form of bullet points. A plain-text reading of what SWOT stands for is not pleasing to the eye. It is also less impactful when compared to a pictorial representation.
Maintaining a balance between textual and pictorial information should be maintained. Your audience should absorb the slides while still being attentive to what you are speaking.
8. Elimination to finalization
The moment you start gathering data for a presentation, you need to follow the elimination to finalization method. You need to jot down only the relevant points to be conveyed to the audience and chop off the remaining by editing the data.
For example, you must have gathered a lot of data relating to Mutual Funds but keeping in mind all the above points that we have discussed so far, you will have to edit and keep only the essential information in your presentation slides.
What to include in a presentation ? Include all relevant data such as types of mutual funds, modes of investments, schemes of investments, expense ratios, Net Asset Value (NAV) and exclude redundant data, heavy data involving statistics, data involving specific fund performances.
A smart presentation should be an easily-digestible, soothing meal without a heavy concoction of disrupting elements.
9. Examples and quotations
Any PowerPoint presentation is incomplete if you do not include sufficient examples to make your audience understand your point in a better manner.
Continuing with our example of a PowerPoint presentation on mutual funds, if you are delivering a presentation before prospective investors, you need to quote some real-life examples that will win their trust with investing money. This can include the past performance of a fund, real-life calculations of a past investor, etc.
You need motivation as the driving factor behind encouraging your audience to invest; hence, you should be quoting biggies from the investing world like Warren Buffett to make a powerful impact on the minds of your target audience.
10. The slide is to time ratio
Time management is a crucial factor when we talk about Presentation design tips. As a rule of thumb, you should be dedicating a minute per slide of your presentation.
However, in practice, this may vary. Certain slides, such as a slide with a comprehensive example, will require more time to be explained to the audience.
For example, if you are delivering a 10-minute PowerPoint presentation of 10 slides, you should try to allocate a minute to each slide and nothing more. Of course, if the slide can be managed with less time than a minute, you should not stretch it any further.
Too much information in too little time is as lethal as no information.
Thus, you should try and maintain an optimum ratio as far as the time is taken to explain each slide is concerned.
Before even assimilating information for your PowerPoint presentation, always know your target audience in advance. Doing this ensures that you eliminate unnecessary data at the inception and changes your outlook towards building a presentation.
Once you have finalized details about the target audience, the next best practice is to design the PowerPoint Presentation per your audience's mix. The color theme, background, use of objects is taken care of in this step. The format should be per the type of audience being addressed.
The topic of discussion should be clear in your head and your presentation. You should lay down the plan clearly so that the audience knows the topics being covered for them. This helps in building a connection with the audience at the onset. While walking them through the agenda, you can briefly touch base on points included therein to give them an overview of what to expect from the PowerPoint presentation.
Let's reiterate the positive impact that the absence of more textual information has on a PowerPoint presentation. A heavy, data-loaded presentation is always difficult for the audience to comprehend. So, keep your textual information to the bare minimum so that it just serves the need without impacting audience engagement.
If you remove textual information, what is the other way to present it? Well, it is through pictures, graphs, and charts. Studies show that audience engagement is higher when the presentation includes more graphical elements than basic textual information.
A power-packed presentation sometimes may fail to deliver its objective if it is not well-structured. Your presentation should flow smoothly in a chronological manner, sensing your audience's emotions.
Pictorial representations are an extension of what we have discussed in including more graphical information. While graphical information comes to the rescue while presenting complex data in a simplified manner, pictorial representation helps in removing the monotony of plain texts. Including pictures more often keeps the audience engrossed in the message being conveyed.
Sometimes, while assimilating information for your presentation, you will feel overwhelmed with the amount of data you gather. The best way to keep only relevant information is to edit and eliminate irrelevant data. Make sure you stick to the agenda of your presentation.
Real-life examples are always motivating, and we all feel genuinely connected with them. Quoting unrealistic case scenarios will burden the audience with something they can't resonate with. Hence, you should always quote and share real-life examples wherever possible. In your presentation, a little motivational quote or a famous quote that people are aware of, here and there, establishes an instant connection with the audience.
Lastly, always try to adhere to the time slide ratio. Remember not to spend too much time explaining things that won't matter much to the audience. Explain in detail but not in-depth.
To sum it up, these ten extremely helpful presentation design tips will help you navigate the process step by step and will aid you in delivering appropriate information in the most lucid presentable manner.
Your presentation is the medium to provide information in an organized manner to the recipients seeking that information. If the design or format of the presentation is not comfortable for the audience, they will not be able to absorb the information at all. Hence, it is important to design the presentation so that the audience gets influenced and digests every fact that is served via the presentation.
Be creative, but don't go overboard with it. Try to keep it simple and pleasing to the eyes. Try not to implement each element that you know of while preparing a PowerPoint presentation. Use subtle colors and background so that it is pleasant in appearance.
While deciding the target audience and the plan, you will realize that your PowerPoint presentation must be any of the below-mentioned types: Informative- Informative presentation is a presentation that intends to disseminate information to a group of people, such as a presentation on awareness on the spread of HIV. Instructional – Instructional presentation is a type of presentation that intends to educate, teach, and induce people to follow a path such as a presentation on using MS Office. Persuasive- Persuasive presentation is a kind of presentation that intends to induce a response from the audience, such as a presentation on Investing in Mutual Funds. Decision-making: A kind of presentation that intends to support or drive a decision, such as a presentation on prospective product marketing areas, is known as a decision-making presentation.
Ensure there is enough empty space in your slides, and the text is clearly visible. Make sure you use variations in font size and not in font type. You should use a neutral color palette as background and contrast; your slides shouldn't appear to be carved out of a rainbow!
As a thumb rule, we should be allocating nothing more than a minute to each slide. If any slide requires a detailed explanation, the time should be balanced accordingly.
The best way to structure or start structuring a presentation is by setting a defined agenda. Once you chalk out an agenda, start working on the structure of the presentation by keeping only that information that is essential.
It depends on the kind of presentation that you are presenting. 1. If it is an informative presentation, you can conclude by taking up queries and questions from the audience. 2. If it is instructional in nature, you can ask questions to the audience to get a better idea of their understanding.  3. If the presentation is persuasive or a decision-making presentation, you can conclude by reiterating the selling point of the presentation.
Latest Blogs
Avoid these common mistakes in content marketing for lead generation to pave way for more quality leads and business growth.
This guide to advanced content marketing will help you create and distribute content that will attract target audience and generate sales.
Get your hands on the latest news!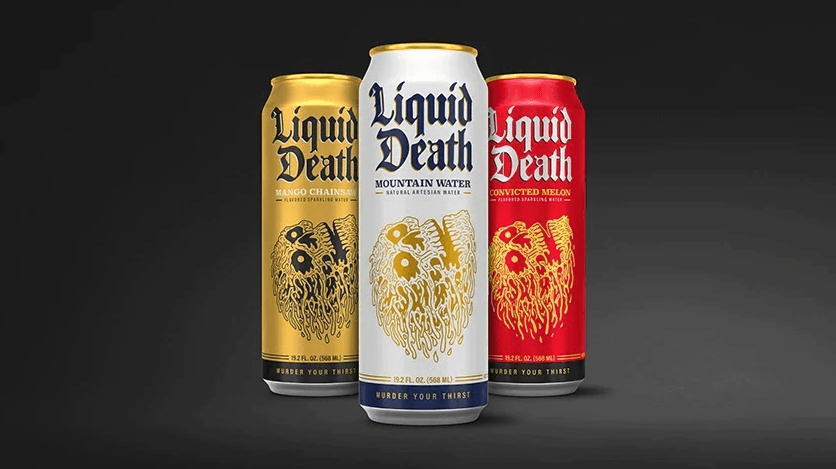 Unhinged or genius? Deconstructing Liquid Death's Marketing Strategy
Data and Studies
5 mins read
Similar Posts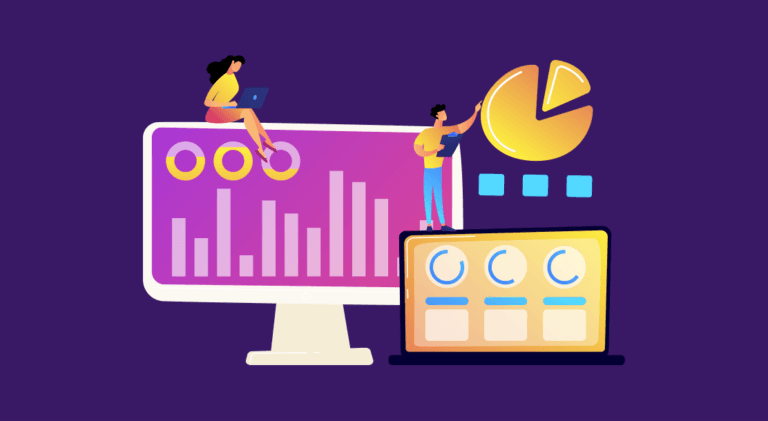 6 mins read
Unlocking Success: 4 Case Studies of Successful Content Marketing Campaigns Using a Platform
Unmasking Component Content Management Systems: Everything You Need to Know
Finding The Best Content Platforms For Your Business
Get 50% OFF Yearly and Lifetime Subscriptions this Black Friday
Features for Creative Writers
Features for Work
Features for Higher Education
Features for Teachers
Features for Non-Native Speakers
Learn Blog Grammar Guide Community Academy FAQ
Grammar Guide
How to Write a Summary (Examples Included)

Ashley Shaw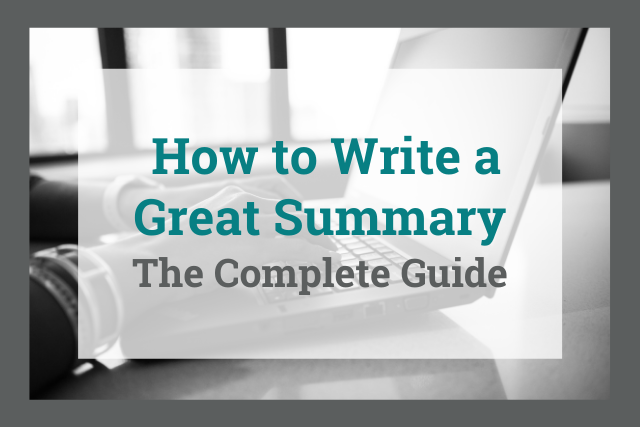 Have you ever recommended a book to someone and given them a quick overview? Then you've created a summary before!
Summarizing is a common part of everyday communication. It feels easy when you're recounting what happened on your favorite show, but what do you do when the information gets a little more complex?
Written summaries come with their own set of challenges. You might ask yourself:
What details are unnecessary?
How do you put this in your own words without changing the meaning?
How close can you get to the original without plagiarizing it?
How long should it be?
The answers to these questions depend on the type of summary you are doing and why you are doing it.
A summary in an academic setting is different to a professional summary—and both of those are very different to summarizing a funny story you want to tell your friends.
One thing they all have in common is that you need to relay information in the clearest way possible to help your reader understand. We'll look at some different forms of summary, and give you some tips on each.
Let's get started!
What Is a Summary?
How do you write a summary, how do you write an academic summary, what are the four types of academic summaries, how do i write a professional summary, writing or telling a summary in personal situations, summarizing summaries.
A summary is a shorter version of a larger work. Summaries are used at some level in almost every writing task, from formal documents to personal messages.
When you write a summary, you have an audience that doesn't know every single thing you know.
When you want them to understand your argument, topic, or stance, you may need to explain some things to catch them up.
Instead of having them read the article or hear every single detail of the story or event, you instead give them a brief overview of what they need to know.
Academic, professional, and personal summaries each require you to consider different things, but there are some key rules they all have in common.
Let's go over a few general guides to writing a summary first.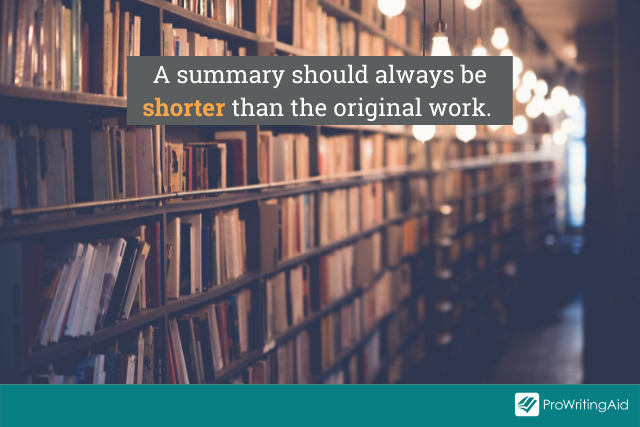 1. A summary should always be shorter than the original work, usually considerably.
Even if your summary is the length of a full paper, you are likely summarizing a book or other significantly longer work.
2. A summary should tell the reader the highlights of what they need to know without giving them unnecessary details.
3. It should also include enough details to give a clear and honest picture.
For example, if you summarize an article that says " The Office is the greatest television show of all time," but don't mention that they are specifically referring to sitcoms, then you changed the meaning of the article. That's a problem! Similarly, if you write a summary of your job history and say you volunteered at a hospital for the last three years, but you don't add that you only went twice in that time, it becomes a little dishonest.
4. Summaries shouldn't contain personal opinion.
While in the longer work you are creating you might use opinion, within the summary itself, you should avoid all personal opinion. A summary is different than a review. In this moment, you aren't saying what you think of the work you are summarizing, you are just giving your audience enough information to know what the work says or did.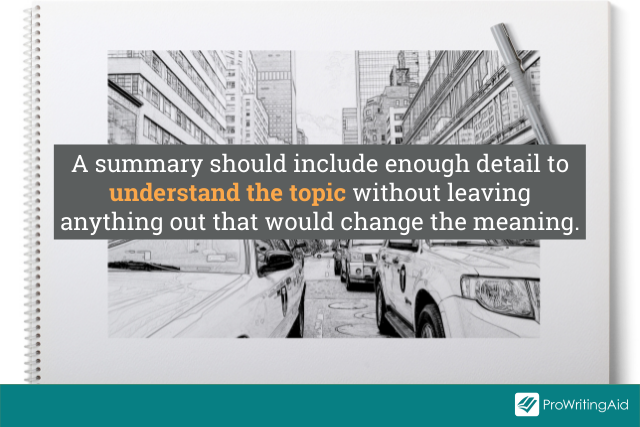 Now that we have a good idea of what summaries are in general, let's talk about some specific types of summary you will likely have to do at some point in your writing life.
An academic summary is one you will create for a class or in other academic writing. The exact elements you will need to include depend on the assignment itself.
However, when you're asked for an academic summary, this usually this means one of five things, all of which are pretty similar:
You need to do a presentation in which you talk about an article, book, or report.
You write a summary paper in which the entire paper is a summary of a specific work.
You summarize a class discussion, lesson, or reading in the form of personal notes or a discussion board post.
You do something like an annotated bibliography where you write short summaries of multiple works in preparation of a longer assignment.
You write quick summaries within the body of another assignment . For example, in an argumentative essay, you will likely need to have short summaries of the sources you use to explain their argument before getting into how the source helps you prove your point.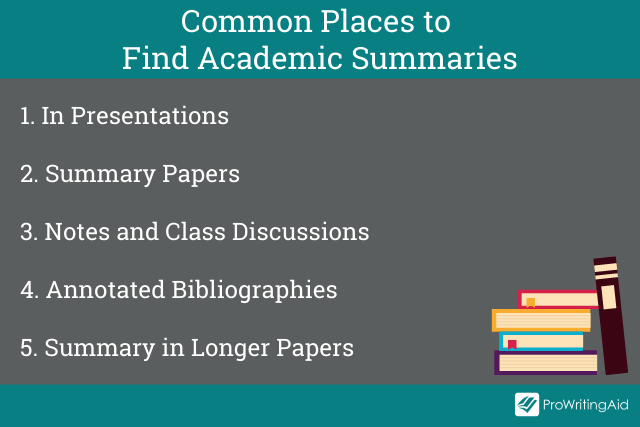 Regardless of what type of summary you are doing, though, there are a few steps you should always follow:
Skim the work you are summarizing before you read it. Notice what stands out to you.
Next, read it in depth . Do the same things stand out?
Put the full text away and write in a few sentences what the main idea or point was.
Go back and compare to make sure you didn't forget anything.
Expand on this to write and then edit your summary.
Each type of academic summary requires slightly different things. Let's get down to details.
How Do I Write a Summary Paper?
Sometimes teachers assign something called a summary paper . In this, the entire thing is a summary of one article, book, story, or report.
To understand how to write this paper, let's talk a little bit about the purpose of such an assignment.
A summary paper is usually given to help a teacher see how well a student understands a reading assignment, but also to help the student digest the reading. Sometimes, it can be difficult to understand things we read right away.
However, a good way to process the information is to put it in our own words. That is the point of a summary paper.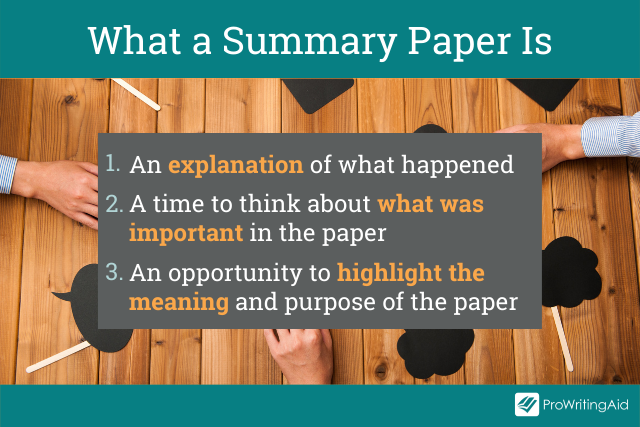 A summary paper is:
A way to explain in our own words what happened in a paper, book, etc.
A time to think about what was important in the paper, etc.
A time to think about the meaning and purpose behind the paper, etc.
Here are some things that a summary paper is not:
A review. Your thoughts and opinions on the thing you are summarizing don't need to be here unless otherwise specified.
A comparison. A comparison paper has a lot of summary in it, but it is different than a summary paper. In this, you are just saying what happened, but you aren't saying places it could have been done differently.
A paraphrase (though you might have a little paraphrasing in there). In the section on using summary in longer papers, I talk more about the difference between summaries, paraphrases, and quotes.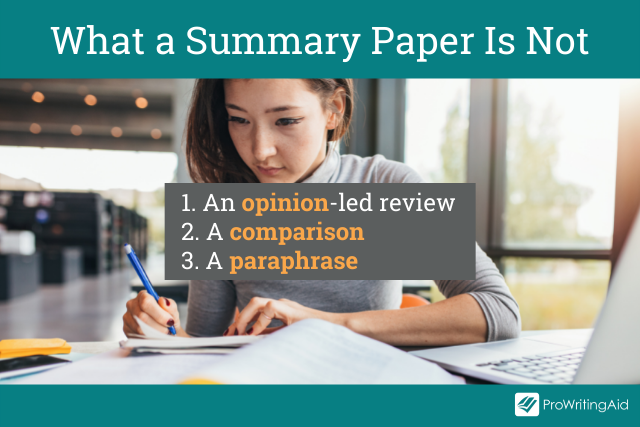 Because a summary paper is usually longer than other forms of summary, you will be able to chose more detail. However, it still needs to focus on the important events. Summary papers are usually shorter papers.
Let's say you are writing a 3–4 page summary. You are likely summarizing a full book or an article or short story, which will be much longer than 3–4 pages.
Imagine that you are the author of the work, and your editor comes to you and says they love what you wrote, but they need it to be 3–4 pages instead.
How would you tell that story (argument, idea, etc.) in that length without losing the heart or intent behind it? That is what belongs in a summary paper.
How Do I Write Useful Academic Notes?
Sometimes, you need to write a summary for yourself in the form of notes or for your classmates in the form of a discussion post.
You might not think you need a specific approach for this. After all, only you are going to see it.
However, summarizing for yourself can sometimes be the most difficult type of summary. If you try to write down everything your teacher says, your hand will cramp and you'll likely miss a lot.
Yet, transcribing doesn't work because studies show that writing things down (not typing them) actually helps you remember them better.
So how do you find the balance between summarizing the lessons without leaving out important points?
There are some tips for this:
If your professor writes it on the board, it is probably important.
What points do your textbooks include when summarizing information? Use these as a guide.
Write the highlight of every X amount of time, with X being the time you can go without missing anything or getting tired. This could be one point per minute, or three per five minutes, etc.
How Do I Create an Annotated Biography?
An annotated bibliography requires a very specific style of writing. Often, you will write these before a longer research paper . They will ask you to find a certain amount of articles and write a short annotation for each of them.
While an annotation is more than just a summary, it usually starts with a summary of the work. This will be about 2–3 sentences long. Because you don't have a lot of room, you really have to think about what the most important thing the work says is.
This will basically ask you to explain the point of the article in these couple of sentences, so you should focus on the main point when expressing it.
Here is an example of a summary section within an annotation about this post:
"In this post, the author explains how to write a summary in different types of settings. She walks through academic, professional, and personal summaries. Ultimately, she claims that summaries should be short explanations that get the audience caught up on the topic without leaving out details that would change the meaning."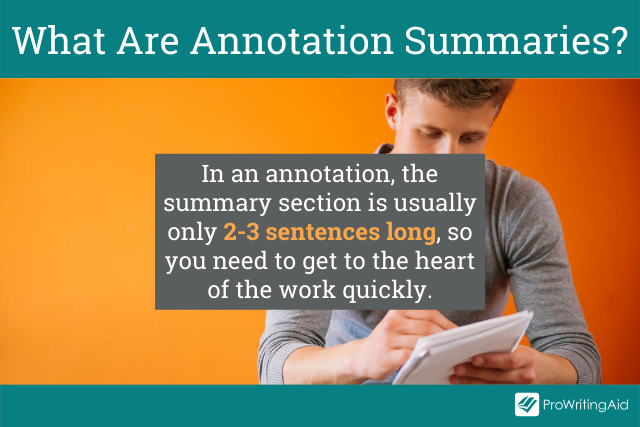 Can I Write a Summary Within an Essay?
Perhaps the most common type of summary you will ever do is a short summary within a longer paper.
For example, if you have to write an argumentative essay, you will likely need to use sources to help support your argument.
However, there is a good chance that your readers won't have read those same sources.
So, you need to give them enough detail to understand your topic without spending too much time explaining and not enough making your argument.
While this depends on exactly how you are using summary in your paper, often, a good amount of summary is the same amount you would put in an annotation.
Just a few sentences will allow the reader to get an idea of the work before moving on to specific parts of it that might help your argument.
What's the Difference Between Summarizing, Paraphrasing, and Using Quotes?
One important thing to recognize when using summaries in academic settings is that summaries are different than paraphrases or quotes.
A summary is broader and more general. A paraphrase, on the other hand, puts specific parts into your own words. A quote uses the exact words of the original. All of them, however, need to be cited.
Let's look at an example:
Take these words by Thomas J. Watson:
"Would you like me to give you a formula for success? It's quite simple, really. Double your rate of failure. You are thinking of failure as the enemy of success. But it isn't as all. You can be discouraged by failure—or you can learn from it. So go ahead and make mistakes. Make all you can. Because, remember, that's where you will find success."
Let's say I was told to write a summary, a paraphrase, and a quote about this statement. This is what it might look like:
Summary: Thomas J. Watson said that the key to success is actually to fail more often. (This is broad and doesn't go into details about what he says, but it still gives him credit.)
Paraphrase: Thomas J. Watson, on asking if people would like his formula for success, said that the secret was to fail twice as much. He claimed that when you decide to learn from your mistakes instead of being disappointed by them, and when you start making a lot of them, you will actually find more success. (This includes most of the details, but it is in my own words, while still crediting the source.)
Quote: Thomas J. Watson said, "Would you like me to give you a formula for success? It's quite simple, really. Double your rate of failure. You are thinking of failure as the enemy of success. But it isn't at all. You can be discouraged by failure—or you can learn from it. So go ahead and make mistakes. Make all you can. Because, remember, that's where you will find success." (This is the exact words of the original with quotation marks and credit given.)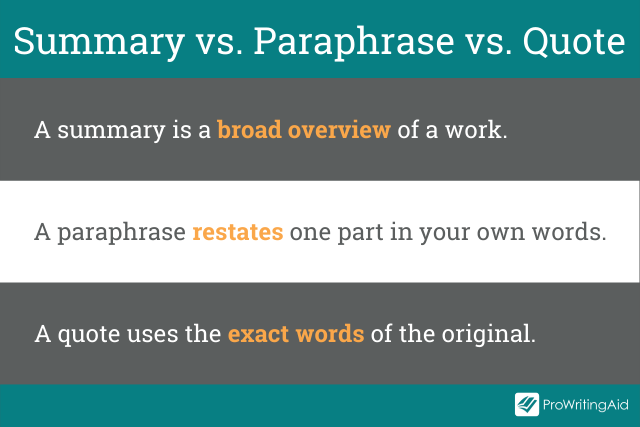 Avoiding Plagiarism
One of the hardest parts about summarizing someone else's writing is avoiding plagiarism .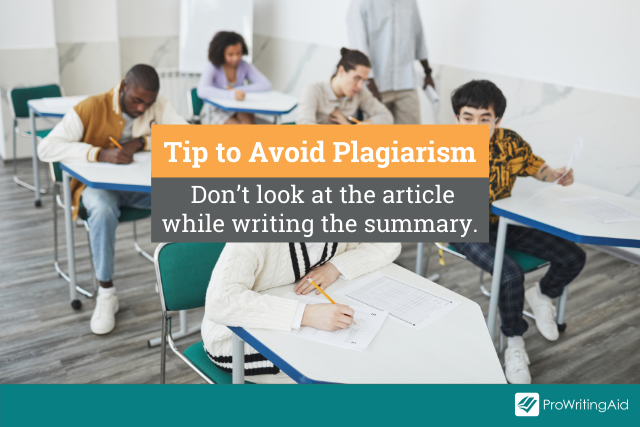 That's why I have a few rules/tips for you when summarizing anything:
1. Always cite.
If you are talking about someone else's work in any means, cite your source. If you are summarizing the entire work, all you probably need to do (depending on style guidelines) is say the author's name. However, if you are summarizing a specific chapter or section, you should state that specifically. Finally, you should make sure to include it in your Work Cited or Reference page.
2. Change the wording.
Sometimes when people are summarizing or paraphrasing a work, they get too close to the original, and actually use the exact words. Unless you use quotation marks, this is plagiarism. However, a good way to avoid this is to hide the article while you are summarizing it. If you don't have it in front of you, you are less likely to accidentally use the exact words. (However, after you are done, double check that you didn't miss anything important or give wrong details.)
3. Use a plagiarism checker.
Of course, when you are writing any summary, especially academic summaries, it can be easy to cross the line into plagiarism. If this is a place where you struggle, then ProWritingAid can help.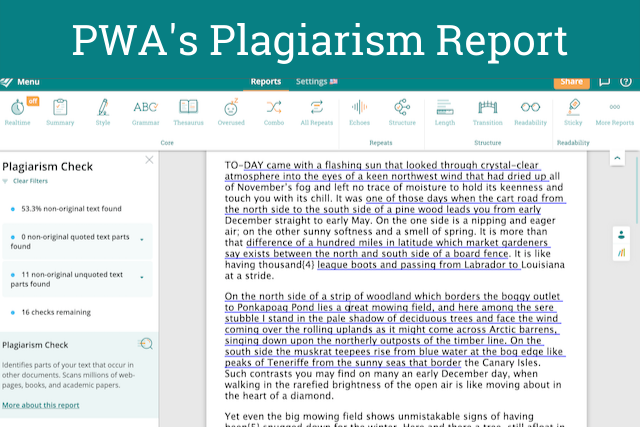 Just use our Plagiarism Report . It'll highlight any unoriginal text in your document so you can make sure you are citing everything correctly and summarizing in your own words.
Find out more about ProWritingAid plagiarism bundles.
Along with academic summaries, you might sometimes need to write professional summaries. Often, this means writing a summary about yourself that shows why you are qualified for a position or organization.
In this section, let's talk about two types of professional summaries: a LinkedIn summary and a summary section within a resume.
How Do I Write My LinkedIn Bio?
LinkedIn is all about professional networking. It offers you a chance to share a brief glimpse of your professional qualifications in a paragraph or two.
This can then be sent to professional connections, or even found by them without you having to reach out. This can help you get a job or build your network.
Your summary is one of the first things a future employer might see about you, and how you write yours can make you stand out from the competition.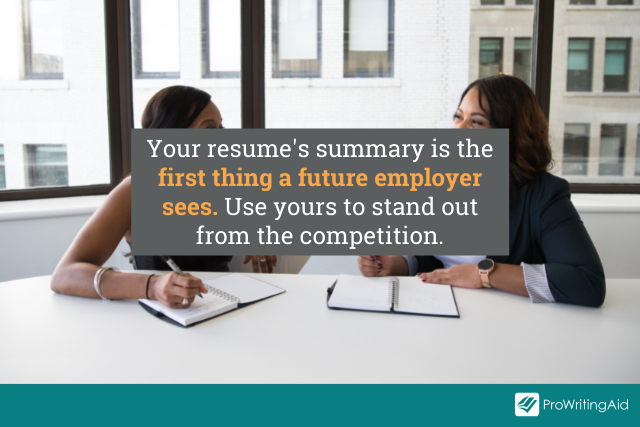 Here are some tips on writing a LinkedIn summary :
Before you write it, think about what you want it to do . If you are looking for a job, what kind of job? What have you done in your past that would stand out to someone hiring for that position? That is what you will want to focus on in your summary.
Be professional . Unlike many social media platforms, LinkedIn has a reputation for being more formal. Your summary should reflect that to some extent.
Use keywords . Your summary is searchable, so using keywords that a recruiter might be searching for can help them find you.
Focus on the start . LinkedIn shows the first 300 characters automatically, and then offers the viewer a chance to read more. Make that start so good that everyone wants to keep reading.
Focus on accomplishments . Think of your life like a series of albums, and this is your speciality "Greatest Hits" album. What "songs" are you putting on it?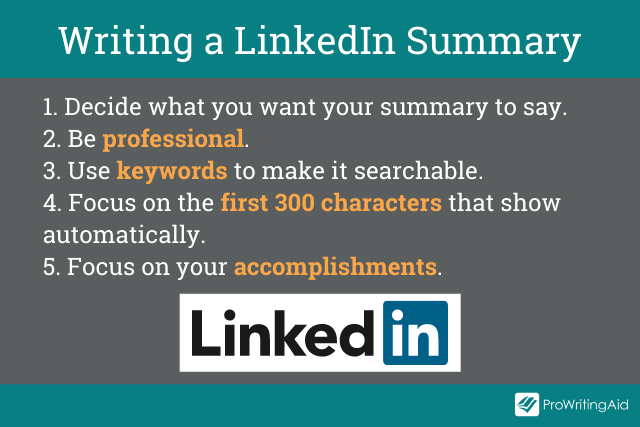 How Do I Summarize My Experience on a Resume?
Writing a professional summary for a resume is different than any other type of summary that you may have to do.
Recruiters go through a lot of resumes every day. They don't have time to spend ages reading yours, which means you have to wow them quickly.
To do that, you might include a section at the top of your resume that acts almost as an elevator pitch: That one thing you might say to a recruiter to get them to want to talk to you if you only had a 30-second elevator ride.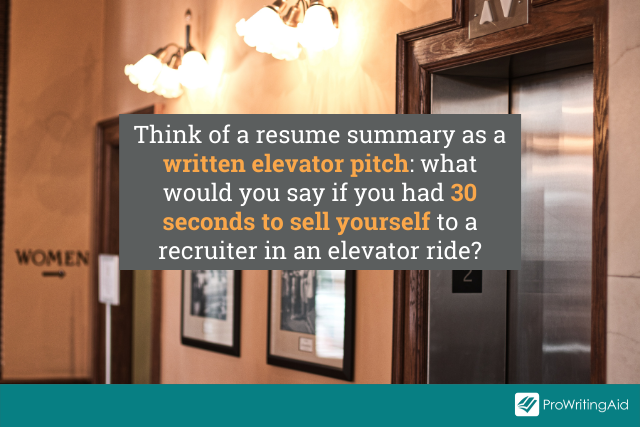 If you don't have a lot of experience, though, you might want to skip this section entirely and focus on playing up the experience you do have.
Outside of academic and personal summaries, you use summary a lot in your day-to-day life.
Whether it is telling a good piece of trivia you just learned or a funny story that happened to you, or even setting the stage in creative writing, you summarize all the time.
How you use summary can be an important consideration in whether people want to read your work (or listen to you talk).
Here are some things to think about when telling a story:
Pick interesting details . Too many and your point will be lost. Not enough, and you didn't paint the scene or give them a complete idea about what happened.
Play into the emotions . When telling a story, you want more information than the bare minimum. You want your reader to get the emotion of the story. That requires a little bit more work to accomplish.
Focus. A summary of one story can lead to another can lead to another. Think about storytellers that you know that go off on a tangent. They never seem to finish one story without telling 100 others!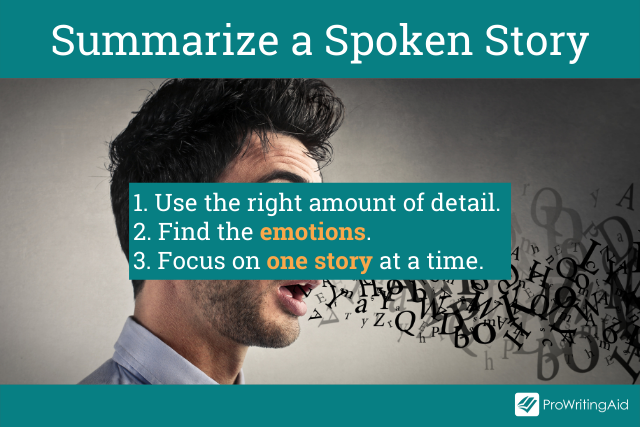 To wrap up (and to demonstrate everything I just talked about), let's summarize this post into its most essential parts:
A summary is a great way to quickly give your audience the information they need to understand the topic you are discussing without having to know every detail.
How you write a summary is different depending on what type of summary you are doing:
An academic summary usually gets to the heart of an article, book, or journal, and it should highlight the main points in your own words. How long it should be depends on the type of assignment it is.
A professional summary highlights you and your professional, academic, and volunteer history. It shows people in your professional network who you are and why they should hire you, work with you, use your talents, etc.
Being able to tell a good story is another form of summary. You want to tell engaging anecdotes and facts without boring your listeners. This is a skill that is developed over time.
Take your writing to the next level: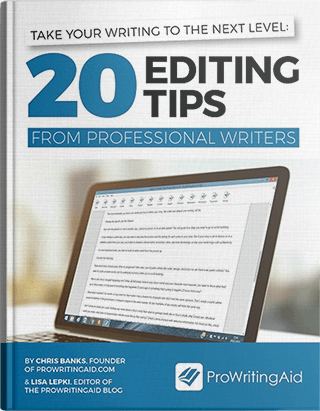 20 Editing Tips from Professional Writers
Whether you are writing a novel, essay, article, or email, good writing is an essential part of communicating your ideas., this guide contains the 20 most important writing tips and techniques from a wide range of professional writers..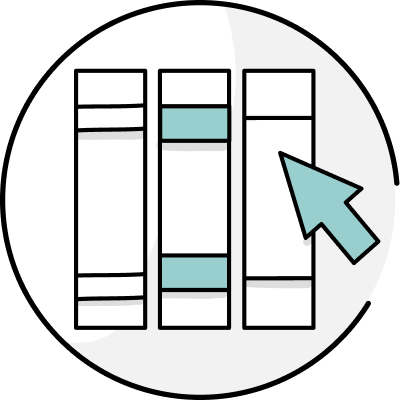 Be confident about grammar
Check every email, essay, or story for grammar mistakes. Fix them before you press send.
Ashley Shaw is a former editor and marketer/current PhD student and teacher. When she isn't studying con artists for her dissertation, she's thinking of new ways to help college students better understand and love the writing process. You can follow her on Twitter, or, if you prefer animal accounts, follow her rabbits, Audrey Hopbun and Fredra StaHare, on Instagram.
Get started with ProWritingAid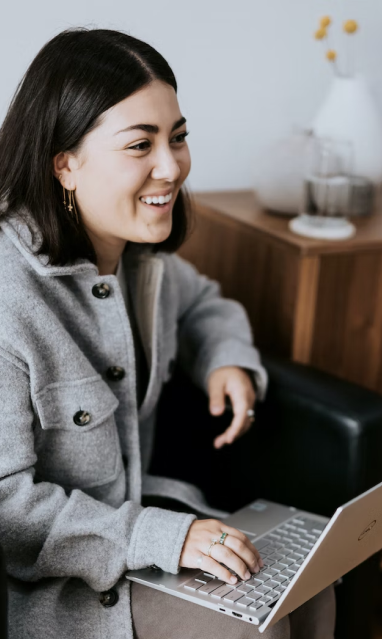 Drop us a line or let's stay in touch via :
How to Summarize a PowerPoint Presentation
Small Business
Business Communications & Etiquette
Presentations
')" data-event="social share" data-info="Pinterest" aria-label="Share on Pinterest">
')" data-event="social share" data-info="Reddit" aria-label="Share on Reddit">
')" data-event="social share" data-info="Flipboard" aria-label="Share on Flipboard">
What Are Thesis & Forecasting Statements?
How to undo outlining in powerpoint, how to make footnotes in indesign cs5.
How to Make a New Slide in Google Docs
How to Export Word to PowerPoint
"The key to effective slides," says Cliff Atkinson, author of "Beyond Bullet Points," is to distill the essential details of your presentation and tell a story that "takes your audience on a journey." A summary slide in your PowerPoint presentation gives the table of contents for your story and a handy way to move between different sections of the slide show. In PowerPoint 2003 and older, there was an automated feature that created a summary slide. That feature has been removed from more recent versions of the software.
Open your unsummarized PowerPoint presentation. On the Home tab, click the arrow under "New Slide." If you want a text summary, choose "Title and Content." If you want a graphical summary, choose "Blank."
Click on the first slide in the Slide Pane on the left side of the PowerPoint window. Right-click and select "Copy." Or, if you want to copy the text of the slide title, click the "Outline" tab at the top of the Slide Pane, click and drag to highlight the title of the first slide and then copy it.
Right-click on the new slide you created; under Paste Options, you'll see several options. For a text summary, choose "Keep Text Only." For a graphical summary choose "Picture."
Repeat the copy and paste process for all the slides you want in your summary. If you have a large presentation, you may want to summarize only the main headings rather than every slide.
Click the first image or highlight the first line of text. Click the "Insert" tab and then "Hyperlink." Choose "Place in This Document" from the options on the left. Click to select the first slide from the list and click "OK." Now you can click on the image or title in the presentation and you'll automatically go to that spot in the slide show.
Microsoft Office: What Happened to the Summary Slide and Table of Contents Options??
Microsoft Office: Copy and Paste Your Slides
Size your images to 1.7 inches high by 2.27 inches wide and you can fit 16 of them on your summary slide with even spacing between them.
Add a hyperlink on each slide or at the end of each section to return to the summary slide for easy, non-linear navigation.
James T Wood is a teacher, blogger and author. Since 2009 he has published two books and numerous articles, both online and in print. His work experience has spanned the computer world, from sales and support to training and repair. He is also an accomplished public speaker and PowerPoint presenter.
Related Articles
How to make a non-linear powerpoint, how to insert word art in powerpoint, how to open an eps file in openoffice, how to turn off superscript in powerpoint, how to add footnotes in powerpoint, how to give a budget report, final summary for a marketing plan, how to create a powerpoint template with a subdued picture, how to combine powerpoint presentations with different templates, most popular.
1 How to Make a Non-Linear PowerPoint
2 How to Insert Word Art in Powerpoint
3 How to Open an EPS File in OpenOffice
4 How to Turn Off Superscript in PowerPoint

How to Summarize a Presentation
How to structure a presentation.
Summarizing a presentation provides the opportunity to leave a lasting impression on the audience. The concluding remarks of a presentation are what usually sticks in the audience's head. At one level, the concluding remarks of a summary are like sound bites. They are short and condensed version of the the presentation. If someone missed the actual presentation and only heard the summary, they should have a good idea about the essence of the presentation.
Tell the audience that you are concluding the presentation. This sets the context for the summary and prepares the audience members for your concluding remarks.
Briefly summarize the primary points of the presentation. Avoid digressing into new information, arguments or points of view. Also avoid running a point into the ground that you have already discussed in detail during the presentation. The point of the summary is to remind the audience about the essential core of the presentation. Concentrate on the major ideas and the argument you made that supported the ideas..
Inform the audience about future work that you are interested in pursuing. The subject matter of a presentation usually has room for growth,development or elaboration. It is impossible to cover all of the bases in the time span of a presentation.
Conclude the summary be thanking the audience for listening. Tell the audience that you would be happy to respond to any questions they may having that relate to the presentation.
Related Articles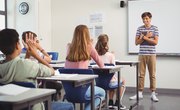 How to Do a Paper Review Presentation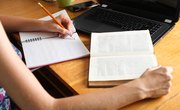 How to Write an Introduction to a Reflective Essay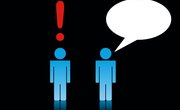 How to Evaluate an Oral Presentation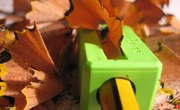 How to Write an Introduction to an Analytical Essay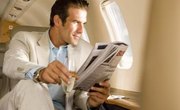 How to Set Up a Rhetorical Analysis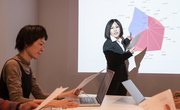 How to Write a Conclusion for PowerPoint Presentation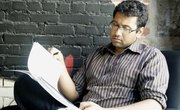 How to Write a Dissertation Summary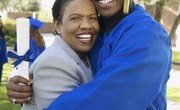 Tips on Writing a Welcome Address at a High School Graduation
English Club: Presentations In English
Robert Russell began writing online professionally in 2010. He holds a Ph.D. in philosophy and is currently working on a book project exploring the relationship between art, entertainment and culture. He is the guitar player for the nationally touring cajun/zydeco band Creole Stomp. Russell travels with his laptop and writes many of his articles on the road between gigs.

How to Create a Summary Slide in PowerPoint?
Creating a summary slide in PowerPoint is an essential part of putting together a presentation that grabs and holds your audience's attention. Not only does it help to reinforce the key themes of your presentation, but it also serves as a powerful tool for summarizing complex information and data in an easy-to-understand format for your audience. In this article, we will explore the importance of a summary slide in PowerPoint presentations, how to plan and design an effective summary slide, and some best practices and tips for creating an engaging and informative summary slide.
Table of Contents
The Importance of a Summary Slide in PowerPoint Presentations
One of the key reasons why a summary slide is so important in PowerPoint presentations is its ability to reinforce the main themes and ideas of your presentation. By highlighting the most important points and takeaways, a summary slide can help to ensure that your audience remembers your presentation long after it is over. Additionally, a summary slide provides a clear and concise way to summarize complex data or information, helping to make your presentation more accessible and engaging for your audience.
Another benefit of including a summary slide in your PowerPoint presentation is that it can serve as a roadmap for your audience. By providing a clear overview of the topics covered in your presentation, a summary slide can help your audience to follow along and stay engaged throughout the entire presentation. This can be especially helpful for longer presentations or those that cover a lot of complex information.
Finally, a summary slide can also be a useful tool for reinforcing your call to action or key message. By summarizing the main points of your presentation and highlighting the key takeaways, you can help to ensure that your audience understands the importance of your message and is motivated to take action. This can be particularly important in business or marketing presentations, where the ultimate goal is to persuade your audience to take a specific action or make a purchase.
Understanding the Purpose of a Summary Slide in Your Presentation
Before you start creating your summary slide, it's essential to understanding its purpose in your overall presentation. The summary slide is typically the last slide of your presentation, and it should summarize the most important points covered in your presentation along with a memorable final thought. For example, if you're delivering a sales pitch, your summary slide should highlight the key benefits of your product or service and provide a clear call to action for your audience.
Another important aspect of a summary slide is that it helps your audience to remember the key takeaways from your presentation. By providing a concise summary of the main points, your audience is more likely to retain the information and be able to recall it later. Additionally, a well-crafted summary slide can also serve as a visual aid to reinforce your message and leave a lasting impression on your audience.
Planning Your Summary Slide: What to Include and What to Leave Out
When planning your summary slide, it's important to strike the right balance between including enough information to summarize your presentation effectively while also avoiding overwhelming your audience with too much detail. Some key elements to consider including in your summary slide include the main themes and ideas covered in your presentation, key data points or statistics, any notable quotes or testimonials, and a final call to action. However, be sure to leave out any extraneous information that isn't directly relevant to your main message or themes.
Another important factor to consider when planning your summary slide is the visual design. Your summary slide should be visually appealing and easy to read, with clear and concise text and graphics. Use a consistent color scheme and font throughout your presentation to create a cohesive and professional look. Additionally, consider using visual aids such as charts, graphs, or images to help illustrate your main points and make your summary slide more engaging for your audience.
Step-by-Step Guide to Creating a Summary Slide in PowerPoint
Creating a summary slide in PowerPoint is a straightforward process that can be accomplished using a few simple steps. First, choose the template or design for your summary slide. Most PowerPoint templates include a suitable summary slide layout, so you don't need to start from scratch. Next, consider the key message and themes of your presentation and decide what information to include in your summary slide. Be sure to keep your text concise and focused, and use bullet points or other visual aids to help keep things clear and easy to understand. Finally, add any relevant images, charts, or graphs to your summary slide, and make sure to use fonts and colors that are consistent with your overall presentation design.
It's important to note that the summary slide should be the last slide in your presentation. This slide should provide a quick overview of the key points and takeaways from your presentation. It's also a good idea to include a call to action or next steps on this slide, so your audience knows what to do next. Remember, the summary slide is often the slide that your audience will remember the most, so make sure it's clear, concise, and visually appealing.
Designing an Eye-Catching Summary Slide for Your Presentation
While the content of your summary slide is essential, the design also plays a crucial role in creating an engaging and memorable summary slide. To design an eye-catching summary slide, consider using bold colors and fonts, incorporating relevant images or graphics, and using animations or slide transitions to help emphasize key points. Remember to keep your design consistent with your overall presentation theme and style.
Another important aspect to consider when designing your summary slide is the placement of information. You want to make sure that the most important information is prominently displayed and easy to read. This can be achieved by using larger font sizes or bolding key words. Additionally, consider using bullet points or numbered lists to break up information and make it easier to digest.
Finally, don't forget about the importance of white space. A cluttered summary slide can be overwhelming and difficult to read. Leave enough space between elements to create a clean and organized design. This will not only make your summary slide more visually appealing, but it will also make it easier for your audience to understand and remember the information presented.
Tips and Tricks for Creating an Effective Summary Slide in PowerPoint
When creating your summary slide, there are a few tips and tricks that can help you to ensure its effectiveness. First, consider using a strong headline or tagline that sums up the main message or takeaway from your presentation. Second, use bullets or numbers to break down complex information into manageable chunks, making it easier for your audience to understand. Finally, use visuals like images or charts to help illustrate your key points, making them more memorable and engaging for your audience.
Another important tip to keep in mind when creating a summary slide is to keep it simple and concise. Avoid cluttering the slide with too much information or unnecessary details. Stick to the most important points and use clear and concise language to convey your message effectively.
Additionally, it can be helpful to include a call to action on your summary slide. This could be a request for feedback, a call to visit your website or social media pages, or an invitation to continue the conversation after the presentation. Including a call to action can help to keep your audience engaged and interested in your message beyond the presentation itself.
How to Customize Your Summary Slide with Animations and Transitions
PowerPoint offers a wide range of options for customizing your summary slide with animations and transitions. Animations can be used to bring attention to key points or data, while transitions can help to create a seamless flow between slides. When using animations and transitions, be sure to use them sparingly and consistently throughout your entire presentation.
Best Practices for Using Images and Graphics on Your Summary Slide
Images and graphics can be powerful tools for enhancing the impact of your summary slide. When using images and graphics, be sure to choose visuals that are relevant to your presentation and that help to reinforce your main message or themes. Additionally, use high-quality images and graphics that are visually appealing and easy to understand for your audience.
Adding Charts and Graphs to Your Summary Slide: A Comprehensive Guide
If your presentation includes complex data or information, charts and graphs can be an effective way to present it in a clear and easy-to-understand format. When adding charts and graphs to your summary slide, consider using simple designs and labels that are easy to read and interpret. Additionally, be sure to only include the most important data points or information on your summary slide, leaving out any unnecessary information that could confuse your audience.
Creating a Memorable Conclusion with Your Summary Slide
The last slide of your presentation should leave a lasting impression on your audience. To create a memorable conclusion with your summary slide, consider including a final call to action or memorable quote that reinforces your presentation's main message. Additionally, use images, graphics, or animations to help emphasize your main points and leave a lasting impression on your audience.
How to Use a Summary Slide to Engage Your Audience
A summary slide can also be an effective tool for engaging your audience throughout your presentation. By previewing your summary slide at the beginning of your presentation, your audience will have a clear understanding of what to expect and will be more engaged and attentive throughout the rest of your presentation. Additionally, use your summary slide to encourage audience participation by asking questions or soliciting feedback on your key messages.
Examples of Amazing Summary Slides: Inspiration for Your Next Presentation
Looking for some inspiration for your next summary slide? There are plenty of examples of amazing summary slides that you can draw inspiration from. Some great examples include TED Talks and other presentations from thought leaders in your industry. Take note of how they use visuals, text, and other design elements to create engaging and memorable summary slides.
Common Mistakes to Avoid When Creating a Summary Slide in PowerPoint
When creating your summary slide, there are a few common mistakes to avoid. These include including too much information or detail, using fonts or colors that are difficult to read, and failing to use visuals or other design elements effectively. Additionally, be sure to proofread your summary slide carefully to avoid any spelling or grammatical errors that could detract from your message.
Wrap Up: Final Thoughts on Creating a Perfect Summary Slide in PowerPoint
Creating an effective summary slide is a crucial part of any PowerPoint presentation. By following the tips and best practices outlined in this article, you can create a summary slide that not only reinforces the key themes and ideas of your presentation but also engages and informs your audience in a memorable and effective way.
Related Resources
How to Create a Summary Zoom Slide in PowerPoint
How to Create a Master Slide in PowerPoint
How to Create a Custom Slide Show in PowerPoint
How to Create a Slide Template in PowerPoint
Turn complex data into a compelling story with zebra bi, stunning reports, ease of use, insight-driven success, take your reporting to the next level.
Powerful presentations - visualize data like a Pro
Create reports with linked Excel data and customizable themes.  Right in your PowerPoint for FREE.
How to Summarize a Presentation: 5 Easy Steps
Table of Contents
Introduction
Different people have varying needs for summaries. For a student, summaries are a great way to keep notes. They help them during their exam preparations.
In businesses, summaries are often required during executive meetings. Any kind of report, plan, or strategy could require an executive summary. This is also where summarizing presentations is required. In businesses, presentations are much more valuable and time-saving than a simple article or paper.  
The reason presentations are used is that they can, paired with images and graphs, effectively utilize the least amount of text. However, even these need to be summarized frequently because the executives do not have a lot of time to go through an entire presentation.In this post, we will check out some ways to summarize presentations.
Using a Tool
Not all people have the time to manually summarize a presentation. Businessmen, in general, are always short on time especially when they belong to large corporations. 
They can use summarizing tools to generate succinct summaries of presentations or plans/strategies. 
Summarizing tools are widely available on the internet. And a lot of them are free to use. A great text summarizer can summarize your content in the shortest possible time using the number of words you like.  Some summarizers come with the option of condensing the source material into a paragraph or a series of bullet points. Since there are a lot of tools to pick from, you can try out a few and use the ones that suit your needs best.
By Hand/Manually
Summarizing presentations is not something difficult or that different than summarizing regular text material. It involves the same steps for the most part. The steps are discussed below.
Read and Understand the Presentation
Summarizing is quite similar to rewriting, so some steps are rather alike to how you would begin to rewrite something. The first of these steps is reading the source material. 
Reading and understanding the presentation are necessary for you to effectively summarize it. If you do not understand what the message of the source is, you cannot properly summarize it. That is because you will miss a crucial point in your summary due to the lack of understanding. 
Hence, you should read and reread the source until you can comfortably say that you understand the material.
Segment the Material into Sections
Now, presentations usually do not deal with just a single topic. That is especially the case in business presentations. They may be dealing with multiple topics such as forecasts for the next quarter, reports of the previous quarter, current plans, and strategies etc. 
Each section deals with something different. If the source material is indeed already divided into multiple sections like this, that makes this step easier. You can use the same sections during your summary. However, if there are no discernable sections then you need to create segments yourself. 
Each segment should be dealing with one particular sub-topic. This will make it easier for you to summarize the entire thing. Summarizing each section individually is much easier than summarizing the entire text at once.
Identify Key Points
Now that sections dealing with each sub-topic have been created, the next step is to identify the key points.  
Each section will have different key points. When we say "identify" them, we mean to say what is the message or point that that section is trying to create or prove.  Recognizing this point is the key to summarizing. The key points must be present in the summary for it to be correct. 
Once the key points are extracted from the source, you can move ahead to the next step.
Write the Summary
This is the step in which you write the  summary  itself. You have divided the source material into sections and extracted the main points from each section. 
Now use those points to write down the summary of each section individually in your own words. At this stage, the only thing you need to be careful about is to write the key points using as less words as possible. 
What you do not have to worry about is the overall length of the summary. Just focus on each section first. This is not the final step, and the summary you will write during this step will be revised multiple times. 
So before worrying about whether you write the summary well or not, just focus on writing one and finishing it. 
Compare to the Original and Revise
Once you have written your summary, compare it to the source. Does the summary encapsulate everything the source was trying to say? Have you left anything out? Have some points been misconstrued or reworded poorly? 
Keep an eye out for such things and make edits where necessary. The summary may need to be revised multiple times before you are satisfied with it. 
The summary should be overall no larger than ten percent of the source material. So, you may need to shave off a little bit of text from under each section to meet that limit. 
Just make sure that you are only shaving unimportant words/sentences rather than important ones. 
You can compare your summary with a summary obtained from a summary tool to see how good or bad it is and where you can improve it.
Summarizing can be a difficult task depending on what kind of topic is being talked about or who is doing the summarizing. Some people have a way with words and they are naturally able to say things in a concise manner, while others have to learn how to do so.
Summarizing is a skill that is required in presentations and speeches. These are both mediums using which information and possibly new concepts are provided to the audience. At the end of both, a summary is required to nicely round up the entire topic. Using summarizing tools is an easier way as compared to manually writing a summary since they save a lot of time and effort.
Summarize your presentation with Copilot for Microsoft 365 in PowerPoint
Receive a long slide deck and need to get to the gist of the main points quickly? Copilot for Microsoft 365 in PowerPoint can read through the deck and give you a bulleted summary so you can understand the key points.
Type Summarize this presentation in the prompt field and send it.
Want to know which slides might need special attention? Ask Copilot to Show key slides, and Copilot will try to identify which slides in the deck might be worthy of a look.
Skip straight to the call to action by asking Copilot to Show action items . You'll get a list of tasks that Copilot was able to identify in the presentation.
Welcome to Copilot in PowerPoint
Microsoft Copilot help & learning
Where can I get Microsoft Copilot?
Unleash your productivity with AI
Frequently asked questions: AI, Microsoft 365 Copilot, and Microsoft Designer
Need more help?
Want more options.
Explore subscription benefits, browse training courses, learn how to secure your device, and more.
Microsoft 365 subscription benefits
Microsoft 365 training
Microsoft security
Accessibility center
Communities help you ask and answer questions, give feedback, and hear from experts with rich knowledge.
Ask the Microsoft Community
Microsoft Tech Community
Windows Insiders
Microsoft 365 Insiders
Was this information helpful?
Thank you for your feedback.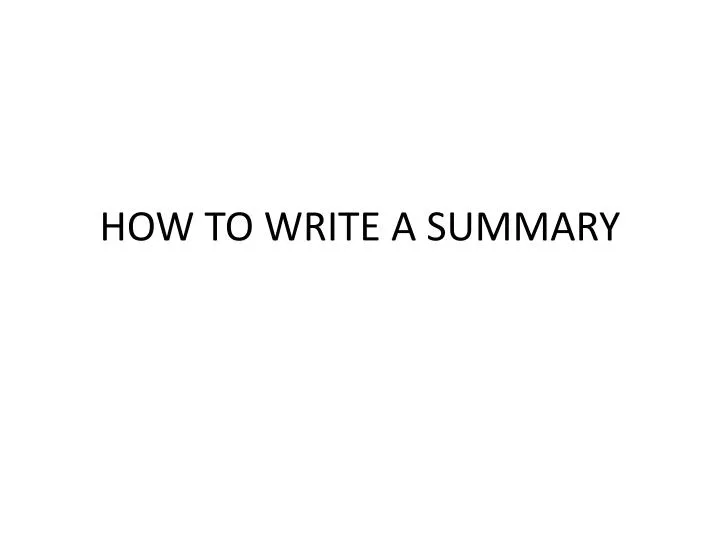 HOW TO WRITE A SUMMARY
Jun 20, 2013
1.77k likes | 5.34k Views
HOW TO WRITE A SUMMARY. HOW TO WRITE A SUMMARY. There are many situations in the workplace , at the university , in your life in which it is necessary to summarise information.
articulate learners project
accurate clear relevant concise
single sentence
own topic sentence
Presentation Transcript
HOW TO WRITE A SUMMARY There are manysituations in the workplace, at the university, in your life in whichitisnecessarytosummarise information. Summariesmaybegivenbothorally and in writtenform. When in writtenform, itmay involve eitherwriting a text or just a seriesofpoints.
HOW TO WRITE A SUMMARY Whatever the situation and whatever the form, any summary needs to be: Accurate Clear Relevant Concise
HOW TO WRITE A SUMMARY WORKPLACE SUMMARIES Summarisingimportant information regarding a business deal, problemswithclients or withcolleagues Summarising a report or anarticleforcolleagues. Givingcolleagues a summaryof work thatneedstobecarried out. Summarising the basicplansof a project.
HOW TO WRITE A SUMMARY Writing a good summary demonstrates that you clearly understand a text...and that you can communicate that understanding to your readers. A summary can be tricky to write at first because it's tempting to include too much or too little information. But by following easy 8 steps, you will be able to summarize texts quickly and successfully for any class or subject.
HOW TO WRITE A SUMMARY Divide…and conquer. Skim the text you are going to summarize and divide it into sections. Focus on any headings and subheadings. Also look at any bold-faced terms and make sure you understand them before you read. 
HOW TO WRITE A SUMMARY 2) Read. Now that you've prepared, go ahead and read the selection. Read straight through. At this point, you don't need to stop to look up anything that gives you trouble… just get a feel for the author's tone, style, and main idea.
HOW TO WRITE A SUMMARY 3) Reread. Rereading should be active reading. Underline topic sentences and key facts. Label areas that you want to refer to as you write your summary. Also label areas that should be avoided because the details—though they may be interesting—are too specific. Identify areas that you do not understand and try to clarify those points. 
HOW TO WRITE A SUMMARY 4) One sentence at a time. You should now have a firm grasp on the text you will be summarizing. In steps 1–3, you divided the piece into sections and located the author's main ideas and points. Now write down the main idea of each section in one well-developed sentence. Make sure that what you include in your sentences are key points, not minor details. 
HOW TO WRITE A SUMMARY 5) Write a thesis statement. This is the key to any well-written summary. Review the sentences you wrote in step 4. From them, you should be able to create a thesis statement that clearly communicates what the entire text was trying to achieve. If you find that you are not able to do this step, then you should go back and make sure your sentences actually addressed key points.
HOW TO WRITE A SUMMARY 6) Ready to write. At this point, your first draft is virtually done. You can use the thesis statement as the introductory sentence of your summary, and your other sentences can make up the body. Make sure that they are in order. Add some transition words such as then, however, also, moreover that help with the overall structure and flow of the summary.
HOW TO WRITE A SUMMARY And once you are actually putting pen to paper (or fingers to keys!), remember these tips: Write in the present tense. Make sure to include the author and title of the work. Be concise: a summary should not be equal in length to the original text. If you must use the words of the author, cite them. Don't put your own opinions, ideas, or interpretations into the summary. The purpose of writing a summary is to accurately represent what the author wanted to say, not to provide a critique.
HOW TO WRITE A SUMMARY 7) Check for accuracy. Reread your summary and make certain that you have accurately represented the author's ideas and key points. Make sure that you have correctly cited anything directly quoted from the text. Also check to make sure that your text does not contain your own commentary on the piece.
HOW TO WRITE A SUMMARY 8) Revise. Once you are certain that your summary is accurate, you should (as with any piece of writing) revise it for style, grammar, and punctuation. If you have time, give your summary to someone else to read. This person should be able to understand the main text based on your summary alone. If he or she does not, you may have focused too much on one area of the piece and not enough on the author's main idea.
HOW TO WRITE A SUMMARY http://www.enotes.com/topics/how-write-summary
http://lsa.colorado.edu/essence/guidelines.html HOW TO WRITE A SUMMARY Anothergood web source: http://lsa.colorado.edu/essence/guidelines.html
HOW TO WRITE A SUMMARY STATE THE ESSENCE State the Essence! is a central part of the Articulate Learners Project at the University of Colorado.
HOW TO WRITE A SUMMARY The following hints or guidelines for writing a summary are available by clicking on the topic: Covering the topics of an essay. What is a topic sentence? What are the main ideas of an essay? What is considered trivial information? How to substitute a general term for a list of words. What if important sections are missing from your summary? What if your summary is too short? What if your summary is too long? More information on the State the Essence!research project.
HOW TO WRITE A SUMMARY Definition of topic sentence: A topic sentence is a sentence that captures the meaning of the entire paragraph or group of paragraphs. A topic sentence is a key point. First try to find a topic sentence in the paragraph or section to use as a topic sentence. If you cannot find one, then write your own topic sentence by combining important ideas from two or more sentences in the section that capture the meaning together.
HOW TO WRITE A SUMMARY Definition of main idea: A main idea is important information that tells more about the overall idea of a paragraph or section of a text.
HOW TO WRITE A SUMMARY Definition of trivial information: "Trivial information" is an empty statement that contributes very little new content about the topic. For example: "I think everyone should know about the energy sources we use."
HOW TO WRITE A SUMMARY Definition and examples of a general term: Here is an example of how to substitute a general term for a list of items in order to summarize this sentence: details: "John bought some milk, bread, fruit, cheese, potato chips, butter, hamburger and buns." general term: "John bought some groceries."
HOW TO WRITE A SUMMARY Here is an example of how to substitute a general term for a list of events in order to summarize this passage: details: "A lot of children came and brought presents. They played games and they played games and blew bubbles at each other. A magician came and showed them some magic. Later Jennifer opened her presents and blew out the candles on her cake." general term: "Jennifer had a birthday party."
HOW TO WRITE A SUMMARY Here is another example of how to substitute a general term for a list of events tin order to summarize this passage: details: "Jennifer did the arithmetic problems. Then she did the five-page reading assignment for social studies. Finally she studied the spelling list for the test." general term: "Jennifer did her homework."
HOW TO WRITE A SUMMARY Missing information: This feedback means that your summary does not cover all the important topics. Compare your summary with the original text. For each missing section ask yourself: Did I state the main idea that this section is about? Did I include the most important information about this idea? Did I show how the main ideas and supporting information are related?
HOW TO WRITE A SUMMARY Summary too short: This feedback means that you should add more information to your summary. Check the topic headings in the original text and ask yourself: Did I cover all the major topics? Did I include important ideas that give further information about each topic? Did I show how the main ideas and supporting information are related?
HOW TO WRITE A SUMMARY Summary too long: This feedback means that you should shorten your summary. Ask yourself: Did I use any information that is not directly about the overall idea? Are there any details or trivial information that I could leave out? Can I combine several facts into a single sentence, maybe using a general term? Did I use state any information more than one time?
How to Write an Executive Summary
How to Write an Executive Summary. What Is an Executive Summary?. An executive summary previews the main points of an in-depth report It is written for nontechnical people who don't have time to read the main report
762 views • 10 slides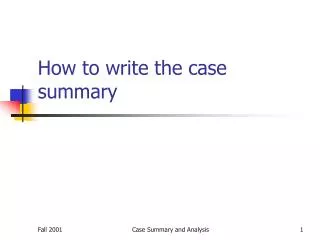 How to write the case summary
How to write the case summary. What is a case?. Story Real management problems Under a specific context. What is the content of a case. Introduction Company Background Information related to the management problems. Case teaching . Understand the organizational situations
449 views • 19 slides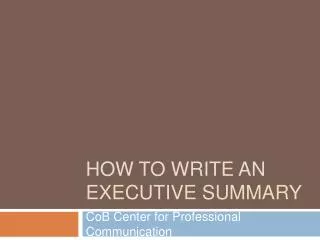 How to Write an Executive Summary. CoB Center for Professional Communication. What Is an Executive Summary?. An executive summary previews the main points of an in-depth report It is written for nontechnical people who don't have time to read the main report
416 views • 11 slides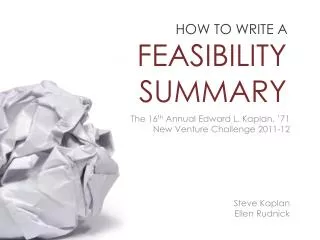 HOW TO WRITE A
HOW TO WRITE A. FEASIBILITY SUMMARY. The 16 th Annual Edward L. Kaplan, ' 71 New Venture Challenge 2011-12. Steve Kaplan Ellen Rudnick. WORKSHOP. AGENDA. PRESENTATION. REVIEW NVC TIMELINE FEASIBILITY SUMMARY: KEY ELEMENTS OUTSIDE - IMPACTS DOS & DON ' TS Q&A. AFTERWARDS.
595 views • 45 slides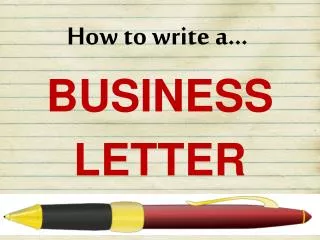 How to write a…
How to write a…. BUSINESS LETTER. D.0.L. Please write the following sentences in your class folder. We will correct them together as a class. I dont under stand why we need to learn how to right an business letter. If you ask me I think their just plaine boring.
308 views • 11 slides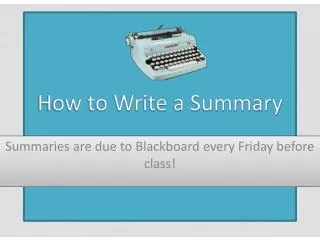 How to Write a Summary
How to Write a Summary. Summaries are due to Blackboard every Friday before class!. Purpose : Your purpose for writing this part of the assignment will be to summarize, accurately and objectively, the author's central thesis and claims .
413 views • 10 slides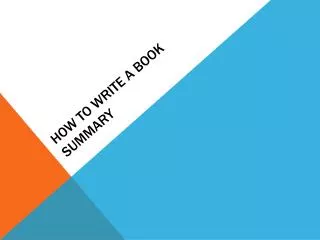 How to write a book Summary
How to write a book Summary. Tips . 1. Introduce the book and the author. 2. Underline the title of the book. 3. Do not tell every little detail. 4. Just the most important events. . How to start.
483 views • 5 slides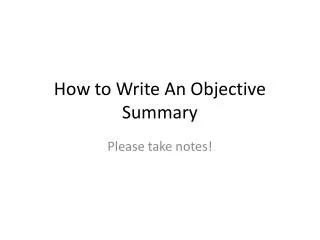 How to Write An Objective Summary
How to Write An Objective Summary . Please take notes! . An Objective Summary Is. An objective summary is: A summary in your own words describing the major points of a text. . An Objective Summary Needs…. An objective summary needs the following items: The central idea
5.53k views • 9 slides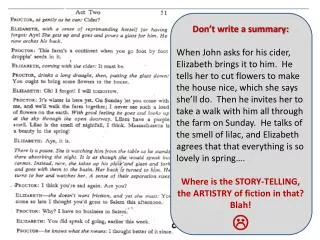 Don't write a summary:
180 views • 8 slides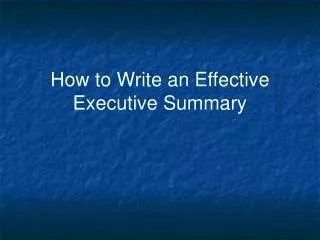 How to Write an Effective Executive Summary
How to Write an Effective Executive Summary. Pitch First 1. Your business plan will be a pitch Create your presentation first Your executive summary is a concise write-up of your presentation It should truly summarize your entire business plan Assume it is all the investor will read.
296 views • 12 slides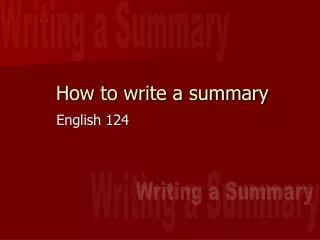 How to write a summary
How to write a summary. English 124. Read, Re-Read, Re-Re-Read!. Spend at least half an hour reading and re-reading before writing the summary. . …and then read again.
356 views • 13 slides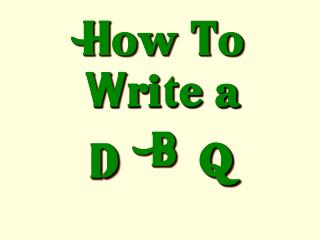 How To Write a
How To Write a. B. Q. D. A "Dazzling" D.B.Q. Is Like a Tasty Hamburger. The Introductory Paragraph. The "Top Bun" of your essay! 4-6 sentences. The Introductory Paragraph. Establish TIME & PLACE . Create a clear, THESIS* STATEMENT . [underline or highlight it!]
240 views • 12 slides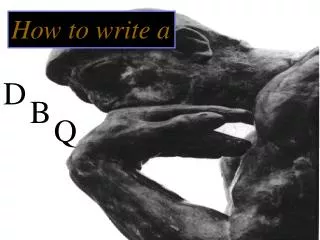 How to write a
How to write a. D. B. Q. Steps to success…. Read the Question Brainstorm: "Odometer" Take notes relating to the documents Answer scaffolding questions Outline Essay Write Essay Proofread Essay. THE HAMBURGER THEORY. Introduction:. Introduce the Essay- in your own words
552 views • 11 slides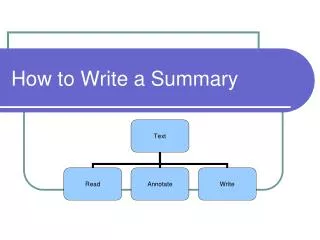 How to Write a Summary. Why write a summary?. To locate and understand key points from a chapter to study for a test To take notes for a research project To demonstrate to your teacher your understanding of a text. Read. Read the passage carefully and determine the author's purpose
790 views • 8 slides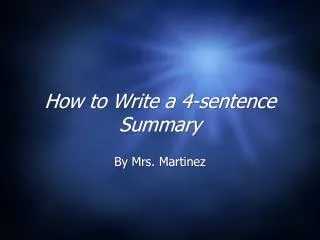 How to Write a 4-sentence Summary
How to Write a 4-sentence Summary. By Mrs. Martinez. How to write a 4-sentence summary. When responding to something you read, the first thing you should do is summarize the text. The following elements must be in your 4-sentence summary:
374 views • 9 slides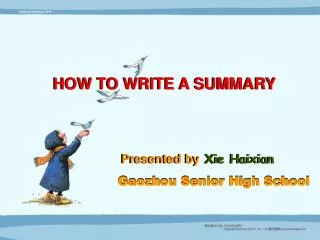 HOW TO WRITE A SUMMARY. HOW TO WRITE A SUMMARY. Presented by Xie Haixian. Presented by Xie Haixian. Gaozhou Senior High School. Gaozhou Senior High School. What is a Summary?. What is a Summary?.
331 views • 12 slides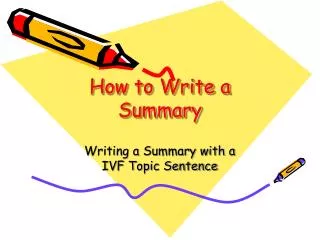 How to Write a Summary. Writing a Summary with a IVF Topic Sentence. What is a summary?. A shortened version of a text that highlights its key points. Can be written for both fiction and non-fiction pieces. Contains an IVF topic sentence. IVF Topic Sentence Step 1.
2.63k views • 18 slides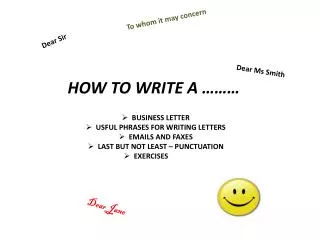 HOW TO WRITE A ………
To whom it may concern. Dear Sir. Dear Ms Smith. HOW TO WRITE A ………. BUSINESS LETTER USFUL PHRASES FOR WRITING LETTERS EMAILS AND FAXES LAST BUT NOT LEAST – PUNCTUATION EXERCISES. Dear Jane. A SKING FOR INFORMATION 45 Muswell Rd London NW4 15 April 2009 Sunshine Holiday Cottages
592 views • 33 slides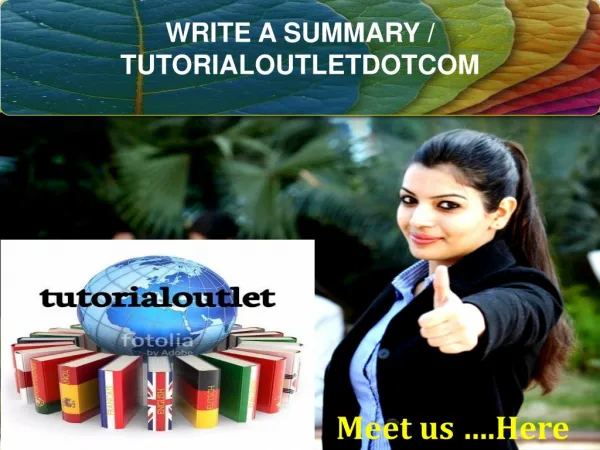 WRITE A SUMMARY / TUTORIALOUTLETDOTCOM
is a truly special teacher is very wise and sees tomorrow in every student's eyes
36 views • 3 slides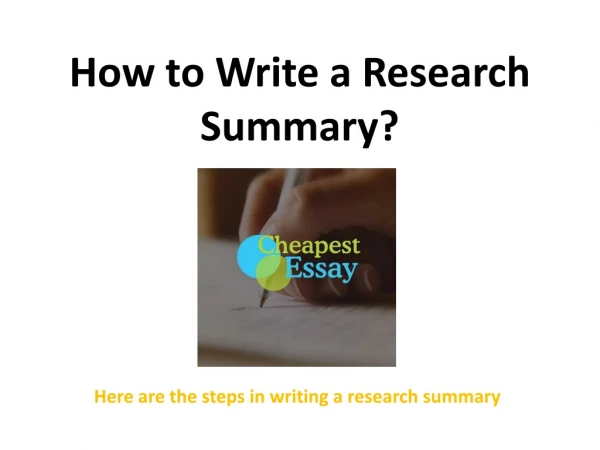 How to Write a Research Summary
Are you confused about the sort of language to use in your research grant application? Outsource your research summary paper and get it done remotely online. Search an academic writer for hire Services at www.cheapestessay.comor call us: 1 (909) 441-1414.
82 views • 7 slides
Expository writing: How to write a summary
人教版 高中必修四 Unit4 Body Language. SHOWING OUR FEELINGS. Expository writing: How to write a summary. 东莞光明中学 梁颖婵 华南师范大学 郑绮淇. Exposition. Introduction. Description ( list examples) Comparison Cause and Effect. Explanation. Conclusion. Summary.
167 views • 14 slides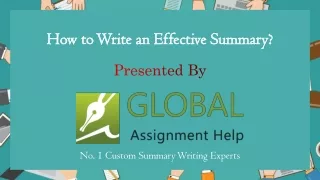 How to Write an Effective Summary?
In this PPT the experts of Global Assignment Help are explaining about custom summary writing and also providing tips regarding writing an effective summary.
125 views • 11 slides
Online Degree Explore Bachelor's & Master's degrees
MasterTrack™ Earn credit towards a Master's degree
University Certificates Advance your career with graduate-level learning
Top Courses
Join for Free
How to Write a Resume Summary [+ Examples]
A resume summary briefly explains who you are professionally. It can help recruiters or hiring managers quickly understand your experience and skills.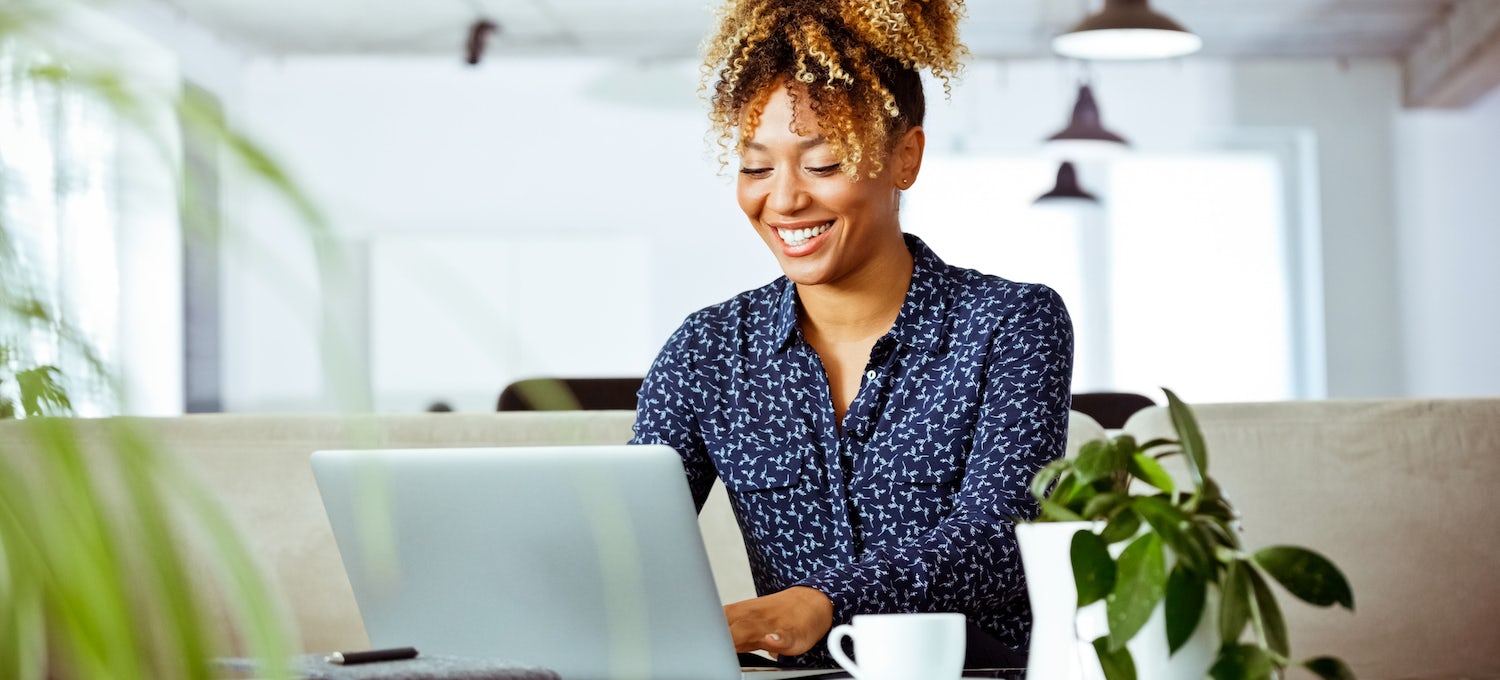 A resume summary delivers a concise story about your experience near the top of your resume. It's intended to help grab a recruiter's or hiring manager's attention and help them understand who you are as a candidate and what you have to offer.
Depending on your professional experience and career goals, a resume summary is only sometimes necessary, but adding one to your application materials may be beneficial. In this article, we'll cover when to use a resume summary, what it should typically include, and examples you can follow to craft your own. 
Resume summaries: Key facts 
Strong resume summaries tell a story, synthesising in narrative form the experience and skills you detail elsewhere using bullet points. Generally, it's a good idea to include information about your: 
Experience: Lead with your most recent job title and summarise your years of experience. 
Impact: Include any significant accomplishments and achievements, especially if you can quantify them. 
Skills: Detail any important workplace and technical skills related to the job you are applying for.  
Senior project manager with eight years of experience successfully leading large teams and identifying opportunities to reduce overhead and cost. 
Licensed microbiology technologist with over five years of experience working at a major hospital lab. 
A successful certified financial planner with six years of experience consulting clients, determining their long-term goals, and developing tailored plans to achieve results. 
Creative social media manager with four years of experience overseeing all major channels for a fintech start-up. Trained in Hootsuite, Buffer, and Google Trends. 
When should you use a resume summary? 
There is no strict rule about when to use a resume summary. Generally, it's more common to include one when you've amassed some professional experience, say around three years, because it can help you outline the prominent theme of your career.
You can also use a resume summary when you've held different jobs and want to connect those various choices to a more significant career path. 
If you're looking for your first job or are a recent graduate, it may be preferable to use a resume objective, which includes a summary but also outlines explicitly what you want to find in your next role. 
Resume summary vs resume objective: What's the difference?
A resume summary is a synopsis of your career trajectory and accomplishments. A resume objective includes that information but states your more immediate career goals.
How long should a resume summary be?
The length of your resume summary will depend on the experience you have to convey and the page length you must work with. If you have just started your job search and have minimal experience, keep your resume to one page with a summary. But in general, a resume should be one or two pages, and a summary should be around two to five sentences.
Let's look at two different examples in terms of length: 
Creative UX designer newly graduated. Skilled in app and website development, including user research, wireframe and site map design, and A/B testing. 
Creative UX designer with 10 years of experience managing web-based projects, specifically apps and websites. Skilled in undertaking user research to understand user flow and end-user, creating wireframes and site maps to understand best practices, and conducting user tests, including A/B testing, to identify issues before launch. Organised and detail-oriented individual with experience working remotely.  
Where should a summary go on your resume? 
A summary appears on top of your resume, usually underneath the contact information you include as part of your header. It's important to keep a summary as close to the top as possible because it sets the stage for following information and can help a recruiter get a better sense of your experience immediately.  
Resume summary tips 
Use the following tips to craft an impactful summary that highlights your candidacy. 
1. Align your summary with a company's ideal candidate. 
Review job descriptions and note any language used to describe a company's ideal candidate, especially regarding their responsibilities. If you have experience handling those tasks, highlight them in your summary. For example, if a company wants a candidate who can 'identify new tools to streamline processes', talk about your experience tackling that problem in the past.  
2. Highlight technical and workplace skills.
You'll also want to peruse job descriptions and note any required workplace and technical skills so that you can address them in your summary. Technical skills are your expertise in working with specific tools or performing specific tasks related to a job. Workplace skills typically refer to the general skills you develop through work that make you a strong employee, such as communication, collaboration, and problem-solving.  
3. Find adjectives to sell your skills.
A summary takes up valuable space on a resume, so choose your words carefully. You can find ways to add adjectives that qualify your experience and training. For example, instead of saying 'Project manager with X years of experience', you can describe yourself more specifically, saying, 'Versatile project manager with X years of experience'.  
Explore further
Strengthen your credentials and qualifications by earning a Professional Certificate from industry leaders like Google, Meta, and IBM. Learn about growing areas like Project Management , UX Design , Data Science , Marketing Analytics , and Sales while developing job-ready skills for each type of profession. Plus, when you complete a Professional Certificate, you can add that detail to your resume summary.
Keep reading
This content has been made available for informational purposes only. Learners are advised to conduct additional research to ensure that courses and other credentials pursued meet their personal, professional, and financial goals.
$1 unlocks unlimited opportunities
For a limited time, get your first month of Coursera Plus for $1 .
Get unlimited access to 7,000+ learning programs from world-class universities and companies like Google, Microsoft, and Yale.
Build the skills you need to succeed, anytime you need them—whether you're starting your first job, switching to a new career, or advancing in your current role.