Privacy preference center
We care about your privacy
When you visit our website, we will use cookies to make sure you enjoy your stay. We respect your privacy and we'll never share your resumes and cover letters with recruiters or job sites. On the other hand, we're using several third party tools to help us run our website with all its functionality.
But what exactly are cookies? Cookies are small bits of information which get stored on your computer. This information usually isn't enough to directly identify you, but it allows us to deliver a page tailored to your particular needs and preferences.
Because we really care about your right to privacy, we give you a lot of control over which cookies we use in your sessions. Click on the different category headings on the left to find out more, and change our default settings.
However, remember that blocking some types of cookies may impact your experience of our website. Finally, note that we'll need to use a cookie to remember your cookie preferences.
Without these cookies our website wouldn't function and they cannot be switched off. We need them to provide services that you've asked for.
Want an example? We use these cookies when you sign in to Kickresume. We also use them to remember things you've already done, like text you've entered into a registration form so it'll be there when you go back to the page in the same session.
Thanks to these cookies, we can count visits and traffic sources to our pages. This allows us to measure and improve the performance of our website and provide you with content you'll find interesting.
Performance cookies let us see which pages are the most and least popular, and how you and other visitors move around the site.
All information these cookies collect is aggregated (it's a statistic) and therefore completely anonymous. If you don't let us use these cookies, you'll leave us in the dark a bit, as we won't be able to give you the content you may like.
We use these cookies to uniquely identify your browser and internet device. Thanks to them, we and our partners can build a profile of your interests, and target you with discounts to our service and specialized content.
On the other hand, these cookies allow some companies target you with advertising on other sites. This is to provide you with advertising that you might find interesting, rather than with a series of irrelevant ads you don't care about.
Software Engineering Cover Letter Examples
How to craft an impressive software engineering cover letter.
Software engineers are responsible for creating computer and digital programs used throughout all industries, from education to government and military uses. Earning a position as a software engineer requires not just the technical skills and talent but also a well-written cover letter that showcases these qualifications to employers .
In this guide, we teach you everything you need to know about writing a cover letter as a software engineer. Keep reading to learn how to:
Craft a well-formatted cover letter header and headline
Tailor your software engineering cover letter with personalized details
Include attention-grabbing information in your cover letter introduction
Describe your best software engineering qualifications properly
Conclude your software engineering cover letter persuasively
1. Craft a well-formatted software engineering cover letter header and headline
Any great cover letter starts with a well-formatted cover letter header and cover letter headline .
The header is the block of text found at the very top of the page, containing your name and professional contact information, among other things. Making your header look visually appealing is key, as you want your name to stand out and be memorable to employers.
Here is an example of a well-formatted software engineer header
John Doe , Software Engineer (123) 456-7890 | [email protected] | linkedin.com/in/john-doe
To: Loganson Software Development, Inc. 1234 Street Address New York, NY 10001
A cover letter headline follows the header and often serves as a title for your cover letter. In this headline, key components to include are a relevant keyword , an attention-grabbing number or trigger word , and a powerful verb or adjective .
It is also wise to include a personalized statement — such as "your business", "your company", or "your clients" — that lets the employer know you will address their exact needs within your letter.
Here is an example of a great headline from a software engineer cover letter
My 4 Major Successes as a Software Engineer & How I Can Employ These Talents at Your Business
2. Tailor your software engineering cover letter with personalized details
All cover letters should be tailored to address the specific needs of each employer — or else they can end up sounding generic, boring, and invaluable to the reader.
Tailoring a cover letter requires you to sprinkle personalized details not just in the headline but throughout the entire letter. This can include references to the company's values and goals, or explanations of how your skills can assist the company in its current projects or partnerships.
Additionally, you should always include a personalized greeting on your cover letter. This type of greeting addresses a specific person by name and lets them know that your letter is tailored for them.
Here are 3 examples of personalized software engineer cover letter greetings
Dear CEO Matt Smith,
Dear Mr. Matt Smith,
Dear Lead Software Engineer Damon Gary,
Find out your resume score!
3. Include attention-grabbing information in your cover letter introduction
In software engineering, you impress your clients and employers with well-written code — in a cover letter, you impress employers with a well-written introduction .
A strong introduction on a cover letter should include:
A brief overview of your professional history (years of experience, specializations, etc.)
A statement on why you are enthusiastic about applying to this company
A mutual acquaintance (when possible) that can serve as a professional reference
Here is an example of a great introduction from a software engineering cover letter
I write to you today with great enthusiasm about the opportunity to join your team of talented software engineers. As a software engineer with more than 10 years of experience in both front-end and back-end development of financial mobile applications, I know I will be the perfect addition to your team. My former coworker, Mr. Damon Gary, now works as one of your lead engineers and strongly recommended I apply.
4. Describe your best software engineering qualifications properly
Now that you have hooked the employer's attention with an impressive introduction, strive to impress them further with concise descriptions of your most relevant qualifications .
The best qualifications to discuss in a cover letter are your relevant skills and accomplishments. These types of qualifications are the easiest to relate back to the employer's specific needs, as well as to demonstrate your professional value.
Here are 6 skills to describe in a software engineer cover letter
Programming languages (Python, Ruby, etc.)
Analyzing software systems
Front-end development
Back-end development
Software testing processes
Clear verbal and written communication
Finished projects are an excellent way to display your talent. Give a clear description of your position on each project, such as "software development team lead". Include data that give further context and demonstrate the project's success.
Here is an example of how to describe an accomplishment in a software engineering cover letter
As a software engineer for [Former Employer], I introduce the concept of DevOps to the development team and created a dedicated in-house DevOps department. After leading this team for just six months, we were able to reduce time-to-completion rates by 65%, resulting in 45% faster deliveries of software products.
5. Conclude your software engineering cover letter persuasively
The last crucial detail to include in your software engineering cover letter is a persuasive conclusion .
In this conclusion, an employer should find:
How and when they can best contact you
When you intend to follow up
A formal sign-off
Here is an example of a persuasive conclusion from a software engineering cover letter
It is with great enthusiasm that I submit this letter and application for your consideration. I am eager to hear from you and hope to receive your call regarding this position within the next two weeks, after which I do plan to follow up if I have not heard back. The best time to reach me is between the hours of 10 a.m. to 6 p.m. at (123) 456-7890, Monday through Friday.
With Sincerity,
[Applicant Name]
If you have ever wondered how a cover letter differs from a resume, this article will tell you everything about the key differences between the two .
Martin Poduška
Martin is a resume expert and career advice writer at Kickresume. In his five years at Kickresume, he has written nearly 100 in-depth, painstakingly researched resume advice articles and, as chief editor, he has also edited and revised every single article on this website. Tens of thousands of job seekers read Martin's resume advice every month. He holds a degree in English from the University of St Andrews and a degree in Comparative Literature from the University of Amsterdam .
Subcategories
Back-End Developer
Front-End Developer
Web Developer
All software engineering cover letter examples
Let your resume do the work.
Join 3,600,000 job seekers worldwide and get hired faster with your best resume yet.
The Complete Software Engineer Cover Letter Guide + Examples
You've completed your certification and are now on the lookout for a well-paying software engineering job at a competitive company, but it's daunting to get a foot in the door for an interview.
How do you flex your newfound skills and get noticed, standing out from the cascade of application packets that fall on a hiring manager's desk (or their inbox)?
Here's an opportunity to breathe life and personality into your job hunt: the software engineer cover letter .
Think of your application as an ecosystem, one that contains a cover letter, resume, and portfolio. Each piece relies on another to further tell different facets of a story, the story of you. Each is symbiotic to the other two, forming the entire narrative of who you are. For an application to flourish, each must individually thrive and support the other.
While we will be covering the cover letter, it's only one third of your presentation. You can also find a complete software engineer resume guide for some extra CV spice!
If you'd like to skip ahead to a particular section, simply use the the clickable table of contents:
Should I write a software engineering cover letter?
What should you include in a software engineer cover letter, how long should a software engineer cover letter be, introduction.
Software engineer cover letter examples
Three tips for writing a great software engineer cover letter
1. Software engineer cover letter FAQs
The short answer is yes, absolutely! You should always write a cover letter when applying to software engineering jobs. A cover letter adds depth, context, and nuance in conjunction with your resume and software engineer portfolio . It allows your tone and voice to be heard, adding a human layer to the process.
The job market for software engineering can be quite competitive, with tons of applications bombarding recruiters. According to ResumeLab , 77% of recruiters said that they give preference to those applicants that submit a cover letter, saying further that it helps demonstrate that you'd be a good fit at a company. A cover letter can make an application packet pop and be the determining factor in getting you in the door.
When it comes to what should be included, think of what your resume and portfolio are unable to say about you. These should be essential details.
The list of necessities is actually quite short:
Greeting that's ideally tailored to the hiring manager
Introduction with an enticing hook that's also like an elevator pitch
Body with further information tailored to a business's pain points
Conclusion containing a strong call to action
You don't want a cover letter to be too long, so be sure to write no more than a single page ; aim for a sweet spot of around 4 or 5 short paragraphs or less.
We're looking to efficiently tell a story about who you are in the context of your experience displayed on your portfolio and resume. Think of how that story would fit into the company that you're applying to.
2. How to write a software engineer cover letter
This is where we touch on the nitty-gritty of writing the document.
Before you start writing, deeply research the companies that you plan on applying to. This lets you tailor your information to exactly what they're looking for. Good research shows that you have both enthusiasm as well as the capacity to dig deeply.
Throughout the document, be sure to mention transferable skills that you've picked up along the way. They're looking for an experienced Software Engineer, of course, but there are soft skills that aren't mentioned in the job description. Specifically lean into those skills that you learned in your last job.
According to Indeed on what are soft skills :  "soft skills … relate to how well you can work with and interact with others."
Write in the structure and tone of a letter; the document should include an introduction, body, and conclusion.
Be sure to include a greeting that's targeted toward the hiring manager, preferably by name.
In the introduction, you'll want an enticing hook to draw the reader in and keep them engaged; get them looking forward to the body and conclusion. Make them want to see the call to action. Remember, in this story, the hiring manager's your audience.
Think of your intro as an elevator pitch, covering the most important information as succinctly as possible. What're the essential points that you can get across in that first paragraph? While we've made the letter skimmable, be prepared for the reader to only read or remember the introduction.
This is where the bulk of your data is, spanning 2 to 3 short paragraphs. Detail how your experience, especially your soft skills, will be vital to the company that you're applying to.
Ideally you've found a company's history and pain points; this is where you can insert your experience to meet those needs. Be sure to align your skills with each qualification mentioned in the job posting.
When mentioning work that's on your resume, it's always helpful to talk about the last job that you've held to display the information that's still fresh. It may be helpful to include specific, relevant projects that you've worked on in the past.
Expound on any major accomplishments that you have, providing quantifiable data where applicable. Data driven points can turn a sentence from, "I saved SoftwareBusiness Inc. a lot of money," into, "I saved Engineers LLC $7,000 in Q1 2023 by…" Specific metrics highlight the outcomes to hiring you.
This is the story's resolution! We've so far hammered through the introduction and body, but it's essential that we not go light on this conclusion.
This is a space to reiterate how you would be a perfect fit for the job opening. Briefly thank them for reading. Deliver a strong call to action that encourages them to follow-up with you and hire you for the position.
3. Some software engineer cover letter examples
One of the best ways to compose a cover letter is to look at examples that already exist and apply what you've learned. Here are some examples we've whipped up:
4. Three tips for writing a great software engineer cover letter
While these aren't essential components, these three tips will help you compose and polish a strong software engineer cover letter to wow your way into a new job.
Find patterns in companies in order to expedite the composing process for multiple letters. If applying to a lot of jobs, it may be helpful to find some common threads that exist between them and write to that. When you're sending one out, you can alter a few details to match that specific company.
Take some time to iterate with fresh eyes. We tend to have a few hours of good writing in us a day. Seeing your piece anew may help in picking up mistakes that you have looked over or think of new ideas. Think of writing in the way a sculptor would see a piece of marble. The finished sculpture is in there, and each time you visit, it comes more and more into shape.
Make the document skimmable. As we've touched on a few times, hiring managers usually see a lot of applications. Emphasizing and highlighting key points will improve the odds that they see the information that you value the most.
5. Final thoughts
It's taken a lot of work to get through your coding bootcamp, and the job hunt is still before you! A good cover letter can make or break an application to a hiring manager overwhelmed by packets. After learning how to effectively write a cover letter, you'll have an edge over your counterparts.
Again, think of your cover letter as a facet of your application ecosystem. What are the things that are important for you to communicate that neither your resume nor portfolio can convey? How can you support your resume and portfolio through communicating your ideas efficiently and with data-driven metrics?
When embarking on the job hunt, having someone to help show you the way can make all the difference. That's why when students of CareerFoundry's Full-Stack Web Development Program  reach the end of their studies, they get paired up with a career specialist . You'll work closely with them to connect the dots between your previous accomplishments with your newfound coding skills.
Together, you'll create a winning software engineer resume that showcases your talent, and carefully craft your online presence to appeal to tech employers. You'll also fine-tune your interview skills , learning how to confidently market your experience and to prepare for the recruiter phone screen .
If you are interested in reading further about improving your chances during the hiring process for software engineers, check out some of our other articles:
38 of the Best Web Developer Portfolio Examples
Creating the Best Tech Resume: Guide With Tips and Examples
28 Technical Interview Questions Software Engineers Should Expect to Ace
3 Software Engineer Cover Letter Samples & Tips in 2023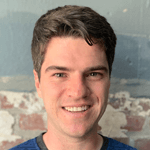 Software Engineer Cover Letter
Python Software Engineer Cover Letter
Senior Software Engineer Cover Letter
Write Your Software Engineer Cover Letter
Software Engineer Cover Letter FAQs
As a software engineer, you analyze the user's needs and develop and test software to meet those needs. With communication and collaboration, you apply engineering principles to software development to make it happen—while integrating data and tucking it away for future problem-solving.
Your process includes recommending software upgrades, translating data into action, coordinating with software and programming teams, and documenting improvements to address clients' concerns. You also do your share of planning, strategizing, and hands-on work with programming and database tools.
You're ready for your next job, but first, you'll need to write a software engineer resume and cover letter that attests to your job skills . Most dread writing cover letters, but we'll ease the process with these software engineering cover letter examples and pointers.
Software Engineer Cover Letter Example
USE THIS TEMPLATE
Microsoft Word
Google Docs
Block Format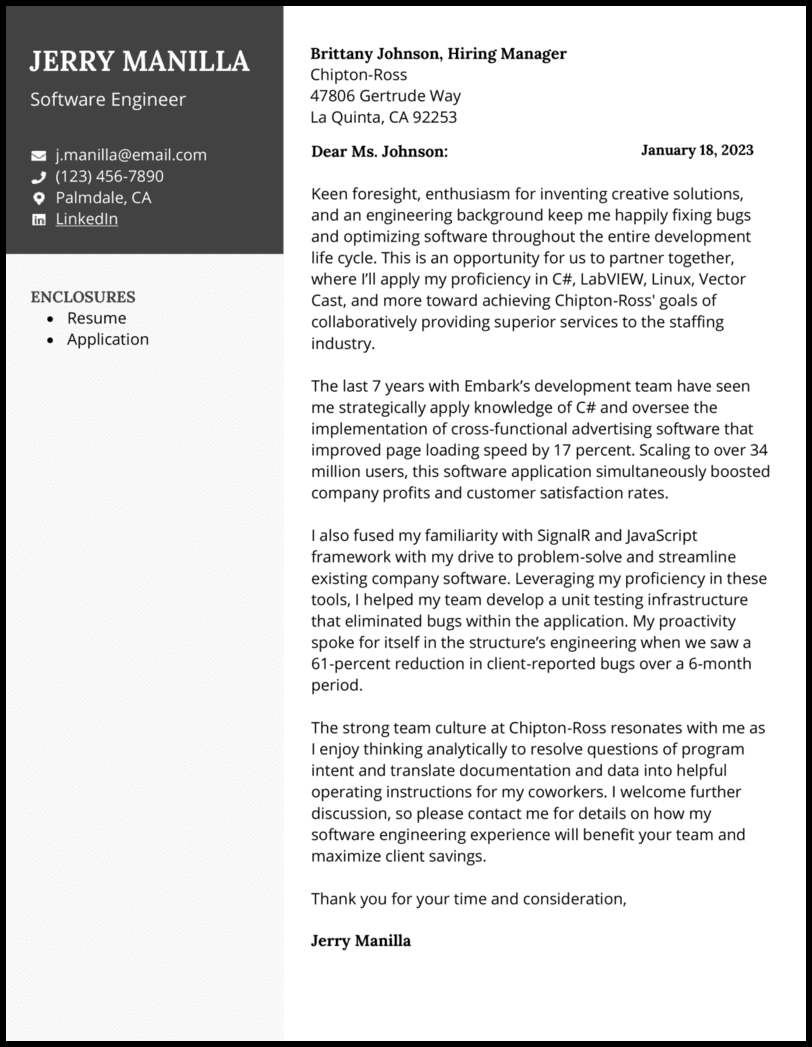 Why this cover letter works
Software engineers should be bought into the company's values—make sure you demonstrate an interest in those values right away in your software engineer cover letter and show previous examples of how you've supported them.
Even if the software engineer job description is brief, there are always specific requirements you can build upon, especially if you visit the company's website to glean more details.
Python Software Engineer Cover Letter Example
She references her experience as a gamer and a Python software engineer, both of which are focal points in the job description and the company as a whole.
Python software engineers must meet specific job requirements, so dive into this stat. Show your interest by citing examples that support it!
References to the "Twisted Treeline" and her "ultimate ability" show her experience with League of Legends, a Rushdown game, to reinforce her connection with the company.
The company culture and vision aren't always as obvious or boldly stated as Rushdown's, but with some online digging, you can find a company goal, obstacle, or core value to tie to your experience when writing your Python software engineer cover letter.
Senior Software Engineer Cover Letter Example
Beverly follows up the initial overview of her skills by tying up her senior software engineer cover letter intro with a nod to UCLA Health's mission statement—a perfect way to connect with the company!
UCLA Health emphasizes two major points in its job description: technical skills and the ability to grow and create scalable products. Its website also focuses on cutting-edge technology, so Beverly leverages these points well.
Remember that researching the company can uncover a gold mine if the job description is sparse.
Senior Software Engineer Resume
Need a resume to pair with your software engineer cover letter?
or download as PDF
Write Your Best Software Engineer Cover Letter
All in all, the best cover letter will demonstrate a strong understanding and connection with the company. A software engineer can do this by using their technical skills to relate to the role in the job description coupled with the company's overall vision and goals—all with a winning tone and positive message, of course!
Use the following steps to guide your writing process so you can write your best cover letter yet.

Step 1: Know the company & understand the role
So many cover letters out there are snooze-fests that wind up in the recycling bin. To ensure yours isn't one of them, pay attention to the details of the specific software engineer position you're applying for and tailor your cover letter accordingly.
Read the software engineer job ad . Keep an eye out for things that set it apart—details like specific programming languages and software strategies, for example.
Research the company, too! Your software engineer cover letter must not only demonstrate a crystal-clear understanding of the role as laid out in the job description but prove that you're a great fit with the company's values, goals, and core missions. Just a handful of details showing that you know the company's vision and software engineer role better than the average applicant will go a long way in setting you apart from other applicants.
Step 2: Align your successes with the company's needs
Your software engineer resume offers recruiters a quick peek at your skills and professional history. Since it's less than a page, you don't have much space within your bullet points to give a more extensive explanation of how your skills and experience make you an ideal candidate for the specific position. That's the job of your cover letter!
Touch upon the best points in your software engineer resume but expand upon them with descriptions of how you accomplished said achievements as well as the positive impact they had. Don't just talk about what you created—talk about what it did to benefit others.
Taking this a step further, your resume might list your Python and MySQL skills—but how did you apply them during your last job?
Did you build an application that boosted profit margins and kept them growing after you departed?
Did you engineer an analytical or testing application that significantly reduced bug and error reports?
Maybe you singlehandedly optimized an application to skyrocket customer satisfaction rates: If you did, say so!
This is your opportunity to show off your greatest accomplishments anecdotally and tie them into what the job description requests.

Tip 3: Don't underestimate your tone & message
As you can probably imagine, there's a lot more that goes into a cover letter for software engineers besides technical information. The overall message of your letter should mirror the qualities that the job listing calls for and demonstrate the values and vision of the company as a whole. You don't want to just convey that you're a software engineer who can work wherever—your message needs to convey that you want to work there!
As a software engineer with a vast array of technical skills and fascinating professional experiences, it might be tricky—but keep your cover letter to a page. And within that space, consider your tone of voice.
Your tone should match the role: Senior software engineer candidates should convey confidence and experience, and all applicants (especially entry-level ones) should demonstrate enthusiasm and eagerness to contribute to the company.
Additionally, consider the company culture and vibes. Working for a healthcare company likely means you should take a bit more formal tone while employers at a gaming company will probably appreciate a little pizazz and a more conversational approach.
Software engineer candidates should convey confidence, experience, and demonstrate eagerness to contribute to the company.
Lastly, set aside time for editing and revising. It may take several tries to get the message and tone of your cover letter just right, but the extra effort is worth it! Ensure you clean up embarrassing typos or copy-paste mishaps in your cover letter, and be deliberate about word choice to refine your tone.
Start with Our Outline for Your Software Engineer Cover Letter
Outlining your software engineer cover letter is a great way to make sure you don't forget any key points. And just as formatting your resume is important, format matters in your cover letter, too; we've got you covered.
How to start a software engineer cover letter
Your contact info: List your name, phone number, location, and email (if you're using a templated cover letter).
Formatting: Leave out your name here if you're using a business block format for your address.
Date: Use the exact date that you submit your application materials
Formatting: Write out the full date instead of shortening it, e.g., January 5, 2023.
Inside address: This is the recipient's address. Include their name, company and position, and the company's address.
Clive Russo, Hiring Manager UCLA Health Human Resources 4562 Larwin Ave Cypress, California 90630
Formatting: Each part of the address should be on a new line. Remember to double-space between the inside address and your greeting, too.
Greeting: Your greeting/salutation is your crucial first impression! Do your homework and uncover the name of the hiring manager or employer, avoiding generic terms like "To whom it may concern," and please, at all costs, never start with "Dear Sir or Madam." Ick!
Formatting: Use a colon instead of a comma after your greeting for more formal companies. Companies like Rushdown (see the Python software engineer cover letter sample) are far more casual; a comma will do just fine.
How to write your software engineer cover letter
Body: The body of your software engineer cover letter should be 3-4 paragraphs that demonstrate your interest, show off your credentials, and exhibit an appropriate level of enthusiasm for future discussion.
Formatting: Lines should be single-spaced throughout the body but double-spaced between paragraphs.
Opening paragraph: Don't be generic or vague. The last thing you want is for a potential employer to say "Boring!" and toss your cover letter aside.
Bad : I really like gaming, so it'd be great if I could work for your company. I'm familiar with plenty of technical tools that would help your company.
Why It's Bad : Based on what we just discussed, this cover letter has already been tossed. It's great that the applicant apparently loves gaming and has technical skills—but exactly how will they help the company . . .? What "technical tools" are they?
Good : As a Python software engineer with 5 years of experience alongside countless more as an avid gamer, I'm confident I would make a skilled and valuable addition to Rushdown's team. Just as I live for each new gaming challenge in Twisted Treeline, I thrive in environments that challenge my strategic planning and creative use of skills such as PostgreSQL, AWS, and Docker.
Why It's Good : This introductory paragraph dives into the applicant's experience and demonstrates a strong personal connection with the company's passion for gaming—all while exploring technical skills the job description specifically listed in its requirements section. Nice!
Paragraphs 2-3: These paragraphs are for you to shine the spotlight on your best achievements that align with the job ad and with the company's goals, values, and mission.
It's time to put your money where your mouth is—but remember to maintain a clear focus in each paragraph. You don't have room for all your awesome achievements, so try to stick with one major point per paragraph and include only the most relevant metrics and results.
My talent in engineering and developing large, highly responsive UX-personalization applications that can scale with rapidly growing datasets empowered me to engineer algorithmic software that responded and adapted to customers' individualized needs based on personal history. This boosted sales by 19 percent, and I'm confident that this experience would translate seamlessly from improving customer experience to streamlining workflow for medical staff to care for patients more effectively.
Why It's Good : Beverly highlights something from the job description that she's already done (engineering large-scale algorithmic software) and provides the number as evidence of her claim. She also clarifies exactly how this accomplishment will benefit the place where she's applying now, even though her past experiences were applied within a very different type of company.
Closing paragraph: Finish strong with a concise but compelling statement of how your traits and abilities as a software engineer align with what the company or organization needs. And lastly, end with an enthusiastic call to action that encourages future contact with the company.
Bad : As you can see in my letter, I'm well qualified for this position and would do a great job with my skills. Call me anytime for more info and I can tell you more about the other stuff I can do.
Why It's Bad : Where do we even start with this one? Your cover letter should be specific, adding more tidbits on why you're an excellent fit whenever possible. This redundant first sentence and boring, informal call to action are inexcusable.
Good : The strong team culture at Chipton-Ross resonates with me as I enjoy thinking analytically to resolve questions of program intent and translating documentation and data into helpful operating instructions for my coworkers. I welcome further discussion, so please contact me for details on how my software engineering experience will benefit your team and maximize client savings.
Why It's Good : This one works. You can see how the applicant's traits and experience align with the company's values, and there are several keywords that came straight from the job description. Additionally, the call to action is welcoming yet professional while reinforcing the candidate's value to the company.

How to end a software engineer cover letter
Signature: Say "thank you" if you didn't do that in your closing paragraph, and always use a professional close along with your real name.
Thank you for considering me to join your team,
Beverly Hanes
Formatting: If you're handing out hard copies of your software engineer cover letter (anyone out there still doing this?), quadruple-space before your name. This allows space to sign by hand in blue/black ink.
Enclosure(s): This part of your cover letter is important since it signals the recruiter to look over any supplemental materials. Pay attention to the job description for requested materials like certifications or letters of recommendation.
Enclosures: Resume Application Letter of Recommendation
Formatting: Make sure you use the correct singular or plural form of "enclosure" depending on how many items you're enclosing!
Before You Land Your Dream Software Engineering Role
We know you've probably put a lot of thought into your cover letter as a software engineer—after all, analytical thinking and strategic planning are among your strong suits! However, while your cover letter is important to refine and perfect, you'll need to write a winning resume , too.
Even if you already have a resume, chances are it's gotten a bit dusty. Take the opportunity to check your resume over for a quick refresh. Browse through our software engineer resume examples or start editing this one here if you're ready to knock it out.
Software Engineer Resume
Easing your job hunt and taking your career to the next level is possible with the tools and resume tips we offer. Once you nail down the perfect cover letter and resume, recruiters will know why you're such a great hire. They'll be hard-pressed to turn you down as a result!
You've already covered coding in your software engineer resume , mentioning languages and frameworks like Python or Angular. Use your cover letter to elaborate on them and show how you leveraged them to make an impact. For example, discuss a project you're particularly proud of—such as a fully responsive web app—and attach a link to it so the hiring manager can check it out.
Software engineering is a highly dynamic field, so you're in luck! Emphasize transferable skills and experience in your cover letter to earn brownie points. For instance, express how your background in teaching means you'll be good at conversing with a non-technical audience or how your previous job in retail taught you attention to detail.
Senior software engineers are no strangers to headhunting, so you may have job offers lined up a lot of the time. However, for a job that you actually care about, you should always attach a cover letter. It shows that you respect the company, and it gives you a chance to express why you want to work there instead of anywhere else.