12 CV cover letter examples

A  cover letter  for your CV, or covering note is an introductory message that accompanies your CV when applying for a job.
The purpose of the cover letter is simple… Persuade the reader to open your CV.
Learn how to write a cover letter properly, and you will hugely increase your chances of getting responses and landing job interviews.
This guide, with 12 annotated cover letter examples will show you everything you need to know about creating a winning cover note.
Guide contents
Anatomy of a CV cover letter
CV cover letter examples
Cover letter writing guides

Anatomy of a cover letter for your CV
This annotated example of a cover letter shows you how you should structure your cover letters, and the type of information you should be including.
You should always write your CV in the body of your email (or j ob site messaging system) so that it can be read instantly. Never attach it as a separate document, or the recipient probably won't open it.
Example CV cover letters
These 11 example CV cover letters from a range of industries should give you some good inspiration for creating your own cover letter
Admin CV cover letter
This cover letter is aimed at administrative roles , so it highlights the candidate's abilities in efficiency, report writing and meeting deadlines, whilst demonstrating the types of environments they have worked in.
Learn how to write a cover letter step-by-step here.
Customer service CV cover letter
This customer service cover letter briefly explains the candidate's length of experience in the field and highlights some of the more important customer service skills such as call handling, order taking and complaint resolution.
This gives the reader an excellent introduction to the candidate and should certainly encourage them to open the CV.
See our full customer service cover letter guide,  sales assistant cover letter example  and waiter/waitress cover letter example .
Finance CV cover letter
As a finance professional, it's important to highlight your specialisms within finance, the types of companies you've worked for, and high level functions you've carried out within your cover letter. This will give the hiring manager a good overall feel of your abilities, and if it's well tailored to the role, should provide them with enough info to excite them about your CV.
Quick tip: Use our job application tracker spreadsheet to track your applications and follow up with employers who don't respond.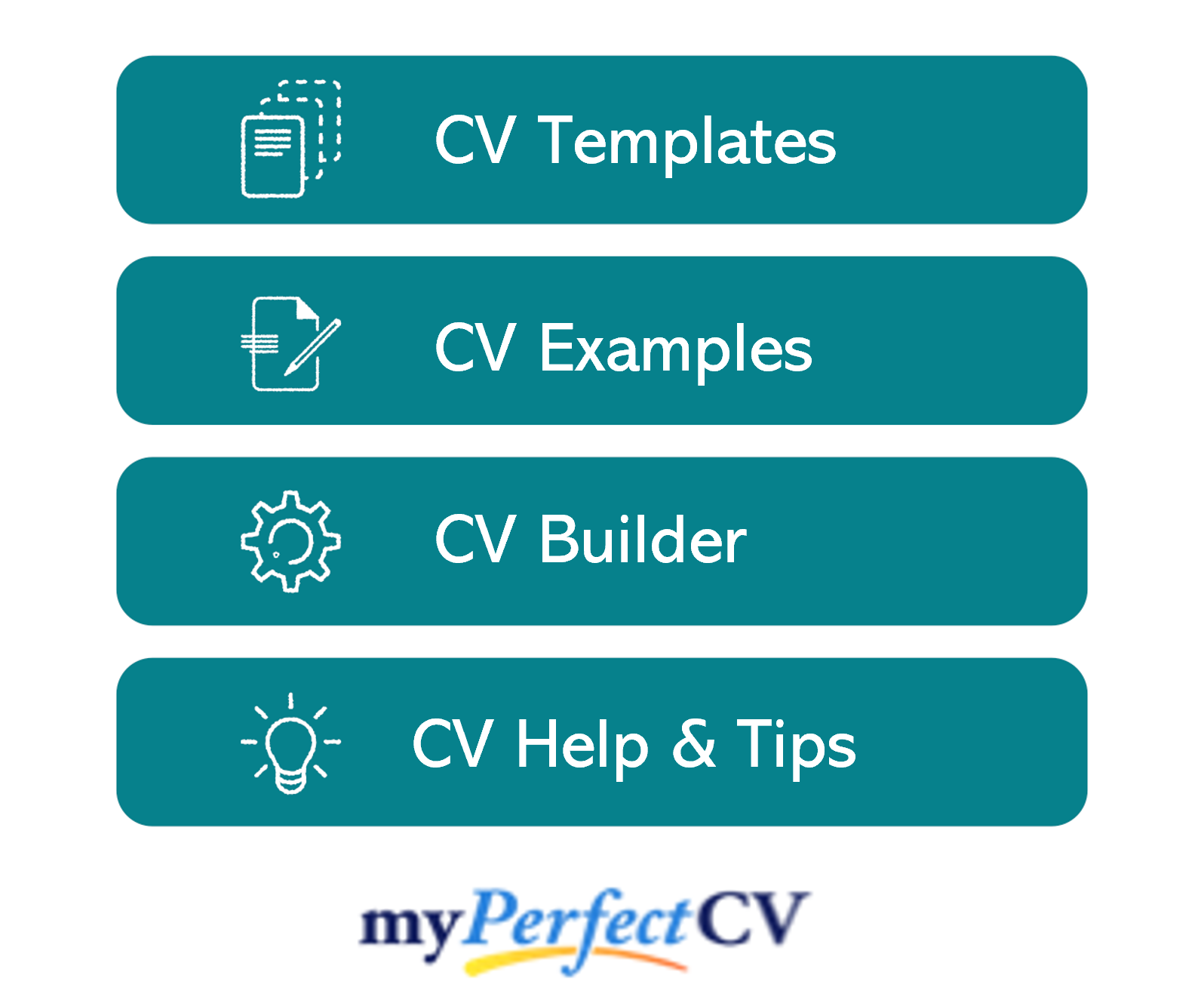 Events CV cover letter
This events manager candidate has done a great job of summarising the type and size of events they manage, along with details of core skills such as leadership, project delivery and stakeholder management.
This certainly provides enough info to create a buzz around the CV attached and encourage the recipient to open it.
Executive assistant CV cover letter
This executive assistant CV cover letter provides a good high level intro to the candidate showing the reader key business support knowledge in areas such as admin, diary management and document management. It also shows that the candidate is confident supporting senior business figures.
Graduate CV cover letter
As a graduate , your cover letter will need to be a little longer than an experienced candidates, to compensate for your lack of experience and really sell yourself.
This candidate speaks in lots of detail about their education, qualifications, and extra-curricular work which relates to the roles they are applying for.
IT CV cover letter
As an IT candidate, it's important not only to highlight your technical skills, but also show how you apply those skills in the workplace to translate real benefits for your employer.
This candidate gives a good overview of the candidates technical abilities and the types of projects they apply them to, along with results they achieve.
Marketing CV cover letter
This marketing cover letter provides readers with a summary of the candidate's core marketing abilities such as media planning, brand awareness and cost reduction. It also explains the types of marketing campaigns and companies they have experience with – a great high-level intro.
Cover letter examples
Warehouse Operative cover letter – Training Contract cover letter – Cleaning Job cover letter – Nursery Assistant cover letter – Recruitment Consultant cover letter – Dental Nurse cover letter –
Chef cover letter – Editorial Assistant cover letter – Aircraft Mechanic cover letter – Biomedical Science cover letter – Cabin Crew cover letter – Finance Assistant cover letter – Hotel Receptionist cover letter – Asset Management cover letter – Assistant Psychologist cover letter – Beauty Therapist cover letter – Cafe Worker cover letter – HR Administrator cover letter – NQT cover letter – Quantity Surveyor cover letter
More cover letter examples
Academic cover letter
Account Manager cover letter
Accountant cover letter
Accounting cover letter
Accounts Assistant cover letter
Acting cover letter
Admin Assistant cover letter
Administrator cover letter
Apprenticeship cover letter
Architecture cover letter
Assistant Manager cover letter
Banking cover letter
Bar Staff cover letter
Barclays cover letter
Barista cover letter
Bartender cover letter
Business Analyst cover letter
Business Development Manager cover letter
Car Sales Person cover letter
Care Assistant cover letter
Career Change cover letter
Catering Assistant cover letter
Civil Engineer cover letter
Computer Science cover letter
Consulting cover letter
Copywriter cover letter
Cyber Security cover letter
Data Entry Clerk cover letter
Data Scientist cover letter
Delivery Driver cover letter
Digital Marketing cover letter
Electrician cover letter
Engineering cover letter
Estate Agent cover letter
Event Manager cover letter
Exam Invigilator cover letter
Executive Assistant cover letter
Fashion Designer cover letter
Finance cover letter
Financial Analyst cover letter
Google cover letter
Graduate cover letter
Graduate Engineer cover letter
Graduate Scheme cover letter
Graphic Design cover letter
Health Care Assistant cover letter
Hospitality cover letter
HR Assistant cover letter
HR cover letter
Interior Designer cover letter
Internal Position cover letter
Internship cover letter
Investment Banking cover letter
Investment Manager cover letter
IT Support cover letter
Journalist cover letter
JP Morgan cover letter
Lawyer cover letter
Legal Assistant cover letter
Legal cover letter
Library Assistant cover letter
Manager cover letter
Marine Engineer cover letter
Marketing Assistant cover letter
Marketing cover letter
Marketing Intern cover letter
Marketing Manager cover letter
McKinsey cover letter
Mechanical Engineer cover letter
Medical Receptionist cover letter
Medical Writer cover letter
Model cover letter
Nanny cover letter
Nurse cover letter
Nursing cover letter
Office Assistant cover letter
Office Manager cover letter
Operations Manager cover letter
Optical Assistant cover letter
Paralegal cover letter
Part Time cover letter
PE Teacher cover letter
Personal Assistant cover letter
Personal Trainer cover letter
Pharmacist cover letter
Pharmacy Assistant cover letter
PHD Application cover letter
Photographer cover letter
Placement cover letter
Private Equity cover letter
Product Manager cover letter
Production Assistant cover letter
Production Operator cover letter
Project Coordinator cover letter
Promotion cover letter
PWC cover letter
Quantity Surveyor cover letter
Receptionist cover letter
Research Assistant cover letter
Researcher cover letter
Retail Assistant cover letter
Retail cover letter
Retail Manager cover letter
Sales Advisor cover letter
Sales Executive cover letter
Sales Manager cover letter
Scrum Master cover letter
Security Officer cover letter
Ski Season cover letter
Social Media Executive cover letter
Social Media Manager cover letter
Software Developer cover letter
Software Engineer cover letter
Speculative cover letter
Student cover letter
Support Worker cover letter
Teaching Assistant cover letter
Team Leader cover letter
Trainee Dental Nurse cover letter
University cover letter
UX Designer cover letter
Volunteer cover letter
Project manager CV cover letter
A project manager' s cover letter needs to quickly explain to recipients the types of projects they lead and the technical expertise they bring to the projects. It's also important to describe level of experience, seniority and background.
See full project manager cover letter example + writing guide
Operations manager
This operations management CV provides a brief introduction to the types of operations the candidate manages and the firms they work for.
They also touch upon some core operations skills such as efficiency, logistics and ROI improvement.
Sales CV cover letter
As a sales candidate, this cover letter shows the types of business this person can generate and the size and scale of the impact they create by highlighting some sales results.
It also mentions some core sales skills like business development, presenting, working under pressure and closing deals.
Cover letter templates
Teacher cover letter
This teacher cover letter does a great job of introducing the candidate, and showing the recipient the key facts they will be looking for, such as; the age group they teach, subject specialisms, and the results they have achieved.
The cover letter is brief and gets to the point quickly, so that readers will instantly look to open the attached CV .
How to write your CV cover letter
Now that you've seem good examples of cover letters to accompany your CV (or resume if you are in the USA) this guide will show exactly how to write your own, and the content that needs to be included .
Send your CV cover letter in email format (when possible)
When applying for jobs online you usually have 2 choices…
1) Send a message via the job website's messaging system
2) Send the recruiter an email directly
If you can find an email address for the recruiter, then I would always recommend sending an email directly because it gives you more control.
When you send a message through a job website, it will transfer into an email with basic formatting and an auto-generated headline , which will look like this when the recruiter receives it.
If you cannot find an email address for the recruiter on the job advert, then try searching LinkedIn or the company website to find the relevant contact.
You may not always be able to find an email address, but when you can – always send a job application by email .
Make your subject line appealing
As you can see in the picture above, a bad subject line can kill your chances of actually having your email read in the first place.
Your subject line should stand out and give the recruiter a reason to open your email.
When recruiters look into their inbox, they are looking for one thing; a candidate who can do the job they are advertising – so give that to them in your subject line.
Your subject line should be a short summary of your experience that relates directly to the job you are applying for.
The following are good subject line examples;
KS2 Teacher with 5 years experience
Front End Web developer with HTML, HTML & JavaScript experience
Junior Graphic designer with 1st BA Hons Graphic Design
If your subject line shows that you have one or two of the most important requirements for the job, your email should get opened every time.
Address the recruiter by name
To get the relationship off on the right foot, you should try to address the recruiter by name if you can.
Often the recruiter's details will appear on the job advert but sometimes you may have to check out the company website or do some digging around on LinkedIn.
If you really can't find the name, then it's not the end of the world – just start with a simple friendly opening like " Hi "
(If you applying to a more traditional organisation such as an academic post for a university, you may want to use something a bit more formal like " Dear sir or madam ")
Use a friendly yet professional tone
It's important to sound professional when writing a cover letter but you also need to demonstrate your ability to communicate with other people and show some personality.
If your email is too casual and written in an over-familiar tone, then you will come across us un-professional.
But on the other hand, if your email is too formal and shows no signs of rapport building, you risk appearing as somebody who lacks social skills.
So when writing your cover letter, try to strike a nice balance of professionalism and friendliness.
Opening with a line such as " hope you're well " is a nice way to breathe a bit of personality into your cover letter.
Ensure that your spelling and grammar is perfect throughout your cover letter because sloppy mistakes are a huge red flag for recruiters.
Quick tip:  If you struggle with spelling and grammar, try our partner's CV builder
Keep it brief
Unless the job advert specifies otherwise; keep your cover letter short and sweet.
Recruiters and employers receive hundreds of job applications per week, so they don't want to read a 2 page cover letter.
Depending on the role, around 2-4 sentences should be enough for the content of the cover letter.
You just need to write enough to persuade them to open your CV – It should roughly contain the same amount of information as your CV profile or personal statement.
Show how your skills match the job
To ensure that recruiters open your CV, you simply need to explain how your skills and experience match the job requirements from the advert.
Scan the job advert to discover what the most important candidate abilities are, and show how your previous experience has prepared you to cover these.
In particular, look out for any requirements that are essential to the job .
Focus on what you have to offer at this stage and not what you want.
At this stage, your covering letter is simply a means of getting the recruiter to open your CV, so it's too early to talk about salary demands etc. Save that for your initial conversation with the recruiter.
Include a professional signature

End your cover letter with a friendly salutation such as "Regards" and a smart signature which includes your name and most direct contact method (usually mobile phone for most people)
A professional email signature will show recruiters that you understand business-email etiquette and ensure they have a means of contacting you – even if they can't open your CV for any reason.
Writing a CV cover letter
Hopefully this guide has given you everything you need to create a winning cover letter that will ensure you CV gets opened every time you send it.
Just remember to keep it brief, be friendly, tailor it towards your target role, and give recruiters some good reasons to be interested in you.
Good luck with the job hunt!
Search Search Please fill out this field.
Career Planning
Finding a Job
How To Write a Cover Letter for a CV (With Examples)
Tips for Writing a Cover Letter for a CV
Proofread before sending, cover letter template, cover letter sample, sending an email cover letter, more cover letter examples.
When you apply for a job with a curriculum vitae (CV), it's important to include a cover letter, also known as a covering letter. This letter allows you to make a favorable first impression, using narrative in your own tone of voice to catch the reader's attention and encourage them to seriously review your attached CV.
Like a resume, a CV summarizes your skills and experience. The difference between a CV and a resume is length, the focus on credentials, and what the documents are used for. Typically, a CV is required to apply for roles in academia, scientific research, and medical fields.
While your CV provides a detailed—and often lengthy—look at your experience and credentials, the cover letter is an opportunity to call out your most important qualifications and make a compelling case for your candidacy for the role at hand. Here's what you need to know to write a successful curriculum vitae cover letter. 
Tailor the Letter to Fit the Organization
The CV cover letter should be tailored to respond to the unique and specific requirements requested by each organization you are approaching.
Do not use the same cover letter for every job you apply to, even though it may seem like a timesaver. 
Each letter needs to provide detailed information about why are you are qualified for the specific job in question, and it should outline the reasons for your interest in the company or organization. Being specific is advantageous. Even if you're applying for two similar roles in two different hospitals, the two hospitals may serve different populations or require slightly different responsibilities for people in the role. Your letters to each hospital should reflect that. 
Use your cover letter to identify the skills or experiences most specific to the job, rather than copying directly the information in your CV.
What to Include
As a candidate, it's tempting to feel like the cover letter is unnecessary, since it is likely that all the pertinent information is included in your CV. Still, as you can see, the cover letter is a helpful tool in your application. Here's what to keep in mind as you write a cover letter. 
Format Matters
The content of your cover letter should be brief and structured. Aim for 3-5 paragraphs in your letter.  Start with a salutation. Your letter should address the relevant contact, whose name often appears in the job advertisement. Avoid "Sir" or "Madam" if possible.
If the letter recipient's name isn't provided, try these tips to determine the correct contact person .
Start With an Introduction
Typically, the first paragraph will be an introduction—if you are applying to a job ad, mention it here. Mention the job title, any reference number, and where and when you saw it. The first paragraph is also where you should mention if someone referred you to the position. 
The Body of the Cover Letter
The body of the letter—the second and third paragraphs—should highlight your relevant skills and experience. Highlight your transferable skills , achievements, and versatility. Explain what you can contribute and what makes you stand out from your competition. Include mention of your current or last job, qualifications, and professional and academic training, tailoring your information to make it as relevant as possible to the organization or job applied for.
In the body of the cover letter, you can mention personality traits relevant to the role at hand. You can also use this space to call out why you're interested in this specific role, at this specific company. Potential employers and hiring managers will appreciate it if you can show you've read the job ad and researched the company. 
Avoid lengthy repetition of information covered in your CV. Unlike a CV, it is acceptable to write a cover letter in the first person.
Conclude the letter by succinctly summarizing why an employer may want to meet and employ you. Include a polite expression of interest in further dialogue with the recruiter. Do mention that you would like the opportunity to discuss your suitability further in a personal interview and that you await a response in due course.
Follow Instructions 
In some cases, an advertisement will indicate that a more substantial letter is required. 
Always follow specific instructions and include any information if it is specifically requested. For instance, some employers may ask you to include your current salary or your desired salary range. 
Make Sure the Letter Reads Well 
Ensure that your CV cover letter flows freely. You do not need to precisely match every point on the job description. The reader should be left with an overall impression that you are a potentially valuable addition to the workforce.
The letter should be readable and engaging. 
Negative information of any sort should be avoided in your cover letter, as well as on your CV.
You'll want to be sure your letter is free from grammar or spelling errors. It should also be clearly presented—that means using standard formatting, and common readable fonts (such as Times New Roman or Verdana) in an appropriate size.
This is a cover letter example. Download the cover letter template (compatible with Google Docs and Word Online) or see below for more examples.
Depending on the employer's submission requirements, cover letters can be submitted online with your CV, uploaded online, or mailed. Be sure to follow the application instructions and follow the directions on how to apply. Consider this template for how to structure your letter: 
Belinda Applicant 123 Main Street Anytown, CA 12345 555-555-5555 belinda.applicant@gmail.com
October 25, 2021
Clark Lee, PhD Biology Department Chair Northwestern University 123 Business Rd. Business City, NY 54321
Dear Dr, Lee:
I am writing to apply for the position of assistant professor in the Biology department, as described in the Northern University website. The opportunity to teach biology appeals to me, and I believe I can be an asset to the department due to my experience as a field biologist, as well as my work as an adjunct professor at Southern State University. In accordance with your job description, I have the following skills:
• Experience lecturing to large audiences
• Experience with learning management systems and course design
• Ability to assist with labs for other professors
• Experience with grant writing and research
I have enclosed my curriculum vitae so you may examine my work and research experience, the papers I've published, and my educational background.
I can be reached anytime by email at Belinda.applicant@gmail.com or my cell phone, 555-555-5555. Thank you so much for your time and consideration. I look forward to speaking with you about this position.
Signature (hard copy letter)
Belinda Applicant
When you are sending your cover letter by email, list your contact information in your signature rather than at the top of the letter. List your name and the job title in the subject line of the message. 
Here are more examples of cover letters that you can use as a starting point for your own correspondence.
By clicking "Accept All Cookies", you agree to the storing of cookies on your device to enhance site navigation, analyze site usage, and assist in our marketing efforts.
Online Degree Explore Bachelor's & Master's degrees
MasterTrack™ Earn credit towards a Master's degree
University Certificates Advance your career with graduate-level learning
Top Courses
Join for Free
Cover Letter Writing Guide 2023: Examples and Tips
Learn about the importance of a cover letter, discover three CV cover letter examples for jobs including management and middle management, as well as for students, graduates, and beginners.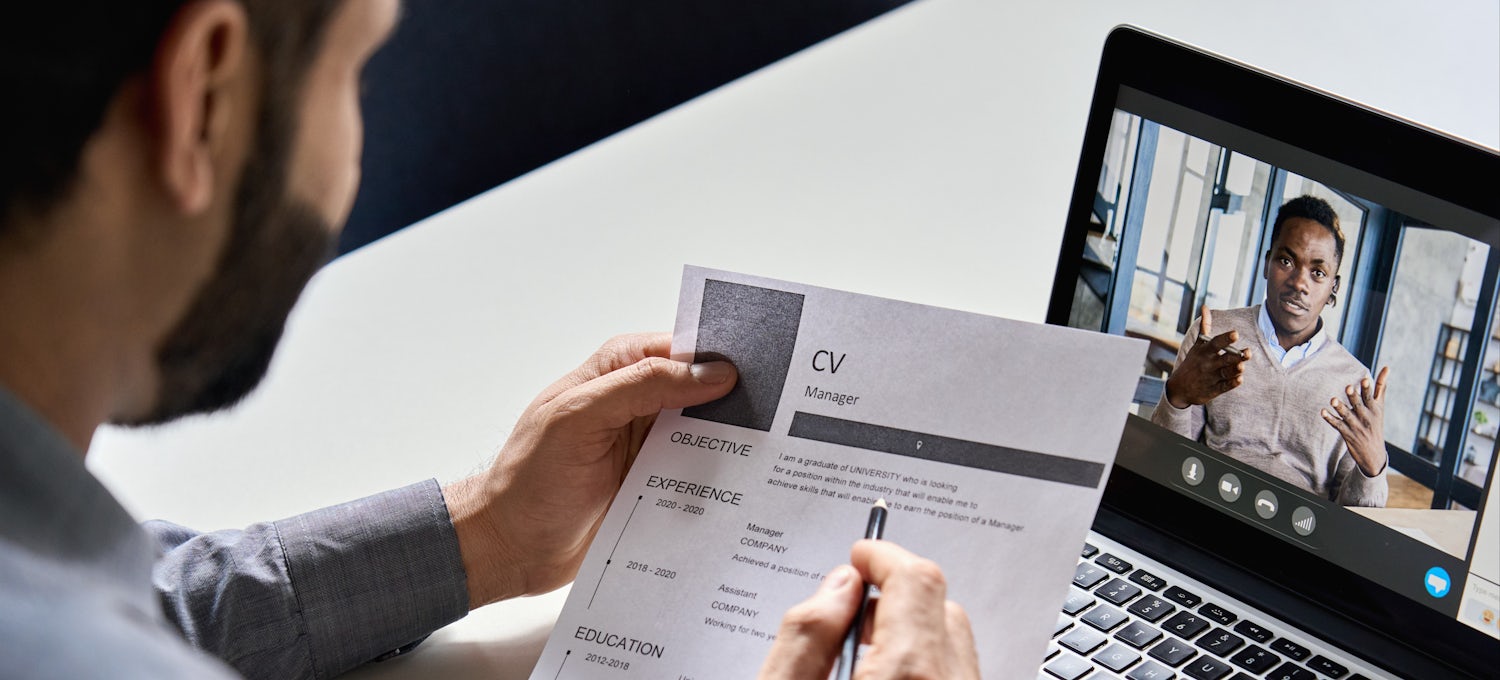 A well-structured cover letter, when combined with your CV, is key to finding the position you desire. A cover letter illustrates your expertise and qualifications for the job you seek. A cover letter offers the chance to describe specific situations, highlight important talents, and share professional goals that may not be addressed on your CV. 
Before you start drafting your CV cover letter, review some sample cover letters to discover effective techniques and important tips for creating a personal statement for your job application. This article explores three cover letter examples organised by genre and industry sectors to inspire you. 
Management cover letter example
[Receiver's Address]
[Salutation],
I am a seasoned corporate executive with a strong reputation for accelerating corporate growth and reorganising global businesses. In the role of senior manager, I shall contribute my drive and will to succeed to your company. I have primary areas of experience that I will contribute to your company, which are as follows:
I have a deep dedication to [the respective industry/sector] , having served in many roles and competencies.
My effective [the respective industry/sector] knowledge as well as the capacity to develop, comprehend, and resolve [the respective industry/sector] processes is bound to boost business market share gains, ultimately leading to financial prosperity.
I have an independent spirit, agility, and expertise that will help you build important connections to succeed in business. 
My experience of over three decades of smart, critical thinking activities has delivered productivity and profitability.
My [name of degrees] and community outreach management responsibilities with several non-profit organisations have further enhanced my abilities and flexibility to satisfy the work criteria. Since I have done this over the years, I'd like to share with you the high-quality service and value I can offer to your organisation.
 Thank you for taking the time to read this. I can be contacted on [contact details]
With warm regards,
[Closing Signature]
Middle management cover letter example
I'm writing to express my interest in the position of [position name] at [company name] . I'm certain that my level of knowledge fits well with the obligations described in your job description since I have over six years of experience operating the [specified niche] .
I've proven myself to be quite an efficient manager and a good leader in my work as [name of previous job position and the company name] . As I single-handedly taught and trained the whole [team name] staff in prep work for [name a commendable task carried out by you] , my worth became clear to the proprietors. Throughout the following years, my team regularly exceeded monthly [specified niche] targets.
Your company, I feel, would greatly benefit my expertise in the key segments:
High level of customer service criteria 
A passion for quality
A high level of dedication as well as leadership abilities
Delivering results under pressure
I believe my skills will contribute to [business name] ongoing growth. My experience in this field has equipped me for this opportunity, and I genuinely hope that I will be able to contribute to your team.
It would be an honour to speak with you about the [job position] in further depth. I'd be delighted to visit whenever it is most suited for you. 
I appreciate the time, and eagerly await your response.
CV cover letter sample for beginners, students, and graduates
I'm writing this letter to express my interest in [company name] 's internship programme. I learnt about your organisation via my institution's student placement centre, and after browsing your website, I've become interested in your outstanding work in [ industry name] .
I'm now majoring in [subject area] and minoring in [subject area] at [institution name] , where I'll graduate [graduation date] . In addition to my  [subject area] and [subject area] experience, I specialise in [interest/subject area] . The opportunity to do my internship with [business name] will expand my knowledge and experience to progress in my profession while applying everything I've studied to support your business objectives.
I aim to work with an organisation like [business name] after college to get hands-on experience, [professional goal] , and eventually [professional goal] . With the correct opportunity and professional experience with well-known clients, I believe I can achieve my goals. I previously interned at [business name], where I worked on important projects for their major customers. I had the chance to study [name of technical skills/tools learned] during the same internship. I also learnt [example of initiative and outcome] . Given that you are seeking to expand your [team name] , I feel my understanding of [subject area] may be of value to you.
If you have any questions that you would like me to address, please contact me on [contact details].
Looking forward to hearing from you,
3 tips for writing a great cover letter
The cover letter templates above go beyond the information in a CV, assisting the recruiting supervisor and potential employers in quickly recognising the applicant's value as an employee. Let's explore the key ways this is achieved.
Be straightforward and succinct. They express most about what a cover letter ought to state in the first paragraphs, such as their expertise level and status, as well as how they got the position.
Be specific about experience and impact. The applicant outlines key expectations from the position description and shows their relevant skills and previous experience with similar tasks. They also share an example about just how they have driven impact in their present job. Your cover letter should include applicable situations that illustrate your potential to accomplish the responsibilities mentioned in the job description whether you are a fresh graduate asking for an apprenticeship or early in your career looking for your next role.
Include a clear call to action. In each example, the applicant signed off by reiterating their interest in the company and role, sharing their availability and willingness to connect, and providing their contact details such as a phone number or email address.
Get started writing your cover letter
Your cover letter is an opportunity to distinguish yourself. Consider a period when you delivered impact with a major project or implemented a new strategy to spur innovation. Since you will have more quantifiable achievements to rely on as you gain more expertise, your cover letter is the perfect spot to bring out these details. Make the most of this desirable opportunity to show off your skills, expertise, and abilities. 
Learn more about effective cover letters in the online course Writing Winning Resumes and Cover Letters from the University of Maryland. For more career planning assistance, consider courses like Successful Interviewing or Career Planning: A Path to Employment .
Keep reading
This content has been made available for informational purposes only. Learners are advised to conduct additional research to ensure that courses and other credentials pursued meet their personal, professional, and financial goals.
Take $100 off your annual subscription
For a limited time, you can get a new Coursera Plus annual subscription for $100 off for your first year!
Get unlimited access to 7,000+ learning programs from world-class universities and companies like Google, Microsoft, and Yale.
Build the skills you need to succeed, anytime you need them—whether you're starting your first job, switching to a new career, or advancing in your current role.

Cover Letter Examples
Free Professional Cover Letter Example and Writing Tips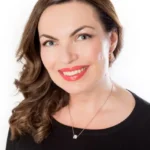 Career expert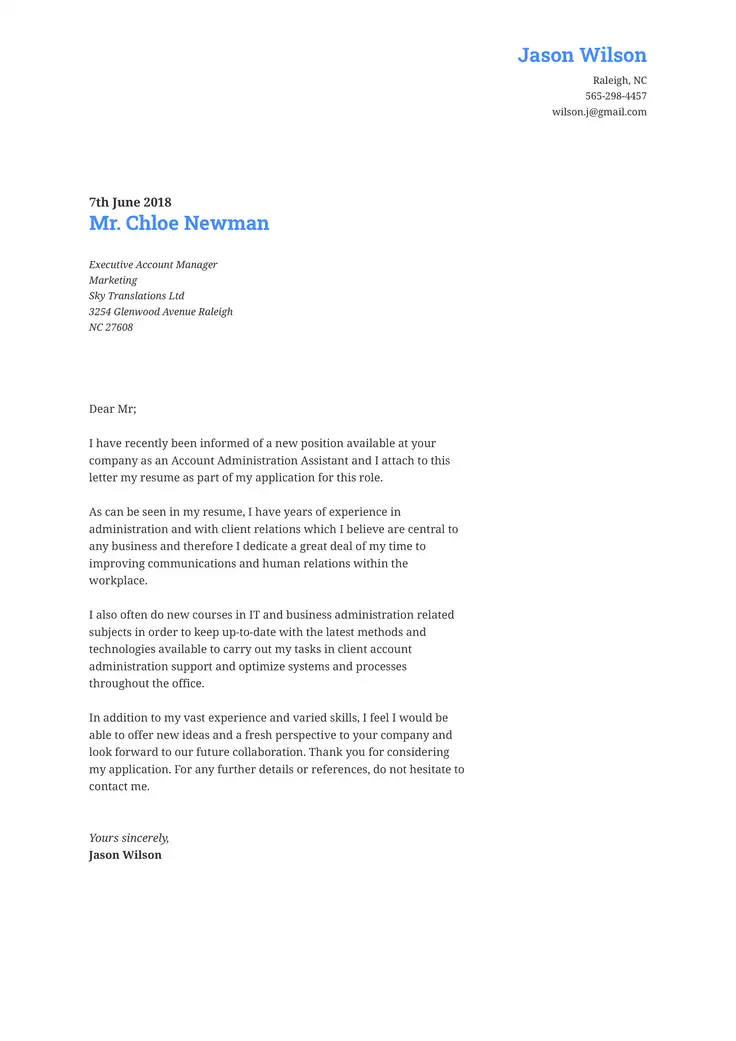 A cover letter that's well  written and tailored for the position  you want to get is an essential part of any job application. A cover letter is expected by at least  10% of all recruiters  in addition to a  properly prepared resume . Make sure yours stands out perfectly for the role you're seeking by using our professional examples below along with our cover letter builder.
What Should I Include in My Cover Letter?
An effective cover letter will need the following four key elements shown below
1. A formal greeting
Your first contact with the employer should be a formal one. You should address them as Mr/Mrs/Ms. for this initial interaction and state their name. If possible, avoid generic openers like "Dear Sir/Madam" or "to whom it may concern".
2. A persuasive introduction
Use the first paragraph to introduce yourself as a candidate and to give a great first impression. Use this space to give quick reasons why you applied and would be the right choice for the precise job on offer.
3. Compelling paragraphs
This next part of the letter can be used to build a convincing argument as to why you'd be the right pick for the company. Use numerical evidence to support your case and make your achievements eye-grabbing.
4. Strong Final Impression
Finally, start moving the conversation towards the next stage of the job selection process. Encourage the recruiter to read your resume for further details and explain that you're keen to meet in person as well as how you can be contacted.
[Hiring Manager's name]
[Company name]
[Company address]
Dear Mr/Mrs/Ms. [Hiring Manager Name]
I am contacting you to communicate my interest in the Administrative Assistant role being advertised by [company]. This role really caught my attention as I have a strong educational background and extensive experience in the office administration of medium-sized businesses. I think this knowledge and expertise could be highly valuable to [company].
During my 6 year career, I have assisted with a wide range of office administrative tasks using Microsoft Office and LibreOffice software. I have been responsible for maintaining and managing sensitive data at each and every step of the meeting organization from planning to the recording of minutes, as well as drafting critical communications.
In my current position, I was also tasked with optimizing the efficiency of our office supply buying, the results of which saved the company over $1,800 per quarter. I also enhanced my written skills greatly by assisting with the drafting and proofing of important executive correspondences.
I have enclosed my resume with this letter to provide further information about my career history so far. I hope that my credentials represent a good match for this role.
I'm very keen to learn more about the position and would be eager to organize a meeting to discuss it in more detail. In the meantime, I'd like to thank you for your consideration and to invite you to contact me at any time regarding the opportunity.
I can be reached every evening from 4 pm-8.30 pm via home phone or at any time with my email address listed below.
Address Phone number Email address
Create a compelling cover letter to get the attention of a recruiter. We'll show you in the points below how it's done and what to highlight when using our cover letter builder.
Essential Points to Highlight
What should or shouldn't be included in an effective document and what should a cover letter say? Let us briefly explain…
There's more than one way to format and prepare a letter . Depending on the type of job you're targeting and your level of experience you have several options to choose from.
Simple Cover Letter
Our example of a simple cover letter shows you how to start preparing a document that can be used if you have little-to-no professional experience but that also allows you to highlight your most employable features. It is an easy cover letter to create, which is useful when you are just starting your career.
February 16th 2020
Dear Adrian,
I am writing to apply for the Customs Broker position at Geoplex Inc as posted on LinkedIn.com. I am a qualified and fully licensed broker, with over 4 years of experience and exemplary history of managing drilling machinery imports.
I was particularly interested in the position with Geoplex, as I share in the company values of growth and innovation. Working with Benson LLC, my current organization, I've overseen a 12% cut in costs, as well as ensuring the standards of compliance expected by the US CBP.
Furthermore, I've developed a reputation for coming up with exceptional solutions to problems. This has been an especially vital skill in my current role, especially when resolving any factors arising with clearance and deliveries.
I am eager to continue my upward trajectory in a new position and would relish the opportunity to make that happen with Geoplex Inc. Please find enclosed my resume, which provides additional detail on my skills and experience as well as my complete contact information.
Please feel free to reach out to me at your leisure via my personal number or email address. I look forward to speaking to you further regarding the position.
Connie Barnes
What Makes This a Strong Covering Letter?
Generally speaking, a simple cover letter allows you to convey a lot of information fast with little excess detail. It fits in all the required information that will help give you an edge over the competition, in a concise and focused manner.
As we can see in the adjacent cover letter example, the applicant focuses on a polite greeting, conveys all the contact details necessary, and uses the first paragraph to quickly outline their interest in the job and why they'd be suitable.
This allows you as the candidate to show that you have a genuine enthusiasm for applying, which will in turn interest the employer. You can then dedicate the rest of the initial opening to offering some tidbits of information that will further motivate the recruiter to keep reading.
Learn the basics about writing addresses on cover letters so you can plan what information to include
In the next part of the document, our writer has added some key examples as to how they made the difference in their last job. They've demonstrated a little about the essential tasks they did and focused on the results they achieved in doing so.
To finish things off, they have reiterated their enthusiasm for the role available and have gradually started to draw the conversation towards the possibility of an interview. It also creates some interest in the resume (which will be a more detailed explanation of your professional experience).
As you can see, each part of the document takes the reader on a short journey from the reason for applying, to why you'd be the best candidate for the job, to finally angling towards the next steps of the process. By doing this while focusing on the job description this will provide the recruiter with exactly what they'll need to see to pick you for an interview.
Professional Cover Letter
In our example of a professional cover letter, you'll see how to start writing and organizing a document that can help take you to the next level of your career. If you've already got a few years of experience under your belt, learn how to use it to your advantage.
Dear Patricia,
I wanted to make contact with you to register my interest in the Key Account Manager position with Rhino insurance that is advertised on LinkedIn. During my 8 years of working in insurance, Rhino is a company I've always admired and I think I could offer you the skills you're looking for.
My goal is and always has been to get the maximum from my staff and create excellent relationships with high profile clients. That's why over the last 4 years of working with Yannick Mutual I've overseen a 93% retention rate and helped to raise revenue by as much as 14%.
Great customer management is a skill that I know Rhino values highly and it is something I pride myself on also. Your 4.8-star customer satisfaction rating stands as a testament to your ability to respond properly to your client's needs and I would love to bring my experience to help you achieve even better results.
I would be more than happy to talk in more depth on how I can help Rhino continue in its successes. Please contact me on 207-440-4475 if you would be interested in meeting for an interview.
Thank you for taking my application into consideration and I hope we can discuss the opportunity in more depth soon.
Raquel Galaz
What Makes This an Effective Cover Letter?
Professional cover letters will need to be more detailed than some other types like an entry-level or simple cover letter . However, conciseness is still key.
As we can see in this adjacent example the writer has started off as normal by detailing their contact information and formally greeting the recruiter . They then go on to make a short introduction of themself and start making a strong case for why they would be the right choice.
In the next section, they move onto explaining a little about the way they manage in their current job and illustrating where they brought results with specific instances as evidence. As a seasoned professional you'll be expected to provide plenty of examples of how you made a difference in previous jobs and what you achieved.
Learn the basics about writing addresses on cover letters so you can plan what information to include.
To finish things off, the candidate added important elements of a good conclusion:
Stating a desire to meet
Contact information
Thank you for the employer's consideration
This detailed document covers a lot in just a few paragraphs, however, it strikes the right balance between essential information and brevity . It also functions well as it is specifically tailored to the type of profile that the recruiter is looking for.
Entry-Level Cover Letter
When you're starting out in your career or you've made a major change of industry you're going to need an effective entry-level cover letter. Use our example to get your professional journey off on the right foot.
I am writing to express my interest in the Structural Engineer position with Rode Engineering advertised on Glassdoor.com. Having recently completed my B.S. in Engineering from MIT in May 20XX, I would love to start my career with Rode and feel I would be a perfect fit for the role being offered.
You stated in your notice that you are looking for a candidate with superb communication skills, excellent focus, and who is a good team player. This is precisely what I would be able to bring to the position. During my time at MIT, I was an active member of the volleyball team, where interdependency, strategy, and quick decision-making were invaluable skills for success.
Additionally, over 2 summers, I interned with Humbert Energy for 6 months, working within their infrastructure team. This gave me a working knowledge of everyday engineering tasks as well as many more abilities such as spotting warn parts, serious flaws in a design, and necessary structural repairs.
As you can see, my hands-on experience, my extracurricular activities, and my Engineering B.S. make me a great fit for the Structural Engineer role at Rode. I would be excited to discuss the position more in person.
Thank you very much for considering my application. Please feel free to contact me either on my phone number 412-721-6679 or my personal email to talk about the position at length. I look forward to hearing from you.
Dan Gillard
What Makes This a Convincing Covering Letter?
Like all good covering letters, this example starts off by making a soft introduction and giving a little detail as to why the candidate could be a good fit for the role. However, unlike others, it immediately addresses the elephant in the room, namely the lack of professional experience.
Not only does it state the candidate's enthusiasm for seeking the role but it also makes it clear that they are newly qualified. However, it still plays to the writer's strengths by stating the qualification upfront which allows the recruiter to see that the candidate is fully trained for the job.
Your qualifications are going to be your biggest selling point in this type of letter. If you don't have any, instead focus on relevant examples of hands-on work experience.
In the main body of this example letter, we can see that the applicant has focused entirely on addressing the job requirements point-by-point. They've brought specific examples of where their college education and time studying was put to good use and how this could apply to the sort of profile the recruiter is looking for.
This involves a mix of hard skills and soft skills , but it perfectly helps to make up for any lack of real-world professional experience. However, to make their case even stronger, they have been able to include details of an internship, which could help make the difference against the competition.
To finish everything off the writer has given a short prompt to reiterate why they would fit the desired profile well , in a quick conclusion. All that then needs to be added is a short paragraph giving the recruiter a call to action and hopefully instigate the next steps in the process.
Creative Cover Letter
Creative cover letters stray a little from the normal rules of job applications. Find out how to effectively create a document for a more artistic job that gets results and demonstrates your creativity.
Dear David,
Fudge Digital is hiring and I am just the person you need. My name is Susan Taylor and I'm a seasoned and successful Digital Marketing Manager with more than 5 years of online marketing experience. Fudge is a business with a reputation for bringing together creativity and progress. Together, I think we'd make the perfect team.
I live and breathe life as a digital creative and in the last 5 years, it's been my honor to be able to call myself a professional in this field. I make it my mission to create attractive and effective marketing assets that look great and sell better. In the last quarter, the digital assets my team and I brought to life have smashed their targets by over 30%.
My biggest guiding forces are communication and cooperation and I know that Fudge also appreciates these skills. I've been following your blog for a couple of years now and have always been impressed by the values of teamwork and inspiration that are woven into everything you do.
I was also totally blown away by your Award-winning video campaign. Hopefully, we'll be able to work together to see that you retain the title next year.
Thank you for taking the time to read through my application. I am contactable by email every day or by landline Monday-to-Friday from 6 pm onwards. I hope we can meet soon to discuss how we can help Fudge reach even greater heights.
Yours truly,
Susan Taylor
What Makes This a Powerful Cover Letter?
In most cases, creative cover letters involve even more individuality than most and rely on standing out. Nevertheless, they still follow normal letter-writing conventions.
As you can see in our professional example, the writer still uses standard formality and letter structure . However, once they launch into their opening salvo they do so with a much more imaginative approach.
The letter opening still introduces the candidate and sells them a little as the perfect fit for the job. As you would normally expect, it also gives some detail about the motivations of the applicant .
Don't get too experimental with your cover letter. It is still a formal part of your job application and whilst you can take some risks it still has to focus on the task at hand.
The middle sections of this letter focus on building a complete picture of the candidate. It goes into detail whilst also adding more creative embellishments than you wouldn't normally see in a simple or professional cover letter .
Our candidate, in this case, chooses to use specific examples that illustrate the success their work has brought in. In this case, exceeding commercial targets by double-digit percentages.
This writer also goes a step beyond and gives a lot more information about how the company itself got their attention and how both parties' goals align. Again, they cite a specific example to strengthen their hand and to show they have done their research on the business.
The author of the letter then finishes off with a quick thank you for consideration and gives the recruiter some details on how to make contact. This leaves the reader with a positive final impression as well as the precise sort of information they need to move the process forward.
As we can see, creative documents are worded very differently to more conventional documents. However, even in these cases, it's still essential to give as much evidence as possible on your working record, using numerical data where possible.
Short Cover Letter
It isn't always necessary to write a cover letter that fills an entire page. If you can manage to explain why you're the best candidate for the position, your cover letter's length does not need to be that long. Use the top 1 to 2 reasons you should be hired, and keep what you write relevant to the vacancy.
Dear Mr. James,
I've loved teaching and working with children and adolescents since I was a summer camp counselor in my junior year of high school.
I have over eight years of teaching experience at the middle school level, working with children that cover a wide range of learning skills. The state test scores of my students have collectively finished in the 95th percentile of all test takers in each of the past four years. Considering all of these factors, I believe I am the ideal candidate for the 7th and 8th-grade math teacher position at Woodlawn Middle School.
Please feel free to contact me at any time, I can be reached at 555-732-4198 or by email at [email protected]
Sincerely, Frederik Gorman
You might not think less is more when you are applying for a job vacancy. However, in this case, a short cover letter can be just as convincing as a long one. There are cover letters that last an entire page and list irrelevant information .
The purpose of a short cover letter is to get straight to the point. As we can see in the above short cover letter example, the applicant makes it clear right away that they are excited about the chance to fill the position.
Don't worry so much about trying to flatter the employer. Get into what makes you the perfect candidate right at the beginning, and mention you would like a response soon.
The body of the letter and the ending of the letter achieve several things:
Addresses a specific accomplishment
Makes the candidate's skills and experience clear
Enthusiasm for the job and an interview
Normal cover letters will go into further detail regarding the experience and skills the candidate possesses, however, this type of letter briefly yet effectively communicates the same information.
Advantages of Cover Letter Examples
As well as offering guidance and some inspiration, cover letter examples can be useful tools in helping you learn how to highlight the most important information that employers will need to know about. When creating your cover letter , ResumeCoach's examples can help with the following points:
Learn the length you should use and the sections that you will need to include.
2. Keywords
Personalize your cover letter and find the keywords that work for your sector.
3. Choice of language
Get the level of formality right and make the text accessible for any recruiter.
4. Adaptability and speed
Complete and adapt your cover letter and resume for any job with our editor.
Cover Letter Samples
Discover our perfect cover letter examples and find out the best tips and advice to write an outstanding cover letter for your resume.
Administrative Assistant
Engineering
Receptionist
Dental Assistant
Executive Assistant
Flight Attendant
Business Analyst
Software Engineer
Customer Service
Sales Associate
Data Entry Clerk
Property Manager
Esthetician
Office Manager
Software Developer
Event Coordinator
Office Assistant
Elementary Teacher
Operations Manager
Medical Receptionist
Bank Teller
Personal Assistant
Phlebotomist
Mechanical Engineer
Pharmacy Technician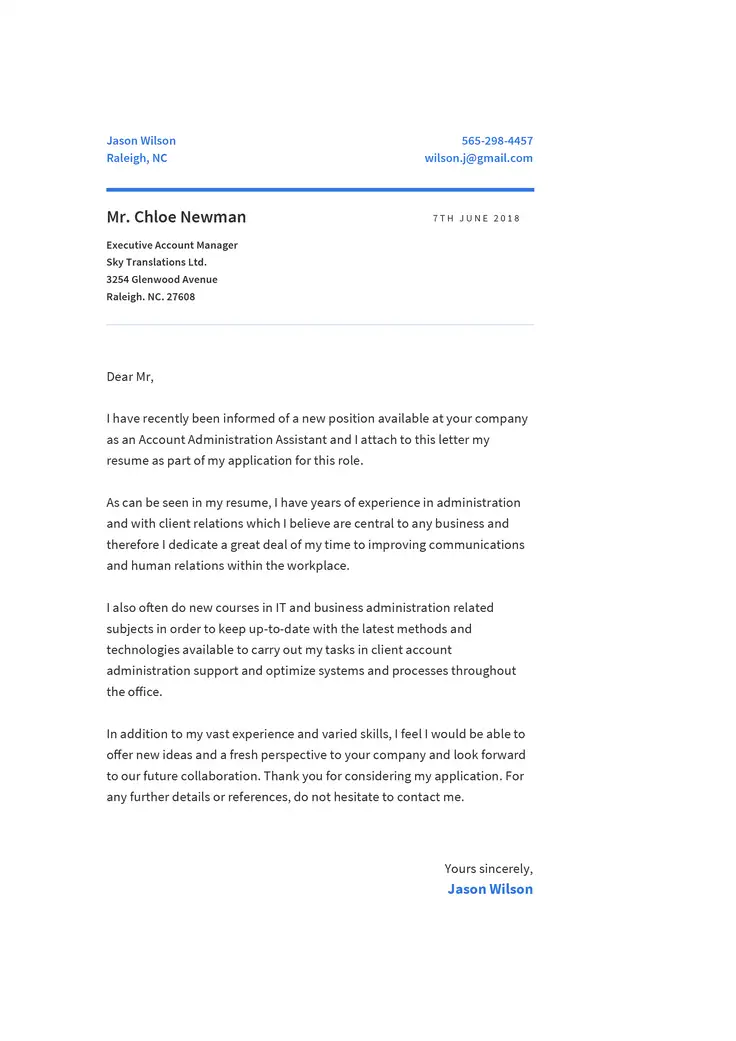 Trouble getting your Cover Letter started?
Beat the blank page with expert help.
International edition
Australia edition
Europe edition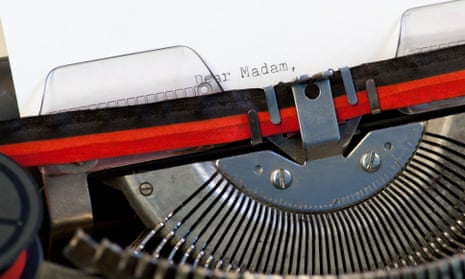 Three excellent cover letter examples
Cover letters are the first chance you have to impress an employer – they're not just a protective jacket for your CV. Here's our guide on what to include and how to format them
More CV and cover letter templates
Looking for a job? Explore the range of vacancies on Guardian Jobs and find the perfect role for you
The first thing a potential employer sees in your job application is the cover letter. This doesn't just support your CV – it's an opportunity for you to stand out from the crowd and persuade the recruiter to put you through to the next round.
Be wary of spending hours on perfecting your CV at the expense of your cover letter. If you need some inspiration on what to include and what format to use, here are our helpful guides – just remember not to copy them as exact templates.
1. Standard, conservative style
This is ideal for sectors such as business, law, accountancy and retail. For more creative sectors, a letter like this might be less appealing, and could work against you.
Dear Mr Black, Please find enclosed my CV in application for the post advertised in the Guardian on 30 November. The nature of my degree course has prepared me for this position. It involved a great deal of independent research, requiring initiative, self-motivation and a wide range of skills. For one course, [insert course], an understanding of the [insert sector] industry was essential. I found this subject very stimulating. I am a fast and accurate writer, with a keen eye for detail and I should be very grateful for the opportunity to progress to market reporting. I am able to take on the responsibility of this position immediately, and have the enthusiasm and determination to ensure that I make a success of it. Thank you for taking the time to consider this application and I look forward to hearing from you in the near future. Yours sincerely
2. Standard speculative letter
This may vary according to the nature of the organisation and the industry you're applying to.
Dear Mr Brown, I am writing to enquire if you have any vacancies in your company. I enclose my CV for your information. As you can see, I have had extensive vacation work experience in office environments, the retail sector and service industries, giving me varied skills and the ability to work with many different types of people. I believe I could fit easily into your team. I am a conscientious person who works hard and pays attention to detail. I'm flexible, quick to pick up new skills and eager to learn from others. I also have lots of ideas and enthusiasm. I'm keen to work for a company with a great reputation and high profile like [insert company name]. I have excellent references and would be delighted to discuss any possible vacancy with you at your convenience. In case you do not have any suitable openings at the moment, I would be grateful if you would keep my CV on file for any future possibilities. Yours sincerely
3. Letter for creative jobs
We've used the example of a copywriter but you can adapt it for your profession. The aim of a creative letter is to be original and show you have imagination, but understand what the job entails. Balance is essential: don't be too wacky, or it will turn off the reader.
Dear Ms Green, · Confused by commas? · Puzzled by parenthesis? · Stumped by spelling? · Perturbed by punctuation? · Annoyed at the apostrophe? (And alliteration?) Well, you're not alone. It seems that fewer and fewer people can write. Unfortunately, there are still a lot of people who can read. So they'll spot a gaffe from a mile off. And that means it's a false economy, unless you're 100% sure of yourself, to write your own materials. (Or to let clients do it for themselves.) To have materials properly copywritten is, when one considers the whole process of publishing materials and the impact that the client wishes to make, a minor expense. Sloppiness loses clients, loses customers. There is an answer. Me. Firm quotes are free. You can see some of what I do on my multilingual website at [insert web address]. If you'd like, I can get some samples out to you within 24 hours. And, if you use me, you'll have some sort of guarantee that you can sleep soundly as those tens of thousands of copies are rolling off the presses. Luck shouldn't come into it! With kindest regards
Other helpful resources
How to write a perfect CV and cover letter
Applying for jobs without experience? How to build and sell your skills
Five steps to the perfect graduate CV
School-leavers and graduates: how to write your first CV
How to write a personal statement for your CV
CV templates to fit every stage of your career
Looking for a job? Browse Guardian Jobs for your next career step.
Guardian Careers
CV and cover letter examples
Covering letters
comments (…)
Most viewed.
21+ Cover Letter Examples in 2023 [For All Professions]
No matter where you are in your career, or what job you're applying for, submitting a cover letter with your resume is a must . 
Done right, a cover letter will effectively complement your resume and explain to the hiring manager in more detail why you're the right person for the job.
Writing a cover letter, however, is easier said than done. 
You have to effectively demonstrate that you'll be able to perform the responsibilities listed in the job description and that you'd be a better fit for the company compared to other candidates. 
And unless you're a professional writer, this can be a very hard task.
Fortunately, we created these cover letter examples to inspire you and help you get started with your own cover letter!
Let's dive in!
21 Cover Letter Examples 
#1. career change cover letter example .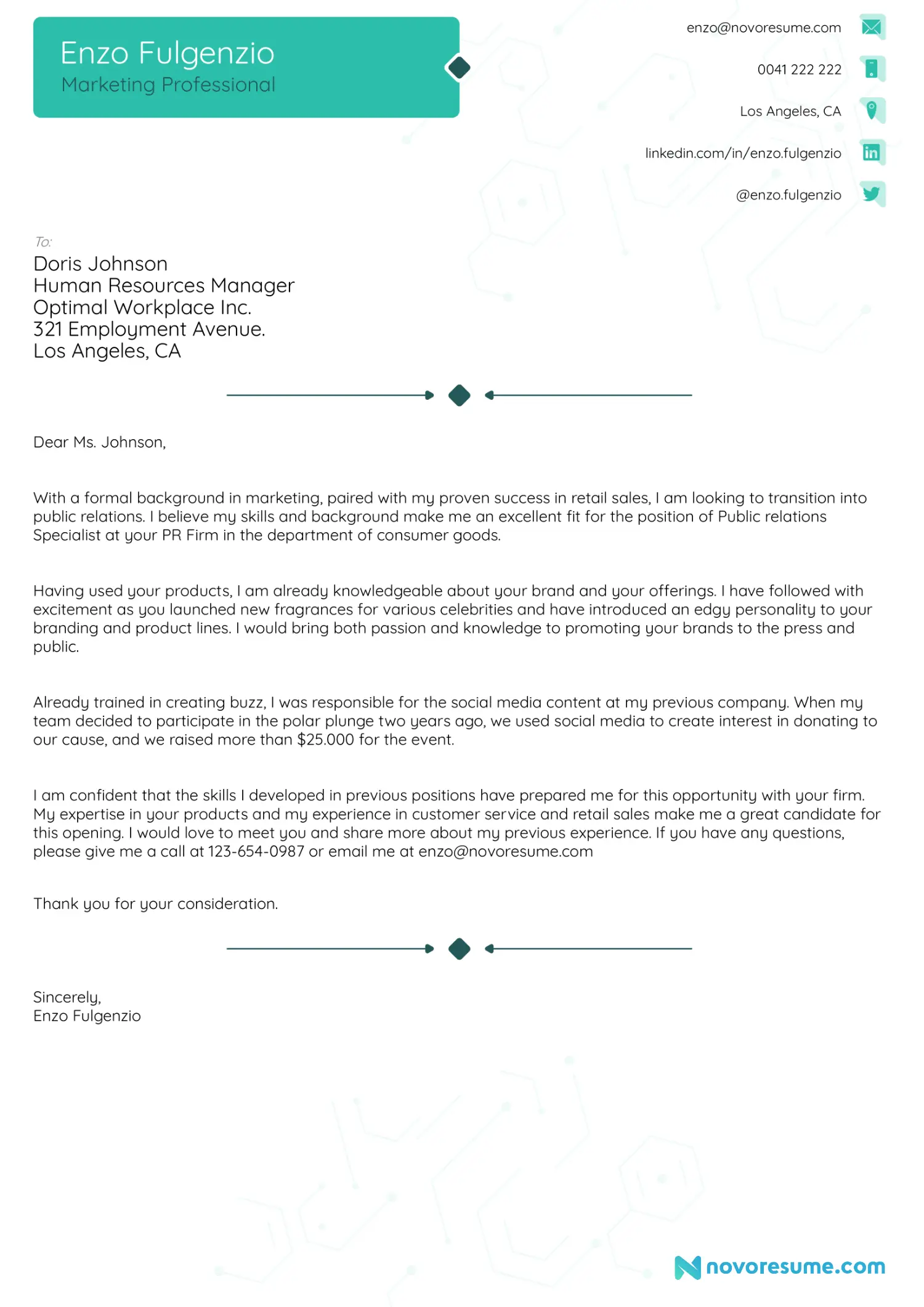 Here's what this cover letter does right:
Has an ideal length. This cover letter includes all the relevant information for the hiring manager without getting into too much detail.
Relevant introduction. The candidate explains that they're changing careers and why they want to work in this new field from the get-go.
Explains their related experience. The candidate explains how their previous experience in retail sales can help them succeed in PR.
Check out our guide video guide to learn how to write a Cover Letter that gets you HIRED!
#2. Recent Graduate Cover Letter Example 
Personally greets the hiring manager. The candidate has taken the time to find the hiring manager's name and address them by it, which makes the opening of the cover letter much more personal.
Wraps up with a call to action. The candidate wraps up the cover letter by suggesting a meeting with the hiring manager, which makes them more memorable.
Explains why the candidate is the right person for the internship. In this cover letter for an internship , the candidate explains how they've previously interned in a different firm, which gives them the experience to succeed in this role.
Have you just graduated from college? Make sure to check out our guide on writing an entry-level cover letter from start to finish! 
#3. Middle Management Cover Letter Example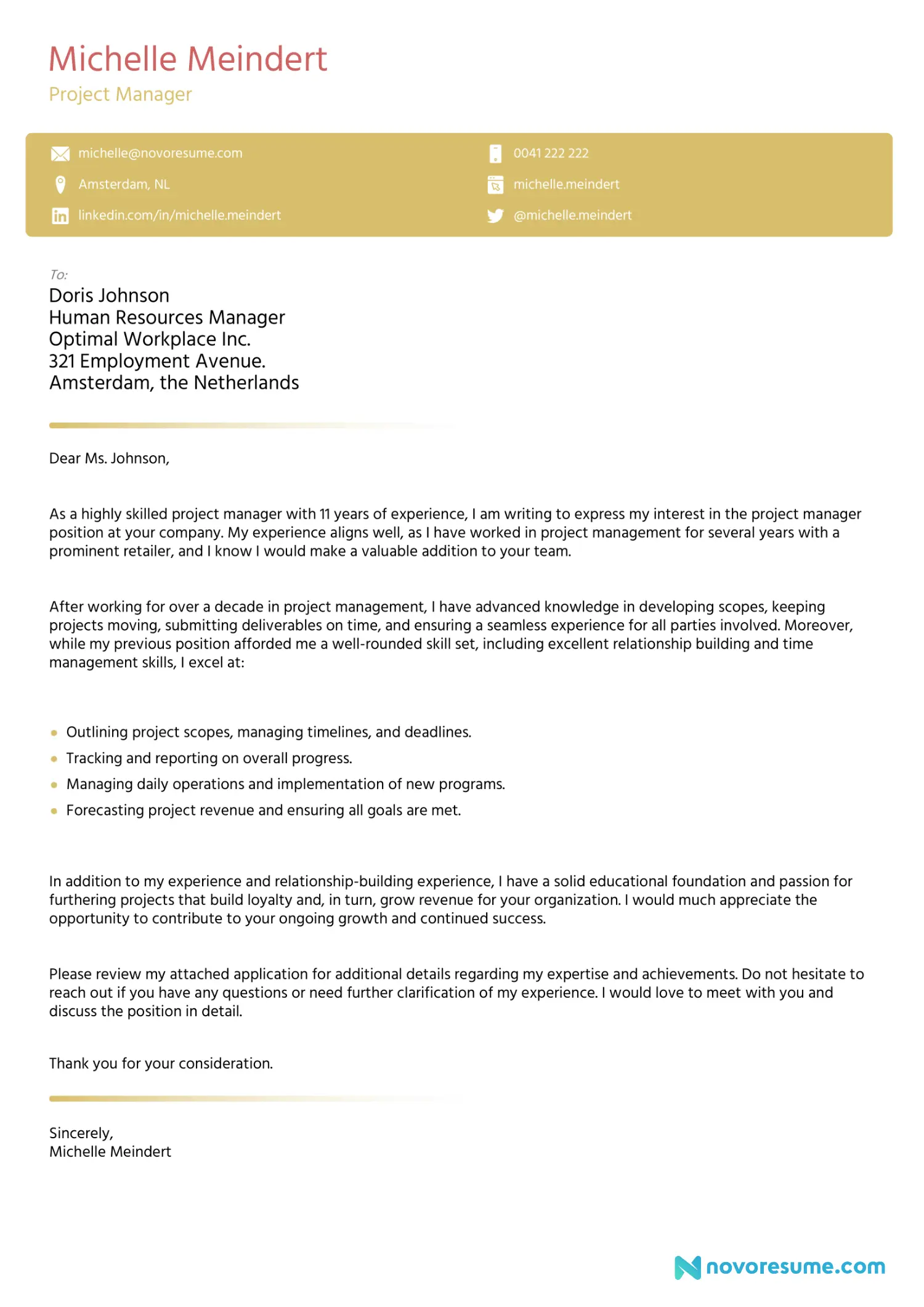 Use of bullet points. The candidate presents the information in a concise and reader-friendly way, making it easy for the hiring manager to find their key achievements. 
Formal closing. The candidate has used a formal and polite tone to conclude their cover letter, which combined with a call to action makes them look professional and passionate about getting the job. 
Explains how the company would benefit from hiring them. The candidate outlines exactly what they could do for the company, which not only highlights their skills but also shows they've done their research on the company's needs. 
#4. Business Manager Cover Letter Example
Detailed header. In addition to the must-have contact details, this candidate has also included their professional Twitter and LinkedIn profiles, making it easy for the hiring manager to look more closely into their career. 
Concise and to the point. This candidate has used short paragraphs and bullet points to make the cover letter easy to skim through. 
Wraps up with a call to action. By letting the hiring manager know they'll be contacting them soon, they're more likely to make an impression.
Check out this article for a complete writing guide and an inspiring business manager resume sample. 
#5. Ph.D. Cover Letter Example
Here's what this cover letter does right: 
Attention-grabbing introduction. In the opening paragraph, this candidate explains why they're passionate about pursuing a Ph.D. in great detail. 
Explains the candidate's qualifications in detail. The candidate builds on their passion by explaining how they're also qualified for the degree because of their education history and academic achievements. 
#6. Senior Executive Cover Letter Example
Professional and minimalistic template. This senior executive has used a professional but minimalistic template that lets their work experience do the talking. 
Achievement-oriented opening paragraph. Right from the get-go, this candidate explains what makes them so good at their job, effectively grabbing the hiring manager's attention.  
Wraps up with a call to action. By suggesting to have a meeting and discussing how they can help the company meet its goals, the candidate stands more chance to make a positive lasting impression. 
#7. Architect Cover Letter Example 
Modern resume template. This architect has picked a template that perfectly matches his industry, as it is professional and modern at the same time. 
A personal greeting to the HR. They address the hiring manager by their first name, which helps make a better first impression. 
Measurable achievements. By quantifying their achievements, the candidate proves their achievements instead of just claiming them.
Struggling with your architect resume ? Check out our full guide!
#8. Business Analyst Cover Letter Example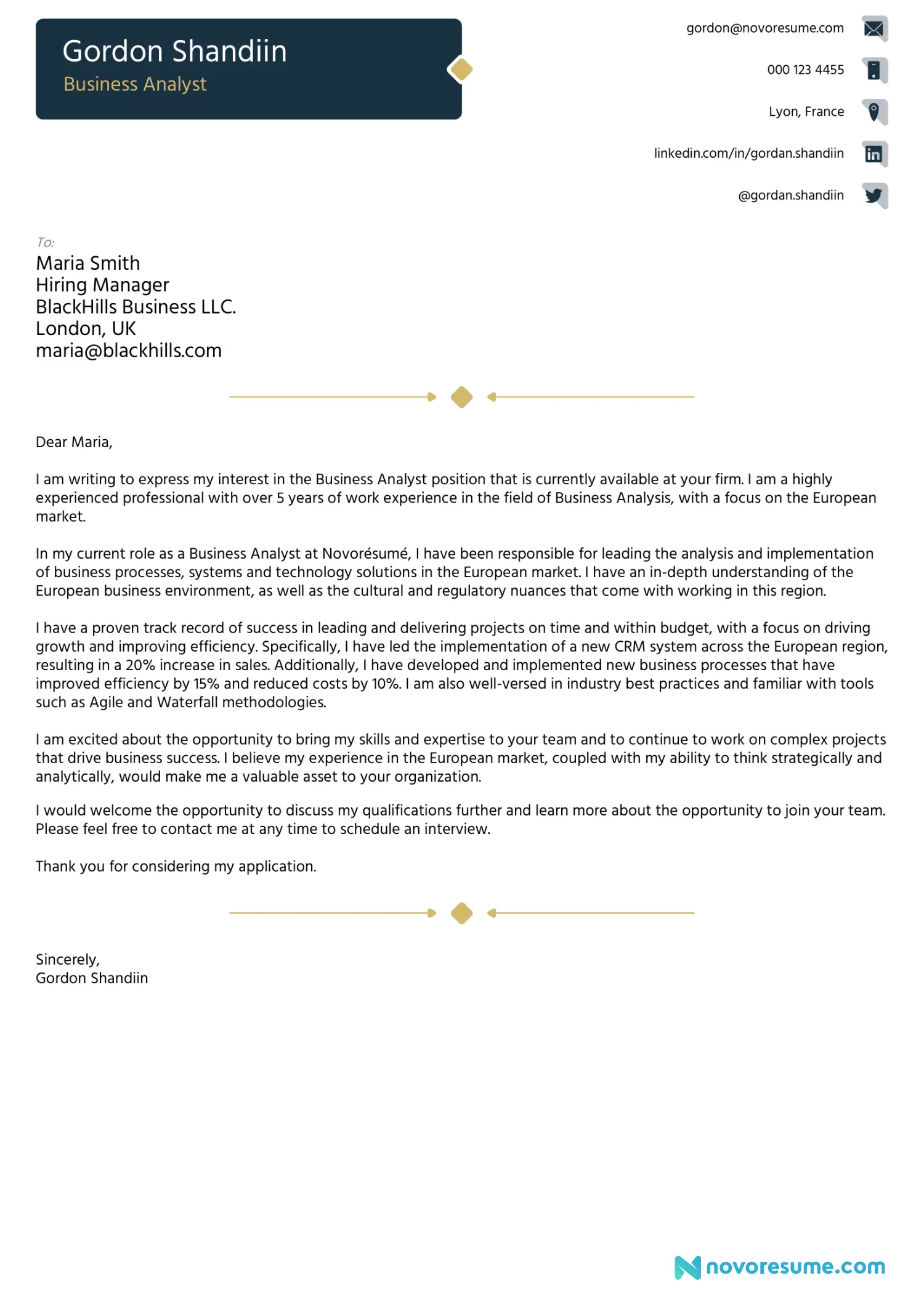 Detailed contact information. The candidate has listed both their LinkedIn and Twitter profiles, providing the HR manager an opportunity to learn more about the candidate.  
Mentions what the candidate can do for the company. This cover letter doesn't just explain why the job would be great for the candidate, but also how the candidate would benefit the company. Win-win, right? 
Error-free and reader-friendly. It's super important for the cover letter to have no spelling or grammatical errors and be reader-friendly. This candidate made sure they did both.
Need a resume alongside your cover letter? Check out our guide on how to write a business analyst resume . 
#9. Consultant Cover Letter Example 
Professional cover letter template. Being an experienced consultant, this candidate has picked a professional template that doesn't steal the spotlight from their achievements. 
Experience and achievement-oriented. The candidate has effectively elaborated on their top achievements relevant to the job. 
Highlights the candidate's passion. To show they want the job, this candidate has also explained how passionate they are about their profession.
For more advice on landing a job as a consultant, check out our guide to writing a consultant resume .
#10. Digital Marketing Cover Letter Example
Creative cover letter template. This digital marketer highlights their originality by picking a creative cover letter template. 
Lists the candidate's awards. The candidate has taken advantage of the cover letter to list their most noteworthy awards in the industry. 
Concludes with a call to action. As they used a call to action to conclude their cover letter, the HR manager will be more likely to remember them.
Want to take your digital marketing resume to the next level? Check out our guide!
#11. Graphic Designer Cover Letter Example 
Detailed contact information. The candidate has included additional contact information such as their website link, as well as their LinkedIn and Twitter profiles.  
Ideal length. This cover letter is concise, which means that the HR manager is more likely to read it from start to finish.  
Draws attention to the candidate's strong points. Although this candidate is a recent college graduate, they've managed to effectively show that they have enough knowledge and experience to do the job right.
Read this guide to write a graphic designer resume that's just as good as your cover letter!
#12. Administrative Assistant Cover Letter Example
Minimalistic cover letter template. The candidate picked a well-designed but minimalistic template for their cover letter. 
Focused on skills and achievements. This cover letter is packed with the candidate's skills and achievements, proving he can be an excellent employee. 
Formal closing. Politeness can go a long way and the candidate has used this to their advantage to make an impression. 
Our article on how to write an administrative assistant resume can help you take your job application to the next level.
#13. Front Desk Cover Letter Example
Modern cover letter template. This template incorporates memorable colors and clear lines, which make the cover letter very visually appealing. 
Attention-grabbing introduction. Using an attention-grabbing intro, the candidate is more likely to make an impression. 
Calls the HR to action. By including a call to action, the candidate is reminding the HR of their immediate availability. 
#14. Human Resources Cover Letter Example
It is concise and to the point. The candidate doesn't dwell on unimportant details the HR won't be interested in. 
Uses a traditional cover letter template. The cover letter design is more on the conventional side, which fits the industry better. 
Highlights the candidate's strong points. The candidate has rich work experience and they use the cover letter to elaborate on it. 
This HR resume guide can help you get your resume just right.
#15. Sales Agent Cover Letter Example 
Attention-grabbing cover letter template. As a salesperson, this candidate knows how important first impressions are, so they've picked a catchy cover letter template. 
Has an ideal length. At the same time, they've also made sure to keep their cover letter at just the right length. 
Lists the candidate's career highlights. The candidate has made perfect use of the space by mentioning their most impressive professional achievements. 
Check out this sales agent resume guide to create an attention-grabbing sales resume .
#16. Receptionist Cover Letter Example
Modern but minimalistic cover letter template. The template's design hints the candidate is creative but professional at the same time. 
Uses a catchy introduction. The candidate has used an attention-grabbing opening paragraph to catch HR's attention. 
Concludes the cover letter formally. The candidate proves that they're polite and well-spoken, a quality very much important for the role they're applying for. 
Take your receptionist resume to the next level with this receptionist resume guide .
#17. Information Technology Cover Letter Example
Mentions measurable achievements. Numbers make an impact, which is why this candidate has included measurable achievements. 
Lists both soft and hard skills. The candidate has mentioned a great mix of soft and hard skills, showing how well-rounded they are. 
Contains relevant contact information. The candidate's GitHub, website name, LinkedIn, and Twitter profiles are all great additions to the resume. 
Looking for tips to help you write a great IT resume ? Check out our guide!
#18. Real Estate Cover Letter Example
Ideal length. Short and to the point, this cover letter is bound to get noticed by the HR manager. 
Wraps up with a call to action. This candidate reinforces the HR to call them back through a final call to action. 
Mentions the right skills. On top of their sales accomplishments, the candidate touch upon important soft skills such as customer service and communication . 
This real estate resume guide will help you take your resume from good to great.
#19. Teacher Cover Letter Example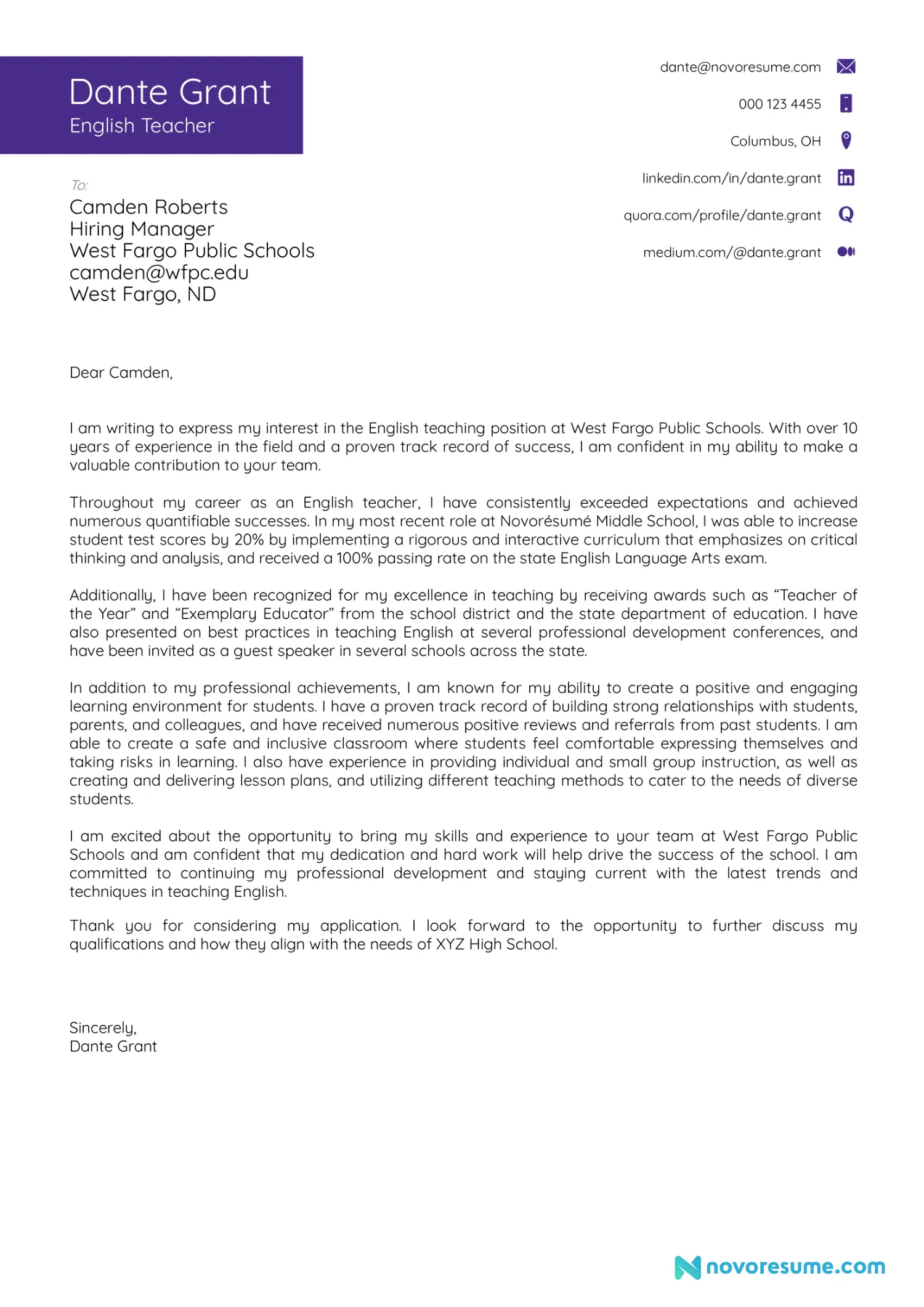 Mentions relevant contact information details. This candidate has included optional (but relevant) contact information details, such as their LinkedIn, Quora, and Medium profiles. 
Achievement-oriented. The candidate has elaborated on their achievements in more detail throughout their cover letter. 
Highlights the candidate's passion. For some jobs, being passionate is much more important than for others. Teaching is one of these jobs, which is why this candidate explains their passion for the job. 
Our guide on how to write a teacher resume has all the tips you need to land the job.
#20. Project Manager Cover Letter Example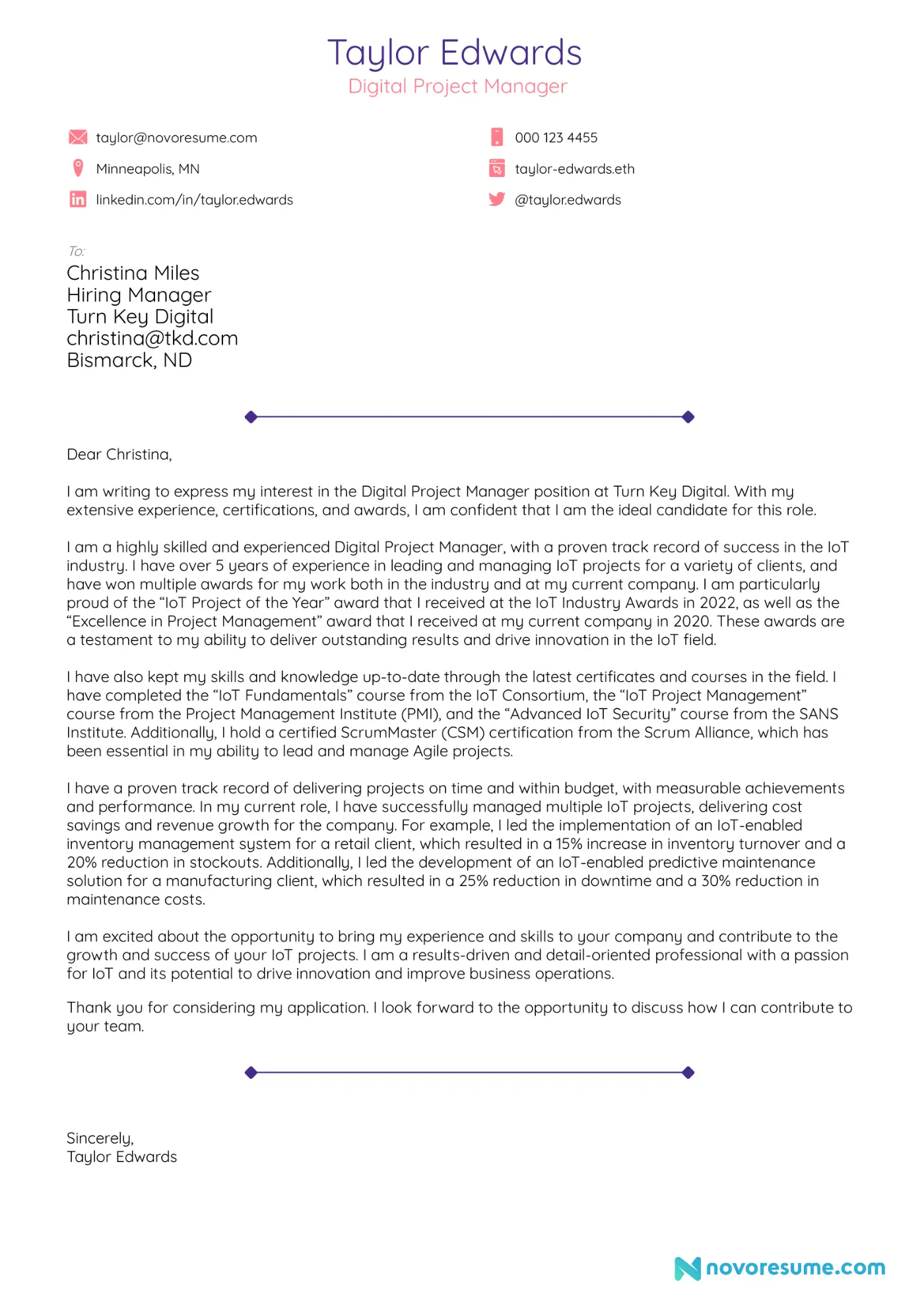 Leverages a catchy introduction. Through a catchy introductory paragraph, this candidate is sure to grab the HR's attention and get them to read the rest of their cover letter.
Lists measurable accomplishments. This candidate explains exactly what they've achieved using numbers and hard data. 
Personally greets the HR. A personal greeting sounds much better than "Dear Sir/Madam," and the candidate knows this. 
This guide on how to write a project manager resume can help you perfect your appication.
#21. Paralegal Cover Letter Example
Minimalistic cover letter template. This cover letter design looks good but doesn't steal the show from the candidate's abilities. 
Mentions the candidate's academic achievements and extracurricular activities. Although the candidate is a recent graduate, they've used the cover letter to explain they have enough skills and achievements to do the job. 
Lists measurable achievements. The candidate proves they did well in their internship by mentioning quantifiable achievements. 
Check out this paralegal resume guide to perfect yours.
What is a Cover Letter? 
A cover letter is a one-page document that you submit as part of your job application, alongside your resume . 
Its purpose is to introduce you and briefly summarize your professional background. On average, your cover letter should be from 250 to 400 words long .
A good cover letter can give the hiring manager more insight into what makes you a good candidate and help them make up their mind about whether they should invite you for an interview. A bad cover letter, though, will get ignored (at best) and lose you the job (at worst).
So, to make sure this doesn't happen, it's essential to know how to write a convincing cover letter.
The first thing to remember is that a cover letter is a supplement to your resume, not a replacement. Meaning, you shouldn't just repeat whatever is mentioned in your resume and call it a day. 
Optimally, you should use your cover letter to shed more light on your skills and qualifications, as well as explain anything you didn't have space for in your resume (e.g. a career gap or why you're changing careers).
If you're writing a cover letter for the first time, though, putting all this together might seem pretty tough. 
Fortunately, you can follow our tried-and-tested format to make the experience much easier:
Header - Input your contact information.
Greeting the hiring manager - Open the cover letter with a "Dear Sir or Madam," or use the hiring manager's name if you know what that is.
Opening paragraph - Grab the hiring manager's attention by getting straight to the point. Mention what your professional experiences are, and what role you're applying for.
The second paragraph - Explain why you're the perfect candidate for the job. Mention your top 2-3 achievements, your top skills, why you want to work in that specific industry, and whatever else is relevant.
The third paragraph - End your cover letter with a call to action. E.g. "I would love to meet personally and discuss how I can help Company X."
Formal closing - Something like this: "Thank you for your consideration. Best, John Doe."
Here's what this looks like in practice:
9 Tips to Write a Cover Letter (the Right Way)
Now that we've covered the basics, let's talk about cover letter tips . Below, we'll give you all the knowledge you need to take your cover letter from "OK" to "great."
#1. Pick the right template
A good cover letter is all about leaving the right first impression.
And what's a better way to leave a good impression than through a professional, well-formatted, and visual template?
You can simply pick one of our tried-and-tested cover letter templates and you'll be all set!
#2. Add your contact details on the header
The best way to start your cover letter is through a header. 
Here's what you want to include there:
Phone Number
Name of the hiring manager / their professional title
Name of the company you're applying to
Optionally, you can also include the following:
Social Media Profiles - Any type of profile that's relevant to your field. Social Profiles on websites like LinkedIn, GitHub (for developers), Medium (for writers), etc.
Personal Website - If you have a personal website that somehow adds value to your application, you can mention it. Let's say you're a professional writer. In that case, you'd want to link to your content portfolio site or blog.
#3. Greet the hiring manager the right way
Once you've listed all your relevant contact information, it's time to address the hiring manager reading your cover letter. 
A good practice here is to find the hiring manager's name and address them directly instead of using the traditional "dear sir or madam." This shows that you're really invested in the company and that you took your time to do some research about the job.
So, how can you find out the hiring manager's name?
One way to do this is by looking up the head of the company's relevant department on LinkedIn. Let's say you're applying for the position of Communication Specialist at Novoresume. The hiring manager is probably the Head of Communications or the Chief Communications Office.
Or let's say you're applying for the position of server at a restaurant. In that case, you'd be looking to find out who the restaurant manager is.
If this doesn't work, you can also check out the "Team" page on the company website; there's a good chance you'll at least find the right person there.
If you still can't find out the hiring manager's name, here are several other greetings you can use:
Dear [Department] Hiring Manager
Dear Hiring Manager
To whom it may concern
Dear [Department] Team
#4. Create an attention-grabbing introduction
Recruiters get hundreds, sometimes even thousands, of applications. Chances are, they're not going to be reading every single cover letter end-to-end.
So, it's essential to catch their attention from the very first paragraph.
The problem with most cover letter opening paragraphs, though, is that they're usually extremely generic, often looking something like this: 
Hey, my name is Jonathan and I'd like to work as a Sales Manager at XYZ Inc. I've worked as a sales manager at MadeUpCompany Inc. for 5+ years, so I believe that I'd be a good fit for the position.
As you can probably tell, this opening paragraph doesn't tell the hiring manager anything other than that you've worked the job before - and that's not really helpful in setting you apart from other candidates. 
What you want to do, instead, is start off with 2-3 of your top achievements to really grab the reader's attention. Preferably, the achievements should be as relevant as possible to the position. 
For example:
My name's Michael and I'd like to help XYZ Inc. hit and exceed its sales goals as a Sales Manager. I've worked with Company X, a fin-tech company, for 3+ years. As a Sales Representative, I generated an average of $30,000+ in sales per month (beating the KPIs by around 40%). I believe that my previous industry experience, as well as my excellence in sales, makes me the right candidate for the role of X at Company Y.
The second example shows how the candidate is a top performer. The first just shows that they've worked a sales job before.
Which one are YOU more likely to invite for an interview?
#5. Show you're the perfect person for the job
One great thing about cover letters is that they allow you to expand more on the top achievements from your resume and really show the hiring manager that you're the right person for the job. 
A good way to do that is to first read the job ad and really understand what skills/experiences are required, and then to ensure that your cover letter touches upon the said skills or experiences.
In my previous role as a Facebook Marketing Expert at XYZ Inc. I handled customer acquisition through ads, managing a monthly Facebook ad budget of $20,000+. As the sole digital marketer at the company, I managed the ad creation and management process end-to-end. This means I created the ad copy and images, as well as picked the targeting, ran optimization trials, and so on.
Other than Facebook advertising, I've also delved into other online PPC channels, including:
#6. Explain why you're a great company fit
The HR manager doesn't only look at whether you'll be good at the job or not. They're looking for someone that's also a good fit for the company culture.
After all, employees that don't fit in are bound to quit, sooner or later. This ends up costing the company a ton of money, up to 50% of the employee's annual salary . 
To convince the hiring manager that you're a great company fit, do some research on the company and find out what it is you like about them, or about working there. You want to know things like:
What's the company's business model?
What's the company's product or service? Have you used it?
What's the culture like? Will someone micro-manage your work, or will you have autonomy on how you get things done?
Then, turn your top reasons for liking to work there into text and add them to your cover letter! 
#7. Wrap up with a call to action
To make the end of your cover letter as memorable as possible, you want to:
Wrap up any points you couldn't in the previous paragraphs. Mention anything you've left out that you think could help the hiring manager make up your mind.
Thank the hiring manager for their time. After all, it never hurts to be polite. 
Finish the cover letter with a call to action. A call to action is a great way to make your cover letter ending as memorable as possible. 
#8. Write a formal closing
Once you're done with the final paragraph, all you have to do is write down a formal "goodbye" and you're good to go.
Feel free to use one of the most popular conclusions in a cover letter:
Best Regards,
Kind Regards,
#9. Proofread your cover letter
Last but not least, make sure to always proofread each and every document that you'll be including in your job application - cover letter included. 
The last thing you want is to be claiming you're a great candidate for the job with a cover letter full of typos! 
For an even more comprehensive guide on how to write an impactful cover letter , check out our article ! 
Cover Letter Writing Checklist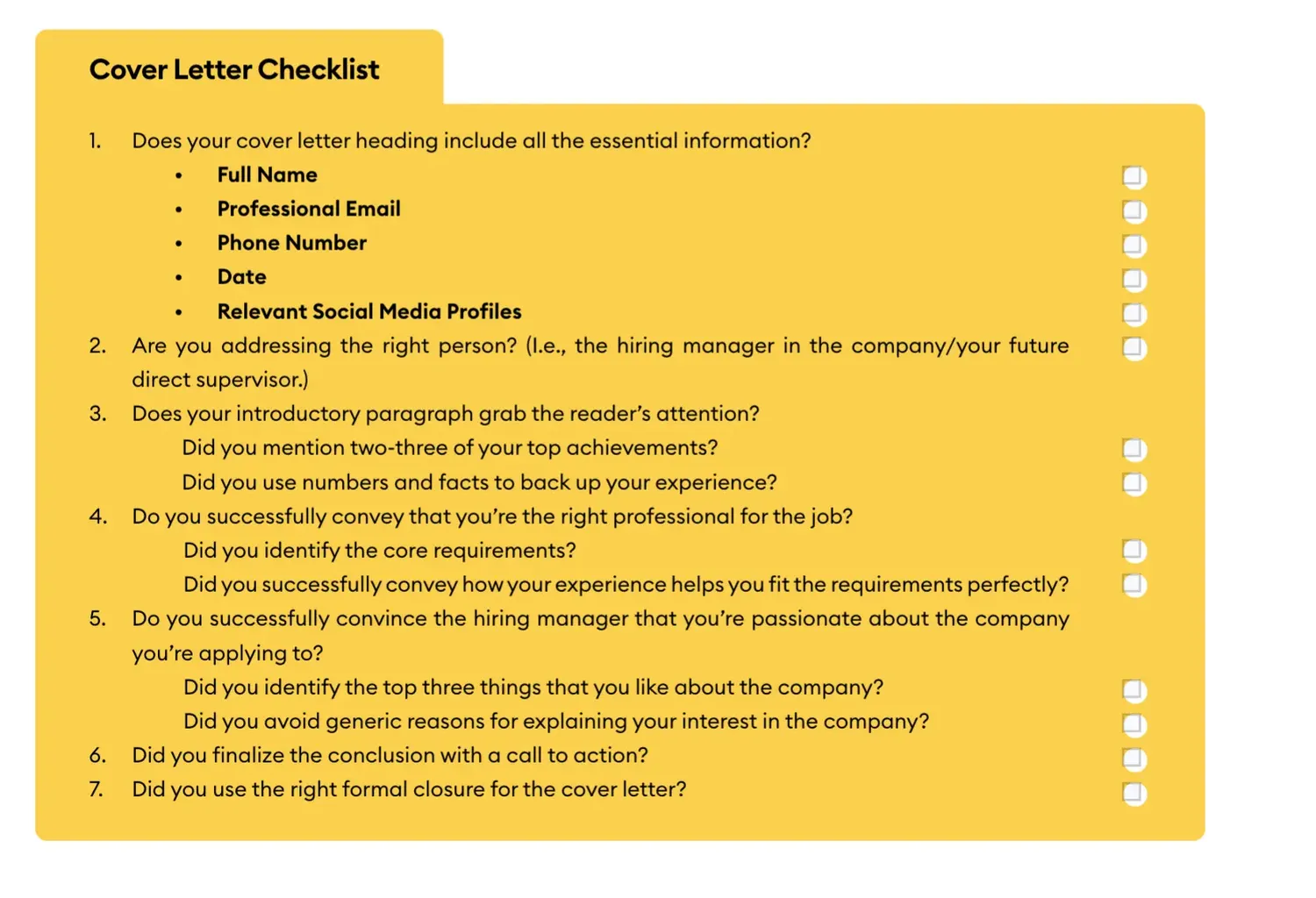 Frequently Asked Questions
Do you still have some questions about cover letters? Check out the answers below:
1. How do I write a simple cover letter? 
To write a cover letter that's simple but also professional, make sure to include a header with your personal information, a formal greeting to the hiring manager, an attention-grabbing opening paragraph, a second paragraph explaining why you're a good candidate for the job, and a formal closing (preferably with a call to action). 
2. What are the 3 parts of a cover letter? 
The three parts of a cover letter are: 
The introduction , namely the header, the greeting to the hiring manager, and the opening paragraph. 
The sales pitch is usually the body of the cover letter. 
The conclusion involves a formal closing and a signature line.
3. What makes a great cover letter?
A great cover letter should be personalized for each job you're applying for, instead of being overly generic. It's also preferable to address the hiring manager by their name and not use the overly-used "Dear Sir/Madam."
To make a great first impression, you should mention 1-2 of your top achievements in your opening paragraph - the more job-specific they are, the better. Also, don't stop at showing the hiring manager why you're a great candidate for the job. Make sure to also talk about how you're a good culture fit for the company.
Last but not least, wrap up your closing paragraph with a call to action to give the hiring manager a little extra something to remember you by. 
4. When is a cover letter necessary?
Unless the job ad specifically states otherwise, you should always include a cover letter with your job application .
Even if the hiring manager doesn't read it, you will look more professional simply by including one.
And that's a wrap! We hope our cover letter examples and writing tips will inspire you to write a cover letter that will land you your next job.
If you're looking for more invaluable career advice and articles, make sure to check out our career blog , or any of these related articles: 
How to Make a Resume in 2023
Cover Letter Mistakes to Avoid at All Costs
Cover Letter Format (w/ Examples & Free Templates)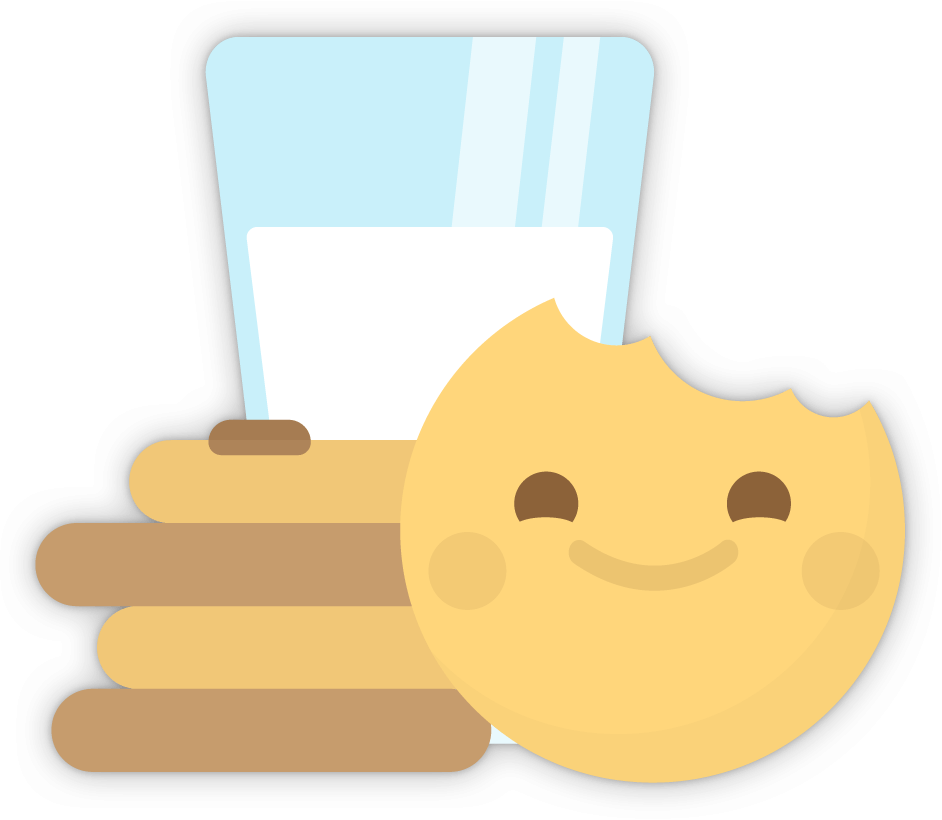 To provide a safer experience, the best content and great communication, we use cookies. Learn how we use them for non-authenticated users.
3 Office Administrator Cover Letter Examples for 2023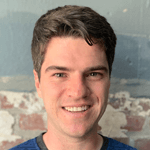 Office Administrator Cover Letter
Medical Office Administrator Cover Letter
Real Estate Office Administrator Cover Letter
Write Your Office Administrator Cover Letter
Every office environment needs to operate efficiently to achieve company goals. With your top-notch abilities to organize schedules and improve administrative processes, you're the leader every office needs to be successful.
Are your cover letter and complementary office administrator resume showing you're the organized professional that offices need?
With administrators playing such a significant role in every office's processes, companies perform in-depth reviews to choose the right applicants to interview. We'll show you how to stand out with these office administrator cover letter examples that landed plenty of jobs in 2023.
Office Administrator Cover Letter Example
USE THIS TEMPLATE
Microsoft Word
Google Docs
Block Format
Why this cover letter works
Such an approach is more than just cherishing the hiring organization's accomplishment. By signaling an intrinsic understanding of their product, you infuse relevance and familiarity into your office administrator cover letter, painting a picture of a ready-to-go team player.
Medical Office Administrator Cover Letter Example
White spaces, when balanced with text, are refreshing pauses for the hiring manager reading your masterpiece. As for choosing the perfect template for your piece, ensure everything (including colors) is clean and visually engaging without cluttering.
Real Estate Office Administrator Cover Letter Example
Think of the above as the "curb appeal" that hints at how both sides could enjoy a win-win by working together. In addition, see how David amplifies his piece's wow factor by showcasing familiarity with industry-pertinent software like Zillow Premier Agent and AppFolio.
Related cover letter examples
Office administrator resume
Office manager
Office assistant
Administrative assistant
Executive assistant
How to Write an Office Administrator Cover Letter That Stands Out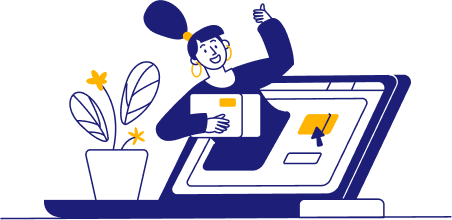 Every office has different needs when searching for an administrator. For example, one may be looking for a financial process specialist, whereas another needs a customer service expert.
Tailoring your cover letter to each job's description is the best way to stand out. That way, whether you need to be proficient in Zendesk, QuickBooks, or Asana, you can customize the skills and experiences you write about based on varying positional needs.

Write a greeting and intro that grabs the hiring manager's attention
While crafting the opening lines of your office administrator cover letter, think about it like you're writing email correspondence to an important company client. One of the first things you'd want to do is greet a specific person by name to ensure a personal touch. You can often find the name of a hiring manager in the job description or on the company's website.
Then, as you get into the opening paragraph, you should show your passion for the company's mission and how your administrative abilities fit in. For example, how you're eager to use your proficiency in bookkeeping and QuickBooks to help the company achieve organized financial processes.
The opener below falls short since the applicant doesn't greet anyone by name or get into those essential administrative skills that hiring managers will be looking for.
Lacking important details here!
As an administrative professional with years of experience, I was excited to see your office administrator job opening. I believe I would be a great fit for your team.
The example below does a much better job showcasing the applicant's evident passion for the administrator role at Valleywise Health while showing how their EHR management and medical coding skills fit in.
Making a direct connection to administrative needs!
Dear Mr. King,
Reflecting on my neighbor's success in managing her health at Valleywise Health, I realized I could apply my expertise as a medical office administrator to aid others in their health voyage. Driven by a profound sense of compassion and armed with proficiencies in EHR management and medical coding, I'm eager to impact patient-care outcomes at Valleywise Health.

Optimize the body of your office administrator cover letter
The body of your cover letter is where you want to let your administrative skills shine.
A great way to show how you'll be successful on the job is by focusing on job skills the company is seeking and writing about previous work achievements using those abilities. For example, how you implemented a virtual chat customer service system in Zendesk to improve response times by 55%.
Your examples in this section should be based on business metrics whenever possible, such as customer satisfaction scores or reductions in scheduling errors.
A great body paragraph emphasizing administrative skills!
I also helped streamline medical coding and billing operations using Medisoft software at Native Health of Phoenix. This dramatically reduced billing errors and increased revenue collection to 92.3%.

Reinforce your abilities while closing out your office administrator cover letter
Consider closing out your cover letter like you're ending a call with a client. You'd likely thank them for their time and may use a call to action if you're trying to make a sale or retain their business.
In addition to taking those steps in your cover letter, it's also a good idea to reinforce your top skills and your connection to the company's mission you presented earlier. For example, you could write about how you're passionate about a medical organization's commitment to a caring patient experience and are eager to use your customer service skills to help.
The example below isn't hitting the mark since it doesn't use a call to action or present this office administrator applicant's specific connection to the company's mission.
This one's too generic!
I believe my skills and experiences will make me an ideal fit to be your next office administrator. Thank you for considering me for the role.
Tasha Matthews
The following example provides a much more thorough overview of how the applicant's analytical and relationship-building skills will help Coldwell Banker achieve its mission of revitalizing Las Vegas Neighborhoods.
An enthusiastic connection to the company's needs!
The thought of leveraging my analytical skills, proactive communication, and relationship-building to further Coldwell Banker Premier Realty's mission excites me. I have been an integral part of revitalizing Las Vegas neighborhoods, and my eagerness to continue this journey as your real estate office administrator is profound. I'm enthusiastic about connecting with you to discuss how my experiences and skills might benefit your organization. Thank you very much for your time.
David Hwang
Even if you haven't worked as an administrator, there are still other ways you can present your abilities. For example, you could write about the customer service or data entry skills you picked up while working as a receptionist. Or relevant education, like a business administration degree, can help you stand out, too.
One page will be the best length. If you're struggling to narrow it down, try focusing on some of the company's primary needs. Do they need help with project management? Then, your abilities in tools like Asana or Trello while coordinating assignments may be great to focus on.
Not every company will have their hiring manager's name listed, so simply beginning with "Dear [name of company] hiring team" still works well in those cases. Then, ensure the rest of your cover letter is specific to job skills each company is looking for, like travel coordination or confidentiality.