Preparation Tips
Interview Checklist
Questions&Answers
Difficult Questions
Questions to Ask
Interview Tips
Dress for Success
Job Interview Advice
Behavioral Interview
Entry Level Interview
Information Interview
Panel Interviews
Group Interviews
Phone Interviews
Skype Interviews
Second Interviews
Zoom Interviews
Job Interview Guides
Administrative
Call Center
Clerical Interview
Customer Service
Human Resources
Office Manager
Project Manager
Restaurant Jobs
Social Work
Interview Follow Up
Thank You Letters
Job References
Employment Tests
Background Checks
Character References
Accepting a Job Offer
Decline a Job Offer
Verbal Job Offer
Negotiate Salary
How to Resign
Job Search Strategy
Job Search Tips
Respond to Interview Request
Letters of Recommendation
Surviving a Layoff
Sample Resumes
Resume Objectives
Cover Letters
Job Descriptions
Job Interview Blog
Best Articles
Privacy Policy
Accounting Clerk Cover Letter
Sample accounting clerk cover letter convincingly identifies your most relevant skills and strengths to the potential employer.
Adapt this accounts clerk cover letter example to meet the requirements of the target job and your own background.
A cover letter that clearly articulates what you can bring to the job opportunity will grab the reader's attention and get your resume read with serious attention. A persuasive introduction will quickly convince the potential employer of your suitability for the accounting clerk job opportunity.
Sample Accounting Clerk Cover Letter
Your Name Your Address Your Contact details (phone and email) Date Elaine Millar Human Resources Manager ABC Company 10 Industry Place New York, NY 10021
Dear Mrs Millar
In response to the job posting on ABC website, please consider my resume in your search for an accounting clerk. I am confident that my relevant experience in a high volume environment makes me an excellent match for this position.
Please allow me to highlight my capabilities as they relate to your stated requirements.
Proven track record as a reliable, dedicated team player who consistently and accurately meets deadlines in a demanding environment
First-rate organizational skills together with high quality decision-making ensures efficient completion of multiple and varied accounting tasks
Able to use well-developed problem-solving and analysis skills to satisfactorily resolve payment and receivable issues
Strong customer service and communication skills result in effective collaborative working relationships
Solid computer skills including Excel, MS Word and Database
In the X years I have worked as an accounting clerk I have proved myself to be a capable, hard working and enthusiastic employee. I believe that I would be a valuable asset to your accounting department and would welcome the opportunity to meet with you for an in-depth interview.
Thank you for your review and consideration. I look forward to hearing from you soon.
Jane Jobseeker
Your Accounting Clerk Resume
Include this accounting clerk cover letter with your accounting clerk resume to create a job-winning application.
The accounting clerk job description can help you to build an informative and convincing accounting clerk cover letter.
Top Skills for Accounting Clerks to Include in your Application Letter
Highlight the accounting clerk competencies and skills that are required in most accounting clerk jobs.
Communication skills - both verbal and written skills along with computer proficiency.
Willing to be a team player - accounting clerks are required to be able to work independently as well as on a team. Employers want people who work well with others and contribute to department goals.
Organizational and planning skills - accounting clerks are required to multitask, prioritize and manage competing demands to meet deadlines.
Problem analysis and problem-solving skills - able to identify and resolve issues.
Reliability and integrity - employers look for candidates who they can depend on and who display honesty and confidentiality.
Attention to detail - accuracy and thoroughness are essential in this job.
Accounts Clerk Duties and Skills
Job seekers recommend these accounting resume examples
ACCOUNTING RESUMES
Accounts Payable Resume
Accounts Receivable Resume
Accounting Sample Resumes
Entry Level Accounts Clerk Cover Letter
If you want to write an accounting clerk cover letter with little or no work experience the advice and examples at entry level cover letters will help you.
Accounting Clerk Resume with No Experience
Developing an entry level resume is a challenge.  We show you how to write a good entry level accounting resume and land your first job interview.
Popular Pages for Accounting Clerk Job Applications
ACCOUNTING COVER LETTERS
Accounts Payable Cover Letter
Accounts Receivable Cover Letter
Bookkeeper Cover Letter
Your Accounting Clerk Job Interview
How to prepare for your accounts clerk job interview.
Accounting Job Interview Questions
Clerical Interview Questions
To Top of Page
Don't Miss These Latest Updates
Problem-solving is a key skill for today's workplace. Problem-solving behavioral interview questions
Compelling sample interview answers to "Why do you want to work for this company?"
11 essential supervisor interview questions and answers plus industry specific supervisor Q&A .
How to ask for a letter of recommendation with this sample email requesting letter of recommendation .
What are the top 10 reasons for leaving your job? Find out acceptable reasons for leaving a job.
Sample employment acceptance letter and email to properly confirm your acceptance of the job offer and employment contract.
What are your strengths? Find out the 11 essential workplace strengths at list of strengths and weaknesses
Interview Preparation
Interview Questions & Answers
Interview Guides
After the Interview
The Job Offer
Latest News
© Copyright 2023  |   Best-Job-Interview.com    |   All Rights Reserved.
Resume Worded
Accounting clerk cover letters.
Approved by real hiring managers, these Accounting Clerk cover letters have been proven to get people hired in 2023. A hiring manager explains why.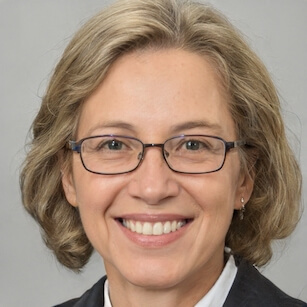 Table of contents
Accounting Clerk
Senior Accounting Clerk
Alternative introductions for your cover letter
Accounting Clerk resume examples
Accounting Clerk Cover Letter Example
Why this cover letter works in 2023, personal connection to the company.
Highlighting a personal connection to the company, such as being a user of their products, shows genuine interest and understanding of the company's values.
Strong Foundation in Accounting
Emphasizing your experience in the industry and specific skills related to the role helps demonstrate your qualifications for the position.
Efficiency Improvement Example
Providing specific examples of accomplishments, such as implementing a new system that improved efficiency, showcases your ability to make a positive impact on the company.
Excitement for the Role
Expressing eagerness to apply your skills to the company's needs shows enthusiasm for the position and indicates that you are committed to contributing to the company's success.
Thank You and Opportunity to Discuss
Ending the cover letter with a courteous thank you and expressing interest in discussing your qualifications further leaves a positive impression and invites further conversation.
Show Alignment with Company's Values
By acknowledging Deloitte's diverse client portfolio and its commitment to continuous professional development in your letter, you're not just showing that you've done your research. It also shows that you share the same values and goals, which helps you connect on a deeper level.
Highlight Concrete Achievements
This bit about increasing financial efficiency by 20% within your first year is a stunner. You're showing that you can deliver results, but you're also specifying exactly how you've made a difference. This kind of specific detail is what can make a hiring manager sit up and take notice.
Demonstrate Problem-Solving Skills
By describing how you developed a system that decreased payment processing time by 35%, you're showing that you're a problem-solver who's not afraid to take initiative. This tells me you're capable of identifying issues and coming up with effective solutions—a highly desirable quality in any candidate.
Senior Accounting Clerk Cover Letter Example
Exemplify impact on business operations.
Reducing annual budgeting errors by 15% is no small feat. It shows you understand the broader implications of your work and that you can have a significant impact on business operations. Also, by explaining how you did it, you give a clear picture of how you could bring similar improvements to PwC.
Show Leadership Skills
There's more to being a Senior Accounting Clerk than just crunching numbers. Leading a team of junior clerks, improving their productivity, and fostering their growth are all excellent examples of leadership skills that many recruiters look for in senior positions. This is a brilliant way to show you've got what it takes.
Prove Your Innovation Skills
Developing an innovative data analysis tool that improved reporting accuracy by 30% shows you're not just a numbers person, but also a creative thinker. It tells me you can think outside the box, innovate, and make processes more efficient—qualities that could make you a real asset at PwC.
Alternative Introductions
If you're struggling to start your cover letter, here are 6 different variations that have worked for others, along with why they worked. Use them as inspiration for your introductory paragraph.
Cover Letters For Jobs Similar To Accounting Clerk Roles
Accountant Cover Letter Guide
Accounting Assistant Cover Letter Guide
Accounting Clerk Cover Letter Guide
Accounting Manager Cover Letter Guide
Accounting Specialist Cover Letter Guide
Chief Accounting Officer Cover Letter Guide
Construction Accountant Cover Letter Guide
Corporate Accountant Cover Letter Guide
Cost Accountant Cover Letter Guide
Director of Accounting Cover Letter Guide
Entry Level Accountant Cover Letter Guide
Experienced Accountant Cover Letter Guide
Fixed Asset Accountant Cover Letter Guide
Fund Accountant Cover Letter Guide
Junior Accountant Cover Letter Guide
Payroll Accountant Cover Letter Guide
Project Accountant Cover Letter Guide
Property Accountant Cover Letter Guide
Public Accountant Cover Letter Guide
Revenue Accountant Cover Letter Guide
Senior Accountant / Accounting Executive Cover Letter Guide
Senior Tax Accountant Cover Letter Guide
Staff Accountant Cover Letter Guide
Tax Accountant Cover Letter Guide
Other Finance Cover Letters
Auditor Cover Letter Guide
Bookkeeper Cover Letter Guide
Claims Adjuster Cover Letter Guide
Cost Analyst Cover Letter Guide
Credit Analyst Cover Letter Guide
Finance Director Cover Letter Guide
Finance Executive Cover Letter Guide
Financial Advisor Cover Letter Guide
Financial Analyst Cover Letter Guide
Financial Controller Cover Letter Guide
Loan Processor Cover Letter Guide
Payroll Specialist Cover Letter Guide
Purchasing Manager Cover Letter Guide
VP of Finance Cover Letter Guide

Professional Accounts Clerk Cover Letter Example for 2023
Read for inspiration or use it as a base to improve your own Accounts Clerk cover letter. Just replace personal information, company application data and achievements with your own.

Make your accounts clerk cover letter stand out
According to some experts, finding exciting job adverts is one of the most challenging problems job-seekers need to deal with.
But according to our own research, conveying your enthusiasm to a one-page cover letter might prove to be even more challenging.
After all, you don't want a bland and boring cover letter to represent you, we get it.
But how can you make a strong first impression in just a few lines?
Below, you'll find the best Accounts Clerk cover letter tips and examples that will help you find out.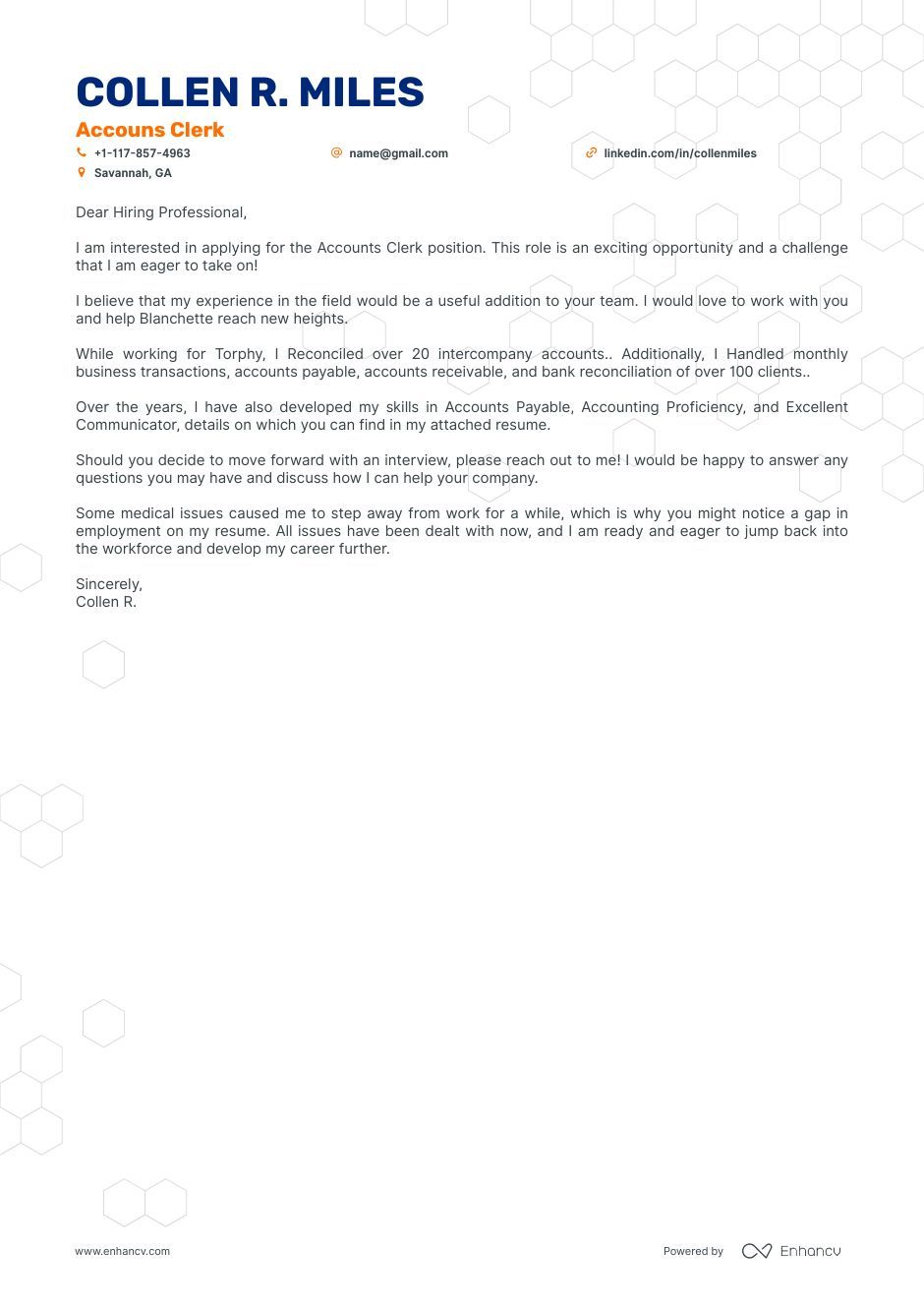 The secret to making your Accounts Clerk cover letter remarkable is to share your excitement about the company, the field, and the position.
It's also a good idea to aim not to re-write your resume, but rather to build upon it and expand on your competencies.
Now, let's look at some other things that will make recruiters remember you.
How to choose the most suitable salutation and make a good impression
It's always better to address your cover letter to a specific person. This shows that you've taken the time to research who the hiring manager might be and that you're attentive to detail.
However, in case you don't know the recruiter's name, you can go for traditional gender-neutral salutations.
Here are some of our suggestions:
Dear [company name] Recruiter,
Dear Mr./Ms. Smith,
Dear Hiring Manager,
To the [team you're applying for] Team
The introduction of your Accounts Clerk cover letter is without a doubt crucial for the first impression you'll make as an applicant. But is there a way to make sure your opening line is good enough?
Yes, there is. You can start by sharing your enthusiasm for the job or the field (or why not both!). You could also share your reasons to find the company exciting.
Try to be original. Don't go for phrases like "I want to apply for the position that I saw advertised on platform X". They're outdated and sound like you've got nothing better to say
Emphasize your accounts clerk soft skills and mention your hard skills
When it comes to listing skills on a cover letter, there's only one thing that could be said about it – do it in a well thought out way!
We mean, don't just plainly list all your skills on your cover letter. Instead, link them to achievements and goals. Share how your expertise can add value to the team. Maybe even tell a personal story. It's up to you.
Just make sure to include both soft and hard skills – especially the ones listed in the requirements section of the job advert. This will help you pass applicant tracking systems that screen documents for certain keywords.
Prove that you've researched the company and are aware of industry problems
How can you prove your excitement about the company? By showing that you've taken the time to research its issues, goals, and plans. You can also link them to your skills and experience if you want to show that you're really a strong candidate.
In addition to making a great impression, researching the company will help you find out if you really want to be part of this team or not. After all, interviewing is a two-way process.
Choose the right ending
The last part of your cover letter should briefly sum up everything you've said so far. It should also express your gratitude for the hiring manager's time and consideration.
The tone of the closing line depends on two things – your personal preference and the company culture. Don't go for overly creative phrases if the company you're applying for relies on strictly corporate language.
Traditional lines such as "Looking forward to your reply" are usually considered a safe bet. So when in doubt, stick to them.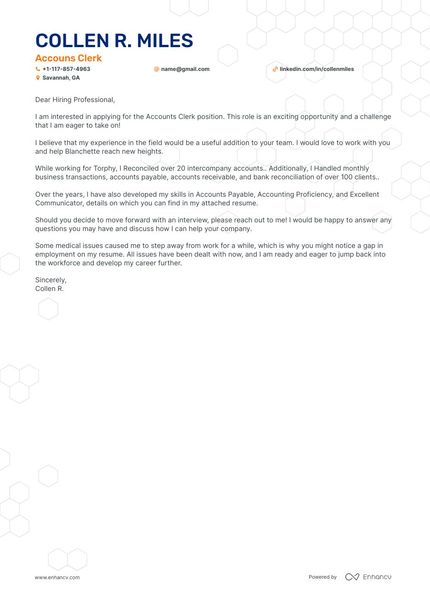 Cover letter examples by industry
Loan Officer
Accounts Receivable
Loan Processor
Personal Banker
Financial Advisor
Financial Analyst
Tax Preparer
Investment Banking Analyst
Director Of Finance
Financial Consultant
Senior Financial Analyst
Accounting Analyst
Accounting Assistant
Budget Analyst
Vp Of Finance
Fund Accountant
Director Of Accounting
Pricing Analyst
Finance Director
Leasing Consultant
Cover letters helped people get noticed
Updated for today's recruitment standards
Worried your cover letter design is past the expiration date? We'll help you craft a new one that leaves an impression and beats luck.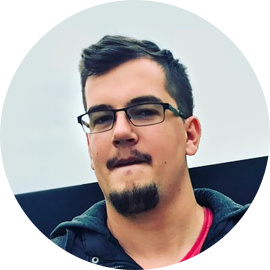 Daniel Pietersen
Senior customer support engineer.
" Enhancv gave me a sense of relief and a feeling of confidence when passing it along to a potential employer. "
Daniel Pietersen on using Enhancv
Check out more winning cover letter examples for inspiration
Learn from people who have succeeded in their job hunt.
Construction Manager Cover Letter
Warehouse Manager Cover Letter
Hostess Cover Letter
Insurance Agent Cover Letter
Landscaping Cover Letter
Business Intelligence Cover Letter
Director Of Sales Cover Letter
Qa Tester Cover Letter
Call Center Representative Cover Letter
Forklift Operator Cover Letter
Prep Cook Cover Letter
Respiratory Therapist Cover Letter
Land a job interview by pairing your Accounts Clerk cover letter with a great resume
Matching your cover letter with an equally good resume will without a doubt put you in front of other applicants.
Check out our Accounts Clerk resume writing tips or talk to an expert for some valuable tips and guidance.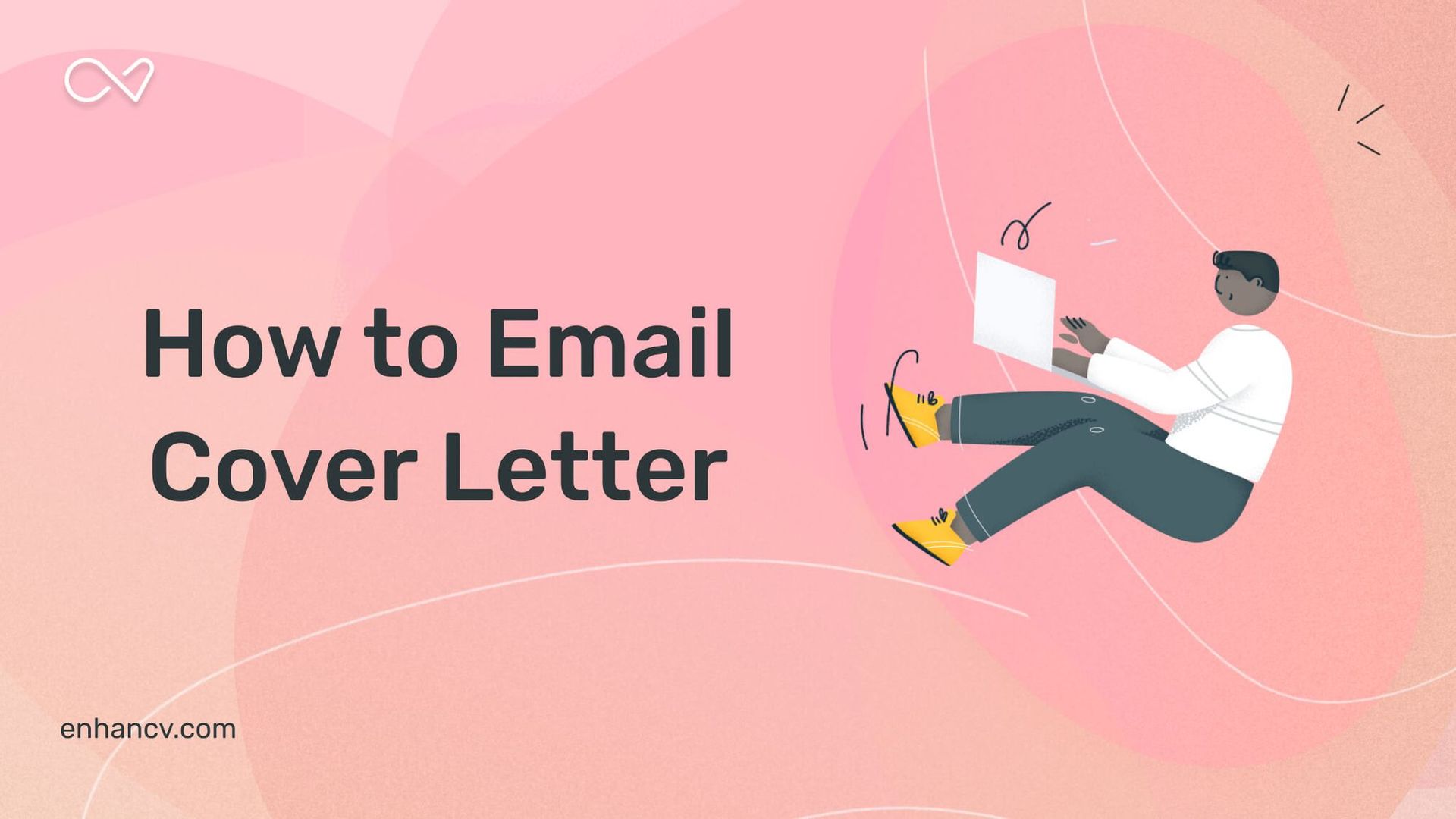 How to Email a Cover Letter – Pro Emailing Tips for Job Hunters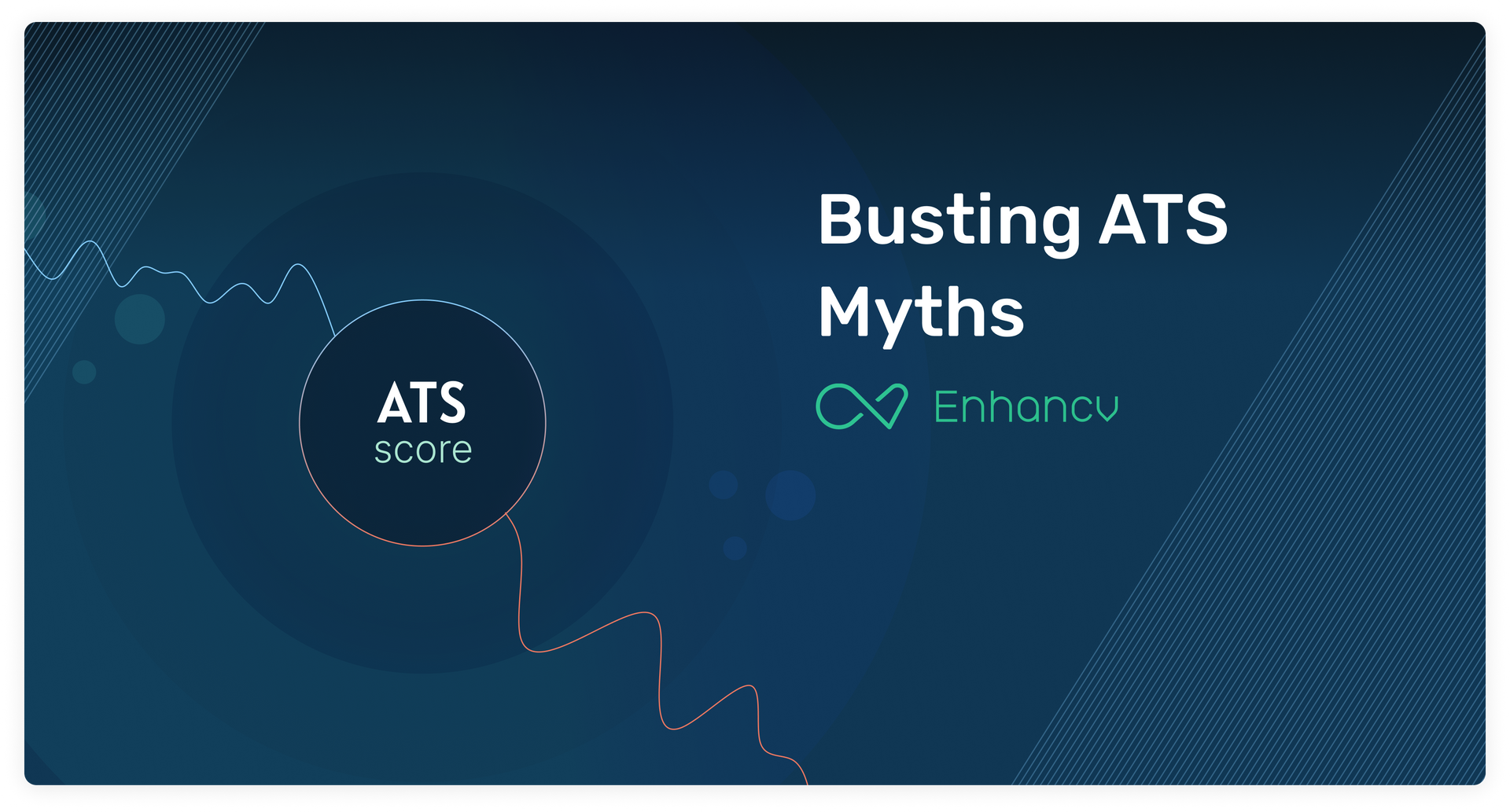 Busting ATS Myths: Comprehensive Testing of Popular Resume Builders in 2023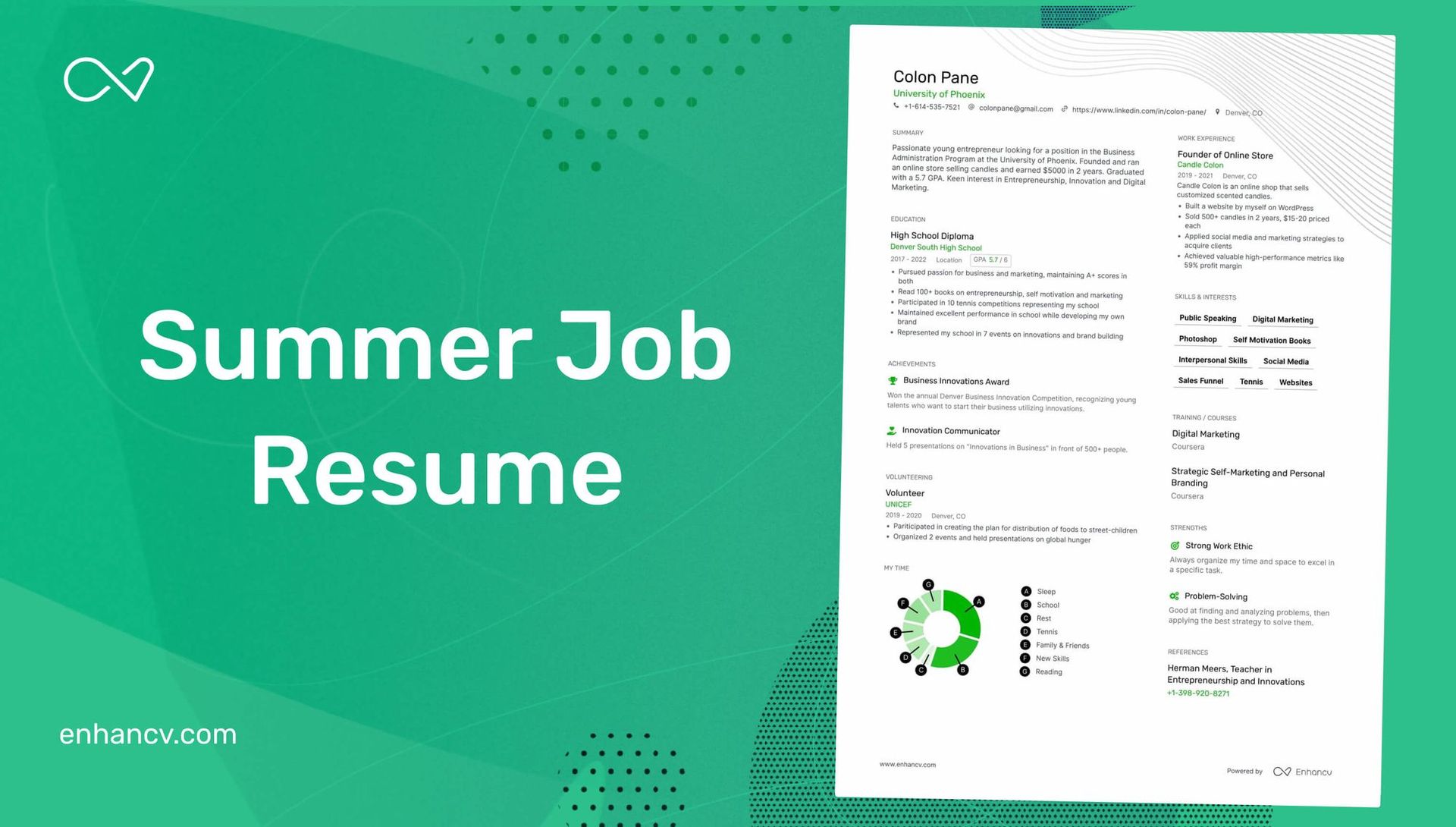 A Summer Job Resume – Here's How To Make One

Lying On A Resume: Why You Should Never Do It Even If You Got The Job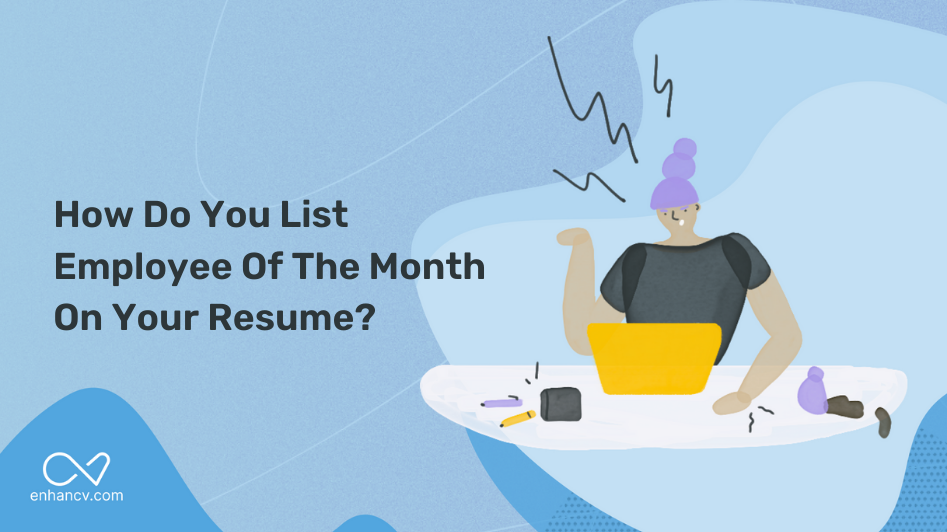 How Do You List Employee Of The Month On Your Resume

3 Steps To Write A Killer eCommerce Resume
Create Resume
Terms of Service
Privacy Policy
HTML Sitemap
Resume Examples
Resume Templates
Resume Formats
Resume Checker
Resume Skills
How to Write a Resume
Modern Resume Templates
Simple Resume Templates
Cover Letter Builder
Cover Letter Examples
Cover Letter Templates
Cover Letter Formats
How to Write a Cover Letter
Resume Guides
Cover Letter Guides
Job Interview Guides
Job Interview Questions
Career Resources
Meet our customers
Career resources
English (UK)
French (FR)
Swedish (SE)
© 2023 . All rights reserved.
Made with love by people who care.
Accounting Clerk Cover Letter Example
Accounting clerks are responsible for the daily operations of accounting. Their job involves a high level of detail and precision.
By writing a strong cover letter for your Accounting Clerk position, you can improve your chances of getting hired. Our Accounting Clerk Cover Letter Sample assists you in crafting a strong cover letter that highlights your abilities, credentials, and experience. You can alter these examples to fit your needs.
Accounting clerks perform tasks such as maintaining track of payments and invoices, and processing bills. They update data in the computer system, prepare statements or reports for top leadership, or perform other financial management responsibilities.
Cover Letters
Accounting & Finance
What to Include in a Accounting Clerk Cover Letter?
Roles and responsibilities.
Adherence to all corporate policies and accounting rules.
Creating deposits, checks, budgets, and financial statements.
Conducting research, updating ledgers, and settling discrepancies
Ensuring that the Accounting Department operates efficiently and smoothly.
Handling routine office chores such as processing mail, responding to emails, filing, answering phones, and so on.
Keeping the database updated and complete.
Responding to client, vendor, and internal demands.
Taking notes, processing paperwork, and filing them.
Education & Skills
Accounting clerk skills:.
Proficient in accounting software, Computer skills, and strong typing abilities.
Commitment to obey all financial regulations imposed by the company, and the state, local, and federal governments.
Ethical conduct when handling confidential financial data.
Excellent efficiency, accuracy, and detail-oriented.
Outstanding written and verbal communication abilities.
Professional approach, Courteous, excellent customer service abilities.
Thorough understanding of accounting principles and procedures.
Accounting Clerk Education Requirements:
Bachelor's Degree in Managerial Accounting, Accounting, Business Finance, or Related Discipline.
Accounting Clerk Cover Letter Example (Text Version)
Dear Mr./Ms,
Upon hearing of the requirements for a new Accounting Clerk post at your company, I decided to submit my resume for your consideration. I believe that I possess all the necessary technical skills to join the team and contribute significantly to the provision of Accounting Clerk.
Since I have been employed as an Accounting Clerk, I have developed a strong grasp of financial theory and accounting fundamentals. My capacity for data analysis and inference-making has aided me in resolving several challenging accounting issues. Furthermore, I have the ability to interact closely with clients, which has given me the chance to develop interpersonal skills that are essential for the position.
I do have a track record of achieving financial objectives for the business while upholding exacting accounting standards. In my past job, I oversaw keeping precise accounting statements, creating monthly reconciliation statements, and publishing interim financial documents. I also received thorough understanding in the applications like Excel and word.
Here are some of my qualifications and credentials –
Documents financial information and reports after reconciling various expenses.
Answers calls, receive, and logs mail, welcomes guests and helps with various administrative tasks.
Helps with the ordering, management, and use of the agency's inventory, supplies, and equipment.
Supervise, mentor, and instruct staff members, students, interns, and volunteers.
In conclusion, I feel that my training, experience, and abilities make me a strong candidate for this job with your company. I would be grateful if you would get in touch with me whenever you are convenient if you want to talk more about my qualifications for the job.
Thank you for your valuable time and consideration.
Sincerely, [Your Name]
Accounting Clerk Cover Letter Example with No Experience(Text Version)
I am excited to submit my application after seeing your job offering for an Accounting Clerk at ABC Accounting Firm. I will be a huge asset to your firm in this role because of my solid grasp of accounting concepts, acute financial sense, and exceptional organizational and analytical abilities.
I hold Bachelor's degree in Accounting from XYZ University, where I gained proficiency and a deep understanding of accounting terminology and finance. I also have a thorough knowledge of accounting fundamentals and processes. I even learned basic office duties like clerical jobs, bookkeeping, and other work.
I have outstanding organizational and time-management abilities which are highlighted qualities for the Accounting Clerk job role. I even learned and became efficient in accounting software like QuickBooks, and MYOB and computer applications like emails, Spreadsheets, and Excel. With all those skills I improved my typing and data entry abilities.
I have great interest and passion in the field of accounting, and even though I am a fresher for this job role, my skills and knowledge are on par with the experienced applicants. I would be happy if you could arrange an interview so that I can meet you in person and demonstrate my qualifications in depth.
Show your hiring manager what you're capable of with your Accounting Clerk Cover Letter. Some pointers to consider when writing this cover letter include:
Proofread your cover letters to reflect your attention to detail.
Showcase to your hiring manager that you can perform under pressure and that you have strong technical skills.
Do your homework before applying for an accounting job.
Display the level of detail you pay to.
Know more about the organization you are willing to join.
You should focus on your resume after creating a strong cover letter. You will stand out from other candidates with a resume that has been so well-researched and structured. View our Accounting Clerk Resume Samples that match your cover letter.
Customize Accounting Clerk Cover Letter
Get hired faster with our free cover letter template designed to land you the perfect position.
Related Accounting & Finance Cover Letters
Accounting Clerk Cover Letter Examples
A great accounting clerk cover letter can help you stand out from the competition when applying for a job. Be sure to tailor your letter to the specific requirements listed in the job description, and highlight your most relevant or exceptional qualifications. The following accounting clerk cover letter example can give you some ideas on how to write your own letter.
Cover Letter Example
Tashiana Shije
(868) 024-5087
August 5, 2022
Dear Hiring Manager,
I am writing to apply for the position of Accounting Clerk at H&R Block. I am a recent graduate of XYZ University with a degree in Accounting and I have previous experience working in an accounting firm. I am extremely organized and detail-oriented, and I have a strong interest in pursuing a career in accounting. I believe that I would be an excellent addition to your team and I look forward to contributing to the success of H&R Block.
I have been working as an Accounting Clerk at Jackson Hewitt for over two years now. In that time, I have become extremely proficient in bookkeeping and accounting principles. I am able to maintain accurate records of financial transactions and prepare reports in a timely manner. My coworkers often come to me for help with reconciling accounts or preparing tax returns, as they know that I am always up-to-date on the latest changes in taxation law.
I have experience working with accounting software and performing various clerical tasks within an accounting department. My strengths include being able to maintain confidentiality, paying attention to detail, multitasking, and meeting deadlines. I am also proficient in Microsoft Office applications such as Word and Excel.
Thank you for considering me for the Accounting Clerk position at H&R Block. I am excited about the opportunity to work with such a well-respected company and contribute to its continued success. I believe that my accounting knowledge and experience, combined with my strong interpersonal skills, make me an ideal candidate for this position. I am motivated, detail-oriented and committed to accuracy in all aspects of my work. I would welcome the chance to put these skills to use in support of your team's goals. Thank you again for your time and consideration; I look forward to hearing from you soon
Related Cover Letter Examples
Privacy preference center
We care about your privacy
When you visit our website, we will use cookies to make sure you enjoy your stay. We respect your privacy and we'll never share your resumes and cover letters with recruiters or job sites. On the other hand, we're using several third party tools to help us run our website with all its functionality.
But what exactly are cookies? Cookies are small bits of information which get stored on your computer. This information usually isn't enough to directly identify you, but it allows us to deliver a page tailored to your particular needs and preferences.
Because we really care about your right to privacy, we give you a lot of control over which cookies we use in your sessions. Click on the different category headings on the left to find out more, and change our default settings.
However, remember that blocking some types of cookies may impact your experience of our website. Finally, note that we'll need to use a cookie to remember your cookie preferences.
Without these cookies our website wouldn't function and they cannot be switched off. We need them to provide services that you've asked for.
Want an example? We use these cookies when you sign in to Kickresume. We also use them to remember things you've already done, like text you've entered into a registration form so it'll be there when you go back to the page in the same session.
Thanks to these cookies, we can count visits and traffic sources to our pages. This allows us to measure and improve the performance of our website and provide you with content you'll find interesting.
Performance cookies let us see which pages are the most and least popular, and how you and other visitors move around the site.
All information these cookies collect is aggregated (it's a statistic) and therefore completely anonymous. If you don't let us use these cookies, you'll leave us in the dark a bit, as we won't be able to give you the content you may like.
We use these cookies to uniquely identify your browser and internet device. Thanks to them, we and our partners can build a profile of your interests, and target you with discounts to our service and specialized content.
On the other hand, these cookies allow some companies target you with advertising on other sites. This is to provide you with advertising that you might find interesting, rather than with a series of irrelevant ads you don't care about.
Accounts Clerk Cover Letter Example
Enhance your career prospects & find inspiration for your new cover letter with this downloadable Accounts Clerk cover letter example. Copy-paste this cover letter sample for free or alter it with ease in our job-landing cover letter maker.
Related resume guides and samples
How to craft an appealing administration resume?
How to create a professional facilities manager resume
How to write an effective front desk receptionist resume?
How to build an effective office staff resume
How to build an effective personal assistant resume?
Accounts Clerk Cover Letter Example (Full Text Version)
Bjarke Martinsen
Dear Recruiting Manager,
I was excited to discover that you are seeking to fulfill the Accounts Clerk position at QEWY International, Inc. on Indeed.com. I believe that my career history makes me a perfect candidate for the role.
Currently, I am an Accounts Clerk at BNC Group, LLC. There, I am responsible for preparing and reviewing invoices, producing detailed reports, and examining the general ledger. This tremendous experience has allowed me to become an effective team player and helped me to acquire exceptional analytical skills which I believe would be a great contribution to your company.
Just a handful of my achievements include:
Reducing unnecessary accounting expenses by 14%
Completing all assigned projects within budget and schedule
Won the Employee of the Year Award once for constantly executing perfect work.
On top of my experience, I am a holder of a bachelor's degree in Accounting & Finance from the University of Michigan. At the university, I was involved in multiple clubs and societies and I served as a Class Representative for 2 years. In addition to being a native Danish speaker fluent in English, I am skilled in using all software programs necessary for the role, including QuickBooks, GnuCash, and KMyMoney.
Please find attached my resume for your review. Thank you for your time and consideration. I look forward to speaking with you in the near future.
Yours sincerely,
Milan Šaržík, CPRW
Milan's work-life has been centered around job search for the past three years. He is a Certified Professional Résumé Writer (CPRW™) as well as an active member of the Professional Association of Résumé Writers & Careers Coaches (PARWCC™). Milan holds a record for creating the most career document samples for our help center – until today, he has written more than 500 resumes and cover letters for positions across various industries. On top of that, Milan has completed studies at multiple well-known institutions, including Harvard University, University of Glasgow, and Frankfurt School of Finance and Management.
Edit this sample using our resume builder.
Don't struggle with your cover letter. artificial intelligence can write it for you..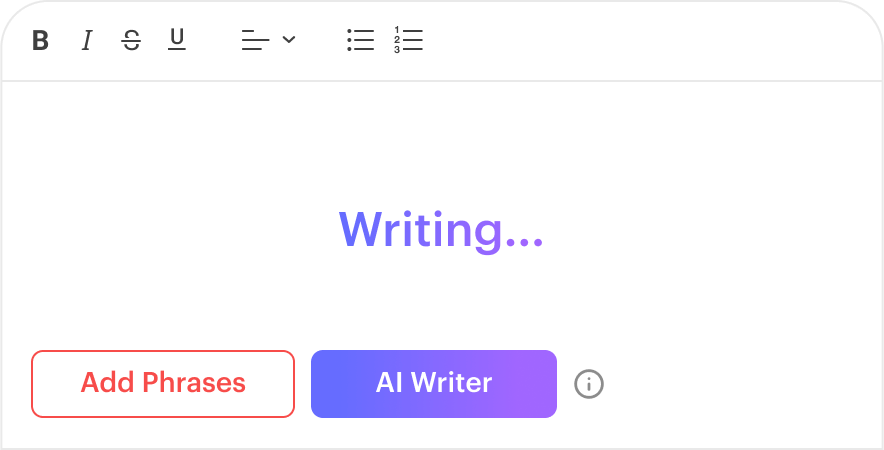 Similar job positions
Facilities Manager Office Staff Startup Investor Personal Assistant Procurement Account Manager Front Desk Receptionist Business Development Consulting Administration Entrepreneur / Business Owner
Related account manager resume samples
Related business cover letter samples
Let your resume do the work.
Join 3,600,000 job seekers worldwide and get hired faster with your best resume yet.
Resume Builder
Resume Templates
Resume Formats
Resume Examples
Cover Letter Builder
Cover Letter Templates
Cover Letter Formats
Cover Letter Examples
Career Advice
Interview Questions
Resume Skills
Resume Objectives
Job Description
Job Responsibilities
FAQ's
Accounting Clerk Cover Letter Example
Writing an effective cover letter for an accounting clerk position can be a challenge. Crafting the perfect cover letter requires time and effort, and you want to make sure you include all the pertinent information. However, making sure you have all the components of a successful cover letter need not be overwhelming and complicated. This guide will walk you through the steps of creating an outstanding cover letter for an accounting clerk position, including a sample of what a finished product may look like.
If you didn't find what you were looking for, be sure to check out our complete library of cover letter examples .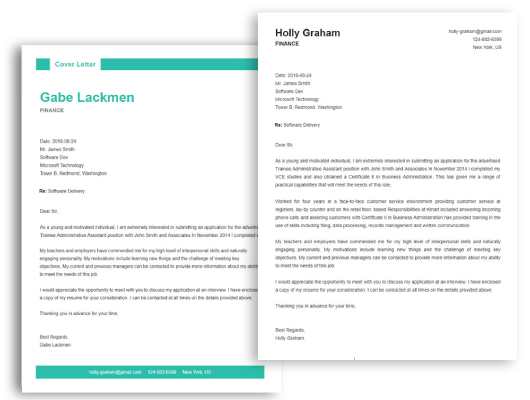 Start building your dream career today!
Create your professional cover letter in just 5 minutes with our easy-to-use cover letter builder!
Accounting Clerk Cover Letter Sample
Dear [Hiring Manager],
I am writing to apply for the Accounting Clerk position at [Company Name], and am confident I would be an excellent addition to your team.
I have a bachelor's degree in accounting from [Name of University], and several years of experience working in various accounting roles. During this time, I've developed key competencies in accounts payable, accounts receivable, and general bookkeeping. I have also gained considerable experience in examining financial data, creating financial documents such as reports, invoices, and statements, and maintaining accurate records.
I have a strong commitment to accuracy and have learned to take great pride in the quality of my work. I'm also well- versed in the latest accounting software, which enables me to quickly enter data, generate reports, and analyze financial information. I am highly organized and can easily multitask and prioritize work.
I am confident that I have the skills and experience necessary to excel in this position. As an experienced Accounting Clerk, I am eager to put my knowledge and skills to work for [Company Name]. I look forward to meeting with you to discuss how I can be an asset to your team.
Thank you for your time and consideration.
[Your Name]
Create My Cover Letter
Build a profession cover letter in just minutes for free.
Looking to improve your resume? Our resume examples with writing guide and tips offers extensive assistance.
What should a Accounting Clerk cover letter include?
A Accounting Clerk cover letter should include a brief introduction about the candidate, highlighting their accounting skills and qualifications. This introduction should clearly demonstrate the candidate's enthusiasm and interest in the role.
The body of the letter should include the candidate's experience, outlining the specific tasks they have performed in other accounting roles and how they have demonstrated their expertise. It should also provide examples of how the candidate has added value to the businesses or organisations for which they have worked.
The candidate should also use the cover letter to demonstrate their knowledge and understanding of the role they are applying for, and the accounting sector in general. This can be done by talking about the latest news and developments in the sector, and how the candidate can contribute to the success of the organisation.
Finally, the candidate should use the cover letter to summarise why they are the best applicant for the role, and why they are the best fit for the organisation. They should also provide their contact details, along with any other relevant information.
Accounting Clerk Cover Letter Writing Tips
Writing an effective and attention- grabbing accounting clerk cover letter is an integral part of your job application process. A great cover letter can be the difference between being selected for an interview and being overlooked. Here are some tips to help you write an outstanding cover letter for an accounting clerk position:
Research the company you are applying to: Get familiar with the company's mission, values, and services. Use this information to tailor your cover letter and show the employer how your skills and experience are a great fit for the role.
Make sure to address the hiring manager correctly: Research the company and the hiring manager's name, if available, and address the letter to them. This shows that you have taken the time to research the company and position.
Highlight your relevant skills and experience: Showcase the skills and experiences that make you a great fit for the role. Focus on the accounting- related skills that are necessary for the job.
Keep it concise and clear: Writing too much or too little can be an issue. Keep your cover letter concise and to the point. Highlight the most relevant information in the letter and provide details in the resume.
Proofread and edit your writing: Make sure to review your cover letter for any errors, typos, or unclear information. It is also helpful to have people review your cover letter for you, so you can get a second opinion.
Following these tips will help you create a great accounting clerk cover letter that will help you stand out and get noticed. Good luck!
Common mistakes to avoid when writing Accounting Clerk Cover letter
Writing cover letters for accounting clerk position can be a daunting task. To ensure that your cover letter stands out from the rest, here are common mistakes to avoid:
Not Tailoring Your Cover Letter to the Company: While it is important to create a customized cover letter for every job you apply for, you should also tailor your cover letter to the specific company. Show you understand its values, mission and key initiatives.
Not Using Keywords: Employers often use automated tracking systems to scan cover letters for relevant keywords that relate to the job. It is important to research the job description and use keywords in your cover letter to ensure you make it to the next stage of the hiring process.
Using Clichés: There are certain phrases used in cover letters that employers see time and time again. Avoid using clichés or generic phrases such as "I am the perfect candidate for the job" or "I have excellent communication skills." Instead, focus on why you are the best candidate for the job and provide concrete examples.
Focusing on Your Needs: While you may be motivated by the salary and benefits of the job, employers don't want to hear you talk about it. Instead, focus on the value you can bring to the company and the impact you can make.
Not Proofreading: It is important to proofread your cover letter and check for grammar and spelling mistakes. Even a small typo can make you look careless and unprofessional.
By avoiding these common mistakes, you can ensure that your cover letter stands out from the rest and that you get to the next stage of the hiring process.
Key takeaways
Writing the perfect Accounting Clerk cover letter can seem like a daunting task, but it doesn't have to be! By following these key takeaways, you can ensure that you have an impressive cover letter that will make a great impression on potential employers.
Begin your cover letter with a powerful introduction. This should include a brief summary of your experience and strengths relevant to the position.
Make sure to highlight any accomplishments or awards that you have achieved in the accounting field.
Use professional language throughout your letter, and keep it concise. Focus on the most important qualifications and why you would make a great addition to the team.
Ensure that your cover letter is tailored to the specific job you are applying for. Showcase any relevant education, certifications, and experiences that make you an ideal candidate.
Reach out to your network to find out more about the company and the position you are applying for. This will give you the opportunity to provide a more personalized message in your cover letter.
Close your letter with a strong call- to- action. Let the employer know that you will follow up and that you look forward to discussing your application further.
By taking these steps to write an impressive Accounting Clerk cover letter, you will be setting yourself up for success. Good luck!
Frequently Asked Questions
1. how do i write a cover letter for an accounting clerk job with no experience.
Writing a cover letter for an Accounting Clerk job with no experience can be a challenge. It's important to focus on your transferable skills and how they can be used in an Accounting Clerk role. Be sure to highlight your ability to learn quickly and any relevant education or training you may have. Demonstrate your enthusiasm for the role and show your willingness to take on new challenges. Finally, emphasize your willingness to take initiative and your desire to contribute to the success of the organization.
2. How can I highlight my accomplishments in Accounting Clerk cover letter?
When highlighting your accomplishments in an Accounting Clerk cover letter, it's important to focus on specific achievements. Emphasize any successful projects you've completed, any relevant awards or certificates, and any areas of expertise that make you an especially strong candidate for the role. Don't forget to mention any special training or certifications you have that might give you an edge.
3. What is a good cover letter for an Accounting Clerk?
A good cover letter for an Accounting Clerk should be clear and concise. Begin your letter by expressing your enthusiasm for the job and your relevant qualifications. Make sure to highlight any special skills, training, or experiences that make you a good fit for the job. Avoid using clichés or generic phrases and be sure to focus on your unique qualifications and experiences. Finally, close your letter with a strong call to action and express your gratitude for being considered for the role.
4. What 3 topics should your Accounting Clerk cover letter include?
Your Accounting Clerk cover letter should include 3 key topics: your relevant qualifications and experiences, your enthusiasm for the job, and your willingness to take on new challenges. Make sure to highlight your transferable skills and any relevant education or training you may have. Don't forget to mention any special skills or certifications that might give you a leg up. Finally, be sure to express your excitement for the opportunity to work for the company and your eagerness to learn more about the role.
In addition to this, be sure to check out our cover letter templates , cover letter formats , cover letter examples , job description , and career advice pages for more helpful tips and advice.
Let us help you build your Cover Letter!
Make your cover letter more organized and attractive with our Cover Letter Builder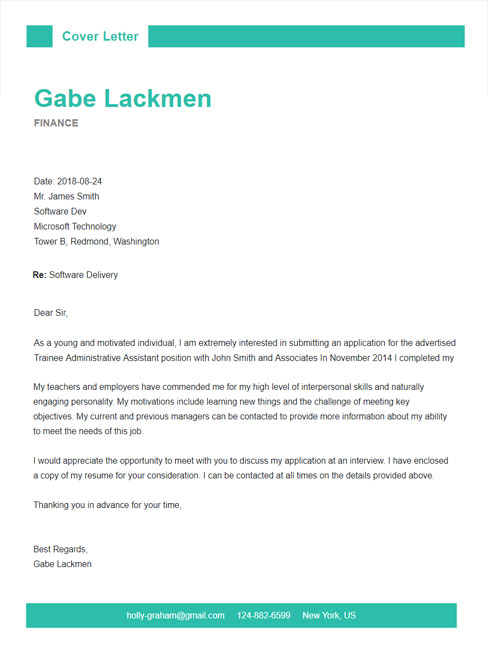 Accounting Clerk Cover Letter Example: 4 Templates
Writing a cover letter is a first step in the journey of procuring a respective position in any company. You will be showcasing the details of your qualification, experience and other merits to justify your potential as a successful accounting clerk. The employer of the company will be looking for the person who will be capable of performing all the accounting responsibilities with sincerity. By using any of the templates given below, you can write your cover letter for this respective job.
Letter Template: 1
Table of Contents
Accounting Clerk Cover Letter
Richard D. Harding
Laguna Beach, Los Angeles
(123) 4567890
[email protected]
The HR Manager
XYZ Company
354 F 63 rd Street
United States
Subject- Accounts Clerk Cover Letter
Dear Sir/ Madam,
Since I have viewed the advertisement for the position for the position of accounting clerk, I find myself perfectly suitable for this job. I am well prepared with my experience, skills and talent in the field of accounting.
I am ready to join as quickly as possible. I would like to share about my academic qualification and experience in this letter.
I would like to let you know that I have completed my graduation in the field of accounting from the University of [Name of university]. I have earned a bachelor's degree by studying for [number of years] at [name of college].
I have also done a six month accounting certification course to get license to work in US as a certified accountant and build my career.
I have also gained expertize in computer applications. I have done programming courses related to accounting from [ name of institute]. During my academic period, I have also participated in debate competition, sports and cultural activities. I had also taken musical lessons as a hobby.
I had started my career as an intern in [ name of company 1]. I had got this job through campus selection process which had happened in the college campus. During my last semester, I got this selected and there I had learnt a lot from my seniors about different financial activities.
I had learnt over their how to calculate balance sheet and manage the budget calculation using MS-Excel database.
After that, I had joined [ name of company 2] and I was working as a accounting representative for last [ timespan] years. Over there, I had taken the responsibility of calculating the salary and other benefits of employees.
I have attached all the details about my qualification and experience. You will definitely find me suitable for this job. I am highly cooperative, focused and have leadership qualities.
I am ready to meet the target of your company.
[Handwriting signature]
[Mention the contact details]
[Mention here, if there is any post note to be given]
Download Template : ( pdf, docs, ODT, RTF, txt, HTML, Epub, Etc )
Letter Template: 2
Subject- Application letter for Accounting Clerk.
I would like to inform you that I am willing to join anytime when I am selected. I have viewed the information related to the job requirement displayed by your company on [mention date] on [ name of jobsite].
It promises to be very encouraging for me. I have viewed the requirements for the position of accounting clerk in this particular jobsite. It has motivated me to apply for this job because I am very well at all types of accounting calculations and making entries.
It is not only the accounting degree and knowledge I have earned from [ name of college] by studying under [ name of university], I have also learnt to meet the target of the company with high quality standards and effective time management skills.
It Is my [ timespan] of experience as a professional accounting clerk in different companies which have enhanced my practical knowledge of cash flow , financial transactions and business operations.
I have learnt to work along with the team members and assist them if needed. I have learnt to be patient and act with promptness and responsibilities. I have an ability to track the errors in the accounting log book and make corrections immediately.
To help the company grow and earn huge turnover, I have always coordinated with the seniors and prepared successful financial budget on time. I have always made sure that money is not unnecessarily wasted.
I have also helped the companies by calculating the taxes on the taxation software of the company.
I assure that if I am getting selected in your company then I will make efforts in finishing the accounting tasks very fast and following the high quality standards. I am ready to learn more and utilize my skills in raising the brand value of your company.
I have attached the documents related to my experience and qualification in the field of accounting.
Letter Template: 3
Subject- Application letter for Accounting position.
I am excited to work in your company as an accounting clerk. I have come across the advertisement highlighted on [name of newspaper] in the classified section dated [date].
Working in your company is actually a matter of huge of reputation. Ever since my graduation days, I have been preparing myself to work in your company.
It is because I have got the information from survey done by [name of survey group] of US that [name of company] is leading company not only in US but it is well recognized all across the globe. It offers good learning experience to the fresher's and experienced ones with good career growth.
I have all the necessary skills, educational qualification and even experience of nearly [time span] years to qualify in the respective post of accounting executive.
It is not only that I am good in accounting; I am also good in mathematical calculations. I am quite fast in calculating and competing accounting work on time.
I am an active participant in any official letters where I have given several successful strategies in enhancing the revenue of the company. I have always encouraged focusing on improving the quality of products and services and also going as per the customers' needs.
I had started my career at [ name of first company] as an intern and right now, I am working at [ name of last company].
The reason of changing the workplace is that the company is right now in the process of closing down. I am looking forward to relocation to [ name of city] where your company is located.
I am certain of my potential as a successful accounting clerk in your respective company. I have attached all the necessary documents related to my bachelor's degree in accounting along with copies of experience certificates in different companies.
I do appreciate your time and attention. I am looking forward towards discussion regarding the objectives that I am going to fulfil in your company.
Letter Template: 4
I will be at the best by joining your company. For a long time, I had been looking forward towards any opportunity to apply for the position of accounting executive.
I have heard about the job vacancy from my friend who is working in your company in the marketing department. For your better understanding and clarity, his name is [ name of friend ]. His designation is [ designation].
I am applying for this job on my own. I am a self made, hard working, sincere and honest person with my own skill set, qualification and experience in the field of accounting. I am certain that you will appreciate my skills and pattern of preparing accounting reports.
In fact, all throughout my accounting career, I have been appreciated, awarded and recognized.
I have contributed in shaping financial foundation of several companies during my accounting career. With my strategies and formulas, the companies where I have worked, have attended huge progress and earned brand value in the market.
I would like to let you that I have passed out with excellence from [ name of university] by studying at [ name of college]. I had earned bachelor degree in the field of accounting.
I have also done computer course related to accounting principles. I have learnt to work using QuickBooks, SAP and PeopleSoft. I am quite capable in preparing report and graphical charts using MS-Excel.
I have proved my accounting skills in working along with external and internal auditors. I have also attended to inventory activities and so adding and updating in the database.
With all the skills and experience in the field of accounting, I am certain of exceeding the expectations of your company.
You can check the details of my accounting career in the documents attached with this application letter. I am ready to go for the background check as per your company policy.
Similar Posts:
How To Write a Cover Letter With No Experience: 82 Templates
Farewell Manager Letter: 75 Templates
Shipping Clerk Cover Letter Examples: 6 Templates
How to Write an Anniversary Letter: 50 Free Templates
Appreciation Letter to Manager: 30 Templates
How to Write Sponsorship Letter: 47 Templates
Accounts Clerk Cover Letter Examples: 4 Templates
Billing Clerk Cover Letter Samples: 4 Templates
Love Letter to Boyfriend: 60 heart-touching Templates
How to Write Approval Letter: 54+Template
"Business, marketing, and blogging – these three words describe me the best. I am the founder of Burban Branding and Media, and a self-taught marketer with 10 years of experience. My passion lies in helping startups enhance their business through marketing, HR, leadership, and finance. I am on a mission to assist businesses in achieving their goals."
Leave a Comment