QuestionsAnswered.net
What's Your Question?
What Is a Case Study?
When you're performing research as part of your job or for a school assignment, you'll probably come across case studies that help you to learn more about the topic at hand. But what is a case study and why are they helpful? Read on to learn all about case studies.
Deep Dive into a Topic
At face value, a case study is a deep dive into a topic. Case studies can be found in many fields, particularly across the social sciences and medicine. When you conduct a case study, you create a body of research based on an inquiry and related data from analysis of a group, individual or controlled research environment.
As a researcher, you can benefit from the analysis of case studies similar to inquiries you're currently studying. Researchers often rely on case studies to answer questions that basic information and standard diagnostics cannot address.
Study a Pattern
One of the main objectives of a case study is to find a pattern that answers whatever the initial inquiry seeks to find. This might be a question about why college students are prone to certain eating habits or what mental health problems afflict house fire survivors. The researcher then collects data, either through observation or data research, and starts connecting the dots to find underlying behaviors or impacts of the sample group's behavior.
Gather Evidence
During the study period, the researcher gathers evidence to back the observed patterns and future claims that'll be derived from the data. Since case studies are usually presented in the professional environment, it's not enough to simply have a theory and observational notes to back up a claim. Instead, the researcher must provide evidence to support the body of study and the resulting conclusions.
Present Findings
As the study progresses, the researcher develops a solid case to present to peers or a governing body. Case study presentation is important because it legitimizes the body of research and opens the findings to a broader analysis that may end up drawing a conclusion that's more true to the data than what one or two researchers might establish. The presentation might be formal or casual, depending on the case study itself.
Draw Conclusions
Once the body of research is established, it's time to draw conclusions from the case study. As with all social sciences studies, conclusions from one researcher shouldn't necessarily be taken as gospel, but they're helpful for advancing the body of knowledge in a given field. For that purpose, they're an invaluable way of gathering new material and presenting ideas that others in the field can learn from and expand upon.
MORE FROM QUESTIONSANSWERED.NET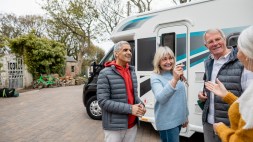 Introduction to the Case Management Body of Knowledge
The case management knowledge framework consists of what case managers need to know (knowledge, skills, and competencies) to effectively care for clients and their support systems. It includes two main elements:
A nine-phase Case Management Process
Six essential knowledge domains (previously seven domains that have been updated based on findings of the case manager's role and function study CCMC recently conducted)
These elements are applicable in any care or practice setting and for the various healthcare professionals who assume the case manager's role and/or those directly or indirectly involved in the field.
Definition of Case Management
There is no one standardized or nationally recognized or even widely accepted definition of case management. An Internet search for the definition of the term case management will result in thousands of references. Such results are confusing for case managers and others who are interested in case management practice. You may be unable to discern which definition is most credible or relevant.
Despite the large search outcome, experts would agree that there are no more than 20 or so definitions of case management considered appropriate. These definitions are available in peer-reviewed professional case management literature or on websites and in other formal documents of case management (or case management–related) organizations, societies, and government or nongovernment agencies.
The Case Management Knowledge Framework
View larger image
So that you do not get confused as you read materials in the Commission for Case Manager Certification's (CCMC) CMBOK®, the expert contributors who developed the case management knowledge framework in 2009 decided to use the Commission's definition of case management available at that time to guide their work. (Note that the definition below has since been updated to reflect current appropriate information promulgated by CCMC.)

Case Management Philosophy and Guiding Principles
Case management is a specialty practice within the health and human services profession. Everyone directly or indirectly involved in healthcare benefits when healthcare professionals and especially case managers appropriately manage, efficiently provide, and effectively execute a client's care. The underlying guiding principles of case management services and practices of the CMBOK follow:
Case management is not a profession unto itself. Rather, it is a cross-disciplinary and interdependent specialty practice.
Case management is a means for improving clients' health and promoting wellness and autonomy through advocacy, communication, education, identification of service resources, and facilitation of service.
Case management is guided by the ethical principles of autonomy, beneficence, nonmaleficence, veracity, equity, and justice.
Case managers come from different backgrounds within health and human services professions, including nursing, medicine, social work, rehabilitation counseling, workers' compensation, and mental and behavioral health.
The primary function of case managers is to advocate for clients/support systems. Case managers understand the importance of achieving quality outcomes for their clients and commit to the appropriate use of resources and empowerment of clients in a manner that is supportive and objective.
Case managers' first duty is to their clients – coordinating care that is safe, timely, effective, efficient, equitable, and client-centered.
Case management services are offered according to the clients' benefits as stipulated in their health insurance plans, where applicable.
The Case Management Process is centered on clients/support systems. It is holistic in its handling of clients' situations (e.g., addressing medical, physical, functional, emotional, financial, psychosocial, behavioral, spiritual, and other needs), as well as those of their support systems.
The Case Management Process is adaptive to case managers' practice settings and the settings where clients receive health and human services.
Case managers approach the provision of case-managed health and human services in a collaborative manner. Professionals from within or across healthcare organizations (e.g., provider, employer, payor, and community agencies) and settings collaborate closely for the benefit of clients/support systems.
The goals of case management are first and foremost focused on improving the client's clinical, functional, emotional, and psychosocial status.
The healthcare organizations for which case managers work may also benefit from case management services. They may realize lowered health claim costs (if payor-based), shorter lengths of stay (if acute care–based), or early return to work and reduced absenteeism (if employer-based).
All stakeholders benefit when clients reach their optimum level of wellness, self-care management, and functional capability. These stakeholders include the clients themselves, their support systems, and the healthcare delivery systems, including the providers of care, the employers, and the various payor sources.
Case management helps clients achieve wellness and autonomy through advocacy, comprehensive assessment, planning, communication, health education and engagement, resource management, service facilitation, and use of evidence-based guidelines or standards.
Based on the cultural beliefs, values, and needs of clients/support systems and in collaboration with all service providers (both healthcare professionals and paraprofessionals), case managers link clients/support systems with appropriate providers of care and resources throughout the continuum of health and human services and across various care settings. They do so while ensuring that the care provided is safe, effective, client-centered, timely, efficient, and equitable. This approach achieves optimum value and desirable outcomes for all stakeholders.
Case management services are optimized when offered in a climate that allows direct, open, and honest communication and collaboration among the case manager, the client/support system, the payor, the primary care provider (PCP), the specialty care provider (SCP), and all other service delivery professionals and paraprofessionals.
Case managers enhance the case management services and their associated outcomes by maintaining clients' privacy, confidentiality, health, and safety through advocacy and adherence to ethical, legal, accreditation, certification, and regulatory standards and guidelines, as appropriate to the practice setting.
Case managers must possess the education, skills, knowledge, competencies, and experiences needed to effectively render appropriate, safe, and quality services to their clients/support systems.
Case managers must demonstrate a sense of commitment and obligation to maintain current knowledge, skills, and competencies. They also must disseminate their practice innovations and findings from research activities to the case management community for the benefit of advancing the field of case management. 
Principal Terms
Many terms in the CMBOK have multiple meanings, and you may be unclear about which meaning to apply. You might also not interpret the terms in the way the knowledge developers – who are case management experts – thought of them.
To get the most out of the knowledge these experts have shared in the CMBOK, take the time to review the following terms. Note that the literature may describe these terms somewhat differently; the descriptions shared herein clarify their use throughout the CMBOK.  
Principal Terms Used in the CMBOK
The Case Management Process
The Case Management Process consists of nine phases through which case managers provide care to their clients: Screening, Assessing, Stratifying Risk, Planning, Implementing (Care Coordination), Following-Up, Transitioning (Transitional Care), Communicating Post Transition, and Evaluating. The overall process is iterative, nonlinear, and cyclical, its phases being revisited as necessary until the desired outcome is achieved. 
Centering on a client and the client's support system, the Case Management Process is holistic in its approach to the management of the client's situation and that of the client's support system. It is adaptive both to the case manager's practice setting and to the healthcare setting in which the client receives services.
The High-Level Case Management Process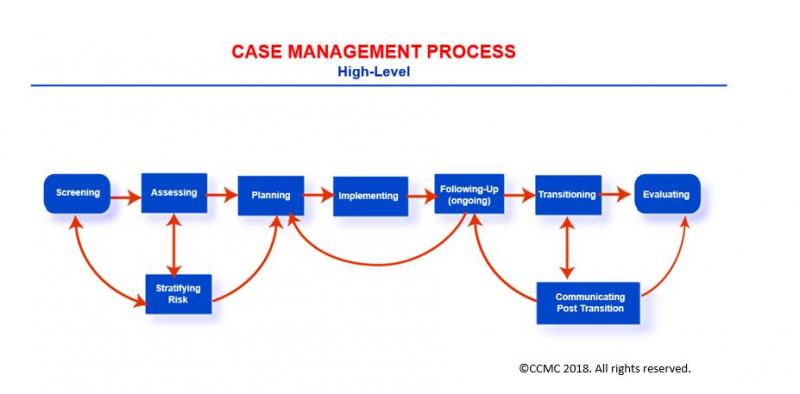 Case managers navigate the phases of the process with careful consideration of the client's cultural beliefs, interests, wishes, needs, and values. By following the steps, they help clients/support systems to:
Evaluate and understand the care options available to them
Agree on their care goals and priorities
Determine what is best to meet their needs
Institute action to achieve their goals and meet their interests/expectations
At the same time, case managers apply:
Relevant state and federal laws
Ethical principles and standards such as the CCMC's Code of Professional Conduct for Case Managers with Standards, Rules, Procedures, and Penalties (CCMC, 2015), which applies to persons holding the CCM® credential
Accreditation and regulatory standards
Standards of care and practice such as the CMSA Standards of Practice for Case Management (CMSA, 2022)
Evidence-based care or practice guidelines
Health insurance plan requirements and obligations, as appropriate
And at every phase of the Case Management Process, case managers provide vital documentation.
Client Source
Before looking more closely at the phases of the Case Management Process, first consider what triggers the process. You begin with the identification of a client. Without a client found to be in need of case management services, you have no need to launch the Case Management Process.
The client source – that is, how you, as case managers, come in contact with clients and/or their support systems – varies based on your practice setting.
Examples of Client Sources
The Screening Phase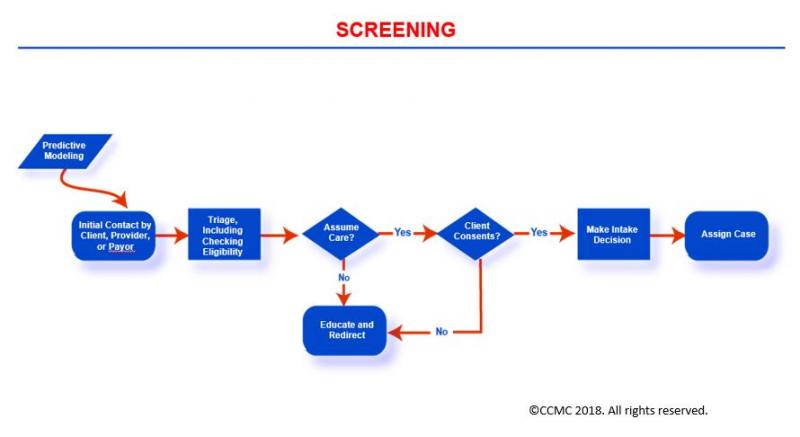 Click here to view map key for image
The Screening phase focuses on the review of key information related to an individual's health situation in order to identify the need for health and human services (case management services). Your objective of the screening as the case manager is to determine if your client would benefit from such services.
Screening promotes early intervention and the achievement of desired outcomes. Key information about your client/support system you gather during screening may include the following (to the extent available):
Risk stratification category or class
Claims data
Health services utilization
Past and current health condition
Socioeconomic and financial status
Health insurance coverage
Home environment
Prior services
Physical, emotional, and cognitive functioning
Psychosocial network and support system
Self-care ability
The Assessing Phase
The Case Management Process: Assessing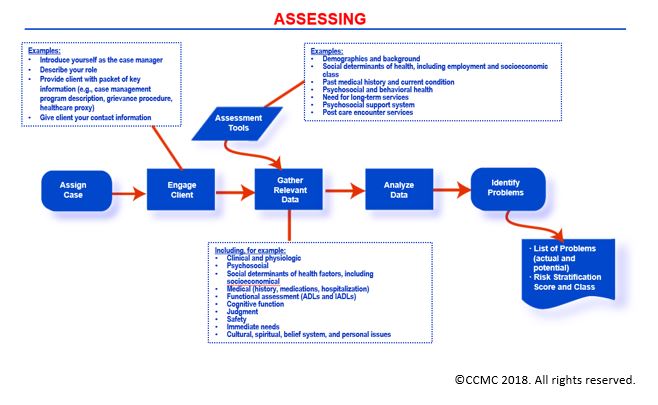 The Assessing phase involves the collection of information about a client's situation similar to those reviewed during Screening, however to greater depth. The information you collect about your client/support system may include:
Past and current health conditions
Service utilization
Health insurance plan benefits and coverage
Home condition and safety
Availability of prior services
Health engagement
Self-care knowledge and ability
Readiness for change
You, as the case manager, have three primary objectives while assessing your client/support system:
Identifying the client's key problems to be addressed, as well as individual needs and interests
Determining the expected care goals and target outcomes
Developing a comprehensive case management plan of care that addresses these problems and needs while allowing you to achieve the care goals
You seek to confirm or update your client's risk category based on the information you have gathered. You also may apply two key strategies for your effective information gathering. Using standardized assessment tools and checklists, you:
Gather the essential information telephonically or through face-to-face contact with your client, the client's support system, and the clinicians involved in your client's care.
Collect necessary information through a review of current and past medical records, personal health records if available, and communication with your client's employer, health insurance plan representative, and others as you deem appropriate.
The Stratifying Risk Phase
The Case Management Process: Stratifying Risk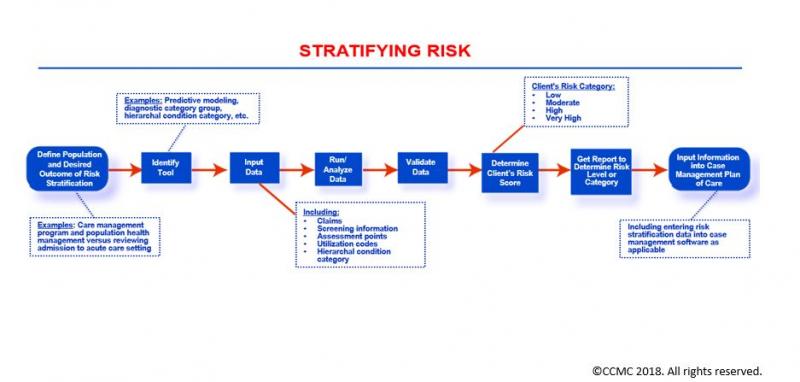 The Stratifying Risk phase involves the classification of your client into one of three risk categories – low, moderate, and high – in order to determine the appropriate level of intervention based on your client's situation and interests. This classification allows you to implement targeted risk category–based interventions and treatments that enhance your client's care interventions and outcomes.
When stratifying your client's risk, as the case manager you complete a health risk assessment and biomedical screening based on specific risk factors for your client.
Factors applied in a client's risk stratification may include:
Presence and number of physical health conditions
Medications intake: number and type (polypharmacy)
Blood pressure
Substance, alcohol, or tobacco use
Nutrition and exercise habits
Blood sugar level and lipids/cholesterol profile
Emotional, mental, and behavioral health
Access to care and utilization of healthcare services (e.g., emergency department visits or hospitalizations)
Availability of psychosocial support system
Gender, race, ethnicity, and age
Socioeconomic and financial situation (e.g., limited income, no insurance, underinsurance)
Other risk factors depending on the risk assessment tool/model applied
In some organizations, such as those that are payor-based, stratifying risks may take place prior to assessing the client. It also may be completed in an automated fashion using decision support systems and based on claims data. In such situations, you, as the case manager, review the automatically generated risk classifications and contact the client accordingly. You may also determine the need for contacting the client based on agreed upon and nationally recognized algorithms, criteria, and protocols.
It is common today to have a risk classification system that consists of four categories instead of three. The fourth and additional level refers to a small percentage of clients (i.e., no more than 3%) whose condition is extremely complex and requires an intensive amount of resources and the involvement of multiple healthcare providers with varied specialties. This group of patients is usually described as the "very high" risk category. When you are managing this category of clients, you provide comprehensive case management services while interacting with such clients at a frequency that exceeds once per month – as high as perhaps weekly.
The Planning Phase
The Case Management Process: Planning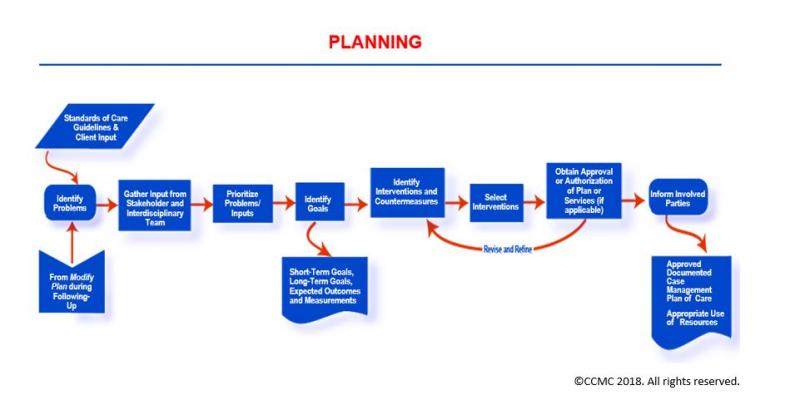 The Planning phase establishes specific objectives, care goals (short- and long-term), and actions (treatments and services) necessary to meet a client's needs as identified during the Screening and Assessing phases.
During the Planning phase, you the case manager develop a case management plan of care for your client that considers inputs and approvals of the client/support system and the client's healthcare providers. Your plan is action-oriented, time-specific, and multidisciplinary in nature. In this plan you address your client's self-care management needs and care across the continuum, especially the services needed after a current episode of care; for example, home care services post hospital discharge.
In addition, the case management plan of care you develop identifies outcomes that are measurable and achievable within a manageable time frame and that apply evidenced-based standards and care guidelines. You finalize the Planning phase (i.e., development of a final case management plan of care for your client/support system) after you have received authorization for the health and human services from your client's payor source and after the services and resources needed have been identified.
The Implementing (Care Coordination) Phase
The Case Management Process: Implementing (Care Coordination)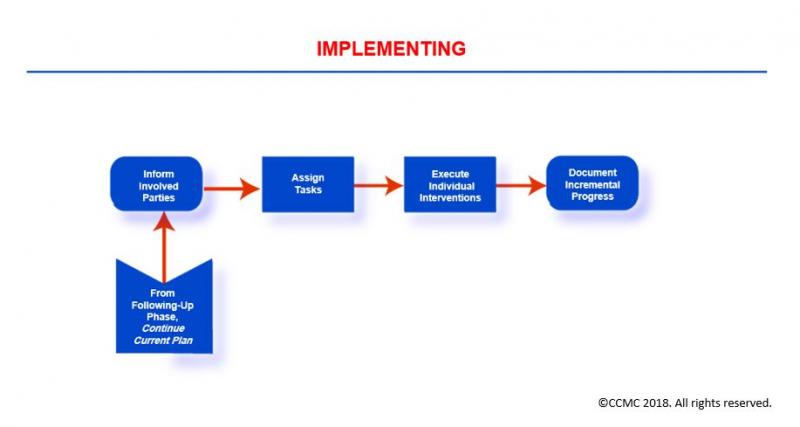 The Implementing phase centers on the execution of the specific case management activities and interventions that are necessary for accomplishing the goals set forth in your client's case management plan of care. This is commonly known as care coordination .
During this phase, you the case manager organize, secure, integrate, and modify (as needed) the health and human services and resources necessary to meet your client's needs and interests. You also share key information on an ongoing basis with your client and client's support system, the healthcare providers/clinicians you are collaborating with, your client's health insurance company/payor, and the representatives of community-based agencies you have engaged or will be engaging in the client's care and case management plan.
The Following-Up Phase
The Case Management Process: Following-Up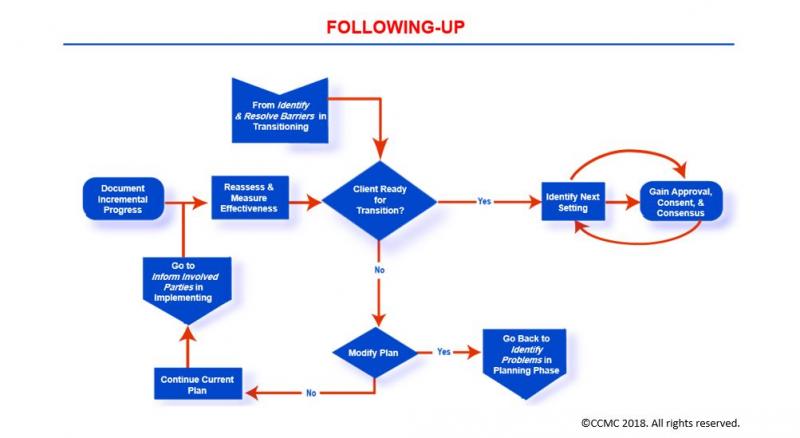 The Following-Up phase focuses on the review, evaluation, monitoring, and reassessment of a client's health condition, needs, ability for self-care, knowledge of condition and treatment regimen, and outcomes of the implemented treatments and interventions. Here your primary objective is to evaluate the appropriateness and effectiveness of your client's case management plan and its effect on your client's health condition and care outcomes. During this phase, you:
Gather sufficient information from all relevant sources.
Share information with your client, client's support system, healthcare providers, and others as appropriate.
Document in your client's health record the findings and modifications you may have made to your client's case management plan, and recommendations for care.
May repeat these activities at frequent intervals and as needed.
Following-Up may indicate the need for a minor modification or a complete change in the case management plan of care. You use this phase as an opportunity to identify such needed revisions.
The Transitioning (Transitional Care) Phase
The Case Management Process: Transitioning (Transitional Care)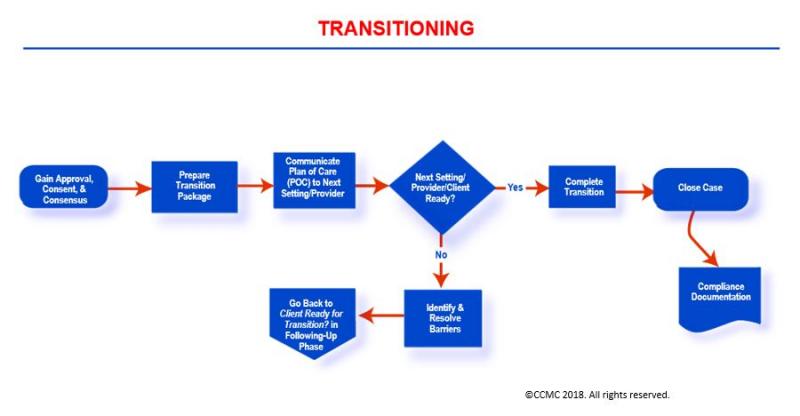 The Transitioning phase focuses on moving a client across the health and human services continuum or levels of care depending on the client's health condition and the needed services/resources.
During this phase, you the case manager prepare your client and client's support system either for discharge from the current care setting/facility to home or for transfer to another healthcare facility or a community-based clinician for further care. These activities are commonly known today as transitional care or transitions of care . In order to maintain continuity of care, you apply this phase's activities to completely execute your client's transition to the next level of care. You ensure your client's safe transition through careful communication with key individuals (including sharing of necessary information) at the next level of care or setting, your client and client's support system, and other members of the healthcare team.
Additionally, you may:
Educate your client about post-transition care and needed follow-up
Summarize what happened during an episode of care
Secure durable medical equipment (e.g., glucose meter, scale, walker) and transportation services (if needed) for your client
Communicate these services to your client, your client's support system (such as caregiver), and to key individuals at the receiving facility or home care agency (if applicable) or those individuals assuming responsibility for your client's care post transition
The Communicating Post Transition Phase
The Case Management Process: Communicating Post Transition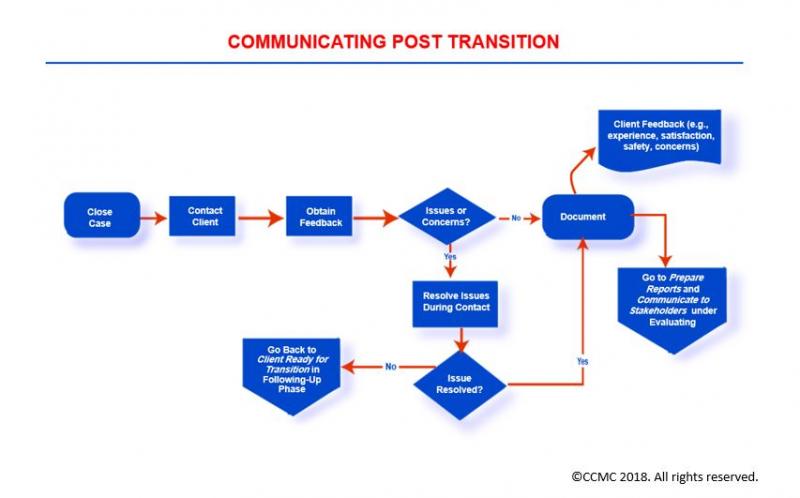 The Communicating Post Transition phase involves communicating with a client/support system for the purpose of checking on how things are going post transition from an episode of care.
As the case manager during this phase, you inquire about your client's comfort with self-care, medications intake, availability of the post-transition services you may have arranged for (e.g., visiting nurse services), and presence of any issues or concerns. You also may solicit feedback regarding your client's experience and satisfaction with services during the care episode.
During this phase, you:
Follow up on the issues and problems you identify during the post-transition communication
Seek resolution for the issues you identify
Depending on the issue or concern you have identified, you may engage other healthcare professionals to reach resolution
Report the feedback you gather during the communication to key stakeholders such as payors and providers of care
The Evaluating Phase
The Case Management Process: Evaluating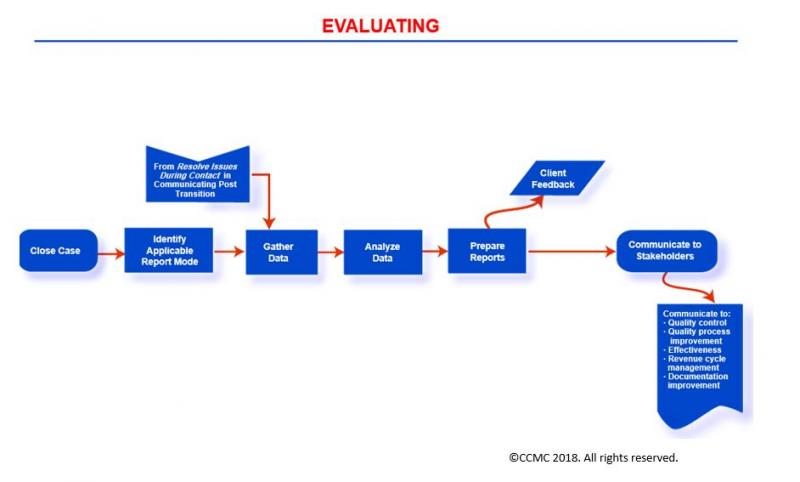 The Evaluating phase calls for measuring the results of implementing the client's case management plan of care (e.g., the objectives, goals, treatments and interventions, and return on investment) and their effect on a client's condition. In this evaluation, you focus on several types of outcomes of care:
Quality of life
Experience and satisfaction with care
Physical functioning
Psychosocial and emotional well-being
Self-care management ability and health engagement
Knowledge of health condition and plan of care, including medications management
During this phase, you the case manager generate outcomes reports such as case summary, quality, cost/billing, satisfaction, outcomes, cost-benefit analysis, and return on investment. You also communicate the findings or disseminate the reports to key stakeholders such as government agencies (e.g., Centers for Medicare & Medicaid Services), the leadership team, client, payor, providers of care, employers, interdisciplinary team members, risk management staff, quality improvement team members, and others as deemed appropriate.
Essential Domains of Case Management Knowledge
Although case managers practice in a variety of care settings and are from varied backgrounds, the Commission has now defined six essential knowledge domains that encompass the realm of case management work and that apply to all care settings, health disciplines, and professional backgrounds. Each domain is further organized into subdomains.
The Six Essential Knowledge Domains and Subdomains
Care Delivery and Reimbursement Methods
The Care Delivery and Reimbursement Methods domain consists of knowledge associated with the Case Management Process, systems of care provision, resources, and skills needed to ensure the effective and efficient delivery of safe, quality health and human services to clients/support systems. This domain also includes knowledge of reimbursement methods, funding sources, allocation of services and resources, and payor systems and concepts such as utilization review and management procedures.
Applying such knowledge in the execution of your role and responsibilities as case manager enhances your performance and improves your productivity, which then ultimately results in enhanced care outcomes for both your client and employer (healthcare organization) alike.
Success in your case manager's role requires the work of a team: the client, the client's support system, and the healthcare and service providers, including payor representatives and other clinicians.
The Case Management Team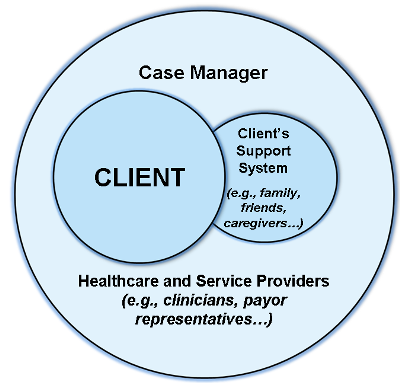 © CCMC 2018. All rights reserved.
The Care Delivery and Reimbursement Methods domain also focuses on knowledge associated with case management administration and leadership, with program design and structure, with roles and responsibilities of case managers in various settings, and with skills of case managers (e.g., communication, problem-solving, conflict resolution, resilience, and others).
Additionally, knowledge in this domain is associated with various healthcare delivery systems and models across the continuum of health and human services and case managers' practice settings. It includes knowledge of case management models, concepts, processes, services, and resources. Moreover, this domain addresses other topics such as levels of care, transitions of care, and collaboration among the various people involved in care such as the clients themselves, their support systems, multi-specialty care providers, community agencies, and payors.
Psychosocial Concepts and Support Systems
The Psychosocial Concepts and Support Systems domain consists of knowledge associated with the role clients' cultures, values, beliefs, social networks, and support systems play in clients' health and well-being, including health behavior and lifestyle. This domain also focuses on the impact of socioeconomic classes on clients' health conditions, ability for self-care management, health engagement, health literacy and numeracy, and adherence to treatment regimen.
Additionally, this domain includes knowledge of the case manager's role in addressing issues of underinsurance or lack of insurance, charity care, clients' education regarding health condition and treatment options, counseling and psychosocial support, and clients' home environments and living arrangements.
Rehabilitation Concepts and Strategies
The Rehabilitation Concepts and Strategies domain consists of knowledge associated with clients' physical and occupational health and functioning, including catastrophic case management, workers' compensation, vocational and disability concepts, strategies, and resources.
This domain also includes knowledge of life care planning, roles and skills of various healthcare providers in rehabilitation care settings, return-to-work concepts and strategies, types of rehabilitation settings/facilities, and use of assistive devices or durable medical equipment for rehabilitation and vocational purposes. In addition, this domain includes regulations pertaining to rehabilitation.
Quality and Outcomes Evaluation and Measurement
The Quality and Outcomes Evaluation and Measurement domain consists of knowledge associated with quality management, accreditation standards, care quality and safety, demonstrating return on investment, and cost-effectiveness. In addition, this domain includes demonstrating the value of case management, case load calculation, tools such as case management plans of care, and regulations related to case management.
Ethical, Legal, and Practice Standards
The Ethical, Legal, and Practice Standards domain consists of knowledge about the case manager's role as client advocate and legal and ethical issues relevant to case management practice. This domain also focuses on:
Codes of ethics and professional conduct for case managers
Risk management
Regulatory and legal requirements
Ethical practices and principles
Privacy and confidentiality
Overall standards of case management practice
Use of standards and guidelines in the management of clients' care
Strategies for ethical and legal practice
Professional Development and Advancement
The Professional Development and Advancement domain consists of knowledge associated with the roles and responsibilities of case managers in articulating, advancing, and demonstrating the value of case management practice. It also includes topics such as case managers' involvement in scholarship activities (e.g., writing for publication, public speaking, research and utilization of evidence, training and education, and curriculum development), health or public policy work, accountability for ongoing education or learning, maintaining necessary skills and competencies for effective performance, engagement in practice innovation, and mentoring other case managers.
Psychosocial Aspects of Care
Social Determinants of Health
Pyschosocial Concepts & Support Systems Overview
Value and Return on Investment Outcomes
Accreditation
Risk Management
Quality and Outcomes Evaluation and Measurement Overview
Vocational Rehabilitation
Essentials of Workers' Compensation
Disability Case Management, Catastrophic Case Management, and Life Care Planning
Rehabilitation Concepts and Strategies Overview
Ethical, Legal and Practice Standards
Ethical Standards for Case Management Practice – Part I: Review of the CCMC Code of Professional Conduct for Case Managers
Ethical Standards for Case Management Practice-Part II: Practice Considerations for the CCMC Standards for Professional Conduct
Legal Issues and Professional Case Management
Legal Issues Related to Case Management Practice
Understanding Diversity, Equity, and Inclusion (DEI) in Case Management Practice
Case Management Concepts
Principles of Practice
Healthcare Management and Delivery
Healthcare Reimbursement
Communication Skills of the Case Manager
Case Management Administration and Leadership
Motivational Interviewing
Transitions of Care
Care Coordination
Case Management Programs and Models
Utilization Management
Wholistic Case Management
Case Management and Processes of Care
Value of Case Management (Intro to CM)
Professional Development and Advancement Domain: Value of Case Management Part II - Approach
Professional Development and Advancement Overview
Case Management Process
Stratifying Risk
Implementing (Care Coordination)
Following-Up
Transitioning (Transitional Care)
Communicating Post Transition
Case Management Process Overview
An official website of the United States government
The .gov means it's official. Federal government websites often end in .gov or .mil. Before sharing sensitive information, make sure you're on a federal government site.
The site is secure. The https:// ensures that you are connecting to the official website and that any information you provide is encrypted and transmitted securely.
Publications
Account settings
Advanced Search
Journal List
BMJ Open Qual
v.11(2); 2022
Defining case management success: a qualitative study of case manager perspectives from a large-scale health and social needs support program
Margae knox.
1 School of Public Health, University of California, Berkeley, Berkeley, California, USA
Emily E Esteban
2 Contra Costa Health Services, Martinez, California, USA
Elizabeth A Hernandez
Mark d fleming, nadia safaeinilli, amanda l brewster, associated data.
No data are available. Data are not publicly available to protect potentially sensitive information. For data inquiries, please contact the corresponding author.
Health systems are expanding efforts to address health and social risks, although the heterogeneity of early evidence indicates need for more nuanced exploration of how such programs work and how to holistically assess program success. This qualitative study aims to identify characteristics of success in a large-scale, health and social needs case management program from the perspective of interdisciplinary case managers.
Case management program for high-risk, complex patients run by an integrated, county-based public health system.
Participants
30 out of 70 case managers, purposively sampled to represent their interdisciplinary health and social work backgrounds. Interviews took place in March–November 2019.
Primary and secondary outcome measures
The analysis intended to identify characteristics of success working with patients.
Case managers described three characteristics of success working with patients: (1) establishing trust; (2) observing change in patients' mindset or initiative and (3) promoting stability and independence. Cross-cutting these characteristics, case managers emphasised the importance of patients defining their own success, often demonstrated through individualised, incremental progress. Thus, moments of success commonly contrasted with external perceptions and operational or productivity metrics.
Conclusions
Themes emphasise the importance of compassion for complexity in patients' lives, and success as a step-by-step process that is built over longitudinal relationships.
What is already known on this topic?
Case management programs to support health and social needs have demonstrated promising yet mixed results. Underlying mechanisms and shared definitions of successful case management are underdeveloped.
What this study adds?
Case managers emphasised building trust over time and individual, patient-defined objectives as key markers of success, a contrast to commonly used quantitative evaluation metrics.
How this study might affect research, practice or policy?
Results suggest that lighter touch case management interventions face limitations without an established patient relationship. Results also support a need for alternative definitions of case management success including patient-centered measures such as trust in one's case manager.
Introduction
Health system efforts to address both health and social needs are expanding. In the USA, some state Medicaid programmes are testing payments for non-medical services to address transportation, housing instability and food insecurity. Medicaid provides healthcare coverage for lower income individuals and families, jointly funded by federal and state governments. Similarly, social prescribing, or the linking of patients with social needs to community resources, is supported by the UK's National Health Service and has also been piloted by Canada's Alliance for Healthier Communities. 1
A growing evidence base suggests promising outcomes from healthcare interventions addressing social needs. In some contexts, case managers or navigators providing social needs assistance can improve health 2 and reduce costly hospital use. 3–5 Yet systematic reviews also report mixed results for measures of health and well-being, hospitalisation and emergency department use, and overall healthcare costs. 6–9 Notably, a randomised trial of the Camden Care Coalition programme for patients with frequent hospitalisations due to medically and socially complex needs 10 found no difference in 180-day readmission between patients assigned to a care transitions programme compared with usual hospital postdischarge care. In the care transition programme, patients received follow-up from a multidisciplinary team of nurses, social workers and community health workers. The team conducted home visits, scheduled and accompanied patients to follow-up outpatient visits, helped with managing medications, coached patients on self-care and connected patients with social services and behavioural healthcare. The usual care group received usual postdischarge care with limited follow-up. 11 This heterogeneity of early evidence indicates a need for more nuanced explorations of how social needs assistance programmes work, and how to holistically assess whether programmes are successful. 12 13
Social needs case management may lead to health and well-being improvements through multiple pathways involving both material and social support. 14 15 Improvements are often a long-term, non-linear process. 16 17 At the same time, quality measures specific to social needs assistance programmes currently remain largely undefined. Studies often analyse utilisation and cost outcomes but lack granularity on interim processes and markers of success.
In order to translate a complex and context-dependent intervention like social needs case management from one setting to another, these interim processes and outcomes need greater recognition. 18–20 Early efforts to refine complex care measures are underway and call out a need for person-centred and goal-concordant measures. 21 Further research on how frontline social needs case managers themselves define successes in their work could help leaders improve programme design and management and could also inform broader quality measure development efforts.
Our in-depth, qualitative study sought to understand how case managers defined success in their work with high-risk patients. Case managers were employed by CommunityConnect, a large-scale health and social needs care management programme that serves a mixed-age adult population with varying physical health, mental health and social needs. Each case manager's workflow includes an individualised, regularly updated dashboard of operational metrics. It is unclear, however, whether or how these operational factors relate to patient success in a complex care programme. Thus, the case managers' perspectives on defining success are critical for capturing how programmes work and identifying essential principles.
Study design and setting
In 2017, the Contra Costa County Health Services Department in California launched CommunityConnect, a case management programme to coordinate health, behavioural health and social services for County Medicaid patients with complex health and social conditions. The County Health Services Department serves approximately 15% (180 000) of Contra Costa's nearly 1.2 million residents. CommunityConnect enrollees were selected based on a predictive model, which leveraged data from multiple county systems to identify individuals most likely to use hospital or emergency room services for preventable reasons. Enrollees are predominantly women (59%) and under age 40 (49%). Seventy-seven per cent of enrollees have more than one chronic condition, particularly hypertension (42%), mood disorders (40%) and chronic pain (35%). 22 Programme goals include improving beneficiary health and well-being through more efficient and effective use of resources.
Each case manager interviewed in this study worked full time with approximately 90 patients at a time. Case managers met patients in-person, ideally at least once a month for 1 year, although patients sometimes continue to receive ongoing support at the case manager's discretion in cases of continued need. Overall, up to 6000 individuals at a time receive in-person case management services through CommunityConnect, with approximately 200–300 added and 200–300 graduated per month. At the time of the study, CommunityConnect employed approximately 70 case managers trained in various public health and social work disciplines (see table 1 , Interview Sample). Case managers and patients are matched based on an algorithm that prioritises mental health history, primary language and county region.
Interview sample
Although case managers bring unique experience from their respective discipline, all are expected to conduct similar case management services. Services included discussing any unmet social needs with patients, coordinating applicable resources and partnering with the patient and patient's care team to improve physical and emotional health. The programme tracks hospital and emergency department utilisation as well as patient benefits such as food stamps, housing or transportation vouchers and continuous Medicaid coverage on an overall basis. Each case manager has access to an individualised dashboard that includes operational metrics such as new patients to contact, and frequency of patient contacts, timeliness for calling patients recently discharged from the hospital, whether patients have continuous Medicaid coverage, and completion of social risk screenings.
Study recruitment
Semistructured interviews were conducted with 30 field-based case managers as part of the programme's evaluation and quality improvement process. Participants included four mental health clinical specialists, five substance abuse counsellors, six social workers, nine public health nurses, four housing support specialists and two community health worker specialists. Case managers were recruited by email and selected based on purposive sampling to reflect membership across disciplines and experience working with CommunityConnect for at least 1 year. Three case managers declined to participate. Interviews ended when data saturation was achieved. 23
Interview procedures
Interviews were conducted by five CommunityConnect evaluation staff members (including EEE), who received training and supervision from the evaluation director (EH), who also conducted interviews. The evaluation staff were bachelor and masters-level trained. The evaluation director was masters-level trained and held prior experience in healthcare quality and programme planning.
The evaluation team drafted the interview guide to ask about a variety of work processes and experiences with the goal of improving programme operations including staff and patient experiences. Specific questions analysed for this study were (1) how case managers define success with a patient and (2) examples where case managers considered work with patients a success.
Interviews took place in-person in private meeting rooms at case managers' workplace from March 2019 – November 2019. Interviews lasted 60–90 min and only the interviewer and case manager were present. All interviewers were familiar with CommunityConnect yet did not have a prior relationship with case managers. Case managers did not receive compensation beyond their regular salary for participating in the study and were allowed to opt out of recruitment or end the interview early for any reason. All interviews were audio recorded, transcribed and entered into Nvivo V.12 for analysis.
Patient and public involvement
This project focused on case manager's perspectives and thus did not directly involve patients. Rather, patients were involved through case manager recollections of experiences working with patients.
Data analysis
We used an integrated approach to develop an initial set of qualitative codes including deductive coding of programme processes and concepts, followed by inductive coding of how case managers defined success. All interviews were coded by two researchers experienced in qualitative research (EEE and MK). Themes were determined based on recurrence across interviews and illustrative examples and being described by more than one case manager type. The two researchers identified preliminary themes independently, then consulted with one another to achieve consensus on final themes. Themes and supporting quotes were then presented to the full author team to ensure collective agreement that key perspectives had been included. Preliminary results were also shared at a staff meeting attended by case managers and other staff as an opportunity for feedback on study findings. This manuscript addresses the Standards for Reporting Qualitative Research, 24 and the Consolidated Criteria for Reporting Qualitative Research checklist is provided as an appendix. 25
All case manager participants provided informed consent. Research procedures were approved by the Contra Costa Regional Medical Center and Health Centers Institutional Review Committee (Protocol 12-17-2018).
Case managers frequently and across multiple roles mentioned three characteristics of success when working with patients: (1) establishing trust; (2) fostering change in patients' mindset or initiative and (3) promoting stability and independence. Across these characteristics, case managers expressed that success is patient-defined, with individualised and often incremental progress—a contrast with external perceptions of success and common operational or productivity metrics (see figure 1 ).
Illustration of key themes.
Success is establishing trust
Trusting relationships were the most widely noted characteristic of success. Trust was described as both a product of case managers' consistent follow-up and helpfulness over time and a foundational step to enable progress on patient-centred goals. To build trust, case managers explained, patients must feel seen and heard, and understand the case managers' desire to help: 'Success is to know that she knows me very well…I look for her on the streets, and I'm waiting for her to call me back. Hopefully she knows that when she's ready I will be there at least to provide that resource for her and so it's that personal relationship that you build' (Case manager 11, social worker). Case managers also highlighted the longitudinal relationship required to establish trust, distinguishing success as more than one-time information delivery or navigating bureaucratic processes to procure services.
Case managers also identified trust as foundational to provide better support for patients: 'So they're as honest with me as they can be. That way I have a clear understanding about realistically what I can do to help them coordinate their care or link them to services.' (Case manager 2, mental health clinician specialist). Establishing trust was essential to improve communication with patients and produced an amplifying effect. That is, a case manager's initial help and follow-up builds trust so that patients can be more open, and open communication helps the case manager know what specific services can be most useful. This positive feedback loop further cements trust and builds momentum for a longitudinal relationship.
Permission to have a home visit was mentioned as a valuable indicator of early success in building trust: '(Your home is) your sanctuary', expressed one case manager (Case manager 29, public health nurse), acknowledging the vulnerability of opening one's home to an outsider. For another case manager, regular home visits in the context of a trusting relationship made the case manager aware of and able to address a difficult situation: 'Every time I was going to her home, I was noticing more and more gnats flying around… She said it's because of the garbage…' After establishing trust, the patient allowed the case manager access to the bedroom where the case manager uncovered numerous soiled diapers. The case manager arranged professional cleaning and sanitation through CommunityConnect, after which, 'there was room for a dance floor in her bedroom. There was so much room, and the look on her face, it was almost as if her chest got proud, just in that day. She didn't seem so burdened…So that's a success' (Case manager 4, substance abuse counsellor). Across multiple examples, case managers expressed trust as a critical element for effective patient partnerships.
However, the pathways to building trust are less clear cut. Quick wins through tangible support such as a transportation voucher to a medical appointment could help engage a patient initially. Yet case managers more frequently emphasised strategies based on relationships over time. Strategies included expressing empathy (putting yourself in the patient's shoes), demonstrating respect (especially when the patient has experienced disrespect in other health system encounters), keeping appointments, following through on what you say you will do, calling to check in and 'being there'. Overall, case managers expressed that trust lets patients know they are not alone and sets the stage for future success.
Success is fostering a change in patients' mindset or initiative
Case managers described a change in patients' mindset or initiative as evidence of further success. One case manager explained, 'Really (success) could be a switch in mind state… If I can get someone to consider addressing an issue. Or just acknowledging an issue. That's progress' (Case manager 24, substance abuse counsellor). Another case manager spoke to the importance of mindset by stating, 'what I try to do is not just change the surface of life'. This case manager elaborated, 'You help (a patient) get their housing and they're gonna lose it again, unless they change; something changes in their mindset, and then they see things differently.' (Case manager 6, mental health clinician specialist). Some case managers suggested that the supportive resources they provide are only band-aid solutions if unaccompanied by a changed mindset to address root causes.
Case managers reported that shared goals and plans are essential, in contrast to solutions identified by case managers without patient involvement. 'I can't do everything for them', expressed one case manager (Case manager 21, public health nurse), while others similarly acknowledged that imposing self-improvement goals or providing resources for which a patient may not be ready may be counterproductive. Rather, one case manager emphasised, 'I think it's really important to celebrate people's ideas, their beliefs, their own goals and values'. (Case manager 4, substance abuse counsellor). As an example, the case manager applauded a patient's ideas of getting a driver's license and completing an education certificate. In summary, case managers viewed success as a two-way street where patient's own ideas and motivation were essential for long-term impact.
Success is promoting stability and independence
Case managers also identified patients' stability and independence as a characteristic of success. One case manager stated, 'I define success as having them be more independent in their just manoeuvring the system…how they problem solve' (Case manager 30, public health nurse). Relative to the other characteristics of success, stability and independence more closely built on resources and services coordinated or procured by the case manager. For example, CommunityConnect provides cell phones free-of-charge to patients who do not currently have a phone or continuous service, which has helped patients build a network beyond the case manager: 'Once we get them that cell phone then they're able to make a lot of connections … linking to services on their own. They actually become a lot more confident in themselves is what I've seen'. (Case manager 23, substance abuse counsellor). In another example, a case manager helped a patient experiencing complex health issues to reconcile and understand various medications. For this patient stability means, 'when he does go into the emergency room, it's needed. … even though he's taking his medication like he's supposed to… it's just his health gets bad. So, yea I would say that one (is a success)' (Case manager 8, social worker). Thus, stability represents maintained, improved well-being, supported by care coordination and resources, even while challenges may still be present.
As a step further, 'Absolute success', according to one case manager, '(is when a patient) drops off my caseload and I don't hear from them, not because they're not doing well but because they are doing well, because they are independent' (Case manager 12, social worker). Patients may still need periodic help knowing who to contact but can follow through on their own. This independence may arise because patients have found personal support networks and other resources that allow them to rely less and less on the case manager. While not all patients reach this step of sustained independence and stability, it is an accomplishment programmatically and for case managers personally.
Success is patient-defined, built on individualised and incremental progress
Case managers widely recognised that success comes in different shapes and sizes, dependent on their patient's situation. Irrespective of the primary concern, many identified the patient's own judgement as the benchmark for success. One case manager explained, 'I define success with my patients by they are telling me it was a success. It's by their expression, it's just not a success until they say it's a success for them' (Case manager 7, social worker). In a more specific example, a case manager highlighted checking in with a patient instead of assuming a change is successful: 'It's not just getting someone housed or getting someone income. Like the male who we're working towards reconciliation with his parents… that's a huge step but if he doesn't feel good about it… then that's not a success.' The same case manager elaborated, 'it's really engaging with the knowing where the patient him or herself is at mentally, for me. Yeah. That's a success' (Case manager 18, homeless services specialist). This comment challenges the current paradigm where, for example, if a patient has a housing need and is matched to housing, then the case is a success. Rather, case managers viewed success as more than meeting a need but also reciprocal satisfaction from the patient.
Often, case managers valued individualised, even if seemingly small, achievements as successes: 'Every person's different you know. A success could be just getting up and brushing their teeth. Sometimes success is actually getting them out of the house or getting the care they need' (Case manager 28, social worker). Another case manager echoed, '(Success) depends on where they're at … it runs the gamut, you know, but they're all successes' (Case manager 10, public health nurse). CommunityConnect's interdisciplinary focus was identified as an important facilitator for tailoring support to individualised client needs. In contrast with condition-specific case management settings, for example, a case manager with substance abuse training noted, 'whether someone wants to address their substance use or not, they still have these other needs, and (with CommunityConnect) I can still provide assistance' (Case manager 24).
However, the individualised and incremental successes are not well captured by common case management metrics. One case manager highlighted a tension between operational productivity metrics and patient success, noting, 'I get it, that there has to be accountability. We're out in the field, I mean people could really be doing just a whole lot of nothing… (Yet), for me I don't find the success in the numbers. I don't think people are a number. Oh, look I got a pamphlet for you, I'm dropping it off… I don't think that that is what's really going to make this programme successful' (Case manager 8, social worker). One case manager mentioned change in healthcare utilisation as a marker of success, but more often, case managers offered stories of patient success that diverge from common programme measures. For example, one case manager observed, 'The clear (successes) are nice: when you apply for Social Security and they get it that's like a hurrah. And then there's other times it's just getting them to the dentist' (Case manager 28, social worker). Another case manager elaborated, 'It's not always the big number—the how many people did I house this year. It's the little stuff like the fact that this 58-year-old woman who believes she's pregnant and has been living outside for years and years, a victim of domestic violence, has considered going inside. Like that is gigantic' (Case manager 18, homeless services specialist). Overwhelmingly, case managers defined success through the interpersonal relationship with their patients within patients' complex, daily life circumstances.
Case managers' definitions of success focused on establishing trust, fostering patients change in mindset or initiative, and, for some patients, achieving independence and stability. Examples of success were commonly incremental and specific to an individual's circumstances, contrasting with programmatic measures such as reduction in hospital or emergency department utilisation, benefits and other resources secured, or productivity expectations. Study themes heavily emphasise the interpersonal relationship that case managers have with patients and underscore the importance of patient-centred and patient-defined definitions of success over other outcome measures.
Our results complement prior work on clinic-based programmes for complex patients. For example, interdisciplinary staff in a qualitative study of an ambulatory intensive care centre also identified warm relationships between patients and staff as a marker of success. 26 In another study interviewing clinicians and leaders across 12 intensive outpatient programmes, three key facilitators of patient engagement emerged: (1) financial assistance and other resources to help meet basic needs, (2) working as a multi-disciplinary care team and (3) adequate time and resources to develop close relationships focused on patient goals. 27 Our results concur on the importance of a multi-disciplinary approach, establishing trusting relationships, and pursuing patient-centred goals. Our results diverge on the role of resources to meet basic needs. Case managers in our study indicated that while connections to social services benefits and other resources help initiate the case manager-patient relationship, lasting success involved longer-term relationships in which they supported patients in developing patients' own goal setting skills and motivation.
An important takeaway from case managers' definitions of success is the 'how' they go about their work, in contrast to the 'what' of particular care coordination activities. For example, case managers emphasise interpersonal approaches such as empathy and respect over specific processes and resource availability. Primary care clinicians, too, have expressed how standard HEDIS or CAHPS quality metrics fail to capture, and in some cases disincentivise, the intuitions in their work that are important for high quality care. 28 29 Complex care management programmes must also wrestle with this challenge of identifying standards without extinguishing underlying quality constructs.
Strengths and limitations
This study brings several strengths, including bringing to light the unique, unexplored perspective of case managers working on both health and social needs with patients facing diverse circumstances that contribute to high-risk of future hospital or emergency department utilisation. The fact that our study explores perspectives across an array of case manager disciplines is also a strength, however a limitation is that we are unable to distinguish how success differed by discipline based on smaller numbers of each discipline in this study sample. Other study limitations include generalisability to other settings, given that all case managers worked for a single large-scale social needs case management programme. Comments around productivity concerns or interdisciplinary perspectives on ways to support patients may be unique to the infrastructure or management of this organisation. In addition, at the time of the study, all case managers were able to meet with patients in-person; future studies may explore whether definitions of success change when interactions become virtual or telephonic as occurred amidst COVID-19 concerns.
This study is the first to our knowledge to inquire about holistic patient success from the perspective of case managers in the context of a social needs case management programme. The findings offer important implications for researchers as well as policy makers and managers who are designing complex case management programmes.
Our results identify patient-directed goals, stability and satisfaction, as aspects of social needs case management which are difficult to measure but nonetheless critical to fostering health and well-being. Case managers indicated these aspects are most likely to emerge through a longer-term connection with their patients. Thus, while resource-referral solutions may play an important role in addressing basic needs, 30 our findings suggest that weak patient–referrer rapport may be a limitation for such lighter touch interventions. The need for sustained rapport building is also one explanation why longer time horizons may be necessary to show outcome improvements in rigorous studies. 16
Relatedly, results point to trusting relationships as an under-recognised and understudied feature of social needs case management. Existing research finds that patients' trust in their primary care physician is associated with greater self-reported medication adherence 31 along with health behaviours such as exercise and smoking cessation. 32 Similar quantitative results have not yet been illuminated in social needs case management contexts, yet the prominence of trusting relationships in this study as well as other sources 26 27 33 34 suggests that measures of trust should be used to complement currently emphasised outcomes such as inpatient and outpatient utilisation. Future research and programme evaluation will need to develop new trust measurement or modify existing trust measures for the social needs case management context. 31 35
In summary, study themes provide waypoints of how to conceptualise programme design, new staff training and potential measurement development for complex case management programmes like CommunityConnect. Despite the broad swath of social needs addressed, case managers coalesced on establishing a trusting relationship as a necessary foundation to appropriately identify needs and facilitate connections. Second, fostering patients' own ideas, including a change their mindset or initiative, was important to fully make use of programme resources. Third, supporting new-found independence or stability was a gratifying, but not universally achieved marker of success. Commonly, case managers highlighted moments of success with mindfulness toward small victories, illuminating that success is non-linear with no certain path nor single end point. Themes emphasise the importance of bringing compassion for the complexity in patients' lives and developing collaborative relationships one interaction at a time.
Acknowledgments
The authors would like to thank the CommunityConnect evaluation team for their support conducting and transcribing interviews and applying preliminary coding, especially Gabriella Quintana, Alison Stribling, Julia Surges and Camella Taylor.
Contributors: MK coded and analysed qualitative data, identified key themes and related discussion areas, and drafted and critically revised the manuscript. EEE conducted interviews, coded and analysed qualitative data, and drafted and critically revised the manuscript. EH developed the study instrument, conducted interviews, supervised data collection, contributed to the data interpretation and critically revised the manuscript. MDF contributed to the interpretation and critically revised the manuscript. NS contributed to the interpretation and critically revised the manuscript. ALB contributed to the design and interpretation and critically revised the manuscript. All authors approve of the final version to be published.
Funding: MK was supported by the Agency for Healthcare Research and Quality (AHRQ) under the Ruth L. Kirschstein National Research Service Award T32 (T32HS022241). MDF was supported by the Agency for Healthcare Research and Quality, grant # K01HS027648.
Disclaimer: Its contents are solely the responsibility of the authors and do not necessarily represent the official views of AHRQ. Funding had no role in the study's design, conduct or reporting.
Competing interests: None declared.
Patient and public involvement: Patients and/or the public were not involved in the design, or conduct, or reporting, or dissemination plans of this research.
Provenance and peer review: Not commissioned; externally peer reviewed.
Data availability statement
Ethics statements, patient consent for publication.
Not applicable.
Ethics approval
This study involves human participants and was approved by Contra Costa Regional Medical Center and Health Centers Institutional Review Committee (Protocol 12-17-2018). Participants gave informed consent to participate in the study before taking part.
Study at UniSA
Study and career areas
How to apply
Entry pathways
Scholarships
Student accommodation
Postgraduate study
UniSA Online
What can I study?
Research projects
Why UniSA for a PhD
Executive Education and short courses
New students
Academic calendars
Teaching and Learning
Student placements and internship
Student support
Student exchange
UniSA Sport
Graduations
Regional students
Services for schools
Aboriginal students
Our research impact
Research excellence
Research fellowships
Research institutes
Research centres
Centre for Cancer Biology
Other research
Research volunteers
Images of research and teaching
Industry sectors
Enterprise Hub
Innovation & Collaboration Centre
UniSA Ventures
I want to...
Collaborate on research
Access business development opportunities
Discover university IP
Find a research expert
Study a research degree
Business development & growth
Collaborative research
Workforce planning
Professional development & training
Engage with UniSA
Industry and partnerships
Adelaide Planetarium
Architecture Museum
Kerry Packer Civic Gallery
Samstag Museum of Art
SASA Gallery
Community Clinics
Giving to UniSA
The Hawke Centre
Working at UniSA
Media Centre
Access business support opportunities
Set up a collaborative research partnership
Connect with UniSA students and graduates
Support UniSA
City West campus
City East campus
Magill campus
Mawson Lakes campus
Mount Gambier campus
Whyalla campus
Transport and parking
Study information sessions
Community clinics
Museums and galleries
Sport and fitness facilities
Campus security
Hire UniSA facilities
Disability hub
IT services for visitors
Teaching and learning facilities
About UniSA
Mission, vision and values
Our history
University achievements
Excellence in Research for Australia (ERA)
Honorary Doctorates
Policies and procedures
Publications
Strategic action plan (Enterprise 25)
Global engagement
Regional engagement
Aboriginal engagement
University Council
Provost and Chief Academic Officer
Senior staff
Research leadership
Academic Units
Vice Chancellor and President
Vacancies at UniSA
SAGE Athena SWAN Pilot
Contact information
Login Staff Students Alumni
Case Management
Course Level Undergraduate
Course information
Area/Catalogue WELF 3015
Offered Externally Yes
Note: This offering may or may not be scheduled in every study period. Please refer to the timetable for further details.
Course ID 013131
Unit Value 4.5
University-wide elective course Yes
This class has not been timetabled for year 2024.
Course owner UniSA Justice & Society
To develop students' ability to critically analyse case management approaches to the delivery of human services and to plan and manage interventions from a case management perspective.
Course content
Students will develop advanced knowledge of the definitions, characteristics and processes of case management, the influences on its historical development and practice models and critical issues and ethical dilemmas in case management. Students will use cognitive and analytic skills to develop their understanding of organisational, worker and professional perspectives, consumer and carer perspectives, the process of case management and the difference between case management and other service delivery approaches.
Textbook(s)
Guransky, D., Kennedy, R. and Camilleri P. 2012, The Practice of Case Management , 1st Edition, Allen and Unwin, St Leonards, NSW
Prerequisite(s)
The listed prerequisite courses OR appropriate prior knowledge as determined by the Course Coordinator.
Corequisite(s)
Teaching method.
Note: These components may or may not be scheduled in every study period. Please refer to the timetable for further details.
Essay, Learning log/Journal
EFTSL*: 0.125 Commonwealth Supported program (Band 4S) To determine the fee for this course as part of a Commonwealth Supported program, go to: How to determine your Commonwealth Supported course fee. (Opens new window)
Fee-paying program for domestic and international students International students and students undertaking this course as part of a postgraduate fee paying program must refer to the relevant program home page to determine the cost for undertaking this course.
Non-award enrolment Non-award tuition fees are set by the university. To determine the cost of this course, go to: How to determine the relevant non award tuition fee. (Opens new window)
Not all courses are available on all of the above bases, and students must check to ensure that they are permitted to enrol in a particular course.
* Equivalent Full Time Study Load. Please note: all EFTSL values are published and calculated at ten decimal places. Values are displayed to three decimal places for ease of interpretation.
Learning resources for this course
Course Coordinators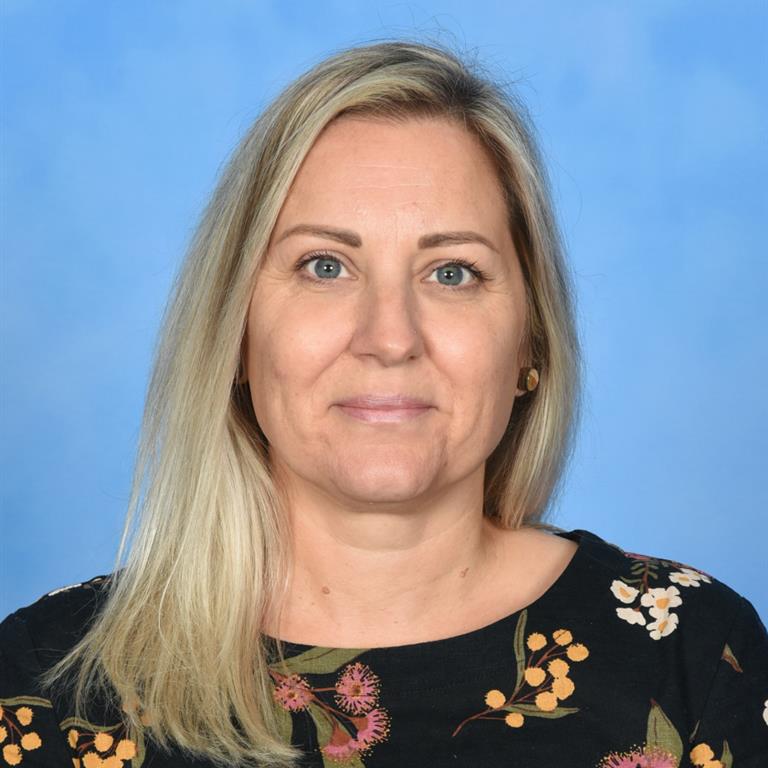 Degrees this course is offered in
MBSS Bachelor of Social Science (Human Services (Mount Gambier))
MBSS Bachelor of Social Science (Human Services (Whyalla))
MBSS Bachelor of Social Science (Human Services)
MBSR Bachelor of Social Science (Human Services), Bachelor of Arts
MBSP Bachelor of Social Science (Human Services), Bachelor of Psychology
Checking your eligibility
Australian students
Phone: +61 8 8302 2376 Enquiry: unisa.edu.au/enquiry
International students
Phone: +61 8 9627 4854 Enquiry: unisa.edu.au/international/enquiry

Planning on Taking the CCM Exam?
You have come to the right place, join the nearly 10,000 people who, have passed the ccm exam, using our resources, here are just a few of our success stories, (looking forward to adding your testimonial soon).
Deanna's book, study guide, website were extremely instrumental in my success on the CCM exam! They helped me focus on the important information and encouraged me to relate the material to personal experience.
I highly recommend her book and accompanying material for a cost-effective, comprehensive avenue to success! 
"I found this website the night before I took my exam. I wish I had found it earlier. I have shared it with a friend who will be testing next week and demanded she study from it.
I never leave reviews, but I have to tell you that this site was incredibly helpful. If I had found your book earlier I would have purchased it but it looks newly released. I will share this site and your book information with anyone taking the exam.
Thank you so much for doing this, making it accessible, and not charging an arm and a leg to have the same advantage of anyone. BTW, I passed!!!! Thank you again."
The author for this book is so helpful! The book and her website are key and a budget friendly way to pass. She's really passionate about this so much so that when I email her with a question she answers- basically she comes with the purchase of the book lol. She genuinely cares about the success of case managers and you can see it from the verbiage in the book and site.
You can't go wrong with this book because its helpful in preparing for certification and a good resource to have. .P.S. its a easy read, its not heavy like a textbook its like a workbook so u can study on lunch at work and her site has the kindle download which I used to read while walking on the treadmill. .yea I'm a mess lol
I just passed my Case Management exam on April 27th, 2017  I am still in shock as my CM experience has been quite out of the box with a lot of preventive and wellness CM.  I think to say I was green to most of the information that would be required of me to pass this exam would be an understatement.  I had six weeks from the time I received the yes to write the exam from the Board.
I found Deanna and the Case Management Study Guide.  Deanna spoke with my on the telephone and told my how to set up a study plan with her information   I did following advice it to the tee.  I also called other times to ask many questions and Deanna returned all my calls right away answering all my questions with such a positive attitude.  She made me feel no question was silly to ask and that was a great comfort to me.
I want to let anyone out there know that if you are writing the CM I would HIGHLY recommend purchasing Deanna's workbook and attending all her free online tutorials.  She and her book are the reason I can say today I'm a CCM and know can look for the jobs I have always wanted.
I am so Grateful to Deanna and her Team.  To know there are people out there that really care and do their very best to help others is a huge blessing.
Thank you, Deanna and Team, at Case Management Study Guide!
"Hi, I want to thank you again for sharing your website with nurses who are studying for their CCM. I have told many of my colleagues who are studying and may whom have already passed have used the site. They have all thanked me and I'm passing it along to you.
I am hearing that this information is all that is needed and the information you have here is what is on the test. We all appreciate your hard work and dedication."
The Exam Overview Page in my opinion the best place for you to start. This will help you to better understand the CCM Exam, and the content covered on the exam.
The Case Management Knowledge Domains area is where you will find my notes on each of the areas covered on the exam.
Purchase Your Copy of CCM Certification Made Easy Now!!!
Click Here to Purchase From Our Site
Already A Student ?
Developing the Case Management Workforce
Learning to Fit Your Lifestyle
On-Demand, Live, Online at Your Own Pace, we have it all.
Expert Instructors
Learn From Industry Experts Who are Passionate about their Teaching.
Learn Anywhere
Your Laptop or Tablet becomes Your Classroom
Foundations of Case Management Courses:
Read More...
Enroll Now...
Case Management Certification Prep Courses:
Check Out Our Other Resources
Read More Articles...
Click to Join...
About Case Management Institute
The Case Management Institute provides training and resources
to develop the Case Management workforce.
CMI's Mission
Case Management Institute provides case managers and future case managers with professional development, education, training, resources, networking, and support to advance their careers, serve their clients, and practice case management with excellence.
At CMI, we promote integrity in the practice of case management aligning with accreditation and certification standards through our training and education. We strive to advance the understanding of the practice of case management to healthcare professionals and promote goodwill and collaboration between case managers of various settings and disciplines for the benefit of our clients.
We strive for the 5 E's in all of our interactions, products, and services.
I find myself really enjoying the book and actually looking forward to my quiet time to read it! I don't usually feel that way about study guides but I love the way yours is done . Thank you too for the larger print! My vision at 53 isn't what it used to be so I truly appreciate that! It's very useful in my job to have that extra understanding of how things work.
Grace Schellinger
I took the December Exam and passed on my first attempt. I am an RN with solely bedside nursing experience and felt very intimidated when I started thinking of taking the exam. I used Deanna's online resources including the CCM Certification Made Easy book and found it provided information to be precisely what I needed for the exam. Thank you Deanna for being such a great and helpful resource for those taking on the new role as Case Managers!
Nichole Quam
The Foundations class provides an overall panoramic view of case management. Although I have worked in different nursing I was not always entitled to truly understand what the case management area was and how I provided services in those area. This class offered so much , explaining different types of case management settings, explaining the What and the Why of each area. Providing hands on questions to reinforce the education provided. I loved it .
Althea Jones Barnes
Sign up below to be notified when our courses are open for registration!
Copyright © 2016 - 2023 Case Management Institute, LLC
5753 Highway 85 N #4101, Crestview, Florida 32536
About Us | Contact Us | Disclaimer | Privacy Policy | ToS | Refund Policy | Articles
Research & theory
What is case management a scoping and mapping review.
Michael Millington
Luis Salvador-Carulla
Michael Millington , University of Sydney, Australia
Luis Salvador-Carulla , University of Sydney, Australia
The description of case management in research and clinical practice is highly variable which impedes quality analysis, policy and planning. Case management makes a unique contribution towards the integration of health care, social services and other sector services and supports for people with complex health conditions. There are multiple components and variations of case management depending on the context and client population. This paper aims to scope and map case management in the literature to identify how case management is described in the literature for key complex health conditions (e.g., brain injury, diabetes, mental health, spinal cord injury). Following literature searches in multiple databases, grey literature and exclusion by health condition, community-based and adequate description, there were 661 potential papers for data extraction. Data from 79 papers (1988–2013) were analysed to the point of saturation (no new information) and mapped to the model, components and activities. The results included 22 definitions, five models, with 69 activities or tasks of case managers mapped to 17 key components (interventions). The results confirm the significant terminological variance in case management which produces role confusion, ambiguity and hinders comparability across different health conditions and contexts. There is an urgent need for an internationally agreed taxonomy for the coordination, navigation and management of care. 
Page/Article: 2
Accepted on 26 Sep 2016
Published on 19 Oct 2016
Peer Reviewed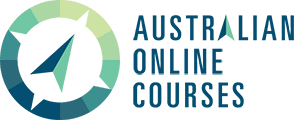 More results...
Certificate of Case Management
Print brochure
ENROL & START TODAY
* ts&cs apply.
Best Value Option
12 Months Access
If you currently work, or aspire to work, as a case worker in aged care, community care, disability, mental health, drugs and alcohol or homelessness support services, this course is ideal professional development for you.
The Certificate of Case Management is an online professional development program that will give you the knowledge and skills required to perform effectively as a professional case worker, across a variety of settings within the social and community services industries.
In this case management course you will learn how to provide case management to clients and discover the case planning framework. You will discover case management standards and models, statutory requirements, and how to manage case work activities and processes effectively.
You will also learn how to facilitate all aspects of case management planning, learn how to manage complex and high risk situations and critical incidents, provide advice on practical issues relating to case management and coordinate complex case requirements.
On completion of this course you will feel confident to facilitate case management planning across a diverse range of social and community service industries.
Course Structure
Unit 1 - Complex case requirements
Case management standards
Models of case management
Formal behaviour support
Services for families and carers
Case action plans
Client goals
Statutory requirements
Community-based case management
Case coordination
Standards of care
Care meetings
Monitoring client progress
Accountability to funding bodies
Accessible service delivery
Problem solving
Family structure and dynamics
Unit 2 - Develop and facilitate case management
Conduct case management meetings
Decision making
Planning meetings
Organisational boundaries
Client rights
Disability legislation
Define and explore individual needs
Family and community needs and rights
Duty of care
Approach to case management
Implement statutory requirements
Facilitate client setting of goals
Cultural consideration
Rights of appeal
Develop a case management plan
Facilitate and monitor case management
Complex and high risk situations
Critical incidents
Manage case work activities and processes
Case review
Elements of negotiation
Client preparation for closure
Impact on the client and family
Recording requirements
Unit 3 - Provide case management supervision
Promote practice standards (CMSA)
Primary goals of case management
Continuous improvement
Consistent case management
Training and development strategies
Case work / care plans
Best practice principles
Support plans
Law and Ethics
Provide support, advice and direction
Casework meetings
Cultural safety
Protocols (customs, laws and expectations)
Consultation and negotiation processes
Specialist practice knowledge
Coaches and mentors
Legislative provisions
Professional negligence
Case plan assessment and monitoring
Collecting and utilising information
Update workers on changes
Good consultation practice
Communication
Escalate and refer client issues
Referral process
Support services
Supervision meetings
Performance appraisals
Job standards
Unit 4 - Assess co-existing needs
Assessment tools and processes
Client needs
Assessments types
Gather existing information about the person
Additional information from specialists and other sources
Range of issues that may be affecting the person
Practical aspects of assessment
Provide information about the assessment process to the person
Obtaining clients consent
Analyse the person's needs using a collaborative approach
Work within scope of own role
Seek assistance from colleagues and experts
Prioritising and evaluating client needs
Appropriate language, questioning skills and listening skills
Empathy and co-morbidity
Complex needs assessment tools
Urgency and eligibility
Risk of violent behaviour and suicide
Identify and analyse complex, multiple and interrelated issues
Empower the person to identify and prioritise their own needs
Evaluate needs based on full range of relevant information
Determine appropriate services
Referral options from strengths-based perspective
Referral procedures and forms
Evaluate internal capability
Networks to determine best fit for the person
Provide the person with service information
Support their decision making process
Encouraging self-advocacy
Complete reporting
Document the outcomes of the assessment process
Organisation procedures
Maintain and store the person's information
Confidentiality requirements
Consent and confidentiality requirements
Evaluate assessment and referral processes
Feedback about assessment processes
Monitor processes and their outcomes
Reflecting and improving
Routinely seek feedback
Reflect on own performance
Use feedback and own evaluation as a basis for improving processes
Study Hours
Estimated duration 60 hours
Course Delivery and Start
Start anytime, self-paced and 100% online
Assessment will be comprised of written exercises, including short-answer questions, reflective tasks, short reports and/or projects. There are no examinations or due dates for assessment. As a result, you can complete training in your own time and at your own pace with the assistance of unlimited tutor support.
Testimonials
It was really amazing. while i am in the same job field, i can relate to each and every situation in my real-life job. i will be planning for another job as soon as i receive my certificate..
H. Jariwala, Box Hill, VIC | Certificate of Case Management 
I had a great experience, the valuable knowledge that I gain will be transferred to my work
Z. AlSadah, Saudi Arabia | Certificate of Case Management
Informative information delivered structurally well generally. Some repetition, but this was effective in learning and absorbing information.
A. Morgan, Yeerongpilly, QLD | Certificate of Case Management
Great information and teachings, had to ask questions to my online tutor excellent help. Will most definitely be studying with these guys again, love it.
S. Ruback, Mungar, QLD | Certificate of Case Management
Studying with Australian Online Courses gave me the flexibility to complete field studies, tasks and assignments in my own time. I did not feel pressured at any time during my course to submit work until I was completely satisfied with my work. The course material was well presented and easy to follow. I would highly recommend Australian Online Courses to anyone who is looking to undertake online study with such a helpful and professional organisation. Thanks again.
I have experienced: i) Extremely efficient online learning. ii) Quick marking 'turn-around' times. iii) Tutors who have been wonderfully approachable and helpful with any queries and concerns regarding course enrollment, assessments and/or subject matter. Overall, I am very satisfied with learning via Australian Online Courses. Thank you.
Fantastic experience and was able to gain lots of knowledge.
I have learnt a lot from this course. This course has helped me to manage my anger issues and look at things from a different perspective. I have learnt that my anger and the behaviour can affect others. I have learnt new ways on controlling and managing my emotions and anger. This is the first time i have attended an anger management course. I wish I had done this course earlier.
The course content was relevant, interesting and appropriately paced.
My experience was Australian Online Courses was excellent. I could complete the work at my own pace using the provided materials which were in a easy to access spot. The education has helped me formulate ideas for progressing a project I am currently trying to develop. Overall I am very satisfied with what I have experienced.
It was a very informative platform. The study material is very useful and assignments are practical based real life situations. I learned a lot and I try my best to improve myself with the help of this course.
I completed this course to develop my knowledge and skillset in policy development in hopes of progressing my career. Online study works best for me to allow me to continue working full time, and studying when it suits me. Assessments were marked quickly, and the content was engaging and beneficial. Thank you to AOC
I enjoyed studying and I'm going to enroll for another course. The tutor was great and it was easy to understand.
The best institute I have ever come through. Looking forward to enrolling in few other courses for a refresher.
I was grateful to be able to study at my own pace, so I could stop and start when I chose and be able to keep up with other commitments. I also appreciated the tutors responding to my queries in a timely manner.
I have thoroughly enjoyed completing this course. I've learnt many valuable new skills, which will assist me in advancing my career. Thank you!
It was amazing experience to do online course with this organisation. Everything comes very smooth and the portal is very user friendly.
loved studying Australian Online Courses. The fact that you are able to complete the course and assessment in your own time is amazing! I started this course when I was heavily pregnant with my first child and have now completed it 6 months after he was born due to the fact that it is at your own pace!
I absolutely loved it! It was easy to pick up so that I could learn and start a new career.
AOC was great. Study content was great and gave me all necessary information to complete the assessments and also gain a great understanding of the units. I also dealt with AOC support to extend my course and it was such an easy process and I was so glad to be able to do that without any issues.
I loved my experience studying with Australian Online Courses.
Amazing learning opportunity, I love that I can complete the course at my own pace. The learning and the assignments provided me with a lot of insight and knowledge for my future career.
My experience for studying with Australian Online Courses was excellent. All the information supplied to me was easy to understand. I would definitely come back to you to study another course if needed, in the future. Highly recommend.
My experience with Australian online courses has been fantastic, I would highly recommend them to everyone I know. Professional and extremely helpful staff make studying online so much easier. I definitely would chose to study with Australian Online Courses again.
A Certificate of Attainment and Statement of Results will be issued upon successful completion of this course.
How to Enrol
Enrol Online: Click Add to Cart/View Cart on the course page.
Enrol via Live Chat (Business Hours)
Enrol via Telephone 1300 76 2221 (Business Hours)
Enrol via Purchase Order/Tax Invoice
Enrolling Multiple Staff?
To enrol multiple staff, please complete the  Employer Enrolment Form.  We'll be in touch within 60 minutes during business hours!
Payment Options
Visa, Mastercard, BPAY and Direct Deposit.
Course FAQs
Why Choose Australian Online Courses?
Professional development that is widely recognised and respected;
Improve your employment opportunities;
Study online, anywhere via our elearning system;
High-quality professional development programs written by industry experts;
All course materials provided online – no textbooks to buy;
Unlimited tutor support via email;
We offer twelve (12) months' access, with extensions available upon application (fees apply);
Course may be tax deductible; see your tax advisor.
Are there any entry requirements or pre-requisites?
There are no course or subject pre-requisites for entry into our programs. However, our professional development programs are generally intended for people over the age of 18. In some circumstances, enrolments from younger people may be considered. Please complete the  AOC Parent Guardian Consent Form  prior to enrolling and  submit here .
When can I start this course?
You can start within 60 minutes during business hours when you enrol and pay in full with a credit card!
Credit card : Within 60 mins during business hours.
BPAY : Within 1-2 working days.
Internet Banking : Within 1-2 working days.
Cheque/Money Order: Upon receipt of mailed cheque.
How is this course delivered?
This course is delivered online via our easy-to-navigate Learning Management System (LMS), where you will discover interactive online learning/written content, resources and assessment.
Do I need to attend classes or undertake any work placements?
No. All courses are delivered online via our LMS and there are no work placement requirements in this course.
What support can I expect from Australian Online Courses?
Unlimited tutor support is available throughout your studies via email only during business hours Monday to Friday. Our Administrative team are available Monday to Friday via email, live chat and telephone.
I am an international student. Can I enrol into this course?
Yes! We accept enrolments from individuals both within Australia and internationally; location is no barrier to entry into our programs.
Career Pathways
Future growth
Unemployment
Case Manager Consultant
Case Management Assistant
Case Management Specialist
Related Blogs
10 Must-Read Books to Inspire Your Success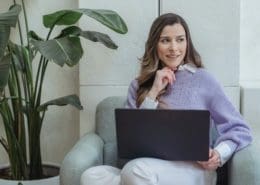 Work in Community Services With a Case Management Course
Be an Advocate For Youth With Our Child Protection Course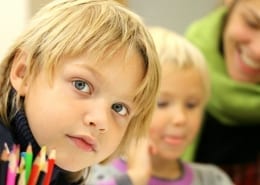 Child Protection – Let's Make It Everyone's Business.
Contact a course consultant.
First name *
Last name *
Mobile Number *
Email address *
Course Details Please specify the course/s you are interested in.
Please call me.
How did you hear about us? * How did you hear about us? Google Linkedin Facebook Referral Other
Yes, please send me AOC news, events and exclusive offers.
Please select your State Please select your State NSW/ACT VIC SA QLD NT WA TAS International
Find your new direction today!
1300 76 2221.
Phone 1300 76 2221
Terms and Conditions     Privacy     Sitemap
© 2023. All Rights Reserved   |    ABN: 67 625 541 639     |    Site by GO Creative

Online Degree Explore Bachelor's & Master's degrees
MasterTrack™ Earn credit towards a Master's degree
University Certificates Advance your career with graduate-level learning
Top Courses
Join for Free
How to Become a Certified Case Manager
Earning a case manager certification can help to advance your career. Certified case managers tend to have more job options and make more competitive applicants.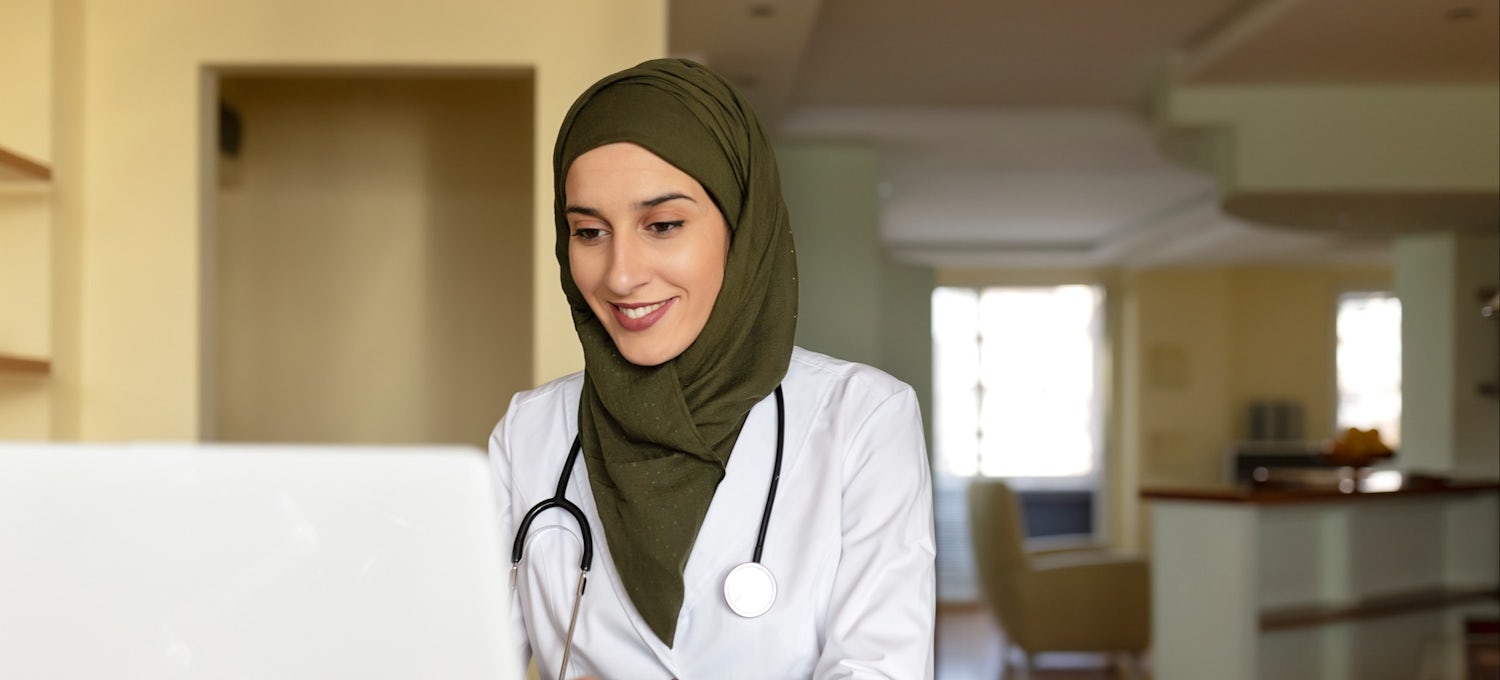 Becoming a certified case manager is a great way to advance your career if you work as a nurse, a social worker, or in another relevant position. You'll also have a more significant role in helping others by becoming an advocate for their needs, whether that's health care, housing, rehabilitation, counseling, a job, or anything else that might help them improve their lives and become more independent.  
Most case managers need a bachelor's or master's degree and work experience before becoming certified. Your employer may require case manager certification, but even if they don't, it will look good on your resume, help make you a more competitive job candidate, and help you prove you have the skills to tackle this rewarding and exciting career.
Read more: Your Guide to Social Work Degrees
What does a case manager do?
Case managers work in social and medical services to help people get what they need to help improve their lives. This usually starts with meeting with a patient and sometimes their families or loved ones and determining what they need, whether it's medical care, a place to live, home health care, rehabilitation, or more. 
As a case manager, once you determine a patient's needs, you'll work with them or their loved ones to devise a plan to achieve that goal within the parameters set by a third party, like a hospital, health insurance company, or rehabilitation center. At times, this might mean advocating for your patient and connecting with them and where they need particular services. As they progress, you'll continue to oversee their care and services and, hopefully, see them to their ultimate goals. Those goals will look different for everyone, but they usually involve ensuring they are physically and mentally fit enough to take control of their lives.  
Many case managers work with patients who have severe medical needs. You may find yourself working with patients who need a hospital, long-term nursing care, home health, help with substance abuse, rehabilitation after long-term medical care, or help with mental illness. You might work with developmentally disabled adults looking for a job or various types of therapy, or you might work with children who need support after a traumatic experience. You may find yourself working for a health insurance company, a correctional facility, a school, a law firm, or a nursing home.  
To become a case manager, you'll typically need a bachelor's degree, usually in nursing or social work, though a similar field may also be acceptable. Even if you earn a degree in a non-related field, you can always go back and take some social work courses or even earn your master's degree in social work. Some jobs may require you to have an advanced degree. 
Once you finish your education, you'll need to gain some relevant experience. Many students choose to do this through an internship. You can also do this by applying for entry-level jobs in social services. Most case managers work as social workers or registered nurses before advancing their careers to become case managers. One of the best ways to advance your career is to obtain a case manager certification. You usually need a certification to become a case manager, depending on where you want to work and the state where you live. 
How do you go about getting certified?
If you currently work as a social worker or registered nurse and want to become a case manager, you'll need a case manager certification in most states. You can choose from a few different certification options, each with unique requirements. In most cases, you'll need to prove you have the relevant education and experience to meet eligibility criteria and then complete an exam. Once you become a certified case manager, you can maintain your credentials through continued education and certification renewal. Your state may also require some sort of licensure.
Which certification should you choose?
No one direct path leads to becoming a certified case manager. Several options are available to you, but whether or not you qualify for them depends on your background. For example,  ANCC Nursing Case Management certification is only for people who have worked as registered nurses. Let's look at three of the most common case manager certifications.
The Commission for Case Manager Certification (CCMC) offers what many call the industry standard certification for caseworkers. The Case Manager Certification (CCM) is the longest-standing certification recognized by most organizations. According to the CCMC, 58 percent of employers will pay for their employees to become certified, and nearly half require their employees to have the certification. Eighty-eight percent of case managers with the certification say it has helped them improve their careers [ 1 ]. 
There are a few options to consider when evaluating the requirements for the CCM certification. You must be licensed as a registered nurse, pharmacist, or clinical social worker. Alternatively, you'll need a bachelor's or master's degree in a health and human services field, such as social work or nursing. You'll also qualify if you have relevant certification, such as Certified Rehabilitation Counselor or Disability Management Specialist. In addition to your educational background, you'll need to prove that you have 12 months of full-time case management experience supervised by someone who is a CCM or 24 months of full-time case management experience not supervised by someone who is a CCM. Having 12 months of supervisory experience managing other case managers is also acceptable. 
If you're self-employed, you'll have to provide at least three references of organizations having used your services. And finally, you'll need to answer a list of questions to prove you are of good moral character. The questions involve topics like breaking the law and suspension from past jobs.  
Another option is the Accredited Case Manager (ACM) certification offered by the American Case Management Association (ACMA). This certification is typically for case managers in hospitals and other health care settings, and it's only open to people who already work as social workers or registered nurses. If you're a registered nurse, you must prove that your license is in good standing. If you're a social worker, you must prove you have a relevant bachelor's or master's degree from an accredited school or a license in good standing. 
In addition to your education, you'll need some work experience. At a minimum, you'll need one year or 2,080 hours of work experience as a case manager in a health care delivery system. The work must be paid, supervised, and fall under the organization's "Case Management Functions and Expectations." You must provide your supervisor's contact information if you have less than two years of experience.  
The American Nurses Credentialing Center (ANCC) certification is only open to people who are already registered nurses.  The certificate is geared towards nurses who want to advance their careers and become nursing case managers, and it has both employment and licensing requirements:
You must have a current registered nurse's license in good standing in your state or territory.
You must have worked as a registered nurse for at least two years. 
You must have at least 2,000 hours of clinical work in the nursing case management field within the last three years, and you must have completed 30 hours of education in nursing case management within the previous three years. 
What jobs can you have with a case management certification?
The jobs you can get with a case management certification vary from state to state and organization to organization. Your background, education, work experience, and what you want to do in the future will also impact where you can go with specific case manager certifications. In many cases, certificates help nurses and social workers become case managers or they might help someone who already works in case management become a supervisor or leader within their field or organization.
Some common types of case managers include:  
• Hospital case managers
• Nursing case managers
• Clinical case managers
• Medical case managers
• Home health case managers
• Prison case managers
• Correctional case managers
• Juvenile case managers
• Legal case managers
• Child case managers
• Geriatric case managers
• Emergency shelter case managers
• Homeless shelter case managers 
• Housing case managers 
• Mental health case managers
• Developmental disability case managers
• Health insurance case managers
One of the best ways to prepare for a career as a case manager is to take a course or earn a degree in social work. On Coursera, you'll find offerings from some of the top institutions in the world, like the Social Work Practice: Advocating Social Justice and Change course available via the University of Michigan. 
Article sources
Commission for Case Manager Certification." Get Certified , https://ccmcertification.org/get-certified." Accessed April 26, 2023. 
This content has been made available for informational purposes only. Learners are advised to conduct additional research to ensure that courses and other credentials pursued meet their personal, professional, and financial goals.
RUB 1 unlocks unlimited opportunities
For a limited time, get your first month of Coursera Plus for RUB 1 .
Get unlimited access to 7,000+ courses from world-class universities and companies like Google, Microsoft, and Yale.
Build the skills you need to succeed, anytime you need them—whether you're starting your first job, switching to a new career, or advancing in your current role.

CMSUK Study Day: Introduction to Case Management
Cmsuk are delighted to announce that the above study day has been organised for wednesday 29th march 2017, sponsored with thanks by:.

Please Note:
This is an event specifically designed for people just beginning their career in Case Management or for those considering it as a career change, not for experienced Case Managers.
This is an event to provide an overview of the Case Management role. No business advice for setting up independently will be provided.
CMSUK are pleased to present this study day which will explore the fundamentals of Case Management.
The speakers for this event will be current or past members of the CMSUK Board: Carole Chantler & Jo Evans.
Learning Aims:
To gain an understanding of the Case Management process
Applying the Standards of Practice and Code of Ethics to Case Management Practice
To gain an undertstanding of the forthcoming educational pathway being developed to more clearly define the skills required of a Case Manager
Speaker Profiles:
Carol Chantler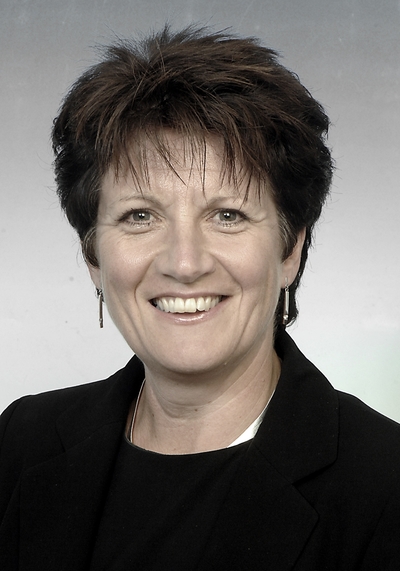 Since the late 1990's Carole has been located in the UK, she developed and was a director of a Case Management company, employing, training and managing case managers working in Personal Injury and Employers liability cases. In 2004 Carole worked as a Rehabilitation and Treatment Manager for a Claimant law firm, coordinating rehabilitation needs for Claimants with complex injuries.
Carole worked for defendant law firms for 9 years as a medical relationship manager working with all parties to promote and expedite rehabilitation for Claimants. In 2011 she took on the role of Clinical Director for DWF LLP. She left DWF on in August 2016 and set up Carole Chantler Ltd.
Carole was on the working party that formed the Case Management Society of UK. She was Chair Person of CMSUK from 2007-2011 and remains as a director and active committee member of this organisation. She is also a member of a joint committee with members of BABICM, VRA and CMSUK developing an educational pathway for case managers.
Carole has her Masters in Case Management and in 2011 she was awarded the Post Magazine Individual Outstanding Achievement Award for work in rehabilitation.
With her knowledge of case management and rehabilitation Carole has participated in a number of industry judging panels. Carole is a member of the IUA/ABI Rehabilitation Working Party for rehabilitation and participated in the review of the Rehabilitation Code. She chaired the CAT committee for the review of the Rehabilitation Code which was published in 2015.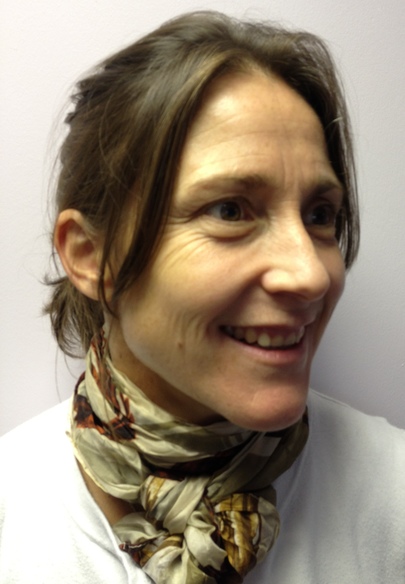 Jo has been an Occupational Therapist since 1990. She has worked throughout the UK and in the USA. Her work history has spanned adults with learning disability, orthopaedics, acute and longer term management of people with neurological conditions. Particular area of interest has been working within the field of brain injury. Having left working with the NHS in 2002 Jo moved into working with the private sector, treating and co-ordinating B I treatment within the community. In 2010 Jo progressed her ambition to develop a case management company working with like minded professionals based in Southport providing a national cover.
Venue: Irwin Mitchell, 40 Holborn Viaduct, London EC1N 2PZ
Timing: Registration 9:30am - 10am Study Day will finish at 3:30pm
Price: £ 50 Members & NHS £75 non members 20% discount available for Corporate Members
Attendees: Anyone who has started working in case management within the last year or who is thinking about going into Case Management.
Programme: Please CLICK HERE to view the full programme of the day.
BOOKING: Bookings are now taken online (See below prompt button). Please note, to book at member price you will need to be able to login to the website as a member and will require your email address and password. If you need help to login please contact us Tel: 0333 2070755 or email: [email protected]
Request a Callback
Modal title.
Modal Content