CALL US: (561) 459-5053
Email Us: [email protected]
The Ultimate Guide for Medical Manuscript Writing
Post author By Dr. Karen Vieira
Post date June 15, 2020
Medical Manuscript writing can be overwhelming, but there are some tried-and-true techniques and creative tips that can dramatically simplify the process.
We mined the literature for strategies plus revealed some tricks from our seasoned writers to help you get your manuscript written and published.
In this document, we focused our attention on manuscripts since they are one of the most common types of medical writing . However, these are techniques that can be useful for any medical writing project.
What is good medical manuscript writing?
When you're writing for a scientific audience it's important to write with three C's in mind:
Clear: Don't be ambiguous or leave anything to the imagination.
Concise: Use brief, simple language and avoid repetition/redundancy.
Correct: Be accurate, and don't overstate the significance of your results.
Good medical writing is never more complicated than it needs to be.
Make it easy for your audience by keeping your language clear and simple.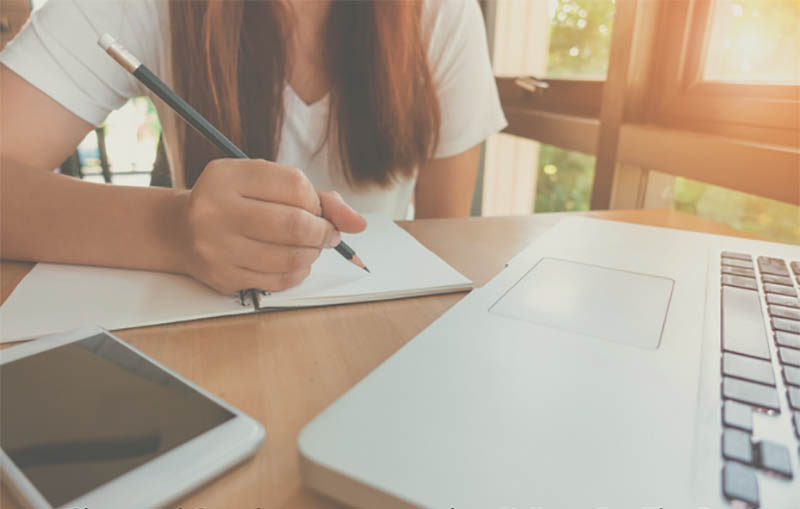 How is medical writing different?
Many people want to know how writing healthcare blog topics is different from other types of writing. The answer is simple: it isn't.
Good writing has a goal and a target audience and they will influence how you write, regardless of what you're writing. A good manuscript is rooted in a good story.
Even data-driven medical texts can be delivered in an engaging way. Most of us can think of examples of stand-out papers in our field of expertise.
At their best these papers are entertaining and thought-provoking even while they deliver complicated, data-heavy material.
Make an Outline for your Manuscript
Before you start writing you need to have a clear understanding of the type and scope of your writing.
For example, consider exactly what you are writing. Is it a case study, textbook chapter , or literature review? These distinctions have important implications for how you craft and present your material.
An outline should be an obvious place to start, but you'd be surprised at how often this step is skipped.
How to structure your medial manuscript outline
When possible, before you start your outline you should understand the formatting requirements for your targeted publisher.
Many publishers specify abstract headings and have specific requirements for what can (and can't) be included in the body of your text.
Use the outline as a way to narrow down the research you'll need to do as you write.
It is an unfortunate fact of life: the abstract is often the only portion of a paper that ever gets read. For this reason, your abstract needs to convey the most important points from your paper in 300 words or less. Note what these points are in your abstract.
Make sure you know what your publisher expects from your abstract. Some journals limit you to 150 words or require that you arrange your abstract using specific headers.
You may need to include an objective or a statement of impact as well.
Most publishers ask authors to provide some keywords. Think about the keywords you'd use to search for your paper and write them down.
Keywords that are more general will increase the number of search results your paper will appear in. For example, use "spinal cord stimulation" instead of "neuromodulation."
Define your goal
Is your goal to present new research data or to provide a meta-analysis of existing data? By clarifying the goal of your manuscript you can streamline preparation and writing.
Defining the goal is one of the secrets of successful grants and manuscripts of top biomedical PIs . Having a well-defined goal will also help you find the most appropriate publisher.
Keep your target audience in mind as you define your goal.
Introduction/background
The outline for your intro should note the current state of the field and identify knowledge gaps.
A good way to understand how to arrange your intro is by looking at similar papers that have been published by your target journal.
A standard approach to an intro can be broken down as follows:
First paragraph: Current knowledge and foundational referencesYou're paving the way for your readers to understand your objective
Second paragraph: Introduce your specific topic and identify knowledge gaps
Third paragraph: Clearly identify your aim
Key references and identifying your hypothesis and aim(s).
Methods Briefly list your methods and timeframe, but don't get too detailed. This is just an outline.
Results The results section can be the most challenging to organize.
To simplify the writing process, state your overall question and create subsections for each dataset.
List the experiments you did and your results.
In your outline, identify data that should be presented in a figure or table. Save any subjective interpretations for the discussion section.
Discussion Your outline for the discussion should pick up where the introduction left off.
For example, if your intro ends with an aim, your discussion should start by restating your aim and reminding your readers of the knowledge gap(s) that you are addressing.
Your discussion needs to address each set of experiments and your interpretation, but don't simply restate your results section.
Timeline Make a timeline for your manuscript and specify a submission date to help keep you on track.
Questions to consider when making your discussion outline include:
How do your data relate to your original question?
Do they support your hypothesis?
Are your results consistent with what other researchers have found?
If you had unexpected results, is there an explanation for them?
Consider your data from the perspective of a competitor. Can you punch holes in your argument?
Address potential concerns about your data head on. Don't try to hide them or gloss over them.
If you weren't able to fully address your question(s) or aim(s), what else do you need to do?
How do your data fit into the big picture?
Include a discussion subsection for each of your results subsections where you can subjectively interpret your data. Your outline should include the points you want to make in each subsection as well as your overall goal.
Conclude your discussion with a one sentence summary of your conclusion and its relevance to the field.
Again, don't forget to write to your target audience!
Additional Resources for Medical Writing
Templates for Building a Perfect Writing Plan:
Scope of work guide
30 Scope of work templates
Medical cover letter + Templates
Detailed guide of medical manuscript Scope of Work
Short guide of scope of work for a medical journal
Know the Literature Before You Write Anything
An effective medical or scientific manuscript provides compelling information that builds on the existing literature and advances what is currently known.
This means you need to have a thorough understanding of the relevant literature!
Your goal is to collect all relevant references into a structured document. Make note of the aim and conclusion of each reference. Use this as a foundation to refer back to when you're writing your paper.
Organize your research into buckets.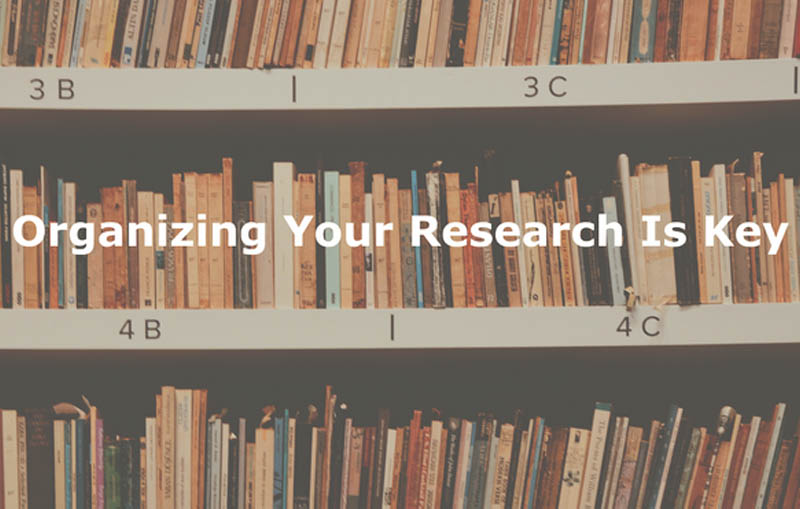 When you find a relevant source, ask yourself:
Are the data consistent with what's already known?
If not: why are they different and how do they affect what's known?
Do your data support or refute the data presented in the source?
You'll need to explicitly address inconsistencies and identify potential resolutions.
Find Scholarly Sources
If you are writing an original research article , how do your data fit into the broader topic?
Google searches don't usually produce scholarly resources unless you know where to look.
There are numerous FREE and Paid online resources available to find the right sources.
Top Scholarly Databases for journals, news, and articles
These tools can be used to find all the reputable sources needed to flesh out quality medical writing.
PubMed (MEDLINE):

PUBMED is an extremely popular and free search engine hosted by the NIH (National institutes of Health and U.S. National Library of Medicine. It can be used to access a vast index of peer-reviewed biological and medical research.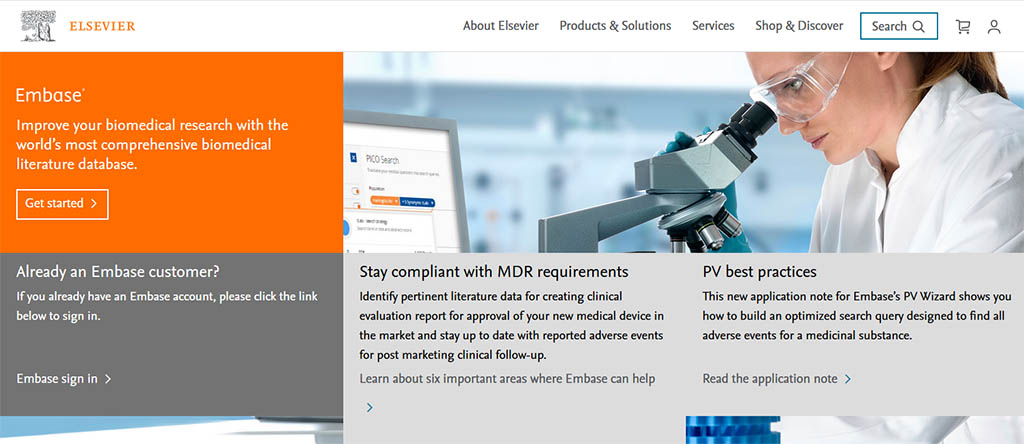 EMBASE is a database of literature intended to aid in organizational adherence to prescription drug regulations. Whereas it does contain some references that are not returned by PUBMED, there is a subscription fee associated with EMBASE.
Cochrane Library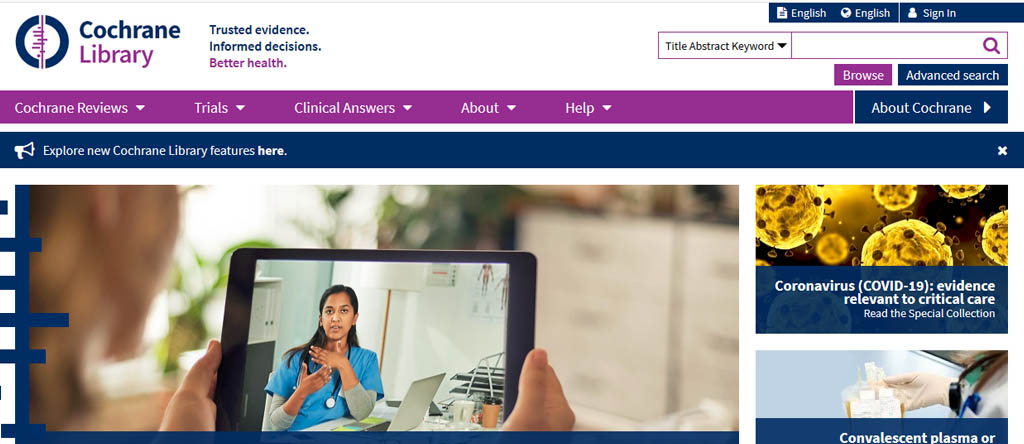 The Cochrane Library is a curated database of medical research reviews, protocols, and editorials. While a subscription is required, the Cochrane is a critical resource for evidence-based medicine.
Web of Science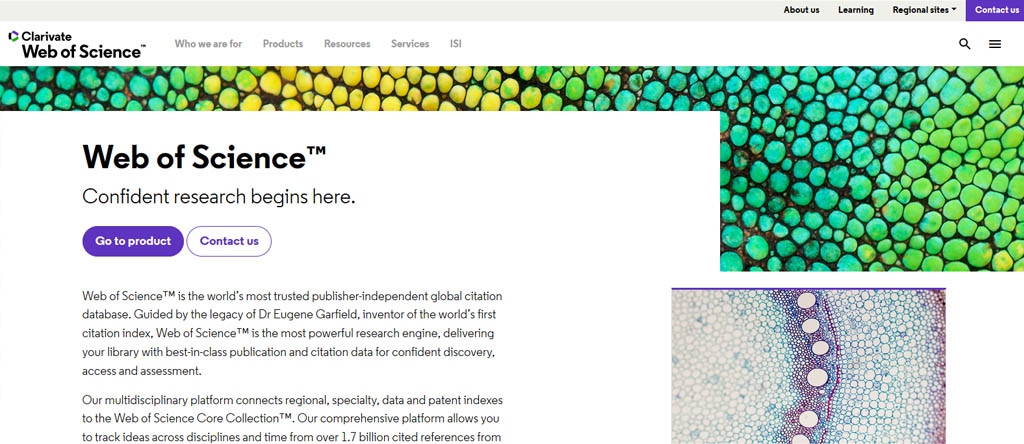 The Web of Science is another subscription service similar to those that have already been mentioned, albeit with an expanded range of academic disciplines including the arts, social sciences, and others.
Google Scholar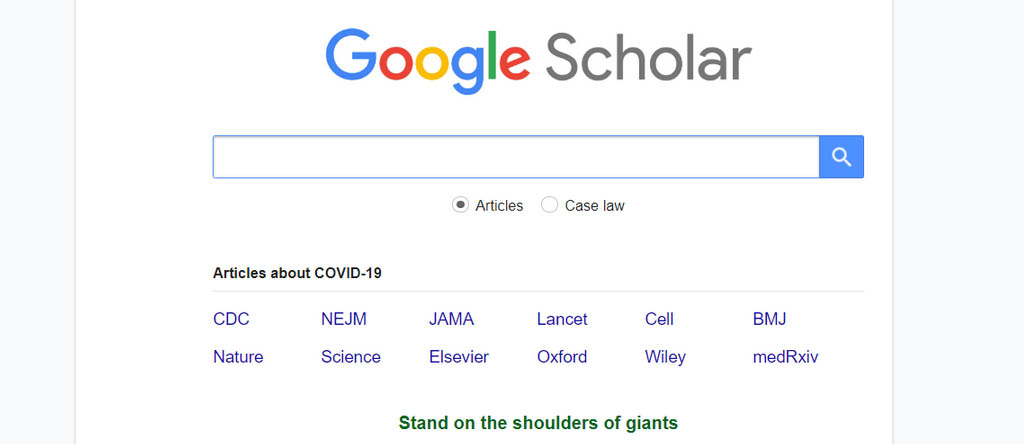 Google Scholar leverages Google's powerful search engine to retrieve published literature from the whole internet (rather than just biomedical journals). This means you'll get textbooks, theses, conference proceedings, and other publications that won't show up in PubMed or EMBASE searches. Google Scholar is a powerful tool but it lacks the curation of other search tools, so a careful vetting of any information from this source is important.
Other databases:
Faculty of 1000 (F1000) offers Faculty Opinions and F1000Research. Faculty Opinions are links to recommended life-science articles, while F1000Research is a database of open-source research papers and results.
EBSCO is an online library providing a wide range of services, including its research databases that allow powerful searches of journals in a variety of academic disciplines.
iSEEK Education:
iSeek Education is a search engine geared specifically for academics. The resources from iSeek are meant to be dependable and from reliable sources, such as government agencies and universities.
RefSeek is another popular option for academically oriented search engines. RefSeek is designed to pull results from a large number of sources but not commercial links.
Virtual LRC:
The Virtual Learning Resources Center is a modified Google search of academic information websites. Its index of websites has been chosen by qualified curators.
More journal databases for medical research
100+ journal databases
Top Academic Search Engines
101 Free Journal and Research Databases
List of Global scholarly sources
Organize Your References:
One other point on knowing the literature: find a strategy that helps you keep references organized.
If you've ever written a paper and couldn't remember where on earth you saw that one, perfect reference you know how important this is!
Rather than putting things into a long word document start with a research template.
RESOURCE: Use our FREE research template to collect sources for your manuscript
You can also download free basic software to organize references.
5 Reference Organization Tools and Software
EndNote is the most popular reference organization tool for medical writers.
A basic version of EndNote is available for free, but paid subscriptions offer more options.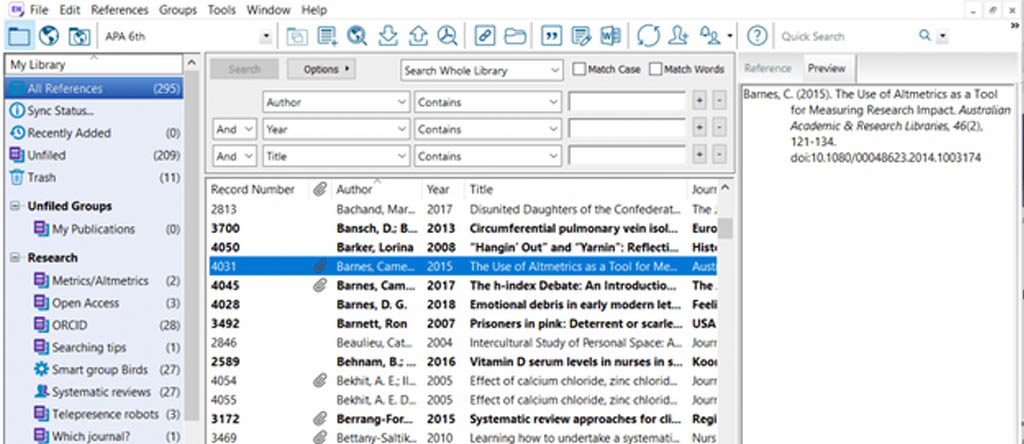 EndNote features include:
Import, annotate, and search PDFs
Ability to store reference libraries online, so you can access them from anywhere
Collaboration is easy with shared libraries
EndNote provides the most comprehensive citation style database, or you can create custom citation styles
Easy to import/export references from databases using RIS, BibTex, and many other standard data schemes
One potential drawback of EndNote is that it's not compatible with Linux.
Zotero Zotero is a free, open-source reference management and citation tool.
Features of Zotero include:
Save screenshots and annotate them within your citation library
Import and export references in many formats, including RIS, BibTeX and BibLateX, EndNote, RefWorks, and more
Supports over 30 languages
Zotero's online bibliography tool ZoteroBib lets you generate bibliographies without installing Zotero or creating an account
Drag-and-drop interface
Linux compatible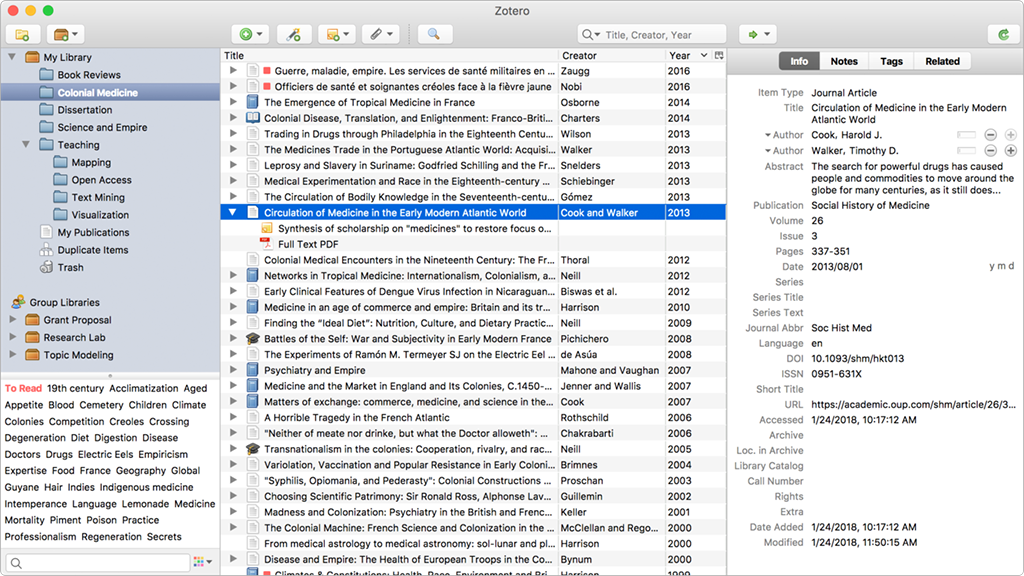 Mendeley Mendeley is Elsevier's "freemium" referencing software, meaning the basic package is available for free but more sophisticated versions require a paid subscription.
Features of Mendeley include:
Extract metadata from PDFs
Create private, shareable libraries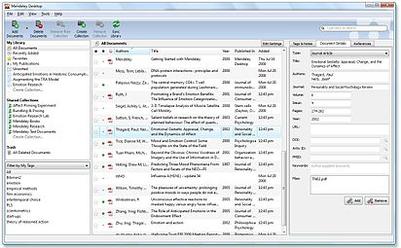 A free online reference tool, Citefast allows users to quickly generate a library in APA 6 or 7, MLA 7 or 8, or Chicago styles.
Citefast doesn't require you to make an account, but if you don't create one your references will be lost after 4 days of inactivity.
Another free online resource, BibMe lets you import references and offers MLA, APA, Chicago, and Turabian formatting styles.
BibMe can also check your spelling and grammar, as well as look for plagiarism.
List of MORE Online Software Tools for Academic and Medical Research
30+ research tools to make your life easier
5 best tools for academic research
31 Best Online Tools for Research
10 great tools for online research
Know your audience
It's important to know your audience before you start writing. This will help you define your goals and create an outline.
For example, if you're preparing a case study for specialists your manuscript will be different than one for a multidisciplinary audience.
Ask yourself what your message is and find out how it aligns with the goals of your readers to maximize your paper's impact.
Formatting requirements
Whenever possible, find out the formatting requirements you'll need to follow before you start writing. They will explicitly state the layout, word limits, figure/table formatting, use of abbreviations, and which reference style to use.
If you're writing for a journal their website will have a Guide for Authors that specifies formatting. If you're not sure what the requirements are, you should contact the editor or publisher and ask them.
Types of medical manuscripts
Knowing what kind of manuscript you're writing will help you organize your material and identify which information you should present. In addition, many publishers have different formatting requirements for different types of articles.
Although each publisher has their own guidelines for authors, many journals encourage authors to follow reporting guidelines from the EQUATOR Network (Enhancing the QUAlity and Transparency Of health Research).
Original research
The goal of an original research article is to convey your research findings to an audience. These articles typically follow the same structure:
Methods & Materials
Examples of great original medical research manuscripts:
Nowacki J, Wingenfeld K, Kaczmarczyk M, et al. Steroid hormone secretion after stimulation of mineralocorticoid and NMDA receptors and cardiovascular risk in patients with depression . Transl Psychiatry . 2020 Apr 20;10(1):109.
Pfitzer A, Maly C, Tappis H, et al. Characteristics of successful integrated family planning and maternal and child health services: Findings from a mixed-method, descriptive evaluation . F1000Res . 2019 Feb 28;8:229.
Yi X, Liu M, Luo Q, et al. Toxic effects of dimethyl sulfoxide on red blood cells, platelets, and vascular endothelial cells in vitro . FEBS Open Bio . 2017 Feb 20;7(4):485-494.
Karsan N, Goadsby PJ. Imaging the Premonitory Phase of Migraine . Front Neurol . 2020 Mar 25;11:140.
Chan SS, Chappel AR, Maddox KEJ, et al. Pre-exposure prophylaxis for preventing acquisition of HIV: A cross-sectional study of patients, prescribers, uptake, and spending in the United States, 2015-2016 . PLoS Med . 2020 Apr 10;17(4):e1003072.
Examples of great medical journal publications from The Med Writers :

Rapid communications
Rapid (or brief) communications are aimed at publishing highly impactful preliminary findings.
They are shorter than original research articles and focus on one specific result.
Many journals prioritize rapid communications, since they can provide paradigm-shifts in how we understand a particular topic.
5 Examples of Rapid Communications
Rose D, Ashwood P. Plasma Interleukin-35 in Children with Autism . Brain Sci . 2019 Jun 27;9(7).
Nash K, Johansson A, Yogeeswaran K. Social Media Approval Reduces Emotional Arousal for People High in Narcissism: Electrophysiological Evidence . Front Hum Neurosci . 2019 Sep 20;13:292.
Su Q, Bouteau A, Cardenas J, et al. Long-term absence of Langerhans cells alters the gene expression profile of keratinocytes and dendritic epidermal T cells . PLoS One . 2020 Jan 10;15(1):e0223397.
Nilsson I, Palmer J, Apostolou E, et al. Metabolic Dysfunction in Myalgic Encephalomyelitis/Chronic Fatigue Syndrome Not Due to Anti-mitochondrial Antibodies . Front Med . 2020 Mar 31;7:108.
Rabiei S, Sedaghat F, Rastmanesh R. Is the hedonic hunger score associated with obesity in women? A brief communication . BMC Res Notes. 2019 Jun 10;12(1):330.
Case reports
Case reports detail interesting clinical cases that provide new insight into an area of research.
These are brief reports that chronicle a case, from initial presentation to prognosis (if known).
Importantly, when writing a case report, you need to clearly identify what makes your case unique and why it's important. 5 Examples of Great Case Studies
Scoles D, Ammar MJ, Carroll SE, et al. Cytomegalovirus retinitis in an immunocompetent host after complicated cataract surgery . Am J Ophthalmol Case Rep . 2020 Apr 6;18:100702.
Yanagimoto Y, Ishizaki Y, Kaneko K. Iron deficiency anemia, stunted growth, and developmental delay due to avoidant/restrictive food intake disorder by restricted eating in autism spectrum disorder . Biopsychosoc Med . 2020 Apr 10;14:8.
Pringle S, van der Vegt B, Wang X, et al. Lack of Conventional Acinar Cells in Parotid Salivary Gland of Patient Taking an Anti-PD-L1 Immune Checkpoint Inhibitor . Front Oncol . 2020 Apr 2;10:420.
Crivelli P, Ledda RE, Carboni M, et al. Erdheim-Chester disease presenting with cough, abdominal pain, and headache . Radiol Case Rep . 2020 Apr 10;15(6):745-748.
Tsai AL, Agustines D. The Coexistence of Oculocutaneous Albinism with Schizophrenia . Cureus . 2020 Jan 9;12(1):e6617.
Literature review
A good literature review provides a comprehensive overview of current literature in a new way. There are four basic types of literature review:
Traditional: Also known as narrative reviews, these reviews deliver a thorough synopsis of a body of literature. They may be used to highlight unanswered questions or knowledge gaps.
Li X, Geng M, Peng Y, Meng L, Lu S. Molecular immune pathogenesis and diagnosis of COVID-19 . J Pharm Anal . 2020 Mar 5.
Wardhan R, Kantamneni S. The Challenges of Ultrasound-guided Thoracic Paravertebral Blocks in Rib Fracture Patients . Cureus . 2020 Apr 10;12(4):e7626.
Lakhan, S.E., Vieira, K.F. Nutritional therapies for mental disorders . Nutr J 7, 2 (2008). https://doi.org/10.1186/1475-2891-7-2
A minireview is similar to a review, but confines itself to a specific subtopic:
Marra A, Viale G, Curigliano G. Recent advances in triple negative breast cancer: the immunotherapy era . BMC Med . 2019 May 9;17(1):90.
Systematic : These are rigorous, highly structured reviews that are often used to shed light on a specific research question. They are often combined with a meta-analysis or meta-synthesis.
Asadi-Pooya AA, Simani L. Central nervous system manifestations of COVID-19: A systematic review . J Neurol Sci . 2020 Apr 11;413:116832.
Katsanos K, Spiliopoulos S, Kitrou P, Krokidis M, Karnabatidis D. Risk of Death Following Application of Paclitaxel-Coated Balloons and Stents in the Femoropopliteal Artery of the Leg: A Systematic Review and Meta-Analysis of Randomized Controlled Trials . J Am Heart Assoc . 2018 Dec 18;7(24):e011245.
Meta-analysis: A meta-analysis analyzes data from multiple published studies using a standardized statistical approach. These reviews can help identify trends, patterns, and new conclusions.
Zhang J, Zhang X, Meng Y, Chen Y. Contrast-enhanced ultrasound for the differential diagnosis of thyroid nodules: An updated meta-analysis with comprehensive heterogeneity analysis . PLoS One . 2020 Apr 20;15(4):e0231775.
Meta-synthesis: A meta-synthesis is a qualitative (non-statistical) way to evaluate and analyze findings from several published studies.
Stuart R, Akther SF, Machin K, et al. Carers' experiences of involuntary admission under mental health legislation: systematic review and qualitative meta-synthesis . BJPsych Open . 2020 Feb 11;6(2):e19.
At this point you've established three things for your manuscript:
Your goal : Is your goal to convey the latest research? You should find a way to describe what you want to accomplish with this article.
Your target audience : The most effective medical writing is done with a specific audience in mind.
Type of manuscript : The type of article you're writing will influence the format of the document you are writing.
You probably have a target journal or publisher in mind and you should have checked out their formatting requirements. Now it's time to start writing!
Notably, many seasoned authors don't write their articles from beginning to end. For example, if you're preparing an original research manuscript they suggest writing the methods section first, followed by the results, discussion, introduction, and, lastly, the abstract. This will help you stay within the scope of the article.
Generally, the title for a medical document should be as succinct as possible while conveying the purpose of the article.
If you're writing an original research article your title should convey your main finding as simply as possible.
Avoid using unnecessary jargon and ambiguity.
Some authors recommend including keywords that will help people find your writing in the title.
Your publisher may have a specific abstract format for you to follow. There are three general types of abstract:
Indicative (descriptive) abstracts provide a clear overview of the topics covered. They are common in review articles and conference reports.
Informative abstracts summarize the article based on structure (e.g. problem, methods, case studies/results, conclusions) but without headings.
Structured abstracts use headings as specified by the publisher.
Good abstracts are clear, honest, brief, and specific. They also need to hook readers or your article will never be read (no pressure!).
Many publishers will ask you to come up with some keywords for your article. Make sure they're specific and clearly represent the topic of your article.
If you're not sure about your keywords the National Library of Medicine's Medical Subject Headings ( MeSH ) website can help. Just type in a term and it will bring up associated subject headings and definitions.
Introduction
The goal of the introduction is to briefly provide context for your work and convince readers that it's important. It is not a history lesson or a place to wax poetic about your love of medicine (unless you're writing about history or your love of medicine). Everything in your introduction needs to be directly relevant to the overall goal of your manuscript.
Introductions vary in length and style between the different types of manuscript. The best way to understand what your publisher is looking for in an introduction is to read several examples from articles that are stylistically similar to yours.
Broadly speaking, an introduction needs to clearly identify the topic and the scope of the article. For an original research article this means you explicitly state the question you're addressing and your proposed solution. For a literature review, the topic and its parameters should be stated.
Importantly, don't mix the introduction with other sections. Methods and results don't belong in the introduction.
Abbreviations
If you use terms that are abbreviated, some journals will ask you to include a section after the introduction where you define them. Consult the authors guide to learn how you should handle abbreviations. Also check to see if they have standard abbreviations that you don't need to define in your manuscript.
A couple of tips for abbreviations:
· Terms that are only used once or twice should be spelled out, not abbreviated
· Don't capitalize each word in an acronym unless it's a proper noun (e.g. ubiquitin proteasome system (UPS), not Ubiquitin Proteasome System (UPS))
A good methods section will contain enough information that another researcher could reproduce the work. Clearly state your experimental design, what you did in chronological order, including equipment model numbers and specific settings you used. Make sure to include all equipment, materials, and products you used as they could account for future variability. Describe any statistical analyses.
The methods section should describe the following:
· Population and sampling methods
· Equipment and materials
· Procedures
· Time frame (if relevant)
· Analysis plan
· Approaches to ensure reliability/validity
· Any assumptions you used
· Scope and limitations
If you are using methods that have been described before you can refer to that publication or include them in your supplementary material, rather than re-writing them in the body of your text.
The results section is where your findings are objectively presented (save your interpretation of the results for the discussion section). Figure out which data are important for your story before you write the results section. For each important data set provide the results (preferably in a table or graph) and include a sentence or two that summarizes the results.
It's easy to lose sight of the goal of the paper when you're relaying numbers through the lens of statistics. Make sure to tie your results back to the biological aspects of your paper.
The discussion section is where you sell your interpretation of the data. Your discussion section needs to tie your introduction and your results sections together. A common strategy for the discussion section is to reiterate your main findings in light of the knowledge gaps you outlined in your introduction. How do your findings move the field forward?
Consider each of your results with respect to your original question and hypothesis. If there are multiple ways to interpret your data, discuss each of them. If your findings were not in line with your hypothesis, state this and provide possible explanations.
If your data are inconsistent with other published literature it's important to consider technical and experimental differences before concluding that you've stumbled onto a groundbreaking medical discovery. Discuss all potential reasons for the divergent data.
Key points to include in your discussion section:
· What your results mean
· Whether your methods were successful
· How findings relate to other studies
· Limitations of your study
· How your work advances the field
· Applications
· Future directions
Don't draw grand conclusions that aren't supported by your data; some speculating is okay but don't exaggerate the importance of your findings.
It's important to remind your reader of your overall question and hypothesis throughout the discussion section, while you are providing your interpretation of the results. This will ensure that you stay on track while you're writing and that your readers will understand exactly how your findings are relevant.
This is your final chance to convince your readers that your work is important.
Start your conclusion by restating your question and identify whether your findings support (or fail to support) your hypothesis.
Summarize your findings and discuss whether they agree with those of other researchers.
Finally, identify how your data advances the field and propose new or expanded ways of thinking about the question.
It's important to avoid making unsupported claims or over-emphasize the impact of your findings. Even if you think your findings will revolutionize medicine as we know it, refrain from making that claim until you have the evidence to back it up.
Figures/Tables
Many readers will get the bulk of their information from your figures so make sure they are clear and informative. Your readers should be able to identify your key findings from figures alone.
Tips for figures and tables:
· Don't repeat data in tables, figures and in the text
· Captions should sufficiently describe the figure so the reader could understand it even if the figure was absent
· Keep graphs simple! If a basic table will work there's no need for a multi-colored graph
Acknowledgements
Use the acknowledgments section to identify people who made your manuscript possible. Include advisors, proofreaders, and financial backers. In addition, identify funding sources including grant or reference numbers.
Make sure to use the reference style specified by your target journal or publisher. Avoid too many references, redundant references, excessive self-referencing, and referencing for the sake of referencing. Personal communications, unpublished observations, and submitted, unaccepted manuscripts should generally be avoided.
It should go without saying that you need to be ethical when preparing medical manuscripts. Fabricating or falsifying data is never acceptable, and you put your career at risk. It's not worth it.
Plagiarism is not a viable strategy for getting works published. Any indication that you've plagiarized will be investigated, and if you're found to have plagiarized your career and scientific reputation are at stake. Any time you refer to published work you need to reference it, even if it was your own publication. Be very careful about self-plagiarizing!
To learn more about ethical writing take a look at the U.S. Department of Health and Human Services guide: Avoiding Plagiarism, Self-plagiarism, and Other Questionable Writing Practices: A Guide to Ethical Writing , by Dr. Miguel Roig.
Ethics standards require that you submit your manuscript to only one publisher at a time. If you're caught submitting to multiple editors none of them will publish your work.
Traps to avoid
Seasoned writers told us some of the pitfalls they've learned how to watch out for:
Writing versus editing
Writing and editing are not the same. Get comfortable writing , that is, pouring out all of your ideas without editing yourself. Then go back and edit.
Lack of editing
One of the toughest parts of writing is opening yourself up to critique. As hard as it can be, the best way to get a polished and meaningful manuscript is to have other people read it. As writers we can get attached to particular phrases or styles that may not read as well to other people.
Scientific manuscript editing is the toughest of any manuscript editing but if you keep patience and edit honestly it will get easier over time. Imagine that you're editing someone else's document to help give you fresh eyes. If possible give yourself a couple of days without looking at the manuscript, then go back and read it.
Being unfamiliar with the literature
It's important to be familiar with the current literature on the topic you're writing about. A fatal flaw of any research manuscript is proposing a hypothesis that has already been tested or posing questions that have already been answered.
Not formatting properly
If your manuscript is not formatted properly, it is less likely to be accepted. Make sure your font and line spacing are correct, that you've adhered to word and figure limits, and that your references are in the correct style.
Useful tips
Here are some helpful tips that you can use to improve your writing:
Framing your manuscript
A common trope in outlining manuscripts is the inverted triangle approach, which starts generally and ends specifically. A more useful method is to consider an hourglass-shaped outline, which starts generally, specifically addresses your contribution to the field, then ties your contribution back to current knowledge and unanswered questions.
Passive and active voice
Medical writing has long used passive voice to communicate and, while this is still the status quo for many journals, don't be afraid to get out of that mire. As journals begin to recognize that active voice is not only more economical but can also be more readable they are becoming more comfortable publishing articles that include active voice.
Don't edit while you write
Get a first draft onto paper as quickly as possible and then edit. Don't waste time trying to get a paragraph perfect the first time you write it.
Ask someone else to edit
Medical writing does have some unique challenges associated with it. Your audience may not be experts on the material you are delivering, so an ability to communicate complicated information in an accessible manner is very helpful. Improve on your skills by asking people outside of your field to provide constructive criticism on writing samples.
It can be a very useful practice to edit some manuscripts that other people have written. This will help you understand what editors are paying attention to.
Keep track of references
Make sure to keep detailed notes of where you got your references so that you can easily and accurately cite the literature you used. There's nothing more frustrating than not being able to remember where you saw a really great reference.
Before you submit your manuscript
Ideally, you've left yourself plenty of time to proofread and have other people edit your document. At the very least make sure you budget some hours to carefully proofread. Triple check that your paper adheres to formatting requirements. You can learn how to proofread scientific manuscripts before submitting them for publication.
Cover letters
If you're submitting an article for consideration you'll need to write a cover letter. Take the time to find out who the editor is and address your letter to him or her. This is your chance to communicate with the editor! A generic "To whom it may concern" won't impress anyone.
Your cover letter should be brief, but it needs to convey the value of your paper to the journal. Describe your main findings and their significance and why they're a great fit for your publication of interest.
If you have conflicts of interest, disclose them in your cover letter. Also, if your paper has already been rejected, let them know. Include the reason (if known) and reviewer comments, as well as discussing changes you've made to improve the paper.
You can also suggest peer-reviewers or people who shouldn't review your paper. Be cautious when suggesting reviewers! Some of the most critical reviews come from suggested reviewers.
Your cover letter is an excellent opportunity to prove that you know what the goals of the journal are and that your article furthers them. Don't waste it!
Reviewer comments/Revisions
If the publisher asks you to address reviewer comments, take the time to do this seriously and thoughtfully. Understand reviewer comments and address them objectively and scientifically (be polite!). If you disagree with a comment, state why and include supporting references. When more experiments or computations are requested, do them. It will make your paper stronger.
When you resubmit your manuscript make sure to identify page/line numbers where changes were made.
What if you're rejected?
Don't despair! Rejection happens to every writer. Try to understand why your manuscript was rejected. Evaluate your manuscript honestly and take the opportunity to learn from your mistakes.
A rejected paper isn't a dead paper. You'll need to make some substantial revisions and may need to change your formatting before resubmitting to a new journal or publisher. In the cover letter to the new editor you'll need to state that your manuscript was rejected. Include any information you got about why your manuscript was rejected and all reviewer comments. Identify changes you made to the paper and explain why you chose to submit to the new journal.
Medical writing can be very rewarding but it's important that writers have a clear understanding of what publishers are looking for. High-quality, original works that advance the medical field are much more likely to be published than papers that are not original or that have little medical or scientific interest.
Quality medical writing should have clarity, economy of language, and a consistent theme. It's important to always state the question or topic you're addressing early and refer to it often. This will help you stay focused and within the scope of your article during the writing process and it will help your readers understand your intentions. Using an outline is a very helpful way to make sure your article is consistently on-topic.
Following the tips and techniques provided here will definitely improve your writing skills, but the most effective way to get better at medical writing is to do it. There is no single best way to prepare a medical manuscript and even professional writers are continuously tweaking their writing strategies.
Hopefully these tips have helped you create a great manuscript. If you're feeling overwhelmed and want some help with your medical writing or editing, we at The Med Writers can help. Contact us to learn more about our writing and editing services.
DON'T GO 😢
Do you need medical writing services? We can help. Let's connect!
When you choose to publish with PLOS, your research makes an impact. Make your work accessible to all, without restrictions, and accelerate scientific discovery with options like preprints and published peer review that make your work more Open.
PLOS Biology
PLOS Climate
PLOS Computational Biology
PLOS Digital Health
PLOS Genetics
PLOS Global Public Health
PLOS Medicine
PLOS Neglected Tropical Diseases
PLOS Pathogens
PLOS Sustainability and Transformation
PLOS Collections
About This Blog
Official PLOS Blog
EveryONE Blog
Speaking of Medicine
PLOS Biologue
Absolutely Maybe
DNA Science
PLOS ECR Community
All Models Are Wrong
About PLOS Blogs
A Brief Guide To Writing Your First Scientific Manuscript
I've had the privilege of writing a few manuscripts in my research career to date, and helping trainees write them. It's hard work, but planning and organization helps. Here's some thoughts on how to approach writing manuscripts based on original biomedical research.
Getting ready to write
Involve your principal investigator (PI) early and throughout the process. It's our job to help you write!
Write down your hypothesis/research question. Everything else will be spun around this.
Gather your proposed figures and tables in a sequence that tells a story. This will form the basis of your Results section. Write bulleted captions for the figures/tables, including a title that explains the key finding for each figure/table, an explanation of experimental groups and associated symbols/labels, and details on biological and technical replicates and statements (such as "one of four representative experiments are shown.")
Generate a bulleted outline of the major points for each section of the manuscript. This depends on the journal, but typically, and with minor variations: Introduction, Methods, Results, Discussion. Use Endnote, Reference Manager, Mendeley, or other citation software to start inserting references to go with bullets. Decide from the beginning what word processing software you'll use (Word, Google Docs, etc.). Google Docs can be helpful for maintaining a single version of the manuscript, but citation software often doesn't play well with Google Docs (whereas most software options can automatically update citation changes in Word). Here's what should go in each of these sections:
Introduction: What did you study, and why is it important? What is your hypothesis/research question?
Methods: What techniques did you use? Each technique should be its own bullet, with sub-bullets for key details. If you used animal or human subjects, include a bullet on ethics approval. Important methodologies and materials, i.e., blinding for subjective analyses, full names of cell lines/strains/reagents and your commercial/academic sources for them.
Results: What were your findings? Each major finding should be its own bullet, with sub-bullets going into more detail for each major finding. These bullets should refer to your figures.
Discussion: Summarize your findings in the context of prior work. Discuss possible interpretations. It is important to include a bullet describing the limitations of the presented work. Mention possible future directions.
Now read the entire outline (including the figures). Is it a complete story? If so, you're ready to prepare for submission. If not, you should have a good idea of what it will take to finish the manuscript.
Writing your manuscript
You first need to decide where you want to submit your manuscript. I like to consider my ideal target audience. I also like to vary which journals I publish in, both to broaden the potential readers of my papers and to avoid the appearance of having an unfair "inside connection" to a given journal. Your academic reputation is priceless.
Once you've chosen your journal, look at the journal's article types. Decide which article type you would like to submit and reformat your outline according to the journal's standards (including citation style).
Convert your outline (including the figure captions) to complete sentences. Don't focus on writing perfect prose for the first draft. Write your abstract after the first draft is completed. Make sure the manuscript conforms to the target journal's word and figure limits.
Discuss all possible authors with your PI. If the study involved many people, create a table of possible authors showing their specific contributions to the manuscript. (This is helpful to do in any case as many journals now require this information.) Assigning authorship is sometimes complicated, but keep in mind that the Acknowledgements can be used to recognize those who made minor contributions (including reading the manuscript to provide feedback). "Equal contribution" authorship positions for the first and last authors is a newer option for a number of journals. An alternative is to generate the initial outline or first draft with the help of co-authors. This can take a lot more work and coordination, but may make sense for highly collaborative and large manuscripts.
Decide with your PI who will be corresponding author. Usually you or the PI.
Circulate the manuscript draft to all possible authors. Thank them for their prior and ongoing support. Inform your co-authors where you would like to send the manuscript and why. Give them a reasonable deadline to provide feedback (minimum of a few weeks). If you use Microsoft Word, ask your co-authors to use track changes.
Collate comments from your co-authors. The Combine Documents function in Word can be very helpful. Consider reconciling all comments and tracked changes before circulating another manuscript draft so that co-authors can read a "clean" copy. Repeat this process until you and your PI (and co-authors) are satisfied that the manuscript is ready for submission.
Some prefer to avoid listing authors on manuscript drafts until the final version is generated because the relative contributions of authors can shift during manuscript preparation.
Submit your manuscript
Write a cover letter for your manuscript. Put it on institutional letterhead, if you are permitted by the journal's submission system. This makes the cover letter, and by extension, the manuscript, more professional. Some journals have required language for cover letters regarding simultaneous submissions to other journals. It's common for journals to require that cover letters include a rationale explaining the impact and findings of the manuscript. If you need to do this, include key references and a citation list at the end of the cover letter.
Most journals will require you to provide keywords, and/or to choose subject areas related to the manuscript. Be prepared to do so.
Conflicts of interest should be declared in the manuscript, even if the journal does not explicitly request this. Ask your co-authors about any such potential conflicts.
Gather names and official designations of any grants that supported the work described in your manuscript. Ask your co-authors and your PI. This is very important for funding agencies such as the NIH, which scrutinize the productivity of their funded investigators and take this into account when reviewing future grants.
It's common for journals to allow you to suggest an editor to handle your manuscript. Editors with expertise in your area are more likely to be able to identify and recruit reviewers who are also well-versed in the subject matter of your manuscript. Discuss this with your PI and co-authors.
Likewise, journals often allow authors to suggest reviewers. Some meta-literature indicates that manuscripts with suggested reviewers have an overall higher acceptance rate. It also behooves you to have expert reviewers that can evaluate your manuscript fairly, but also provide feedback that can improve your paper if revisions are recommended. Avoid suggesting reviewers at your own institution or who have recently written papers or been awarded grants with you. Savvy editors look for these types of relationships between reviewers and authors, and will nix a suggested reviewer with any potential conflict of interest. Discuss suggested reviewers with your PI and co-authors.
On the flip side, many journals will allow you to list opposed reviewers. If you believe that someone specific will provide a negatively biased review for non-scientific reasons, that is grounds for opposing them as your manuscript's reviewer. In small fields, it may not be possible to exclude reviewers and still undergo expert peer review. Definitely a must-discuss with your PI and co-authors.
Generate a final version of the manuscript. Most journals use online submission systems that mandate uploading individual files for the manuscript, cover letter, etc. You may have to use pdf converting software (i.e., Adobe Acrobat) to change Word documents to pdf's, or to combine documents into a single pdf. Review the final version, including the resolution and appearance of figures. Make sure that no edges of text or graphics near page margins are cut off (Adobe Acrobat sometimes does this with Microsoft Word). Send the final version to your PI and co-authors. Revise any errors. Then submit! Good luck!
Edited by Bill Sullivan, PhD, Indiana University School of Medicine.
Michael Hsieh is the Stirewalt Scientific Director of the Biomedical Research Institute and an Associate Professor at the George Washington University, where he studies host-pathogen interactions in the urinary tract. Michael has published over 90 peer-reviewed scientific papers. His work has been featured on PBS and in the New York Times.
Your article is wonderful. just read it. you advise very correctly. I am an experienced writer. I write articles on various scientific topics. and even I took some information for myself, who I have not used before. Your article will help many novice writers. I'm sure of it. You very well described all the points of your article. I completely agree with them. most difficult to determine the target audience. Thanks to your article, everyone who needs some kind of help can get it by reading your article. Thanks you
Leave a Reply Cancel reply
Your email address will not be published. Required fields are marked *
Save my name and email for the next time I comment.
Written by Jessica Rech an undergraduate student at IUPUI and coauthored by Brandi Gilbert, director of LHSI. I am an undergraduate student…
As more learning occurs online and at home with the global pandemic, keeping students engaged in learning about science is a challenge…
By Brad Parks A few years back, while driving to my favorite daily writing haunt, the local radio station spit out one…
Guide to writing and publishing a scientific manuscript: Part 1—The structure
Open Access
Published: 21 December 2021
volume  24 ,  pages 117–119 ( 2022 )
You have full access to this open access article
Ian G. Stiell   ORCID: orcid.org/0000-0002-2583-6408 1 , 2
For the Canadian EM Writing Group
20k Accesses
78 Altmetric
Explore all metrics
Cite this article
Working on a manuscript, introduction.
Writing a scientific manuscript for a peer-reviewed medical journal can be a frustrating but ultimately very satisfying process. Benefits for the authors include the ability to share the results of their project with a large audience and the opportunity to change practice, the satisfaction of completing a challenging scholarly endeavor, and the recognition of your institution in terms of advancement and/or compensation. Those who have not yet written a scientific manuscript may not appreciate how long and intensive the journey can be. The goal of this guide is to offer tried and true, step by step, recommendations on how to simplify the writing process and increase the chances of successful publication. Variations on these tips have been presented nationally and internationally and have been the basis for authoring or co-authoring hundreds of papers as well as for mentoring many learners in the Canadian emergency medicine community. Part 1 will address the structure or anatomy of a manuscript and Part 2 will look at the process of writing and dealing with journals.
Specific sections
Example manuscript.
See online appendix.
Tables and figures
Generally, these should be finalized before writing the Results and Discussion sections.
These should be presented sequentially as cited in the text, first the Tables then Figures, at the end of the manuscript or in a separate document. See online appendix
The typesetter will determine their actual position in the published paper.
Titles should be short but self-explanatory, such that the Tables and Figures stand alone without the reader having to go back to the text.
For clinical journals, we suggest making the Tables and Figures easy to read :
round to one decimal where possible.
give only percentages without counts when there are multiple columns .
keep headings brief and use footnotes to explain terms and abbreviations.
Avoid use of p-values except for the primary outcomes; focus on differences and CIs.
When reporting on socio-demographic characteristics, use terms that are inclusive, describe diversity, and considerate of marginalized populations.
Most journals limit the number of Tables and Figures such that some may have to be moved to the online appendix.
Figures or graphs should be specifically prepared with simple lines for publication; do not use 3-D or PowerPoint slides.
Title should only give design if strong, e.g., randomized trial, systematic review, meta-analysis; avoid "retrospective" or "chart review" as these terms may devalue your paper.
A few journals may insist on giving the design in the title
Author Information , names, affiliations.
Disclaimers, e.g., findings represent the work of the authors and not their institution.
Sources of Support , grants, other funding.
Word count , text only excluding abstract and tables.
Keywords , 3–5 commonly used terms.
Other sections may be placed elsewhere in the manuscript:
Disclosures of conflicts and relationships, usually given on the ICJME form.
Acknowledgements of non-authors: research staff, clinicians.
Author contributions .
Adhere to the structured format and word count required by the specific journal.
Common subheadings are: Introduction, Methods, Results, Conclusion.
Use only standard abbreviations in the abstract and main text; non-standard abbreviations can be confusing to readers and reviewers.
Standard abbreviations should be introduced at the first use.
Examples of standard abbreviations are ED, CPR, CT, ECG.
Examples of non-standard abbreviations to be avoided include: LOS, SRS, IND, CCLS, RCSA.
ICMJE recommends placing clinical trial registration number at the end of the abstract.
Should be brief and no more than 3 paragraphs .
Paragraph 1: definition, epidemiology, and importance of the health-care problem .
Paragraph 2: key studies and knowledge gap to be addressed.
Paragraph 3: Goal and specific objectives of the paper and how the gap will be addressed.
For educational articles , the approach should be grounded in or framed within educational theory or principles
Authors should be aware of and generally follow accepted reporting guidelines , based upon the study type whether clinical trial, systematic review, observational study, etc.
These are well presented on the EQUATOR website [ 1 ].
A few journals require completion and submission of the relevant checklist.
Use standard subheadings : Study Design, Study Setting, Participants, Interventions (if any), Outcome Measures, Data Collection, Data Analysis and Sample Size.
Use "Research Questions" in Qualitative research .
"Health records review" is preferable to "retrospective chart review."
Indicate Research Ethics Board approval or waiver, usually at end of Study Participants.
Educational research often involves one of many different quantitative, qualitative, or synthesis research approaches.
Generally, one paragraph for each Table and Figure.
Aim for brevity by reporting only important or interesting findings; do not repeat everything from the Tables.
In the text, give percentages and the number from which the percentage was calculated.
e.g., "12.1% of 410 participants…"
Avoid starting a sentence with a number.
e.g., use "Of all subjects, 3.1% were…"; not "3.1% of subjects were…."
We suggest using words for spelling out numerals 1–10 (e.g., "three") and numerals above that.
This is the section that many authors struggle with ; we strongly recommend using the paragraphs described below.
We also encourage use of subheadings which will aid reviewers and readers, even though most journals do not require them.
All subheadings are usually one paragraph maximum except Previous Studies.
1. Interpretation. Highlight the main findings without repeating numbers and present the take home messages.
2. Previous Studies. Discuss how your findings compare to prior studies, trying to emphasize what is unique.
3. Strengths and Limitations. Discuss methodological strengths and weaknesses, trying to mitigate limitations.
4. Clinical Implications. Be explicit in how your findings can impact and improve care, either at the patient or the system level.
5. Research Implications. Suggest future directions of enquiry and knowledge gaps.
6. Conclusion. Highlight your unique findings in this important section; state explicitly how your study can improve care; align with Abstract conclusion.
Conclusions must not reach beyond the study findings.
Never, ever conclude by saying "future research required" as that immediately tells reviewers and readers that your findings are not meaningful.
Educational papers typically link interpretation and the existing literature together (rather than as separate paragraphs).
Always use reference software such as EndNote, Mendeley, or others.
Most medical journals use the Vancouver style , citing references with Arabic numbers in the text and providing a list at the end [ 2 ].
Equator Network Reporting Guidelines United Kingdom: UK EQUATOR Centre. https://www.equator-network.org/reporting-guidelines/ . Accessed 1 Nov 2021.
Vancouver Style Reference Guide Toronto: The Michner Institute of Education at UHN. https://michener.ca/students/library/referencing-writing-help/ . Accessed 1 Nov 2021.
Download references
Acknowledgements
We thank Angela Marcantonio, Jennifer Brinkhurst, and Catherine Clement for assistance with preparation of the manuscript. For the Canadian EM Writing Group: Paul Atkinson, Peter Cameron, Alix Carter, Warren Cheung, Ryan Chuang, Kerstin de Wit, Quynh Doan, Ian Drennan, Debra Eagles, Andrew Hall, Ariel Hendin, Grant Innes, Eddy Lang, Patrick McLane, Andrew McRae, Catherine Patocka, Jeffrey J. Perry, Naveen Poonai, Venkatesh Thiruganasambandamoorthy, Daniel Ting, Christian Vaillancourt, Robert Woods, Krishan Yadav, Peter Zed.
There was no funding for this project. Dr. Stiell is the Editor-in-Chief of the Canadian Journal of Emergency Medicine and the contents of this manuscript reflect the opinions of the authors and not those of the Canadian Association of Emergency Physicians.
Author information
Authors and affiliations.
Department of Emergency Medicine, University of Ottawa, Ottawa Hospital Research Institute, Ottawa, ON, Canada
Ian G. Stiell
Clinical Epidemiology Unit, F657, The Ottawa Hospital, 1053 Carling Avenue, Ottawa, ON, K1Y 4E9, Canada
You can also search for this author in PubMed   Google Scholar
Paul Atkinson
, Peter Cameron
, Alix Carter
, Warren Cheung
, Ryan Chuang
, Kerstin Wit
, Quynh Doan
, Ian Drennan
, Debra Eagles
, Andrew Hall
, Ariel Hendin
, Grant Innes
, Eddy Lang
, Patrick McLane
, Andrew McRae
, Catherine Patocka
, Jeffrey J. Perry
, Naveen Poonai
, Venkatesh Thiruganasambandamoorthy
, Daniel Ting
, Christian Vaillancourt
, Robert Woods
, Krishan Yadav
 & Peter Zed
Corresponding author
Correspondence to Ian G. Stiell .
Additional information
The members of the Canadian EM Writing Group are listed in acknowledgements.
Supplementary Information
Below is the link to the electronic supplementary material.
Supplementary file1 (DOCX 130 KB)
Supplementary file2 (docx 67 kb), rights and permissions.
Open Access This article is licensed under a Creative Commons Attribution 4.0 International License, which permits use, sharing, adaptation, distribution and reproduction in any medium or format, as long as you give appropriate credit to the original author(s) and the source, provide a link to the Creative Commons licence, and indicate if changes were made. The images or other third party material in this article are included in the article's Creative Commons licence, unless indicated otherwise in a credit line to the material. If material is not included in the article's Creative Commons licence and your intended use is not permitted by statutory regulation or exceeds the permitted use, you will need to obtain permission directly from the copyright holder. To view a copy of this licence, visit http://creativecommons.org/licenses/by/4.0/ .
Reprints and Permissions
About this article
Stiell, I.G., For the Canadian EM Writing Group. Guide to writing and publishing a scientific manuscript: Part 1—The structure. Can J Emerg Med 24 , 117–119 (2022). https://doi.org/10.1007/s43678-021-00241-5
Download citation
Received : 17 November 2021
Accepted : 19 November 2021
Published : 21 December 2021
Issue Date : March 2022
DOI : https://doi.org/10.1007/s43678-021-00241-5
Share this article
Anyone you share the following link with will be able to read this content:
Sorry, a shareable link is not currently available for this article.
Provided by the Springer Nature SharedIt content-sharing initiative
Find a journal
Publish with us
Open Access
Published: 10 November 2020
A brief guide to the science and art of writing manuscripts in biomedicine
Diego A. Forero 1 , 2 ,
Sandra Lopez-Leon   ORCID: orcid.org/0000-0001-7504-3441 3 &
George Perry 4  
Journal of Translational Medicine volume  18 , Article number:  425 ( 2020 ) Cite this article
14k Accesses
17 Citations
212 Altmetric
Metrics details
Publishing articles in international scientific journals is the primary method for the communication of validated research findings and ideas. Journal articles are commonly used as a major input for evaluations of researchers and institutions. Few articles have been published previously about the different aspects needed for writing high-quality articles. In this manuscript, we provide an updated and brief guide for the multiple dimensions needed for writing manuscripts in the health and biological sciences, from current, international and interdisciplinary perspectives and from our expertise as authors, peer reviewers and editors. We provide key suggestions for writing major sections of the manuscript (e.g. title, abstract, introduction, methods, results and discussion), for submitting the manuscript and bring an overview of the peer review process and  of the post-publication impact of the articles.
Introduction
Publishing articles in international scientific journals is the current primary approach for the communication of validated research findings and ideas. Scientific papers are commonly used as a major input for evaluations of researchers and institutions [ 1 , 2 ]. However, taking into account the evolving and multidimensional landscape of the publishing process, there is a need for additional updated training in the science and art of writing manuscripts for scientific journals.
Few articles have been published previously about the different aspects needed for writing high-quality articles [ 3 , 4 , 5 , 6 ]. In this article, we provide an updated and brief guide for the multiple dimensions needed for writing manuscripts in the health and biological sciences, from current, international and interdisciplinary perspectives and from our expertise as authors, peer reviewers and editors, extending and complementing previous publications about this topic. The writing of manuscripts in biomedicine has its own standards, including the availability of multiple guidelines for reporting different types of studies, which are discussed in this article.
General recommendations
One of the first steps before starting to write an article should be to read the main papers that have been previously published on the subject. The first search might be focused on the available literature reviews and meta-analyses, and key for a scientist, the technique of performing a proper literature review [ 7 ]. Science advances by building on what it is known and there is no point in re-inventing the wheel [ 8 ].
It has been suggested, when writing scientific papers, to keep it short, compact and simple, avoiding the excessive use of adjectives and adverbs [ 9 ]. If you read a word or sentence and it does not add anything, delete it.
The success of an article depends on the quality of primary data and their analyses, on the way it is written and on the clearness of the tables and figures. It is fundamental to follow the current standards of research integrity (such as avoiding plagiarism and data manipulation) [ 10 ]. Both negative and positive results should be published, to avoid publication bias [ 11 ].
Authors should keep in mind that scientific writing is a process that involves multiple steps, takes time, dedication and inspiration, and involves patience, motivation, analytical thinking and adherence to high-quality standards [ 86 ]. Table 1 provides an important number of online resources that facilitate the writing of scientific manuscripts.
Following international recommendations for the authorship of articles in the biomedical sciences, such as the ones from the International Committee of Medical Journal Editors (ICMJE), is a fundamental topic in scientific publications, in order to avoid ghost and gift authorship practices [ 12 , 13 ]. In general, authors should have a significant involvement in these 4 points: (1) study concept/design, data collection or data analysis/interpretation (2) drafting/revising the manuscript, (3) approving the final version and (4) holding responsibility for accuracy and integrity of all aspects of the reported research [ 14 ].
There is a trend for the increase of the number of authors over the years [ 15 ], which is a reflection of globalization and the increasing complexity of medical research [ 16 ]. In the last two decades, there has been an increased use of consortia authorship with very long lists of authors, usually derived from international mega-collaborations. Authors from non-English speaking countries might have to take into account the current standards for names (two first names and one last name), to avoid confusion in the indexing processes in databases. Authors with two last names can hyphen their two last names to avoid confusing their first last name with a middle name, although the use of ORCID identifiers facilitates the disambiguation of author profiles.
The meaning of the order of the listed authors varies between fields. In many disciplines, the author order indicates the magnitude of the contribution, with the last author usually representing the principal investigator [ 17 ]. It is possible to have an equal co-authorship, either for the first or corresponding authors [ 18 ].
Title and abstract
The Title [ 19 ] and the Abstract [ 20 ] are the two most visible items of the article [ 21 ], as they are the main sections indexed in bibliographic databases. These two elements compete for the reader's attention; therefore both should be informative, accurate, attractive, concise, clear and specific [ 19 , 20 ]. It is advisable that the title of the manuscript reflects the actual findings of the work and be concise.
The Abstract section should provide a brief description of the main sections of the manuscript, describing key methods, findings and conclusions. It is recommended that the abstract be specific, clear, unbiased, honest, concise, precise, stand-alone, complete, and scholarly [ 22 ]. An important number of medical journals ask for structured abstracts. Usually, keywords are provided at the end of the Abstract section and the use of Medical Subject Headings (MeSH) as keywords is quite helpful.
Introduction section
Although the standards of the length of the Introduction vary between scientific fields (for example, they are longer in psychology journals), it is recommended that the introduction section should be concise, avoiding long reviews about the topics of the article. It has been proposed that the introduction section be designed as a cone or funnel, starting with the main points of the general topic, followed by a highlight of the existing knowledge gap, the hypothesis or main question of the article and ending with a brief overview of the approach of the current work [ 23 ].
Another recommendation is to keep it simple, including three main paragraphs: the first paragraph explaining what is known, the second what is not known and the third what the objective of the study is and explain what it will add to the scientific knowledge. When stating what is known, it should not be a full review of the literature, but it should be the essential information needed to understand the background. Information from the introduction should not overlap with the discussion. The paragraph explaining what is unknown should be focused on helping the reader understand why the research is being performed. The last paragraph should state the research question or hypothesis [ 24 ]. It is important to cite key articles (both recent reviews and related primary works) and to highlight the novelty of the current work.
Methods section
This section is essential and should be written to facilitate other researchers enabling them to replicate the study. This section has been compared to a recipe, which includes all the ingredients and how they need to be combined [ 25 ].
Key details of methods employed, such as overall design of the study, inclusion and exclusion criteria, sample sizes and statistical power, should be described [ 26 ]. Another way to subdivide it is with subheadings that might include: study design, setting, subjects, data collection and data analysis [ 25 ]. The incorporation of data about the origins of samples and validated criteria for diagnoses is indispensable, including key references to validated instruments and methodologies. Description of approval by institutional ethics committees and use of informed consent, when needed, is fundamental. In the case of the use of equipment and reagents, details of the respective manufacturers are needed. Statistical and bioinformatic analyses should be described clearly, including the details of statistical tests and the software used [ 27 , 28 , 29 , 30 ]. It is fundamental that all the results described in the Results section correlate with the procedures described in the Methods section.
Results section
The Results section should provide an adequate and complete description of the main findings of the work carried out. It is suggested to avoid the repetition of the same exact content of the Tables or Figures and to leave the interpretation of the results of the findings to the Discussion section [ 31 ]. The main messages and details of the Results section should be provided in the Figures and Tables. No interpretation should be provided in this section.
The results section should be seen as a mirror of the methods: for every method provided, there should be a corresponding result. Subheadings can be included and some suggestions might be: recruitment/response, characteristics of the sample, findings from primary analyses, secondary analyses and additional findings [ 32 ]. Exact p values should be presented and must always be shown together with the estimates and confidence intervals. There should be a consistency with the number of decimal places presented in the results section and in the tables. It is common to present one or two decimals places. Always present the absolute number of cases, in addition to relative measures (e.g. percentage was 22% -33/150-) [ 32 ].
Tables and figures
Tables facilitate the detailed presentation of the results and they should be constructed adequately. Abbreviations are useful for avoiding repetitions of phrases and should be explained in the footnotes [ 33 ]. Each table or figure should be self-explanatory, and there should be no need to read the text to be able to understand it. They have to be presented in the same chronological order, following how they are presented in the text [ 34 ].
For tables where a lot of information is presented, the p values that are statistically significant can be presented in bold. In case of long or complex tables, it is helpful to provide them as supplementary files, leaving the key data in the tables of the main text. It is important to provide details of statistical significance in the table, in order to avoid going back and forth between the tables and the text to read key data.
The creation of figures for scientific articles involves data visualization. A major element in the creation of figures is their focus on the representation of key findings without biases, avoiding the generation of overly complex figures. In addition, it is important to remove the repetition of the same data that is also presented as tables in the main manuscript. Description of key conventions should be provided in detail in the figure legends and it is important to avoid the misrepresentation of data [ 35 ], particularly digital enhancement. As the large majority of journals are published and distributed in digital formats, there are no actual restrictions for the adequate use of colors in scientific images. In case of photographs, it is important to follow the guidelines of the journals regarding image size and resolution. In addition, other recommendations are related to the use of adequate tools and parameters for the generation of figures [ 36 ].
Discussion section
It has been proposed that the general outline of the discussion can be seen as an inverted funnel. Thus, it has been suggested that the configurations of the introduction and discussion sections can have, together, the form of an hourglass [ 37 ] (Fig.  1 ). The first paragraph is usually a summary of the important results, focused on answering the research question. The next paragraphs should focus on integrating the findings with what is known in the literature. If there are different findings, each should have a separate paragraph. The discussion of each result should follow the same order of the methods and results. A balanced contextualization of findings of the current study should be provided by citing the key previous original articles and related reviews that put the results in perspective [ 38 ]. If there are differences between the findings and previously published studies, the differences and similarities of the results and studies should be stated.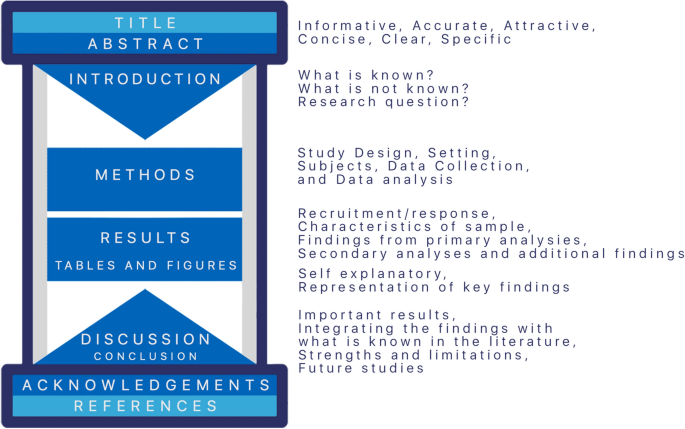 A graphical overview of the general structure of research articles
It is important to list the strengths and the limitations of the study. An explanation of the implications of those limitations should be included. An essential point is to include the needs and the perspectives for future studies. It can be stated that the results need replication or to highlight new questions that appeared after the analyses. This point can be of great guidance for future studies and can help the advance of science. It is highly advisable to avoid very long discussion sections and overstatements about the actual findings. The discussion section should not have results that were not described in the Results section. The last paragraph should include a conclusion that clearly states what the study adds to the knowledge.
References section
Although each journal usually has its own citation style, the Vancouver style is quite common in medical journals. There are several freely and commercially available programs (such as EndNote, Zotero or Mendeley) that facilitate the citations process and the generation of the bibliography, including the details for multiple citation styles. They can help to organize, store, download -and most importantly- format the references to the style requirements of the journal you want to submit to. By having the references in these programs, it is easy to reformat the style for any other journal in a matter of seconds.
Always try to cite the original source behind a key statement, making sure that the reference you mention is not only mentioning another source. If you need to choose among several references, take into consideration the level of evidence, the year of publication and the quality of the work [ 39 ].
It is important to verify that the bibliography includes all the publications cited and to check issues with names of authors or journals. Several journals have limitations in the number of citations for certain types of publications.
Acknowledgments and other sections
Usually, the authors thank their funding agencies for their economical support for the studies carried out. In addition, it is possible to include acknowledgements to people who helped with the development of the work (technical support, for example) or in the writing of the manuscript (such as corrections of use of the English language) [ 40 ]. In several cases, the journals ask for declarations about ethical considerations and declarations of the roles of individual authors (such as the design of the study and/or the collection or analysis of the data) [ 41 ]. Declarations of potential conflicts of interest is fundamental for the transparency of scientific activities [ 12 , 42 ].
Supplementary data
With modern high-throughput methods, the size of the analyzed datasets is becoming larger and larger. This means that there is a growing need to provide access to the large datasets as supplementary files (such as spreadsheets or pdf files) or to include them in publicly available repositories (such as OSF or figshare) [ 43 ]. In addition, certain fields have specific guidelines asking authors to submit their data to specific online repositories (such as the NCBI GEO database for whole genome expression data) [ 44 ].
Review articles and other types of publications
There are two main types of review articles: systematic reviews and narrative reviews. In the case of systematic reviews and meta-analyses there are important standards to follow, including the need for well-defined search strategies [ 45 ]. For the writing of narrative reviews [ 46 , 47 ], it is essential to define its scope and current needs and it is highly advisable to construct tables and figures to consolidate and visualize the key information. Articles for case reports follow a different structure and there are recommendations about their development [ 48 ].
Reporting guidelines
It is important to follow published guidelines for the reporting of studies in clinical research, such as STROBE for observational studies [ 49 ], STROBE-ME for molecular epidemiology studies [ 50 ], STREGA for genetic association studies [ 51 ], PRISMA for systematic reviews and meta-analyses [ 52 ], TRIPOD for prediction models of diagnosis or prognosis [ 53 ], CONSORT for clinical trials [ 54 ], CARE for case reports [ 55 ] and AGREE II for practice guidelines [ 56 ], in addition to ARRIVE 2.0 for animal research [ 57 ]. For molecular and cellular analyses, there are several important guidelines, such as MIQE for qPCR [ 58 , 59 ], flow cytometry [ 60 ], cell death [ 61 ], mutational analyses [ 62 ], simulation experiments [ 63 ] and gene nomenclatures [ 64 , 65 ].
Find the best candidate journals
There are several aspects that the authors should take into account in the selection of a journal, such as local standards of publications, the visibility or impact of the journals and their affinities with the topics of the manuscripts. It is highly advisable to verify the indexing of the journals in key databases, such as PubMed, Scopus/Scimago (quartiles) and Journal Citation Reports (impact factor) [ 66 , 67 ]. Finally, authors should be careful with the growing number of predatory journals [ 68 ], which commonly mention spurious impact factors [ 69 ]. Another way to determine which journal is suitable is to see the list of the references in your study. Before selecting the journal, read all the instructions and make sure the scope of the journal and editor preference fits your manuscript. Make a list of 3 to 5 journals, and rank them [ 70 ]. In several cases, sending a pre-submission enquiry to the editor of the journal is helpful [ 71 ]. There is a growing trend for the initial divulgation of manuscripts as preprints, in repositories such as bioRxiv and medRxiv [ 72 ].
Submission and peer review
It is fundamental to follow the guidelines for authors of the selected journal. In addition to manuscript files, tables, figures and supplementary data, it is common that the authors provide a cover letter (highlighting the main contributions of the work) in their submissions. In the cover letter it is recommended to include: (1) Your request to submit your work (mentioning the title). (2) 2–3 sentences summarizing the significance of the work (importance, main finding, message) (3) A statement of the relevance to the journal audience (eg. A related work published in the journal) (4) Any statement required from the journal, such as that the material has not been submitted/published elsewhere [ 73 ].
There are differences in peer review practices between journals. In many cases, there are two or more peer reviewers in a single-blind approach (the authors do not know the identities of the reviewers). In other cases, there is an approach based in double-blind, in which the reviewers also do not know the identities of the authors. In recent years, there has been an increase in the implementation of open peer review, in which the identities and concepts of the reviewers are publicly available.
Answer to peer reviewers
When addressing the comments and questions of the peer reviewers do it in a new document. Copy/paste all comments and number them. For each comment briefly respond and indicate where the change was made in the manuscript. The response should be in present tense or past present (e.g. We now present; we have added to the first paragraph).
Make the changes in the paper with "track changes" or highlighting the change in another color. Be thankful and respectful to each reviewer and editor and take each comment very seriously. If you disagree with the comment, add solid evidence, adding references or key data [ 74 ].
The process of providing adequate answers to peer reviewers and editors and of the incorporation of their suggestions into the revised manuscript is an important challenge [ 75 ] in the publishing of an article.
Open science
Interest in Open Science practices has been growing in recent years, considering their advantages to facilitate the access to information and their potential to increase the reproducibility and the quality of research findings [ 76 , 77 , 78 , 79 , 80 ]. It has been shown that open access articles [ 81 ] have advantages in terms of the amount of citations [ 82 ] and that articles that provide links to repositories with primary data have also have a higher citation count [ 43 ]. Open Science, in addition to open peer review, also involves open protocols, materials [ 8 , 83 ] and data (Fig.  2 ).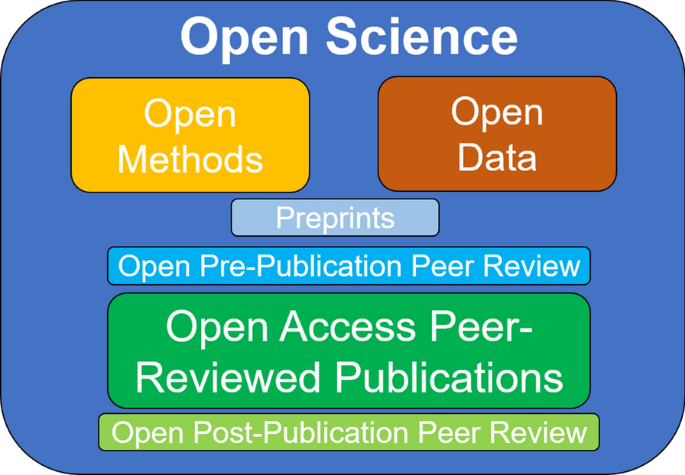 An overview of the different dimensions and components of Open Science
Post-publication impact
Citation counts are one of the main ways to measure the scientific impact of publications, allowing the development of multiple metrics, such as the H index [ 84 ], to measure the influence and visibility of scientists and research groups [ 1 ]. Recently, there is a growing use of alternative metrics [ 85 ], which measure other types of article mentions (such as social networks, blogs and news, recorded by Altmetric) or downloads. There are platforms (such as PubPeer and Retraction Watch) that allow comments on published articles, facilitating divulgation of possible issues on reported findings (among others) and to visualize information about retracted articles.
Conclusions
The quality of scientific publications is directly related to the careful revision by peer reviewers of the manuscript, in order to improve the submitted manuscript. This process means that receiving feedback is a constant process and that authors should have the resilience to receive rejections and recommendations for major changes [ 2 ]. In addition, authors can have feedback from collaborators before submitting the manuscript (including revision of the use of the English language) and they can benefit themselves from the experience of being peer reviewers [ 86 ]. In the current scientific environment, publishing an article is not the end of a process; it is the beginning: the article is beginning its journey of being read and analyzed by people around the world.
The writing of a scientific article is a work of art that is honed with experience. The more publications you have, the easier it is to write a manuscript. The collaboration between authors can be very enriching and give rise to new projects and new learnings. The contribution to science and to following generations comes with every single article one publishes. Therefore, one should always strive for the best.
Availability of data and materials
Not applicable.
Ioannidis JPA, Baas J, Klavans R, Boyack KW. A standardized citation metrics author database annotated for scientific field. PLoS Biol. 2019;17:e3000384.
Article   CAS   PubMed   PubMed Central   Google Scholar  
Forero DA, Moore JH. Considerations for higher efficiency and productivity in research activities. BioData Min. 2016;9:35.
Article   PubMed   PubMed Central   Google Scholar  
Zhang W. Ten simple rules for writing research papers. PLoS Comput Biol. 2014;10:e1003453.
Article   PubMed   PubMed Central   CAS   Google Scholar  
Vitse CL, Poland GA. Writing a scientific paper-A brief guide for new investigators. Vaccine. 2017;35:722–8.
Article   PubMed   Google Scholar  
Meo SA. Anatomy and physiology of a scientific paper. Saudi J Biol Sci. 2018;25:1278–83.
Cook DA. Twelve tips for getting your manuscript published. Med Teach. 2016;38:41–50.
Cronin P, Ryan F, Coughlan M. Undertaking a literature review: a step-by-step approach. Br J Nurs. 2008;17:38–43.
Masum H, Rao A, Good BM, Todd MH, Edwards AM, Chan L, Bunin BA, Su AI, Thomas Z, Bourne PE. Ten simple rules for cultivating open science and collaborative R&D. PLoS Comput Biol. 2013;9:e1003244.
Weinberger CJ, Evans JA, Allesina S. Ten simple (empirical) rules for writing science. PLoS Comput Biol. 2015;11:e1004205.
Shaw DM, Erren TC. Ten simple rules for protecting research integrity. PLoSComputBiol. 2015;11:e1004388.
Google Scholar  
van Aert RCM, Wicherts JM, van Assen M. Publication bias examined in meta-analyses from psychology and medicine: a meta-meta-analysis. PLoS ONE. 2019;14:e0215052.
Rohwer A, Young T, Wager E, Garner P. Authorship, plagiarism and conflict of interest: views and practices from low/middle-income country health researchers. BMJ Open. 2017;7:e018467.
Kornhaber RA, McLean LM, Baber RJ. Ongoing ethical issues concerning authorship in biomedical journals: an integrative review. Int J Nanomedicine. 2015;10:4837–46.
Gotzsche PC, Kassirer JP, Woolley KL, Wager E, Jacobs A, Gertel A, Hamilton C. What should be done to tackle ghostwriting in the medical literature? PLoS Med. 2009;6:e23.
Gulen S, Fonnes S, Andresen K, Rosenberg J. Increasing number of authors in Cochrane reviews. J Evid Based Med. 2020;13:34–41.
Weeks WB, Wallace AE, Kimberly BC. Changes in authorship patterns in prestigious US medical journals. Soc Sci Med. 2004;59:1949–54.
Tscharntke T, Hochberg ME, Rand TA, Resh VH, Krauss J. Author sequence and credit for contributions in multiauthored publications. PLoS Biol. 2007;5:e18.
Hosseini M. Equal co-authorship practices: review and recommendations. Sci Eng Ethics. 2020;26:1133–48.
Bahadoran Z, Mirmiran P, Kashfi K, Ghasemi A. The principles of biomedical scientific writing: title. Int J EndocrinolMetab. 2019;17:e98326.
Bahadoran Z, Mirmiran P, Kashfi K, Ghasemi A. The principles of biomedical scientific writing: abstract and keywords. Int J EndocrinolMetab. 2020;18:e100159.
Cook DA, Bordage G. Twelve tips on writing abstracts and titles: how to get people to use and cite your work. Med Teach. 2016;38:1100–4.
Tullu MS. Writing the title and abstract for a research paper: being concise, precise, and meticulous is the key. Saudi J Anaesth. 2019;13:S12–7.
Annesley TM. "It was a cold and rainy night": set the scene with a good introduction. Clin Chem. 2010a;56:708–13.
Article   CAS   PubMed   Google Scholar  
Cals JW, Kotz D. Effective writing and publishing scientific papers, part III: introduction. J Clin Epidemiol. 2013a;66:702.
Kotz D, Cals JW. Effective writing and publishing scientific papers, part IV: methods. J Clin Epidemiol. 2013a;66:817.
Annesley TM. Who, what, when, where, how, and why: the ingredients in the recipe for a successful Methods section. Clin Chem. 2010b;56:897–901.
Lang T. Twenty statistical errors even you can find in biomedical research articles. Croat Med J. 2004;45:361–70.
PubMed   Google Scholar  
Worthy G. Statistical analysis and reporting: common errors found during peer review and how to avoid them. Swiss Med Wkly. 2015;145:w14076.
Patnala R, Clements J, Batra J. Candidate gene association studies: a comprehensive guide to useful in silico tools. BMC Genet. 2013;14:39.
Makin TR, de OrbanXivry JJ. Ten common statistical mistakes to watch out for when writing or reviewing a manuscript. Elife. 2019;8:e48175.
Annesley TM. Show your cards: the results section and the poker game. Clin Chem. 2010c;56:1066–70.
Kotz D, Cals JW. Effective writing and publishing scientific papers, part V: results. J Clin Epidemiol. 2013b;66:945.
Annesley TM. Bring your best to the table. Clin Chem. 2010d;56:1528–34.
Kotz D, Cals JW. Effective writing and publishing scientific papers, part VII: tables and figures. J Clin Epidemiol. 2013c;66:1197.
Annesley TM. Put your best figure forward: line graphs and scattergrams. Clin Chem. 2010e;56:1229–33.
Rougier NP, Droettboom M, Bourne PE. Ten simple rules for better figures. PLoS Comput Biol. 2014;10:e1003833.
Cals JW, Kotz D. Effective writing and publishing scientific papers, part VI: discussion. J Clin Epidemiol. 2013b;66:1064.
Annesley TM. The discussion section: your closing argument. Clin Chem. 2010f;56:1671–4.
Cals JW, Kotz D. Effective writing and publishing scientific papers, part VIII: references. J Clin Epidemiol. 2013c;66:1198.
Paul-Hus A, Desrochers N. Acknowledgements are not just thank you notes: A qualitative analysis of acknowledgements content in scientific articles and reviews published in 2015. PLoS ONE. 2019;14:e0226727.
Brand A, Allen L, Altman M. Hlava M. Scott JJLP: Beyond authorship: attribution, contribution, collaboration, and credit. 2015;28:151–5.
Ancker JS, Flanagin A. A comparison of conflict of interest policies at peer-reviewed journals in different scientific disciplines. Sci Eng Ethics. 2007;13:147–57.
Colavizza G, Hrynaszkiewicz I, Staden I, Whitaker K, McGillivray B. The citation advantage of linking publications to research data. PLoS ONE. 2020;15:e0230416.
Brazma A, Hingamp P, Quackenbush J, Sherlock G, Spellman P, Stoeckert C, Aach J, Ansorge W, Ball CA, Causton HC, et al. Minimum information about a microarray experiment (MIAME)-toward standards for microarray data. Nat Genet. 2001;29:365–71.
Forero DA, Lopez-Leon S, Gonzalez-Giraldo Y, Bagos PG. Ten simple rules for carrying out and writing meta-analyses. PLoS Comput Biol. 2019;15:e1006922.
Gasparyan AY, Ayvazyan L, Blackmore H, Kitas GD. Writing a narrative biomedical review: considerations for authors, peer reviewers, and editors. Rheumatol Int. 2011;31:1409–17.
Gregory AT, Denniss AR. An introduction to writing narrative and systematic reviews—tasks, tips and traps for aspiring authors. Heart Lung Circ. 2018;27:893–8.
Nissen T, Wynn R. The clinical case report: a review of its merits and limitations. BMC Res Notes. 2014;7:264.
von Elm E, Altman DG, Egger M, Pocock SJ, Gotzsche PC, Vandenbroucke JP, Initiative S. The Strengthening the Reporting of Observational Studies in Epidemiology (STROBE) statement: guidelines for reporting observational studies. PLoS Med. 2007;4:e296.
Article   Google Scholar  
Gallo V, Egger M, McCormack V, Farmer PB, Ioannidis JP, Kirsch-Volders M, Matullo G, Phillips DH, Schoket B, Stromberg U, et al. STrengthening the Reporting of OBservational studies in Epidemiology-Molecular Epidemiology (STROBE-ME): an extension of the STROBE Statement. PLoS Med. 2011;8:e1001117.
Little J, Higgins JP, Ioannidis JP, Moher D, Gagnon F, von Elm E, Khoury MJ, Cohen B, Davey-Smith G, Grimshaw J, et al. STrengthening the REporting of Genetic Association Studies (STREGA): an extension of the STROBE statement. PLoS Med. 2009;6:e22.
Moher D, Liberati A, Tetzlaff J, Altman DG, Group P. Preferred reporting items for systematic reviews and meta-analyses: the PRISMA statement. PLoS Med. 2009;6:e1000097.
Collins GS, Reitsma JB, Altman DG, Moons KG. Transparent reporting of a multivariable prediction model for individual prognosis or diagnosis (TRIPOD): the TRIPOD statement. BMC Med. 2015;13:1.
Schulz KF, Altman DG, Moher D, Group C. CONSORT 2010 statement: updated guidelines for reporting parallel group randomised trials. PLoS Med. 2010;7:e1000251.
Gagnier JJ, Kienle G, Altman DG, Moher D, Sox H, Riley D, Group C. The CARE guidelines: consensus-based clinical case reporting guideline development. J Med Case Rep. 2013;7:223.
Hoffmann-Esser W, Siering U, Neugebauer EA, Brockhaus AC, Lampert U, Eikermann M. Guideline appraisal with AGREE II: systematic review of the current evidence on how users handle the 2 overall assessments. PLoS ONE. 2017;12:e0174831.
du Percie Sert N, Hurst V, Ahluwalia A, Alam S, Avey MT, Baker M, Browne WJ, Clark A, Cuthill IC, Dirnagl U, et al. The ARRIVE guidelines 2.0: Updated guidelines for reporting animal research. PLoSBiol. 2020;18:e3000410.
Article   CAS   Google Scholar  
Bustin SA, Benes V, Garson JA, Hellemans J, Huggett J, Kubista M, Mueller R, Nolan T, Pfaffl MW, Shipley GL, et al. The MIQE guidelines: minimum information for publication of quantitative real-time PCR experiments. Clin Chem. 2009;55:611–22.
dMIQE Group, Huggett JF. The digital MIQE guidelines update: minimum information for publication of quantitative digital PCR experiments for 2020. ClinChem. 2020;66:1012–29.
Cossarizza A, Chang HD, Radbruch A, Acs A, Adam D, Adam-Klages S, Agace WW, Aghaeepour N, Akdis M, Allez M, et al. Guidelines for the use of flow cytometry and cell sorting in immunological studies (second edition). Eur J Immunol. 2019;49:1457–973.
Galluzzi L, Aaronson SA, Abrams J, Alnemri ES, Andrews DW, Baehrecke EH, Bazan NG, Blagosklonny MV, Blomgren K, Borner C, et al. Guidelines for the use and interpretation of assays for monitoring cell death in higher eukaryotes. Cell Death Differ. 2009;16:1093–107.
Richards S, Aziz N, Bale S, Bick D, Das S, Gastier-Foster J, Grody WW, Hegde M, Lyon E, Spector E, et al. Standards and guidelines for the interpretation of sequence variants: a joint consensus recommendation of the American College of Medical Genetics and Genomics and the Association for Molecular Pathology. Genet Med. 2015;17:405–24.
Waltemath D, Adams R, Beard DA, Bergmann FT, Bhalla US, Britten R, Chelliah V, Cooling MT, Cooper J, Crampin EJ, et al. Minimum Information About a Simulation Experiment (MIASE). PLoS Comput Biol. 2011;7:e1001122.
Bruford EA, Braschi B, Denny P, Jones TEM, Seal RL, Tweedie S. Guidelines for human gene nomenclature. Nat Genet. 2020;52:754–8.
Seal RL, Chen LL, Griffiths-Jones S, Lowe TM, Mathews MB, O'Reilly D, Pierce AJ, Stadler PF, Ulitsky I, Wolin SL, Bruford EA. A guide to naming human non-coding RNA genes. EMBO J. 2020;39:e103777.
Falagas ME, Pitsouni EI, Malietzis GA, Pappas G. Comparison of PubMed, Scopus, Web of Science, and Google Scholar: strengths and weaknesses. FASEB J. 2008;22:338–42.
Martín-Martín A, Orduna-Malea E, Thelwall M, López-Cózar ED. Google Scholar, Web of Science, and Scopus: a systematic comparison of citations in 252 subject categories. JOI. 2018;12:1160–77.
Forero DA, Oermann MH, Manca A, Deriu F, Mendieta-Zeron H, Dadkhah M, Bhad R, Deshpande SN, Wang W, Cifuentes MP. Negative effects of "Predatory" journals on global health research. Ann Glob Health. 2018;84:584–9.
Gutierrez FR, Beall J, Forero DA. Spurious alternative impact factors: the scale of the problem from an academic perspective. BioEssays. 2015;37:474–6.
Cals JW, Kotz D. Effective writing and publishing scientific papers, part X: choice of journal. J Clin Epidemiol. 2014;67:3.
Lengauer T, Nussinov R. How to write a presubmission inquiry. PLoS Comput Biol. 2015;11:e1004098.
Abdill RJ, Blekhman R. Tracking the popularity and outcomes of all bioRxiv preprints. Elife. 2019. https://doi.org/10.7554/eLife.45133 .
Kotz D, Cals JW. Effective writing and publishing scientific papers, part XI: submitting a paper. J Clin Epidemiol. 2014a;67:123.
Kotz D, Cals JW. Effective writing and publishing scientific papers, part XII: responding to reviewers. J Clin Epidemiol. 2014b;67:243.
Annesley TM. Top 10 tips for responding to reviewer and editor comments. Clin Chem. 2011;57:551–4.
Allen C, Mehler DMA. Open science challenges, benefits and tips in early career and beyond. PLoS Biol. 2019;17:e3000246.
Munafò MR, Nosek BA, Bishop DV, Button KS, Chambers CD, Du Sert NP, Simonsohn U, Wagenmakers E-J, Ware JJ. A manifesto for reproducible science. Nat Hum Behav. 2017;1:1–9.
Nosek BA, Alter G, Banks GC, Borsboom D, Bowman SD, Breckler SJ, Buck S, Chambers CD, Chin G, Christensen G, et al. Promoting an open research culture. Science. 2015;348:1422–5.
Carroll MW. Creative commons and the openness of open access. N Engl J Med. 2013;368:789–91.
Carroll MW. Sharing research data and intellectual property law: a primer. PLoSBiol. 2015;13:e1002235.
Piwowar H, Priem J, Lariviere V, Alperin JP, Matthias L, Norlander B, Farley A, West J, Haustein S. The state of OA: a large-scale analysis of the prevalence and impact of Open Access articles. PeerJ. 2018;6:e4375.
Eysenbach G. Citation advantage of open access articles. PLoS Biol. 2006;4:e157.
McKiernan EC. Imagining the "open" university: sharing scholarship to improve research and education. PLoS Biol. 2017;15:e1002614.
Hirsch JE. An index to quantify an individual's scientific research output. Proc Natl Acad Sci U S A. 2005;102:16569–72.
Thelwall M, Haustein S, Lariviere V, Sugimoto CR. Do altmetrics work? Twitter and ten other social web services. PLoS ONE. 2013;8:e64841.
Bourne PE. Ten simple rules for getting published. PLoS Comput Biol. 2005;1:e57.
Download references
Acknowledgements
DAF has been previously supported by research grants from MinCiencias. GP is supported by the NIH and the Alzheimer´s Association. The authors thank Leon Ruiter Lopez for his help in the creation of Fig.  1 .
No specific funding was received for this work.
Author information
Authors and affiliations.
Health and Sport Sciences Research Group, School of Health and Sport Sciences, Fundación Universitaria del Área Andina, Bogotá, Colombia
Diego A. Forero
MSc Program in Epidemiology, School of Health and Sport Sciences, Fundación Universitaria del Área Andina, Bogotá, Colombia
Global Drug Development, Novartis Pharmaceuticals Corporation, East Hanover, NJ, USA
Sandra Lopez-Leon
Department of Biology and Neurosciences Institute, The University of Texas at San Antonio, San Antonio, TX, USA
George Perry
You can also search for this author in PubMed   Google Scholar
Contributions
DAF wrote an initial draft of the manuscript; DAF, SLL and GP contributed to different sections of the manuscript. All authors read and approved the final manuscript.
Corresponding authors
Correspondence to Diego A. Forero or Sandra Lopez-Leon .
Ethics declarations
Ethics approval and consent to participate, consent for publication, competing interests.
DAF does not report conflicts of interest. SLL is employee of Novartis Pharmaceutical Company; the statements presented in the paper do not necessarily represent the position of the company. GP is on the boards of Neurotrope and Neurotez. DAF, SL-L and GP are members of the editorial boards of several scientific journals.
Additional information
Publisher's note.
Springer Nature remains neutral with regard to jurisdictional claims in published maps and institutional affiliations.
Rights and permissions
Open Access This article is licensed under a Creative Commons Attribution 4.0 International License, which permits use, sharing, adaptation, distribution and reproduction in any medium or format, as long as you give appropriate credit to the original author(s) and the source, provide a link to the Creative Commons licence, and indicate if changes were made. The images or other third party material in this article are included in the article's Creative Commons licence, unless indicated otherwise in a credit line to the material. If material is not included in the article's Creative Commons licence and your intended use is not permitted by statutory regulation or exceeds the permitted use, you will need to obtain permission directly from the copyright holder. To view a copy of this licence, visit http://creativecommons.org/licenses/by/4.0/ . The Creative Commons Public Domain Dedication waiver ( http://creativecommons.org/publicdomain/zero/1.0/ ) applies to the data made available in this article, unless otherwise stated in a credit line to the data.
Reprints and Permissions
About this article
Cite this article.
Forero, D.A., Lopez-Leon, S. & Perry, G. A brief guide to the science and art of writing manuscripts in biomedicine. J Transl Med 18 , 425 (2020). https://doi.org/10.1186/s12967-020-02596-2
Download citation
Received : 15 September 2020
Accepted : 29 October 2020
Published : 10 November 2020
DOI : https://doi.org/10.1186/s12967-020-02596-2
Share this article
Anyone you share the following link with will be able to read this content:
Sorry, a shareable link is not currently available for this article.
Provided by the Springer Nature SharedIt content-sharing initiative
Peer review
Abstracting and indexing
Publications
Biological science disciplines
Journal of Translational Medicine
ISSN: 1479-5876
Submission enquiries: Access here and click Contact Us
General enquiries: [email protected]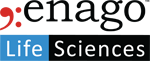 The Art of Manuscript Writing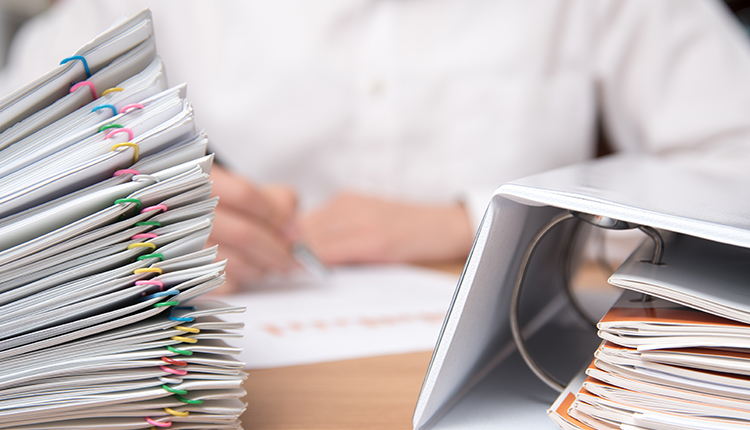 "If anyone wishes to write a clear style, let them be clear in their thoughts" Johann Wolfgang van Goethe Manuscript writing is the art of presenting complex and huge scientific data in a simple, concise, and presentable story format. Development of a scientific manuscript requires profound knowledge across therapy areas and expertise in presenting complex data as a short, simple, and succinct story. It requires an understanding of the target journals and publication guidelines.
Scientific publications aid in disseminating clinical data to the scientific community and maintain transparency of the research outcome. Publication of manuscripts in scientific journals generates peer-reviewed, citable references. Whereas, presentation of abstracts, posters, oral presentations at scientific congresses ensures availability of data in the public domain much ahead of the peer-reviewed publication. Amongst scientific publications, the manuscript is a more descriptive way of presenting research to the external world. The key objective of communication through a manuscript is to present facts based on scientific data and research, by following the Good Publication Practice (GPP3) guidelines that ensures data integrity and publication ethics.
The publication plan for a drug is developed based on the development stage of the molecule, gaps identified in the literature, brand strategic imperatives and messaging the target audience. There are different types of scientific manuscripts developed to communicate data during the drug development phases as well as later in the life-cycle management (Figure 1). Manuscripts developed at the early phase of drug development covers preclinical, PK-PD studies, and topics related to the mechanism of action, disease awareness, advocacy etc. Through Phase I–III clinical trials, primary or secondary manuscripts focusing on dose regimen/efficacy/ safety objectives of a clinical study, pooled analysis, treatment comparisons etc. are developed. In the late phase IV and product life-cycle management; manuscripts on real-world evidence, surveys, observational studies, health economics, competitor product differentiation, treatment paradigm, etc., are developed.
Figure 1. Manuscript planning through drug life-cycle

Manuscript writing is the art to present complex scientific data in a story format. To develop a good manuscript, the medical writer should have a flair for writing, therapeutic area expertise, understanding of clinical trials and drug development process, and project management skills. Here, we discuss the tips to develop a manuscript focusing on clinical research.
Tips to develop a manuscript:
As you get started with manuscript writing, first things first get familiarized with the topic, read, read and read…
go well-prepared for the kick-off call and ask relevant questions pertaining to the manuscript development. Gather all the other information related to the source material, target audience, probable key messages, journals, timelines, authorship, affiliations, disclosures, conflict of interest, acknowledgments, review, and signoff process etc.
Familiarize yourself with the data and identify gaps, if any. Perform extensive literature search and extract relevant information to supplement the data.
As you assimilate information to develop a story outline/skeleton around objectives and key messages, follow a logical structure.
Full manuscript should have a story with a clear message based on a logical sequence of thoughts supported by text, tables, figures, and references.
Manuscript writing broadly follows the IMRAD (Introduction, Methods, Results, And Discussion) structure (Figure 2). The story must be woven in the context of established literature (Introduction) , unmet needs and the research question (Objectives) , procedures performed (Methods) , the research outcome, (Results) and the research outcome implications (Discussion) . Ensure uniform flow of objectives and associated parameters throughout different sections methods, results, and discussion. A small paragraph concluding the research outcome can also be added towards the end.
Figure 2: Tips to develop IMRAD structure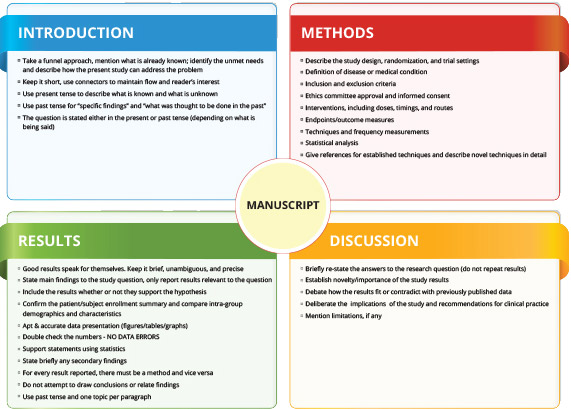 Follow the 3 C's of writing

Figures and Tables (max 6–8) should be self-explanatory as a standalone image/table and follow the same sequence as mentioned in the text. Use brief, informative legends, titles, and footnotes. Ensure consistent abbreviations, variables, units, symbols, and colors as per journal specifications.
References should be styled consistently as per journal guidelines, use latest references wherever possible.
Perform plagiarism and copyright check.
Follow journal guidelines – instructions to the authors, and format the manuscript as per journal specifications.
Follow standard reporting guidelines for the study type e.g., CONSORT checklist for randomized trials. Refer the EQUATOR network to access the relevant checklists. .
Review your work thoroughly, once done revisit it with a fresh mind the next day, it will definitely help you improve your manuscript. Get it reviewed by a peer or a friend, who can spot gaps and make it better
Perform a mock journal submission and prepare your checklist for the journal submission package.
Enago Life Sciences is a medical writing company with specialization in medical communications services. We provide variety of publication services including manuscript writing across all phases of the drug development, preclinical to post-launch, and product life-cycle management. We work closely with the authors/clients to develop the manuscript from initiation up to final approval. A manuscript is developed within a typical turnaround time of 12 weeks (kickoff – submission package). Our highly qualified, experienced team, with an excellent knowledge across therapy and industry standards, develops the manuscript as per the key messages, journal guidelines, and Good Publication Practice.
Medical Communications Services –Tips for Presenting the Scientific Poster in an Effective Way
Integration of AI in Drug Discovery and Development: Opportunity or a threat?
AI-Powered Advancements in Systematic Reviews and Meta-Analyses: A New Era of…
Screening Strategies for Hepatitis: Identifying At-Risk Populations and Implementing…
Striking a Balance: The ethical use of generative AI in medical writing and…
World Sarcoma Awareness Month: Advocating for early detection and timely treatment
Leave A Reply Cancel Reply
Your email address will not be published.
Save my name, email, and website in this browser for the next time I comment.
An official website of the United States government
The .gov means it's official. Federal government websites often end in .gov or .mil. Before sharing sensitive information, make sure you're on a federal government site.
The site is secure. The https:// ensures that you are connecting to the official website and that any information you provide is encrypted and transmitted securely.
Publications
Account settings
Advanced Search
Journal List
Methodist Debakey Cardiovasc J
v.8(4); Oct-Dec 2012
How I Prepare a Manuscript for Publication in a Medical Journal
William clifford roberts.
Baylor University Medical Center, Dallas, Texas
Introduction
Since 1961, I have annually published a number of manuscripts in medical journals. This work has been enormously rewarding but continually challenging. My purpose here is to describe how I prepare a manuscript for publication in a medical journal.
Formulating an Answerable Question
When considering a potential clinical topic for investigation and later publication in a medical journal, the first step is to formulate a precise question that is answerable. Sometimes it takes considerable thought to formulate the question properly. I then ask myself the following questions: Is the answer to the question important enough to pursue? Does the answer add to the present knowledge base or does it simply confirm a previous observation or describe it better than before?
The Tables and Figures
The first thing I do is prepare the tables and figures. For studies involving ≤30 patients, individual patient data can be presented with no more than one line across for any patient. The patients need to be listed in some logical order such as by increasing ages or separated according to gender or another factor. Each heading needs to be formulated such that the question can be answered with a number or a plus sign (+) for positive or present, a zero (0) for negative or absent, or a dash (-) for no information available or not applicable. The challenge is to construct the table such that words or phrases are absent except in the headings. Tables with many words are usually unsatisfactory. An example of what I consider a good individual patient table can be seen in reference number 1. 1
Tables with pooled data are of course the most common ones in medical publications. So often these compare data in one group of patients to another group with P values showing whether the data between groups is different or not. The various variables are usually listed on the left side vertically and the patient or control columns to the right, with the P value column far right. Footnotes at the bottom are often necessary to define the various variables. I prefer to spell out all the variables. If any are abbreviated, they need to be listed in alphabetical order in the footnotes. Definitions of ill-defined variables should also be listed in the footnotes. Examples of this type table may be seen in references 2 and 3. 2 , 3
The challenge of the figures is to produce one or more to provide the manuscript's message in graphic form. With my own manuscripts I spend more time in developing the figures and tables than I do in writing the manuscripts. The graphic and tabular presentations of the data carry more impact than the written text, which in essence simply describes the findings in the tables and figures and/or the interpretations. An example of a good figure might be seen in reference 4. 4
Although it is the most frequently read part of a manuscript, the title often is given too little attention by authors. Indeed, the last thing written by many authors, just before the final typing of their manuscript, is the title. If done in this manner, the title may be more of an afterthought and not of the same standards as the rest of the manuscript.
The first words put on paper should be the title. Then, with each revision of the manuscript, the title is carefully reexamined and usually reworded such that it is changed several times before the manuscript's final typing. Above all, the title should describe the manuscript's contents in the most specific and precise terms possible. 5 It should be devoid of excessive words but sufficient enough to adequately reflect the manuscript's contents. The title should have a smooth flow and, ideally, arouse the readers' curiosity so that he/she will want to delve into the manuscript's text. If the manuscript's message is in the title, the reader's curiosity may be immediately satisfied and the next article then sought. Subtitles should be avoided as they often are more specific than the main title and, therefore, deserve to be the main title, and they are frequently omitted when the article is later referenced. Titles of experimental studies should include the animal species when not involving human beings. Titles as questions generally should be avoided, as should abbreviations. Occasionally, use of italics for one or two words in a title provides useful emphasis. Common recurring cardiologic titles include "Comparison of…," "Usefulness of…," "Safety of…," "Effect of…," "Evaluation of…," "Limitations of…," etc.
The Abstract
After the title, the next most frequently read portion of the manuscript is the abstract, or summary. 6 But is this given the same attention by authors as is given by readers? I think not. The summary, I suspect, tends to be written by many authors just before the final typing of the manuscript. As a result, the summary tends to be disjointed as it attempts to tie together the important points of the paper. By being done last, the summary often does not receive the thoughtful deliberation given other portions of the manuscript.
Because the summary is so important to a manuscript, I suggest that authors write this portion immediately after the title. By doing so, one may better focus on the number of points the particular manuscript is trying to make. If the manuscript has essentially only one point, the summary can be particularly crisp and short; if more than one point, it serves as an outline of the points to be made. The summary needs to be given the same emphasis and importance by authors as it receives from readers.
The Discussion
This is the only portion of a manuscript that I outline before writing. In general, the first paragraph provides a brief summary of the major findings. Next comes a review of previous publications on the same topic, followed by a discussion of the differences between the present study compared to previous publications. Does the present study provide new information or simply confirm that provided by previous publications? The paper should also include some comments on the strengths and limitations of the present study.
The References
References are an important part of a manuscript. 7 Their selection is an indicator of the authors' knowledge of and regard for work preceding their own, and their accuracy of recording is a clue to the quality of their own work. Indeed, their selection and their recording accuracy is a clue to their scholarship. A reference must support the statement for which it is being used. That a publication has been read during the preparation of a manuscript is not justification for its being cited as a reference. References should not represent a list of publications read by the author but should be carefully selected. In general, the references cited should be for quality articles, should clearly support the statements to which they are attributed, and should have a meaningful purpose. Just as a good paragraph should have no unnecessary sentences and a good sentence no unnecessary words, there should be no unnecessary references.
Many errors are made in recording references. Examine any 10 references in a medical journal and usually at least one, often more, will contain an error. Errors in references represent inadequate regard for the work of previous researchers, and I suspect inaccurately recorded references are found most frequently in manuscripts containing inadequately recorded data. Names are often misspelled, initials preceding the last name are often wrong, and "Junior" or "III" occasionally are omitted; titles often are recorded inaccurately and subtitles are frequently omitted; volume numbers, page numbers, and year of publication may be erroneously recorded. When recording references, it is best to list all authors, all titles, and full inclusive pages.
A major source of errors in references is recording a reference listed in another journal without actually reading the original referenced publication. In this way, previous recording errors are propagated in subsequent publications. References should be recorded only from the original publication and not from a previously published reference list. In other words, never reference a publication without first reading it!
Abbreviations in Medical Articles
I favor appropriate abbreviations for two reasons: (1) they save space and therefore permit more manuscripts to be published, and (2) they decrease rather than increase reading time if limited to commonly used terms. 8 I prefer to limit abbreviations to the terms appearing in the manuscript's title. For example, I recently read an article titled "Left ventricular response to isometric exercise and its value in predicting the change in ventricular function after mitral valve replacement for mitral regurgitation." It contained the phrase "left ventricular" 38 times, "mitral regurgitation" 28 times, and "mitral valve replacement" 12 times. Spelled out, these three phrases would have occupied 1,456 spaces, but by abbreviating each (LV, MVR, MR), only 168 spaces were used.
Abbreviations should, in general, be limited to commonly recognized terms. I examined a manuscript that used the abbreviation "LVT," indicating "left ventricular thrombus," which is not a commonly recognized cardiologic abbreviation. I therefore changed it to "LV thrombus," abbreviating "left ventricular" throughout but not "thrombus." In the same article, the same abbreviation was used on other occasions: LV mass, LV ejection fraction, LV peak-systolic pressure, LV end-diastolic pressure, etc. ("Left ventricular" is the most commonly used phrase in cardiologic journals; hence, the abbreviation "LV" is highly useful if used for "left ventricular," although not for "left ventricle," which appears far less frequently.)
Making Clinical Studies Involving Many Patients Useful to the Single Patient
"Doctoring" centers on the single patient, the one-to-one relationship. Yet most clinical studies published in medical journals involve many patients. How can articles in medical journals be presented such that practitioners can fit their single patient into a large clinical study? First, keep patient populations as homogenous as possible. A study comprising 100 patients including 95 women and 5 men might best be limited to the 95 women. A study including 100 patients with heart failure in whom 80 resulted from ischemic cardiomyopathy and the other 20 from different conditions should be limited to the 80 with the single cause of heart failure. Second, provide individual patient data rather than pooled data if the study includes ≤30 patients. 9
Preparing the Manuscript According to that Publication's Style Guidelines
Study a recent issue of the journal to which the manuscript is to be sent, and prepare the manuscript accordingly. One should also examine the journal's Instructions to Authors and follow the suggested guidelines. 10
Conflict of Interest Disclosure: The author has completed and submitted the Methodist DeBakey Cardiovascular Journal Conflict of Interest Statement and none were reported.
Funding/Support: The author has no funding disclosures.
You are using an outdated browser. Please upgrade your browser to improve your experience.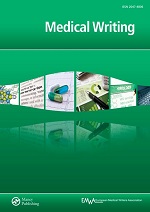 Volume 23, Issue 1 - Software for Medical Writers
Manuscript Writing
Author: Phil Leventhal
New medical writers and medical writing students are often unsure how to start writing a manuscript and need help in organizing their thoughts. This is the third in a series of articles that explain how to link the sections and the information within them together, what I call 'manuscript flow'. The first two articles in this series covered the Introduction 1 and the Methods. 2

Leventhal PS. A guideline for manuscript flow. Part 1 – the introduction. Med Writing 2013;22(1):59–60.
Leventhal PS. A guideline for manuscript flow. Part 1 – the methods. Med Writing 2013;22(4):306–8.
Leventhal PS. Guidelines for manuscript writing: here to help. Med Writing 2012;21(2):164–8.
International Committee of Medical Journal Editors. Recommendations for the Conduct, Reporting, Editing, and Publication of Scholarly Work in Medical Journals: Publishing and Editorial Issues Related to Publication in Medical Journals: Preparing a Manuscript for Submission to a Medical Journal. [Accessed 2013 Dec 6]. Available from: http://www.icmje.org/manuscript_a.html
Moher D, Hopewell S, Schulz KF, Montori V, Gøtzsche PC, Devereaux PJ, et al. CONSORT 2010 explanation and elaboration: updated guidelines for reporting parallel group randomised trials. BMJ 2010;340:c869.

Member Login
Editoral board.
Editor-in-Chief
Raquel Billiones
Evguenia Alechine
Jonathan Pitt
Managing Editor
Victoria White
Associate Editors
Anuradha Alahari
Jennifer Bell
Claire Chang
Barbara Grossman
Amy Whereat
Petal Smart
Sampoorna Rappaz
Sarah Milner
Section Editors
Biotechnology
Nicole Bezuidenhout  
Digital Communication
Somsuvro Basu
EMWA News  
Ana Sofia Correia  
Gained in Translation
Ivana Turek
Getting Your Foot in the Door
Wendy Kingdom / Amy Whereat
Good Writing Practice
Alison McIntosh  
In the Bookstores
Maria Kołtowska-Häggström
Lingua Franca and Beyond
Phil Leventhal
Lisa Chamberlain-James
Medical Communications/Writing for Patients
Payal Bhatia
Medical Devices
My First Medical Writing
News from the EMA
Laura Kehoe
Out on Our Own
Tiziana von Bruchhausen
Pharmacovigilance
Clare Chang /  Zuo Yen Lee  
Regulatory Matters
Sam Hamilton
Regulatory Public Disclosure
Claire Gudex
Teaching Medical Writing
Kimi Uegaki
The Crofter: Sustainable Communications
Louisa Marcombes
Veterinary Writing
Editors Emeritus
Elise Langdon-Neuner
Lay out Designer
Covid 19 - Lockdown, let out your PhD indagation with our Expert


Talk to our Consultant

Live Support in 214 Countries
Medical manuscript writing, receive medical manuscript writing services from experts.
Do you need a high impactful medical publication ? Are you looking for any professional help to get you through? You can get help from a medical manuscript writing service to help you prepare the best medical manuscript that fetches you great accolades.
Here's your chance to get help with the best Medical Manuscript writing service.
We at Words Doctorate have a team of talented diverse medical research scientists' individuals who are highly experienced in writing medical papers and can easily write on any topic and subject. You just have to contact us, share your requirements, and we will help you and offer the best help in your medical manuscript writing.
What should be the Research Publication tactics?
If you are a doctorate or a research scholar and do not know about research publication tactics then you have come to the right place. Our expert writers help you complete your research publication!
You will get all types of help, whether it is PubMed or Science Citation Index (SCI); Elsevier, Wiley Online Library, SpringerLink, Nature or the other publisher.
Our medical manuscript writers offer journals with impact factor 0.5 or impact factor 50.
We ensure that your research is published in reputed journals.
Our research reports help in uplifting the medical society.
When you submit our written manuscript, your colleagues and professors will admire the work.
We make research paper that helps in uplifting your career.
Does your manuscript get rejected?
We even offer help to those who didn't get results even after relentless hard work and effort. All those scholars can also contact us and leave their manuscript writing headache to us. Our trained manuscript writing service comes in support when researchers need them most and help out aggressive researchers by taking care of journal selection, manuscript re-writing, editing, formatting, journal instructions, re-submission, manuscript tracking, and final requirements of mutual benefit.
Get Expert's Help with Medical Manuscript Writing?
We are an expert team of PhD professionals, doctors, and clinical researchers from top reputed medical universities. Along with our team, we take up all concerns of medical writing, manuscript writing, and look after that it gets published in top journals.
All our professional medical writers have earned huge recognition in a variety of fields and are quite familiar and experienced in creating plagiarism-free effective manuscript content that meets the guidelines of ICMJE, ISPOR, CONSORT, STROBE, and PRISMA.
What do our Medical Manuscript writing Experts promise you?
We promise you to give the best medical manuscript writing support:
We will ensure that your manuscript gets published in top reputed journals.
Our manuscript report will enlighten the medical society.
Your colleagues will admire the research concept and will envy you.
We will make sure that your published manuscript boosts up your career.
What is our medical writing comprised of?
When we start writing with medical manuscript writing , we make sure to look after three aspects in writing:
Clear writing: Our every sentence will be complete and with the right meaning. We will not create any ambiguous speeches or sentences that do not clarify the meaning.
Brief and to the point: We use simple language and write on the point to avoid any redundancy or repetition.
Accurate: Our work will be accurate and will not overstate the significance of the results.
Our main objective is never to complicate what we write but make it easy to understand so that a reader doesn't feel confused in understanding.
What type of manuscripts do we write?
Let's look into different types of research manuscripts we help you with. We have writers who are expert in the medical subject and have written manuscripts on various topics such as health science, pharmacy, and so on. Our writer's guarantee:
Original Manuscript Writing
High grammar quality
Review Article
Research analysis
Case studies
Meta-analysis and systematic review
Short Communications
By picking our medical manuscript writing services, you will be assured to get the above-aforementioned things in your work too. Also, you will be guaranteed a complete manuscript work delivery on time for publication.
Contact Us for Medical Manuscript Writing
We will offer unlimited support to you and guarantee manuscript reports as well as assist you at various stages of the publication process. We also offer final work of high quality in medical domain publication. You can feel relaxed and receive high-quality work just as your requirements.
We will share all peer review analyses as well as the latest research report guarantee an unlimited guarantee for your manuscript report and assist you at various stages of the publication process. Our final work will be of high quality in a medical domain target publication and we will share it with you after the peer review analysis.
Reach out to us to get medical manuscript writing help at an affordable cost.
Send Us Message
Running projects.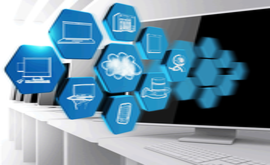 Computer Science Dissertation Writing Services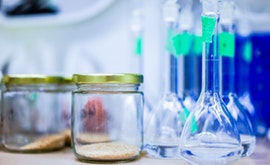 Social Science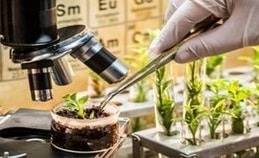 Biotechnology - Biology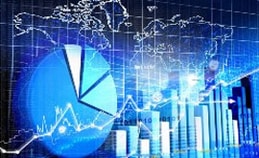 Civil Engineering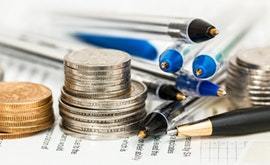 Medical-Pharmaceutical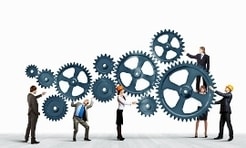 Management Dissertation Writing Services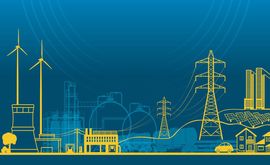 Electrical – Electronics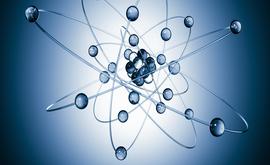 Agriculture

TheFreeDictionary
Word / Article
Starts with
Free toolbar & extensions
Word of the Day
Free content
Cantekin Resolution
Ghostwriting
gray literature
Herbalism, Western
manuscript name
National Library of Medicine
peer review
pharmacography
salami slicing
manual visual method
manual/musculoskeletal medicine
manually tuned
manubrial notch
manubriosternal joint
manubriosternal symphysis
manubrium of malleus
manubrium of sternum
manubrium sterni
manuduction
manudynamometer
manufacture
manufacturing
manufacturing information
manufacturing optician
manufacturing/processing
Manuka Honey
manus extensa
manus flexa
manus valga
manustupration
many things
many things, fear of
many-tailed bandage
Manzanilla virus
MAO inhibitor
MAO inhibitors
MAO-B inhibitors
map distance
Map Dot Fingerprint Dystrophy
Map of Medicine
Manurewa High School
manus curta
manus superextensa
Manuscript Access through Standards for Electronic Records
Manuscript Cancel
Manuscript Digitization Demonstration Project
Manuscript illumination
Manuscript Images Markup Language
Manuscript Wish List
Manuscript, Archives, and Rare Books Library
Manuscriptal
Manuscripts
Manuscripts and Archives Digital Images Database
Manuscripts and Letters Via Integrated Networks in Europe
Manuscripts Special Collections and University Archives
Manuscripts, Archives, and Special Collections
Manusher Jonno Foundation
Manutenency
Manutius Aldus
Manutius, Aldus
Facebook Share
Gene Expression-Based Signature Can Predict Sorafenib Response in Kidney Cancer
Affiliations.
1 I. M. Sechenov First Moscow State Medical University, Moscow, Russia.
2 Moscow City Oncological Hospital №. 62, Moscow, Russia.
3 Moscow City Clinical Oncological Dispensary №. 1, Moscow, Russia.
4 Oncobox Ltd., Moscow, Russia.
5 Moscow Institute of Physics and Technology, Moscow, Russia.
6 World-Class Research Center "Digital Biodesign and Personalized Healthcare", Sechenov First Moscow State Medical University, Moscow, Russia.
7 Department of Pathology, Faculty of Medicine, Lomonosov Moscow State University, Moscow, Russia.
8 OmicsWay Corp, Walnut, CA, United States.
9 Shemyakin-Ovchinnikov Institute of Bioorganic Chemistry, Moscow, Russia.
10 European Organization for Research and Treatment of Cancer (EORTC), Biostatistics and Bioinformatics Subgroup, Brussels, Belgium.
PMID: 35359606
PMCID: PMC8963850
DOI: 10.3389/fmolb.2022.753318
Sorafenib is a tyrosine kinase inhibitory drug with multiple molecular specificities that is approved for clinical use in second-line treatments of metastatic and advanced renal cell carcinomas (RCCs). However, only 10-40% of RCC patients respond on sorafenib-containing therapies, and personalization of its prescription may help in finding an adequate balance of clinical efficiency, cost-effectiveness, and side effects. We investigated whether expression levels of known molecular targets of sorafenib in RCC can serve as prognostic biomarker of treatment response. We used Illumina microarrays to profile RNA expression in pre-treatment formalin-fixed paraffin-embedded (FFPE) samples of 22 metastatic or advanced RCC cases with known responses on next-line sorafenib monotherapy. Among them, nine patients showed partial response (PR), three patients-stable disease (SD), and 10 patients-progressive disease (PD) according to Response Evaluation Criteria In Solid Tumors (RECIST) criteria. We then classified PR + SD patients as "responders" and PD patients as "poor responders". We found that gene signature including eight sorafenib target genes was congruent with the drug response characteristics and enabled high-quality separation of the responders and poor responders [area under a receiver operating characteristic curve (AUC) 0.89]. We validated these findings on another set of 13 experimental annotated FFPE RCC samples (for 2 PR, 1 SD, and 10 PD patients) that were profiled by RNA sequencing and observed AUC 0.97 for 8-gene signature as the response classifier. We further validated these results in a series of qRT-PCR experiments on the third experimental set of 12 annotated RCC biosamples (for 4 PR, 3 SD, and 5 PD patients), where 8-gene signature showed AUC 0.83.
Keywords: RNA sequencing; gene signature; kidney cancer; mRNA expression; microarray profiling; renal cell carcinoma; sorafenib response; tyrosine kinase inhibitor.
Copyright © 2022 Gudkov, Shirokorad, Kashintsev, Sokov, Nikitin, Anisenko, Borisov, Sekacheva, Gaifullin, Garazha, Suntsova, Koroleva, Buzdin and Sorokin.